Archive Headteacher's Blog 2014
Tuesday 22nd July 2014
We have had our Section 48 inspection report back this morning and I'm delighted to say that we are an Outstanding Catholic School! What a fantastic way to finish the summer term. Please look out for the report which will be sent out to you today.
We said goodbye to our Year 6 pupils and three members of staff who are leaving during our special award assembly this morning. We went on a journey back to 2007 and looked at some of the changes the children have lived through during the last seven years... 6 headteachers, 2 Popes, the launch of the iphone, the olympics in London and the unstoppable rise of 1 Direction! We looked a pictures of our Year 6 children when they started school and shared some of their likes and dislikes from when they were 4! Some of them haven't changed much at all! Here they are yesterday at the Leavers' Mass.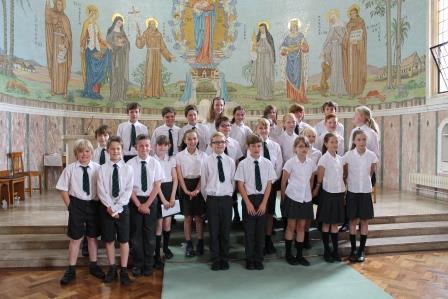 Here are the winners of our special awards: Mary Taylor for outstanding academic achievement, Abi Murphy, Josh Clisby, Joe Glass and Jacob Roberts for outstanding sporting achievement, Ashleigh Rochester for the Ethos award and Noah Parsons for the Governors Award for most improvement in any area of school life. Congratulations to you all and your wonderful achievements.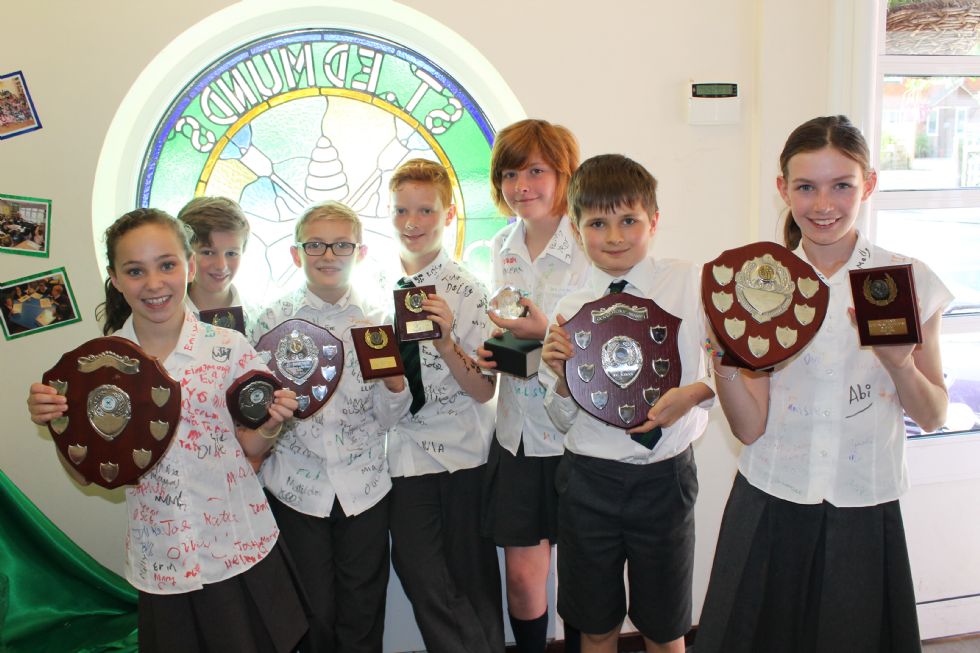 Have a wonderful summer holiday, and I will see most you back in September when we start the new school year,
Elizabeth
Friday 18th July 2014
Here we are on our final Friday of this school year!
We have had a lovely Golden Assembly this morning. There were so many awards given for such a wide range of achievements, from attitude around school, support for friends and help with school assemblies and events. The word that I noticed coming up most frequently was 'smile'; there are so many children who share their smiles with others and have a cheerful, positive outlook to learning and life at St Edmund's. There was certainly a lot to smile about this morning! We had swimming awards, sports awards, Golden Boot awards and all the house point winners. St Matthew's house won overall with a very grand total of 8548! We even had to have a break in the middle of the assembly as there were just so many awards to celebrate! As always we thanked God for our many gifts and talents.
Year 6 had a great Away Day on Wednesday at Ladywell Convent. They spent the morning with the Trinity Trust Team thinking about their transition to their new schools, they had to time to reflect and be still with their friends in such beautiful surroundings. They also spent time visiting the Stations of the Cross in the gardens and thinking about the journey they will make as they move to their new schools. They had time after a picnic lunch to prepare for their Leavers' Mass which will be held in the chapel at Ladywell on Monday morning. The whole school will walk to the convent to celebrate this very special Mass together, I am really looking forward to it.
We were treated to a special music concert on Thursday afternoon, so many children took part that we didn't finish until nearly 3:45pm! I am so pleased that we have such talented musicians at St Edmund's. Thank you to their teachers, to all the children who played and to our parents and visitors who came to listen.
This afternoon we have had our Year 6 pupils versus staff netball match! Both team played really well and there were some fantastic goals scored on both sides, especially Tom and James and Mrs Watson, Mrs Follett and Mr Tomes! It was great fun and lovely to see so many children (and staff) taking part and cheering on the teams.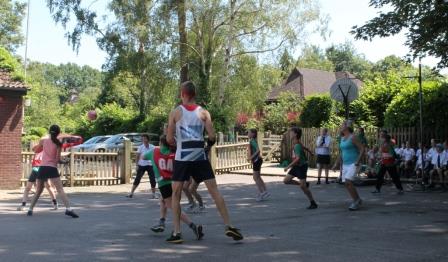 Have a lovely weekend,
Elizabeth
Friday 11th July 2014
As I was finishing writing the blog last Friday I heard the fantastic news that St Edmund's had won the District Sports, for the 9th time in the last 10 years I believe! This is a wonderful achievement. Very well done to all the children and thank you to all the parents who have supported them and Mrs McCarthy and her team who have coached and prepared them so well.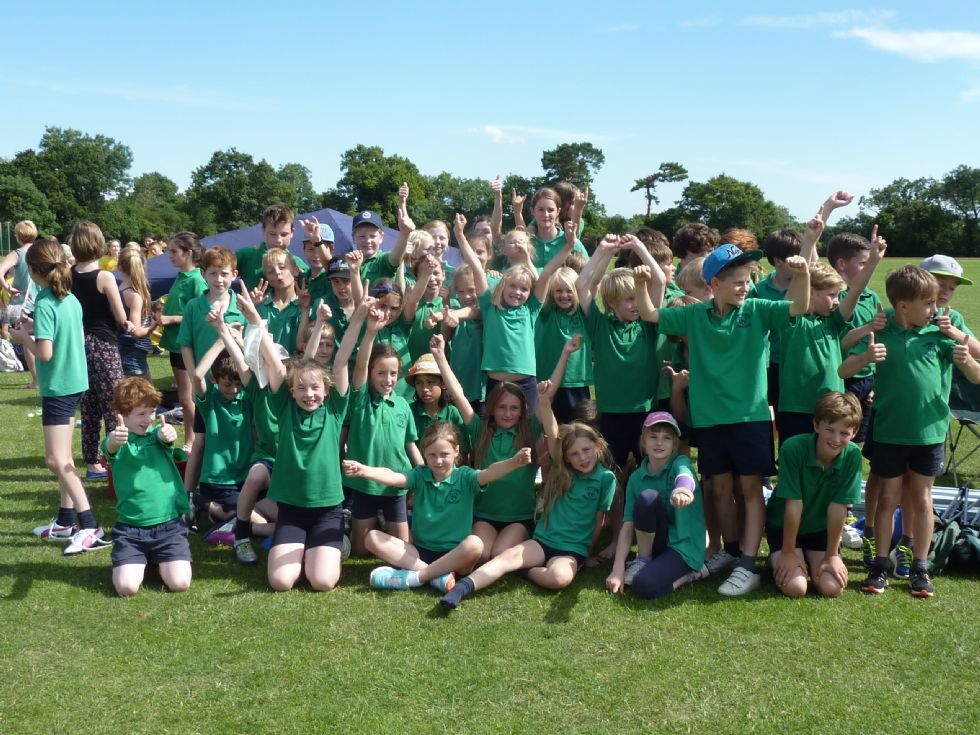 Children from Year 1 and Year 4 have shared a lovely assembly with us on Wednesday morning; they told the story of Noah's ark and talked about freedom and how we can look after God's creatures. Thank you, you worked very hard to prepare the assembly for us.
This week Year R have had a wondeful outing to Ladyland Farm, they were all very, very excited and had a wonderful day, they saw lots of different animals and even had a ride on a tractor! I'm looking forward to seeing their photos from the trip.
Year 2 have just shared their wonderful celebration assembly with us and their parents and visitors. I have really enjoyed watching every class's assemblies; they really are of a very high standard at St Edmund's. The children speak, sing and act so well and every assembly is different and really shows how much the children do love learning.
The children will bring home their reports today, they have worked so hard this year and we are very proud of them all.
We have our last discos this evening, I know the children are looking forward to them and I have heard some of them planning their outfits!
Year 6 have been busy rehearing for their play next Tuesday, we are looking forward to seeing what they have prepared, the singing is sounding wonderful, I can hear them rehearsing as I type!
Have a lovely weekend, I'm sure I will see many of you later for the disco.
Elizabeth
Friday 4th July 2014
This week it is really starting to feel as if we are racing towards the summer holidays! Our Year 6 students have been out of school visiting their new secondary schools, they have returned full of excitement for the year ahead. A group of Year 6 children have also helped me with our Induction morning for our new reception children on Thursday. They prepared a talk for parents and answered questions really well too. It was lovely to hear a parent with an older sibling say how fantastic the 'buddy' system and the support the new children receive from Year 6 has been this year. The children really do have a special bond here at St Edmund's.
It was great to put faces to the names of the children and the families who will be joining us in September, up until now it has just been a list of names and it is so good to start getting to know everyone, the children really settled well on Thursday morning and after sampling a delicious school lunch, they all left happily. We look forward to welcoming them all in September.
On Monday we talked about the feast of St Peter and Paul. Two children played the role of the saints and told us more about their lives and mission. Standing up for what we believe is not easy and so we asked God to help us have strength and courage to do what is right, and that we may always be strong like the first Christians.
It has been a busy week for sports with House netball and football tournaments, St John won the netball and St Mark won the football. The teams are getting ready to leave for District Sports this afternoon, I am looking forward to finding out how they get on, I know they have had great success in recent years and I'm sure they will do very well today.
STOP PRESS: News just in! I have just been told that we have won the district sports this afternoon! Congratulations to all the children who trained hard every week and took part today and huge thanks to Mrs McCarthy and her team!
I hope you all have a great weekend,
Elizabeth
Friday 27th June 2014
We started this week with a busy weekend, Saturday was the wonderful Summer Fair, it was very successful and everyone was smiling, even Year 6 who were bravely being splatted! The sumo wrestling and bouncy castle were great fun, and the candy floss stall and the BBQ were a huge success as were the ever popular sweet and bottle tombola! It was great to see some of the children planning and running their own stalls too, it's fantastic to see young entrepreneurs in our midst! Thank you very much to Ashley and the PSA who worked tirelessly to plan and organise the day.
It was lovely to see so many families at the School Mass on Sunday morning, the children read and sang very well and it was a very special day for me, thank you for all your message of congratulations and support, I'm delighted to now officially be the Headteacher of St Edmund's!
Children from Year 6 and Year R worked together to plan an action packed assembly on Monday morning on the theme of teamwork, they included a World Cup themed quiz, lots of participation and showed us how important working together is. Think of just about every goal ever scored in a football match... whoever scored the goal always has to thank someone for setting them up. Even in individual sports a player will always thank his or her trainer and family. "If one member suffers, all suffer together; if one member is honoured, all rejoice together." ­1 Corinthians 12
On Wednesday when we welcomed our Diocesan inspectors, I was extremely proud of the children who were very welcoming and well behaved, and the whole school team who worked very hard together. Thank you to all the parents who took the time to complete the questionnaires. We shared a special liturgy to celebrate our learning from the 'Come and See' topic on Reconciliation, the children planned prayer sculptures, role play, prayers, refection and joyful singing. We will receive the report before the end of the summer term.
I enjoyed a lovely day beside the seaside in Brighton with Year 2 yesterday. We visited the Sea Life Centre where we learned about sharps, turtles, seahorses and octopuses and even had time for lunch on the beach and a stroll along the pier! On the coach on the journey back I heard the children say it was the best trip ever! Year 1 were also out and about yesterday in Godalming, they visited Pizza Express and made their own pizzas which they were able to take home to enjoy for tea!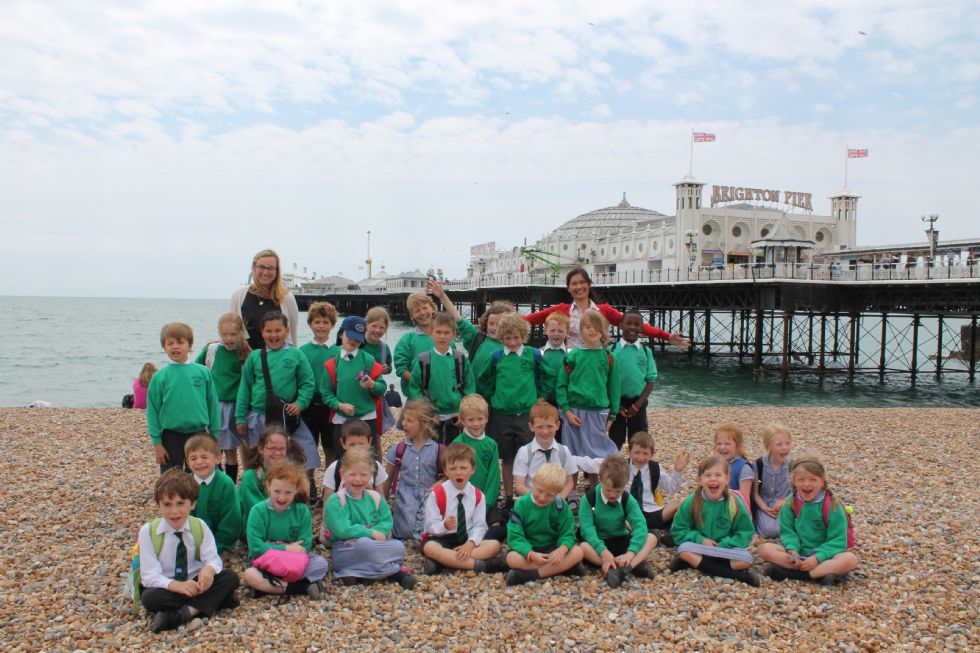 Thank you also to a group of Year 4 children who planned a lovely thoughtful assembly on how we can 'Share our Light', this is something the children do really well at St Edmund's.
Have a lovely weekend,
Elizabeth
Friday 20th June 2014

We started the week with a fantastic assembly on the Holy Trinity from children in year 5 and year 1. They explained a concept of the Trinity, three in unity, which can be difficult for us to understand. God the Father, the one who cares for us and loves us like a good father. He is the creator of the world. God the Son, Jesus, the one who was sent to earth as a human being in order to save us. He is the example of how to be. God the Holy Spirit, the part of God present and working in the world. Like the wind, the Holy Spirit cannot be seen but the Spirit's power can be felt. And so the three separate parts come together to create God. They are separate and yet work together and within one another. Thank you Mary, Toby, Elspeth and Mary-Jane.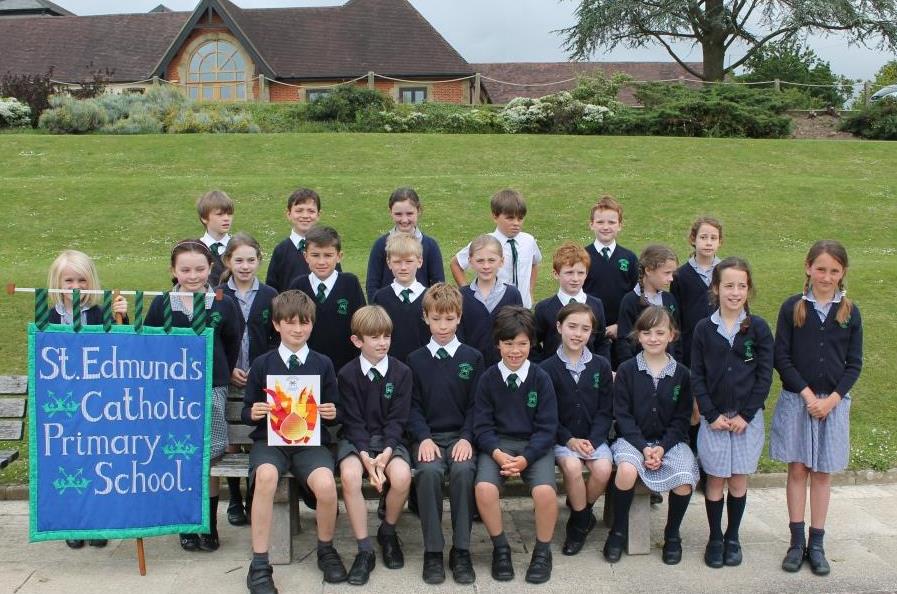 On Wednesday I accompanied the children who have just made their First Holy Communion to Worth Abbey for the Good Shepherd celebration. It was a fantastic experience to be part of a large celebration, and to sing and worship together with other schools from the Diocese. The children made a promise to Bishop Kieran on behalf of everyone at St Edmund's that we will follow Jesus' example and shine our light brightly as a beacon of God's love in the world. The children represented our school really well.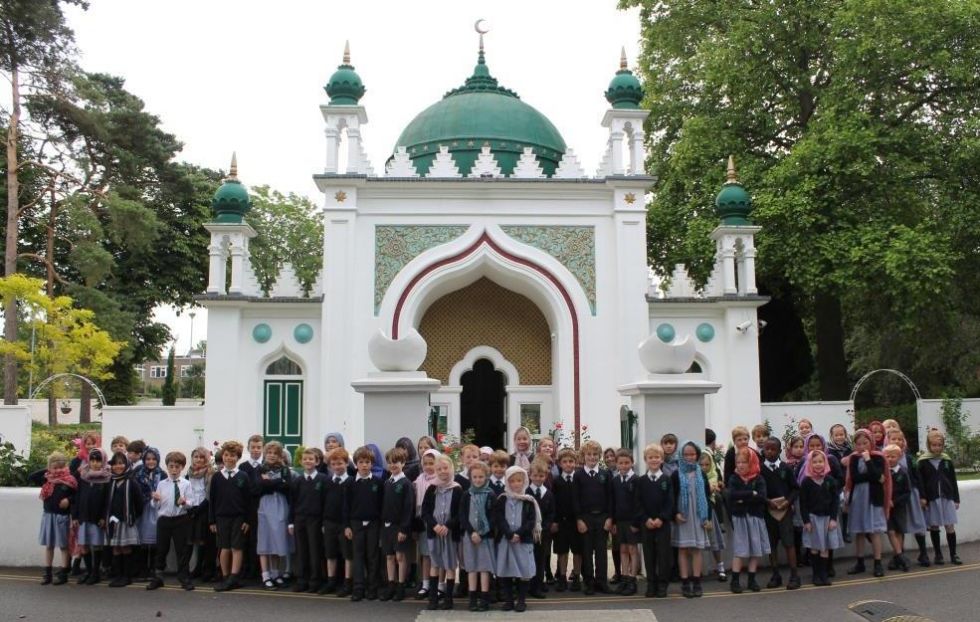 As part of our preparations for learning about other faiths, year 2 and 3 went to Shah Jahan Mosque in Woking. It was fascinating to see the Mosque and hear about its history, it was built in 1899! It was the first Mosque to be built in the UK and northern Europe and is now a Grade 2 listed building. It is a very beautiful building, much smaller that I had expected but inside feels very spacious and calm. The children really enjoyed the visit, they asked and answered questions with sensitivity and maturity and I think we all learnt a great deal.

Year 5 have just shared their fantastic celebration assembly based on their topic of World War Two, this was always one of my favourite subjects to teach and the children shared their learning with real enthusiasm. It was a very informative and moving assembly, thank you very much Year 5.
We have a very busy weekend ahead with the Summer Fair tomorrow; the weather forecast is looking very promising! The PSA have been very busy preparing and organising a wonderful range of events, refreshments and stalls, there will be something for the whole family! Gates open at 11am.

On Sunday we have our Summer Term school Mass at St Joseph's in Milford. It will also be a very special day for me as it is my official induction as Headteacher of St Edmund's. I can't believe it is almost 6 months since I arrived at St Edmund's and I'm so pleased to be here.
I'm looking forward to seeing many of you over the weekend,
Elizabeth
Friday 13th June 2014
What a wonderful day we have had today! We have enjoyed a fantastic Sports day, picnic lunch and celebration afternoon! I have really enjoyed seeing St Edmund's Sports Day this morning, and I was expremely impressed by the children's team spirit, they were so supportive of each other and we were all very proud of them. They looked very smart in their house T shirts too! We have some very talented athletes at St Edmunds. Congratulations to St John's House the KS1 winners and to St Matthews the KS 2 winners. The children have also been presented with award badges and certificates this afternoon for their individual races and events. A very big thank you to Mrs Mc Carthy and her team for planning and organising the sports day. Thank you also to the PSA who served refreshements. Well done to you all!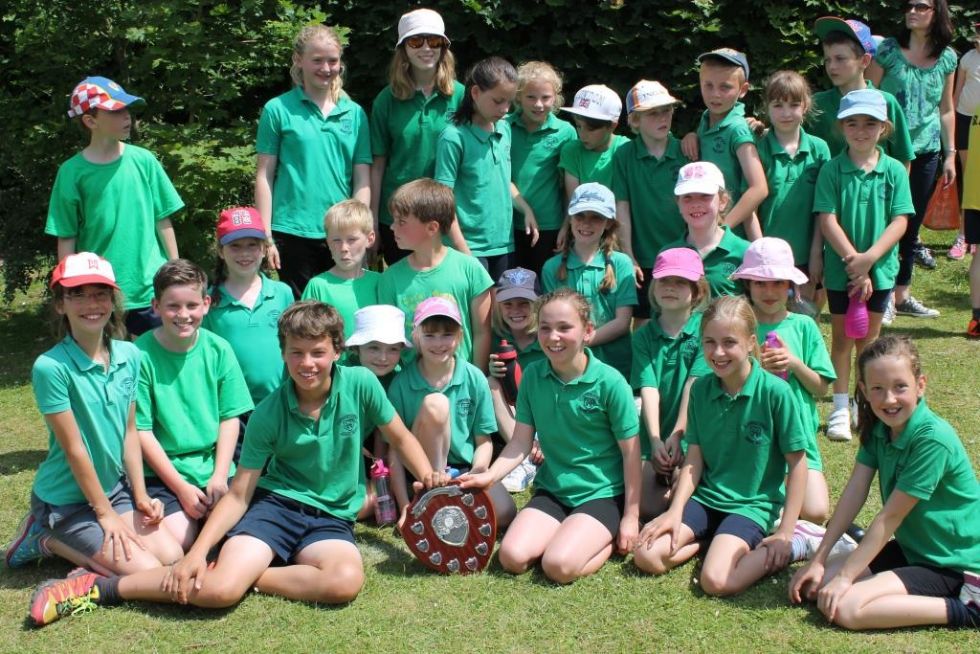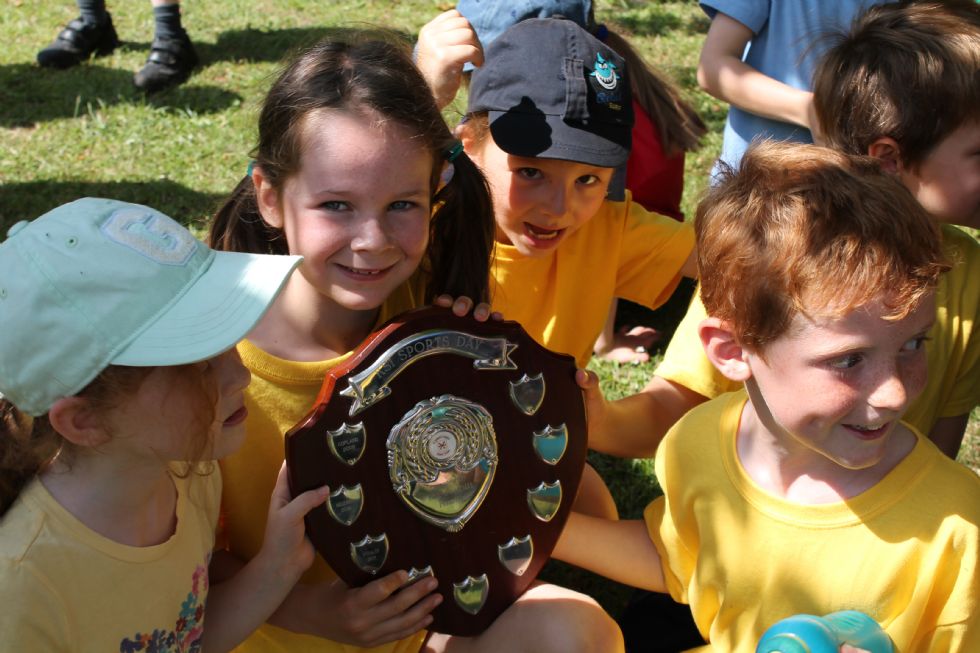 It was such a wonderful change to have good weather forecast and have no doubts about whether the weather would last for our picnic lunch. It is great to see the pride the children have for their school and they were showing their parents and grandparents round the prayer garden, the playgrounds and classrooms and sharing their special work with them. The ice cream sale was very popular too!
We had a wonderful assembly on Wednesday led by four children from Year 2, they had planned it all by themselves and it was very special. They reminded us why rules and important in our lives and showed this through drama, the story of the lost sheep and song! They asked God to help us to follow the commandments and show respect and love for one another. It was a lovely assembly. Thank you Penny, Martina, Eddie and Mia. I'm looking forward to seeing what some of the children in Yr 5 and Yr 1 have planned for us next week!
I was very lucky yesterday as I was asked to go to the G-Live in Guildford with Year 1 to see 'What the Ladybird Heard' at the Theatre. The children really enjoyed the show and they were very well behaved too. I also managed to fit in a visit to St Edmund's Church with Year 6 for Thursday morning Mass.
I hope the summer weather lasts into next week as we have many exciting events planned for the week ahead!
Have a lovely weekend,
Elizabeth
Friday 6th June 2014
I hope that everyone enjoyed a lovely half term break and is ready for the final half of the summer term. It is going to be a very busy and exciting one for us at all St Edmunds. We are making plans for the induction of our new reception children and at the other end of the school Year 6 are thinking about their transition to their new schools in September.
We have had a very special celebration assembly led by Year 4 this morning. They all told us about making their First Holy Communion. Twenty two of the children made their First Holy Communion last month on two separate Sundays. It was lovely to celebrate together as a whole school community and to see them all dressed up so smartly, such lovely suits and ties and beautiful dresses. No one was left out as the whole class told us about this special occasion and shared photographs and memories linking the importance of the Eucharist in their own lives. I'm sure the children in year 3 are looking forward to starting their own First Communion journeys in September.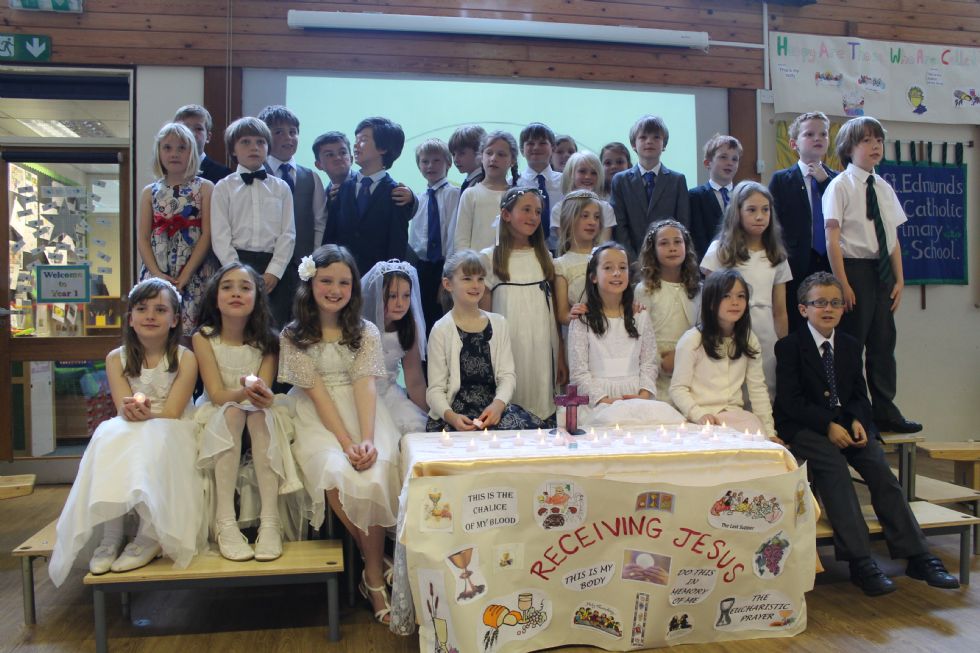 The Feast of the Ascension was last Sunday, and during our assembly on Tuesday we talked about theme of friendship and how it feels when a friend that we love moves away and how the disciples felt as Jesus returned to his father in heaven. We listened to the words Pope Francis said, "Dear young people, Jesus wants to be your friend, and wants you to spread joy of this friendship everywhere."
The children understand how saying goodbye to friend feels as we all said 'Goodbye' to Kacper and his family today as they leave us to return to Poland. We will miss them and wish them every happiness for the future.
Plans are underway for next Friday's sports day, we are hoping for sunshine so that we can all enjoy a picnic lunch together. After lunch I hope that everyone will be able to come and see the children's work during our celebration afternoon.
Enjoy the weekend,
Elizabeth
Friday 23rd May 2014
Here we are at the end of another half-term! The time has flown by, and the school has been very busy over the past few weeks. It seems like a short half- term with 2 bank holiday Mondays, SATs week, children out on trips etc.
I had a lovely day with Year 6 on Wednesday, I had never been to the Isle of Wight before, I hope to return and see more of the island some time. The children are having a wonderful time, and we are looking forward to welcoming them home this afternoon.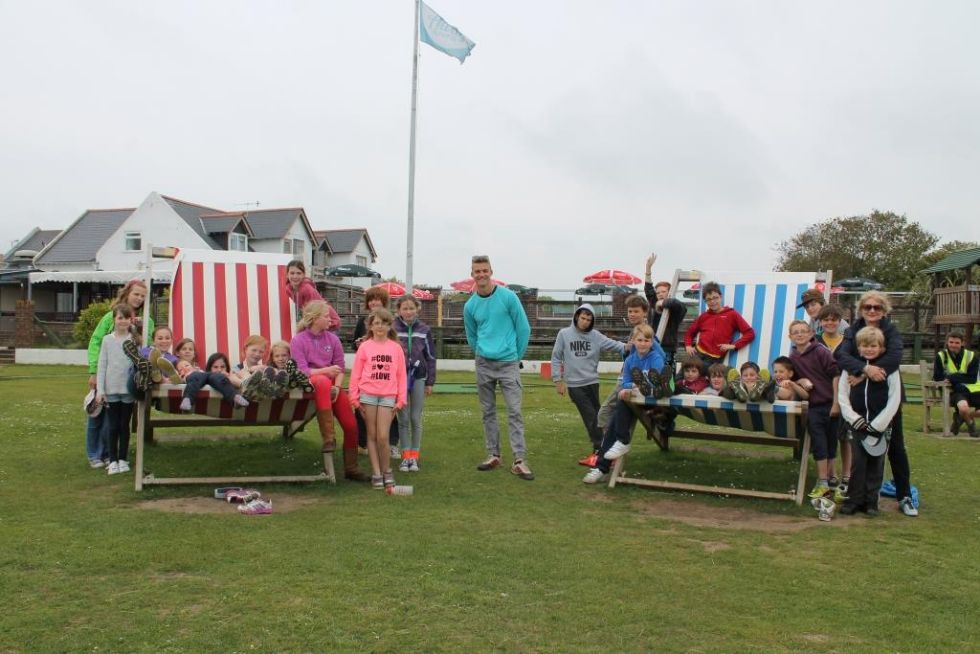 Despite such an exciting week, they are still thinking about us back at school. They wanted to know how Year 5 were doing with their duties but the main thing the Year 6 children were worried about missing was Year R's assembly this morning! I have assured them that they will be able to watch the DVD when they get back. It just goes to show how close the children are at St Edmund's and what a special family atmosphere we have here.
We were treated to a very special assembly this morning, they children (and teachers)had worked so hard preparing. I was very impressed by how grown up the children are, they have so much confidence and independence and spoke and sang so clearly. They are getting ready to be a wonderfrul year 1 class! They told us the story of Pentecost, we saw the Holy Spirit come to Jesus' friends and give them the strength to go out and spread the Good News. They also shared the story of the Rainbow Fish, who learns to be a good friend through kindness and sharing. It was a very special assembly with an important message for us all as followers of Jesus to go out in to the world and share the good news of the Gospel through what we say, think and do.
Have a lovely half-term break and I look forward to seeing everyone refreshed and ready for the final half term of the school year on Monday 2nd June,
Elizabeth
Friday 16th May 2014
It is lovely to end the week with warm sunny weather and the promise of a heatwave over the coming weekend! Our Year 6 children have been working very, very hard this week doing their SATs tests. They have all done their very best, and we are very proud of them. They celebrated with a special day today and games on the field this afternoon, they are very excited about their residential trip to 'Kingswood' on the Isle of Wight, they leave on Monday morning. It sounds like a fantastic week of activites and adventures and I'm really looking forward to visiting them for the day next Wednesday.
The rest of the school have also been working hard this week too, and we celebrated our Golden asembly this morning where there were so many fantastic awards given out.
I have been working hard today too at a training session with other headteachers in the Guildford and Godalming confederation. We have been looking at effective lesson observations and making sure that we really focus on the learning that is going on. It was a very useful session, and it is always really good to share what we are doing with other local schools.
The last children have just left after the film show, this was the scene half an hour ago! There were lots of voices singing along! Thank you to the PSA for organising this event.
Enjoy the weekend,
Elizabeth
Friday 9th May 2014
After a lovely sunny weekend the good weather unfortunately did not last! We were all looking forward to our May procession to Ladywell but sadly yesterday morning was so wet and miserable that we had to change our plans. Father Michael joined us at school for our Mass and we were delighted that many parents were able to join us too. This year we have the prayer garden so the children were able to take the beautiful posies of flowers out to the garden and place them around our own lovely statue of Mary, I think she was glad to receive so many visitors yesterday!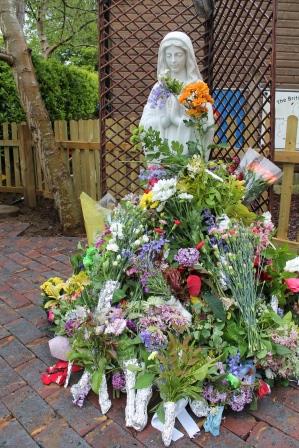 Thank you to Father Michael for coming to celebrate with us and to all the children who read and sang beautifully. I was especially impressed by the group of 5 children who performed a 'prayer sculpture', a simple repeated prayer with actions, they did really well as this was the first time we had tried this different form of prayer in front of an audience.
Our Mass for Mary gives us a chance to honour Mary during the month of May and think about how she said, 'Yes' to God. Mary is a model of faith to us. Presenting Mary with flowers shows that she is special to us. We don't pray to Mary, but we ask her to pray for us as she is close to God.
Despite the changes we had to make, yesterday was a very special occasion for us all. We know that the weather cannot be relied upon and we are good at being flexible!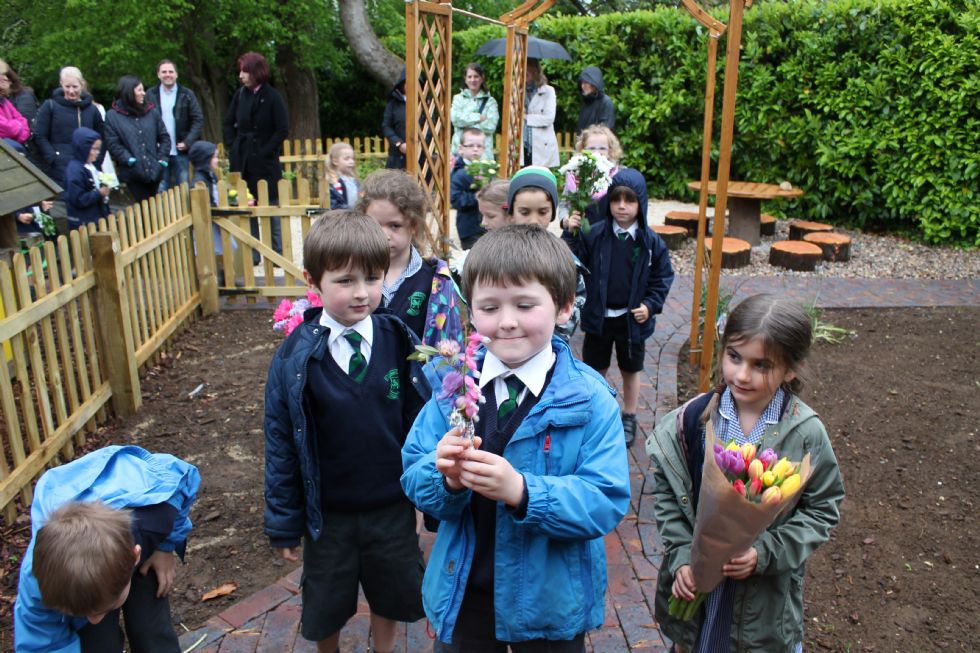 The children are learning so many exciting things at the moment, Year R have been busy on board their pirate ship they have even receied letters from a mysterious Pirate Pete! Year 1 are investigating insects and plants, Year 2 have been doing some amazing writing looking the character, Flat Stanley. Year 3 have been finding lines of symmetry, Year 4 have been sharing their adventures from Sayer's Croft last week, Year 5 are very creative and have been building air raid shelters and boats! Year 6 pupils are getting ready for their SATs next week, they have been working very hard in preparation and it is an important week for them all. We wish them luck, and the most important thing is to 'Do your best!'
I hope that you all have a lovely weekend,
Elizabeth
Friday 2nd May 2014
Year 4 have just this minute returned from their very exciting trip to Sayer's Croft. They have had a fantastic few days despite the mixed weather. I was lucky enough to spend the whole day with them yesterday. I had never been to Sayer's Croft before and it really is a lovely place with a fascinating history. The children took part in a range of adventruous activites and every minute of the day was filled with challenges and excitement. While I was with them the children took part in climbing and low ropes courses, then after a hearty lunch, they were off again, orienteering in the bluebell woods and a very challenging 'challenge course'! After a delicious tea, they children tried their hand a natural art and ended the day with toasting marshmallows and campfire songs.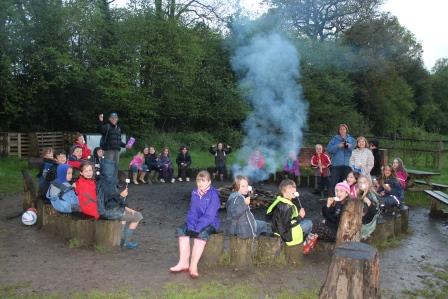 Have a lovely long, Bank Holiday weekend,
Elizabeth
Friday 25th April 2014
Happy Easter
Heaven and earth you made
Almighty Father, your only-begotten son you gave
Priest and King, Lamb of God
Passion and death on a cross
You, Lord Jesus, made us children of God.
Encourage us to believe
All our love and praise receive
So joyful and glorious
The Lord is risen, miraculous
Endless is your love, O Lord
Rejoicing, we thank you, our God.
Diana Sutherland (CAFOD supporter)
I hope that everyone had a happy, peaceful Easter, I know that many families went away during the break and the children returned on Tuesday full of their holiday adventures. It certainly sounds as if you had a lovely holiday.
During our assemblies this week we have talked about the resurrection and how we celebrate the new life given to us on Easter Sunday. The children unwrapped the letters we had put away on Ash Wednesday and revealed the word ALLELUIA as we celebrate the Good News. We thought about what it would have been like to be at the tomb on that Sunday morning, and how the disciples felt as they walked with the stranger on the road to Emmaus not realising that the stranger was Jesus himself.
Yesterday we had a very exciting visitor, Kwame from Ghana came to lead a day of drumming workshops. He started with a whole school assembly, a lively introduction to the day. Through stories and songs he helped us to understanding more about the djembe drums and Ghanaian culture. It was lovely to see all the children enjoying and participating with such enthusiasm.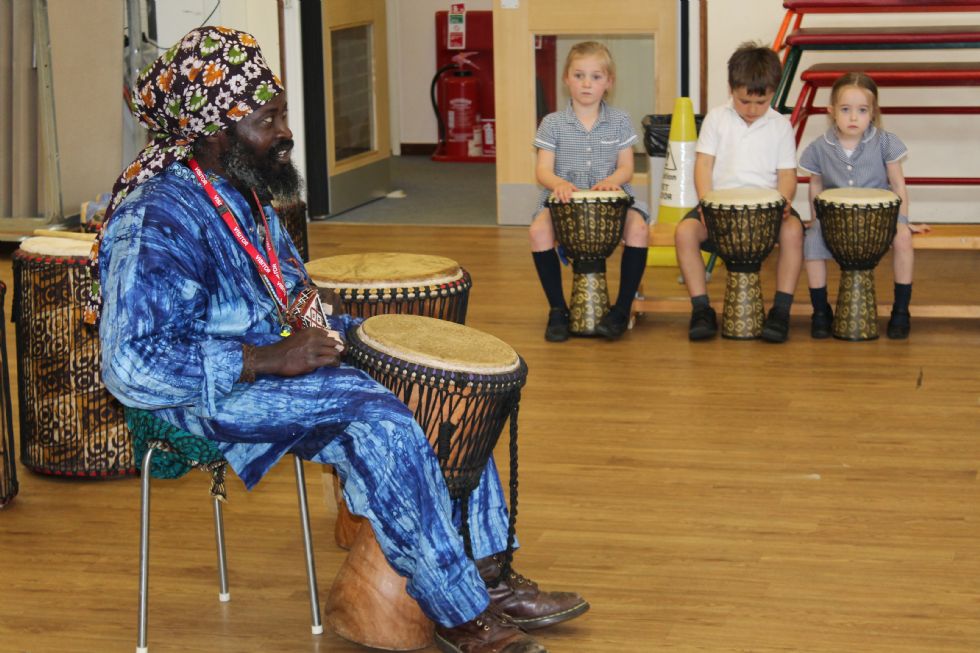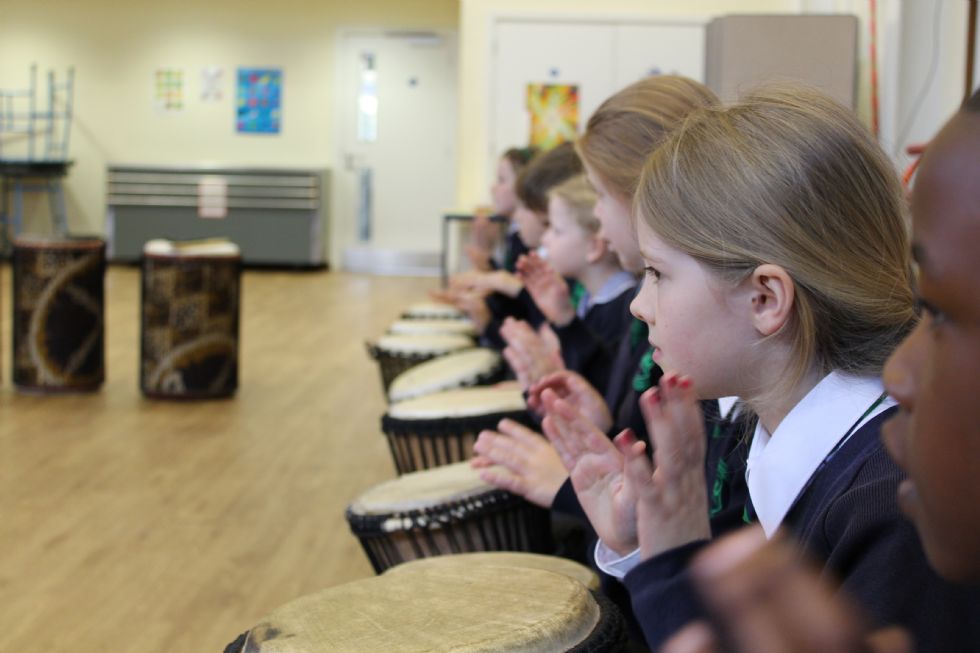 I hope the weather improves and that you have a lovely weekend,
Elizabeth
Friday 4th April 2014
Thank you so much for all the kind messages of support and congratulations I have had this week. I am truly delighted to be staying at St Edmund's as Headteacher. It is a really lovely school and I'm looking forward to working with you all for what I hope will be many happy, successful years for everyone at St Edmund's. It seems such a long time since January when I arrived and everything was new and I didn't know anyone and so many things were different! It has been great getting to know the school, the routines and events and the staff, parents and governors and most especially all the children; there really is a special happy family atmosphere here.
We have had a very exciting week with so many special events taking place. The music concert on Tuesday was a lovely occasion; there are so many talented children at St Edmund's. I often hear the violinists playing on Tuesday morning, but I haven't heard the pianists or guitarists before, they were all wonderful!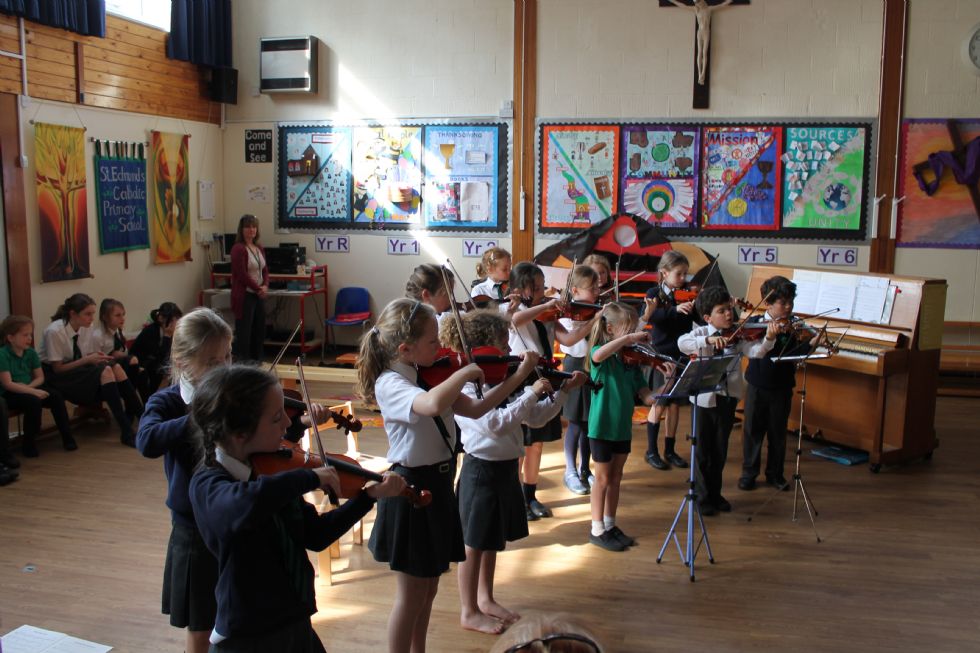 Year 6 performed a very moving Passion Play on Wednesday; they told the story with reverence and maturity, thank you Year 6 for sharing the Easter story with us in this special way.
There was a great turnout for our end of term Mass this morning, it was lovely to see so many parents, grandparents and visitors coming to celebrate our special school Mass together.
I wish you all a peaceful, happy and Holy Easter,
Elizabeth
Friday 28th March 2014
It is hard to believe that we are only one week away from the end of the Spring Term. Next week is going to be very busy with our music concert on Tuesday afternoon, our Reconciliation Service, and Year 6's Passion Play on Wednesday, the Easter egg hunt on Thursday and we will finish with our special end of term Mass next Friday.
As we continue our journey towards Easter we have looked at the relationship between Mary and Jesus in our assemblies this week. Tuesday was the Feast of the Annunciation and we talked about how Mary said 'Yes' to God and the difficulties she faced. We thought about the words that Simeon said to Mary when they met at the Presentation in the Temple, and we looked at the fourth station of the cross where Jesus meets his mother, Mary. She was able to bring comfort to Jesus just by being there, we talked about what we thought Mary and jesus would say to each other and what we would say or do if we were there too. We thought about how we can bring comfort to others through what we say, think and do.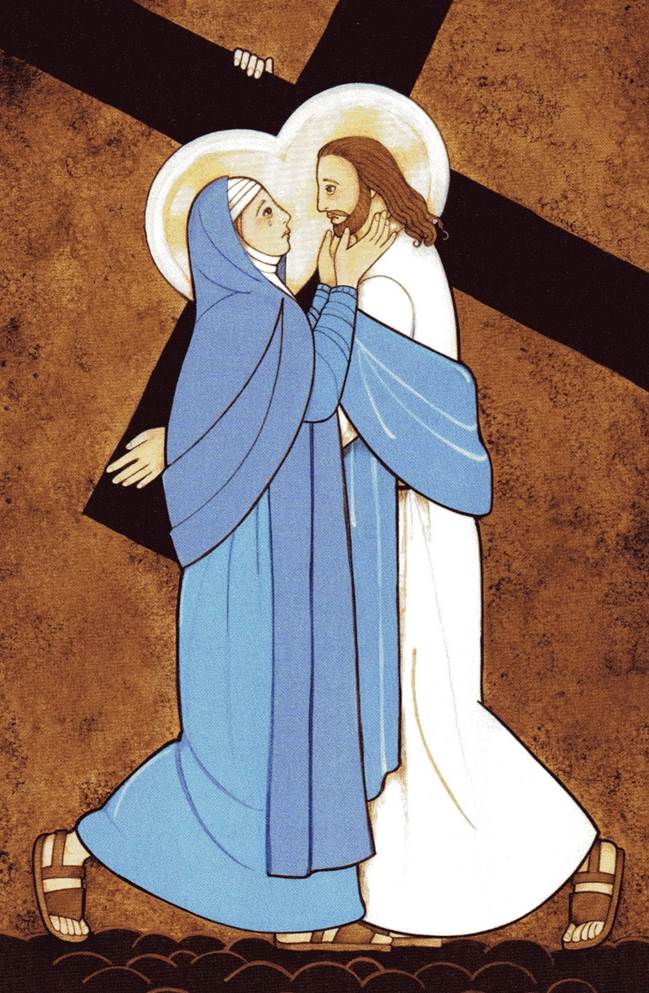 We thought about Sunday being Mother's day and I hope that all the children make it a special day for you and that they remember to thank you for the love, care and comfort that you give them every single day.
Yesterday we welcomed Sr Ann from Ladywell who is coming to lead a prayer group at lunchtime on Thursdays. It was a lovely time where the children talked about Jesus being their friend, the children really enjoyed the group, thank you Sr Ann.
Year R are just getting ready to share a special celebration with their Mummys, I'm really looking forward to seeing the treat that they have prepared!
I hope you all have a lovely weekend,
Elizabeth
Friday 21st March 2014
One week on and the prayer garden is looking fantastic! The path is complete, the fence is finished, the water feature is working and our beautiful Mary is in place. The rest of the garden is ready for planting and finishing off.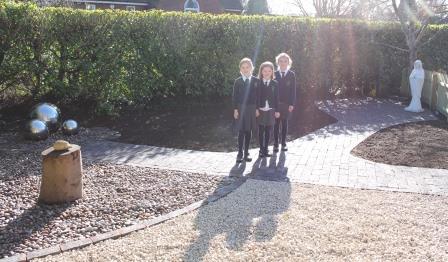 As we continue on our Lenten journey we shared our learning from our 'Come and See' RE topics in a whole school liturgy on Tuesday. Children from each class told us about their topics and what they have been learning. Our topics have different titles but they are all about Giving. Family life and life in school, is full of opportunities for giving. When we were little our parents had to do everything for us. As we grow older, we grow to share our love with other people. When we get older we will hope that our children and grandchildren will are for us. Life is like a cycle of love, caring for others and being cared for. As we prepare for Easter we think about Jesus making the biggest sacrifice possible, giving his life to us. During this time of Lent we give to others and think about Jesus and his time praying in the wilderness as we prepare ourselves for Easter.
On Thursday morning Year 3 and 4 walked to St Edmund's Church, it was lovely to join them. Several parishioners commented on the children's excellent behaviour and how lovely it was to see the children there for Mass.
Last Saturday year 2 performed at the Infant Singing Day, they sang so well and behaved beautifully and they were the smartest children there! They sung some of their songs again for us in their very special class assembly this morning. They took us on a wonderful learning journey and told us about the famous people thay have met on their journey through time. It was a lovely assembly, thank you Year 2.
There is great excitement about the discos taking place this evening, I'm looking forward to see all the children dressed up and showing off their dance moves!
Enjoy the weekend,
Elizabeth
---