Archive Headteacher's blog 2014-15
Tuesday 21st July 2015
It's the very last day of the school year and the children are just eating lunch. Our Year 6 children are wandering around saying 'Goodbye' and collecting signatures, there is very little space on their shirts left!
We had a special Award and Leavers' Assembly this morning, we looked back over the last 7 years and thought about how far the children have come. Special awards were presented to: Izzy Killen for Outstanding Academic Achievement, she has achieved Level 6 in all subjects and yet when she started school she needed help to put on her own coat! Izzy Brooks and Toby were awarded Best Boy and Girl for Sports, they have contributed so much to the sporting life of the school. William was given the Ethos Award, he is always kind, very helpful and supportive and keeps us all entertained! Lili Pustai was awarded the Governors' Award for most improvement in any area of school life. Everyone who saw her as Scar in the Lion King will understand how wonderful she has been. Here they are: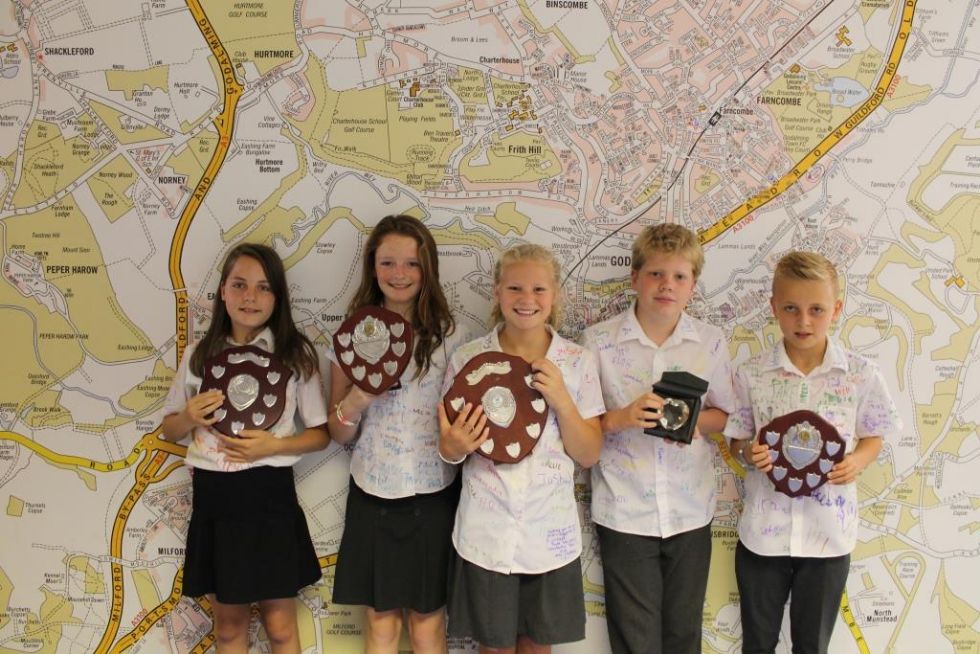 We have also said goodbye and thank you to Mrs Hanna and to Miss Donlon. The choir had prepared a very special song in secret and they performed it beautifully. We will miss them very much and wish them every happiness in the future.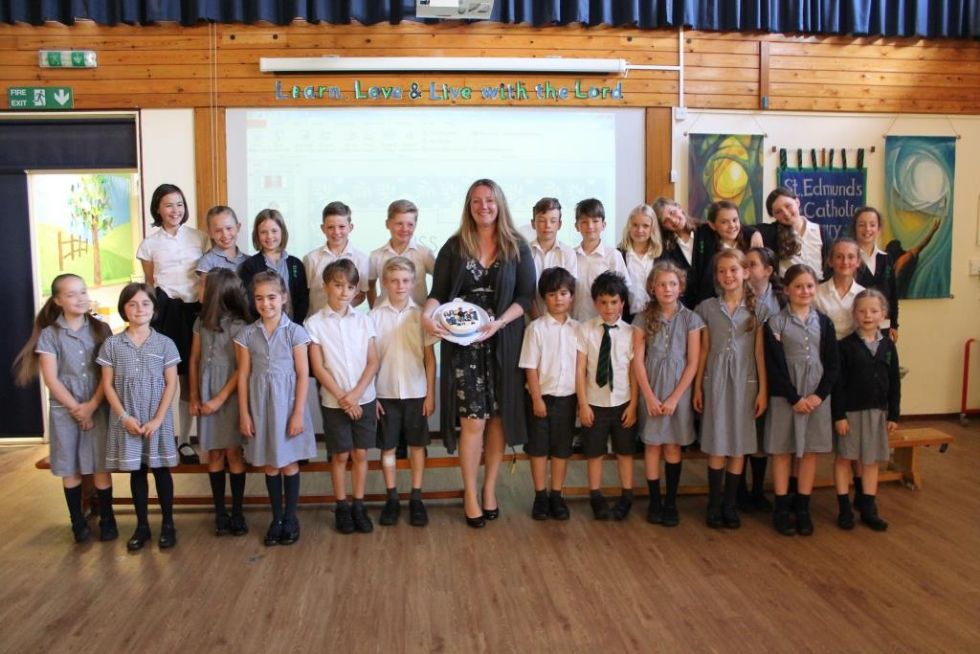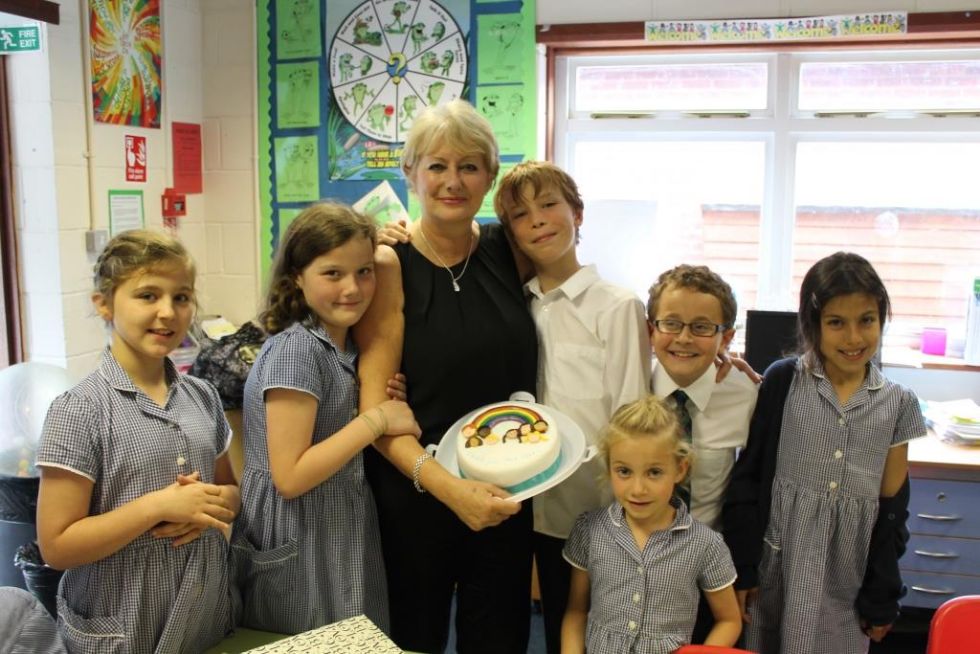 Thank you so much for all for your support this year it has been a very happy and successful one. I hope everyone enjoys a peaceful, happy summer holiday and I look forward to seeing most of you back in September.
Elizabeth
Friday 17th July 2015

It's the final Friday of the school year. What an amazing year it has been! We've had a lovely last full, action packed week. The highlight of the week has to be the wonderful year 6 leavers production The Lion King! It was truly amazing from start to finish. The children have worked so hard and I think they have loved every minute of it. They performed the different roles so well and the singing and choreography was really beautiful. The whole school has been buzzing with the excitement of the show all week.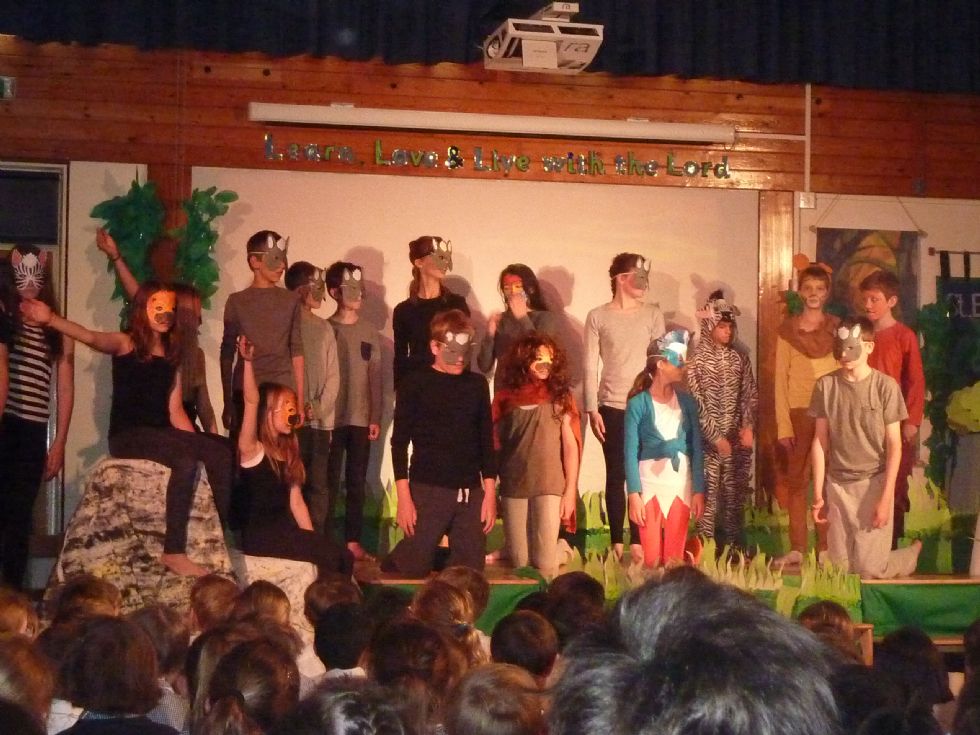 Reports went home on Tuesday and I'm pleased to say that having read all 211 reports I'm very proud of each and every one of the children. Year 6 finally got to see their SATs results and they were fantastic.

Everyone is ready to leap for LearnPads this afternoon with two bouncy castles being set up in the playground. It will be great fun for the children and will also help to raise funds to enhance the children's learning with extra LearnPads.I did have a little go, just to test the castles out, it's harder work than it looks, my legs felt very wobbly when I got off!

Yesterday we had a very exciting netball match: teachers versus year 6! There were very competitive players on both teams, especially the teachers' team, who did seem to win most of the games! It was great fun, thank you to everyone who took part.

We had our final Watts Gallery ceramic workshop on Wednesday afternoon when Lucy and Adrienne came to us here at school. I'm really looking forward to seeing the finished art installation in September; each individual piece that I have seen looks beautiful.

We had a very long Golden assembly this morning; there were so many wonderful achievements to celebrate. The children always especially enjoy Golden Assembly as we can celebrate all the gifts and talents we have at St Edmund's.

We have just two days next week with our Leavers' Mass at Ladywell convent on Monday and our special award assembly on Tuesday morning.
We also have the final disco this evening; it has been a very exciting day for everyone!
Have a lovely weekend,
Elizabeth
Friday 10th July
It's a very peaceful morning here at school. We are all busy planning for next year and we've even managed to re-arrange the library this morning too! It is amazing how much we can get done when we all work together.
Our Sports morning was very successful yesterday with perfect weather conditions, so much better than our original wet morning back in June. The children love competing against each other and really enjoyed taking part in all the races and events. In KS1 St John's house were the winners and in KS2 the winning house was St Matthews. The children were very supportive of each other, which was lovely to see. I would like to say a big 'Thank you' to Mrs McCarthy for organising all the events and preparing the children so well. Thank you also to the scorers Mrs Hanna and Mr Tomes, (who we were delighted to have back with us for the week) and to the Year 6 and Year 2 children who helped with the events.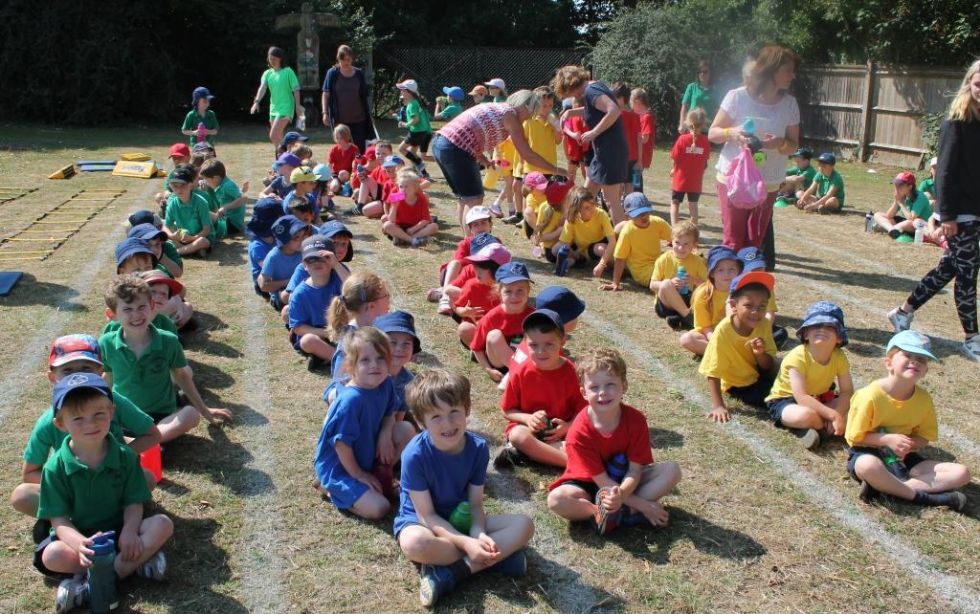 Year 2 had a great day beside the sea on Wednesday they visited the Sea Life Centre in Brighton and even had time for a very blustery stroll along the pier. They were very well behaved and had a really lovely day. Year 5 spent the day at St Peters, where they had a taste of secondary school life, they were very positive about their day when they returned and full of excitement about the future.
The last few days are whizzing by and the end of term is fast approaching. I have just finished reading all the children's reports which will go home on Tuesday 14th. There have been so many individual successes this year and the children work so hard every day with their learning I have really enjoyed reading all the wonderful comments. The children in Year 6 will finally get their SATs results with their reports they have done so well and we are very proud of them all. I will be able to share the results with you next week.
I hope that you are all enjoying the sunshine and the long weekend,
Elizabeth
Friday 3rd July 2015
It's been a very warm week but hard to believe it's the hottest July for 160 years. The children have coped really well with the heat; they have had plenty of water to drink and tried to stay in the shade at lunchtime. I'm very pleased with the way they have managed to concentrate and do their best with their learning despite the heat.
We had a lovely assembly on Wednesday on the theme of creation, planned and led by Eve, Tara, Imogen, Alexandra and Holly. The girls told the story through drama and even included a film clip into their PowerPoint presentation. They reminded us to thank God for the wonders of our beautiful world and creating us in his likeness. I have had a great many children, inspired by this lovely assembly, coming to sign up to plan and lead their own assembly soon.

We welcomed our new pupils on Tuesday afternoon and Thursday morning. They were really good at coming confidently into school and enjoyed seeing the classroom and meeting their new classmates. They will be a lovely class and we are all looking forward to seeing them in their uniforms in September. While they were enjoying playing in the classroom their parents stayed in the hall finding out about life at St Edmunds. I was delighted to have a wonderful group of Year 6 pupils with me, they welcomed our new arrivals and talked to parents and answered questions, thank you; you were brilliant! Also I would like to say thank you to all the parents who served refreshments and cakes yesterday.

It was not only our new Year R children trying out their new class on Thursday, we all 'moved up' with the children spending the morning in their new classes. They all seemed very excited and there is a lovely sense of anticipation about moving on. The year does seem to have gone by very quickly and we still have many exciting events still to come!

We had our last class Celebration Assembly this morning from Year 2. The children told us all about the famous people they have been learning about recently, Queen Elizabeth I, Edward Jenner, Mozart, Florence Nightingale, even George Watts in costume. There was wonderful singing and dancing too. It was a really joyful assembly.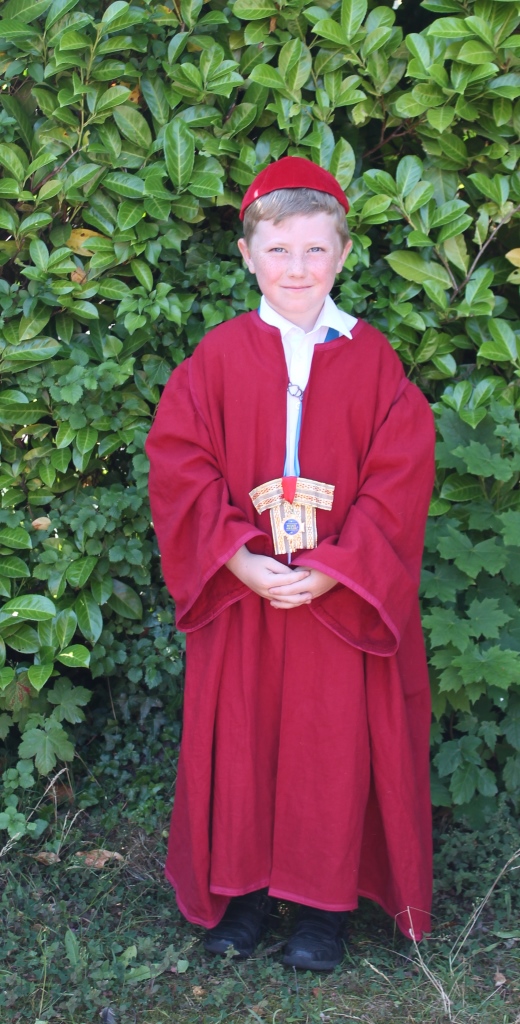 We are off to the Amex stadium in Brighton on Sunday to celebrate the Diocesan a Jubilee. Our choir will be singing it's sure to be a really special day, ending with Mass celebrated by our new Bishop, Richard.

I have just returned from our District Sports competition this afternoon at Charterhouse and I'm delighted to report that St Edmund's have won! The children were fantastic, they have loved being part of the training and event today. They were so supportive of each other and they are fantastic athletes. Thank you so much to Mrs McCarthy who has worked so hard training them all.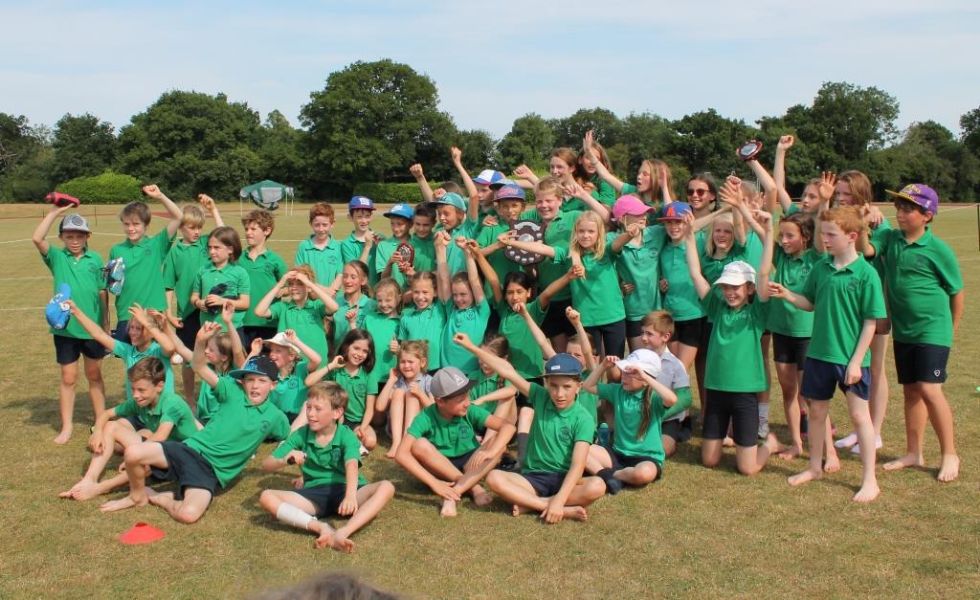 We are hoping that the good weather continues next week so that rearranged Sports Morning can go ahead as planned next Thursday.
I hope everyone has a lovley weekend,
Elizabeth
Friday 26th June 2015
We have just arrived back from a wonderful week in Cornwall at 'Outdoor Adventure'! It has been a really special week full of adventures. The children (and Mrs McCarthy, Mrs Clifford and I) challenged ourselves with a wide range of experiences. Each day the children said "this was the best day" and every day it got even better! They loved learaning to surf and body board in Widemouth Bay. We all experience coastal traversing for the first time, climbing and scrambling over rocks and boulders along the edge of the cliffs. Abseiling and climbing were made even more exciting due to the dramatic location. All the children were brilliant, they showed great enthusiasm for everything and were very well beahaved and extremely supportive of each other. Keeping our energy levels up was very important and every meal was absolutely delicious! The instructors were wonderful and took very great care of us all, geting to know the children really well. We are already making plans for next year's trip!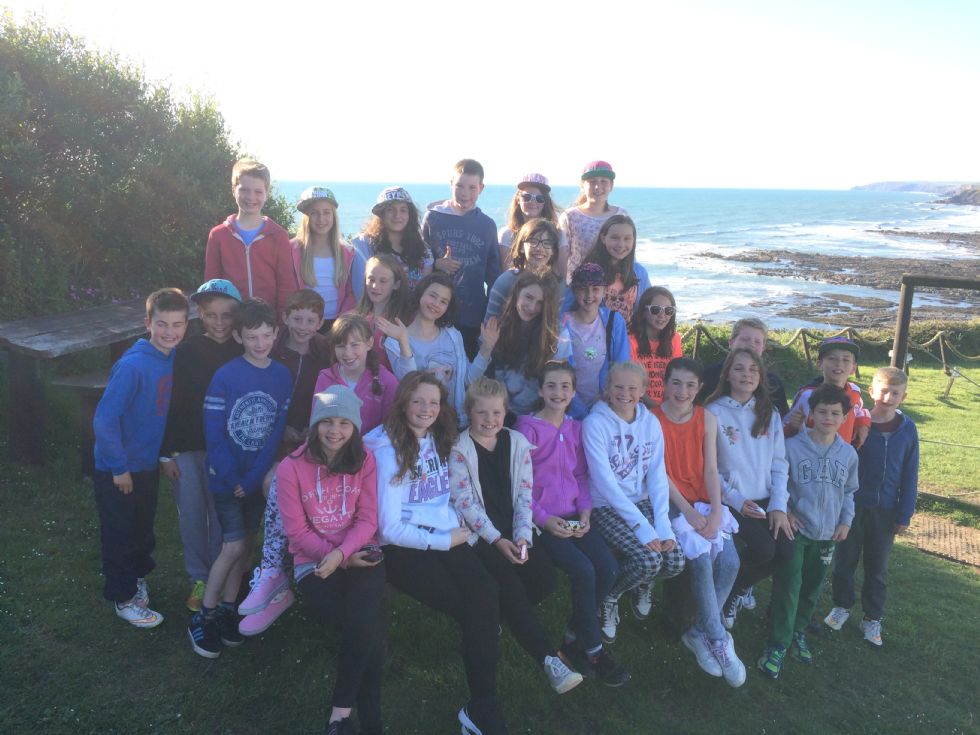 Meanwhile back at school Years 2 and 5 have had a lovley day at Watts Gallery on Wednesday and Year 4 have had a very special visit to The Life Of Christ at Wintershall today.
I'm looking forward to being back in my own bed tonight and then to seeing you all at the Summer Fair tomorrow.
Friday 19th June 2015
I knew this would be a busy week and it certainly has been!
Last Saturday we took part in the new Mayor's Installation Service at Ladywell. It was a very special occasion and really exciting to see the new mayor and all the councillors in their fine robes. The six children represented the school beautifully, I was very proud of them all.
On Wednesday I took a group of children to Worth Abbey to represent St Edmund's at our Diocesan schools Good Shepherd Celebration led by our new Bishop Richard. All the schools in the Diocese brought their banners and a special passport which was stamped by the Bishop. The theme of the service was 'Go make disciples of all the nations'. The singing and dancing was wonderful and it was an amazing experience to be part of such a large gathering of our schools. We had a lovely picnic afterwards too.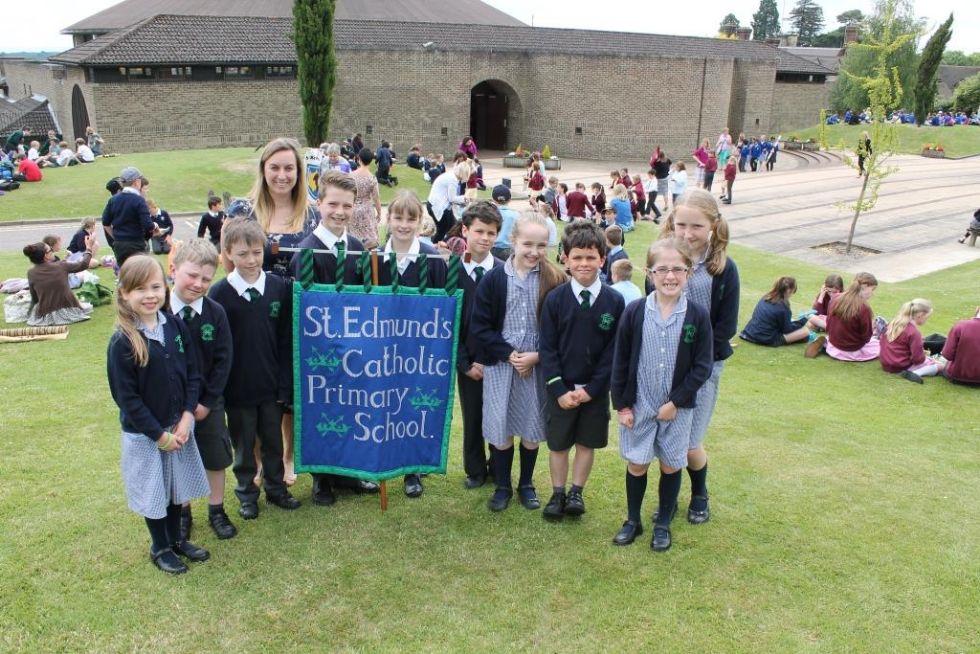 Yesterday all the children in Reception and Years 1 and 2 took part in an enjoyable drama session. It was rather quiet higher up the school as Years 3 and 6 were on the first of our days out at Watts Gallery. The children started work on the art project making their ceramic tiles and they studied the symbols and patterns in the chapel designed and made by Mary Watts. They learned more about George Watts through looking at the paintings in the Gallery. They also had time for some sketching and natural art in the woodland area. Year 4 will be there today and Year 5 and 2 visit next week with Year R and 1 classes going the week after that. If you haven't been to the gallery or chapel before I hope the children will be able to take you over the summer holidays and share their learning with you. It really is a very special place to visit.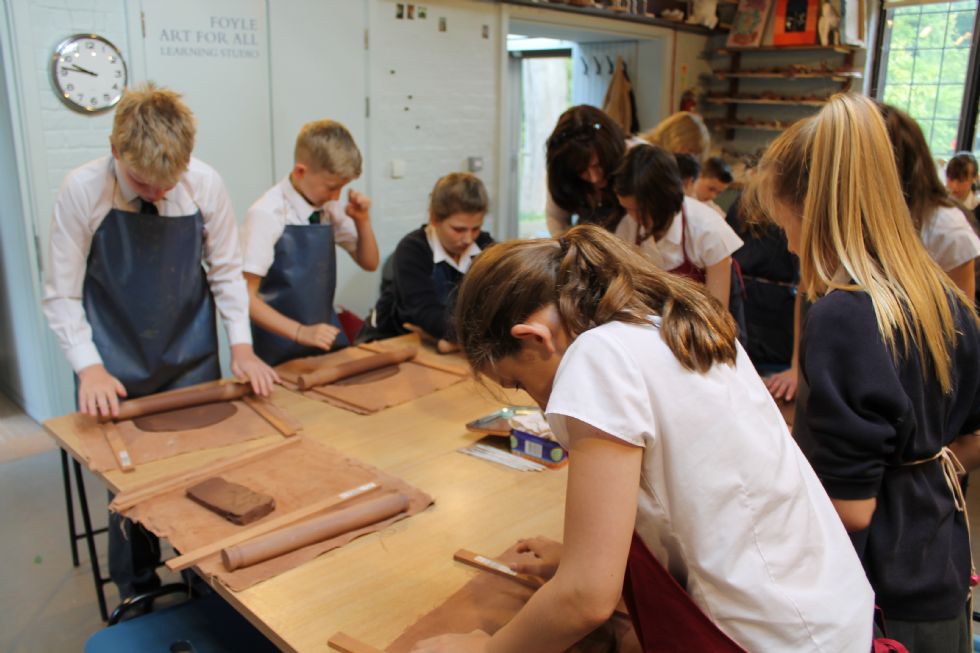 It was the turn of Year 5 to share the celebration of their learning this morning with a wonderful assembly. They have been determined to keep it a surprise and have told me there will be "No spoilers!" I wonder what it's all about! It is always wonderful to see how proud the children are of their achievements and how they love sharing their learning with us all through the wonderful class assemblies.
Year 6 pupils are all ready for an action packed week at 'Outdoor Adventure' in Cornwall next week. I'm really excited to be going and I know they are too.
This Sunday is our Summer Term School Mass, I hope to see many families there.
Elizabeth
Friday 12th June

I'm very sorry that we have had to cancel our Sports day this morning. Although the forecast looked promising, the rain was very heavy at 9am and the grass was too wet making conditions dangerous for the children to run. Everyone was very disappointed as we were all really looking forward to the day. We are trying to find an alternative date and will let you know the arrangements as soon as possible. The one thing we can't rely upon is the weather! We are pleased that so many parents were able to stay and look at all the wonderful work the children have done this year.

Year 4 shared their wonderful Class Assembly with us yesterday. They started by entering the hall with great reverence carrying candles. The children told us about the faith journey they have made this year preparing for their First Holy Communion. The children laid special objects and photographs on the table as they explained the importance of the Eucharist. They sang so beautifully, everyone watching was truly moved. The children showed great reverence and maturity, we are very proud of them all. They will have their special Going Forth Mass this Sunday morning. Rather than being the end, this is just the beginning of their faith journey. Please continue to remember then in your thoughts and prayers.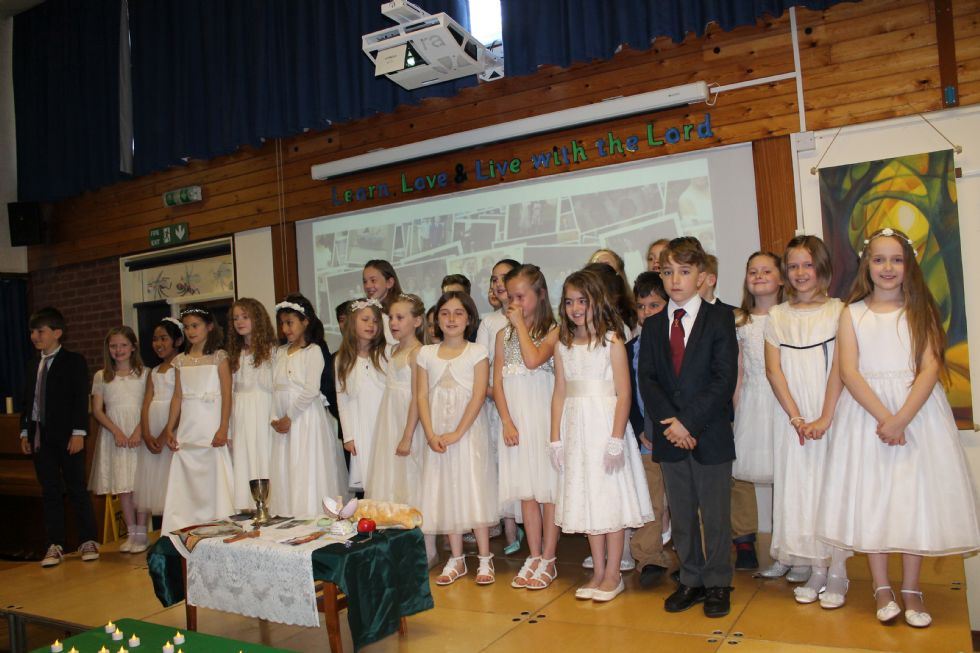 All the outings and visits that have taken place this week have gone extremely well. Year 6 went to the Imperial War Museum in London on Monday; they were fascinated by the artifacts and were able to investigate the lives of those lived and fought during the war.
On Tuesday morning Years 5 and 6 went to Shah Jahan Mosque in Woking, they learnt alot about the history of this amazing mosque and the Islamic faith. It was a really interesting morning.
Year 5 had a wonderful day at High Ashurst on Wednesday, challenging themselves with high ropes and they were very high! I was particularly impressed with the way the children supported and encouraged each other. Here are two brave Year 5s making the leap to the trapeze high above the ground!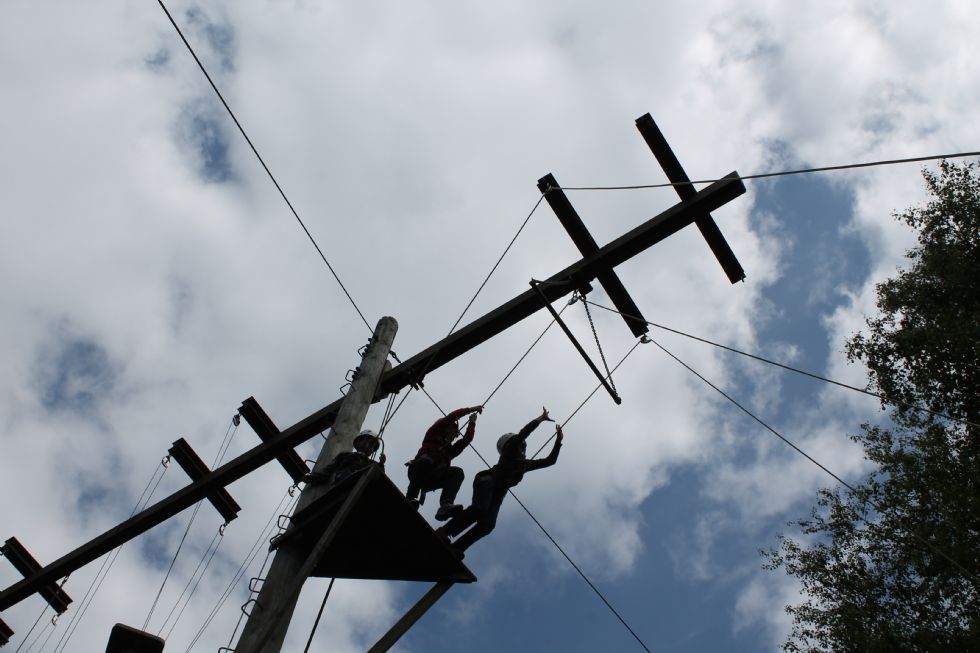 Year R went to Ladyland farm on Wednesday. They had a wonderful time feeding the animals, riding on the tractor and even holding a new born chick!
They children were all very well behaved and represented the school beautifully; we are very pleased with them. It is always lovely to take the children out, they learn so much; these are the days that we hope they will always remember.

There are even more outings coming up next week as we start our special art project with the Watts Gallery.

Tomorrow a group of children will represent St Edmunds at the Installation service for our new Mayor which takes place at Ladywell Convent. It is a great honour to be asked and we look forward to telling you more about it next week!
Have a lovely weekend,
Elizabeth

Friday 5th June 2015

I hope that everyone had a lovely half term holiday, I can believe we've only been back a week it seems much longer already!
We were treated to a wonderful assembly on Wednesday planned and lead by four children in year 5. They had chosen the theme 'everyone is different' they showed that we are all different and God loves everyone one of us, even if we make mistakes sometimes. We must celebrate our differences and show our love for others as Jesus taught us. They included a challenge based on the story of Zacchaeus, a quiz and a wonderful PowerPoint, thank you for very much to Noah, Samuel, Erin and Oscar.
On Wednesday morning we welcomed two of our Governors who came to do a 'Learning walk' looking at maths across the school. They were able to see the learning and progression in all year groups and look at how maths is being taught in every class.
This morning it has been Year 1's class assembly. The children have only had a few days this week to rehearse and it was wonderful! It was a real celebration of their learning. They were dressed as beautiful insects: ant, bees, beautiful butterflies, wriggly worms, roaring tigers, kangaroos, crocodiles, bears, turtles and even elephants! The children also reminded us of the wonders of God's world but remember if you are out and about looking for mini beasts 'Don't get ants in your pants!'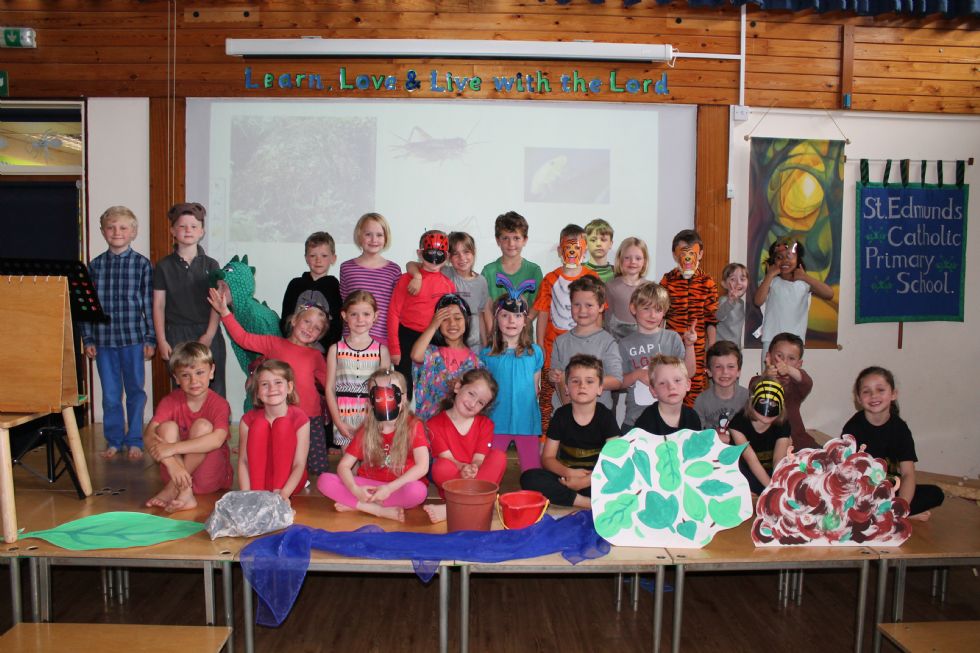 As I'm sure you know from the number of letters you have had this week, there are lots of exciting things happening over the next half term. Thank you for your patience and support with all these exciting events. Next week our top two classes are very busy. Year 6 are off to the imperial war museum in London, Year 5 are going for a exciting day of adventurous activities, and both classes are going to the Shah Jahan Mosque in Woking. This time next week it will be our annual Sports morning with picnic lunch and open afternoon! Let's hope the sun shines for us!
Elizabeth

Friday 22nd May 2015
We have had a very mixed week as far as the weather has been concerned! It hasn't stopped the children getting out and about though.

Year 1 and 2 enjoyed an afternoon of football at Rodborough secondary school on Tuesday. They took part in a football festival with another local school, led by the students at Rodborough. The children had a great afternoon; it is a really good experience for them to take part in events like this in another setting. Despite the ominous rolls of thunder, they managed to stay dry!
Reception children went on their very first school outing on Tuesday. They walked into Godalming and went on a canal trip on a barge pulled by a shire horse. They also visited Godalming museum learning even more about Titanic and our local history.
Year 1 children were out of school,again on Wednesday on their visit to Alice Holt Forest near Farnham. They had a lovely day and enjoyed making natural art and learning more about their topic on mini beasts.
I was very pleased to hear from several of our parent helpers that the children's behaviour was exemplary on all of these visits. We are always delighted to hear such feedback and very proud of the children.

During our assemblies this week we have thought about the feasts celebrated last Sunday and next Sunday: Ascension and Pentecost. We imagined how the apostles felt when Jesus returned to his Father in heaven and then as promised, sent the Holy Spirit to guide them. We asked the Holy Spirit to help and support us and to give us strength and courage as he did for the apostles.

I'm looking forward to seeing Year 3's class assembly this morning. It is going to be very exciting, with beautiful singing, acting and I think I have even heard the theme from the Flintstones playing.... all very mysterious!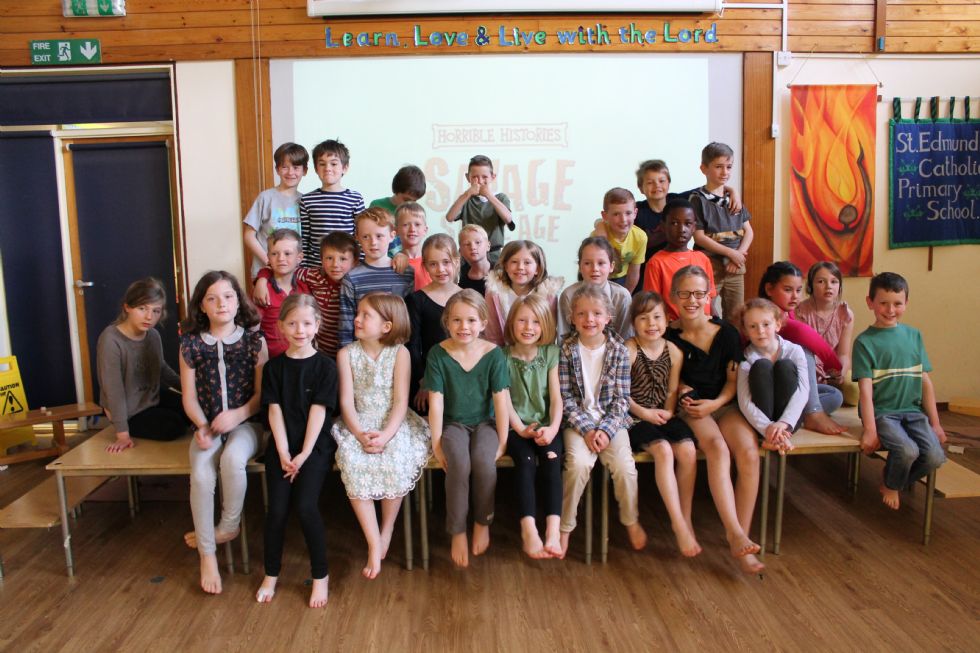 Have a wonderful half term holiday and I will see everyone back refreshed and well rested on 1st June ready for our final exciting, action packed half term of the school year!


Elizabeth
Friday 15th May 2015

A huge 'Well done!' to Year 6 who have worked wonderfully well during their SATs this week. They have taken the tests in their stride and done their very best, we are very proud of them all. I know that Year 2 have also been working hard on their own assessments. The teachers were moderating writing by Year 2 this week, to ensure that our assessments are accurate; we are all extremely impressed with their writing. There are so many wonderful writers.
Next Monday we will be meeting with the local schools in our confederation to moderate children's work in maths. We will be looking at the children's books and discussing the evidence we have gathered. Whilst we are moving away from levels, we will be focusing on what we expect the children to have learnt in each year group.

The first group of our Year 4 children made their First Holy Communion last Sunday; it was a very special atmosphere. The children were very excited and looked so smart for their special day. I am looking forward to being at the next First Holy Communion this Sunday.

There has been quite a bit of cooking and baking activity this week: Year 3 have been making their own humus and year 6 baking gingerbread men (after they had finished their SATs!)

Year R have been designing and making their own treasure islands and a very impressive model of the Titanic and here it is!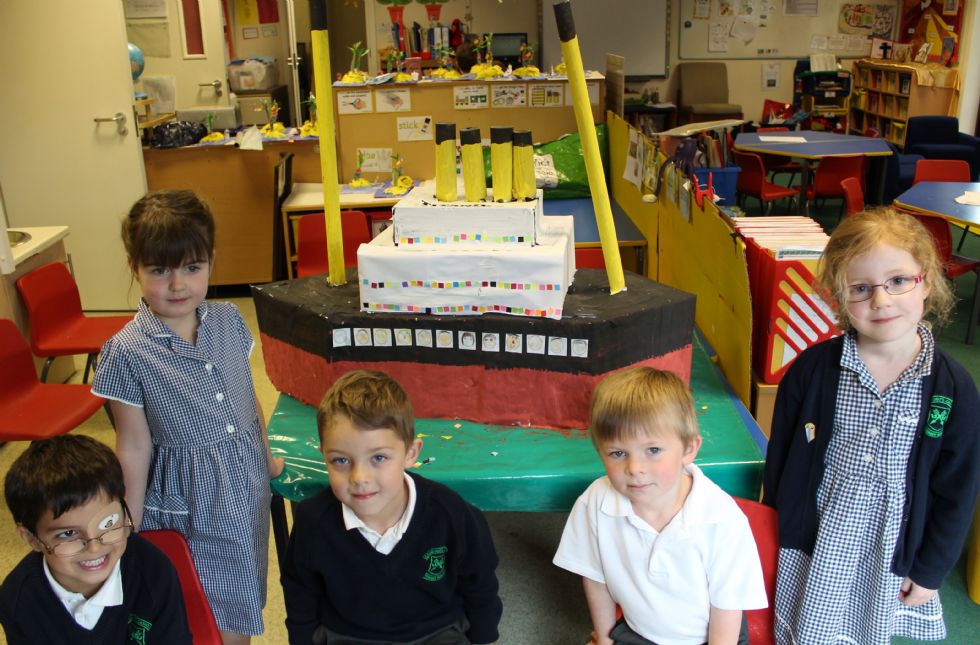 Next week is the last week before half term next week; the time is going very quickly. There are several exciting trips taking place next week, Reception Class are walking into Godalming to go on a canal trip and to visit the museum as they have so enjoyed learning about the Titanic. Year 1 are off to Alice Holt Forest as part of their topic on mini beasts. We hope the have lovely, sunny days out.

Hope the weather improves for the weekend.

Elizabeth
Friday 8th May 2015

We are very pleased that the sun shone yesterday and that we were able to walk to Ladywell for our May Mass. The grass was still quite damp so we decided it would be best to come back to school to have our picnic. The older children really enjoyed walking with the younger ones; there is a very special family relationship here at St Edmund's. The children were very excited and have been looking forward to the procession all week. They had beautiful posies to present to the statue of Mary after Mass. It is a very special experience going to the chapel at Ladywell and we are very fortunate to be close enough to visit. The children read and sang beautifully too. As it was very wet last year this was the first time that I had been for our May procession and it was lovely. We are very grateful to the sisters for having us (and also clearing up the scattered flower petals that we left behind!) and to Fr Michael for coming to celebrate Mass for us.
We thought about how Mary had the courage to say "Yes" to God and how we can try to follow her example in our own lives, being brave enough face new challenges and stand up for what we believe is right. During our assemblies this week we have also been talking about Mary, what we know about her life, how she might have felt at these different times and learning that we honour Mary, we don't pray to her, but because she is so close to God, we do ask Mary to pray for us.
We had great excitement in assembly this morning with a surprise furry visitor! MAC the squirrel came to tell us how important good attendance is. His name stands for Make Attendance Count and the children heard his story, how he missed school quite often and then he struggled to keep up with what was going on and ended up missing out because he had had too much time off school. It is really important that we are in school and on time so that everyone is ready to learn and do their best. Here is MAC with some of the children after assembly.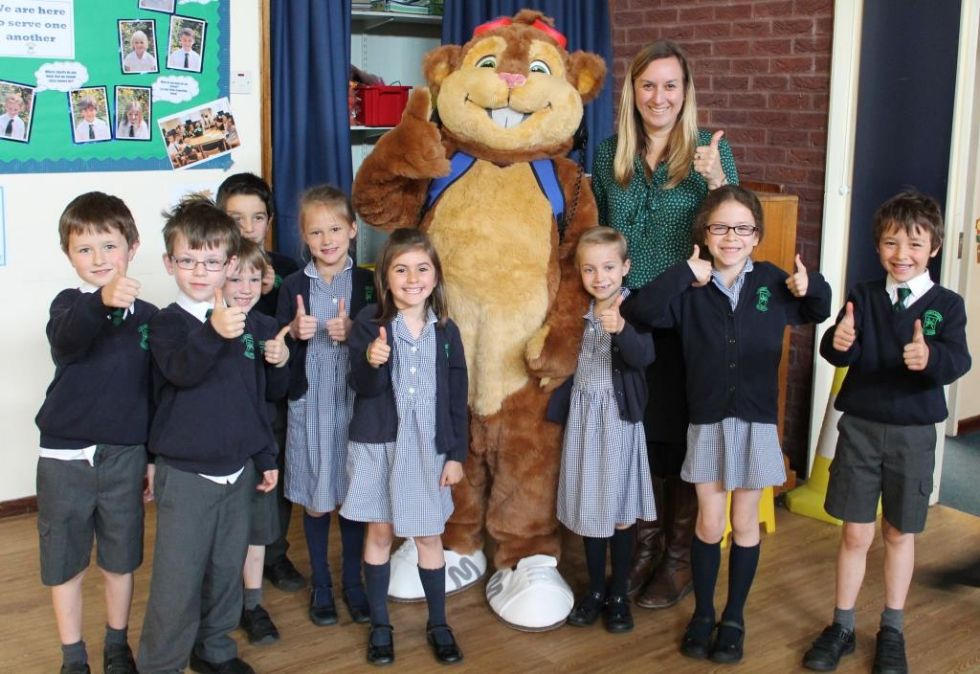 Next week Year 6 children right across the country will take their SATs tests. The children at St Edmund's have been working very, very hard and are definitely ready for the challenge. We are very proud of them and know they will do their very best.
This coming Sunday afternoon we have the first of our First Holy Communion Masses. The children have been preparing since September and I'm really looking forward to seeing them on their special day. The next group of children will make their First Communion next Sunday 17th May. Please keep them in your thoughts and prayers.
Have a great weekend,
Elizabeth
Friday 1st May 2015
The coach has just returned from Sayers Croft with Year 4, I went down to meet them yesterday and stayed there last night. They have had a wonderful three days, despite the damp conditions on Wednesday, it was lovely and sunny yesterday and bright but chilly this morning. The children have taken part in a wide range of activities including raft and shelter building, a bat walk, ropes and climbing courses, orienteering and marshmallows and singing round the camp fire last night! It is a lovely place to visit, originally built for evacuees from London during WW2; there are even paintings on the wall in the dining room done by the evacuees. The children had a fantastic time and I'm sure they will be talking about their adventures for a long time to come.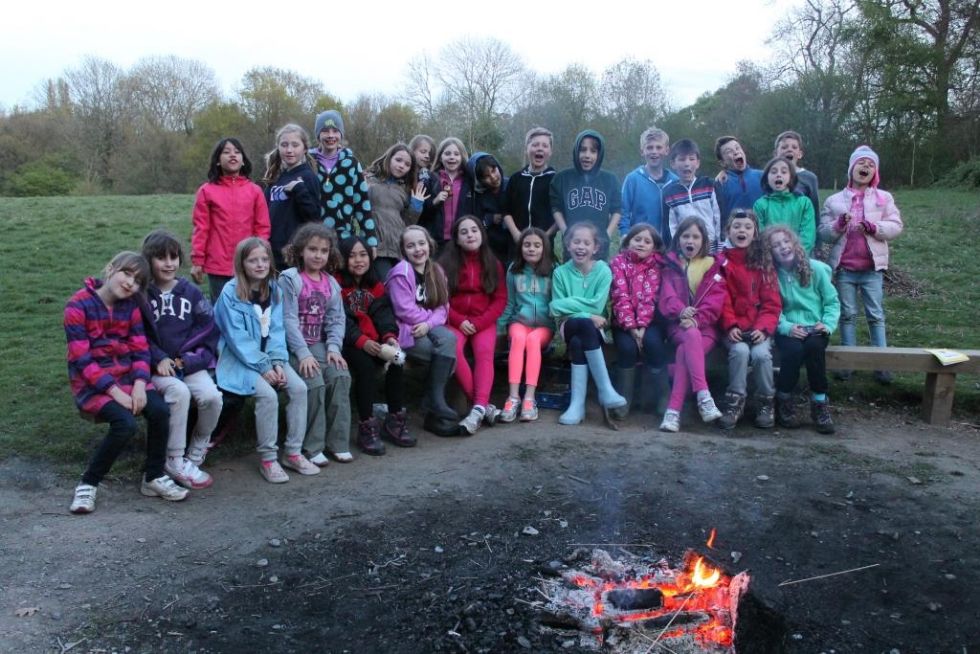 Our Year 3 class was also out of school on an exciting visit on Tuesday this week. They went to Stonehenge, where they had a wonderful time finding out about the stones and how the huge stones were moved into position and how ropes were fashioned out of reeds.
We celebrated our learning from our 'Come and See' topics on Pentecost; although the topics have different titles they are all related. The children brought up their class candles and explained what they had been learning about and shared their beautiful 'Come and See' books with us. We have also been thinking about the disastrous earthquake that has struck Nepal and praying for all those affected. The money from this afternoon's cake sale will go to the appeal.
We are looking forward to our May Procession to Ladywell next Thursday and hoping the weather improves!
Have a lovely bank holiday weekend,
Elizabeth
Friday 24th April 2015

The Toy Sale today to raise funds for St Michael's School was a great success, thank you so much for bringing in the toys and then buying them back again! We hope that the new owners are very happy with their purchases. There were some really eager, enthusiastic bargain hunters! I will let you know the total amount raised as soon as possible but we think we have over £200 already counted! Several children very kindly donated any money they had left over to St Michael's. Thank you very much to the school council for coming up with the idea and organising the sale this morning.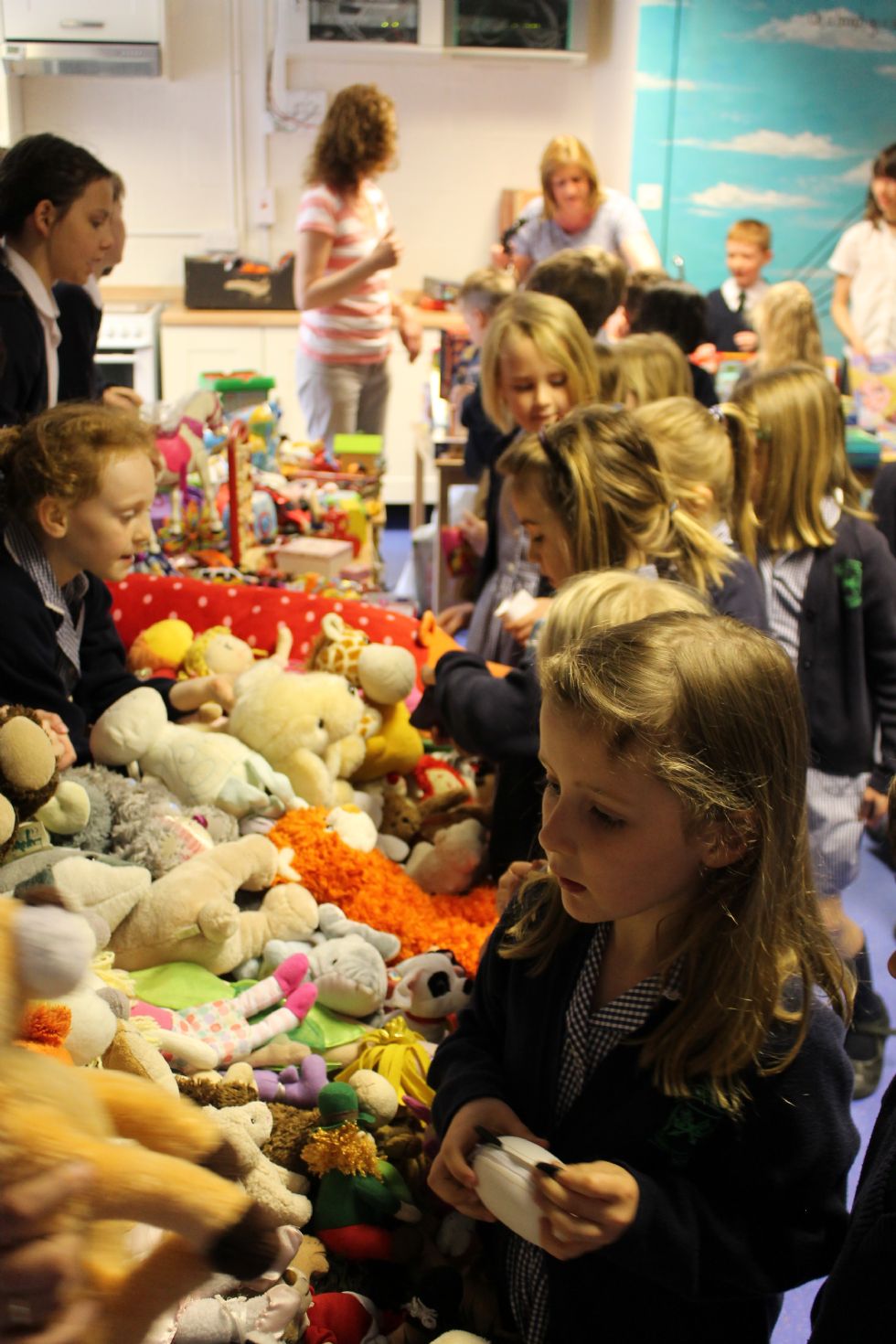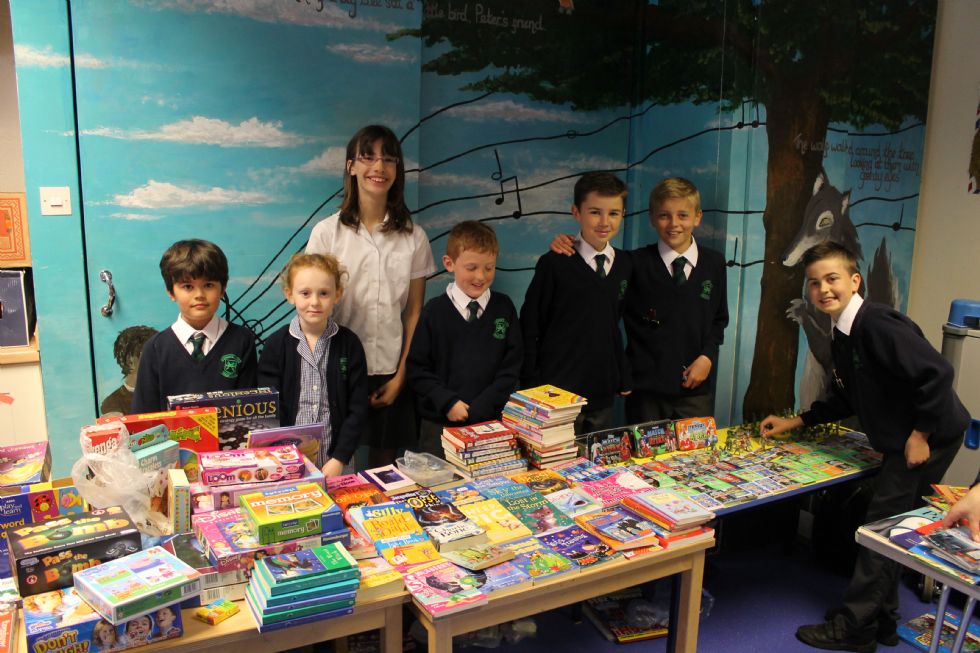 We had a visit from our school Overview Partner on Tuesday morning; we took a 'Learning Walk' around the school looking at maths in each class. Dropping in to each class does really show the progression across the school and there were so many wonderful activities taking place. I was especially pleased to see the level of challenge in each class from Reception counting in 2s to Year 6 solving complicated decimal division problems. Year 1 were finding doubles and near doubles, Year 2 were working on equivalent fractions, Year 3 were subtracting fractions, Year 4 were solving problems using negative numbers and Year 5 were working on challenging problem solving activities involving maths and their science topic on evaporation. In all classes there were children using LearnPads and netbooks, exciting resources and best of all enjoying their learning.
Fr Treynon Williams from St John's Seminary in Wonersh came to visit us yesterday; he is the pastoral director there. We have offered to have two trainee priests who will come once every week to work with the children and find out more about Catholic education in our primary school. The children were interested to meet Fr Trey and it will be a wonderful opportunity for us to work with the young priests and to learn more about their training and vocation while they learn more about us at St Edmunds!
Year 1 and Year 3 started their swimming lessons this week at Surrey Sports Park. They will be going every week until July, I saw some very strong swimmers during their first session and everyone showed great confidence in the water, it will be great to see the children develop their strokes and techniques over the coming weeks. They children were also very quick and organised when getting changed and definitively ready for their lunch by the time we got back to school!
We are all hoping the weather doesn't change too much as year 3 are going to visit Stonehenge on Tuesday as part of their topic work and year 4 are off to Sayers Croft for two nights. We do hope the sun shines for them.

Enjoy the weekend,

Elizabeth

Friday 17th April 2015

What a lovely week it has been! The glorious summer weather that we have had this week and during the Easter holidays has been amazing. The children have enjoyed playing in the sunshine and it's been lovely to see so many smiling faces full of the joys of spring! I hope that you all had a relaxing Easter holiday and whether you were at home or away that you enjoyed spending time together as a family.
During our assemblies this week we have talked about how hard it was for the apostles to understand the resurrection and how at first, they didn't even recognise Jesus. We heard about Thomas and how he had to see to really believe that Jesus was with him again. We want to show Jesus to others in everything that we think, do and say so that other people can resognise Christ in us. I've had a lovely time this morning with Reception class and the children were very good at telling me all about the Easter story.
After analysing the results of the pupils' survey we have been making improvements to the dinner hall. We have appointed new 'Lunchtime monitors' who are helping to make the hall a more pleasant place to be at lunchtime for everyone. Children in Yr 2, Yr 4 and Yr 5 have volunteered for this role and will change every few weeks so that lots of children have a chance to help out. After eating their own lunches they are making sure that every table has enough cutlery, cups and full jugs of water. All children are encourages to clean up or pick up anything they have dropped and the monitors can then give the tables a wipe before the next year groups come in. Everyone has been so impressed by the first group of monitors and several older children have commented on what a fantastic job they are doing and how the tables are now so clean! Keep up the good work!
Here they are in their smart new aprons...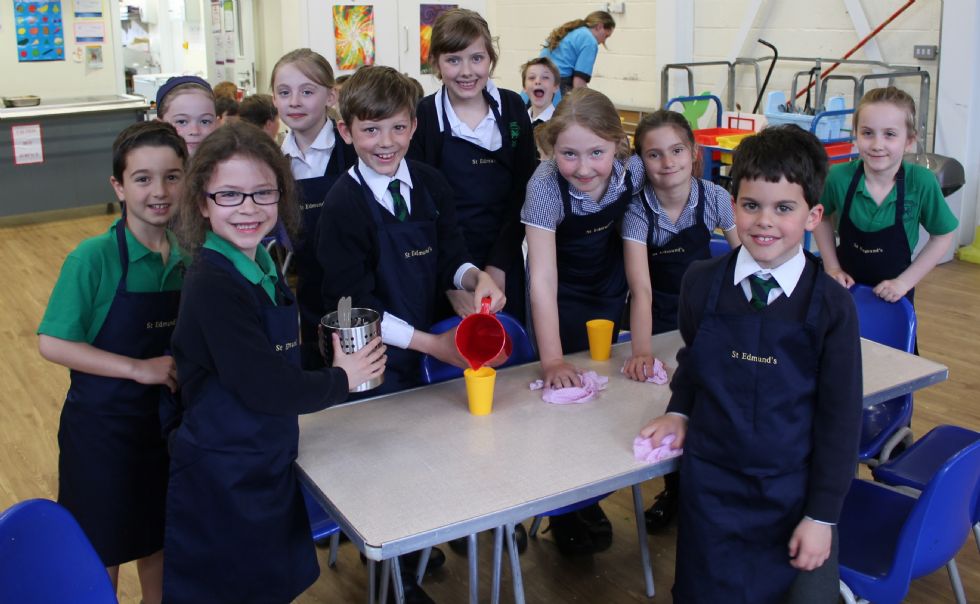 Another change this week has been the new map of Godalming in the multi-purpose room. It looks amazing and is a very striking feature. We hope the children will be able to use it for a wide range of activities. I've already seen lots of them looking for their roads and other landmarks and tracking their journeys to school. The room is almost finished, we have smart new kitchen units and colourful vinyl flooring in place. The LearnPads are also stored in the room; they can be used there or in any classroom even outside.
Next week we will be holding a Bring and Buy Toy Sale on Friday 24th April. Please bring in any unwanted toys or games in good condition for the sale. Do remember to send in some money for the children to buy something new next Friday! All the money raised will go to St Michael's in Burkina Faso. We received some lovely pictures from the school this week showing the children enjoying their new skipping ropes and football. We hope that through our fundraising we will soon be able to provide them with new desks.
I'm looking forward to the Quiz night tomorrow, I'm sure it's going to be a very entertaining evening for everyone!
Have a lovely weekend,
Elizabeth
Thursday 26th March 2015

Here we are at the end of the Spring Term, just as the weather is starting to be more spring like! When we return after Easter we will be into the Summer Term and the final term of this academic year!

On Tuesday I was delighted to accompany year 1 on their trip to the World Wildlife Fund headquarters in Woking, where the children learnt about where chocolate comes from and even tasted and made their own chocolate truffles and designed the packaging too. We went on the train which was very exciting. The children were all very well behaved and they learnt a great deal. Whilst we were waiting at the station to catch the train, I saw a man waving to me and thought the children may have been in his way as he was getting a ticket from the machine, I then realised that it was my Headteacher from my old Primary school! We had started at the school at the same time when I was five. I hadn't seen him for quite a few years and it was lovely to introduce him to the children, they eagerly told him about their day out. He was a wonderful Headteacher and has been a great inspiration for me. It certainly made my day out even more special and I hope he will be able to come in to school as I would love to show him round now I am a Headteacher myself!

When we finish school before Holy Week, as we have done this year, we try to focus on the Easter story before we break up for the holiday. This week, the wonderful Passion Play led by Year 6 has done just that. The children told the story with amazing reverence and maturity, they sang and spoke beautifully and every one of the children played such an important role in the story of Jesus' journey from Palm Sunday through the crucifixion to the joy of the resurrection. Around school this week I have seen Year 2 and Year R children making some beautiful Easter gardens and really lovely Easter cards and art work in many classes. We had an exciting Easter egg hunt yesterday afternoon, thank you to the Parents' forum reps for organising the event and to year 6 for helping to hide all the cards for the young children. I know the Year 6s enjoyed hunting too!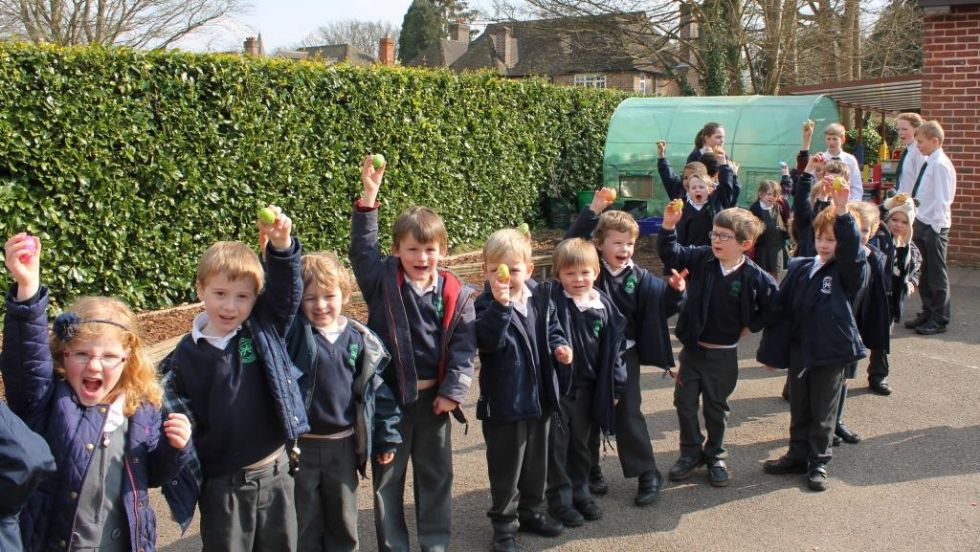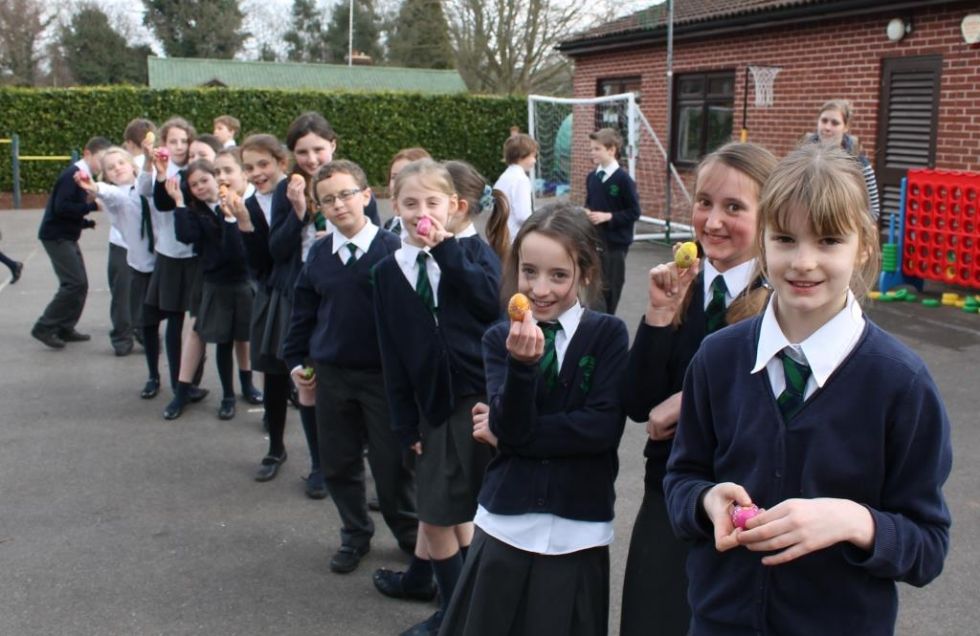 I hope you all have a very happy, Holy Easter and that you have time to relax with your families and friends at this special time.

Elizabeth

Friday 20th March 2015

We have been very excited all week about the solar eclipse this morning. Whilst it was disappointingly dull and cloudy, the children still went outside and it certainly felt colder and the sky was a little darker. The children were very quiet and could hear the birds tweeting. Despite the lack of sunlight the children have really enjoyed finding out about what happens during a solar eclipse and trying out the special glasses. Many children had made their own pinhole cameras and viewers. Thank you to the PSA for providing the eclipse glasses, we will keep them in school and maybe there will be a chance for future generations to use them, the next total solar eclipse in Europe will be in August 2026!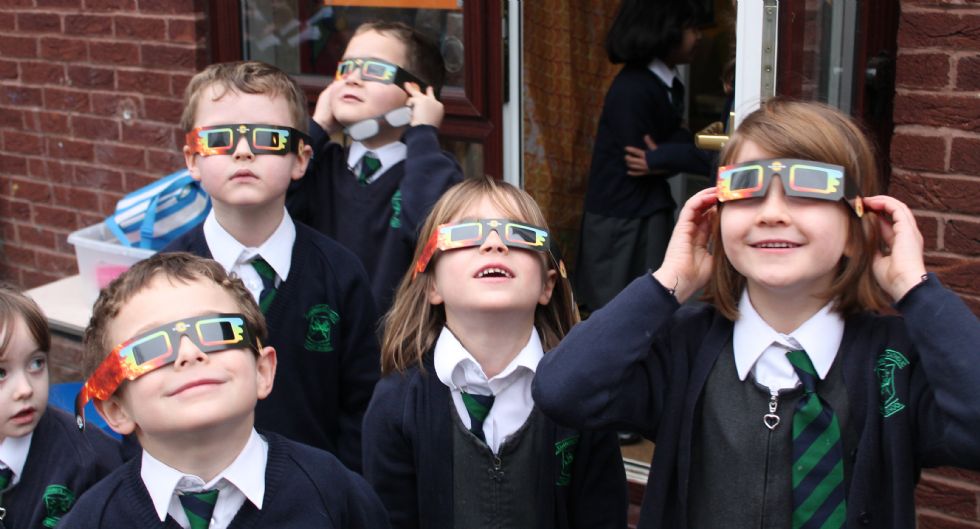 The hall was alive and kicking on Wednesday afternoon when the children who have been having Rock Steady music lessons gave performances for their parents. The children played the songs on electric guitars, keyboards and drums that their bands have been rehearsing. Each band also had vocalists. The songs included: Feeling Good, Wild Thing and Skyfall. Parents really enjoyed the concert and the children did really well and played the instruments with confidence.
We had our Lenten Service of Reconciliation yesterday; first we had a service for the whole school in the hall where we had a chance to say sorry for anything we have done wrong as part of our preparation for Easter. The children in Year 4, 5 and 6 who are preparing for or who have made their First Holy communion then were able to make individual reconciliations if they wanted to. Thank you very much to Fr Michael and Fr Colin from Guildford for coming.
This week Year 5 pupils took part in their first Bikeability training sessions; they will be able to do the second part in Year 6. For the first time our Year 2 pupils did a 'Pedals' training session. The children could bring their bikes or scooters to learn about road safety. All the sessions went very well and the children enjoyed taking part.
It is hard to believe that next week will be the last week of term before Easter, this term really has flown by! It was be another busy week (or 4 days) with an exciting trip for Year 1, the Passion Play performed by Year 6, the Easter Egg hunt and our End of Term Lenten Mass next Thursday.
I hope the sun makes an appearance this weekend.

Elizabeth

Friday 13th March 2015

It's looking very colourful here at school today! The children are dressed in mufti and red noses, the money we have raised today will be split between Comic Relief and St Michael's School in Burkina Faso. The children are very enthusiastic fundraisers and having met with the school council today, there are many great ideas in the pipeline to raise further funds for St Michael's school.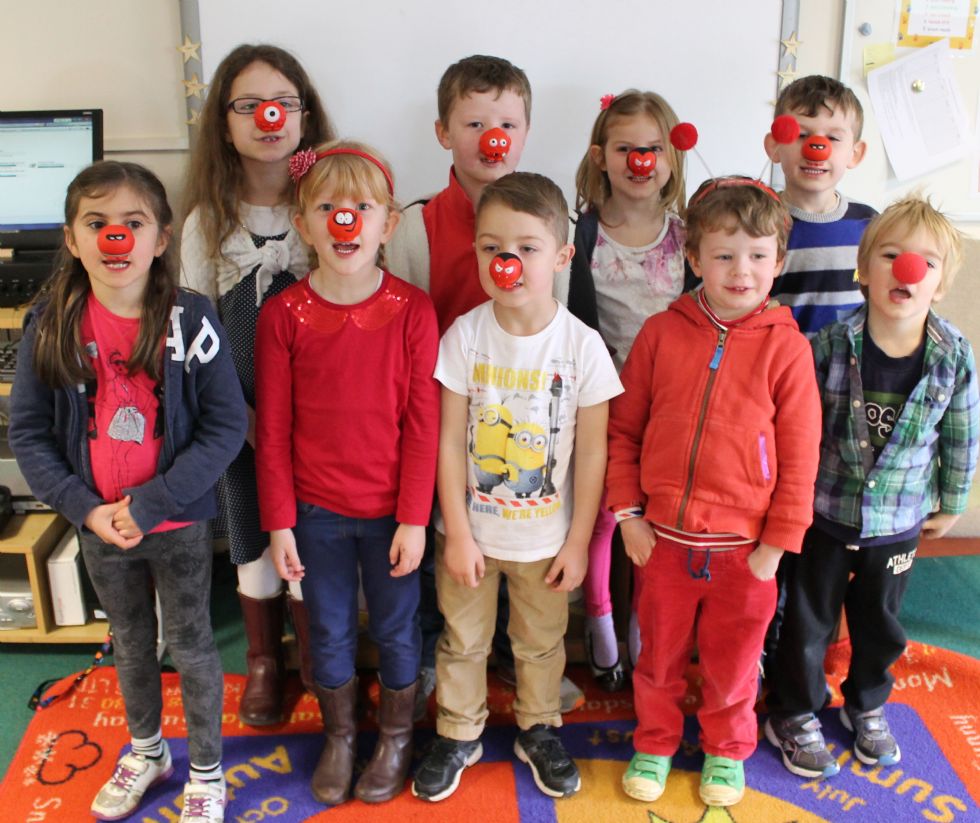 We were all fascinated by the assembly Mrs Nicholls led for the children on Monday. The photographs really helped us to see the overwhelming reception Mrs Nicholls received in Manni when she paid the first visit to the school. We would love to raise enough money to buy new desks for the school; we hope that this will be the first of many projects we can support the school with. We are fortunate to have so much, food, clothes, beds, education and healthcare and we don't always remember to show our thanks.

I was very proud of two year 6 girls, Ciara and Erin, who represented St Edmund's at a public speaking competition with other local Catholic Primary schools. They chose their own topics, 'Back to nature' and 'Do aliens exist?' and had to prepare speeches that lasted no longer than 4 minutes. Both girls did brilliantly and spoke with confidence and passion on their subjects, the competition was very tough and although they didn't win, they both received book vouchers and agreed that they were pleased to have taken part.

Next week we enter the fifth Week of Lent. We are having a Reconciliation Service next Thursday morning this is an opportunity for us all to reflect on what we might want to say sorry for as part of our preparations for Easter, helping us to be closer to God. There will be an opportunity afterwards for the children in year 4, 5 and 6 to make individual reconciliation if they wish to. The children are working very hard to keep their Lenten promises.
Year R children have been preparing a really lovely assembly for Mother's Day, all their mummys are in for a special treat this afternoon.

We have the PSA Spring Term Discos this evening, there is great excitement in school about it today! I'm sure I will see most of you there.

I hope that all the children make a special effort to look after their mothers this Sunday and remember to thank them for everything they do for their children each and every day.
Elizabeth


Friday 6th March 2015
It is certainly feeling more like spring this week and we even have the promise of a warm weekend ahead!
We celebrated World Book Day yesterday almost everyone at St Edmund's was dressed as a book character. There were so many fantastic costumes on display, Mad hatters, pirates, Willy Wonkas, Dorothys and Alices, Asterixs, Harry Potters, Tigers who came to tea, Princesses, Cats in hats, Wallys, Elves and Fairies, James Bonds, Owl babies, Paddington Bear, Olive Twist, Katy Morag and even a few Demon Dentists! We saw such lovely creative ideas for costumes, thank you very much for your support. The Book Quiz was a great success and the questions really made us all think. The scores were very close and after going to a tie break question the winning house was St Marks. The children have a very good knowledge of books and authors and were able to talk confidently about the characters they had dressed as and the title and author of their chosen books. It was a wonderful, happy day we celebrated our love of reading and the fantastic costumes really made everyone smile.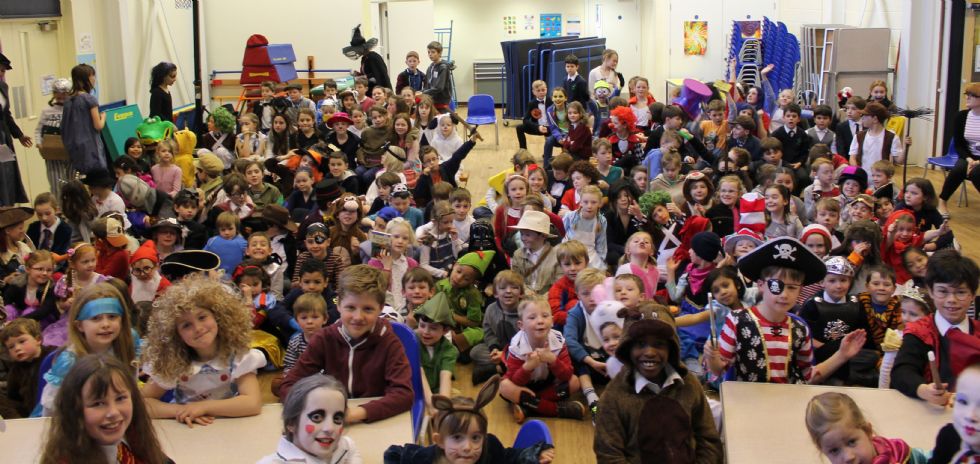 Year 5 pupils have just finished showing us their wonderful assembly. Through a series of reports from St Edmund's News Team they told us about all they have leant this term. They told us about architecture, gymnastics, marvellous maths, horrible history and even took us back in time to meet Alexander the Great and his learn about his family growing up. It is clear that you love learning in Year 5.
We are all delighted that Mrs Nicholls is back safely from Burkina Faso, She is going to talk to the children on Monday and we will be able to open the gifts sent from St Michael's school for us. Mrs Nicholls is also going to present a short talk for parents on Monday afternoon at 3pm where we will be able to hear more about her visit to St Michael's' school and how we at St Edmund's can develop our link with the school. Please do come along before you pick up the children.
A group of Year 5 and 6 children went to Rodborough School to take part in a Junior singing day on Wednesday. They really enjoyed singing with other schools and put on a concert for their parents at the end of the day.
The teachers are meeting with other Godalming schools next week to moderate writing. We will be looking at 'what expected looks like in each year group'. It is really useful to have these discussions with other schools especially as we are all adjusting to life without levels! There are some very talented writers at St Edmunds.

I hope you enjoy a sunny weekend,
Elizabeth
Friday 27th February 2015
This week I have really noticed the difference in the lightness of the mornings, it is still almost light when we teachers are leaving school to go home! It does make a lovely change to pass fields and streets that I haven't seen in daylight for many months. We are already at the end of February and by Monday we will be into March; the time does seem to be going very quickly.

This week we are now in the season of Lent and although we were on holiday for Ash Wednesday we have talked about how we can try to walk close to Jesus during our Lenten journey. We hope that by writing our Lenten promises these will be a good reminder of how we can do something extra to prepare ourselves during Lent. Maybe that something extra could be coming to Mass before school on Thursdays? There will be Mass for the next two Thursdays, 5th and 12th March at 8:15am in the school hall.

We are very eager to see Mrs Nicholls back from her annual visit to Burkina Faso. She has already told me a bit about her trip to St Michael's school to deliver the skipping ropes and footballs. She has taken many photos of the school and the children to share with us. It is the start of a really exciting link between our schools.

The library has now moved to its new location and the books have been sorted and are back on the shelves waiting to be read. Our new multi-purpose room is nearing completion. The bright vinyl flooring has been laid and the smart new kitchen area is almost finished. We are just waiting for our personalised map of Godalming to arrive; this will fill the whole wall and be a wonderful teaching tool and very striking feature. We are really looking forward to seeing the rooms finished.

I had some very important visitors from Reception class yesterday afternoon who came to my office and interviewed me. They asked me about my job and even filmed the interview using the LearnPads! They were very a very professional!

Yesterday we had a special NSPCC assembly for year 5 and 6. Jenny and Lynne from the NSPCC will be returning next week to run workshops for these classes to help them to develop a deeper understanding of how to stay safe. Every child has a right to be safe and happy.

Next Thursday 5th March, we will celebrate World Book day next Thursday, the children may dress up as book characters and there will be a special book quiz in house teams. The teachers are also going to read a story of their choice and the children can decide which story they would like to listen to.
I have just been invited to share a very special meal of unleavened bread and wine (Ribena) with Year 1 as part of their learning about the Eucharist. Here they are: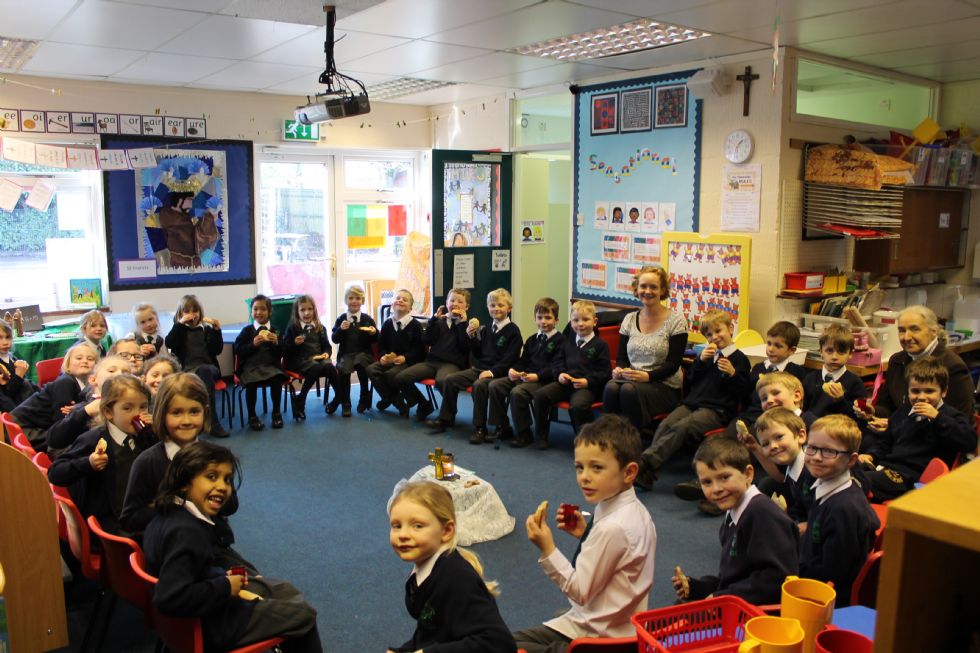 I hope you all have a wonderful weekend,
Elizabeth
Thursday 12th February 2015
It's hard to believe but we are now half way through the school year. It does always seem as if time seems to speed up during the second half of the year as the mornings and evenings become lighter and the weather will hopefully begin to warm up! The next half term leading up to Easter is only 5 weeks so I'm sure it will fly by. When we return after half term we will have started the season of Lent. This year Ash Wednesday falls during half term, it is a shame that the children will not be in school to receive the ashes together this year. We will talk about the season of Lent and how we prepare ourselves for Easter when we return to school. We will have Mass on Thursday mornings at 8:15am during Lent.
During our special Golden Assembly this week there were so many awards presented: medals for Indoor Athletics, pen licences for children in year 3 and a great number of bronze certificates for those children achieving over 100 house points. I was particularly impressed with the children chosen for Headteacher's awards, there were such lovely comments on children who show a wonderful attitude to learning and to each other, it was a pleasure to present these awards.
This week we have had our parent consultations and there was an opportunity to complete a survey. Thank you all for your responses, I will be analysing the results over half term and I will report the finding to you when we return to school. There are copies available in the office if you didn't have a chance to complete a survey and would still like to. I have also asked all the children to complete a survey; it's lovely to see all the positive comments and things the children value about our school and their really sensible suggestions for areas to improve. I will be able to give you some feedback from the pupils' survey too after half term.
During our Parent Forum meeting this week we had a look at the LearnPads and had a chance to try them out. I hope it was useful to see how the children use them in school. We also talked about the new plasma screen that Year 3 have in their classroom. I had a good look at it this week when some of the Year 3 children gave me a demonstration and I even tried out some of the games. As one of the children said it really is like a huge iPad on the wall. There is no projector and the picture is amazingly clear and bright. Up to 10 children can use the board at one time making it ideal for interactive games and activities. It's really exciting to see how technology can enhance the children's learning, Year 3 are all very pleased with it!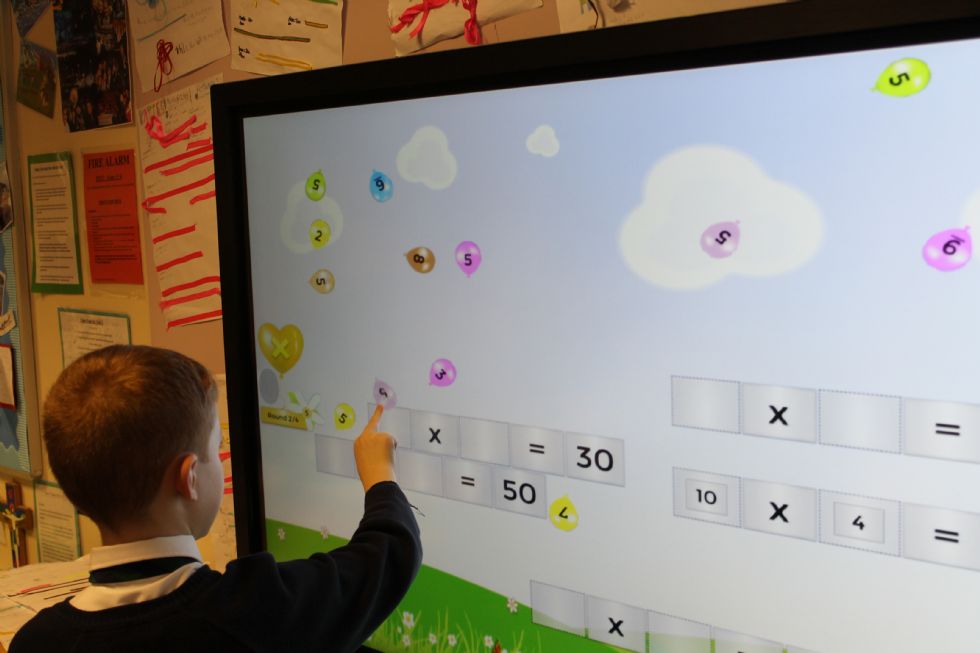 Whether you are going away for the half term holiday or whether you will be enjoying the break at home I hope you all have a lovely week,
Elizabeth
Friday 6th February 2015
It has been a busy and exciting wintery week. Thank you all for getting the children into school on Tuesday, I know many people had very slow journeys. The children had great fun in the snow before it all melted away!
I have just arrived back from the Houses of Parliament with the KS 2 school council members. We have had a fantastic day! We enjoyed a wondeful tour of the Palace of Westminster including the House of Commons and House of Lords where we sat in the gallery while an International Bill was being discussed. We have learnt a great deal about Parliament and the voting system. The School Council are really looking forward to telling you more about our exciting day in next week's newsletter.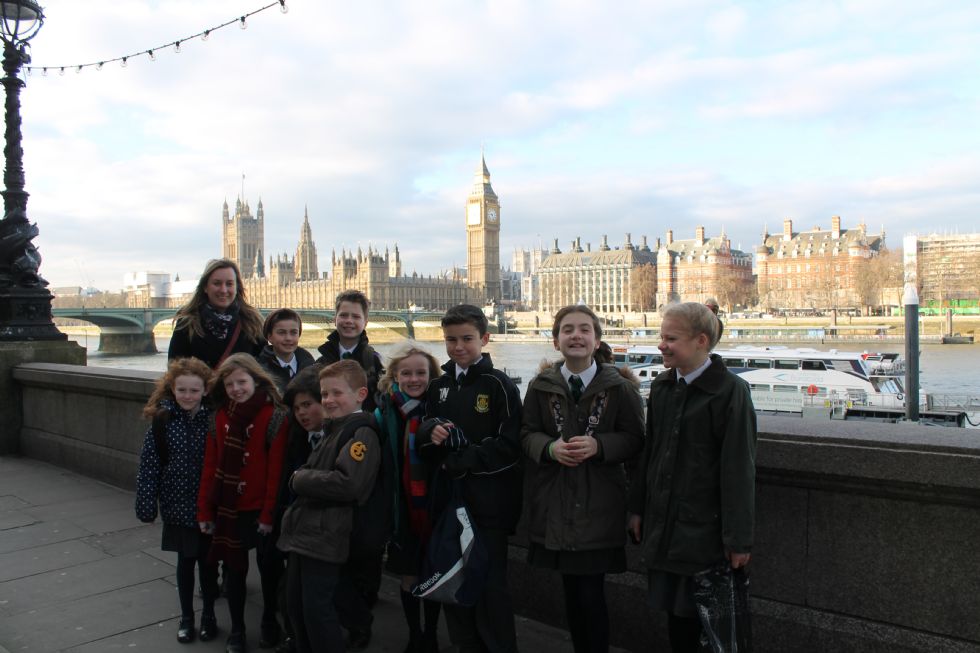 I have been into every class over the last week observing lessons and looking at the childrens' learning. I have been very impressed by the learning. In Year R the children were using describing words to talk and writie about planets they had created on the LearnPads. Year 1 were describing the character of Jack from Jack and Beanstalk and have also been very busy writing the whole story themselves! Year 2 have been learning about electrical circuits and construcing and testing their own. As part of their topic on Habitats, Year 3 were researching and making their own food chains. Year 4 have been reseaching the Ancient Sumars, they used the LearnPads to do their research then chose how to present their findings to the class. They have also been working on some challenging maths problems, games and investigations. Year 5 have also been finding out about fractions, improper and mixed fractions and how to simplify them. Year 6 were using the LearnPads to look at features of biographies and also to solve a crime using algebraic equations! It is wonderful to see the progression across the school and the real excitement for learning in every class.
Next Tuesday 10th February is Safer Internet Day, we will be supporting this day in school and discussing ways to stay safe online in class and in assembly.
The children will be bringing home their Interim Reports today, look out for them in their bags. You will have the opportunity to discuss these reports during the parent consultations on Monday and Wednesday after school next week.
I hope you all have a lovely weekend,
Elizabeth
Friday 30th January 2015
This week started with a fantastic concert at London's O2 Arena with Young Voices. Our choir of 30 children from KS 2 sang with over 7,000 other children. We arrived in time for lunch followed by a full rehearsal of the songs and dance moves. After tea the audience started to arrive, we eventually managed to spot the St Edmund's parents on the opposite side of the arena. It was a fantastic experience, something the children will remember for years to come. They were all beautifully behaved and sang and danced with huge energy and enthusiasm. It was a very late night as we didn't arrive back at school,until after midnight! I think everyone agreed that it was worth feeling tired for this wonderful experience. We were very proud of them all. Huge thanks to Miss Donlon for the weeks of rehearsals and preparing the children so well.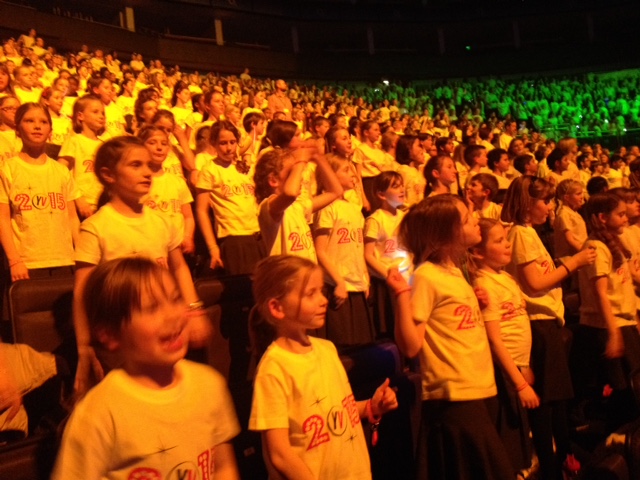 On Wednesday we welcomed children from the school councils at St Thomas of Canterbury in Guildford and St Cuthbert Mayne in Cranleigh. Our hard working school council prepared and led a special liturgy based on our Come and See topics on the theme of the Local Church and community. The children chose the hymns, readings and prayers, they created the PowerPoint presentation and planned a role play to illustrate the Gospel reading, 'The presentation in the Temple' and a prayer sculpture. It was really lovely to see the way the older children supported the younger ones. After the liturgy the children enjoyed a few refreshments, had a quick tour of the school and prayer garden and spend time evaluating the liturgy. We hope this will lead to other opportunities for the children in our deanery schools to collaborate and share what we do in our schools.

Other the last two weeks many children from KS 2 have taken part in the Indoor Athletics tournaments with other local schools. The children have spent many weeks refining and improving their skills and did really well. Year 5 and 6 came 2nd overall and Year 3 and 4 were also runners up by only 2 points! As a small school this is a really wonderful achievement. Thank you very much to Mrs McCarthy for the hours and hours of training.

As you may have heard from the children we had a visit from John from Skip 2 B Fit yesterday. The children and some of the teachers enjoyed skipping workshops throughout the day, finishing with an exciting assembly where I presented certificates to those children who achieved the most skips in 2 minutes and the most improved pupil. If you think you can beat the record Miss McLoughlin set of 221 skips in 2 minutes we'd love to hear from you! Skipping ropes and the blueberry bounce balls are on sale in the office if you would like your child to buy one. Here are the winners!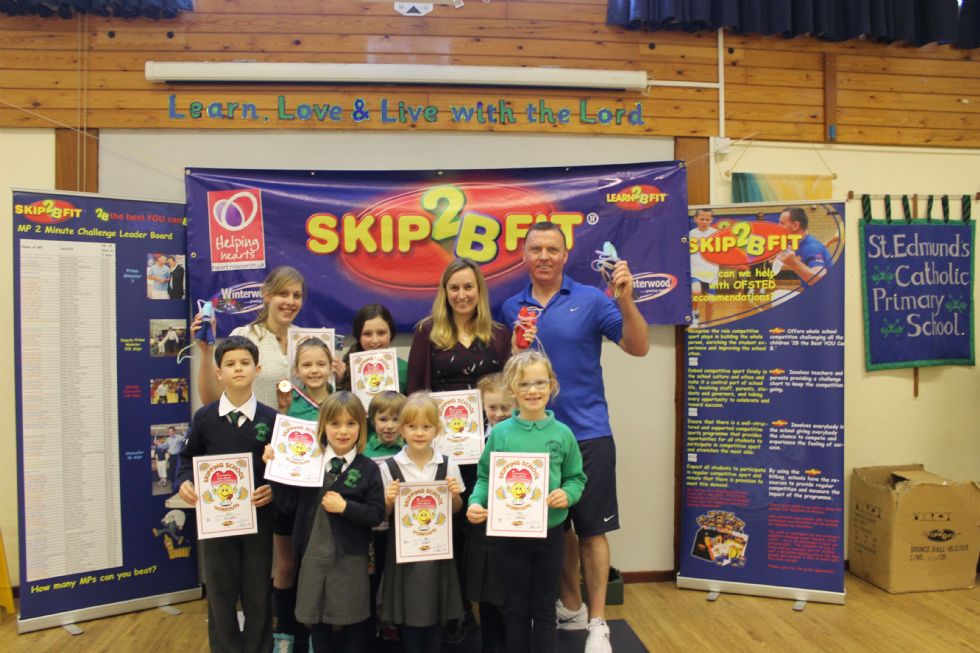 This Sunday we have our Termly School Mass at 10:15am at St Joseph's in Milford, it is also Education Sunday, we hope to see as many families as possible. Please could the children come wearing their school uniforms.
Keep warm this weekend, and I'm sure I'll see many of you on Sunday,
Elizabeth
Friday 23rd January
It has been very chilly this week and much to the children's disappointment no snow as yet! The temperature is minus six this morning, but very beautiful, everything is white with frost and the sun just beginning to lighten the sky.
This week we have been thinking about our class saints, do ask the children which their class saint is. We talked about our names and how Jesus named Simon, Peter, which means "rock". Names are very important – we all have one and God knows all of us by our names.'You have called us by our names we belong to you.' Each class has made a beautiful image of their class saint, they are on the display board in the hall, they are all wonderful and it is a really good opportunity to find out more about each saint.
Year 1 children are all ready to share their celebration assembly this morning, I'm sadly not able to be there but I did managed to watch their rehearsal earlier this week, and everyone is in for a real treat! They are going to create a timeline of key historical events and sharing their learning from their topic. They also have a couple of lovely songs to perform for you!
The E Safety presentation for parents on Wednesday evening was really informative and I hope those who were able to attend found the session useful.
I have had some special visitors from Year R and Year 6 this week with fantastic examples of their work to share. In Year R the children have been writing their own books based on the traditional tale of The Gingerbread Man, they have even baked their own gingerbread men too! Such wonderful writing, they are using their phonic knowledge really well and I'm very impressed with their ability to write!
A group of Year 6 children came to show me their wonderful art work. As part of their Learning journal homework they have created art work based on famous artists including Van Gogh and Banksy! As you can see they are very talented artists.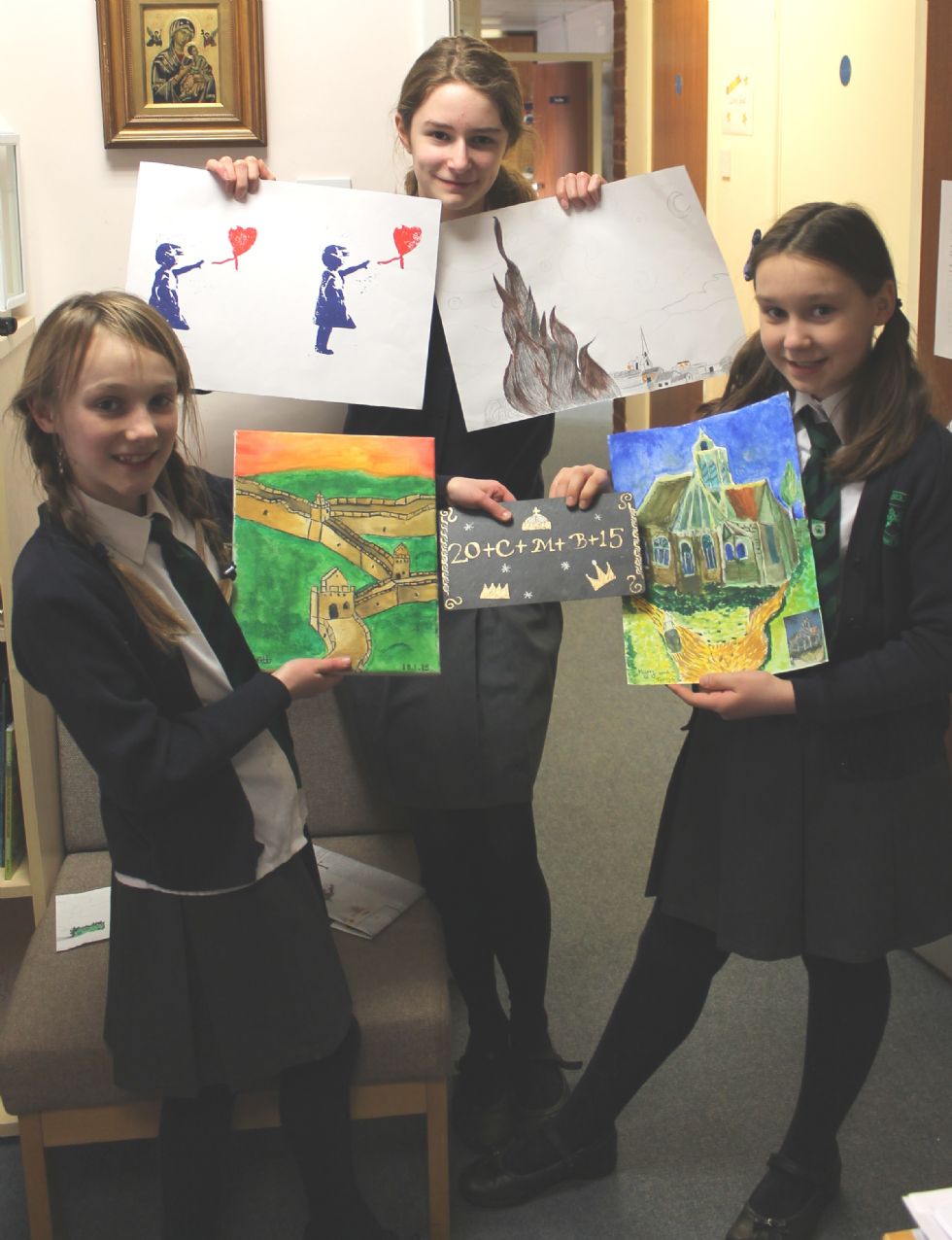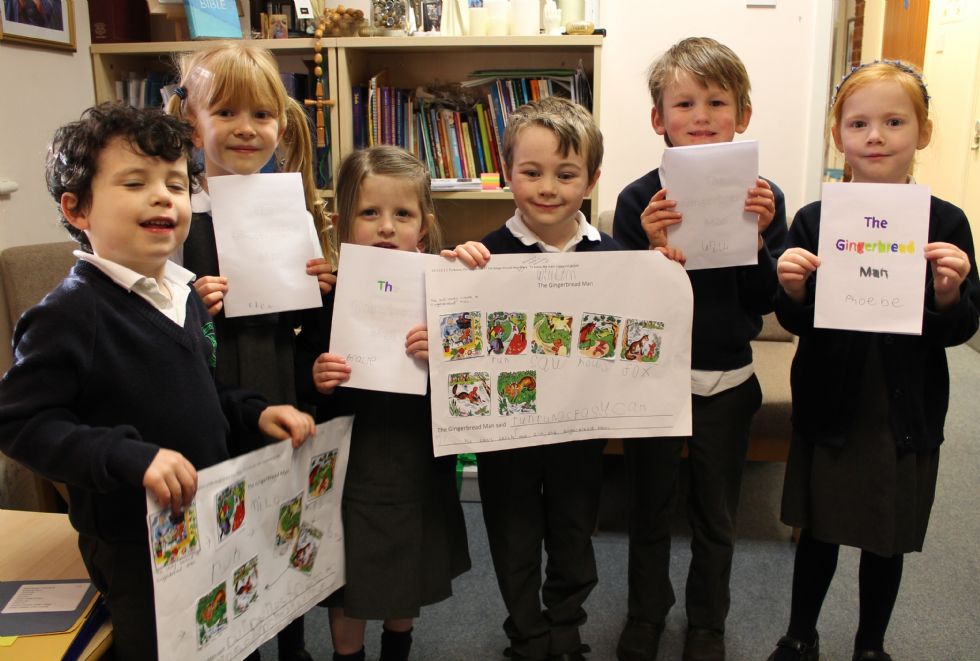 Year 4 had a great day out at the Egyptian Gallery at the British Museum on Monday as part of their learning. They were very well behaved and have been applying their learning across the curriculum, I even saw them working on an Egyptian dance this week!
I'm looking forward to next week, we're off to sing at the O2 on Monday and we're welcoming the school councils and teachers from our Deanery primary schools to St Edmund's on Wednesday morning, they are coming to watch a special Liturgy led by our own school council.
Enjoy the weekend,
Elizabeth
Friday 16th January 2015
We started the week with a day of learning for the staff with our LearnPad training sessions on Monday. The teachers and teaching assistants each had a session where we were able to develop our LearnPad skills and plan lessons. A group of children from each class, who we hope will be able to support their classmates, then joined the teachers and worked together taking photographs and manipulating the images and adding text and learning how to hand in the digital images. The children and staff really enjoyed trying out their new skills; the children took to it very easily! We are all very excited about using this new mobile technology across the school. There are lots of innovative ways in which we hope to involve parents and share our learning too.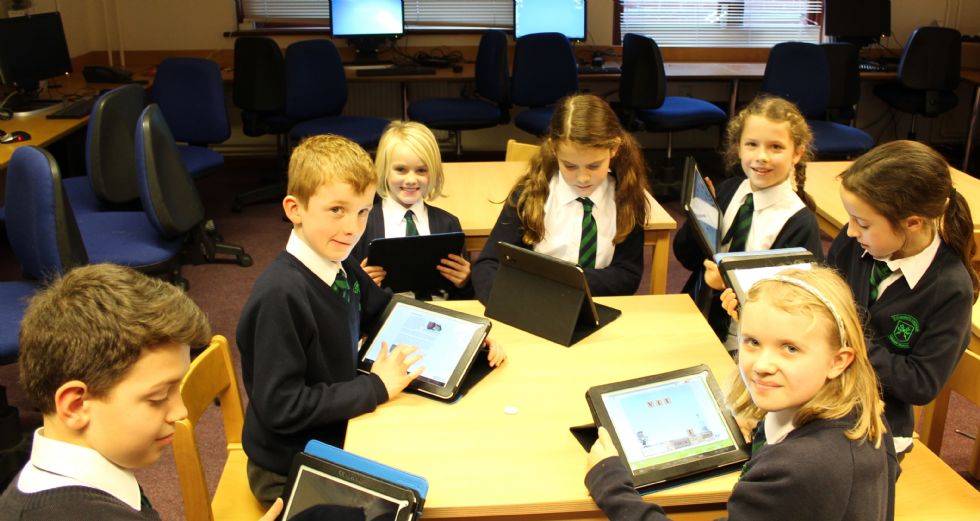 Last Sunday was the feast of the Baptism of our Lord, during our assembly on Tuesday we talked about John the Baptist and how we are invited to join the family of the church through Baptism and follow Jesus. We usually cannot remember our own baptisms but we talked about the water used during baptism which can clean and wash things mistakes and the importance of making a new start. At the start of new year we especially think about new beginnings and making changes for the better.

We had a visit from our school overview partner on Thursday. We looked at the progress the children are making and took a 'learning walk' around the school looking at the children's learning in maths, one of our key areas for improvement this year. The children were able to talk confidently about their learning and they were all engaged and excited by the range of activities and challenge. Part of the new maths curriculum involves the children 'mastering' each maths skill and really developing breadth and depth before moving on the new concepts, this was evident as we visited each class.

The choir is busy rehearsing for their concert at the O2 on 26th January! It's going to be a very exciting day performing with thousands of other children, one more week to prepare before the big day!
Next Wednesday evening, 21st at 7pm, we have our E-safety session for parents. There have been several things in the media this week, including the chilling drama on cyber bullying last night on Channel 4. Keeping our children safe online is of such huge importance that I do hope as many people as possible will be able to come.
If the forecasts are correct, we may have some wintery weather on Sunday, We will always try to make sure that school stays open. If in doubt, do check the website, where any updates will be posted if necessary.
Have a great weekend,
Elizabeth
Friday 9th January 2015
Happy New Year and welcome back to everyone. It is always lovely to see our school family back together after the holidays. The children have been very keen to tell me about their Christmases, all the gifts they received and their exciting holiday activities.
The season of Christmastide continues until this coming Sunday, when we will celebrate the feast of the Baptism of the Lord. We had a special Epiphany Liturgy on 6th January where we thought about the wise men's journey following the bright star. When we look up in awe and wonder at the night sky we can imagine how the kings may have felt following the same stars searching for the new born king yet not knowing who they were really looking for or where to find him. During our liturgy we discussed the gifts the wise men brought: Gold, Frankincense and Myrrh; the children had a chance to smell the same fragrance brought by the wise men to worship the new born king.
As we pack away our crib and decorations for another year this reflection seems especially relevant:
When the song of the angels is stilled,
When the star in the sky is gone,
When the kings and princes are home,
When the shepherds are back with their flock,
The work of Christmas begins:
To find the lost,
To heal the broken,
To feed the hungry,
To release the prisoner,
To rebuild the nations,
To bring peace among others,
To make music in the heart.
This morning we thought about our gifts and talents and how we can use them wisely. We shared some of the ways we have already used them well this week. One child from each class was chosen by their teachers to share their gifts and talents, we had marvellous mathematicians, wonderful writers and imaginative role play. Sometimes it is difficult to know what our special talents are and we can help each other to discover what they are by sharing what we do. Here they are: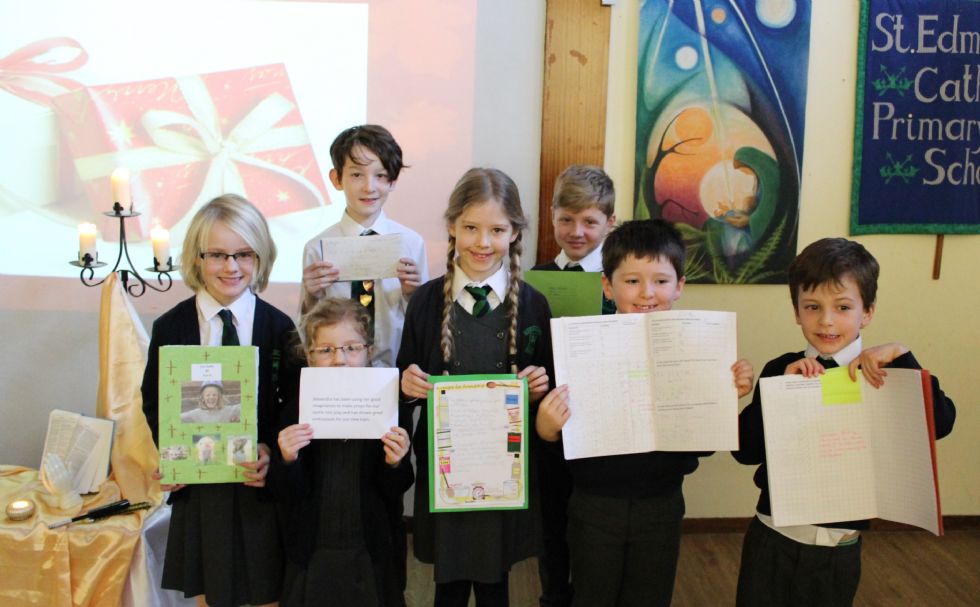 Pope Francis said: "Dear young people do not bury your talents, the gifts that God has given you! Do not be afraid to dream of great things." We hope that during 2015 we can all use our gifts and talents well and achieve great things.
Have a lovely weekend,
Elizabeth
Friday 19th December 2014
Here we are, the last day of school before Christmas, it has been a very busy and exciting week.
On Monday we had a really beautiful service of readings and carols from Year 3 and 4. The children shared the service with the school in the morning and repeated the service in evening at St Edmund's Church. The carols and songs were really lovely and the children sang so well it was very special. We had our Advent end of term Mass on Tuesday morning, thank you Fr Michael. Later on Tuesday we had a musical concert where more than 30 children who are learning violin, guitar, piano and even recorder had the opportunity to perform a piece in front of their parents. The children played really well and we do have many very talented musicians at St Edmund's.
It was time for our half termly Golden Assembly on Wednesday morning and there were so many wonderful awards. Children were nominated for Headteacher's awards by their teachers and I was really impressed by the number of children who are really challenging themselves in their learning, and showing a wonderful example to their peers in their attitudes to school life by treating others as they would like to be treated themselves. 73 children were awarded certificates for 100% attendance, well done! We also had sports awards for football and cross-country, Bikeability certificates, Maths Challenge certificates, Christmas House Quiz winners and house points! Well done to St Luke's house that has achieved the most house points this half term, 1800! They have challenged St Matthew's longstanding leadership in house points; it's good to have a bit of competition!
There was great excitement as we had a very important visitor on Wednesday afternoon, we heard his bell ringing and Father Christmas appeared during our class parties! He brought presents for each class and chocolates for the children. We know how very busy he is at this time of year and we were so pleased that he made time to see us. You will be pleased to hear that the children all assured him that they are being very, very good at the moment.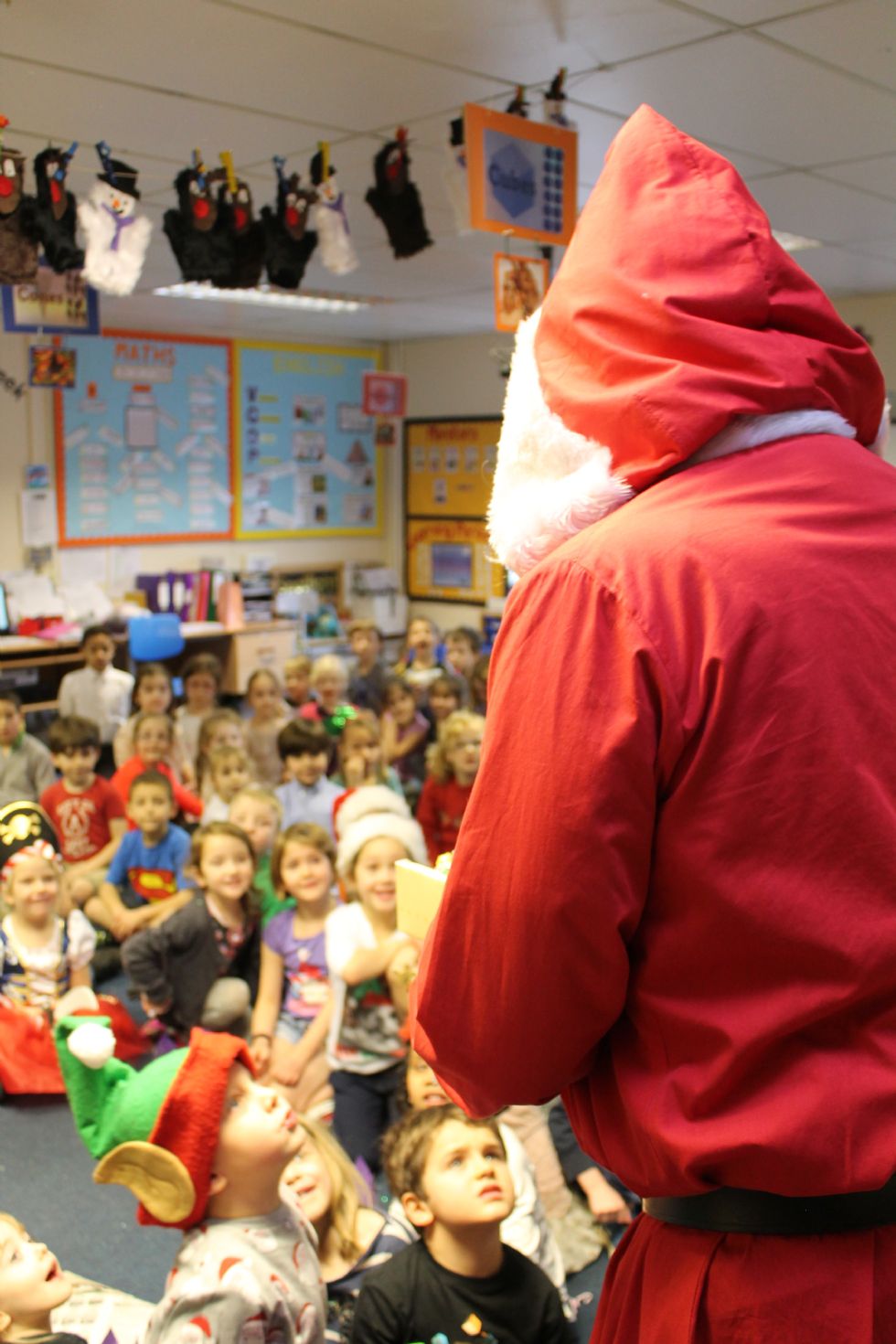 The preparations continued on Thursday with a visit from Trinity Trust Team who came to do a special Christmas assembly for us. They reminded us of the first Christmas and that however busy we are we must make time to think about why we are celebrating Christmas and Jesus' birth.
We all enjoyed a delicious Christmas dinner on Thursday served by the teachers with crackers and party hats! Everyone really enjoyed sharing this special meal together.
Now we are almost ready for the end of term, we just have our carols round the tree to come this afternoon followed my mulled wine and mince pies for parents before we finish at 2pm. The carols sound really lovely and we hope that you enjoy them.
Part of our readings during the carols are:
"In the dark of the stable in Bethlehem a new light was given to the world. Who will keep that light burning if we do not?"
From us all at St Edmund's we wish you a very Merry Christmas and a Happy New Year!
Elizabeth
Friday 12th December 2014
It is really starting to feel as if Christmas is just around the corner! This week we have had two wonderful Christmas productions. We started on our journey to Bethlehem with Reception, Years 1 and 2 with their performances of 'Hey Ewe! 'The story of the first Christmas was told through the eyes on a curious sheep who knew that something exciting was about to happen! The cast of 90 children included a large flock of sheep and team of shepherds to keep them under control! A Roman Emperor got all the bustling travellers organised. There was a whole host of heavenly angels, kings and camels, shining stars, and of course Mary and Joseph and their donkey. The narrators linked the story together and the children spoke, sang and danced beautifully! Here are some of the youngest children in their costumes.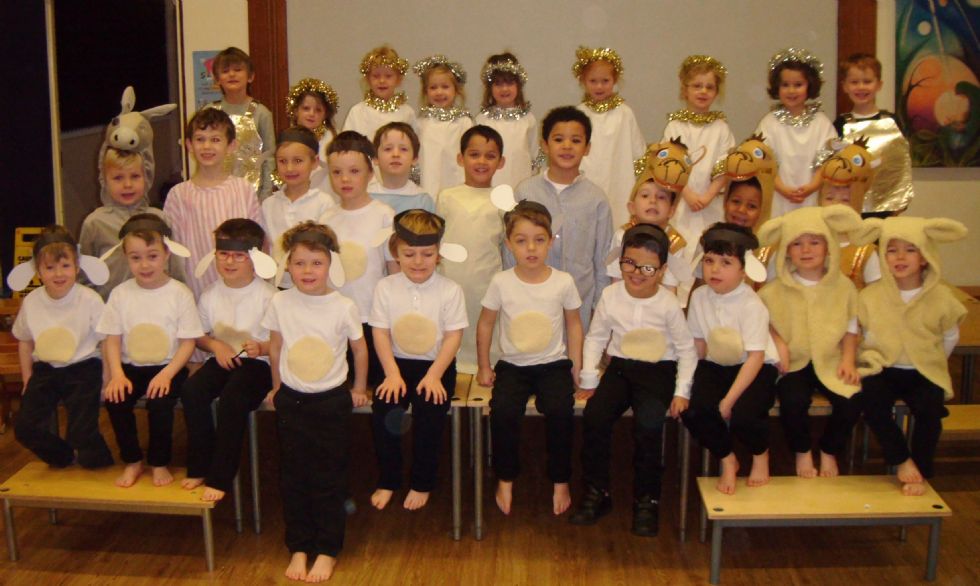 We were then treated to 'Who' by Year 5 and 6. The children explored the real meaning of Christmas through time travel, taking us back to the stable in Bethlehem via, a pantomime, Christmas store, the turkey farm and cracker factory! The whole performance was highly entertaining with wonderful confident singing, acting and fantastic choreography.
So much work goes in to making these productions so successful, and having spent every December for the last 14 years directing productions myself I do appreciate how much work goes on behind the scenes. It is really lovely to see everyone working together and the children enjoying themselves, I am very proud of them all!
The children in Year 3 and 4 are having their final rehearsal for their Carol Service as I type, the singing is sounding amazing and I know it will be very special. Some of the children will be singing tomorrow afternoon at 2:15pm under the Pepperpot, if you are in Godalming doing your Christmas shopping tomorrow do come and listen!
Have a lovely weekend,
Elizabeth
Friday 5th December 2014
We started this week with an Advent Liturgy on Monday where we lit the first candle on our beautiful Advent wreath. We talked about waiting and preparing ourselves during this Advent season. We discussed the reading from Mark's Gospel about keeping awake and being ready for the master of the house to return. The children had really thoughtful examples of how they can be ready and prepare themselves inside by showing love and kindness to others at school and at home. I hope they are showing this patience and helpfulness at home during this especially busy time of year! Here is part of our wonderful hall display complete with a lit candle!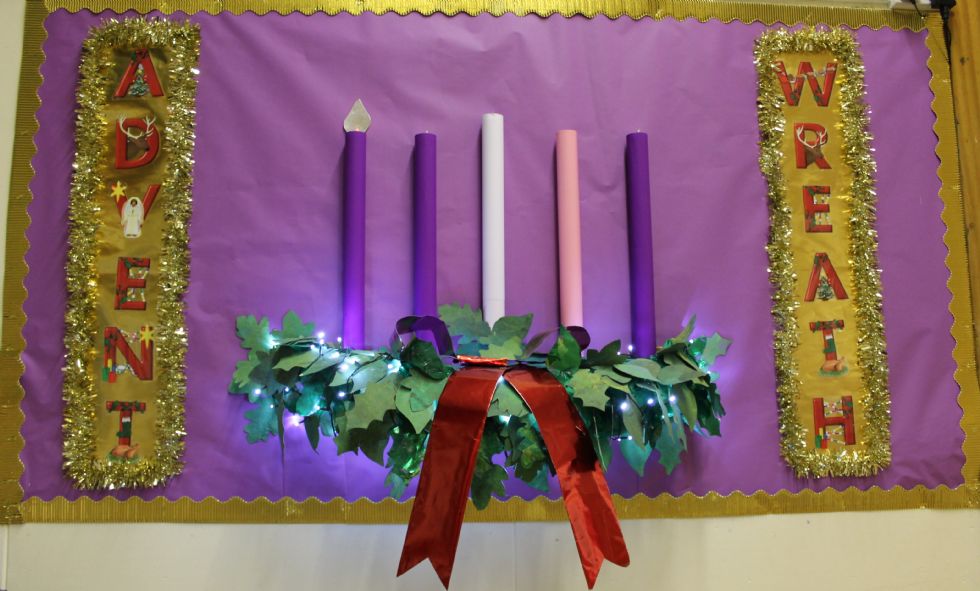 I'm so looking forward to the Christmas performances from Reception, Year 1 and 2, and Year 5 and 6 next week. I have seen and heard wonderful snippets, songs and dances but I'm waiting until Tuesday and Wednesday before I see the whole thing! The final dress rehearsals are underway today! The children and teachers have been working very hard and I think you will be very impressed. I walked down to church with Year 3 and 4 yesterday morning. The children went to Mass and then stayed on to rehearse for their Carol Service which will take place at St Edmund's Church on Monday 15th December. The singing was beautiful this morning and I know it will be a very special service.
The travelling cribs are making their long journey to Bethlehem staying each night in a different family home. The children are loving having the cribs at home and have recorded such beautiful thoughts, prayer, reflections and pictures in the books. I've had some really positive comments from parents this week so I do hope that the whole family is enjoying the experience. Here are some of the children from Year 2 who have welcomed the special visitors into their homes this week.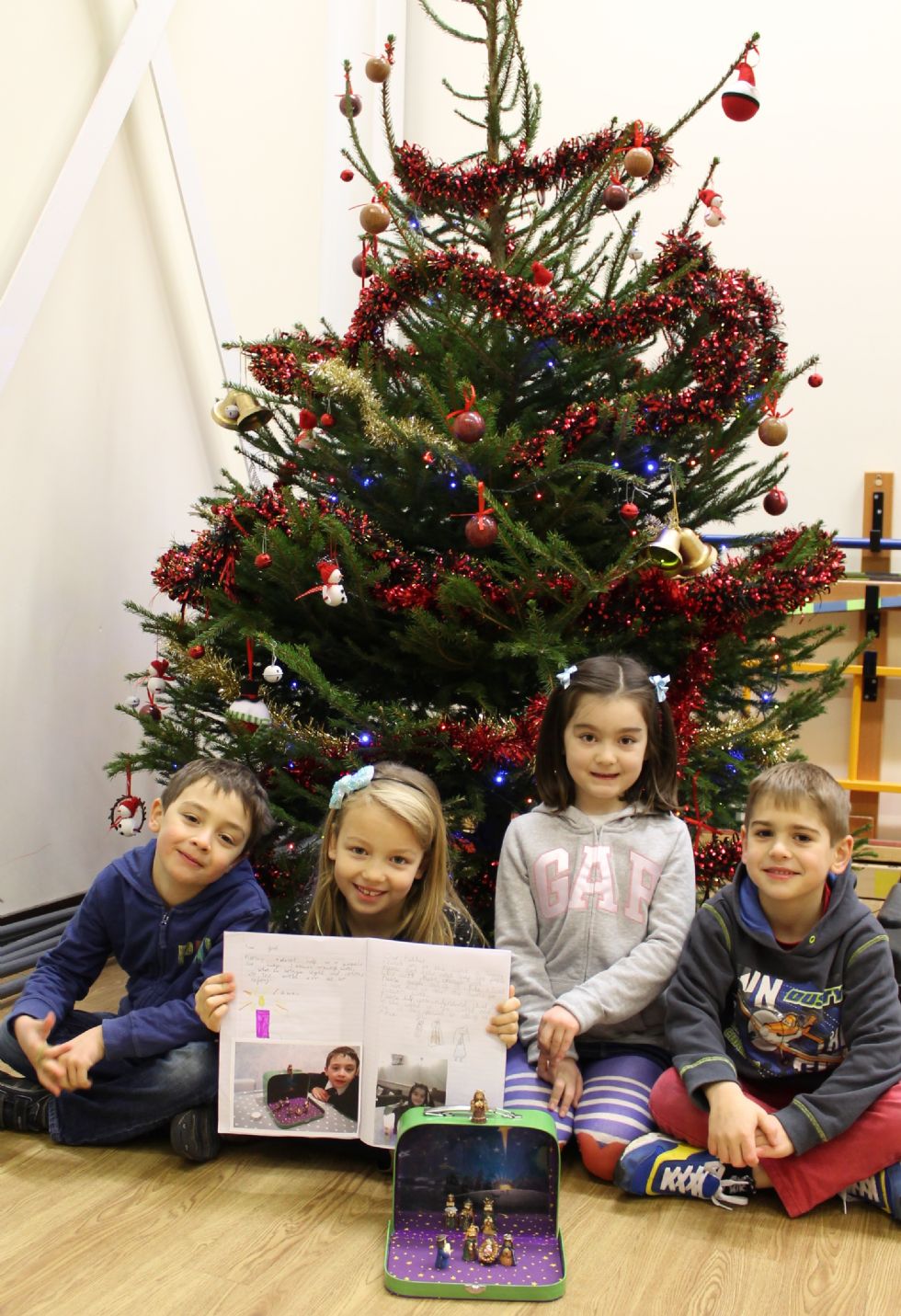 The Christmas Fair is tomorrow and the mountain of gifts and donations has grown so much this week. Thank you all for your support and thank you to the PSA who work tirelessly to make these events such a success. I hope to see you all there tomorrow!
Have a lovely weekend,
Elizabeth
Friday 28thNovember 2014
This Friday is the last in November and the last before we begin the season of Advent. It is a time of waiting expectantly as we begin the new liturgical year and prepare ourselves for the joyful season of Christmas. In the secular world Christmas has well and truly started and we want to show the children the difference between this frenzy of shopping, festivity, lights and advertising and the Church's season of Advent.
Of course preparations are beginning here in school too with costumes, rehearsals and the beautiful Advent display going up in the hall today, it really is very special. We also have wonderful Advent wreaths and a calendar for each classroom to enhance the sense of waiting and counting the days. Special thanks to Mrs O'Mahoney and Mrs Farrar for the beautiful wreaths.
Today we had two performances from 'The Power of One'. Through drama and role play they helped the children understand more about the bully, the target of the bullying and the role of the bystander. The really important message is that we all have the 'power of one'; the power to stop bullying for good. The children responded really well to this message and it effectively reinforced the work that we have done last week with the school council on Anti-Bullying. We have a large poster which contains a promise for all members of our school community to sign to show their support and commitment to Ant-Bullying. Here are some of the children taking on the different roles during the performance.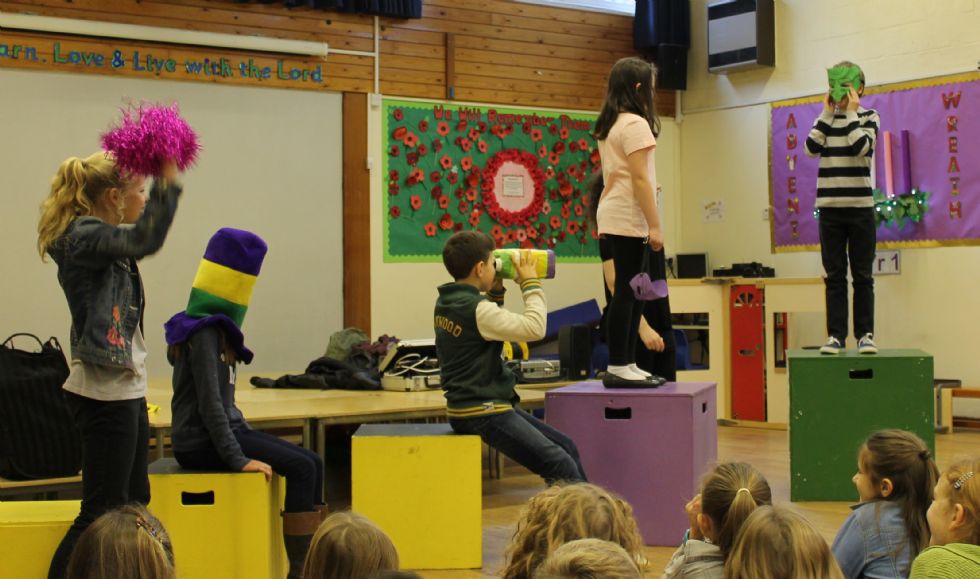 The children look very colourful today in their mufti, thank you very much for all your donations for the Christmas Fair next Saturday 6th December.
I hope you all enjoy a peaceful weekend,
Elizabeth
Friday 21st November 2014
Yesterday we celebrated the Feast Day of St Edmund, the patron saint of our school. We had a special treat for the children in the morning with the pantomime, Dick Wittington! The children really enjoyed the performance; it was a lively, exciting show with singing and dancing and humour, just right for the age of our children, they were captivated!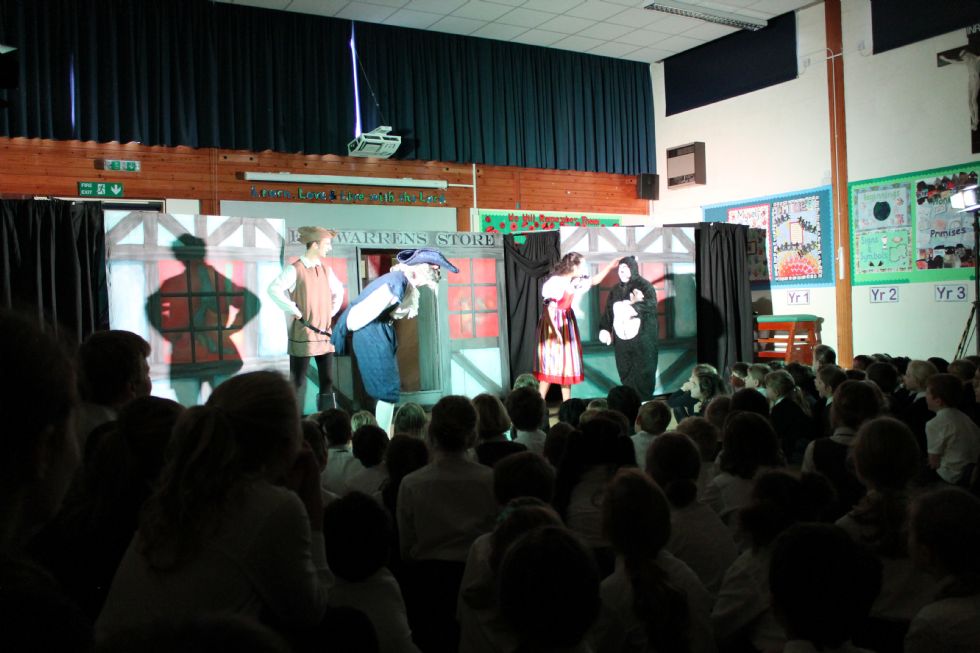 In the afternoon we celebrated Mass together as a whole school with Fr Michael. The children read and sang beautifully and we had a team of altar servers from year 5, who are doing a wonderful job! Thank you to Fr Michael and to all our parents and visitors who made this a really special Mass for our feast day.
It is believed that Edmund was born in 841 and became King when he was only 14. He ruled East Anglia and died a martyr on 20th November 869 standing up for his Christian beliefs. He was captured many times and according to legend he hid from the Danes under a bridge and his crown glinting in the sun gave him away! St Edmund was the patron saint of England for many years before St George and some people would like to see him as patron saint of England again. As you know our school logo shows the crown he wore and the two arrows show how he was killed. We think about our own faith and how we can have the courage to stand up for what we believe in and fro what we know is right and true.
St Edmund's day falls during Anti-Bullying week when we have also been talking about how we must stand up for what is right and it is our responsibility to make sure that all children are safe and happy. If we see something that we know is wrong or someone who needs our help we must do something, it is not ok to walk past or do nothing. During our prayers this morning we asked God to give us the courage to stand up for what we know is right and to help us treat everyone as we would like to be treated ourselves. .
The school council have been working really hard this week, they have written a child-friendly version of the Anti-Bullying policy as it is so important that everyone at St Edmund's really understands what bullying is and how to help if he/she or someone else is being bullied. Please do look at and discuss the leaflet with your children, there will also be a copy available on the website. The school council have also planned and led two assemblies today. Each class has made a special poster to show the important message: 'Stop Bullying For All'. These will be displayed around the school. We are all wearing blue today to raise awareness and to show that we are united against bullying. The money raised from the cake sale after school today will go to support the Anti-Bullying Alliance. We will continue our work on this important issue next Friday, 28th November when we will have two performances from the 'Power of One', with a very important anti-bullying message for everyone.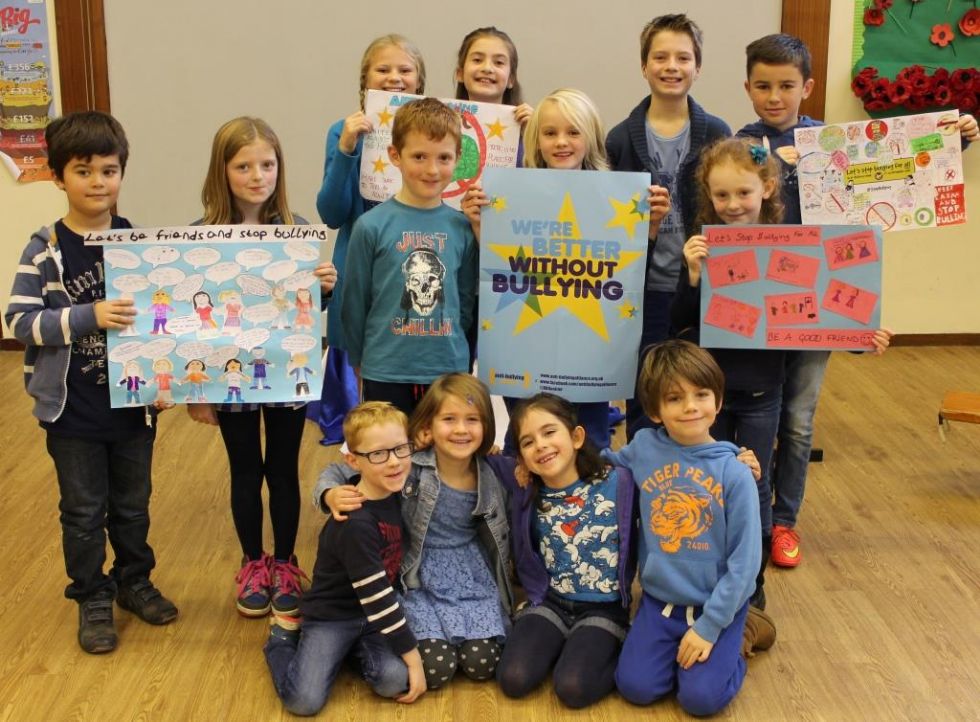 Please do come and support PSA who are holding a Jumble sale tomorrow in the school hall from 10:30-12 and also the children making their First Communion next year who will be leading Mass on Sunday at 10:15am at St Joseph's in Milford.
Have a lovely weekend,
Elizabeth
Friday 14th November 2014
On Tuesday we had our very special Remembrance Day with our service of Remembrance during the morning and the wonderful exhibition after school. Thank you so much to everyone who came to remember with us, I'm sure you will agree it was very memorable.
It was really wonderful to see such creative learning and children working together with their families to find out about this hugely significant event. The children have been truly inspired by the stories and research they have discovered. I'm sure it is something they will always remember. Thank you for supporting the children with their learning. A special 'Thank you' also to the Amos family for sharing their beautifully embroidered postcards and letters sent from the battlefields and the original newspaper announcing the end of WW1. We are taking a selection of the children's work to the parish over the weekend to share what we have done with a wider audience. Here are children from year 2 making the poppy formation which they showed us during the service on Tuesday.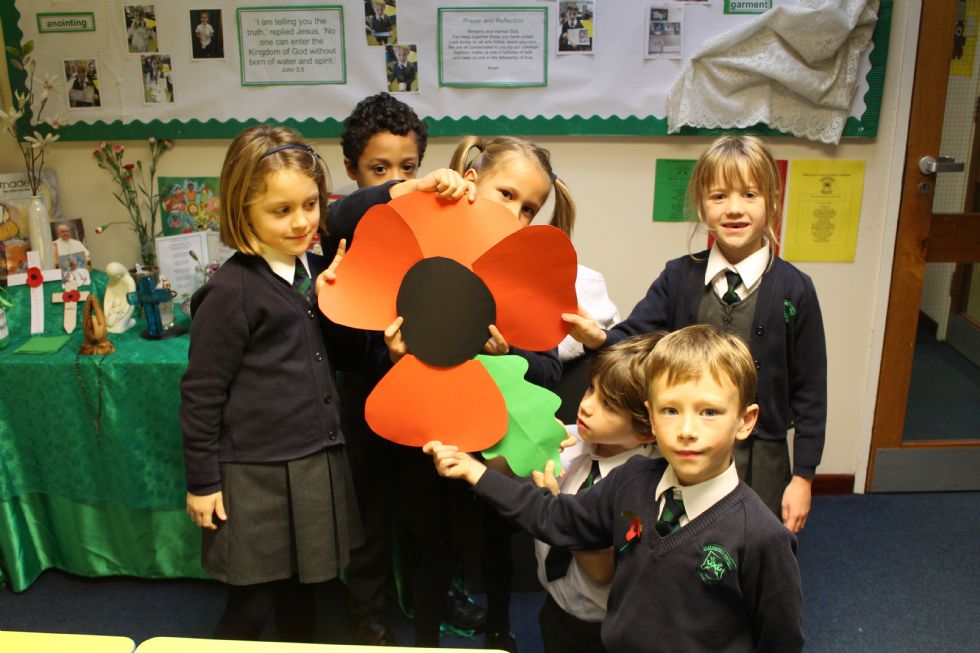 We ran parent sessions this week to give information about the new maths curriculum changes, thank you to those parents who came, feedback was extremely positive. If you were not able to come please do have a look at the presentations on the website (under Learning, Curriculum, mathematics)
We have beautiful new benches in the prayer garden they are very special and have our mission statement carved into the seats, thank you so much to Ashley and the PSA.
The school council are busy preparing for Anti-bullying week starting on Monday 17th November, they have planned two assemblies and activities for the children and they are writing a new child friendly version of the Anti-Bullying policy look out for it next week!
This week we have had our Staff meeting on Monday with St James looking at and moderating narrative writing and our leadership team met with the leadership team from Moss lane yesterday to share what we do well and work together on assessing the children.
Year 3 have planned a very exciting assembly on Roald Dahl, I have seen a few snippets while they have been rehearsing and it is going to be wonderful!
I'm sure I will see most of you at the discos later this evening; everyone is looking forward to them!
Have a lovely weekend,
Elizabeth
Friday 7th November 2014
Welcome back everyone, I hope that you all enjoyed a relaxing half term holiday whether you were at home or away. The children are all looking happy to be back and we are all looking forward to this exciting half term, and the season of Advent and preparing for Christmas.
I have been so impressed by the children's learning about WW1. My office is almost full of the most wonderful posters, paintings, leaflets, a Lego model and even a beautiful sculpture of the Hascombe fountain during WW1. What has really pleased me has been the enthusiasm with which the children are able to talk about their learning and all the information that they have found out. So many families have ancestors who were directly involved in the conflict. I have been particularly struck by the young ages of the young men who went to fight, even as young as fifteen. There are such wonderful stories of great bravery and heroism. It is so important that we remember this hugely significant event and help our children to understand so that they can pass on what they have learnt to the next generation. I can't wait to see all the wonderful work on display in the hall next Tuesday after school so that we can share our stories. I do hope that you will be able to join us for our special Remembrance service on Tuesday morning at 10:45am and for the exhibition after school.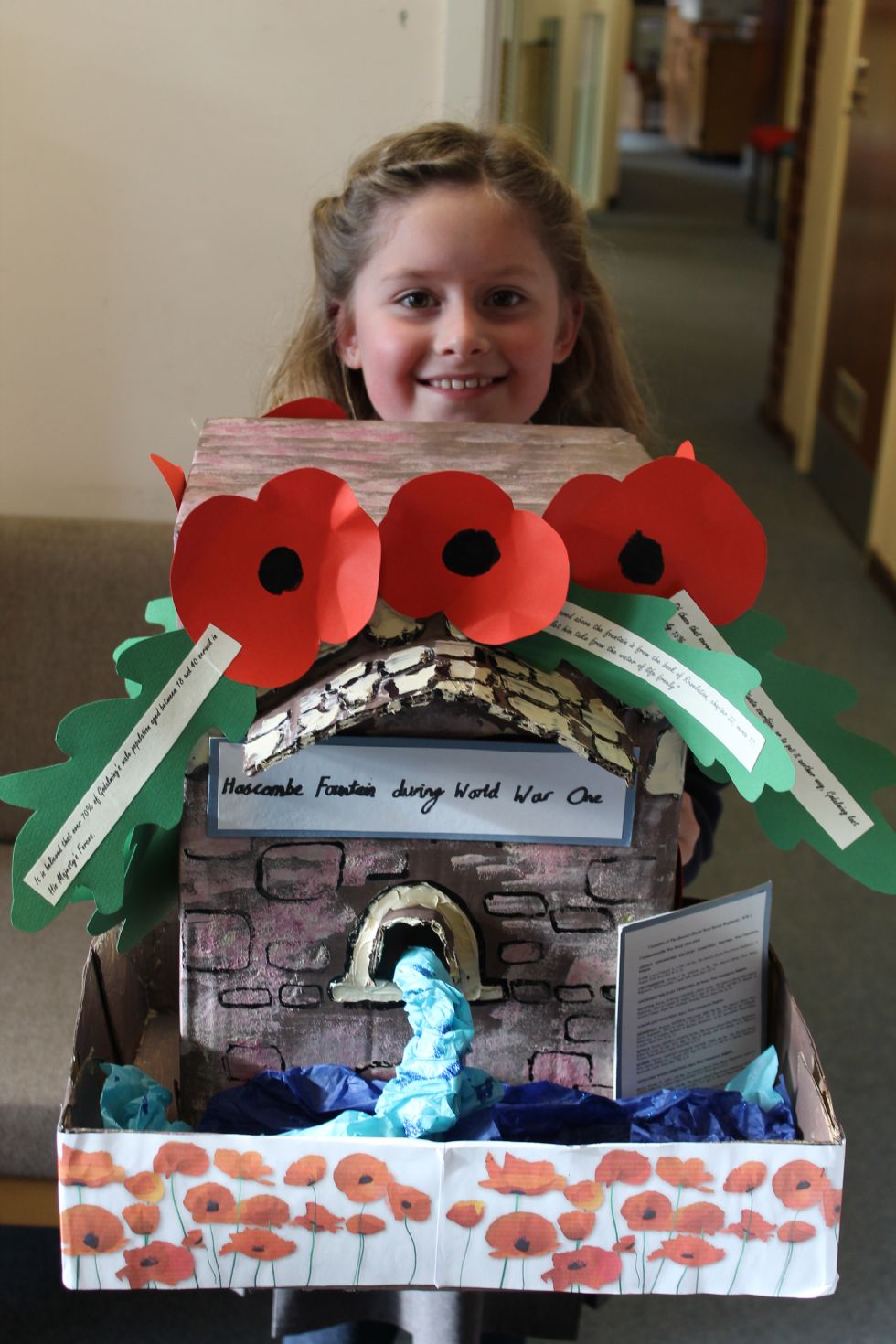 On Wednesday after school we are holding a workshop for parents on the New maths curriculum I will look after the children in the hall leaving you free to go to your child' classroom. All the teachers will give a short presentation on some of the changes and then you will have an opportunity to try a range of activities in the classroom. We hope that this will be a useful way of supporting your children's learning in maths.
We have Ten Ten theatre here today; this company takes its name from the scripture passage John 10:10, "I have come that you may have life, life to the full." The three plays were all extremely powerful and thought provoking and everyone watching was totally spellbound by the two wonderful actors. Do ask your children about the powerful messages about relationships explored today. I do have some booklets on 'Being a parent today', left by Ten Ten, if you would like one please do come and ask me.
Have a wonderful weekend,
Elizabeth
Friday 24th October 2014
Here we are at the end of the first half term! We have had a very busy, successful seven and a half weeks. The children have started the school year with great enthusiasm for their learning.

On Wednesday we had our half termly Golden Assembly where we celebrate our successes. The teachers nominate children to receive a headteacher's award. There were some very special nominations, for personal achievements and attitude to learning, I was delighted to see several marvellous mathematicians recognised and children who are supporting others and sharing their learning. St Matthew's house won the cup for the most house points this half term and the child in each class who had earned the most points received a special certificate, some classes have very high totals already! The children have clearly been working very hard to earn house points.

Look out for our half termly newsletter and read about what each class have been learning.

Year 2 performed a wonderful assembly this morning, they shared their gifts and talents, and they really are a very talented bunch! From Mary-Jane's recorder playing to performance poetry and a great dance troupe, we were all very impressed by their talents. The children thoguht about how it is not easy to try new things but we all need to remember to thank God for our gifts and talents.
I've just come back from a teddy bears' picnic in Year R. The children were singing and dancing with their teddies and enjoying a lovely tea with teddy bear biscuits they had made themselves! What an exciting way to finish their first half term at school! here they are dancing together wearing their teddy bear ears.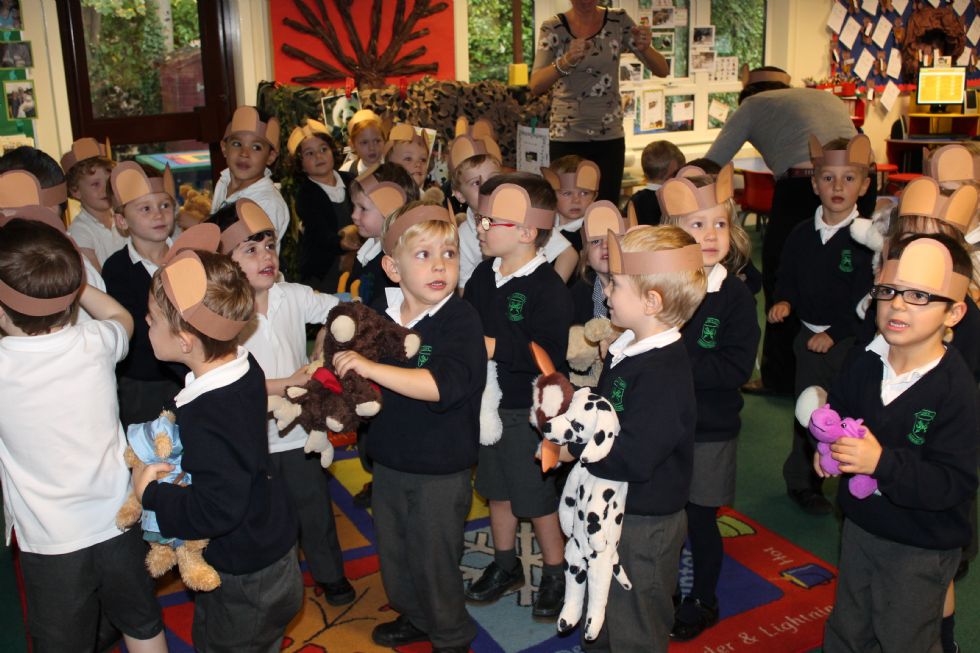 I'm already looking forward to all the exciting events we have planned for the next half term, the half term before Christmas is always one with a great sense of preparation and excitement.

I hope that everyone has a wonderful half term break, whether you are at home or travelling, enjoy the rest.
Elizabeth


Friday 17th October 2014

This has been a week of 'Thank Yous'! We had a return visit from Buddy and Mandy from the NSPCC this morning to say thank you. The children were very excited to find out the grand total…...£2634.19!! We are very proud of the children and the money will go to help protect so many children. This is a wonderful achievement and our children are wearing their badges with pride. We talked about the importance of serving, as it says on our school council board, 'We are here to serve one another'.
We were very thankful for the good weather yesterday for our Harvest Liturgy and blessing of the prayer garden. The children read and sang really well as we thanked God for the food we have and for the wonderful world we share. Even the very youngest children joined in and read prayers of thanks. We collected a wonderful harvest of our own with a mountain of tins, packets, jars and fresh fruit and vegetables too! We know all the donations will be very gratefully received by local families in need. Thank you very much to everyone who donated and to those parents who also helped to deliver the donations to the food bank. It was lovely to see so many families there to celebrate with us, thank you for your support.

It was a beautiful sunny morning and after our liturgy we all walked out to the prayer garden and Fr Michael led a special blessing. The garden is still looking lovely with summer flowers still blooming. Harvest is a time for saying thank you and we are so grateful to all the parents, staff, children and volunteers who have created such a tranquil, peaceful space. It really is very special.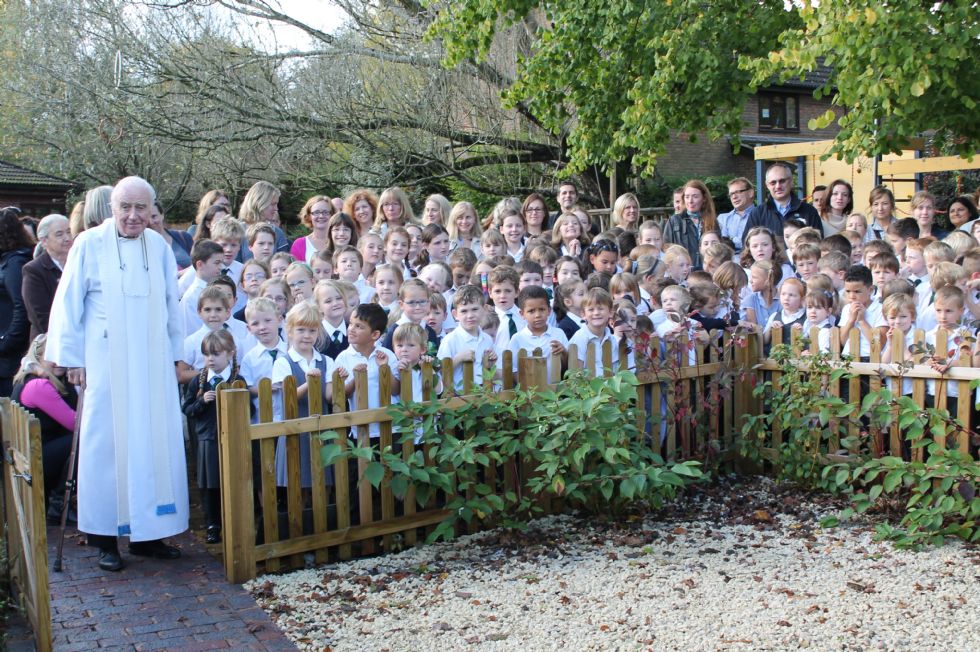 We look forward to welcoming you to our Parent consultation sessions on Monday and Wednesday next week.

This Sunday, the second First Communion Mass will take place on St Joseph's Milford at 10:15am all are welcome, I'm sure I will see many of you there.
Enjoy the weekend,
Elizabeth
Friday 10th October 2014

As I wrote last Friday I was expecting many visitors for our grandparents day celebration, I was amazed and delighted by the wonderful response we had, there really was standing room only! Thank you so much to all our visitors and helpers who provided such a delicious tea! The children loved entertaining you with their singing. It was a pleasure to share what we do with our grandparents and honorary grandparents too!

This week has been 'Little Way Week', we have all been finding out about St Therese of Lisieux. Her early life was very troubled, the youngest of 9 children only 5 of whom survived, her mother died when she was four and she was quite a stubborn little girl, certainly not always perfect! She entered the convent at the age of 15 and devoted her life to a God. Therese did little deeds every day to make a big difference! We have tried to follow her example this week and do little things to make a difference too. Let us all be inspired by St Therese and follow her example.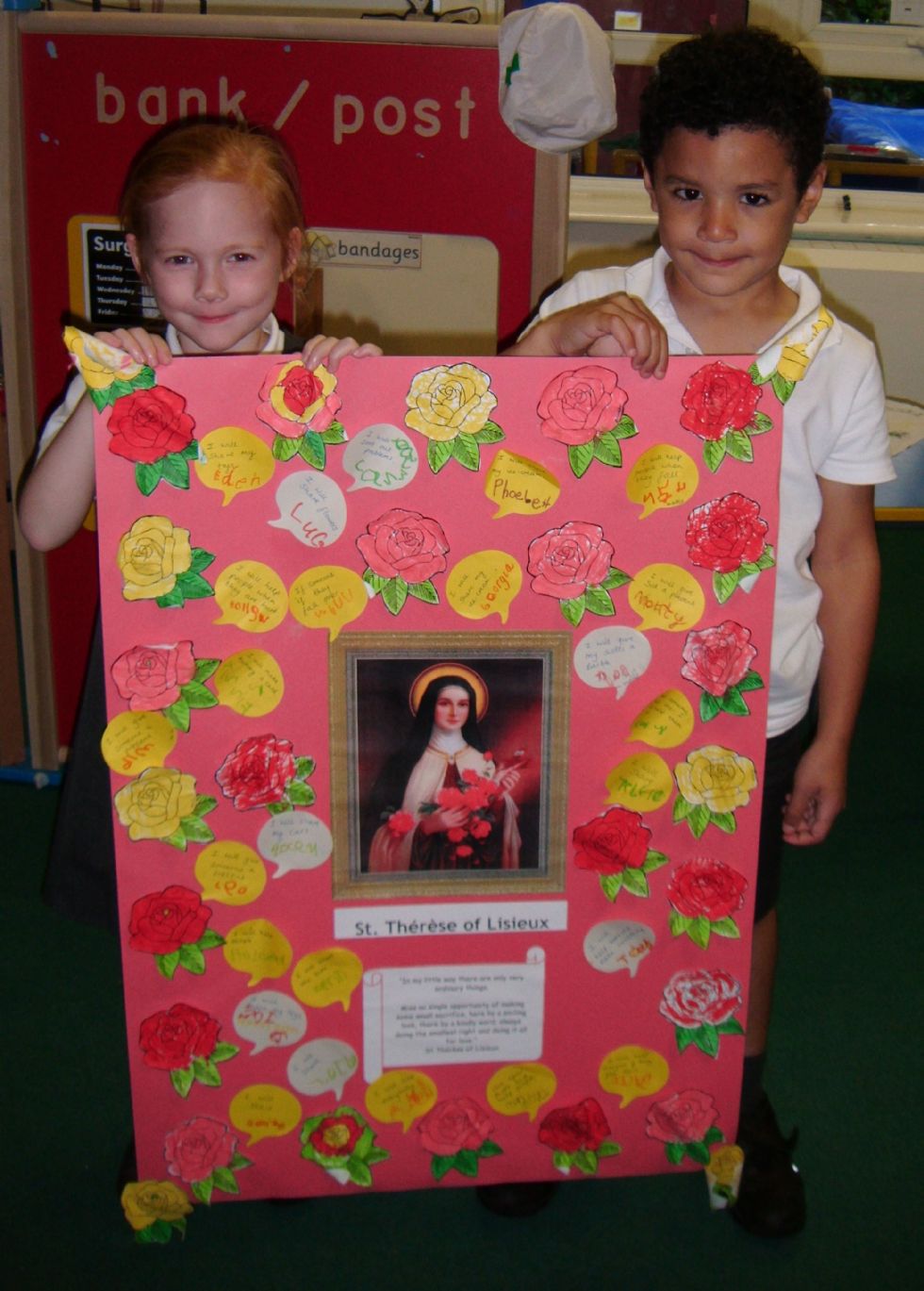 I have been talking to the children about their learning during their maths lessons and there has been some fantastic learning going on! The children are experts on 2D and 3D shapes and some classes are developing marvellous multiplication strategies! In Reception the children were able to describe 2D shapes, in Year 6 they were interpreting data from a variety of charts and tables. It's wonderful to see the progression across the school and such a love of learning!

This morning we have had the first of our celebration class assemblies led by Year 4. It was a wonderful assembly on the theme of Families. The children shared their family histories and their learning about Jesus' family tree. They sang and spoke beautifully and with confidence; they had learnt a lot of lines to learn! I also found out why they all needed a cycling helmet! They have set a very high standard for class assemblies to come this year.

We will have our Harvest liturgy and blessing of our prayer garden next Thursday at 11am, all are welcome to come and join us in giving thanks for everything that we have at this time of year.
Enjoy the weekend,
Elizabeth
Friday 3rd October

We are preparing for our very special Grandparents Day with our assembly this afternoon, we are hoping to welcome many, many grandparents and honorary grandparents! The children have all been rehearsing songs to perform later this afternoon and there are delicious cakes waiting for our visitors too! I watched the Pope live on television from St. Peter's square last Sunday morning as he addressed grandparents and the elderly in a special service. Even Benedict, Pope Emeritus was there, Pope Francis says how lovely it is to have him there like an elderly grandfather! Pope Francis gave thanks for everything grandparents do and for passing on their faith; I would like echo this and thank you so much for all you do for our children at St Edmunds.
Today is also CAFOD fast day and the children went without their mid-morning snack and donated the money to CAFOD to support those who do not get a fair share of the world's food.
You may have noticed an extra vehicle in the car park this week, it's the Life Bus! It is a mobile classroom which comes every year and helps the children make good choices and live healthy lifestyles. Do ask the children what they have been learning on board the bus!
We have the travelling book fair starting on Monday please do come and have a look at the books available, developing a love of reading is so important.
This Sunday we have our first school mass of the year, it is a wonderful opportunity to come together with our parish family at celebrate the start of the school year. Please do come along at 10:15am wearing your school uniform. You will also see our new altar servers, who are doing really well serving at Mass, I'm very proud of them.
I hope to see many of you on Sunday, have a lovely weekend,
Elizabeth
Wednesday 1st October 2014
Again, it's not a Friday but I thought I would tell you a little more about my time in Rome. I feel very lucky to have had such an inspiring experience. I showed the children some of my photographs today and told them about seeing Pope Francis, the Vatican and St Peter's Basilica.
As I had never been to Rome before I was amazed to see ancient history around every corner but being on this special pilgrimage I had the opportunity to visit places that otherwise I could not have seen. The Venerable English College is where many priests train and we had a special liturgy there. We were able to see the English Martyr's Chapel where a wonderful painting showing St Edmund (with his crown and arrows beside him) St Thomas of Canterbury and Jesus in His Father's arms above them. There was also a beautiful mosaic depicting St Edmund and his actual relics are beneath the altar in a golden casket. I wrote in the prayer intentions book asking them to pray for us at all here at St Edmund's school.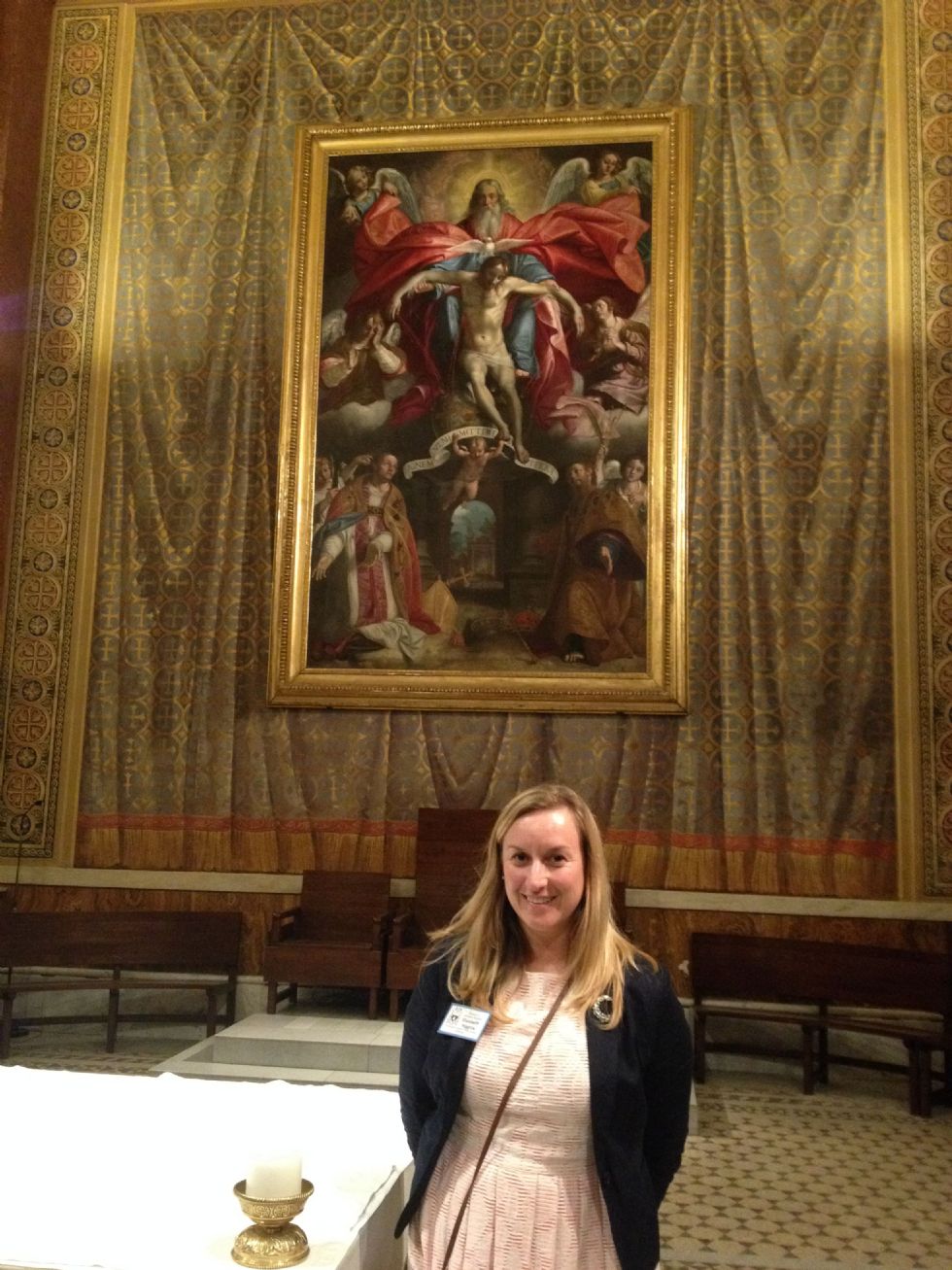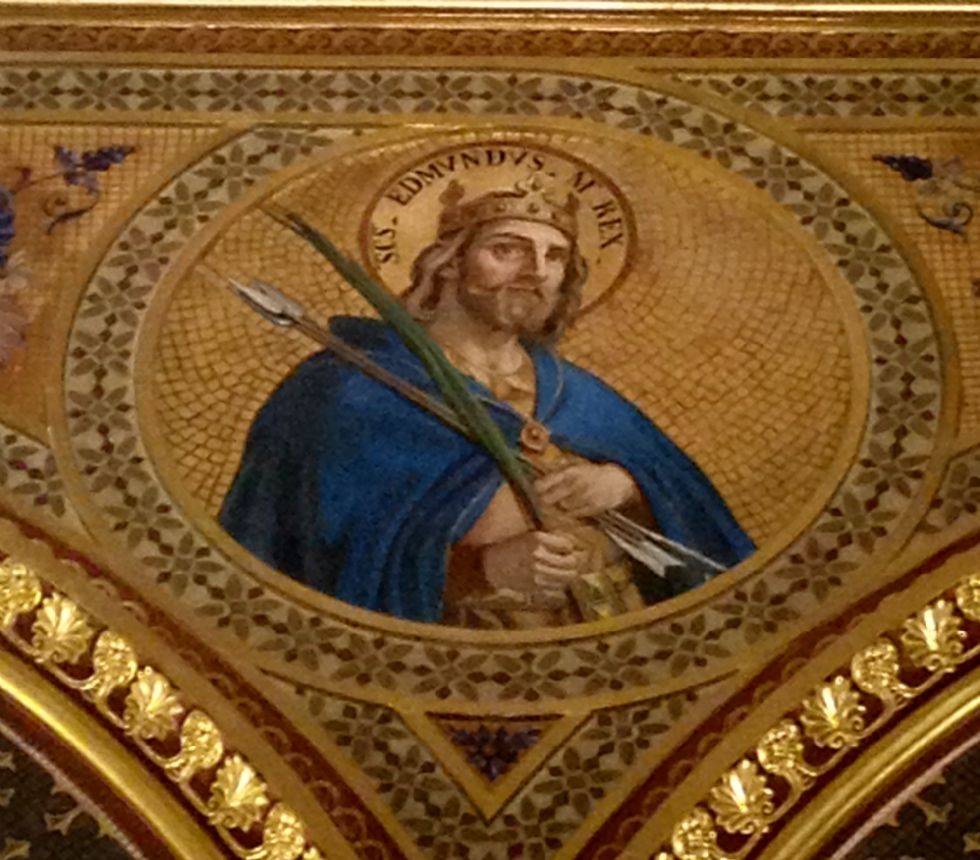 Celebrating a very special intimate Mass in a tiny chapel beneath St Peter's Basilica was another highlight, being so close to the final resting place of St Peter himself, one of Jesus's twelve disciples, the first Pope was a wonderful feeling.
On Friday we paid a visit to Vatican Radio, quite an experience! Vatican Radio broadcasts the voice of the Pope and the Church across the world. Here we heard some fascinating stories about life inside the Vatican and Pope Francis, we were also able to ask any questions we had. Bishop Kieran and two of the Headteachers from the Diocese were then interviewed on the Radio. You should be able to hear the recording here: http://www.news.va/en/news/heads-of-english-catholic-schools-on-pilgrimage-in
Having spent a lot of time with Bishop Kieran last week I was especially saddened and shocked to hear the news at the weekend. Being on our pilgrimage with such a lovely group and having time to pray and reflect on our leadership together was very special experience, one I will never forget.
Saturday 27th September 2014
It's the first time that I have been at St Edmund's that I have not been able to write my blog on a Friday, I didn't arrive back from Rome until around midnight last night. I would have updated you all on my adventures during the week but trying to access the internet on my phone was quite tricky! Below is the message I tried to send you yesterday...
I am having a wonderful time in Rome, I have been thinking of you all and praying for you and our whole school family at St Edmund's. Despite experiencing torrential rain at times, the whole pilgrimage has been a fantastic experience, the highlight has been the audience with Pope Francis. Here he is in St Peter's square during the audience. I look forward to telling you more about my adventures next week.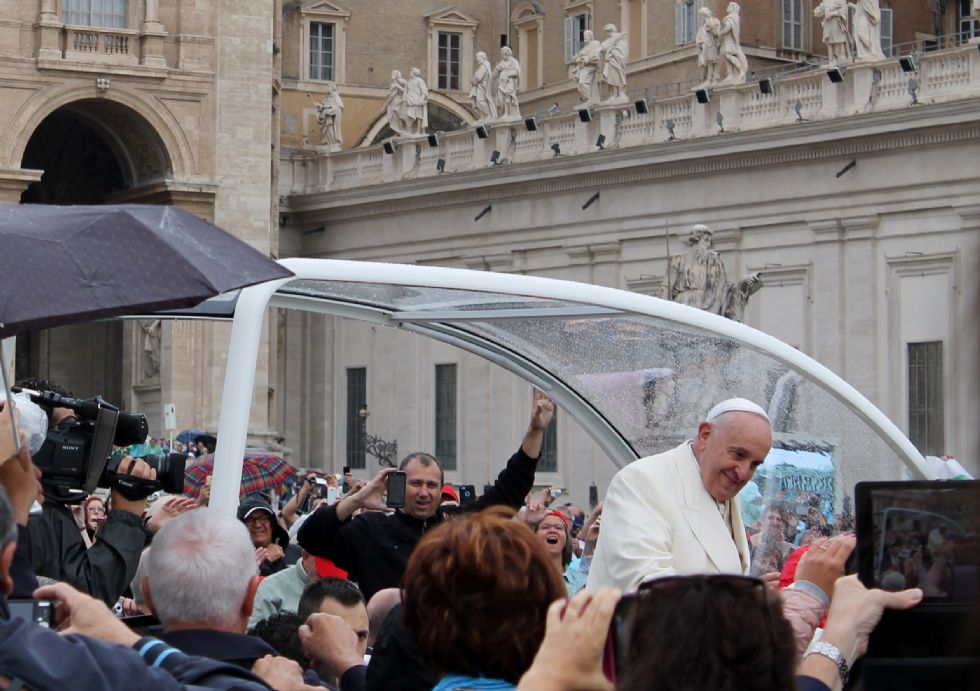 I'm looking forward to seeing everyone on Monday,
Elizabeth
Friday 18th September 2014
This week has flown by! We started the week with a marvellous musical day with an assembly and workshops led by Rock steady music company. The children listened to different instrument and played together, they had a go at the drums, electric guitar, singing and keyboard. Here are some of our budding guitarists from Reception!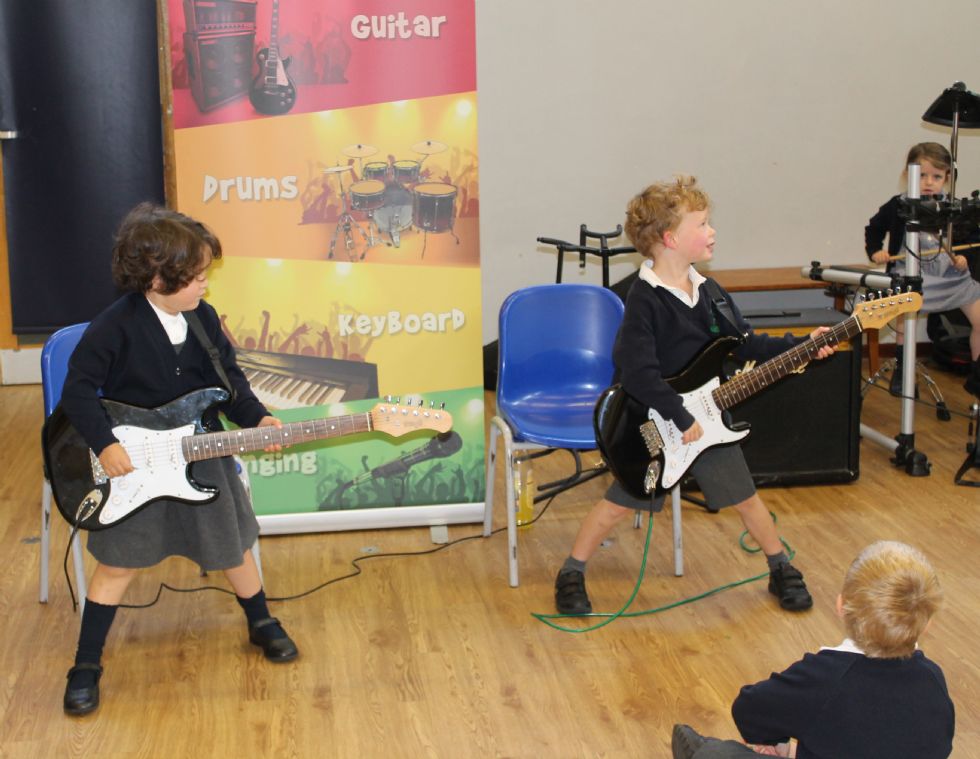 I spent the day with year 5 on Thursday and really enjoyed teaching, it was lovely to be back in the classroom away from my office! They are planning some great short stories; I'm looking forward to reading the finished versions. As part of their 'Come and See' topic they are looking at which qualities we need to support others and they have some fantastic ideas for fundraising to help charities.

Next Friday I will be miles away! I have a very exciting week coming up. Very early next Tuesday morning I will set off from Heathrow on a pilgrimage to Rome with Bishop Kieran and more than 30 other Headteachers from the Diocese. I have never been to Rome before and I'm really looking forward to the experience. The focus of the pilgrimage is Evangelii Gaudium: How do we witness the joy of the Gospel as Catholic Leaders? We have a very full itinerary including an audience with Pope Francis on Wednesday morning. I look forward to telling the children all about my experiences on my return!

Before I depart we will have our special commissioning service on Monday and after school we will celebrate Mass with our Deanery school colleagues at St Peter's in Guildford.

I hope you all have a lovely weekend and I'm sure I will see many of you at the first of the First Holy Communion Mass on Sunday,
Elizabeth
Friday 12th September 2014
We have had a very exciting and busy first full week back at school and we welcome another new family as Lily joins us in Year 3.
The birthday board is up in the corridor behind the hall we look forward to celebrating everyone's birthdays during the next school year. On Monday we celebrated a special birthday, that of Our Lady. We found out that her birthday has been celebrated on 8th September since the 6th Century! We thought about how God has chosen her to be the mother of Jesus, she was born to be His mother; this was her calling and her special gift. Did you know that three special birthdays are celebrated during the Church's year? Mary's is one of them but do you know which the other two are? I wonder if the children can remember!
It was great to see so many parents on Monday for the meet the teacher sessions. I enjoyed the film in the hall, the children were very good and many were a little disappointed when it was time to go home! Thank you to those parents who came to the Child Protection session last night, it is such an important issue I hope it helped to raise awareness. We are hoping to run another session with a focus on internet safety in the near future.
The Year 6 children led the assembly this morning and those who wanted to stand for House Captain presented a short speech explaining why we should vote for them. It is not easy to stand up and speak in front of a large audience and I was very proud of them all. They were very persuasive and entertaining! All the children had a chance to vote and the votes are being counted now!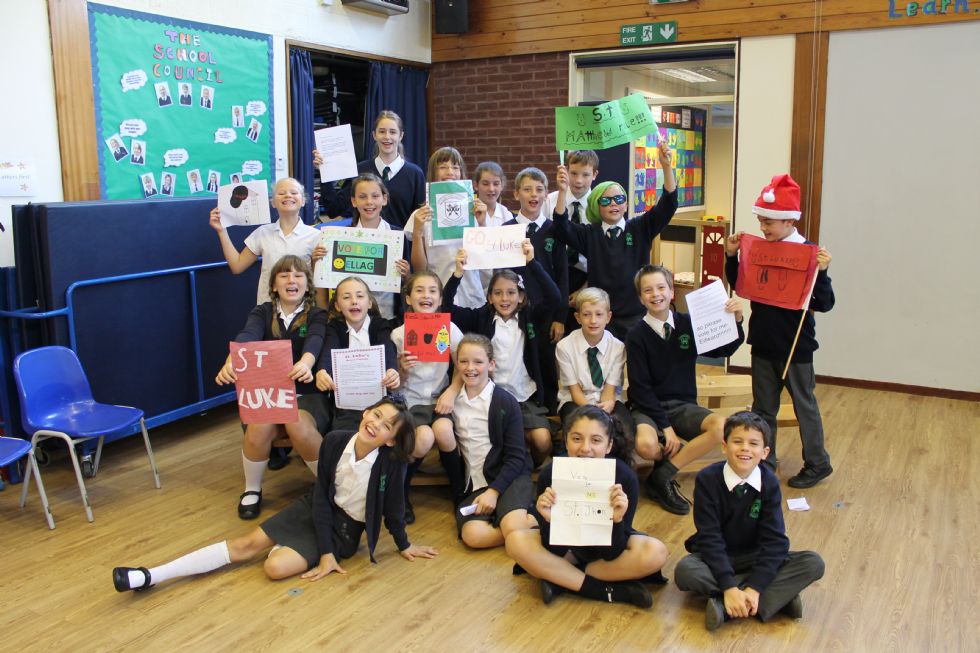 We will have our commissioning service on Monday 22nd September. All those pupils who have been given special responsibilities including school counil, house capatins, prefects, buddies and more will be formally commissioned . This is a really special way of taking on the responsibility of the new roles and understanding the importance of serving one another.
Have a lovely weekend,
Elizabeth
Friday 5th September 2014
Welcome back everyone, and a very special welcome to our new children and families in Reception class and to Ellie in Year 4 and Miss McLoughlin who is teaching Year 5. The children have been excellent at making our new comers feel at home. There is always a very special feeling in school in September, new shoes and smart new uniforms, everyone looking refreshed, relaxed and healthy after the holidays. It is a time for new beginnings and the exciting promise of the year ahead. During our assemblies this week we have asked God to be with us as we work and play together and we have shared our Mission Statement, 'Learn, Love and Live with the Lord'.
Our youngest children are settling in really well and they look very grown up in their school uniform too. They are very polite and we are getting to know them all quickly. I was delighted to hear one of our very new reception children on his first day asking to go up to the cook to say a special thank you for his lunch and especially his lovely jelly! It is great to see all the children in KS1 enjoying their 'Universal Infant Free School Meals' together.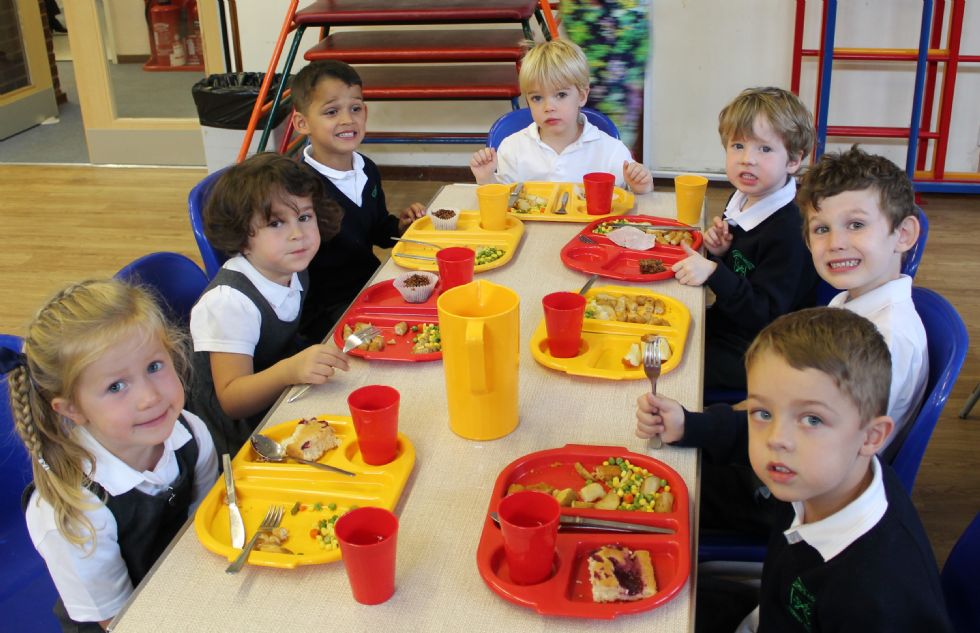 The prayer garden and hanging baskets are looking wonderful and have continued to flourish over the summer holiday. Congratulations to the Gardening Club who were presented with a special award from Godalming in Bloom for the prayer garden. A big thank you to Mrs Patrick, Mrs Farrar, Mrs O'Mahoney and Mrs Parsons and the gardening club children who work so hard to make our gardens and surroundings so beautiful.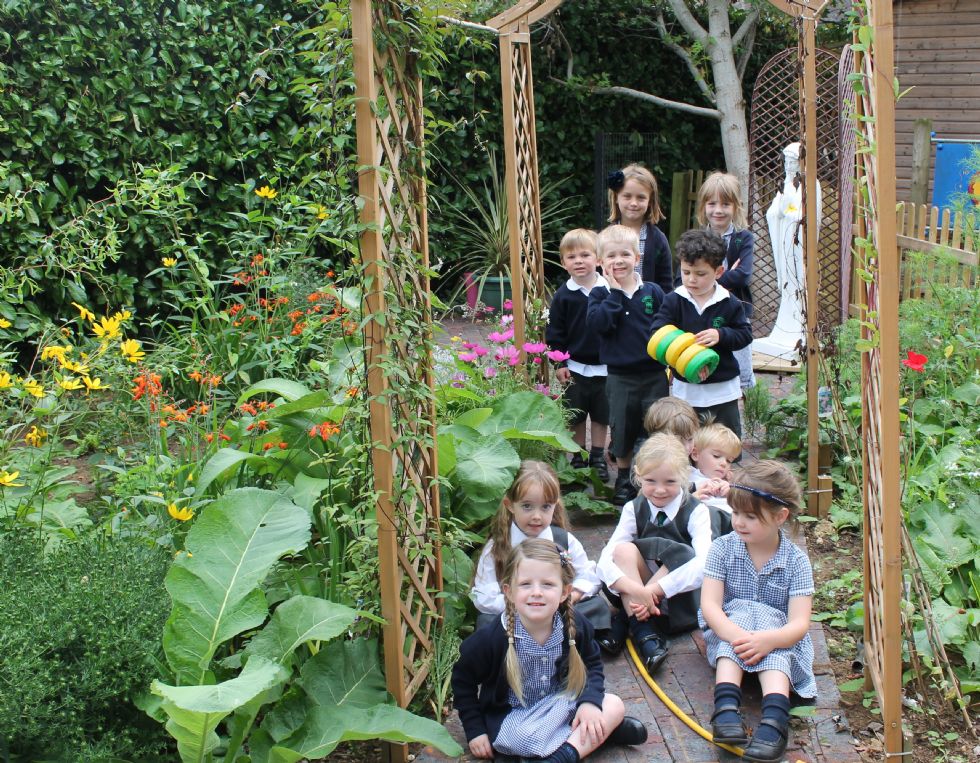 I'm sure I will see many of you on Monday when you come to the 'Meet the Teacher Sessions' or during our Child Protection evening next Thursday at 6:30pm.
I hope you all have a lovely peaceful weekend.
Elizabeth Higgins