Archived Headteacher's Blog 2015-16
Friday 22nd July 2016

It's the final day of the school year and what a wonderful year it has been; we have much to celebrate! We've had personal successes, wonderful sporting achievements, great academic results and the children really do love coming to school to learn.

The children have coped very well with the heat this week, but they are feeling tired and I think we are all ready for the holiday now.

We started the week with our very special Leavers' Mass at Ladywell Chapel. As the Mass was quite early in the day we managed to walk there and back to school before it got too hot. Being in the chapel is always special and it was a lovely setting for our final Mass of the school year. The children read and sang beautifully and we would like to thank Fr Alex for celebrating this Mass for us. He asked the smallest and tallest children to stand up and we all thought about how much the children have grown and achieved during their time at St Edmunds. Back at school we heard some very special memories of our Year 6 children with a wonderful selection of photographs from the last six years to accompany them.

On Wednesday we had our final Golden Assembly of the year, there were some very special awards presented and the overall winners of the House Cup were announced. This year St Mark's house won with over 8000 points! We said goodbye to those members of staff who are sadly leaving us: Mr Glover, Mrs Cottam, Mrs Moritz and Mrs Gardner. We thanked them for everything they have taught the children and wished them well in their new ventures.

This morning we have our final Leavers' and Award assembly. Here are the children who were presented with special awards: for academic achievement, sporting achievement, upholding the school ethos, and the Governor's award for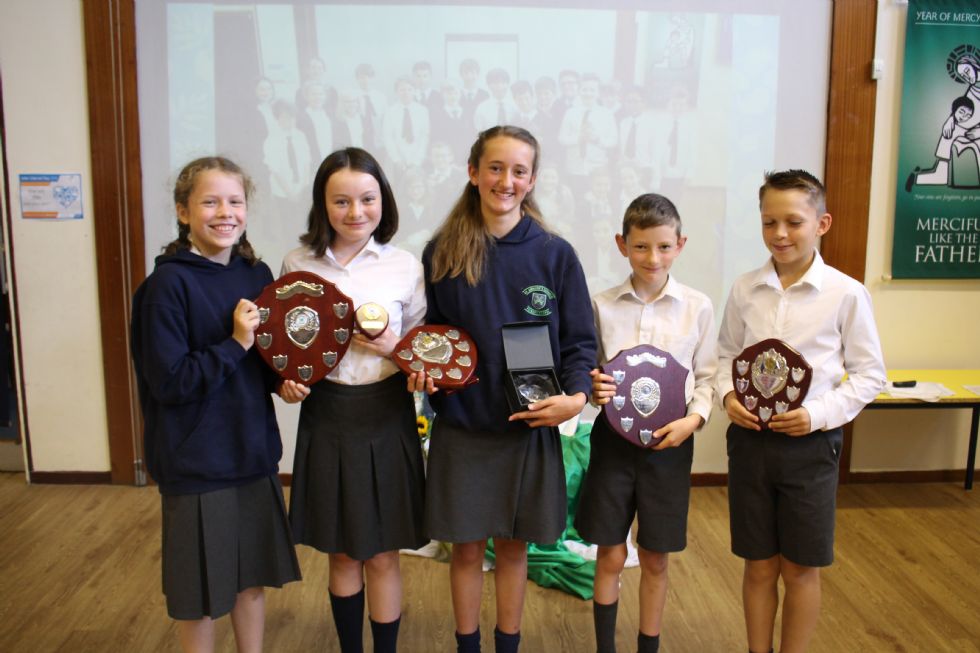 the most improvement.
We also looked at some funny photos and shared memories of our Year 6 children from long ago, before they started school. It is a lovely, entertaining way to finish their journey here at St Edmunds. We wish them every happiness and success in their new schools. They leave us proud of their achievements, and confidently ready to face exciting new challenges.

I wish everyone a very happy and restful summer holiday, please look after each other and I look forward on seeing everyone safe and well in September.

Have an amazing summer,

Elizabeth
Friday 15th July 2016
We've had a very exciting week with new arrivals, concerts, a sporting event and a wonderful production from our Year 6 children! It's hard to believe we only have one week left before the summer holidays. We have talked about the importance of not wasting a single minute of out time at school, making the most of out opportunities and we have certainly been doing that this week.
We said 'Goodbye' to the chicks last week and welcomed two new arrivals on Monday, baby guinea pigs! Their names are yet to be decided, I've had many wonderful and unusual suggestions from all the children and we'll make a final decision next week. The children are so excited and I know the new pets will never be lonely or bored here!
Here's a little glimpse of my day yesterday!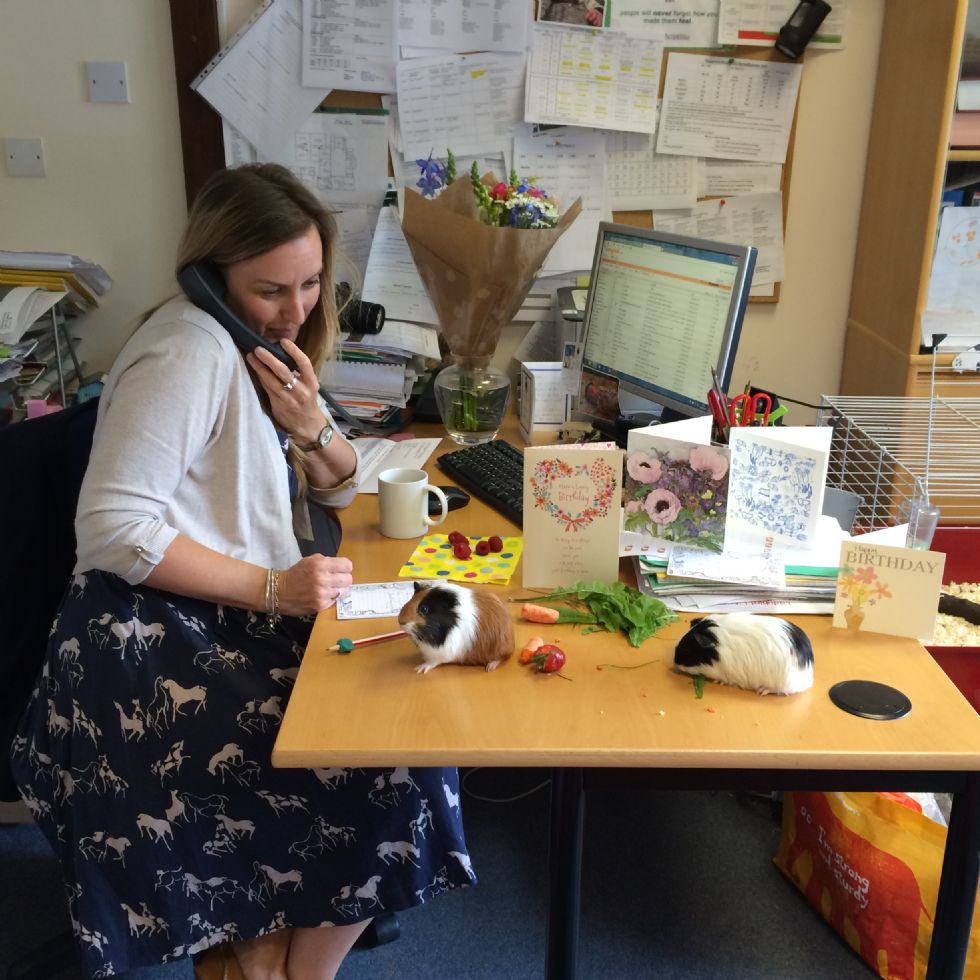 We had a lively afternoon with the RockSteady concert on Wedensday, the children really enjoyed playing and performing for their parents.
Year 6 have kept us truly entertained this week with their amazing production of Shrek! It was so special and I really do think it was the best Year 6 play that I have seen. The staging was so clever making wonderful use of the space available. The acting was amazing and the children were so impressive, they have wondeful comic timing and picked up the charcters' accents and little quirks so well. The teachers have worked so hard to put on such a wonderful show. We are very proud of them all.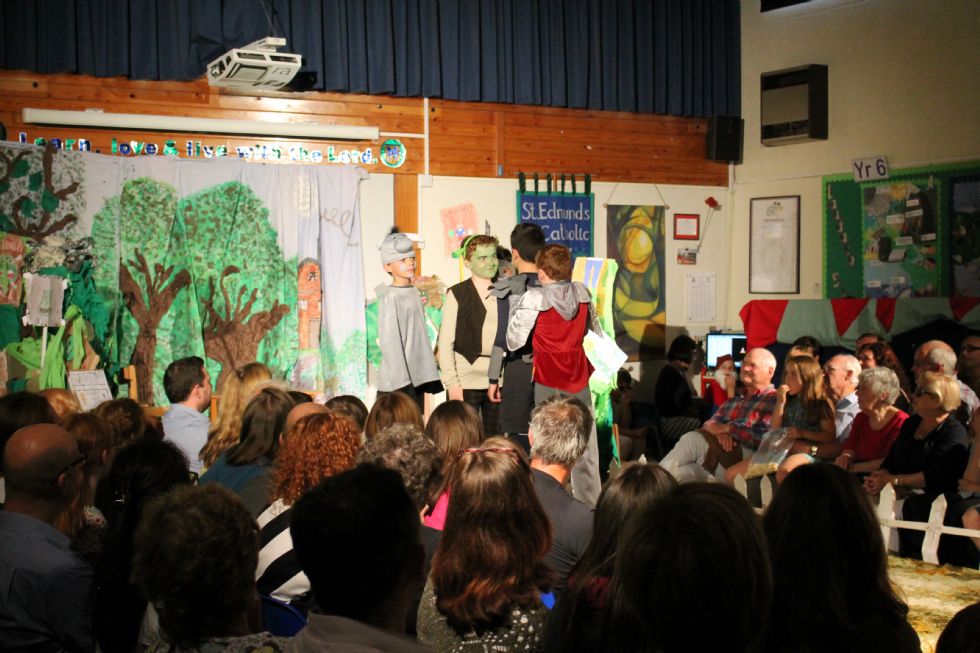 This morning is the District Sports competition, being held a Charterhouse School. The children have been training hard for months and I know that they will do really well. I can't wait to hear how they get on...... we will give the results in the newsletter this afternoon!
Have a lovely weekend,
Elizabeth
Thursday 7th July 2016
It's all quiet at school this evning, apart from the chicks chirping next to me! The children have just left after the Film Show, they all enjoyed the film very much.
It's been a very busy day today. We welcomed our new Yr R children and parents this morming and the rest of the school all 'moved up' to their new classes. There was a really lovely atmosphere in every classroom, as there are lots of changes there is a real air of exciting preparations for the year ahead. The children look ready to move on and by the time they are all back in September they certainly will be ready! The teachers were all very impressed by their new classes today, the children worked vary hard and all left their new classes smiling. The new Year R children settled in so well, they seem confident and very happy to be here. At the other end of the school most of our Year 6 children spent the day at St Peter's today finding out about the next step on their school journey. Those who came back to school at the end of the day were also all happy and smiling, we know they will do very well.
We have two more weeks of school before the summer holidays and the time is flying by. We still have a few school trips and concerts to come next week and what promises to be an amazing end of year production from our talented Yaer 6 children.
It's my last evening with our three St Edmund's chicks tonight! The whole school have loved following their progress and it's something we will certainly do again next year. I'm going to miss having them in my office and I'll miss the constant stream of little visitors we have had coming to see the chicks. I hope they haven't learnt to read yet!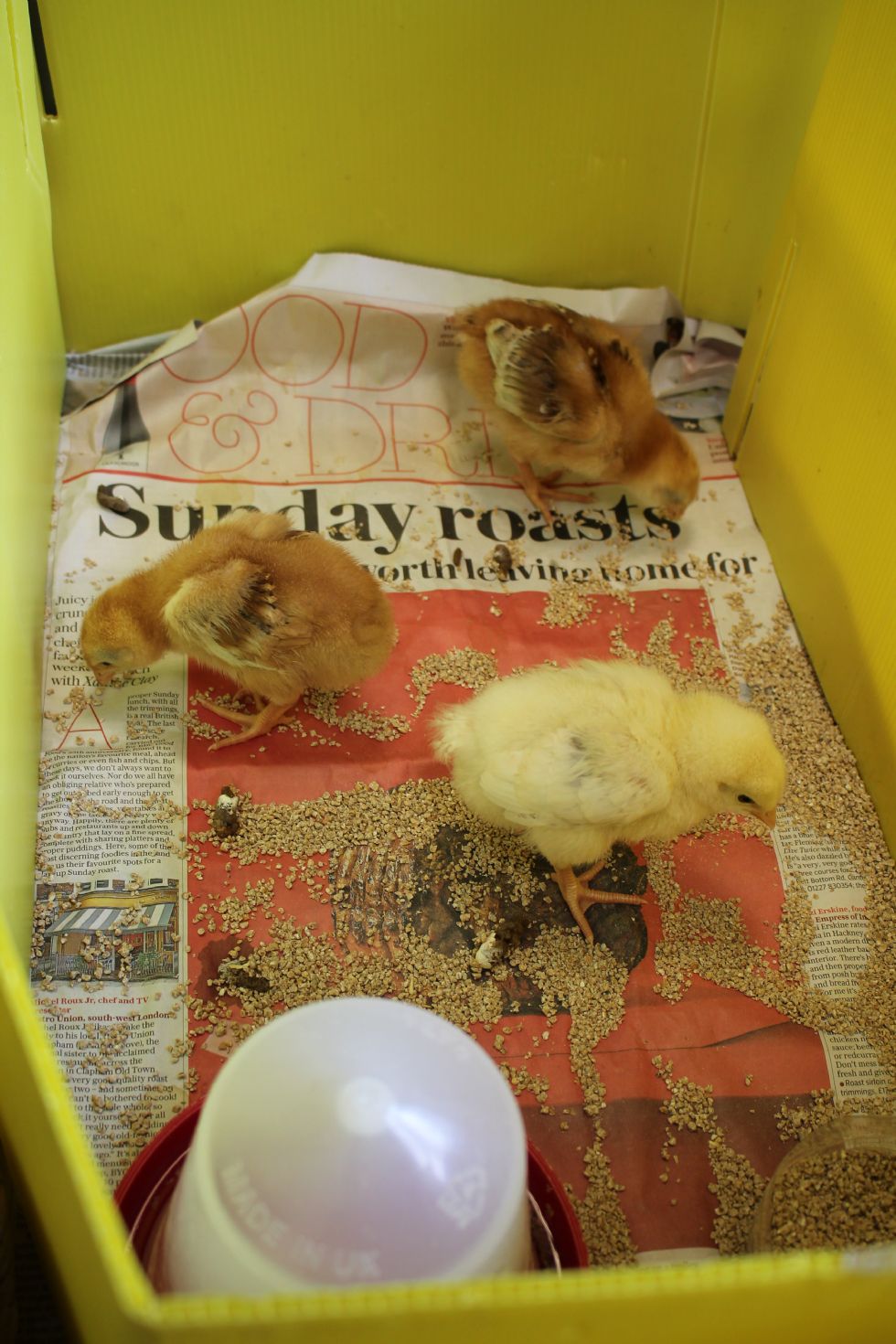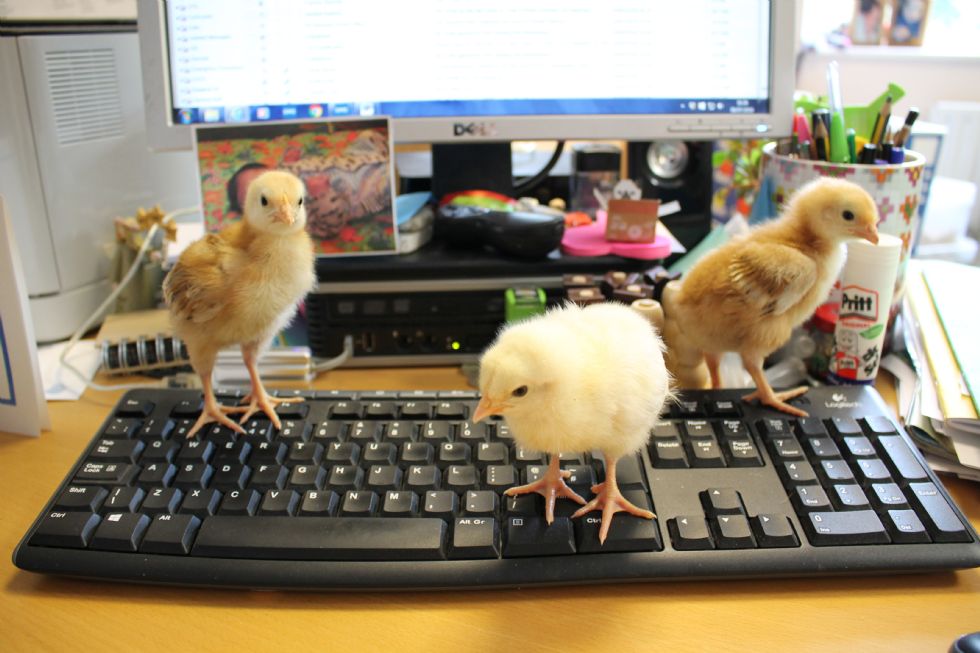 Here they are helping me with my emails earlier today!
Have a lovely long weekend,
Elizabeth
Friday 1st July 2016
It's Friday evening and I've just arrived home after a wonderful week away with Year 6. We have been to Outdoor Adventure in Bude. It's been an amazing week, despite the rather wet and windy weather conditions. The children were all fantastic and their excellent attitude, good manners and behaviour was commented on by the staff at the centre and the other school that were there with us. The really challenged themselves with a whole range of exciting activities including surfing, body boarding, canoeing, climbing, and abseiling. We all took part in everything and it was great fun.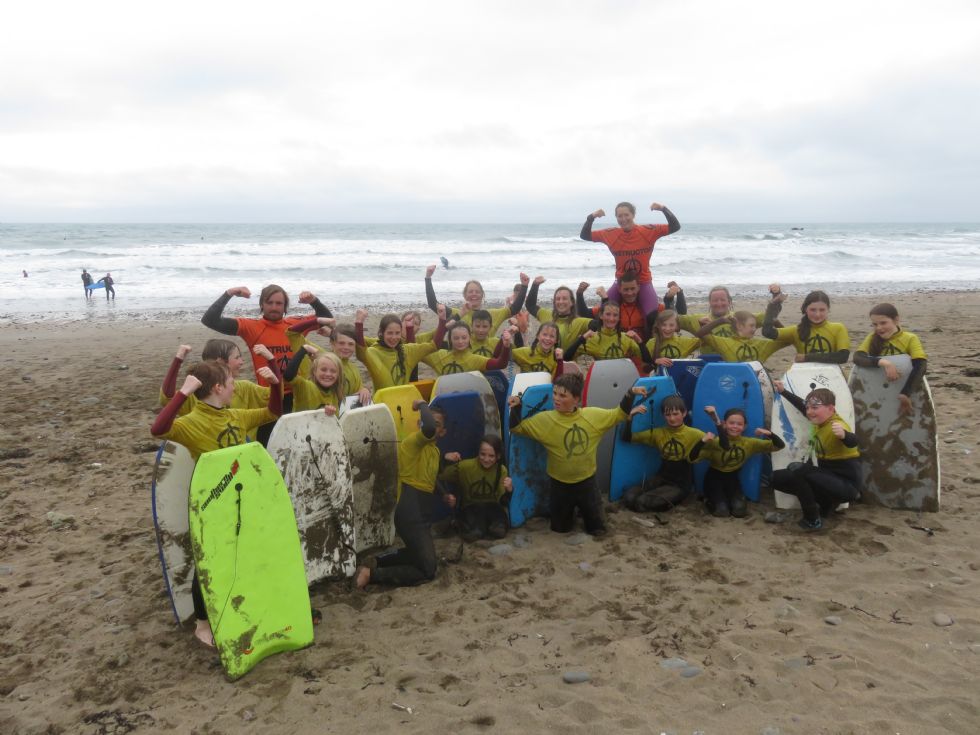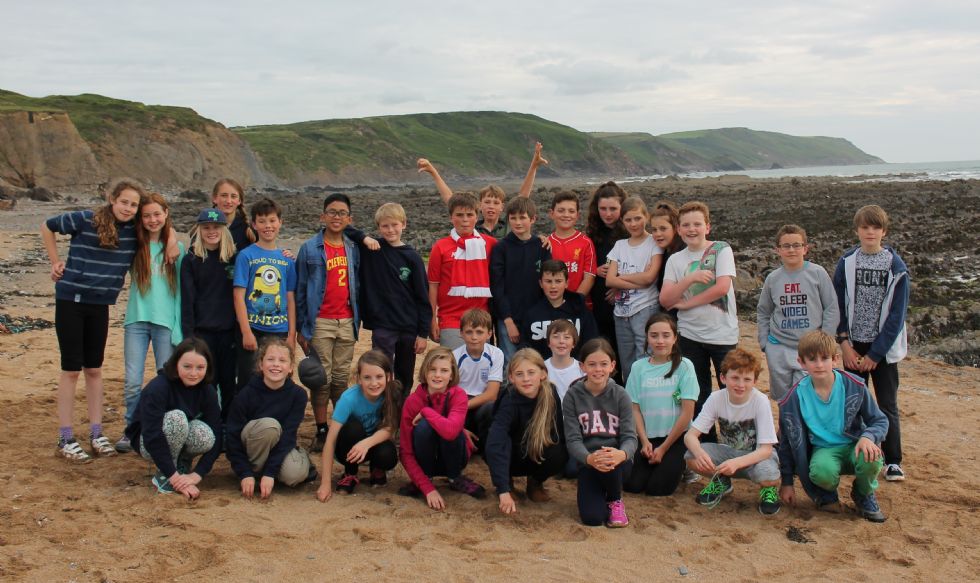 We will tell you more about our adventures and upload our photos next week!
Have a lovely weekend, our adventurers will certainly enjoy a much needed rest!
Elizabeth
Friday 24th June 2016

What a wet day we had yesterday! I don't think I have seen so many puddles on my way to work before. This did mean that sadly Year R did not manage to get to Ladyland Farm. As the coach was very late arriving at school and reported there was very bad traffic, the decision was made to postpone the trip until July. The children did however get to visit the park instead where they really enjoyed playing. We really do hope that the weather improves for our remaining trips and visits this summer!

On Wednesday I took 8 children from across KS2 to represent St Edmund's at the Diocesan Good Shepherd Celebration at Arundel Cathedral. It was the first time this special celebration has been held at the cathedral. Bishop Richard welcomed each school personally and talked to the children about the meaning of 'cathedral', the word means where the bishop's chair is located. He talked about the pilgrimage we had all made to reach the cathedral and how we all passed through the 'holy door', of the cathedral. It's always lovely to be part of a large celebration and to see all the other schools in our Diocese represented. Here the children are with Bishop Richard: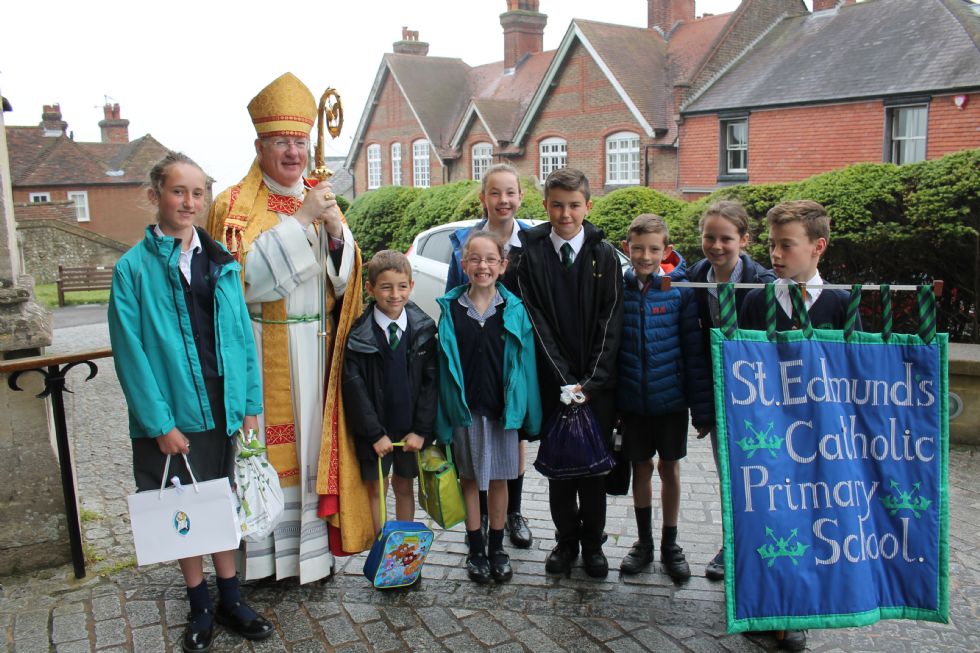 The Year 2 Celebration Assembly this morning was very special; the children took us on a journey around the world with beautiful dances from different countries. The costumes were amazing and the children sand and danced so well. They talked about what they treasure and our wonderful world. It was the last of our celebration assemblies for this school year, they have all been really wonderful and a real celebration of everything the children learn, and we can see how much they really do know! The assemblies are always different, entertaining and make us very proud of all the children and their achievements.

Next week our Year 6 children are off to 'Outdoor Adventure' in Bude. They will be away from Monday morning until Friday evening surfing, bodyboarding, canoeing, climbing and enjoying other activities. It's going to be an amazing week full of challenges and adventures. I'm very lucky to be going with them; we look forward to telling everyone about the trip on our return.

It's the long awaited hatching day next Wednesday; the children are so excited about the new arrivals we will be eagerly following their progress from Cornwall!

Tomorrow is the Summer Fair, from 12-2pm. This year quite a few stalls have been planned by the children themselves. Please do come and support this special event and please bring the sunshine with you! I will see you there,

Elizabeth
Friday 17th June 2016

We have had a rather wet and stormy week but it has not stopped the children getting out and about this week!

Year 1 children walked down to Godalming High Street on Tuesday morning to prepare pizzas at Pizza Express, the children each made their own pizza and enjoyed some dough balls on their journey back to school.

I spent the day with our adventurous Year 5 children at High Ashurst near Dorking on Thursday. They took part in high ropes activities and challenge and team building courses. It was a great day and the children all really pushed and challenged themselves. They were very proud of their achievements and supported each other with great enthusiasm. Miss McLoughlin, Mrs Norton and I were also extremely brave and did the high ropes trapeze! It really helped us appreciate the challenging exciting activities the children faced. I think they enjoyed watching us jump too, it certainly did seem very high up! You can see us hanging around in the picture below. It was a fantastic day and really good to see the children listening to each other and working together with great resilience.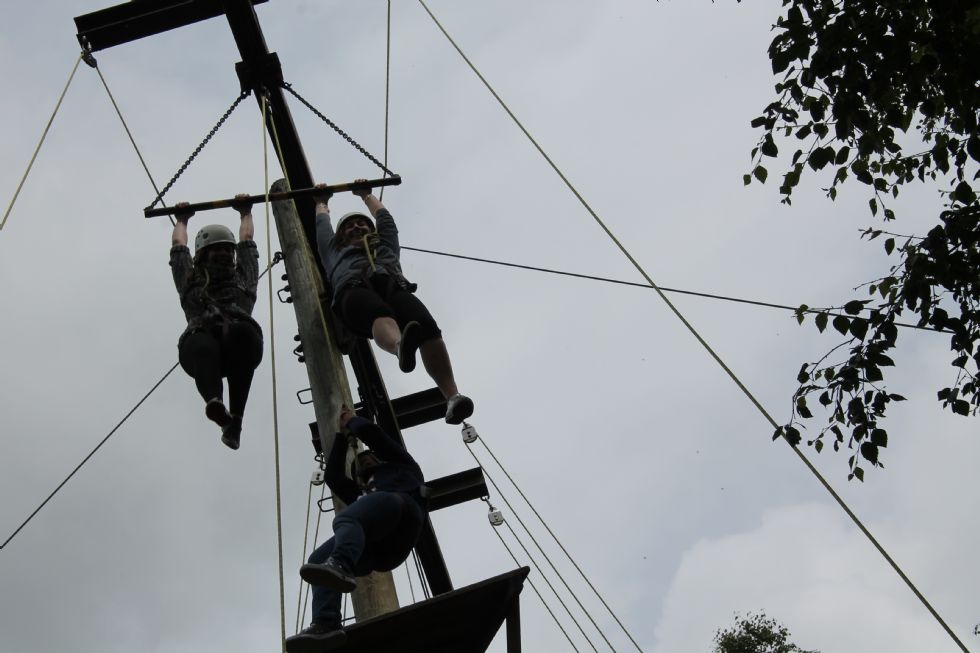 This morning we were treated to Year 3's joyous and entertaining celebration assembly. The children talked about whether it is better to stay at home or travel the world having adventures with the help of some special guests including Bear Grills, Katy Perry, Justin Beiber, Findiana Jones, Stevie Erwin and the cast of the Wizard Of Oz! It was a really entertaining and memorable assembly. Thank you to Year 3 and Mr Glover.
The children are looking very colourful today. In return for a packet of sweets for the Summer Fair on Saturday 25th June, they can wear their own choice of clothes. I'm so used to seeing them in school uniform that they do look different, often older, when they are out of uniform. There is only one more week to go until the Summer Fair, please do support this special day, it's great fun for all the family and raises much needed funds for our school.
I do hope that the weather improves for the weekend and that we all enjoy some sunshine again!
Elizabeth
Friday 10th June 2016

I hope that everyone enjoyed the half term holiday even though the weather was rather changeable! We've had very warm days this week and were really pleased that we had perfect weather today and that we have managed to go ahead with our sports day and picnic lunch today.

At the field this morning for our Sports Morning the children took part in an exciting range of races and athletic events. It was great to see them supporting each other cheering on their classmates and house teams with great enthusiasm. The winning house in KS 1 was St Luke's House and in KS2 for the first time ever there was a draw with St Matthew and St John tying for first place! Very well done to all the children, and a special thank you to Mrs McCarthy for organising the morning.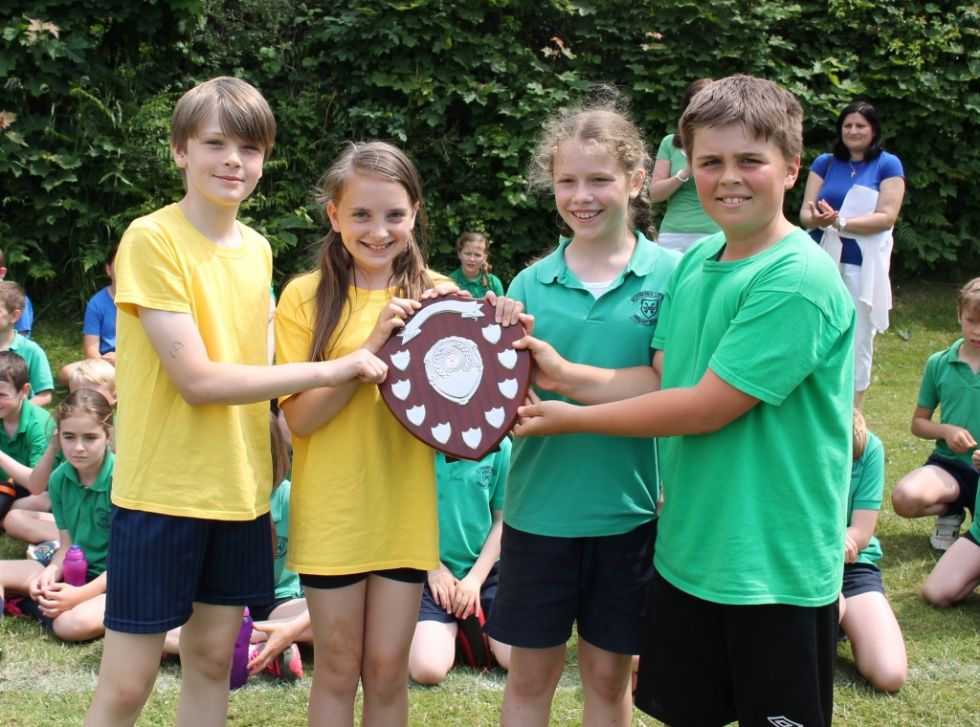 During our assemblies this week we have talked about the Queen's 90th birthday and the importance of British Values. We thought about what is important to us, who we are and what makes up our identities. At St Edmunds we celebrate our differences and we will be learning more about British Values and how we can uphold these. The children have all received special books to celebrate the Queen's birthday; we hope that these will be a lasting souvenir of this year.

We have seven new additions in my office this week, the chicken eggs are nestled in their incubator. Do have a look at 'Chick Cam' on the website and you might even be able to see them emerge from their shells! Everyone is very excited about learning more about the eggs and watching them hatch over the next couple of weeks.

It's been a very sporty week as yesterday we had another visitor join us, Olympic athlete, Kola Adedoyin triple jumper. He can jump over 16m, the entire length of the school hall! The children (and some of the teachers) took part in challenging exercises in the hall; there was great excitement and I think that all the children were feeling inspired and motivated ready for sports morning.


Have a lovely weekend,
Elizabeth
Friday 27th May 2016
Everyone is looking forward to a restful half term break next week. It has been a very busy and enjoyable seven weeks.

On Tuesday Year 1 went to Alice Holt Forest as part of their work on mini beasts. The weather was perfect for a day out and the children had a wonderful day out.

On Wednesday our Year 4 children led their First Holy Communion assembly. It was lovely to see all the children together in their beautiful dresses and smart suits and ties. The children told us all about their very special journey and how making their First Communion felt for them and their friends. The children sang really beautifully and brought tears to quite a few eyes! We are all very proud of them and we know they will always remember this important time in their lives.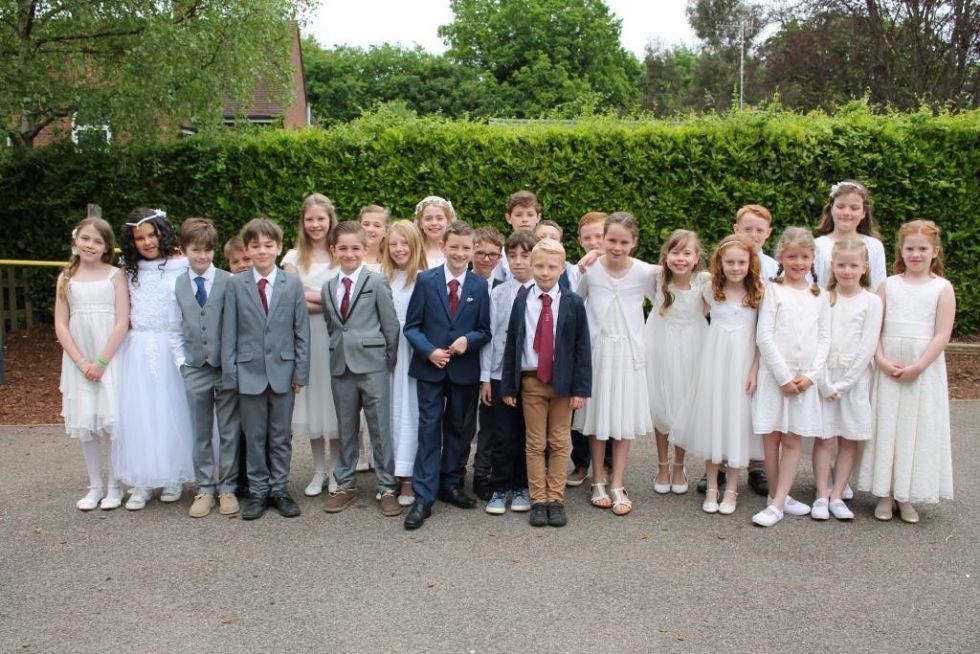 We had our half termly Parent Forum meeting on Wednesday afternoon. We discussed recent school updates and events including reports and changes to assessment; school dinners and the new wristband system giving greater choice to children to be rolled out across KS 2 after half term; improvements that need to be made to the cloakroom areas and the difference between the governors fund and other school fundraising. If you would like to read more please do gave a look at the minutes of the meeting under Parent Forum on the website.

The children always love Golden Assembly and they were very excited this morning. There were very special Headteacher's Awards given for resilience and perseverence. The children especially enjoy hearing who has been chosen for the awards and which house has won the House Points cup this half term (St Mark's House with an amazing 1572 points) There is still half a term to go before we find out who the overall winner will be in July.

Whether you are enjoying time at home or going away, I hope that everyone has a lovely half term holiday and stays safe and well.
See you all in June,

Elizabeth


Friday 20th May 2016

It was a very special afternoon last Sunday when our next group of thirteen St Edmund's children made their First Holy Communion. The sun shone again and there was a really lovely atmosphere during the Mass, the church was packed with family and friends and the children read beautifully. We have one more pupil making her Frist Communion this Saturday in Carnleigh Parish. Then all the children in Year 4 will be leading a special assembly next Wednesday morning on their First Communion journey; it will be lovely for everyone in school to see them all together in their beautiful dresses and smart suits.
Each Monday swimming lessons continue for Year 1 and 3 children. They are doing very well, changing quickly and making good progress in the pool.
Our Eco councillors led the assembly on Tuesday morning. They talked about our fantastic new hall display based upon Laudato Si, Pope Francis's special message about looking after our world. They reminded us if all the ways we can do this at school,and home by reducing waste and only using what we really need.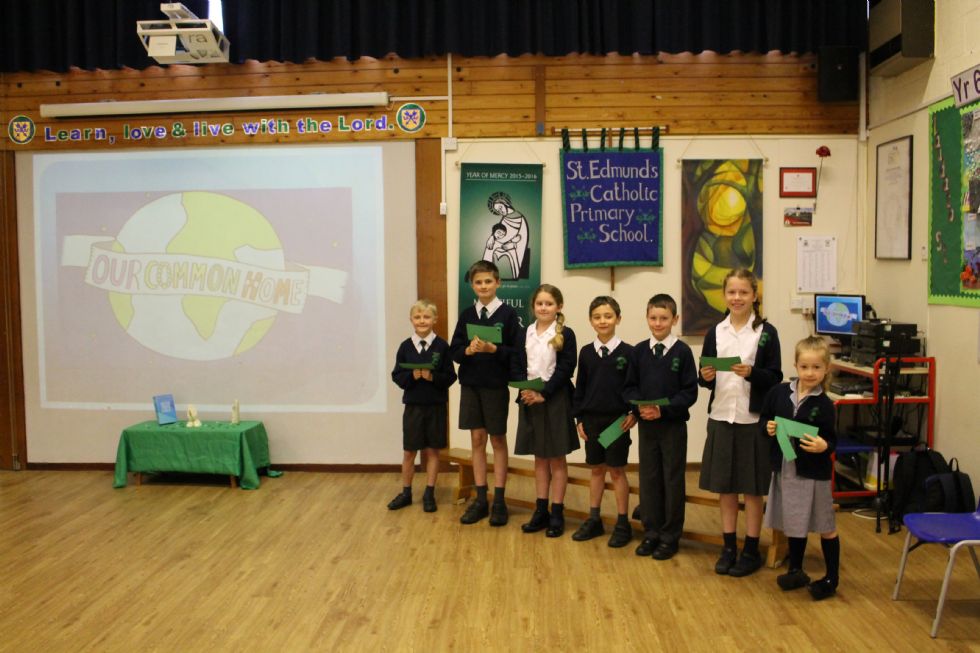 Also on Tuesday morning I attended our half termly Godalming Schools Confederation meeting. As Headteachers we are developing ways to work more closely together to share good practice. We have started planning shared inset days and staff training sessions for the next academic year.
Yesterday morning Perform Drama came to school and led worships for Years R, 1 and 2 based upon the story of Peter Pan, the children loved it!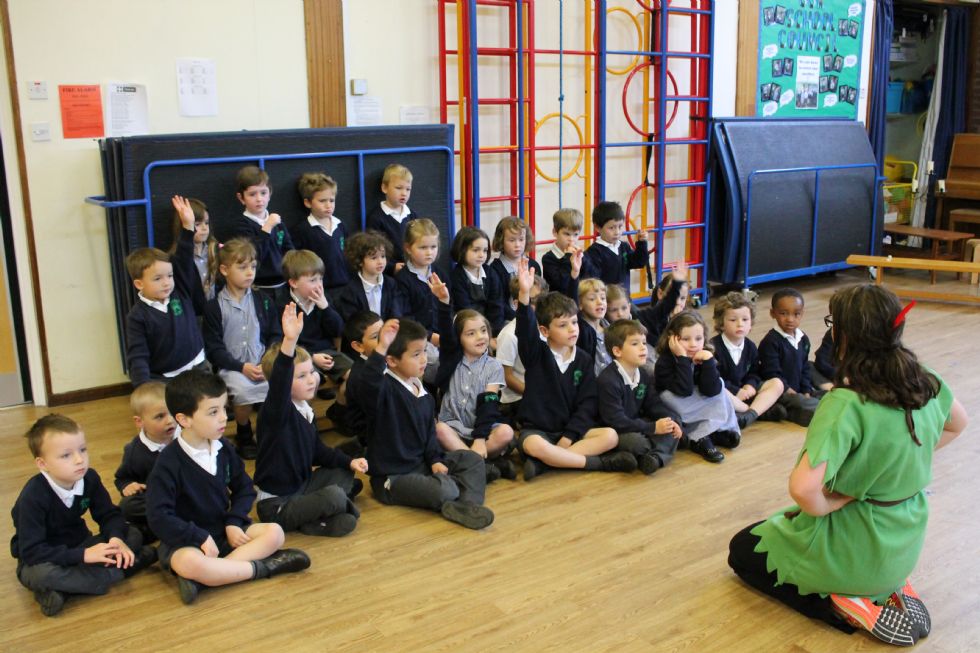 We have all had a lovely treat with Year R's class Celebration Assembly this morning. The children told us how important it is to save water and look after our planet. The shared the story of Noah's ark through drama and song. The children have been at school almost a year now and although they are only four and five they spoke so well in front of a packed school hall, we are all very proud of them.
There is only one week remaining before the half term break I can't believe how quickly the time is flying past! Next week will be busy with class photos, golden assembly and Tuesday Year 1 children will be visiting Alice Holt Forest as part of their topic work on mini beasts.

I hope everyone enjoys a peaceful weekend,
Elizabeth
Friday 13th May 2016

We have all been enjoying the beautiful weather this week. It was very hot last weekend and has managed to stay warm for most of this week; the children have been having a lovely time playing outside happily. Year 3 have been making the most of the good weather and 'Running to Rio' by doing laps of the playground their combined total distance so far this week is 60 miles!

Last Saturday evening we took a team of swimmers to Godalming Leisure Centre for the Swimming Gala. It was the first time in a great many years that we have entered a team and they did extremely well. The competition was very strong and the races were challenging. Our children are used to taking part in sports competitions but not many of them have competed in swimming events before and they all enjoyed the experience. There were a great many races and they entered into every race with great enthusiasm, we were very proud of them all!

Last Sunday twelve children from Year 4 made their First Holy Communion. It was a very special Mass and the children looked so smart, they were all very excited and everyone I spoke to commented on how special the afternoon was. The next group of thirteen St Edmund's children will make their First Communion this coming Sunday afternoon I'm really looking forward to seeing them all for another wonderful afternoon.

Our Year 6 children have also made us very proud this week. They have worked extremely hard during their SATs tests in English reading and grammar and maths. The tests were challenging but the children approached each test with huge resilience and an admirable determination to succeed. Well done Year 6, we know you will all enjoy the rest of your final term at St Edmund's. Here they are after the final test yesterday!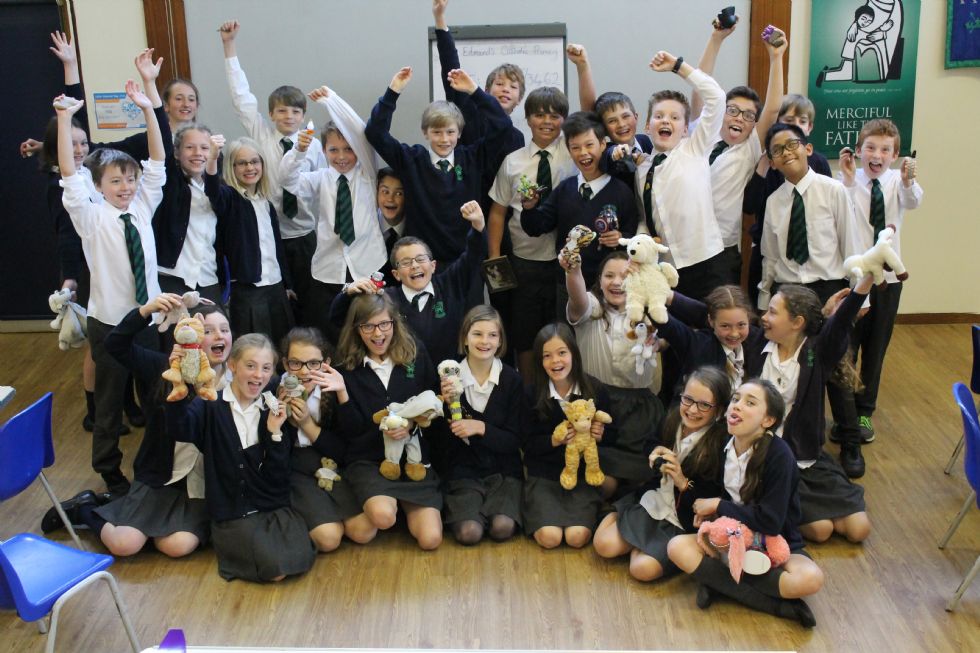 On a rather damp Tuesday Year R children had an exciting first school trip to Dapdune Wharf. They went pond dipping and enjoyed a canal boat ride. They had a wonderful day and didn't mind at all that they had to wear their rain jackets. The children have been telling me about their adventures and have been doing some fantastic writing about their trip.

On Wednesday afternoon our Year 1 children took part in a Multi Skills Sports Festival with 170 other children at Broadwater School. Although it had been wet earlier in the day, the events went ahead and the children really enjoyed the range of activities with the children from other local schools.


Enjoy the weekend,

Elizabeth
Friday 6th May 2016

What lovely weather we have had this week; it was absolutely perfect for our May Procession to Ladywell Convent yesterday morning. In our assemblies this week we have been talking about Mary's life and how she had the courage to say Yes to God. We thought about what the words of the Hail Mary mean and how we don't pray to Mary but we honour her, and we ask her to pray for us. It was such a special day, the whole school walking together chatting cheerfully, the older children taking great care of the younger ones, all carrying their beautiful posies of flowers to present to Mary. During the Mass the children read and sang so well, their voices sounding especially beautiful in the chapel. After Mass we walked to the statue of Mary in Minster fields and then enjoyed a picnic in the warm sunshine. Thank you very much to Fr Michael for celebrating Mass, the sisters at Ladywell for welcoming us and putting up with the flower petals on the floor and to all the parents who walked with us.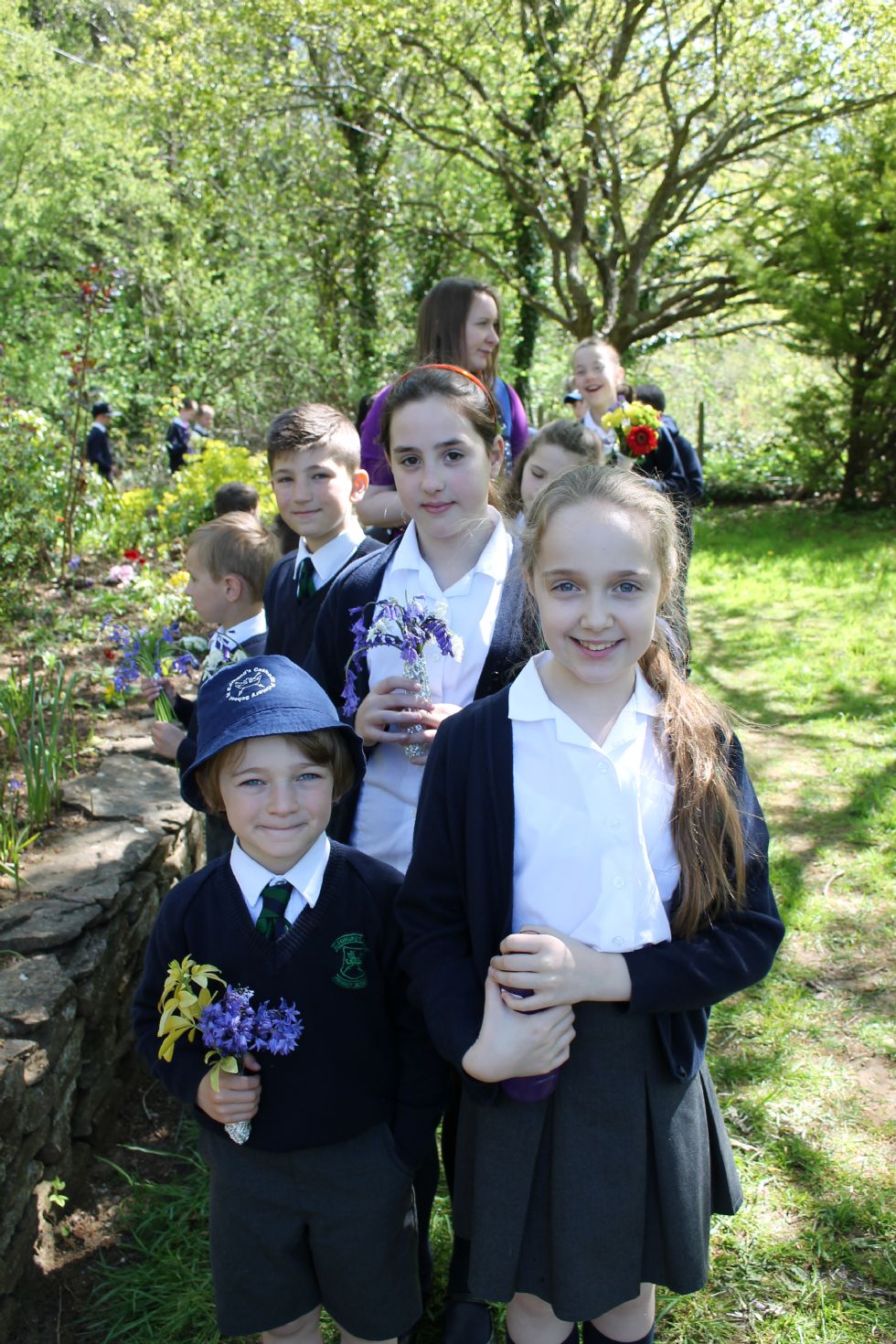 The Year 6 children have been preparing very thoroughly for their SATs next week. As you may have heard in the media this week the tests are much more challenging this year, especially the grammar test, where the children must know a subordinating conjunction from a preposition ( something Nick Gibb the minister for schools could not answer earlier this week) and whether a verb is being used in the progressive or perfect tense. We wish them all good luck and know that they will do their very best next week.

This Sunday afternoon the first group of children will make their First Holy Communion, they are very excited. It is a very special day for them and something they have been preparing for since last September. Please remember them in your thoughts and prayers at this special time in their lives.

Tomorrow evening we will be entering a team in the Godalming Swimming gala; this is the first time in many years that we have taken part. I know that there are some fantastic swimmers at St Edmunds, good luck to all the swimmers!
Enjoy the beautiful sunshine this weekend,
Elizabeth


Friday 29th April 2016

We're in the final few days of April and it's been so chilly this week! I do hope that the start of May brings some warmer weather. The children don't seem to mind too much and we seem to have managed to avoid the snow and sleet showers at play times!

This week Year 1 and 3 have had their second week's swimming lesson at Surrey Sports Park. It is great for the children to have the weekly exercise, improving their stroke. They were all very quick and organised getting changed and several members of the public using the pool commented on the children's excellent behaviour whilst they were waiting to get in the water.

During assemblies this week we have talked about Shakespeare and reading. We shared a special liturgy on Wednesday on our 'Come and See' topics about Pentecost, the topics have different names but are all on the same theme. Children shared some of their work and talked about what they had been learning.

Yesterday we had a visit from our school overview partner we looked at reading across the school. As part of the visit we did a Learning Walk looking at reading and talking to the children about what they need to do to improve and how they know how well they are doing with reading.

Year 1 shared their very special assembly with us this morning, the children told us all about their flowers and insects topic through drama, storytelling and dance. It was a lovely assembly and it certainly made us all smile!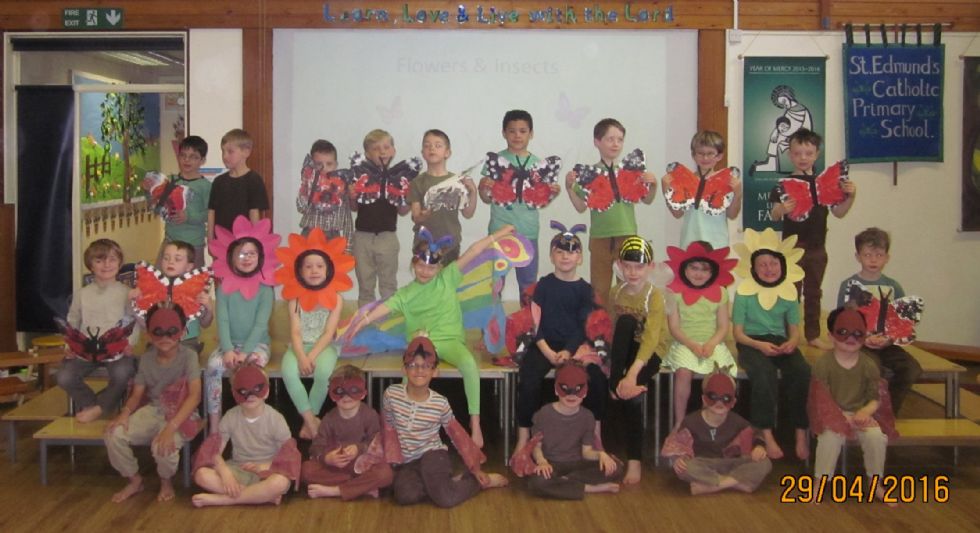 We are looking forward to our May Procession next Thursday. The whole school will walk to Ladywell Convent for Mass in the chapel and hopefully, if the weather improves, we will enjoy a picnic lunch afterwards!

This Sunday is our summer term Mass at St Joseph's Milford. Please do come along on Sunday, and join us for our last school Mass of this academic year.

Enjoy the bank holiday weekend,

Elizabeth
Friday 22nd April 2016

Our Year 4 children have had a wonderful time at Sayers Croft, Ewhurst, on their residential trip. The weather was particularly lovely on Wednesday and Thursday and the children enjoyed an exciting range of activities in beautiful surroundings. Shelter building and orienteering in the bluebell woods, raft building, climbing and a low ropes course. They took part in a bat walk on the first night at dusk; we saw lots of bats; and a campfire with singing and toasted marshmallows last night. They will be returning to school this afternoon tired but happy and full of their adventures. It is exciting days and experiences like these that we hope the children will always remember.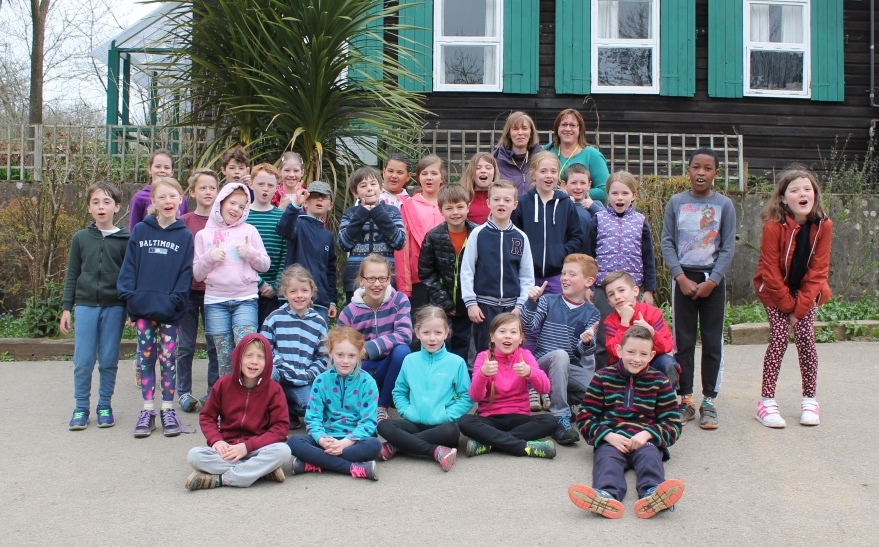 We welcomed back an ex pupil, Andrew Pink, on Tuesday morning he came and led an assembly for KS2. Andrew talked about how he remembered sitting in the school hall and how his experiences at St Edmund's and passion for sport, encouraged by Mrs McCarthy, helped him to get where he is today: cycling coach for the Invictus games! Earlier this year, Andrew won a National coaching award. He is working with some incredible athletes with amazing stories of determination and achievement. It was wonderful to listen to him speak and the children were really inspired by his assembly. Who knows what our children can achieve in the future? We want all the children to be the very best that they can be!

Yesterday afternoon children from Yr 2 welcomed a group of Year 2 children from Busbridge Infant School; together they were working on maths challenges focusing on estimating. Having the opportunity to reason and explain their answers to others is so important. The sessions are going really well and it is great to see the children really challenging themselves and each other.
Have a lovely weekend,
Elizabeth
Friday 15th April 2016

Welcome back, it has been lovely spring weather this week and it has been wonderful seeing children out playing happily in the playground. We've got lots of new playground equipment and the children are having fun learning French skipping and diablo and many other games!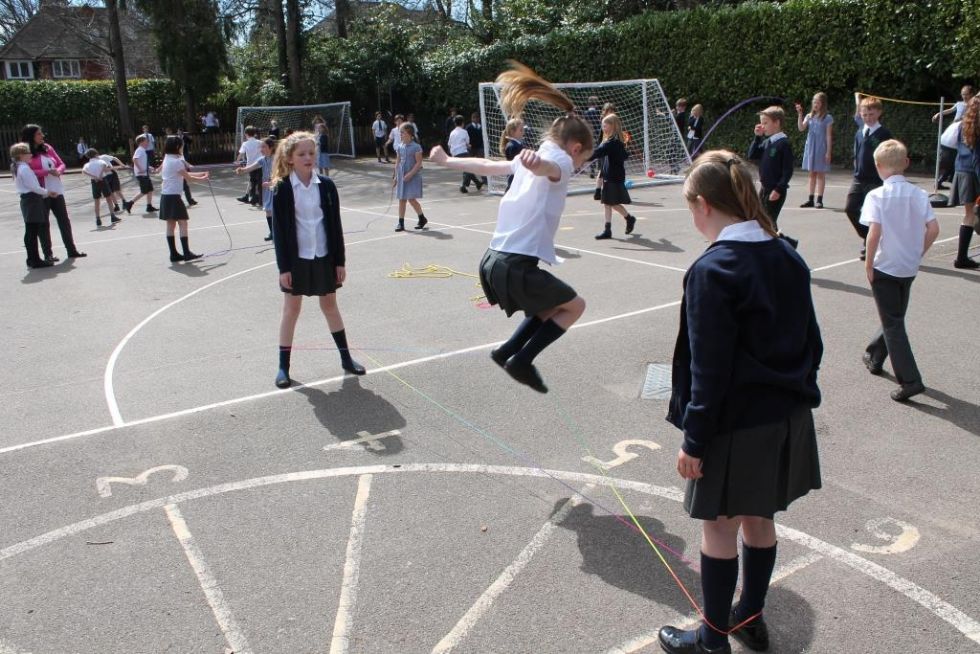 We have had two new Clevertouch screens installed over the holidays and this means that every class can now benefit from these exciting screens to support their learning; it really is like having a giant iPad on the wall!

During our assemblies this week we talked about the joy of Easter and unwrapped the word Alleluia that we wrapped up on Ash Wednesday as we celebrate the good news. We thought about how it was hard for the disciples to recognise Jesus after the resurrection.

The children are back to learning with great enthusiasm in the classroom too. We are encouraging the children to develop their resilience to keep on trying to do something even though they may find it difficult at first. Year R demonstrated this in their PE lesson yesterday, the children were very pleased with themselves when they had learnt new skills. Year 1 class has been watching their beans grow and the children are awaiting some small visitors that they hope will turn into butterflies! Year 2 children have been busy investigating spelling rules for adding suffixes. Year 3 are starting their new topic on earth, wind and fire; Year 4 have been writing some super newspaper reports on their science investigation into the absorbency of paper towels, the schools ones did not score highly! I've seen Year 5 successfully converting percentages to fractions, using their new screen to support their learning really well. Year 6 are very busy revising maths, English and grammar, they have 3 weeks until their SATs tests in May.

We have several new clubs starting this term: athletics, Trinity Trust Team's Wowza and Computer Xplorers.

Next week Years 1 and 3 start swimming lessons. They will go to Surrey Sports Park every Monday for the next 10 week. An excited Year 4 is off to Sayers Croft in Ewhurst next week for a two night residential trip. We hope the weather stays warm and dry for their visit.

Our First Communion candidates are coming to the end of their preparations and will be leading the readings at the evening Mass this Saturday at St Edmunds church. They will be making their First Holy Communion in May.

We have the PSA Discos tonight; I know the children are really excited, I heard a group of Year 1 boys excitiedly spelling out D-I-S-C-O in the playground this morning !

Have a lovely weekend,
Elizabeth
Thursday 24th March 2016

It has really been Spring like this week, with warm sunshine at play times it has been lovely to see the children enjoying themselves. Just as it starts to feel like spring, it's the last day of the spring term and it has been a really special week. Being at school during Holy Week has really made our Easter preparations very important for the children.

Year 6 children have performed their very moving Passion Play to the school on Tuesday morning and to their families on Wednesday evening the children took us on the journey Jesus made during his final week on earth and showed us the range of emotions The children told the story with amazing reverence and maturity, they sang and spoke beautifully and every one of the children played such an important role in the story of Jesus' journey from Palm Sunday through the crucifixion to the joy of the resurrection.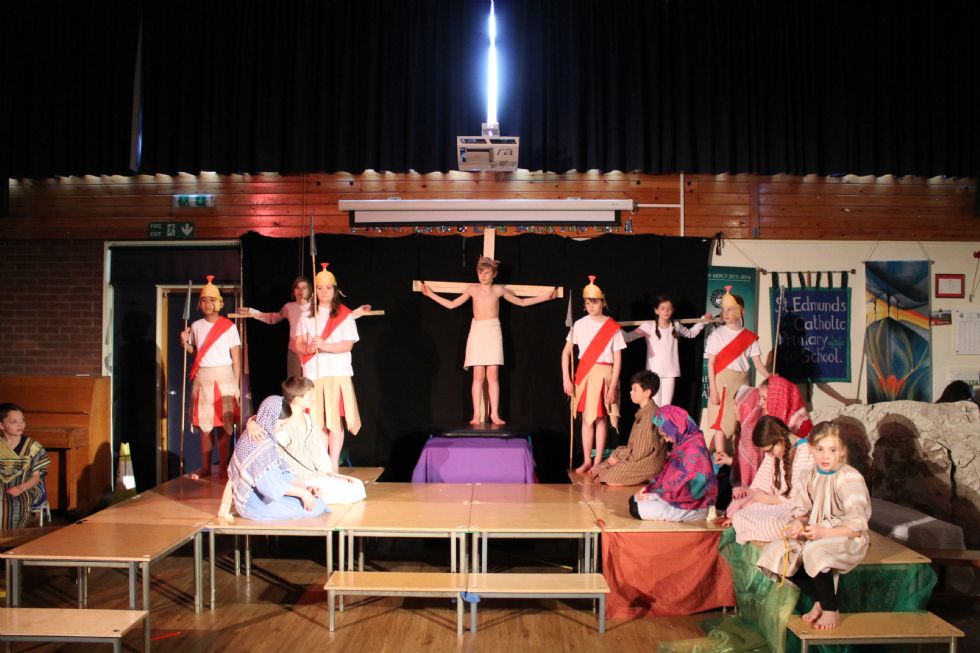 A little visitor came in to see everyone on Tuesday afternoon. The children were building Stonehenge in the playground at lunchtime (inspired by last week's trip) out of the wooden blocks and wanted Rudy to try it out! He loved watching the children and they enjoyed seeing him again too.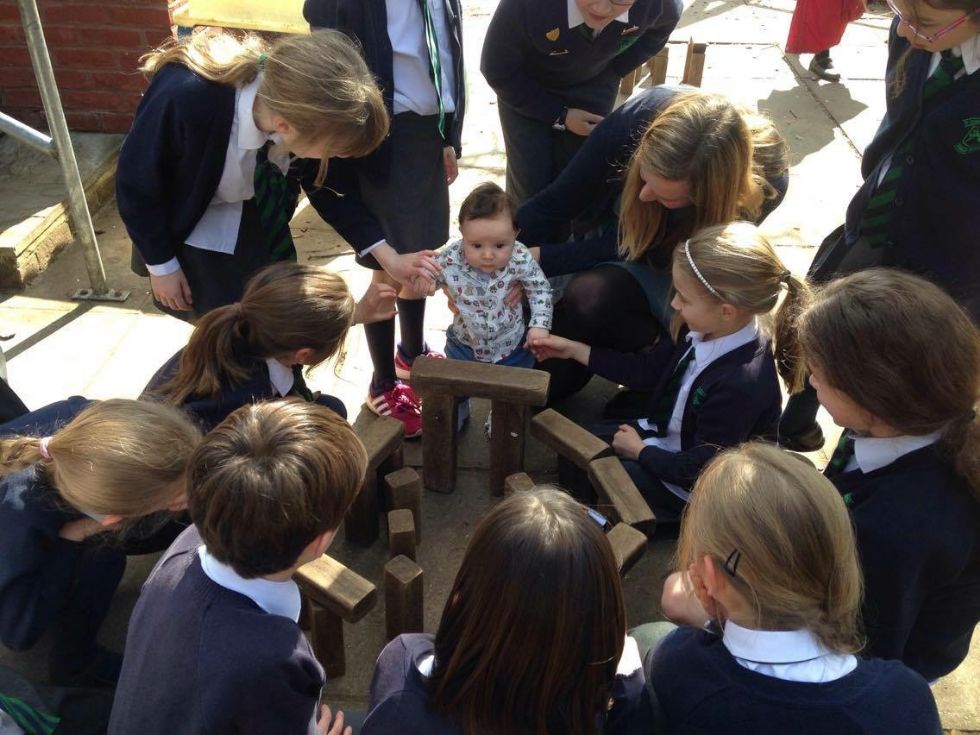 There was great excitement as the annual Easter egg hunt took place on Tuesday afternoon. Thank you to the Parent Forum who organised the event, hiding the cards and distributing the chocolate bunnies. The children loved it!

Fr Michael came to school yesterday to celebrate our End of term Mass. The children read and sang very well and we thought about how we can show our love for others as we remember the sacrifice Jesus made for us because of his love for us.

We welcomed the Trinity Trust Team assembly this morning who led a special assembly telling the Easter story through the eyes of Peter. We thought about how even when we turn away from Jesus, like Peter did; he will always welcome us back to him.

I hope everyone has a wonderful Easter holiday and enjoys spending time with their families and friends. We return to school on Tuesday 12th April for the summer term!


Elizabeth

Friday 18th March 2016

There has been a wonderful response to our Teddy Aid collection on Wednesday, thank you to all the children who have given a special teddy to a refugee child. The box will still be there next week if you have a toy to donate. There were lots of very special messages from the children to the new owners.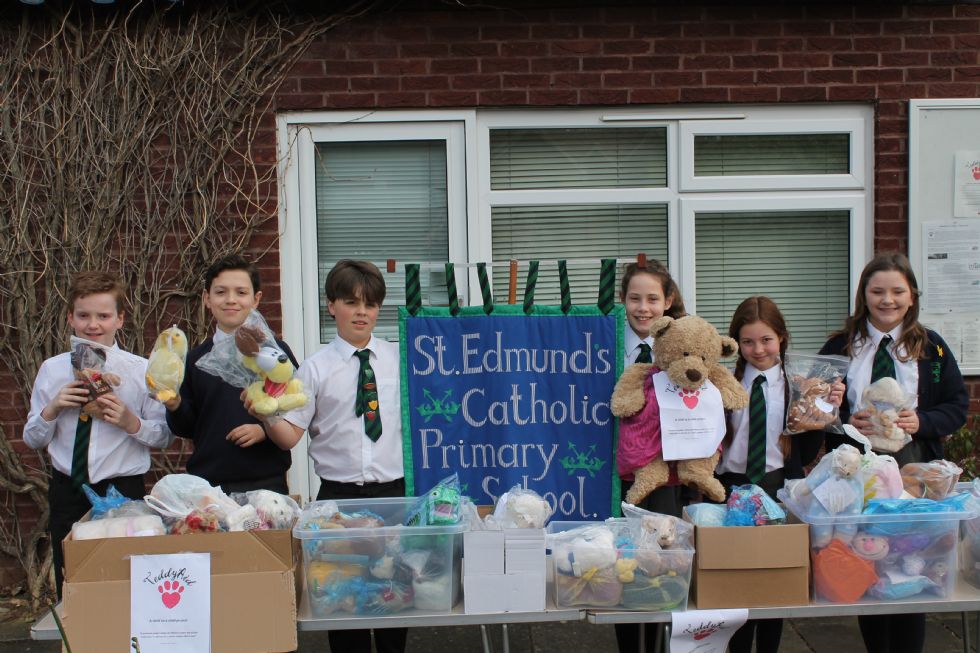 Year 3 children had a fantastic day visiting Stonehenge on Thursday. It was cold but bright and very sunny, perfect conditions for exploring Stonehenge and enjoying our picnic lunch on the grass. They found out about the why the stones are situated on this site, where they came from and how they got there and what life would have been like in a Neolithic house at that time.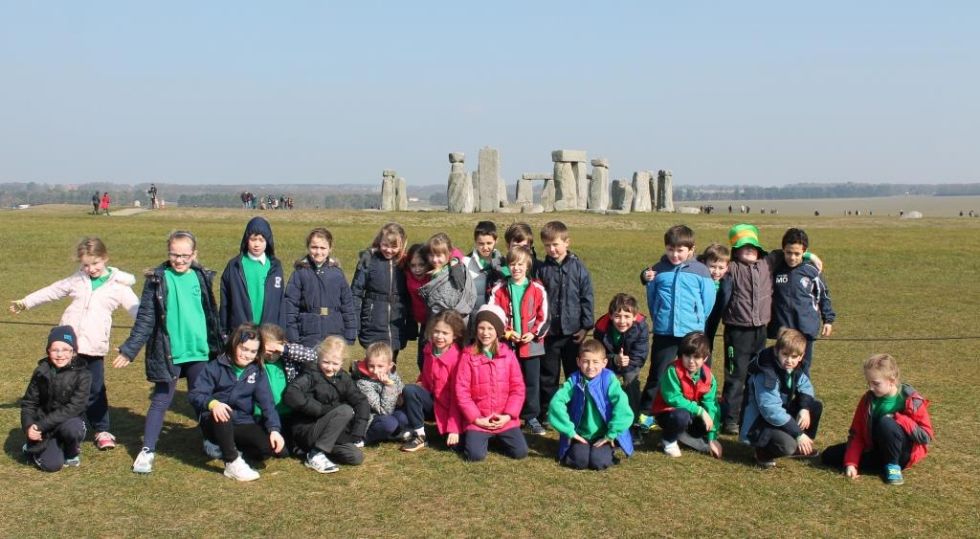 Earlier this week our Year 2 children sang at Clockhouse Day Centre in Milford. They enjoyed performed a range of songs from their recent Infant Singing Day and the audience enjoyed listening to the children sing.

There have been scooters and bikes everywhere this week with Pedals training for year 2 and Bikeability training for Year 5. The children have practised safe manoeuvres and road safety skills. As so many of our children do travel to school by bike or scooter and the roads and pavements are always busy it is really important that they stay as safe as possible. The children had great fun too!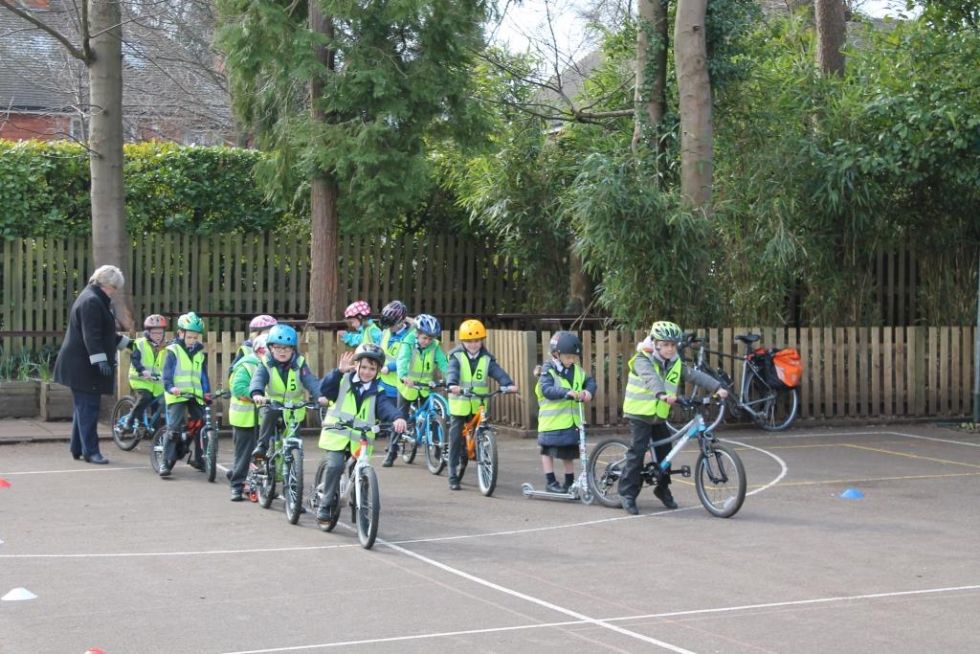 On Wednesday Mrs Nicholls led a special assembly on her recent visit to Michael's in Burkina Faso. It was wonderful to see all the photos of the children, their classrooms and new desks. Mrs Nicholls had taken photos of some of the children's homes and the surrounding landscape which really helped us to see how different life must be for families there. The children are already thinking of exciting ways that we can raise money to help. We would like to provide desks for the new secondary school to enable the children to continue their education. There will be further details on how we hope to do this next term.
This morning we will have our whole school Reconciliation Service followed by an opportunity for our older children to go to individual confession afterwards. As part of the Year of Mercy we have been talking about Reconciliation and how important it is to say sorry and to forgive, especially during the season of Lent as we prepare ourselves for Easter. Thank you to Fr Michael and also to Fr Alex who came from Guildford Parish to help out.

Years 5 and 6 are going to the theatre at King Edwards in Witley this afternoon to see an Inspector Clouseau mystery performed by the students there. I'm sure they will enjoy the experience and Year 6 will be looking for performance tips as they prepare to perform their Passion Play next week.
I hope that the sun shines this weekend,
Elizabeth
Friday 11th March 2016


We are speeding towards the Easter Holidays, it has been quite a short half term and there has been a lot to squeeze in!
Year R children have been learning about people who help us. They have had some special visitors this week: Holly's Dad told the children all about his exciting job as a pilot and my daughter brought in little Rudy and talked about how to look after a baby. The children asked some very interesting questions!

Our Year 2 children took part in the Godalming schools Infant singing concert on Wednesday evening. They have loved learning all the songs and singing together with the other schools. They are going to perform the songs again this afternoon for their parents in the school hall.

Also on Wednesday evening two children from Year 6, Erin and Matthew represented St Edmunds at a Public speaking competition. They were competing against children from 6 other Catholic Primary schools. They did really well having memorised 4 minute speeches their titles were: 'The Power of Speech' and 'The Truth about Sugar'. They both spoke with confidence and humour and kept the audience fully engaged. Very well done both of you.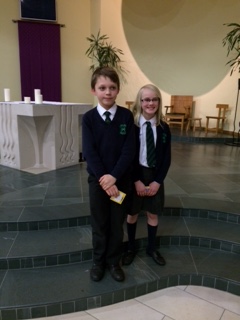 All the children in Year 6 had prepared speeches and we heard a taster of them in assembly then the children and teachers decided who they thought should go through to the competition. The standard was very high and it was a difficult task selecting only two for the competition.
It is a particularly busy time for Year 6 children as they are also busy rehearsing for their Passion Play on 23rd March, it promises to be a very special performance of the wonderful Easter story.

We had a special Lent Liturgy on Wednesday morning where the children celebrated their learning on their Lent Come and See topics, all on the theme of giving. We had our Lenten Mass before school on Thursday morning, it has been lovely to see so many people there and there will be one last Mass next week, Thursday17th March 8:15 am.

We have been thinking about helping and giving to others this Lent, we hope that we can bring some cheer to the refugee children with a small gift of a special new toy. The Teddy Aid collection takes place on Wednesday. Please do have a look for a cuddly toy this weekend that would like a new home and make a child smile. Please write a little message and tie this around the toy's neck and place in a clear plastic freezer bag ready for collection.

Children from Year 4 took part in a football tournament on Thursday afternoon. They enjoyed playing and did really well with the A Team finishing as 'runners up' overall. Mrs McCarthy said how well the children played.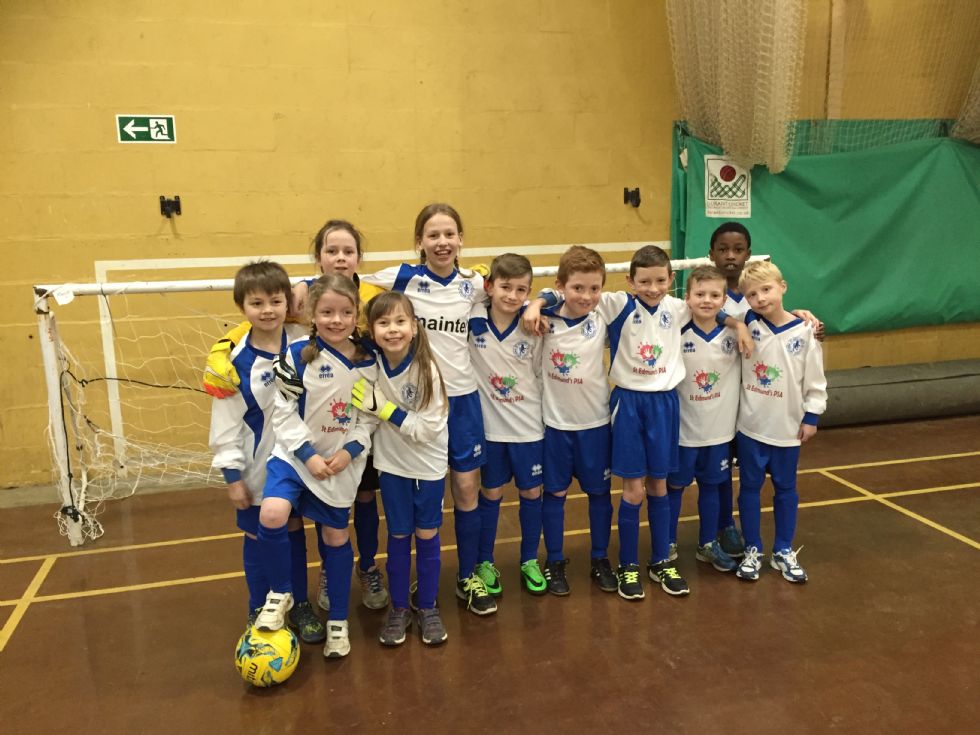 Enjoy the weekend,
Elizabeth
Friday 4th March 2016

This week has been very busy with an exciting and colourful World Book Day yesterday, lovely assemblies, dance and singing workshops and a visiting author. The children were dressed in amazing costumes, I am always so impressed by all the creative ideas they come up with. There were witches, wizards, Harrys and Hermiones, princesses, pirates, the Twits, Three Little pigs, Charlie and Willy Wonka, Hetty Feathers, Tintin, a hungry caterpillar, James and his Giant Peach, Alices in Wonderland and Mad Hatters, Gangster Granny and even a couple of Boys in Dresses! The children took part in a challenging book quiz which St John's house won. It was a really enjoyable and memorable day and certainly inspired the children to talk about and share the books they love.
Key Stage 1 welcomed author visit Heather Pindar who read her book 'No more crocs' and led workshops for each class. The children really enjoyed her visit.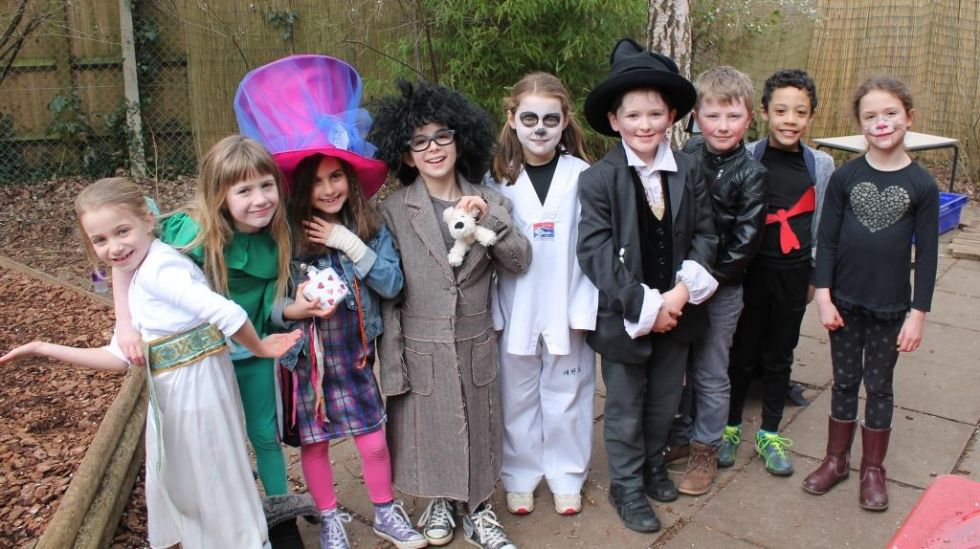 After school yesterday we held our Space project exhibition in the hall. It was lovely to see all the children's projects together. They have learnt so many amazing facts about Tim Peake and the wonders if space.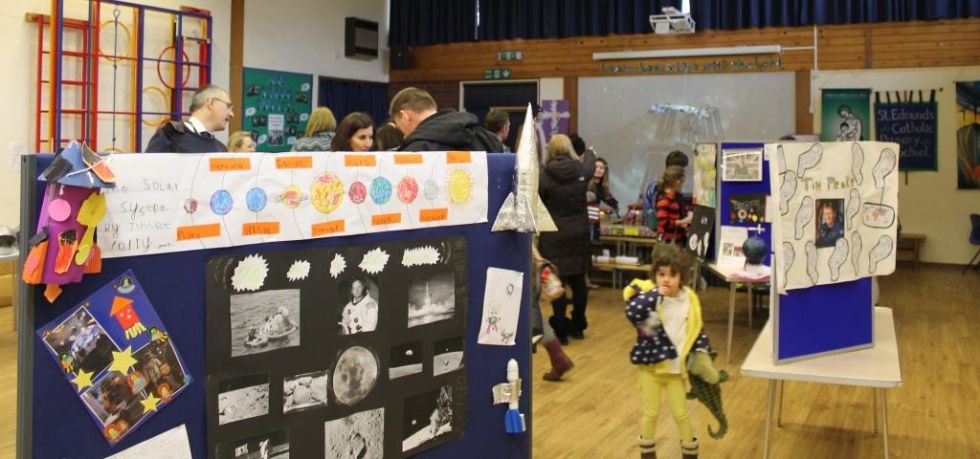 On Tuesday children from Year 4: Cohen, Harry, Matilda and Martina, led a special assembly that they had planned on the theme of peace and the Holy Spirit. They asked the children to reflect on what peace means to them and responded really well the children's answers. It was a lovely assembly.

On Wednesday children from different year groups took part in a Singing day at Rodborough and. Dance workshop day at Broadwater. Both groups of children enjoyed the sessions and the experience of learning and performing with children from other local schools.

Year 3 shared their celebration assembly this morning. They took us on an amazing journey around the world in under 30 minutes inspired by their topic 'Gateway to the World'. The children visited every continent and shared songs and dances from each region. It was joyful and highly entertaining. They clearly loved sharing their learning and celebrating all our different cultures and traditions.

Later this afternoon we will have an extra special Mother's Day assembly presented by the children in Year R. They have been very busy preparing a surprise for all their mummies. I think they will really enjoy it!

I hope that all the children look after their mummies this Sunday and remember to say a very big 'Thank you' for everything they do.

Have a lovely weekend,
Elizabeth
Friday 26th February 2016

Welcome back to the second half of the school year! It is always lovely to see everyone after a holiday and the children seem happy to be back with their friends and enjoying lessons this week. We are all looking forward to welcoming Mrs Nicholls back from Burkina Faso, seeing the photographs and hearing all about St Michael's School and all the projects.
I have been amazed by the wonderful space projects coming into school this week, the children have been so excited seeing and hearing about what each other have learnt. We have looked at quite a few of the projects during assemblies this week. The children are so knowledgeable and have learnt so much! We will have an exhibition of the children's learning next Thursday 3rd March after school, please do pop in and see what everyone has been doing. Here are some children from Year 1 with their projects: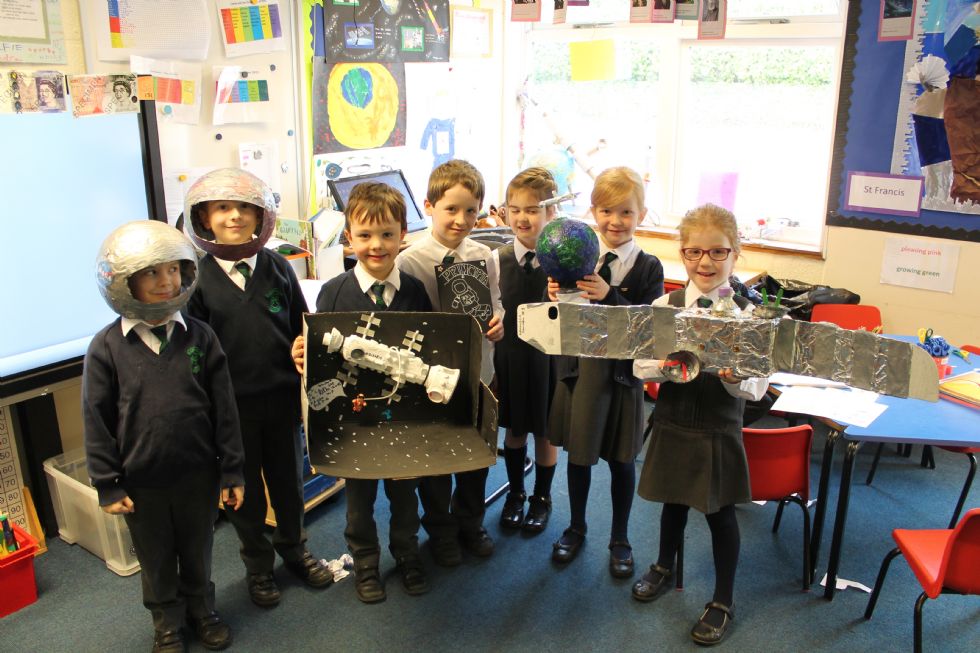 We are now well into the season of Lent and we thought back to the promises that we made at the start of lent and especially how we can do our best to keep them every day. It was lovely to see so many people at the Lenten Mass this week. There will be two more: Thursday 10th and 17th March at 8:15am in the school hall.
Over half term I have analysed the results of our recent parent and pupil surveys, the results are very positive and there were some really thoughtful and interesting comments and suggestions especially from the children! I will send home the full results next week.

This Tuesday morning we had a Governor 'Learning Walk' looking at English across the school. We started in Year R and worked our way up to Year 6 spending a short time in each classroom. It is amazing how much you can see in a short time. The children were able to talk about what they were learning and it was great to see the progression through the school. From writing wanted posters in Year R, fairy tales, poetry, newspaper reports to grammar in Year 6!

We held SATs information sessions for Years 2 and 6 parents this week. There are many changes this year and we hope that these sessions proved useful. The children are working very hard and we want to support them at home and school as well as we can.

We have a few new clubs starting: a very popular creative writing club for KS 2 began yesterday afternoon and next week Yoga and meditation for Year 5 and 6 will start.

One club finishing after a very long run, is the running club! The cross country competition will finally take place this Saturday after it was cancelled due to very wet weather late last year. The children have really enjoyed the training sessions and they have shown great resilience during the wet and cold winter mornings! Good luck to all those running tomorrow morning and a big thank you to Mrs McCarthy for running the training sessions and inspiring the children.

This weekend the children preparing to make their First Holy Communion this summer are making their first reconciliation on Saturday and leading the readings on Sunday morning Mass at St Joseph's, Milford, 10:15am. Please keep them in your thoughts and prayer at this special time.
Have a great weekend,

Elizabeth

Thursday 11th February 2016

It's the last day before the February half term holiday and we are now half way through the school year and the time seems to passing so quickly! Driving to school this morning I realised how much lighter the mornings are getting. This morning the sun was rising over the frosted trees and fields and it was a very beautiful winter scene. At school we've had a wonderful start to 2016 it's been exciting and busy and the children have been making great progress whilst enjoying learning.
The children always love Golden Assembly and Tuesday's assembly was a very special one! There were lovely awards given for children challenging themselves, sharing their enjoyment of learning and several for children who are always smiling and very helpful. St John's house won the housepoints cup this half term with an impressive 1467 points. The scores were quite close, keep on earning those house points and it could all change next term!
On Shrove Tuesday Year 1 children walked down to the town and took part in pancake races in Crown court. It was a bright, sunny day and they ate lunch in the park before their races and after enjoying their chocolate prizes they walk back up the steps and the hill to school, there were quite a few tired legs on the way back!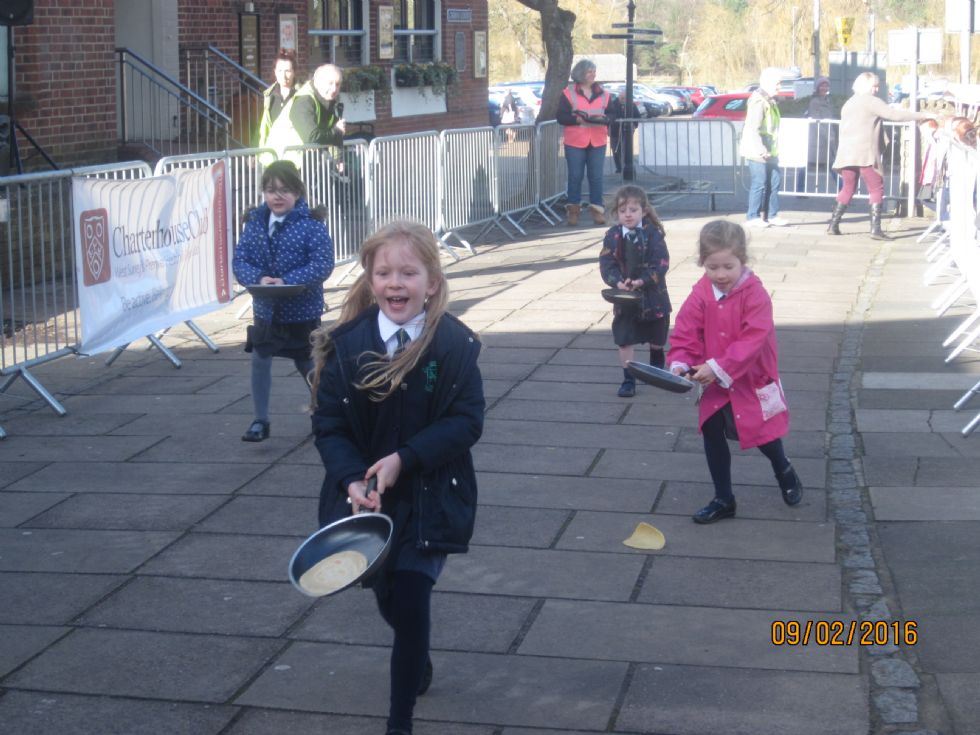 The next day we had our Ash Wednesday Liturgy to mark the start of Lent. The children received ashes on their foreheads and made promises which they will try very hard to keep during Lent. We also packed away the word Alleluia as we don't use in during Lent. We will unwrap the letters at Easter when we celebrate the good news. Thank you to all the parents and visitors who came to join us and to especially to Fr Michael for leading our Liturgy.

Our Spring Term Parents evenings took place earlier this week, thank you to everyone who came and also thank you for completing the parent surveys; we really do value your feedback, ideas and suggestions. I shall be reading everyone's comments and suggestions with interest over the holiday and will let you know the results next half term.
Year 6 children are very busy this morning organising their toy sale to support their chosen charity The Compass Trust. The children have brought in toys, books and games to sell to the younger children although they do seem to be quite attached to some of the items themselves! I'm sure it will be a great success.
Have a lovely half term break and I'm looking forward to seeing what the next half of the school year brings for us all at St Edmunds.

Elizabeth

Friday 5th February 2016

It's very colourful this morning with everyone in red to support British Heart Foundation at St Edmund's we hope that we can make a difference by supporting others and this was the theme of Year 5's very special celebration assembly this morning. Their assembly was based upon their 'Come and See' topic on Mission. The children have researched many different charities and reminded us of the importance of supporting others through donations and fundraising. Through a series of role plays they children showed us how often we don't share or treat others kindly and how important it is to be grateful for everything we have. As Lent begins next week it was a very timely reminder of how we really can make a difference to others through our actions.
On Tuesday in our assembly we talked about the Feast of the Presentation in the Temple and that it was also Candlemas Day, 40 days since Christmas. Each class brought up their class candles and we said a special prayer of blessing reminding us that Jesus is our light in the darkness and remembering Simeon's words on seeing the baby Jesus in the temple, "The saviour will bring light and joy to all people."
Year 4 children were very excited to have an author visit on Tuesday morning. Juliette has written a book set in ancient Egypt which the children have been studying in their topic work and English lessons. They were really inspired by her visit. Here are some of the wonderful writers who came to show me their stories.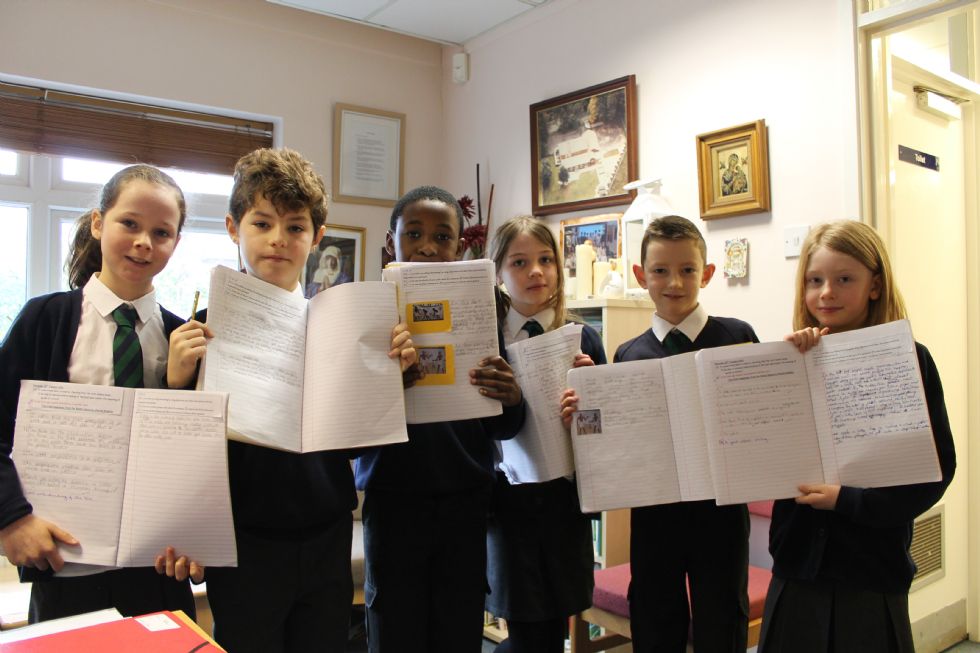 Our Year 5 and 6 Indoor Athletics team took part County Finals at Surrey Sports Park yesterday afternoon. It was an amazing achievement to get through to the finals and compete against the top performing schools in Surrey. The children absolutely loved the experience and did so well racing and competing to the very best of their abilities and supporting each other really enthusiastically. They came 6th out of the 12 schools in the final; a wonderful result especially as a small school. A huge thank you goes to Mrs McCarthy for the hours and hours of training, encouragement and passion that she shares with all the children.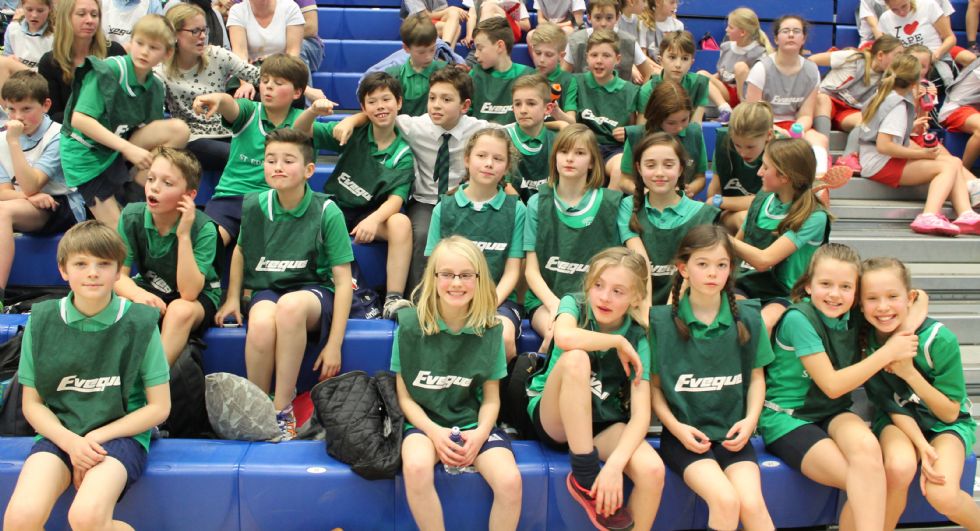 Year R, 1 and 2 had a visit from children's author, Richard Penny this morning. He came to read the children the story he is working on at the moment to get feedback from the children. The children really enjoyed hearing the story and he was inspired by their comments and suggestions.

Next week is the last week before half term and as with the past few weeks it's going to be another busy one! We have our Parent Consultations on Monday and Tuesday evening and the season of Lent begins on Wednesday when we will have our Ash Wednesday Liturgy at 10:40am, so I am sure I will see you all during these events next week.

Have a lovely weekend,

Elizabeth
Friday 29th January 2016

Here we are in the final few days of January, this month seems to have flown by and this week has been a particularly busy and exciting week too!

We were invited to take a class to the Watts Gallery on Monday as part of the opening of their new Learning Centre and galleries. Our Year 3 children were chosen to go and learn about George Watts' sculptures in the gallery, then design their own and make them in modroc. It was a press day for the opening of the new facilities and there were many important visitors there and as you may have heard we were interviewed by Radio 4 for the PM programme! You can listen again here: the interview starts at 53 mins. http://www.bbc.co.uk/programmes/b06z0dch
After school we had our staff meeting with St James School looking at writing, grammar and expected standards. As a one form entry school it is always good to discuss and share what we are doing especially as there have been so many changes this year.

Tuesday was an amazing day! The KS 2 choir has been rehearsing since September to prepare for Young Voices concert at the O2 Arena in London. The children sang with 7,490 other children in front of an even bigger audience! Songs included hits from Madness, the World in Union, a very popular pop medley and many more. It was a wonderful experience to be part of such a huge choir and a night the children will always remember, I think all the parents enjoyed it too! The choir sang a selection of the songs in assembly this morning for the rest of the school. Already there are lots of children keen to sign up so that they can take part in next years' concert.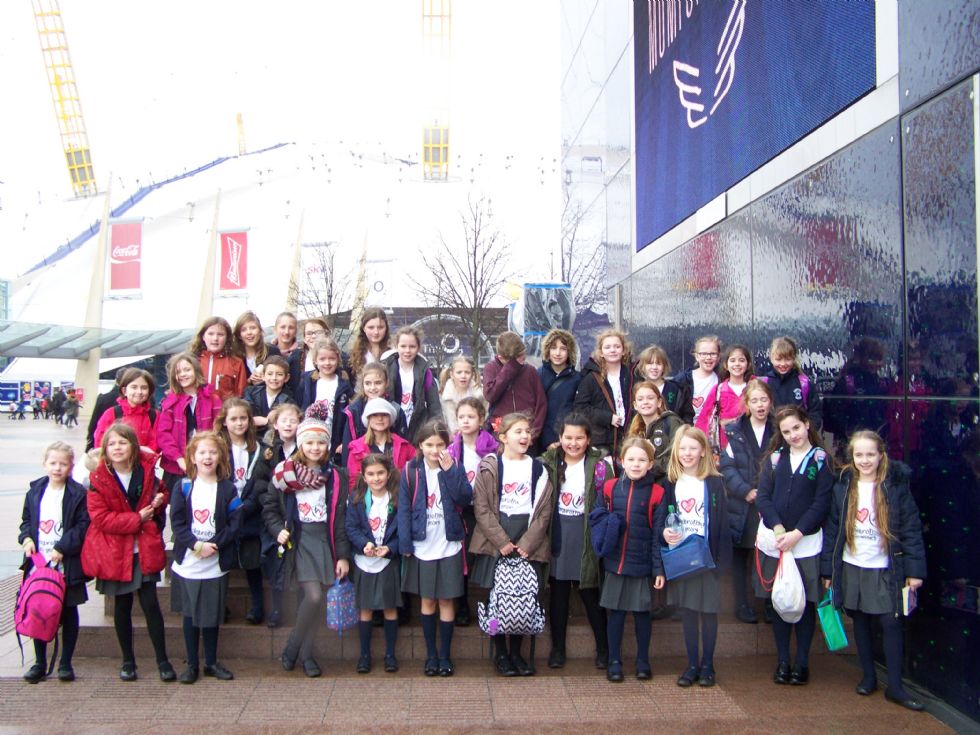 As part of National Storytelling week on Wednesday Year 2 had a visit from a great storyteller, Peter Optical. He even brought his harp and kept the children entertained with stories that he had created.
Years 3 and 4 took part in their Indoor Athletics Tournament yesterday afternoon. The children did very well and came second. Next week our Year 5 and 6 athletes head off to the County Finals following their victory last week they are very proud and excited to be taking part.

This Sunday we will have our Spring Term Mass at St Joseph's Milford. Thank you to all the children who have volunteered please join us at 10:15am.
Have a lovely weekend,
Elizabeth

Friday 22nd January 2016
It has been so cold this week and such a contrast to the mild December we had! The children don't seem to mind the cold too much and have been running about, playing energetically in the playground to keep warm many taking off their coats at the first opportunity! The resilient running club children even completed their training in sub zero temperatures before school on Tuesday morning.
Year 4 children enjoyed an exciting day at the British Museum on Monday as part of their learning about the ancient Egyptians. They had a wonderful day and I heard excellent reports about their behaviour during the day. Well done Year 4.
I have met with all the teachers for our termly Progress meetings looking at how all the children are getting on with their learning and discussing how we can support all the children effectively. The children are working very hard and I've seen some really exciting and challenging activities in classes this week.
We welcomed parents into school on Wednesday for an Early Reading Workshop led by Miss De Filippis. Developing a love of reading is so important and understanding how the children start to read and how to support them at home will really give them the best start. The resources are on the website under Learning and Reading if you would like to find out more.
During the afternoon on Wednesday our young rock stars entertained their parents at the Rocksteady concert, the children have done so well learning to play the instruments and performing with confidence in front of an audience. It was great fun! Here is one of the bands:

Yesterday afternoon I had a visit from our school overview partner to do a school Health-Check. We looked at the data from the last academic year and our expectations for 2016.
We then had the exciting news that our Year 5 and 6 indoor athletics team won the Godalming Schools event on Thursday afternoon! They looked very smart in their new vests, (thank you to the Fagioli's) I think they brought the children extra luck! Thank you so much to Mrs McCarthy for all the hours of training and encouragement given to the children.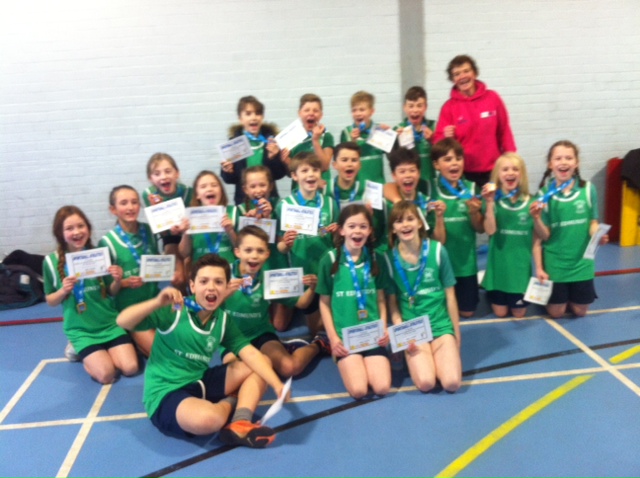 Next week is going to be a very busy one...have a lovely weekend,

Elizabeth
Friday 15th January

We started this week with huge puddles in the playground which always attract great interest. It seems as if winter has finally arrived it is so much colder now and I know that many of the children are very disappointed that we haven't seen any snow yet! I don't think there is any forecast for us, but in case anything changes over the weekend we will keep you up to date by Parentmail and the website.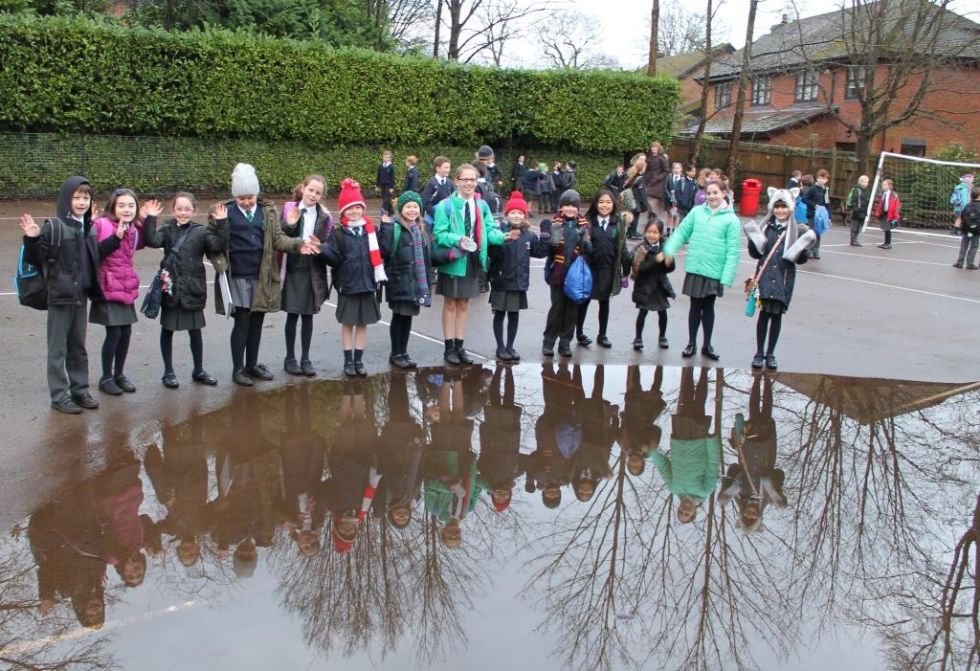 During a staff meeting Monday, Miss McLoughlin lead a session for teachers on the computing curriculum and gave us all lots of suggestions to use in the classroom to develop the children's learning. We found some of the concepts quite challenging but we know that the children take new technology in their stride as it is something they have grown up with. I know that many of them would certainly be able to teach us a lot!

During our assembly on Wednesday we have talked about the Year of Mercy, what showing mercy means and how we can try to do this every day by forgiving, helping others and showing love and kindness in all we do. Each class has a special poster to display in the classrooms and we have a lovely new banner in the hall to mark thus special year.

My little grandson Rudy has had his first visit to school and met all the children, they were so excited to see him and it will be really lovely to share his growing up with our school family.

The choir are busy with final rehearsals before our very exciting Young Voices concert at the O2 on the 26th January. The songs are sounding really good, it's going to be a wonderful day, just over a week to go now!

Have a lovely weekend and wrap up warmly!

Elizabeth


Friday 8th January 2016

It has been a lovely start to the 2016. The children all seem to be very happy to be back at school and are full of stories of the special Christmas holidays and gifts that they had received. They were all certainly very excited to see their friends again after the holiday. We welcomed Mr Glover who will be teaching Year 3 for the rest of this year, I'm sure that you will also make him feel welcome at St Edmunds.

We had a special Epiphany Liturgy on Wednesday as we thought about the journey the three kings made to Bethlehem and the awe and wonder of seeing the new born King and presenting him with their gifts. I showed everyone a picture of my new grandson, Rudy. It is magical having such a new baby at home and we talked about the special visitors and gifts a baby usually has. The children were able to talk about the unusual gifts that the kings brought Jesus and the meanings behind each of them. Rudy hasn't had any gold, frankincense and myrrh yet! We wrote our Epiphany Blessing for each classroom: 20+C+M+B+16. Do ask the children to explain what it means, I hope they can remember!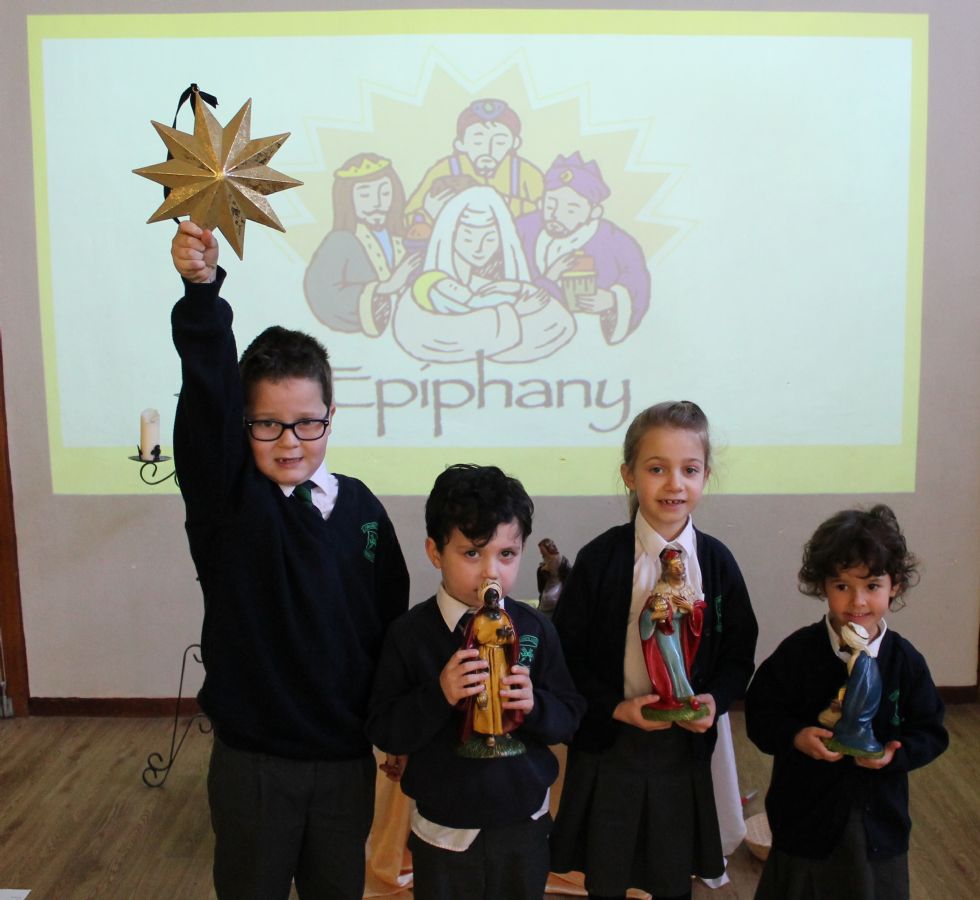 The children have started the term with great enthusiasm for learning with exciting new topics being taught across the school. I have already seen some challenging maths involving shape and multiples in years 5 and 6; some very agile gymnasts using the apparatus in Year R; Year 1 have been using descriptive vocabulary to write about their Christmas gifts; Year 3 have started planning for some very exciting writing inspired by imaginary worlds from Star Wars; Year 4 have been challenging themselves to improve their times tables speed and accuracy and Year 2 children have been learning about adverbs and how they can use them to improve their writing.

After all the rain this week it has finally started to feel much colder and more wintery.

Have a lovely weekend and Happy New Year,

Elizabeth
Friday 18th December 2015

It really is the last day of term before Christmas! It has been a wonderfully busy and exciting week and I think the children have really enjoyed it.

Last Saturday afternoon children from KS2 took part in Carol Singing at the Pepperpot. They sang a selection of traditional carols to a large gathering! The singing was lovely, thank you very much to the children and their families who came to support them and listen to the sing. Here they are in action: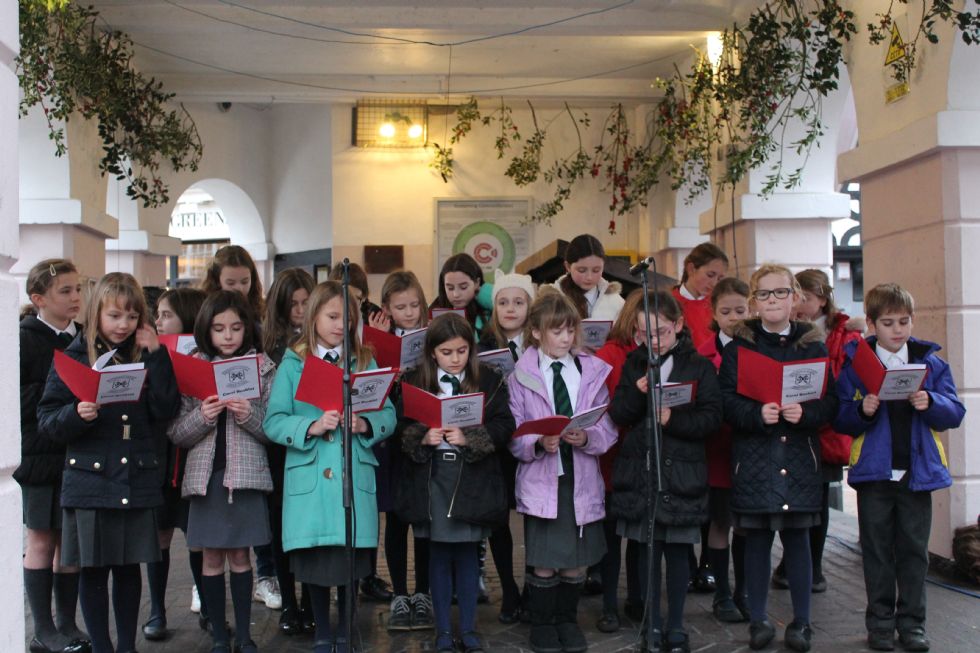 On Monday, Year 3 and 4 children led a very special Service of Readings and Carols, in the school hall in the morning and at St Edmunds church in the evening. The readings and carols were beautiful and the children all sang and read with confidence. It was a really special, Christmassy service. Thank you very much to the Year 3 and 4 team for all their hard work preparing the children.
During the afternoon we had another musical treat with a concert from our talented musicians. On Tuesday morning we had our Advent End of Term Mass, thank you Fr Michael for celebrating Mass with us.

On Wednesday morning we had our half termly Golden Assembly. There were many very special awards given. Quite a few were for children who have demonstrated real resilience in their learning. There were maths challenge awards and gymnastic awards, the all-important House Point; St Luke's won this half term. In the afternoon we had our Christmas parties and a very special visitor called in with presents for each class and chocolates for the children. It was very kind of him to make time to visit us as we all know how busy he is at this time of year.

Over two hundred Christmas lunches were served on Thursday! They were delicious and the children loved the Christmas crackers too. The children didn't have to queue up for their lunches as the teachers and TAs (dressed in Christmas hats and jumpers) served them at the tables as a treat! This was the scene in the hall yesterday: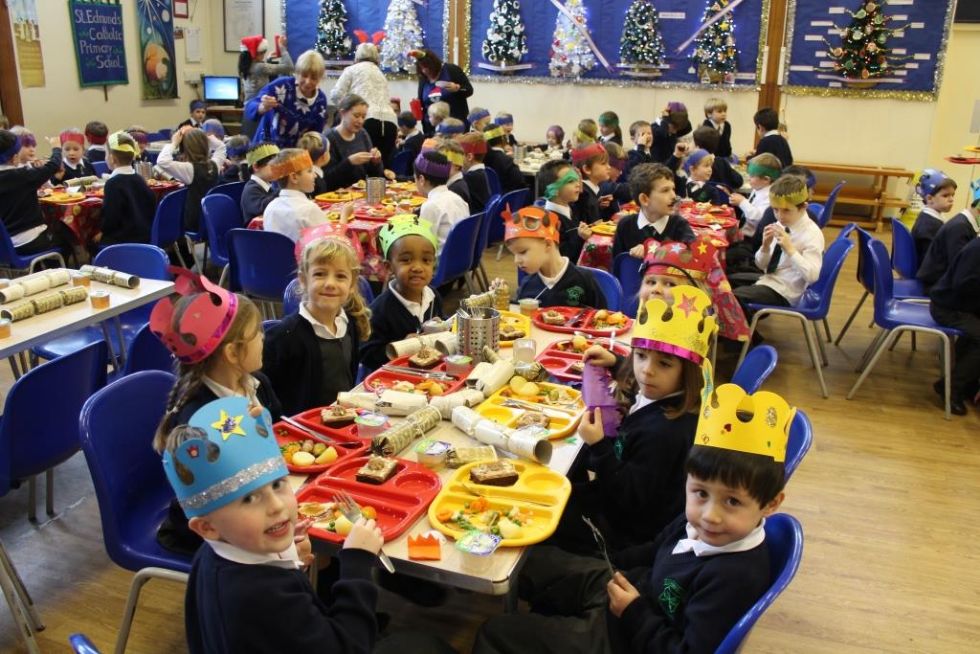 We are just preparing for our Carols around the tree this afternoon at 1pm, it is lovely to hear the children singing traditional Christmas carols, as they have learnt them now I hope that they will always remember them. I hope that everyone will be able to join in the singing with us this afternoon.

From us all at St Edmund's we wish you a very merry and magical Christmas and a happy start to 2016!
Elizabeth
Friday 11th December

We have had a very special week of marvellous and magical Christmas productions. We started the week with our youngest children as they travelled to Bethlehem in their lovely Nativity- 'A Miracle in Town' the children brought the Christmas story to life with a host of heavenly angels, sparkling stars, shepherds and their little sheep, animals in the barn, very important kings and camels and wonderful story tellers. It was wonderful to see 90 children between four and seven perform with such confidence!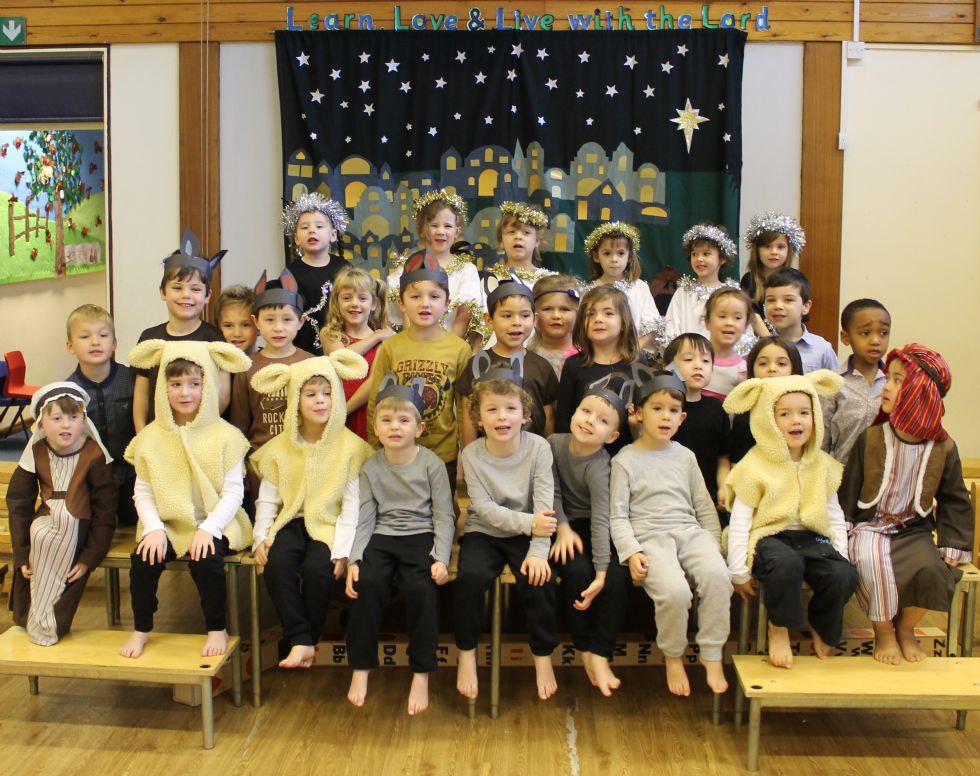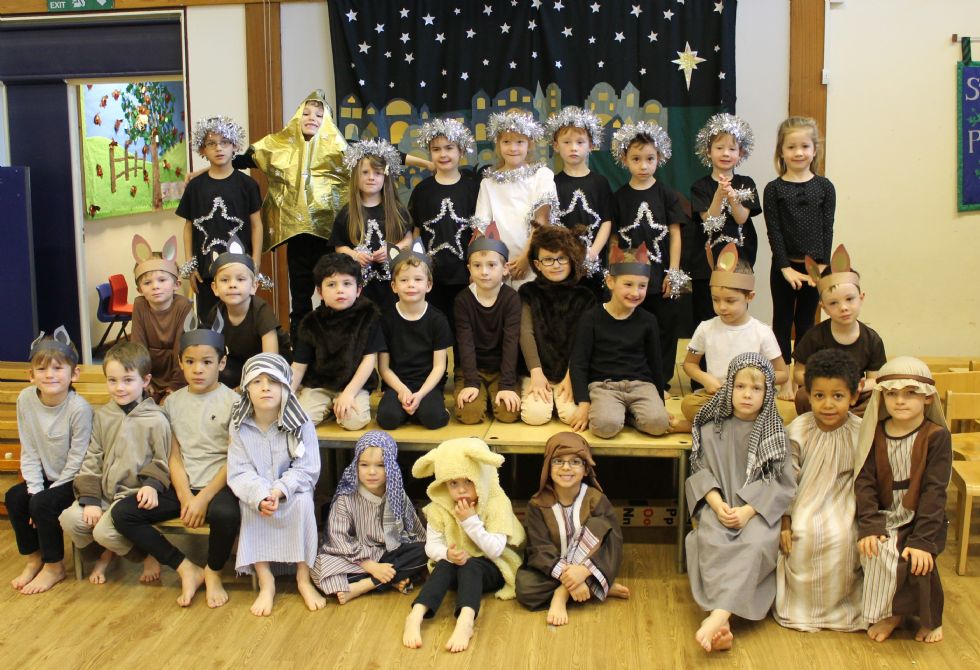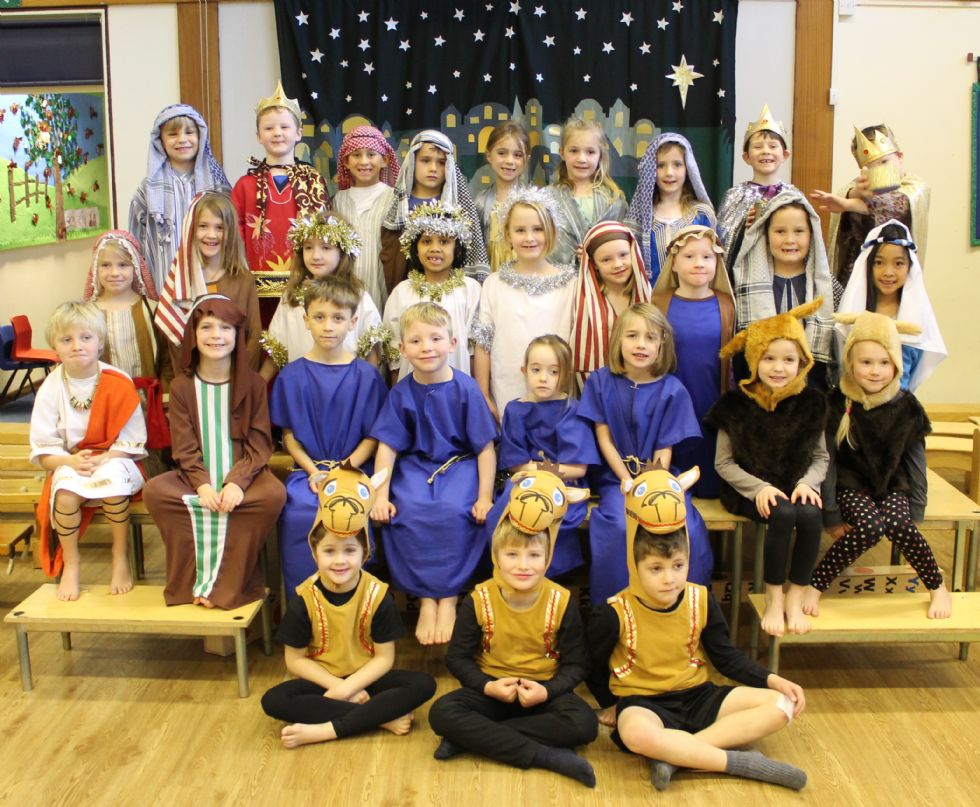 Later in the week we travelled back in time with Mr Humbug, inspired by Dickens's Christmas Carol. This very grumpy headteacher banned Christmas and through a series of ghostly visitations was shown the error of his ways! The singing and dancing was spectacular, the children and audiences enjoyed every minute! I hope I am never as grumpy as Mr Humbug and I think we know how important it is to celebrate Christmas at St Edmunds! The teachers have worked so hard preparing the children so well for these wonderful productions.
I'm really looking forward to Year 3 and 4's Service of readings and carols on Monday. I have heard them practising and I know that it will be very special.
The film show is tonight and the children are looking forward to watching the Minions movie!
Tomorrow afternoon we will be carol singing at the Pepperpot at 3pm. Please do come and join us while you are out doing your Christmas shopping!

Have a lovely weekend,

Elizabeth
Friday 4th December 2015

This is the first week of Advent and we had a special Advent Liturgy on Tuesday morning. We talked about preparing ourselves inside so that we are ready to welcome Jesus into our lives at Christmas. We talked about showing kindness and love to others through our words and actions. We introduced the Travelling Cribs which were blessed by Father Michael during Mass last Sunday. The Holy Family will go home with the children every night during December to help us think about the journey that Mary and Joseph made over 2000 years ago. The children are really looking forward to welcoming their special visitors and reflecting on the real meaning of Christmas, I have seen some really beautiful prayers, pictures and reflections done by the children already.

We also switched on the lights on our beautiful Christmas tree very kindly donated by Oxenford Farm in Elstead. We also illuminated our very special new hall display. Each class have decorated a tree to illustrate the Christmas story. The trees are wonderful and every child has been involved in creating the lovely decorations. Seeing the excitement in the children's faces this week has been very special.

Earlier this week children from Year 4 visited the Clock House Day Centre in Milford to sing for their elderly visitors. They loved hearing the children sing and said that they were the best children they had ever seen! It was great to hear everyone joining in with the traditional carols.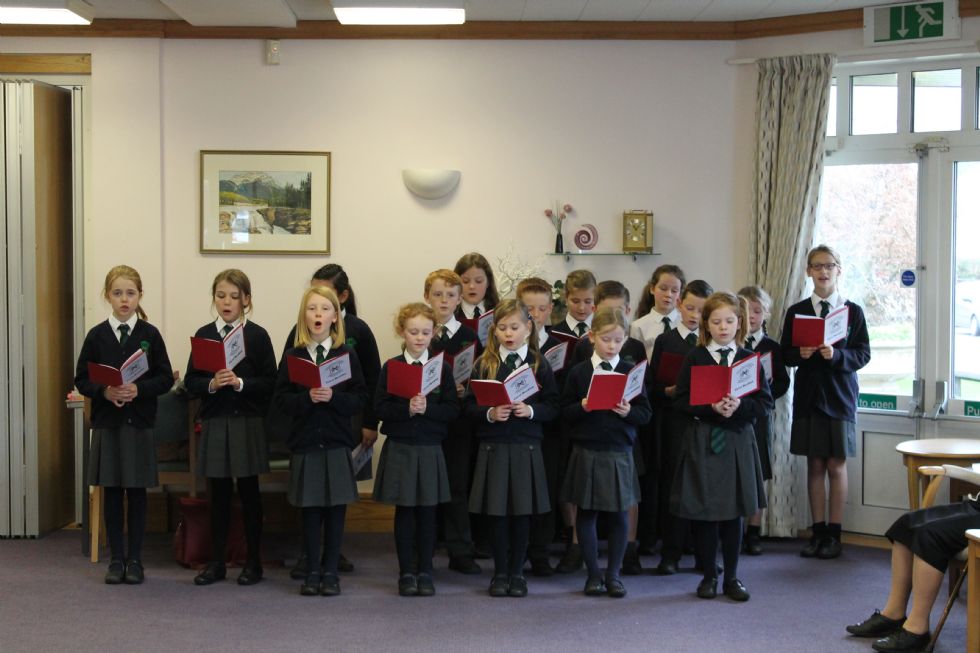 Yesterday we had a visit from the Trinity Trust Team, who shared a special Christmas story with the children. The story showed how sharing what we have can be much more meaningful then just receiving gifts; a really important message to carry with us through the next few weeks.

The excitement continues tomorrow with the Christmas Fair, Ashley and the PSA have worked very hard preparing for the fair and I know that it will be a wonderful day, and I'm sure I will see you all there.

Have a great weekend,

Elizabeth
Friday 27th November 2015

Everyone is looking very colourful today as it is sweetie mufti day! The always look different out of uniform. The children have brought in so many packets of sweets; I think the sweet tombola will be very popular as always at the Christmas Fair next Saturday. The collection of mince pies and toy donations for the fair is increasing rapidly in the school entrance by the office! Please keep them coming in next week!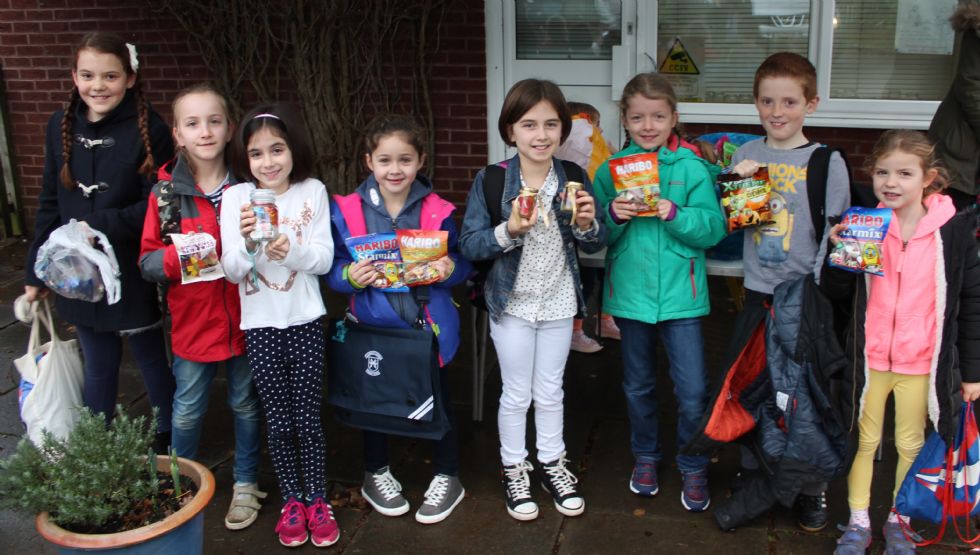 On Wednesday evening we had a session for parents and parishioners called 'Home is a holy place, led by Katherine Bergin marriage and family life advisor from the Diocese. There was a good turn out and it was lovely to hear Katherine talk about her own family life and how we can share our faith through the love we show our children. She had lovely ideas how to prepare ourselves and our families during Advent.

This Sunday will be the start of Advent and we will be sending home our special Travelling Cribs as the holy family embark on their journey. Please look out for them coming home over the next few weeks. We have a beautiful hall display ready for the start of Advent, it is going to look very special this year.

A group of our talented musicians took place in a special Orchestra day on Wednesday at Rodborough secondary school. They enjoyed playing and performing with other children and found the music quite challenging. It was a lovely opportunity to play together and to get to know other young musicians!

This week in the classrooms the children have been... adding and subtracting negative numbers.... investigating multiples and times tables... starting their Advent RE topics, planning exciting stories that they are going to write.

Christmas production rehearsals are now in full swing, the first production is on the 8th December, just over a week away! I have so impressed by the children's singing, acting and dancing! They are really enjoying working together and I know that our audiences will be very impressed with the final performances; I can't wait to see everything come together!

There is so much yo look forward to in the coming weeks; it is a very special time of year!

Have a lovely weekend,

Elizabeth

Friday 20th November 2015
We started this week with sadness reflecting on the shocking terror attacks in Paris last weekend, during assembly on Monday we thought about and prayed for the victims and talked about how it is ok to feel sad when terrible things happen, especially when it is very hard to explain why it has happened.
This week is Anti-Bullying week and we thought about how we want to make sure that bullying does not happen here, we want every child to be happy and safe and we must challenge bullying behaviour whenever and wherever we see it. Showing compassion for others and treating everyone with love and respect is so important, especially in these troubled times.
The children have been talking about how to prevent bullying in their classes this week and have made posters to share the important message: Make a noise about bullying! The children from each talked about their posters and what they have learnt this week during assembly yesterday. They spoke really confidently about how to stop bullying from happening and how talking about it will help it stop. I was especially impressed with the children in Year R who told us about their lovely poster. Do look out for the new posters around school. Here are the children with their posters: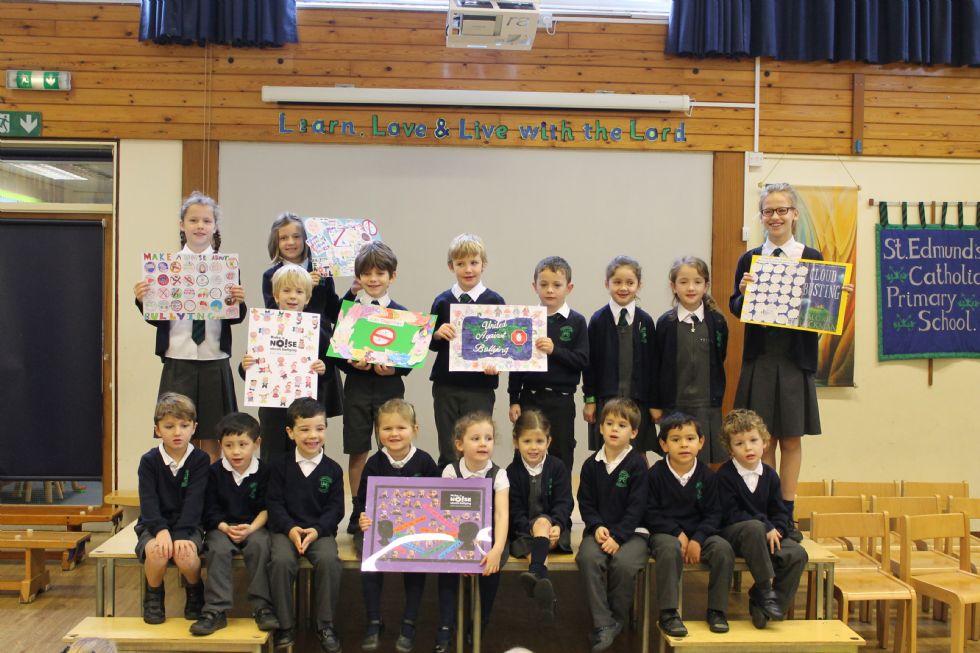 On Tuesday morning the Headteachers from the Godalming schools confederation came to St Edmunds' for our half termly meeting. One of our main areas for discussion was how we can further develop the ways that we support and challenge each other. There are some exciting plans for how we can really make this work in our schools.
A group of Year 2 Children from Busbridge Infant School came to visit on Thursday afternoon and they worked on some challenging maths with a group of our Year 2s, it's an excellent opportunity for the children to explain their ideas and reasoning to other children.
Today is St Edmund's Feast Day. The children are very excited about our Mass this morning, the Rainbow Theatre production of Aladdin this afternoon and of course the PSA discos tonight! What an exciting day!

Keep warm this weekend, I think the mild Autumn might be finally over!

Elizabeth
Friday 13th November 2015
On Wednesday 11th November we held our special Remembrance Service. Starting with a beautiful violin recital from the talented Mary Jane, we then we heard about The Poppy Factory in Richmond from our Year 2 children. Martina and Harriet had learnt the poem in Flanders Fields off by heart; all the children sang and read beautifully. We also brought up our St Edmund's Remembrance book and the candles with the names of those who have died that we would especially like to remember and pray for during this month of November. We heard a few of the special memories that our families had added to the book during the service. We were honored to welcome the Mayor of Godalming, Mrs Anne Bott. She laid a special wreath and presented the children with Remembrance pencils, rubbers and wrist bands, these special items will help the children to continue to remember those who gave their lives during the world wars and all conflicts since then. Earlier this week we also thought about how animals were affected by war and some of the roles they played. It is important that we think about and remember all those people who fought and died in all wars, not just in November but throughout the year.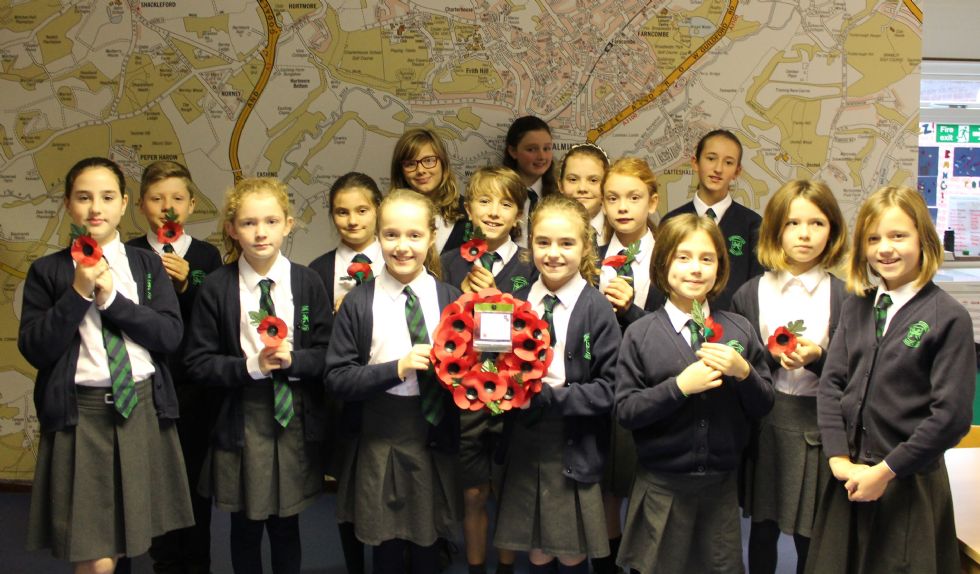 Around school this week I have seen...Year 3 at the airport getting ready to jet off around the world as part of their new topic. Year 1 class has been on a Bear Hunt. I have seen Year R busy with their phonics; they are starting to read really well. Year 6 pupils were tackling long division, Year 5 equivalent fractions and Year 4 choosing weights to measure mass. Year 2 children were finishing their RE topic on Baptism. Rehearsals for Christmas productions have begun taking place in the hall too!

We have had a very special celebration assembly from our Year 4 class this morning. The children shared their learning on community, groups and sacraments. The singing was wonderful, and we even saw dancing, football, Irish dancing and piano and guitar playing too! The final prayer contained such a wonderful message to spread joy to others through what we do. Year 4 certainly did that this morning.
After school today we have an extra cake sale, all money raised will go to Children in Need.

Next Friday is St Edmund's Feast Day. We will have Mass in the morning and a theatrical treat for the children in the afternoon, with PSA discos to follow in the evening...it promises to be a very exciting day for our school!
Have a lovely weekend,
Elizabeth
Friday 6th November 2015
Welcome back to the second half of our first term. I hope that everybody enjoyed a wonderful half term break and managed to rest and enjoy time with their families.
Now that the clocks have gone back and with the dark, wet weather this week it is really to starting to feel as if winter is on its way. I've also even heard the first Christmas songs this week as the children start to prepare for their Christmas productions!
We started the week with an inspiring visit from Tenten theatre. The company takes their name from John's Gospel, chapter 10 verse 10. "I have come so that you may have life, life to the full." The different performances were pitched perfectly for the ages of the children and the messages were very clear. I hope that those parents who came to the parent session enjoyed it too. Here are Years 3 and 4 enjoying the performance 'Master and Servant'.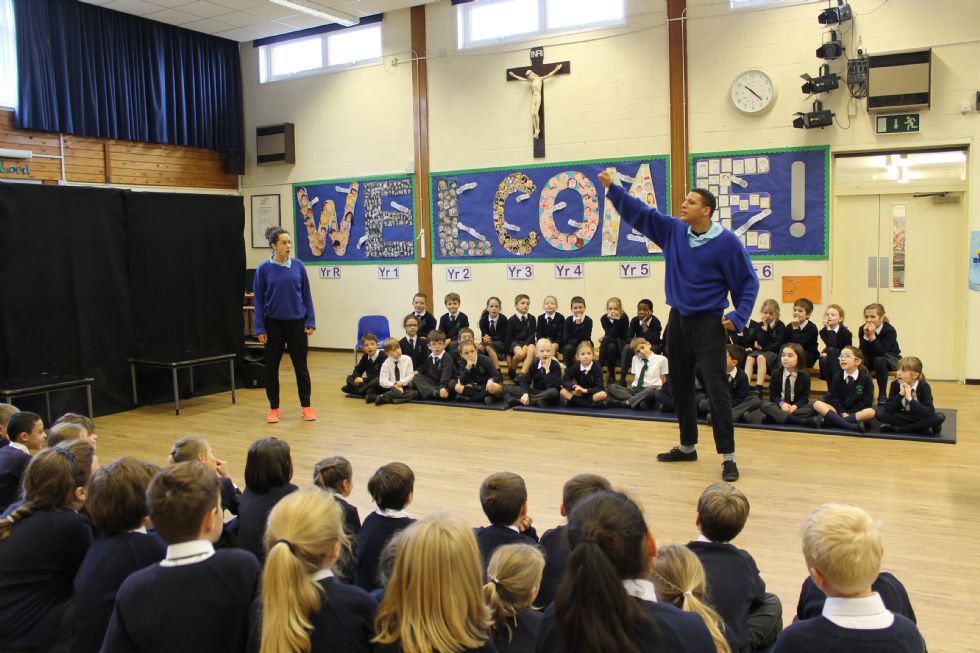 On Monday I taught Year 3 for the day and we learnt about Guy Fawkes and the Gunpowder plot. The children wrote wonderful letters from Guy Fawkes to Lord Mounteagle to warn him of the plan to blow up Parliament on 5th November 1605. During the afternoon we found out about the history of fireworks created chalk and pastel firework and bonfire pictures. Did you know that the heat from two sparkles is equal to that of a blowtorch! I had a lovely day back in the classroom.
We are busy preparing for our Remembrance service next Wednesday, 11th November at 10:45 am. Thank you to those families who have returned a photo or memories for a school remembrance book, if anyone else would like to add a memory or photo please bring it in on Monday. Please do come and join us next Wednesday morning if you are able to.
Our Open Morning on Wednesday was very successful with a great number of prospective parents joining us. After giving them an introduction to life at St Edmund's, our super Year 6 children led our visitors on tours around the school. The children were able to answer all their questions with maturity, pride and enthusiasm. They did a fantastic job of informing and entertaining and everyone was very impressed with them! It is especially interesting for parents of 3 and 4 year olds to think about how their own children will be at the age of 11, ready to move on to the next stage of their education. Thank you Year 6!
On Thursday morning we welcomed Governors who came to take part in a Learning Walk looking at maths across the school. Visiting each class in this way is an excellent method of looking at progression in teaching and learning across the school and gives an excellent snapshot of what is going on in school.
Enjoy the weekend and I hope the weather stays dry for any fireworks and bonfires that are taking place this weekend!


Elizabeth
Friday 23rd October 2015

It's the end of our first half term for this school year and it has been a wonderful seven and a half weeks! We've already packed a lot into the term and there are many exciting things planned for the second half of the term. The time leading up to Christmas is always filled with such exciting preparations and anticipation!

We have had our Autumn Term Parent Consultations this week, thank you very much for coming to see the teachers and looking at the children's book and all they have been learning in the classrooms. I'm pleased to say that no one was running too late, thank you for sticking to your appointment times.

On Wednesday we had our special Golden Assembly which the children loved! They do so enjoy hearing about all the wonderful things that each other have been learning about and celebrating their successes. The headteacher awards were given for a wonderful range is achievements, I especially noticed quite a few for real determinations and resilience, where children have persevered and challenged themselves, which is great to see. This half term St Matthews House are in the lead with an impressive 1630 house points. There is still plenty of time for the other houses to catch up, keep on earning those house points for super work, helpful, polite attitudes and excellent behaviour!

Year 1 children shared their celebration assembly with their families and the whole school this morning. It was great to see how grown up they have become since being in Year 1. They shared their learning about holidays, took us an exciting journey around the world; they even included a beautiful Spanish dance and lovely singing too! Very well done Year 1.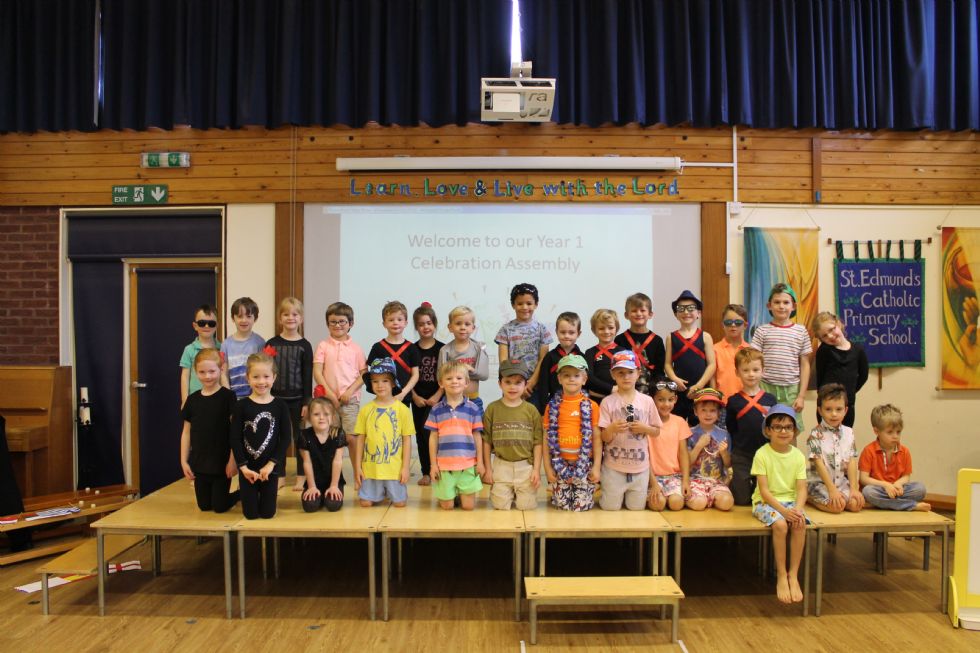 Yesterday Year R children had a wonderful teddy bears' picnic. They brought in their bears, went on a bear hunt, made teddy bear biscuits and played some lovely games too. They have made so much progress since the start of September and have settled into life at St Edmunds so well. Here they are trying to guess which teddy bear was hiding!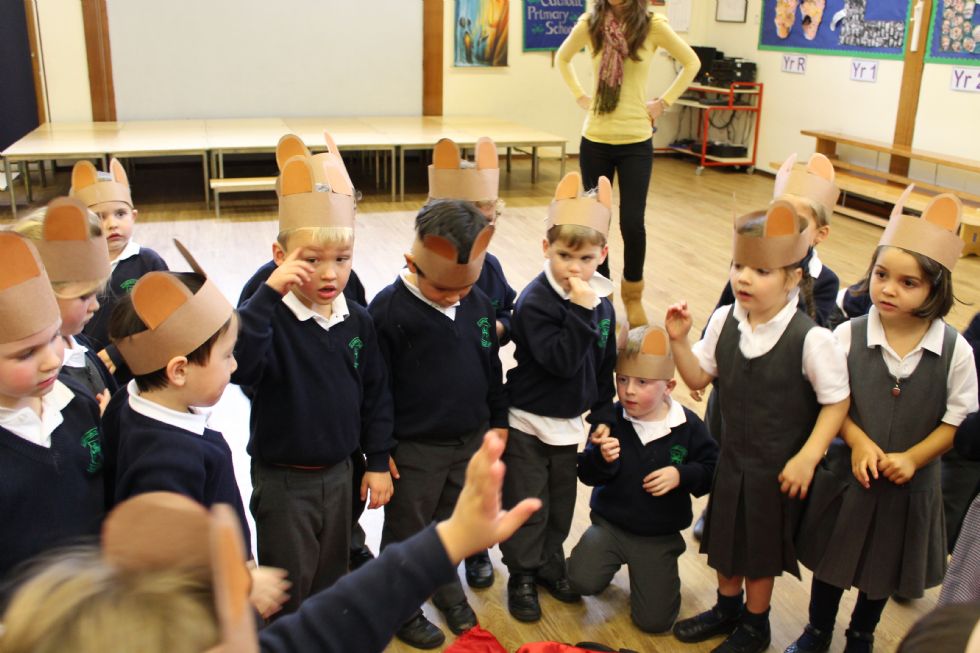 Have a lovely half term break, enjoy some autumn sunshine and stay safe. I'm really looking forward to the next busy Christmassy half term!

Elizabeth
Friday 16th October 2015

What an exciting and busy week it has been! I have so many events to tell you about today.

We have had so wonderful visits and trips....Year 2 went to the Poppy Factory in Richmond where thousands and thousands of poppies are made for Remembrance Day each year. We look forward to hearing a lot more about their visit as we prepare for Remembrance Day after half term.
Year 5 spent the day at Chertsey Museum on Thursday more learning about Ancient Greece, they dressed in tunics and even enjoyed a Greek picnic lunch too..

The KS2 school council members visited the Houses of Parliament with me on Wednesday where we saw the speakers procession as he opened Prime Ministers questions in the House of Commons, we learnt so much about making laws and how new bills are passed. During our workshop in the band new education centre, the children had a chance to debate their new bill to ban smoking everywhere, and also experienced a division of parliament. We even met Lord Burnett, otherwise known as Harriet, Matilda and Josephine's grandad!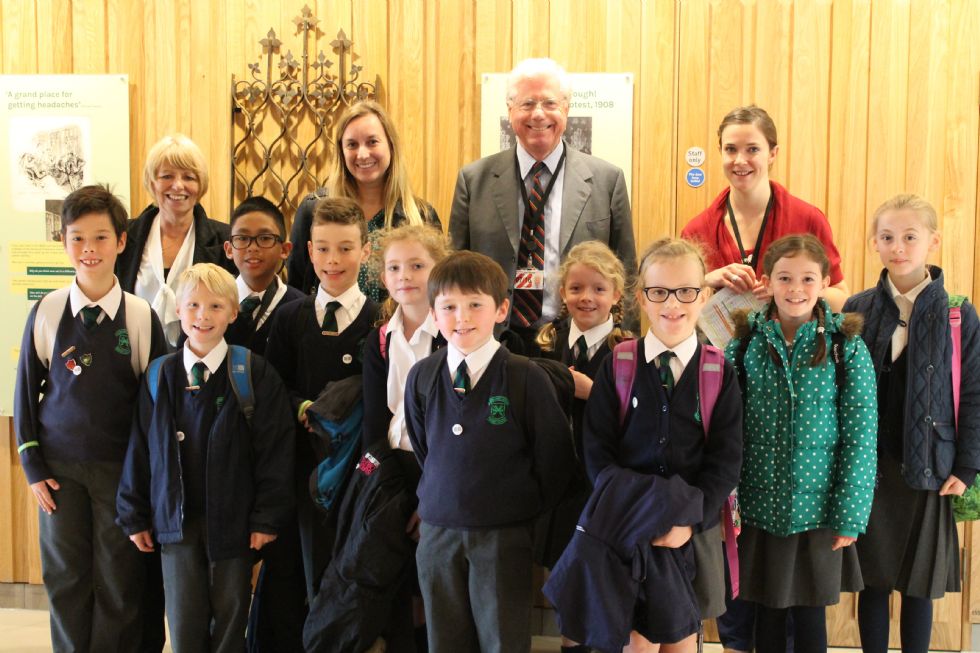 A special visitor came to school on Tuesday afternoon, author David Solomons. He inspired the children by talking about how his planning and writing process and his latest book 'My brother is a Super Hero'. I love reading and it's great to see so many children really enjoying reading.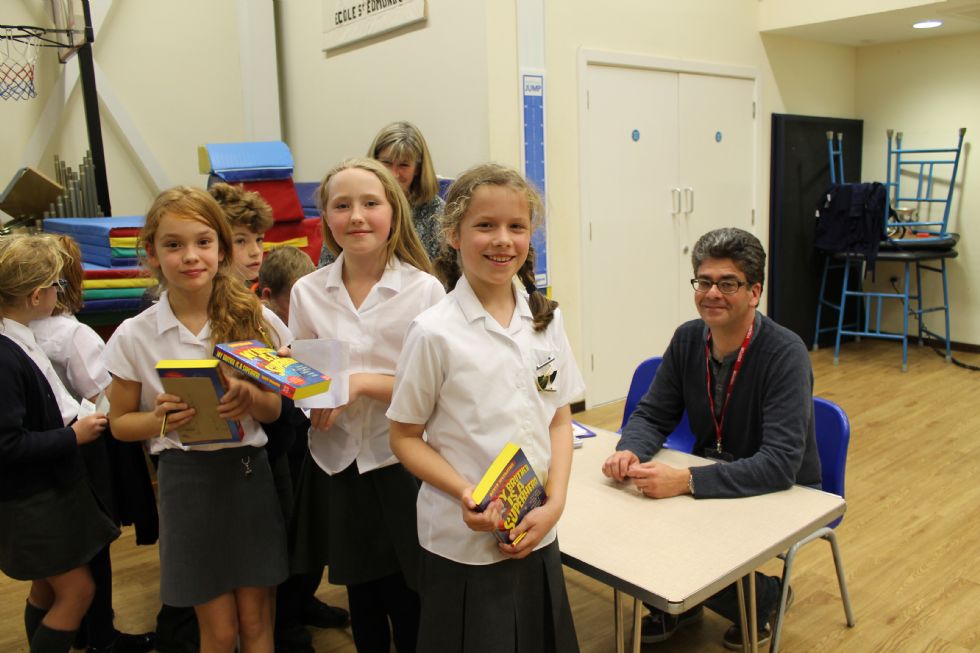 Our special visitors continue today with Fr Michael and the Mayor of Godalming, Anne Bott who will be coming to our Harvest Liturgy this morning. We have collected many, many tins and packets of food and toiletries for the Godalming Food bank and Cellar cafe. It is so important that we think about those who are not as fortunate as we are and remember to say 'Thank you' for everything we have. I know that the children will read and sing beautifully and Year R even have a little treat for us, their special 'thank you' song.
It's hard to believe that there is only a week left before the half term holiday!

I hope that everyone has a lovely weekend,

Elizabeth
Friday 9th October 2015

We are now well into October and the days are just flying past! This week we have had the Life Bus with us for two days. Each class has had a session on the bus finding out about making good choices to stay healthy and safe from food to drugs and medicines the children are encouraged to think about the choices they make.

Our Autumn Term school Mass last Sunday morning was very special and I was very proud of the children who took part either reading, serving, welcoming or taking part in the offertory procession. I was particularly delighted to hear such lovely comments from parishioners after the service and to hear how much they enjoyed the children's presence at church on Sunday. Next Friday in the school hall at 10:40am, we will have a special Harvest Liturgy I hope to see many of you there as we say 'thank you' for the harvest and for everything that we have.

We have also has the Book Fair running this week too, the children have been very excited about the books on display and I hope they enjoy Reading them to. We even spotted on the shelves the book 'My Brother is a Superhero' by author David Solomons who will be visiting us at school next Tuesday afternoon as part of the Guildford Book Festival. I'm really looking forward to hearing him talk to the children about his writing, it's a great opportunity to hear from a real writer and I'm sure the children will be very keen to read the book too! We've already bought a few copies for the library.

This week we have been learning about St Therese of Lisieux as part of Little Way Week. Do ask the children to tell you more about her. I do find her life fascinating and inspiring as she was a very real girl from a large family who was not always good! She then decided that she wanted to make a difference by doing little good deeds every day and her efforts have inspired us all to think of ways in which we can follow her example. Do ask the children to tell you more about Therese and her life.. Here are the beautiful flowers the children in Year R have made, each leaf has something helpful that they are going to try to do written on it.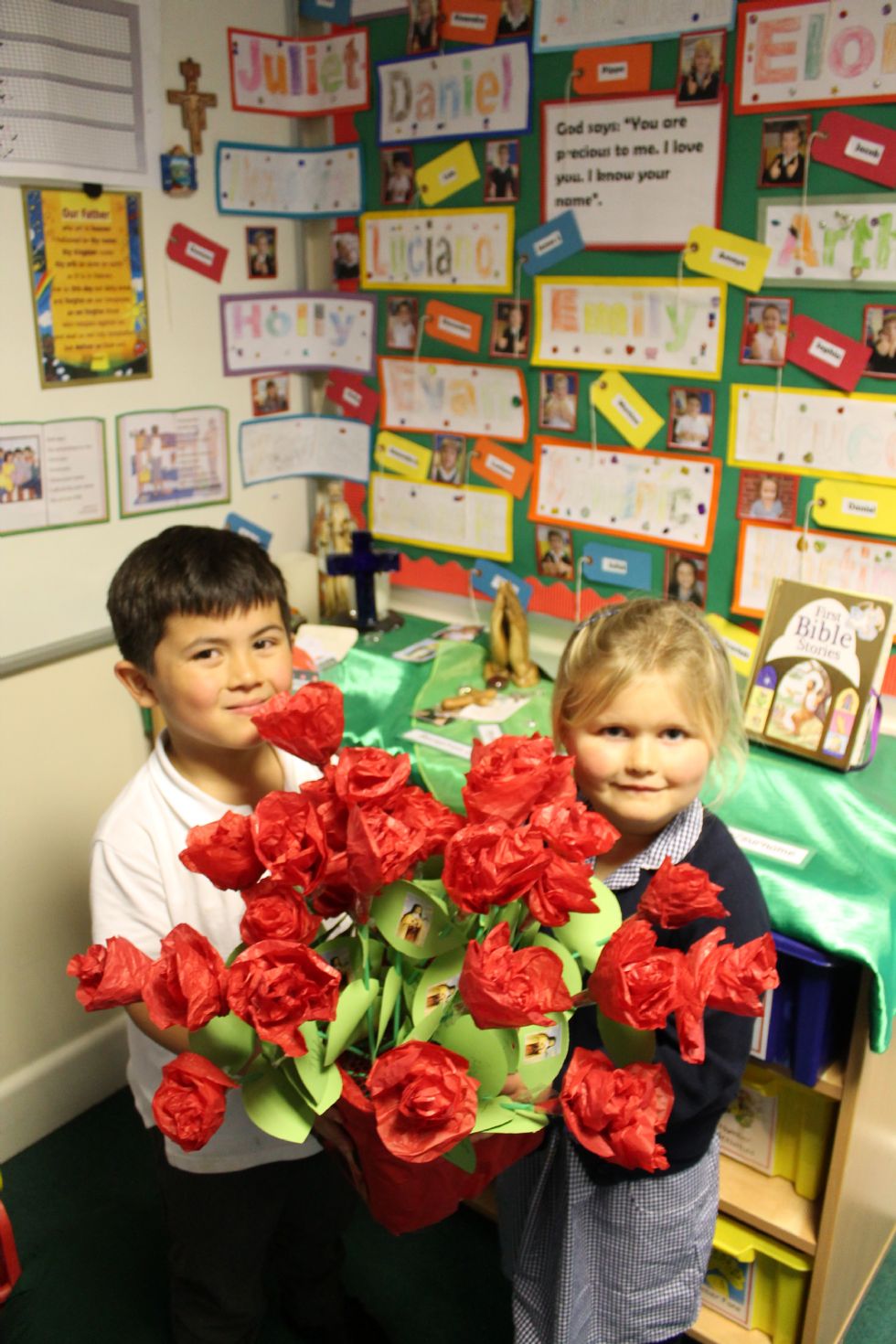 On Wednesday I spent the day in London at a teachers' workshop for the Young Voices concert which will take place in January at the O2 Arena. It was a really exciting and inspiring day where we learnt top tips to help teach the children the songs and also all the dance routines! Having the chance to sing with over 7,000 other children in front of a huge audience at the O2 is really going to be a fantastic experience and something very exciting to look forward to in the 2016.

This morning our Year two children shared their amazing assembly all about Hampton Court Palace and King Henry VIII. There was dancing and singing and we found out about all of Henry's wives and life at the palces. It was wonderful to hear how much the children have learnt in just over a month in Year two.

I expect that I may well see many if you this weekend at the exciting PSA Race Night on Saturday or Mass on Sunday morning led by the children preparing for their First Holy Communion.

Enjoy the weekend,

Elizabeth


Friday 2nd October 2015

It's been such a busy day it's now ten to five and it's the first chance I've had to sit down and write the blog!
Today we welcomed our grandparents (and honorary grandparents) to celebrate Grandparents Day with all their grandchildren at St Edmunds. The school was packed with visitors who have enjoyed an afternoon's entertainment with a song or poem from each class and delicious refreshments afterwards. Thank you very much to the PSA for serving the refreshments and providing the cakes. Grandparents play such an important role in caring for and supporting our families and it was an honour to welcome our visitors to school this afternoon. As I said earlier today, this year grandparents day has a special significance for me personally as I will become a granny myself in December, I'm very excited about welcoming my grandchild into the world, two months to go, I can't wait!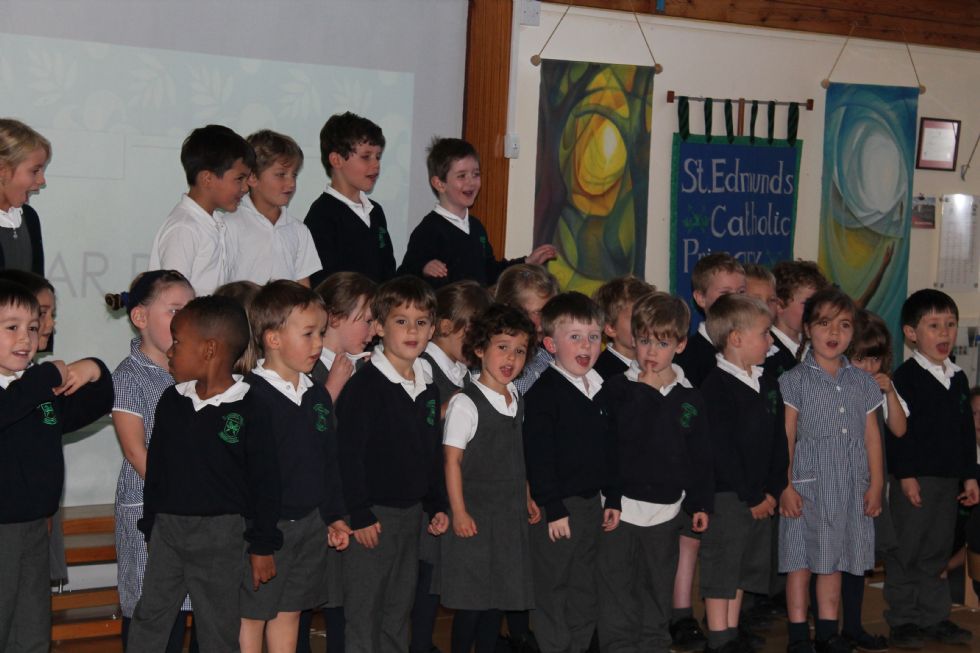 I was teaching in year three yesterday morning I do love spending time with the children and it's always a treat for me to get out of my office and teach them! It was quite an exciting morning too! As part of the children's learning about instructional writing we followed a recipe and baked chocolate biscuits. The children were very good at following the recipe; it was a bit like the technical challenge on The Great British Bake off with quite limited instructions! Unfortunately a few biscuits got a little over baked and we managed to set off the fire alarm and had to evacuate the whole school to the playground! The children were very calm and sensible and it provided a good opportunity to practice our fire drill. I may not be asked to do cooking again for a while either!

On Wednesday I spent the day at Worth Abbey with Bishop Richard and the Headteachers from Arundel and Brighton Diocese. Bishop Richard celebrated Mass at the end of the day. It was a beautiful day and a wonderful opportunity to reflect on our role as leaders of our Catholic schools and how we can work more closely together to support each other and develop stronger links between our schools.

Also on Wednesday we had a visit from Chris Richardson on behalf of CAFOD, he talked to the children about the Harvest Fast Day and how we can help those less fortunate than ourselves. The children went without their snacks this morning and experienced a little of what it feels like to be a bit hungry, they all seemed to appreciate their lunch a little more too!

I hope to see everyone on Sunday morning for our autumn term school mass at 10:15am at St Joseph's in Milford. I hope that some grandparents may be able to join us too!

We've had such lovely autumn sunshine this week; let's hope it continues for the weekend and into October!

Elizabeth
Friday 25th September 2015

We started the week on Monday morning with our special Commissioning Service. Children who have special responsibilities and made promises that with God's help they will do their best to serve others and carry out their roles to the best of their abilities. They have made a fantastic start and we are very proud of them all. The School council, eco council, prefects, house captains, buddies and games captains then received their badges from Mrs Rochester, the chair of our Governing Body.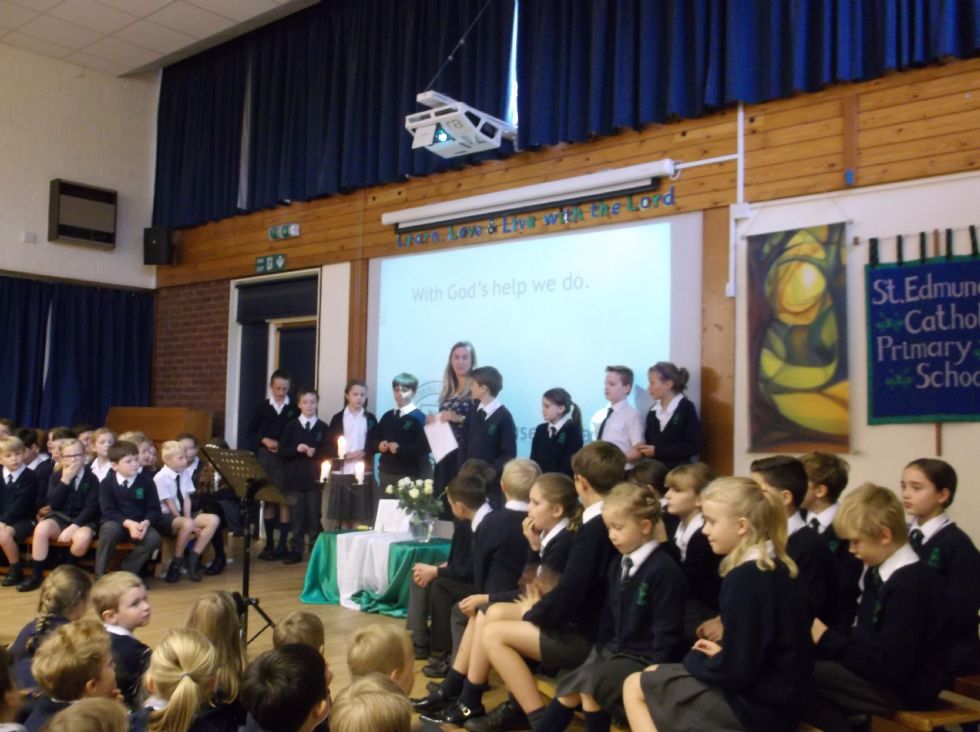 On Tuesday afternoon we celebrated the official opening of our art installation. The director of Watts Gallery, Perdita Hunt, cut the ribbon. It was lovely to welcome back Lucy and Adrienne who have worked on the project with us. We very much hope that we will continue to work with the gallery in the future. It has been lovely to see all of the children at St Edmunds working collaborative on the art project.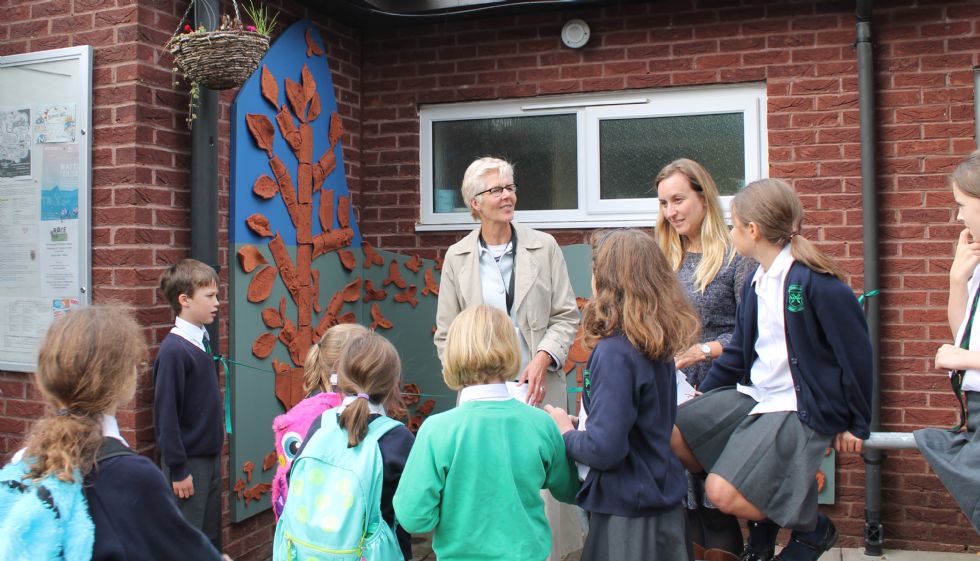 After school on Wednesday we had our staff Deanery Mass held at St Peter's in Guildford. This is held at the start of every school year and is a lovely opportunity to catch up and spend time together at this busy time of year with our Deanery schools.

I have been observing learning in classes across the school this week and I'm very pleased to say that there has been some wonderful learning taking place. I have seen children developing their research skills when writing non-fiction texts, translating shapes in maths, writing instructions for some very interesting recipes and learning about 3-D shape. Year two children had a very exciting visit to Hampton Court Palace on Wednesday. A very special royal visitor who lived at the palace even popped in to the classroom yesterday morning to help them with their descriptive writing! We were all amazed and the children's writing was fit for King!


This morning Year five have shared their special celebration assembly on the theme of talents. They are a particularly telling talented class and I was ticket impressed by their skills: singing, gymnastics, violin, football.... They have really grown up in the two years that I have been here and they all spoke and preformed with confidence and shared their talents so well.
Thank you to Madeleine, Molly P, Mimi, Lottie, Ania, Charlotte, Isabella and Grace for organising the cakes and refreshments afterwards, all donations will go to help the refugees, it was a great idea girls! Thank you for using your baking, organising and compassion to make it happen.
Have a lovely weekend,
Elizabeth
Friday 18th September 2015

It has been feeling rather autumnal this week, and we are all well and truly settled back into school life. We've had some rather wet days and play times, but this does mean that we do appreciate the sunny dry days even more!

Around school this week I have seen… some great PE lessons, Year R children have been using the apparatus with great confidence. Year 1 have been talking about special times with their families, Year 2 have been learning about Florence Nightingale, there is some wonderful writing in Year 3, the children have been writing their own fairy tales, Year 4 have been investigating multiples of numbers, Year 5 have been looking at writing by different authors including Dick King Smith and Year 6 have been tackling long multiplication! This is just a taste of some of the wonderful learning that has been going on this week.

This week in assemblies we have thought about what seeing an outstretched hand means and how we react to this. Does the hand offer help, support, protection or a call to follow someone? Whichever one it is, an outstretched hand is always a welcome gesture, one that we want to reach towards, not turn away from. We have also talked more about the refugees and how we can extend a hand of support through raising money or the beats of hope. Although we can only do little things, we do hope that together we can make a difference.

We had two welcome visitors yesterday, Giovanni and William, from St John's Seminary in Wonersh. They are going to be working with us every Thursday afternoon. This week they met the children in KS2 and the children asked them some fascinating questions about their calling to the priesthood and life in the seminary. We are very fortunate to have them with us and I think we will be able to learn a great deal from them both. Here they are with some of Year 6: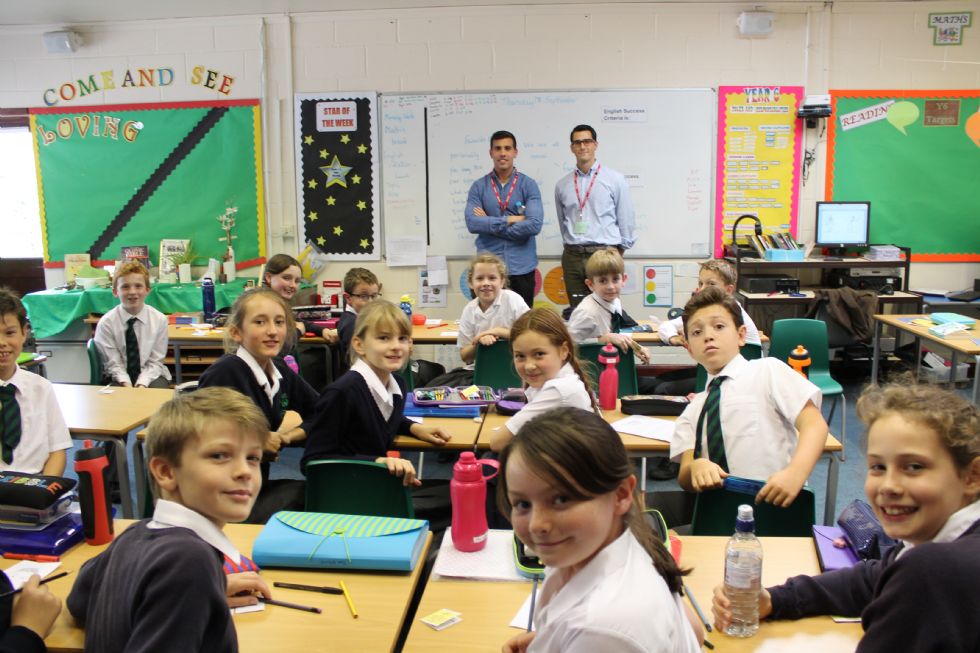 We will have our special commissioning service on Monday where children who have taken on special roles and responsibilities will be commissioned. They have already made a fantastic start, caring for and serving others so well.

I hope that many of you will be able to stay behind after school on Tuesday for the opening celebration of our art installation. We will welcome the director of the Watts Gallery and there will be refreshments available too. Please do join us and hear more about the project.


I hope we will all enjoy some autumn sunshine this weekend,


Elizabeth
Friday 11th September 2015

It has been lovely to enjoy the sunshine this week. The children have been making the most of the warm, bright play times having fun with their friends. Everyone is getting used to the new routines and the changes that the new year has brought. The children have also been enjoying their learning. When visiting everyone in class this week I have seen so many children challenging themselves, trying new things, they are really keen to improve. We have also been talking about building resilience and that it is ok to get things wrong we can see these challenges as learning opportunities. They are so proud of themselves as they make progress and achieve success.

During our assemblies this week we have thought about our world and how we can help to protect this beautiful planet: out gift from God. We talked about those who need our help and discussed the following.. "If you have more than you need build a longer table not a higher fence". We have talked about how we can help others in small and bigger ways, one of them being supporting the bags of hope appeal. I'm certainly going to sort out a bag this weekend ready for the collection next Friday.

We had our very special House Captain's assembly yesterday morning, the year 6 children were amazing, I was so impressed with the thought, passion and humour that they had put into preparing their speeches. They are certainly starting the year with wonderful enthusiasm and taking on their new roles with an excellent attitude. They have some really great ideas for house events and competitions which I'm looking forward to hearing a lot more about. The children in all the houses voted for those they thought would be best at leading their houses, St Matthew, St Mark, St Luke and St John and we will announce the house captains next week. Here are all the year 6 children who are standing for House Captain: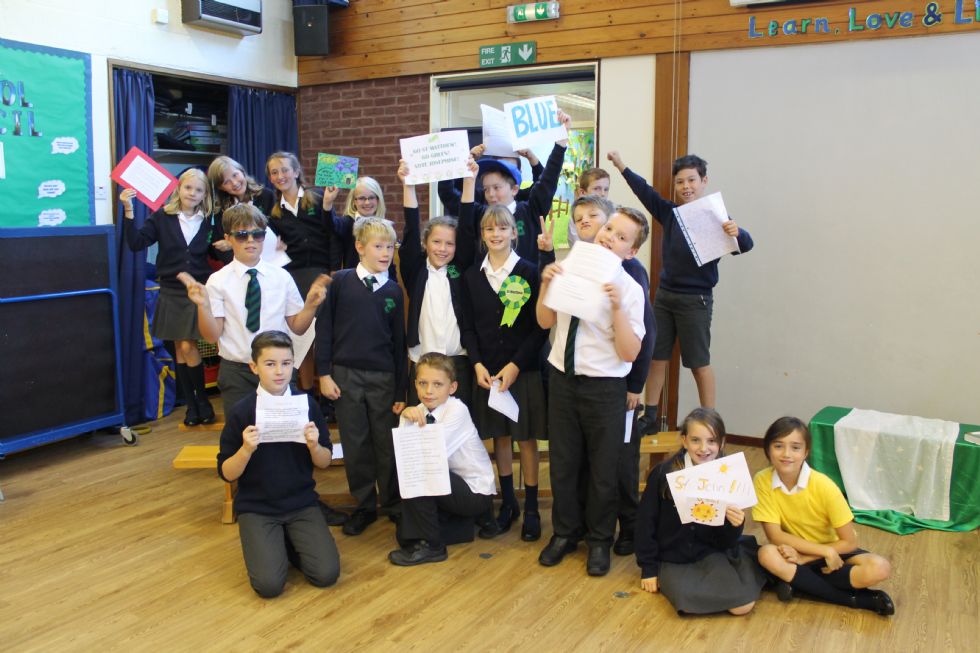 Here are the new school councillors from each class, I'm really looking forward to working with them this year, they have already got some excellent suggestions for the year ahead.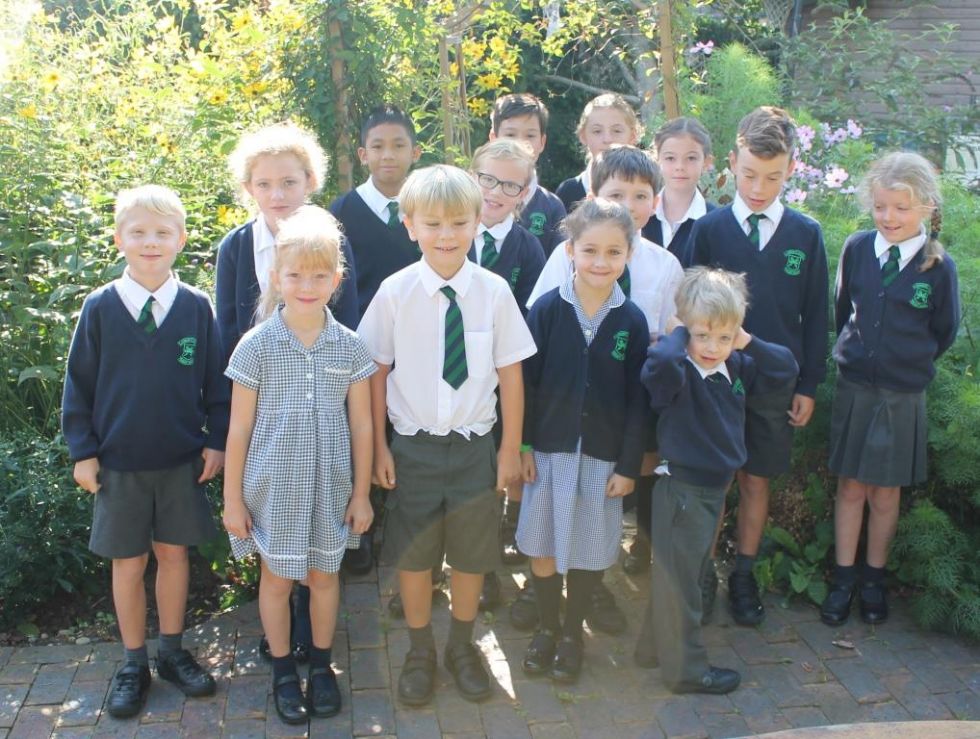 It was great to see so many parents at school on Monday for the 'meet the teacher' sessions, we hope that you found the information useful, there are lots of exciting things to look forward to this year.

This weekend our year 4 pupils will begin preparing for their First Holy Communion they will be reading and taking part at Mass on Sunday morning at 10:15am at St Joseph's in Milford. Please do keep them in your thoughts and prayer this year.

Have a wonderful weekend,

Elizabeth

Friday 4th September 2015
Welcome to a new school year. I hope that everyone had a lovely break over the summer; the children have been telling me all about their exciting adventures and holidays.
It has been wonderful to see everyone returning to school this week, the children are all looking very grown up and smart in their uniforms. They are full of excitement for their new classes, all that they are going to learn and they are really looking forward to the new school year. Our new Reception class children have had their very first two days at school. They are settling in really well, they are finding their way around the school and getting to know everyone. We are all very impressed by how well they are doing. It is always such an exciting time of year; a time to celebrate new beginnings and look to the future full of hope, promise and possibilities. We have also welcomed a new pupil in Year 6 and five new members of staff too!
During our first assemblies we have thought about how our new school shoes are rather like starting school, they can feel a bit strange and uncomfortable at first but very quickly we get used to the new feeling and they don't feel strange or new anymore. We thought about how lucky we are to have schools and education for everyone, do ask the children to tell you how old the oldest primary school pupil in the world is? She is much older than eleven. We are all learning every day however old we are!
We are all looking forward to an exciting year of learning at St Edmund's.
Here are some of the children with our new art installation. The children made the beautiful ceramic flowers and creatures at the Watts Gallery workshops last term. I'm sure you will agree that it looks lovely. We will have an 'official opening' on Tuesday 22nd September straight after school, more details to follow.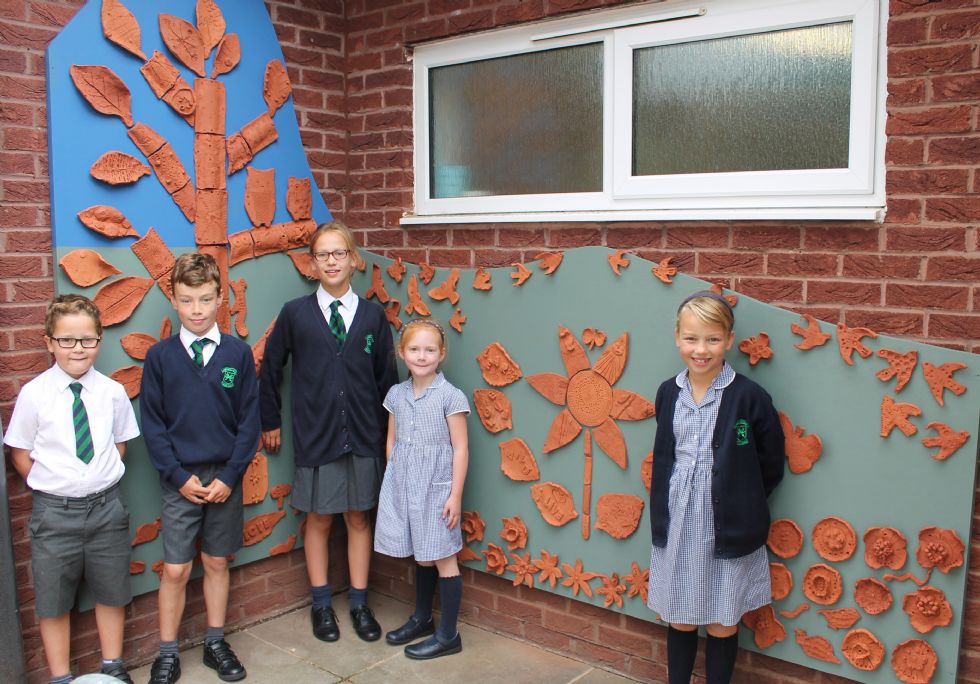 I hope you all have a lovely weekend,
Elizabeth