Archived Headteacher's Blog 2016-17
Friday 21st July 2017
It is the last day of term and of the school year!
We have had an amazing year and there have been so many things to celebrate.
Highlights this week have included the musical concert on Tuesday afternoon; where 25 talented children played guitar, violin, double bass and piano for us. Several of them have played for a number of years and it has been lovely to hear them progress.
Wednesday's Leavers' Mass was very special. Walking together as a school is an important part of the morning; it is lovely to hear the children in different classes chatting together as they walk. The children read and sang beautifully. Father David talked about the importance of saying a 'good hello' in order to say a good 'goodbye'. The children have certainly done that during their time at St Edmund's. Father David celebrated the 14th anniversary of his ordination on Wednesday, making it an extra special occasion.
This morning we have our final 'Leavers' and Awards Assembly'. Awards were presented for upholding the school ethos, sports and academic achievements. We had a new award this year too: children have taken part in the Governors' writing award competition. There were winners from both KS1 and KS2. We thanked the teachers who are leaving us today, Year 1 had learnt a poem for Miss Powell, we had a special Headteacher's Award for Miss McLoughlin and we sang two of Miss De Filippis's favourite songs: Love Shone Down and Spring Chicken! We looked back at Year 6 as they were when the majority of them started school at St Edmund's in September 2010.
Here they are in Reception with their first teacher, Miss De Filippis: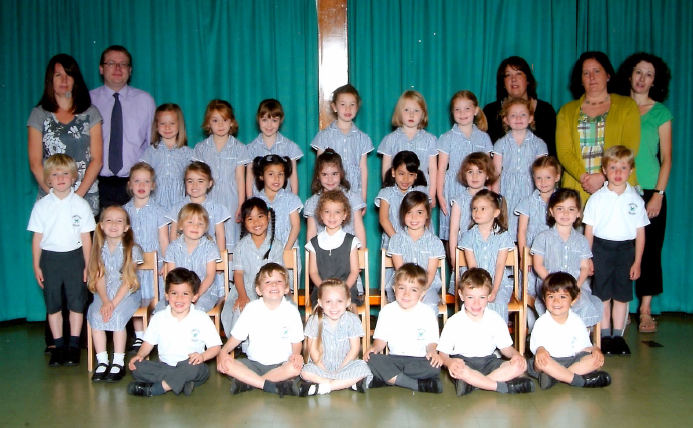 We have had an amazing year and I would like to say a big thank you to all the children, staff and parents for being part of it!
Have a wonderful summer holiday and look after each other, see you in September.
Elizabeth
Friday 14th July 2017
We are quickly nearing the end of term; the children are starting to look quite tired and I think they are looking forward to the summer holiday. It's been another action packed week. We have had a triumphant win at District Sports and a lovely performance from Year 6.
On Tuesday afternoon, many children from KS 2 took part in the annual District Sports competition held on the playing field at Charterhouse. The children have been training since April for the competition and competed brilliantly in all the track and field events. It is wonderful to see the progress that they have made and the support they gave each other was lovely to see. Thank you very much to Miss McLoughlin, Mrs McCarthy and to all the parent helpers who supported the children each week. Very well done to you all.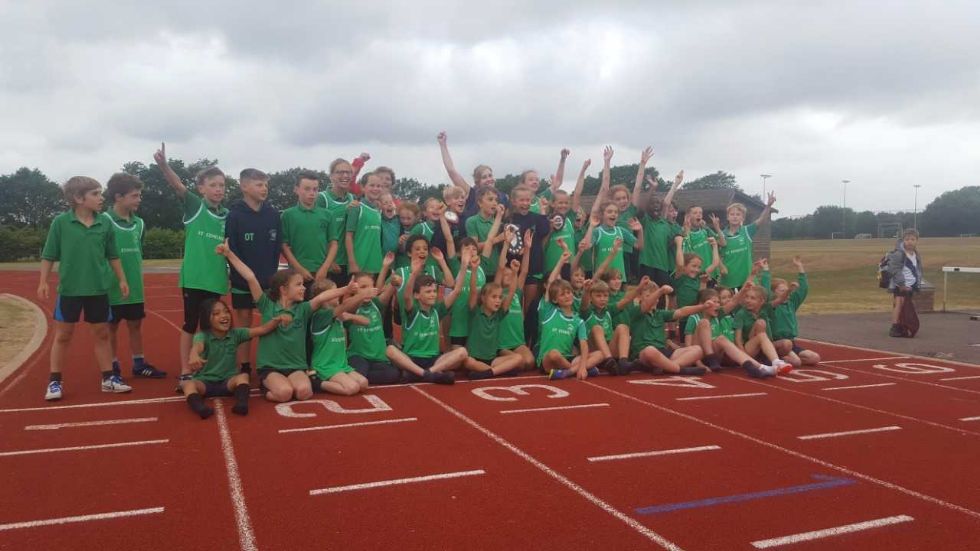 We have been treated to a wonderful performance of 'Cinderella Rockerfella' by Year 6. The children performed the show for the school on Wednesday morning and to their parents last night. I especially liked the way the children all had opportunities to showcase their talents. They choreographed dances, performed and sang really well. I think the two ugly sisters, played by Calvin and Niki were very funny, they had everyone laughing! Thank you for entertaining us all and to Mrs Hua for working so hard with the children on such a great end of term show.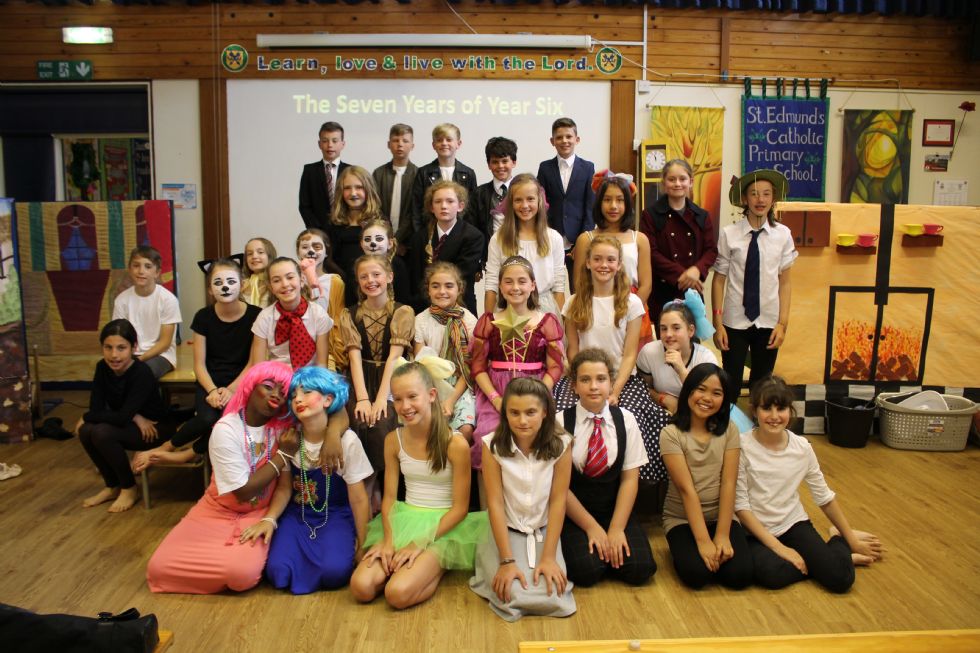 One more week before the summer holidays and there are still lots of things to look forward to. We have Golden Assembly, the very special Leavers' Mass at Ladywell on Wednesday and our final Award assembly to look forward to.
Have a great weekend,
Elizabeth
Friday 7th July 2017
This week we have all started to think about moving on. During our assembly on Tuesday morning, we talked about how much we have grown and learnt this year. We thought about how changes make us feel and how we can take on new challenges and make the most of the new opportunities we have in preparation for our Moving Up day.
Year 6 children have been to their new secondary schools with the majority of them spending the day at St Peter's on Thursday. They have been excitedly telling us all about their day, their new classes and looking forward to the new stage of their journey. We still have them for two more important weeks though!
We have welcomed our new Reception class into school this week with the children spending Tuesday afternoon in the classroom they all came in very happily. Then they returned, smiling, to spend the morning at school yesterday, most of them stayed for lunch with their parents trying a school dinner too!
As it was moving up morning, all the children spent the morning with their new teachers. They were very excited and they are really looking forward to the new challenges and opportunities that lie ahead. The children made our new class teachers and all our new pupils feel very welcome.
This morning we have had an important visitor, Jeremy Hunt, who came to support CAFOD's 'Power To Be' campaign. He met Year 6 children who told him about what they would like to be when they grow up and how important they think it is that every child has an education. Chris Richanrdson from CAFOD came to lead an assembly and tell the children more about CAFOD's work. The 'Power To Be' campaign aims to use solar power to allow schools in Africa to have electricity and enhance the learning and opportunities for their pupils. Here are Year 6 with their ideas for the campaign: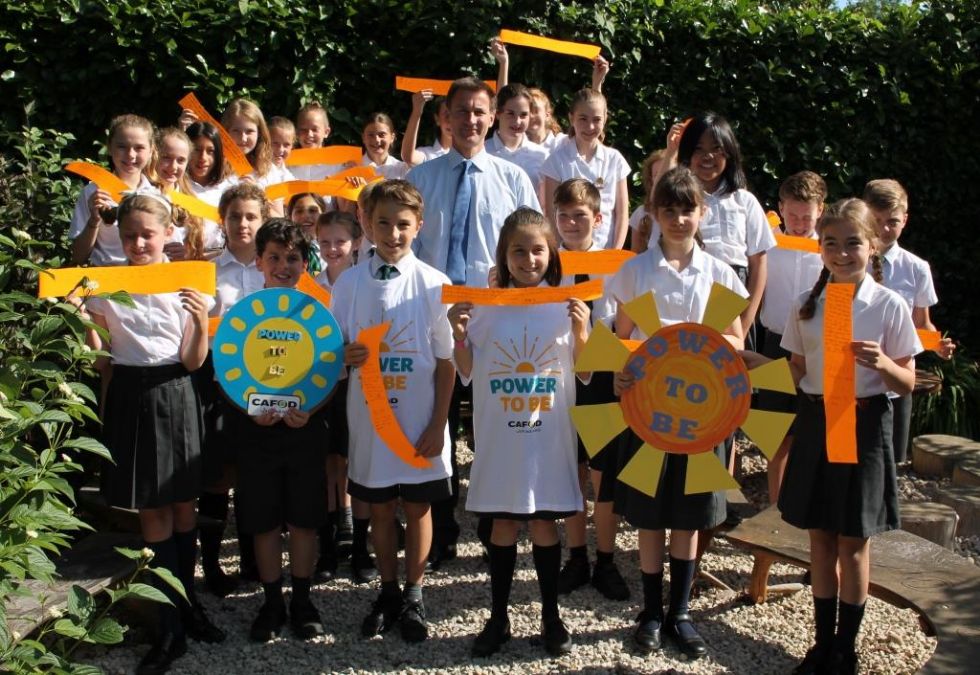 We are looking forward to next week's exciting activities: district sports on Tuesday afternoon and the Leavers Play next Thursday evening. There are still lots of things to look forward to.
We have more excitement this evening with our final Discos of the school year!
Have a great weekend,
Elizabeth
Friday 30th June 2017
It's the last day of June, where has the time gone? It's hard to believe that we have only three weeks remaining of this school year. It's been so busy, and we've got lots of lovely things still to come!
Last Friday I did manage to make time to visit Wintershall and it was such a special afternoon. One of the highlights for us all was, after the performance, meeting James who plays Jesus. As we were leaving, we spotted James walking round the lake, still in character and he saw us and raised his arms and the children ran to him. He has been into school quite recently and remembered all the children and made them feel very special. It really made their day to talk to him. We are very fortunate to have this link with Wintershall and hope that there is even more that we can do in coming years.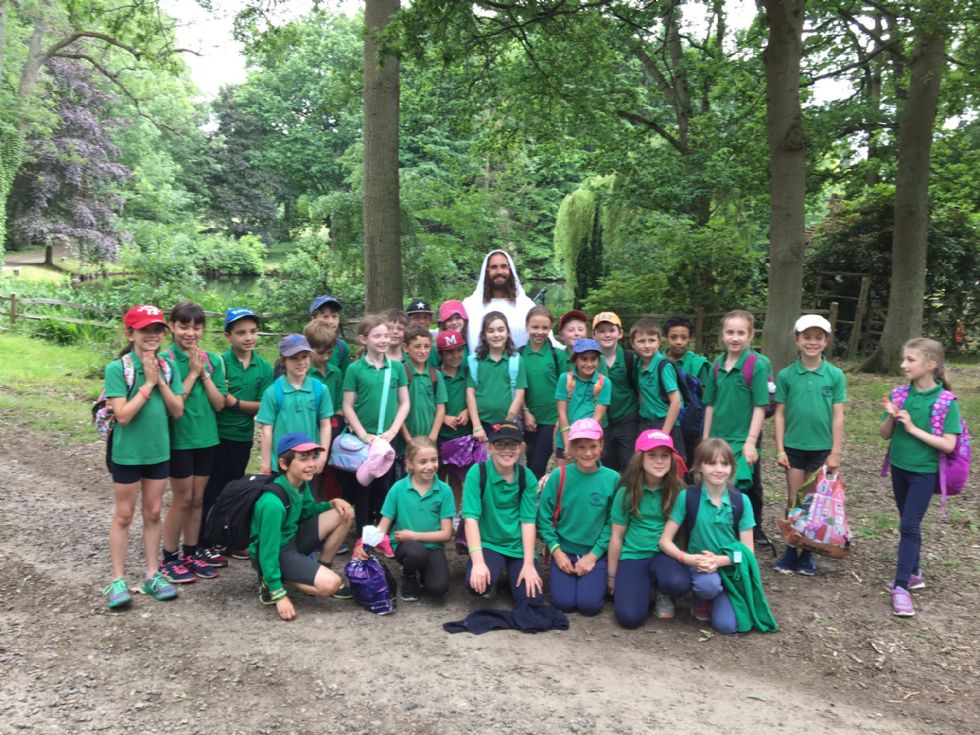 Last Saturday we had our very successful Summer Fair, thank you to everyone who came and made it such a happy day. It's lovely to see the children's faces when they see the playground transformed. Thank you to everyone on the PSA for their hard work; it was a great team effort.
This week Year 3 and 4 classes have been to the Sha Johan Mosque in Woking as part of their learning about Islam. We are fortunate to have such a fascinating place of worship close by. The children had time to sketch the exterior of the Mosque before finding out about the history and architecture of the building. We then went to the large prayer halls where they asked some really interesting questions. It is so important especially at this time that the children have a good understanding and appreciation of other faiths.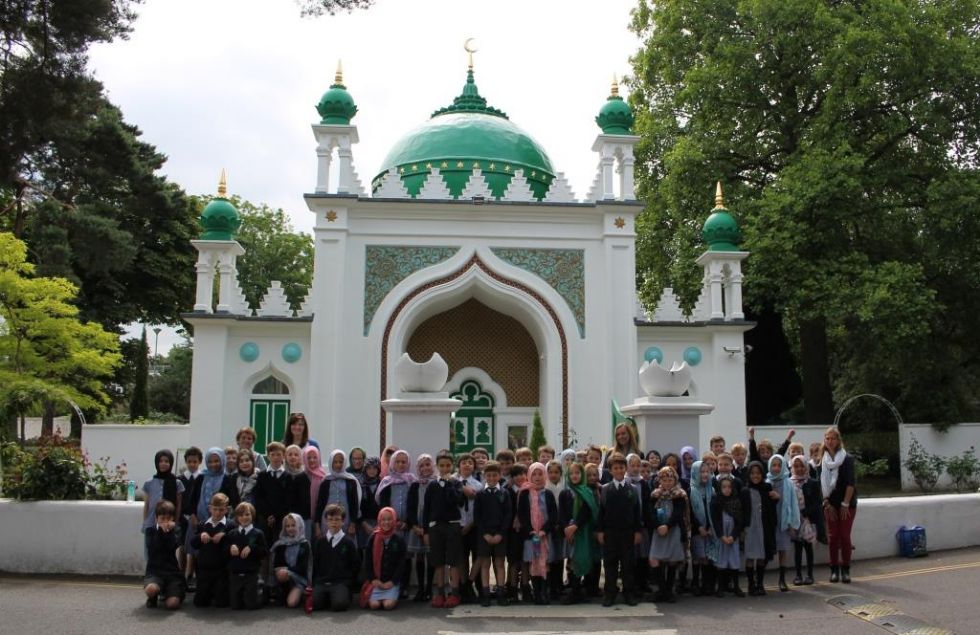 On Wednesday afternoon a group of children from Year 5 and 6 went to Rodborough to compete in a biathlon. It's the first time we have entered this event. The children had to run 800 meters and then swim 80 meters in a rather chilly pool! They did really well and enjoyed competing.
Next week our plans for the new school year continue with our moving up day. The new Year R children and parents will join us and our Year 6 children will spend a day at their new secondary schools. We will welcome our new teachers and it will be an exciting week for us all!
This morning we have all enjoyed Year 1's special class assembly. They sang and spoke beautifully as they told us about the life cycle of a caterpillar and we found out how much the children have grown and developed this year. They have all had a wonderful year learning in Year 1.
I hope that summer makes a return as we enter July, have a lovely weekend,
Elizabeth
Friday 23rd June 2017
We started our record breaking heatwave of a week with a musical assembly on Monday morning. We heard a selection of violinists playing and learnt more about their instrument. The children have not been playing very long but they are very talented and it was a lovely way to start the week. Thank you to Dominic, Laurie, Mary Jane and Juliet. I'm sure there will be quite a few children who would like to take up the violin in September.
On Tuesday morning I attended our half termly headteacher's meeting for the Godalming Confederation. We talked about supporting all our local schools and how to formalise the way in which we work together, this is increasingly important at this time when all our resources are so tight.
On Wednesday Year 6 were treated to a fantastic science workshop led by the Surrey University. The children learned so much during the sessions and even used bananas in electrical circuits!
We took twelve children from across Key Stage 2 to represent the school at the Good Shepherd celebration at Worth Abbey on Wednesday. The children really enjoyed the service which included wonderful singing and dance. They saw children from schools right across the Diocese and also met Bishop Richard.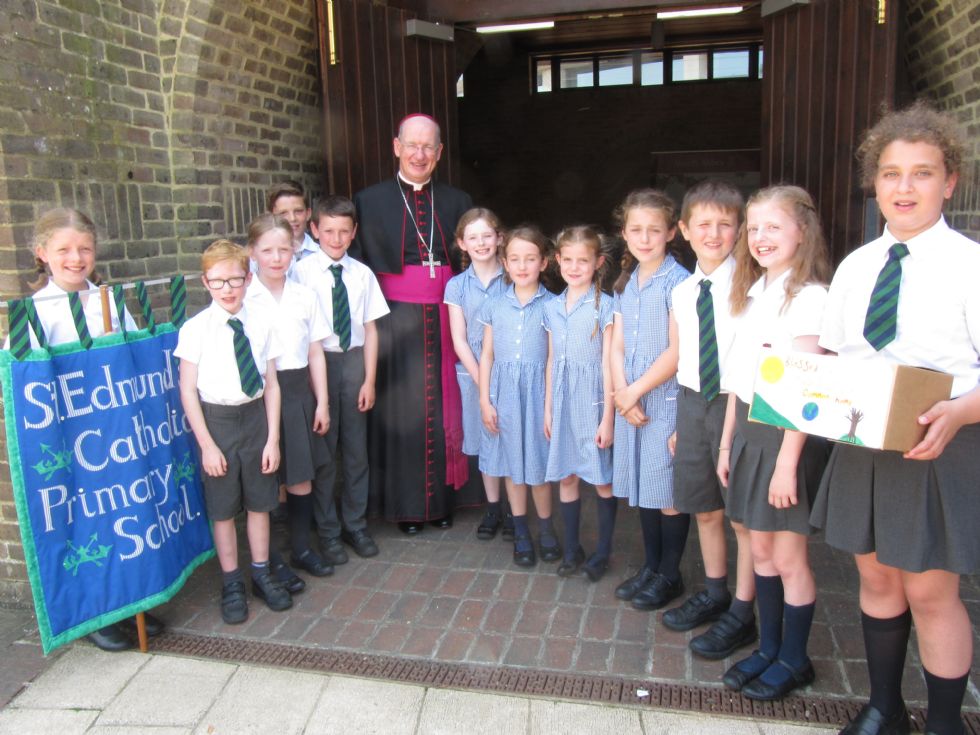 Year 5 children had an amazing day at High Ashurst yesterday. Luckily the weather was a bit cooler and more comfortable. They took part in exciting challenges including high ropes and trapeze. They are out of school again today at St Peters for their taster day, where they will experience what it will be like at secondary school. What a busy week!
Our Year 4 class is also out today. They have gone to Wintershall to watch The Life of Christ. I'm hoping to go and join them at lunchtime, if I manage to finish my work this morning!
Do have a look at our beautiful new hall dsipaly which ties in with summer RE topics on the Universal Church and God's wonderful world. Every child in the school has created two small squares showing a close up drawing or painting of an animal or plant. They have been arranged into an amazing rainbow of colurs and look wonderful. Here is a sample of the reds and blues: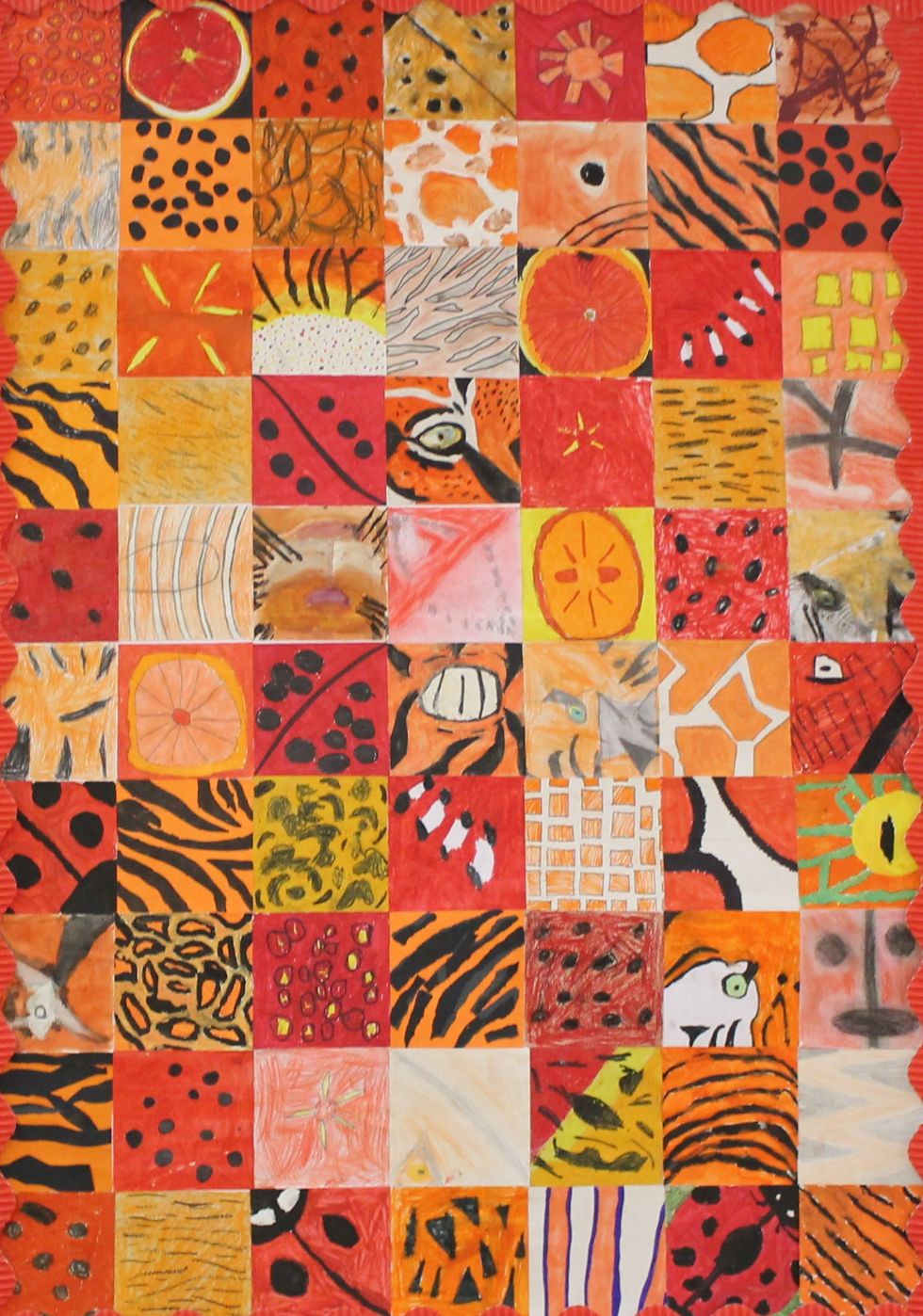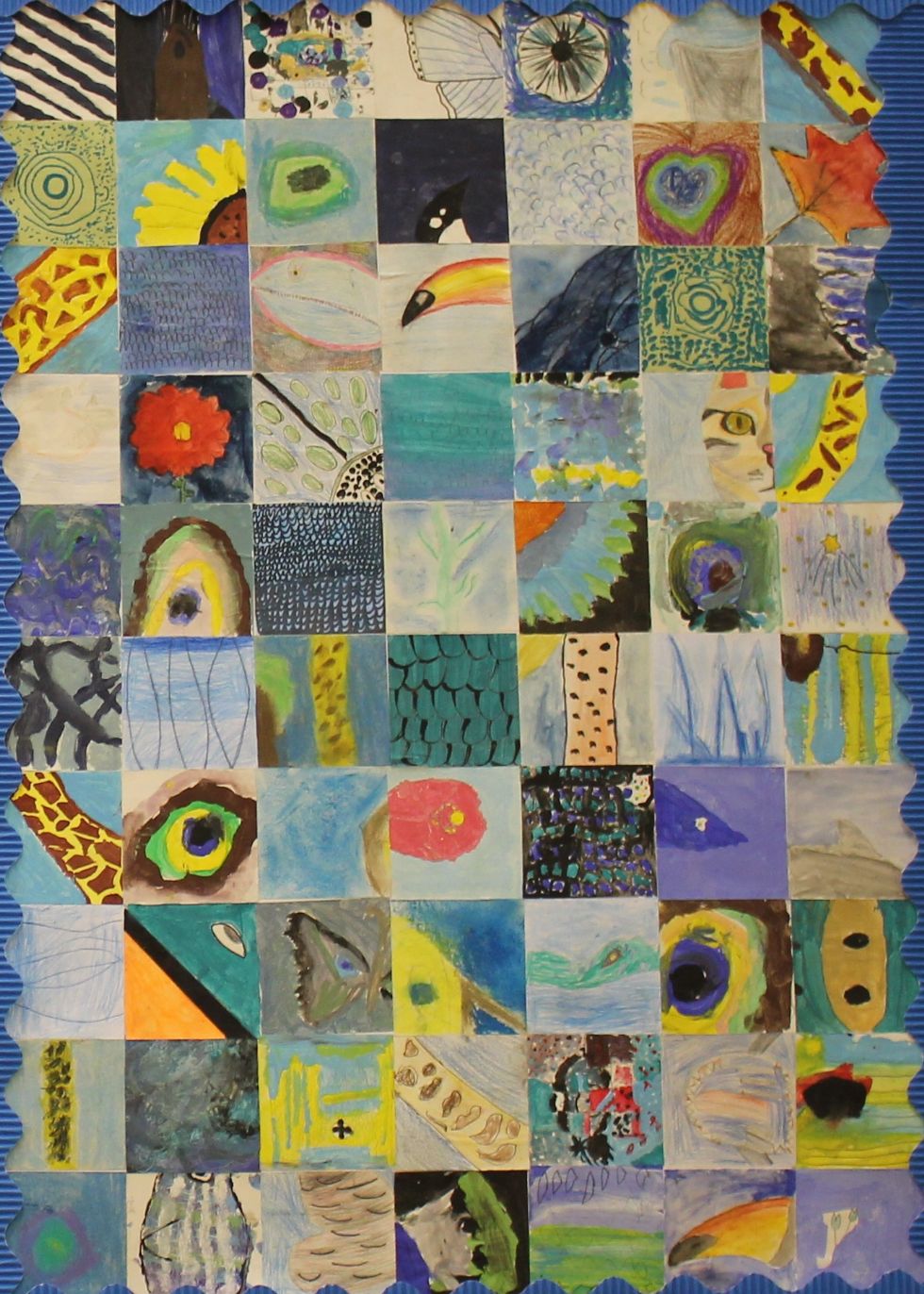 Thank you for all the bottles you gave donated for the Summer Fair. The children looked very cool and colourful for Mufti day yesterday. For the very first time, I think everyone remembered too!
It's the Summer Fair tomorrow; we are all really looking forward to the day. It's one of the highlights of the school year and it's always great to see the children enjoying themselves so much. I hope the weather stays dry this year, keep your fingers crossed for sunshine!
See you all tomorrow,
Elizabeth
Friday 16th June 2017
We have had a wonderful sports day this morning, the weather was perfect, not too hot.... it was lovely to see the children enjoying the races and competing in their houses. Well done to St Luke's House who won KS 1 and to St Matthew's House who won in KS2. Thank you especially to Mrs McCarthy for organising the morning and to everyone for coming to watch and support the children and make the day such a success.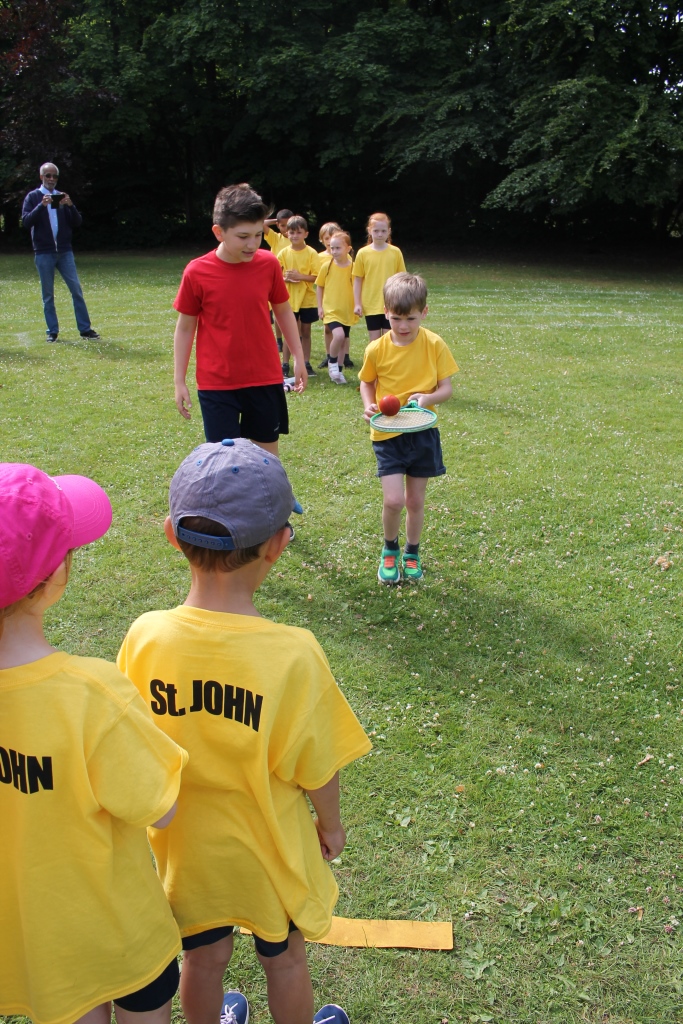 We have been delighted to welcome our new school chicks to St Edmund's. They hatched on Tuesday morning and I am particularly attached to the little black one after assisting in its delivery! There are three happy and healthy little fluffy chicks and great excitement across the school and the chicks are spending time in each class so that all the children get to see and cuddle them. They are very special little babies!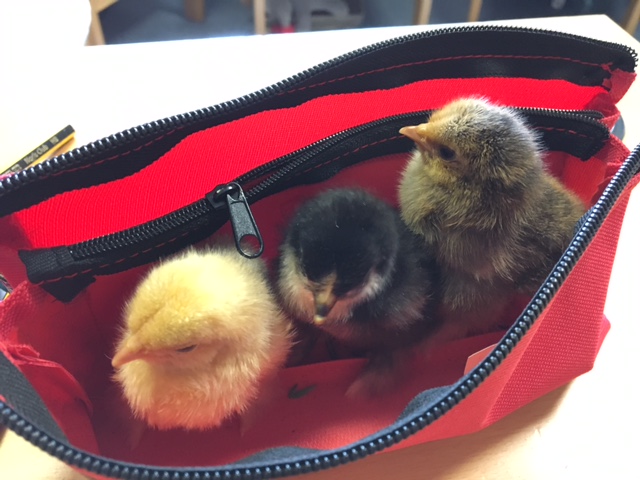 Key Stage 1 have had a particularly busy week with lots of trips and outings. Year 2 spent the day in Guildford on Wednesday visiting the toy museum and enjoying a picnic lunch in the castle grounds.
On Thursday Year 1 children walked into town to visit a Pizza Express as part of their Sensational topic. There they learnt how make pizzas, and had the chance to knead the dough, and even throw it in the air! They added the toppings before watching their pizzas go into the oven. They were then able to bring them home for tea. It was a lovely morning out.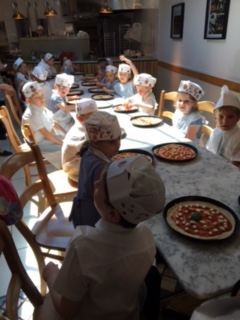 Year R class had a fantastic day at the farm. They held and fed lots of animals and loved the tractor ride.
It has been such a treat being able to rely on good weather for once, it makes planning outdoor events so much easier!
We hope the good weather continues into next week for our next trips!
Please do come to Mass on Sunday morning for our final School Mass if the year. I hope to see many families there.
Have a lovely, sunny weekend,
Elizabeth
Friday 9th June 2017

Welcome back to the final half term of this academic year. I hope that everyone had a lovely half term break last week, it was wonderful to enjoy the summer sunshine and I hope it makes a return soon!

Our Year 6 children have taken part in Bikeability training this week. They have been practicing their cycling skills on the roads and making sure that they are using their bikes safely. Well done to you all, as it is quite a challenging programme.

On Monday morning we thought about the feast of Pentecost during our assembly. We imagined that we were there in the upper room with the disciples. We also talked about the gifts of the Holy Spirit and how we can use these gifts to give us strength and courage as the apostles did. We thought about those people affected during the terror attack in London and Manchester and how important it is to have strength and courage at this time.

On Tuesday we talked about the General Election, the children were very knowledgeable and could tell me quite a lot about the different parties and the voting process. I wonder whether we have any budding politicians in our midst!
Sadly our little blue tit chicks didn't make it to adulthood and died in the nest last week. We don't really know what happened as they had been doing so well. We had loved waatching them hatch and grow. We do, however have 7 chicken eggs in the incubator in my office which we hope will hatch into healthy chicks early next week! The children are very excited to meet the new arrivals.

Yesterday we had a Governors' learning walk looking at RE. It was lovely to see the children's learning across the school and the governors were impressed by the children's reverence, knowledge and the quality of work in their special 'Come and See' books.

This morning we have had a very special First Holy Communion assembly led by Year 4. The children told us about their experiences and feelings. I know that they will always remember their First Communion Day. They sang, danced and spoke beautifully, thank you very much Year 4. They will then have their 'Going Forth' Mass on Sunday morning, it will another chance for them to dress in their special outfits and enjoy being together at this important time in their journey.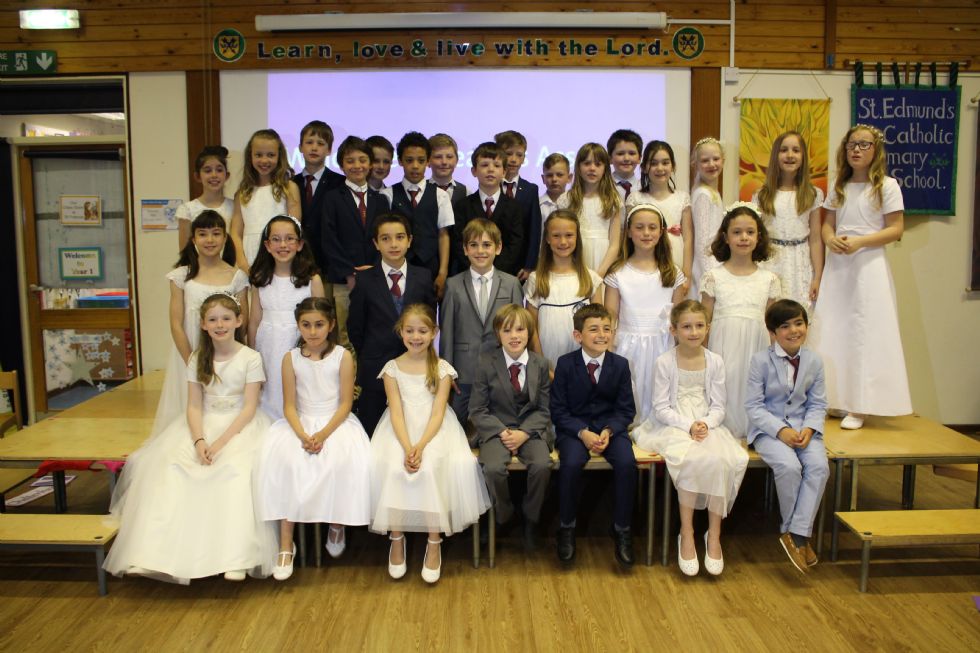 We have also said Goodbye and Goodluck to our wonderful cook, DebbieStoat, who leaves us today after 12 years at St Edmund's. We will miss her very much and we thank her for everyhting she has done to feed and care for all the children at school.
It is the KS2 Film Show tonight organised by the PSA, I think it involves pyjams too! I hope that everyone enjoys it.

Next week we have our whole school photograph on Tuesday morning, I hope the weather is fine.

We have many trips and outings planned for the next few weeks; it's going to be a busy and exciting time!


Have a lovely weekend,

Elizabeth
Friday 26th May 2017
What a beautiful week we have had, quite a contrast to shivering in Cornwall this time last week! It has been great to finally have some summer sunshine at last; I do hope it manages to last into half term.
It was the perfect weather for our May procession to Ladywell Convent yesterday. The children were very excited and enjoyed the walk especially talking to their partners from different year group, it was lovely to hear their conversations as they walked and chatted together. We are very grateful to the sisters at Ladywell for letting us use their beautiful chapel for our celebration. The children read and sang beautifully. Thank you Fr David for making to a very special Mass and to all the parents who accompanied us. It is one of those special days that I hope the children will always remember.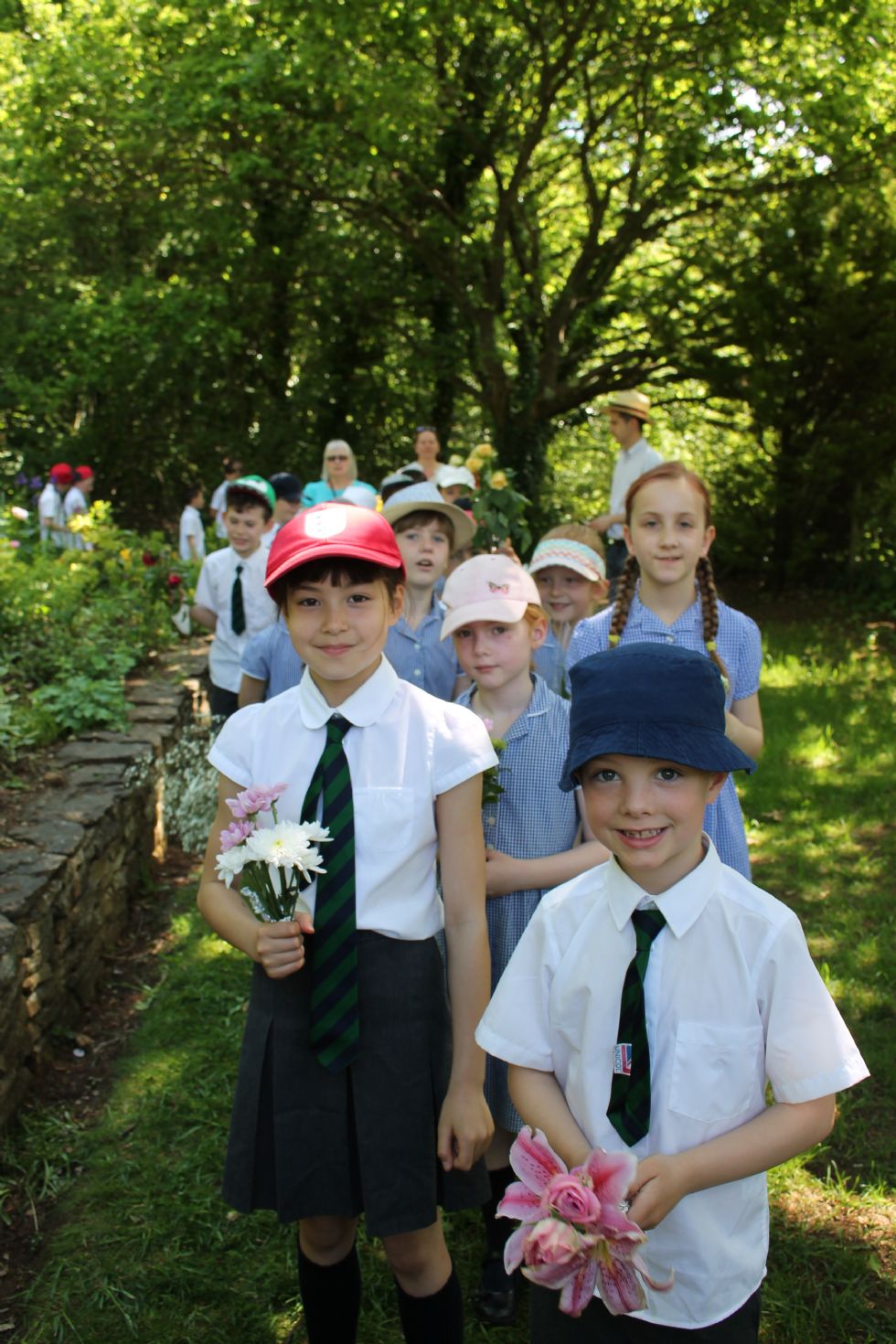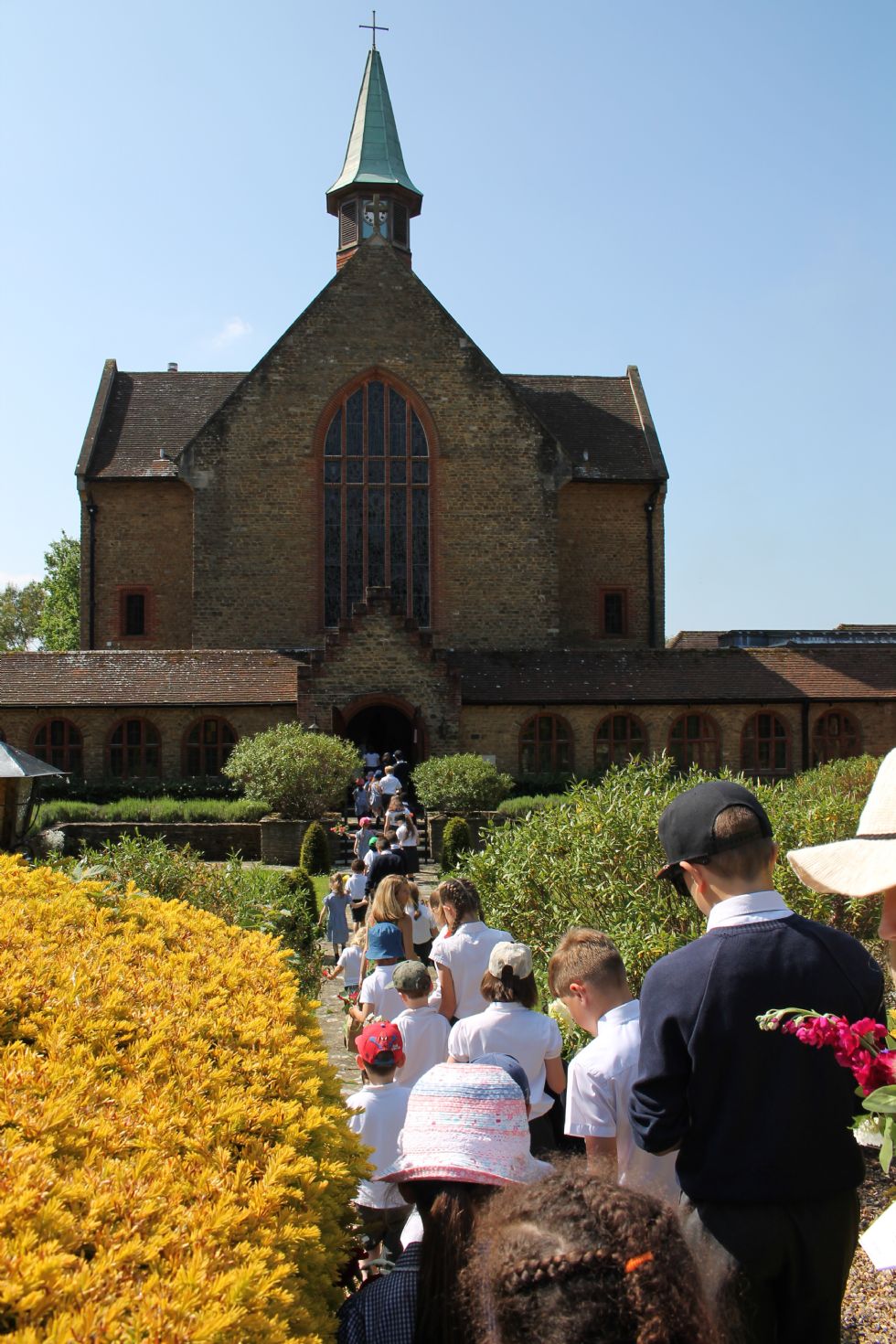 On a Monday we had interesting and informative workshops from Childnet for our older children and an extremely useful session fir parents in the evening. Please do look at the resources for more information about how to keep families safe online.
We will have our Golden Assembly this afternoon, the children are looking forward to seeing who has been chosen for the Headteachers Awards this term and finding out which house has secured the House Points Cup this time!
This morning we have our class and leavers' photographs being taken. The children are all looking very smart and happy. We hope you will like them!
Have a wonderful half term holiday; I can hardly believe that we are fast approaching the end of the school year! I'm looking forward to an exciting final half term after the holiday.
Elizabeth
Friday 19th May 2017
It has been an amazing week in Bude with year 6. The weather has been rather wet and chilly but it did mean that we all certainly appriciated the one sunny day! The children were wonderful, so well behaved and enthusiastic, they enjoyed all the challenging activites and it was a week to remember. The children can't wait to tell eveyone about all their adventures at school next week.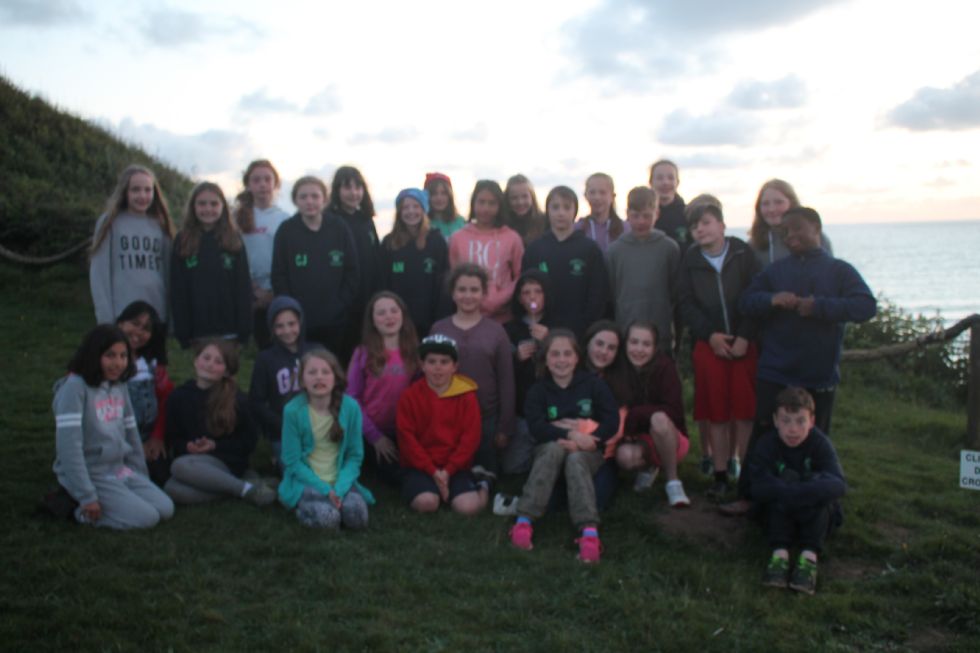 Back at school we have baby birds in the nesting box, four have hatched so far! It will be lovley to watch them growing up over the next few weeks.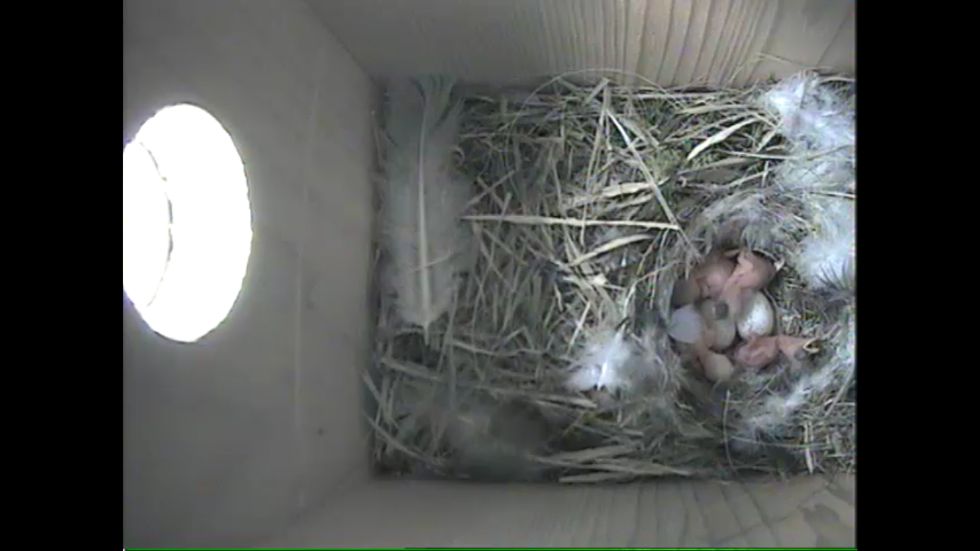 Friday 12th May 2017
Well it's been an interesting morning so far! The power went off just after 7:30 this morning and we had a couple of very quiet hours. It's amazing how much we rely on having electricity, the phones were down, the office shutter wouldn't open, no PowerPoint or music in assembly, there was no water in some areas and of course no school bell! It was a good opportunity to dust off the heavy, old school bell, although it did cause some confusion in the playground this morning! We had power again during assembly so we're all getting back to normal now.
Last weekend we took part in the Godalming Schools' Swimming Gala. The children swam brilliantly and, having entered for the first time year, we all had a better idea of the types of races and the expectations this year. The girls came a very impressive 2nd, with the school finishing 4th overall. Well done everyone.
Last Sunday the first group of children made their First Holy Communions; it was a very special occasion and a lovely sunny afternoon. It is always a pleasure the see the children and their families celebrating this important step in their children's lives. This Sunday it will be the turn of the next group of children and I know it will be another lovely afternoon.
This week has been SATs week and as anyone who has had children in Year 6 will know, a very important week in the school year! The children have taken tests in reading; spelling, punctuation and grammar; and maths. I have been so impressed by the children's attitude and determination to succeed; they have certainly embraced the growth mind-set. Well doner Year 6.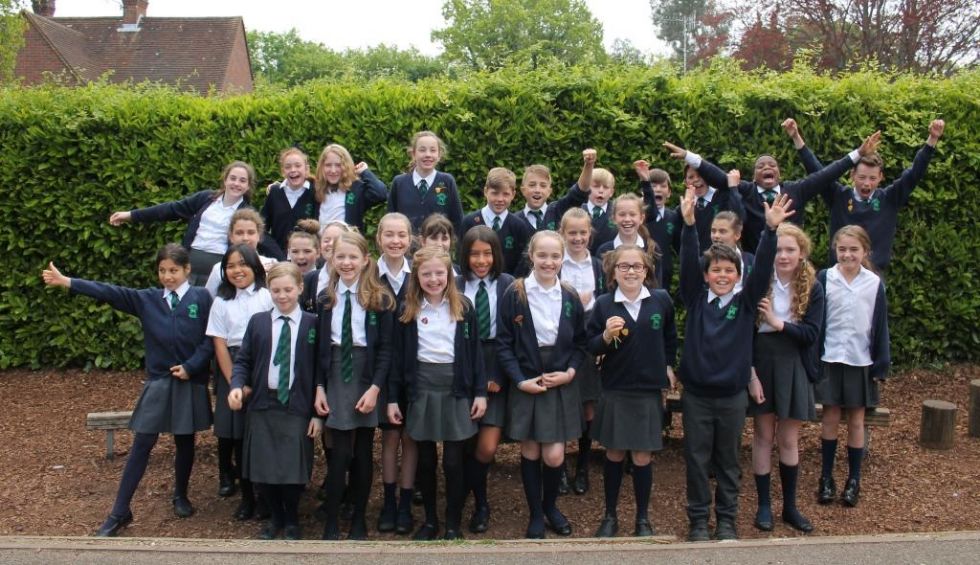 It's not only Year 6 who have been doing their very best this week, as Year 2 have also been working on their test booklets, they have worked extremely hard and we are very proud of them all.
This year we have been working with the University of Surrey as of their schools outreach programme. Year 5 have been part of Campus Invasion and on Wednesday evening some of them attended a presentation at Surrey University where we were all delighted to hear that Florence was awarded first prize and has won £250 worth of books for the school. What an amazing result!
Year 6 are heading straight to university today for an exciting Roald Dahl workshop, it will be a great way to finish the week for them.
Next week Year 6 is off to Outdoor Adventure in Bude. I'm very lucky to be going with them and having been twice before I know it will be a week of adventures that they will always remember. We look forward to telling you all about it next week on our return.
Have a lovely weekend,
Elizabeth
Friday 5th May 2017
This week has just flown by, maybe it's because it was a four day week!
I have met with the local Headteachers twice, during our Godalming schools confederation meeting on Tuesday and the Deanery Headteachers on Wednesday. We have been making plans for next year and talking about the best ways we can work together and support each of our schools.
I have been meeting with the teachers this week to look at pupil progress and we have talked about where all the children are at this point in the school year.
Yesterday we had an amazing assembly from our youngest children. Year R class were transformed into pirates for the morning and told us all that they had learnt through drama, poetry and song! It is incredible that they have only been at school since September and quite a few of them are not even five yet! I was so impressed by their confidence and independence. Very well done Year R.

We have a little blue tit family growing in the bird box, our mummy had now laid five eggs and we are all excitedly watching them progress. The average clutch is around 10 eggs, we are waiting to see how many she will lay and when she will start to incubate them. Here she is sitting on the eggs yesterday evening: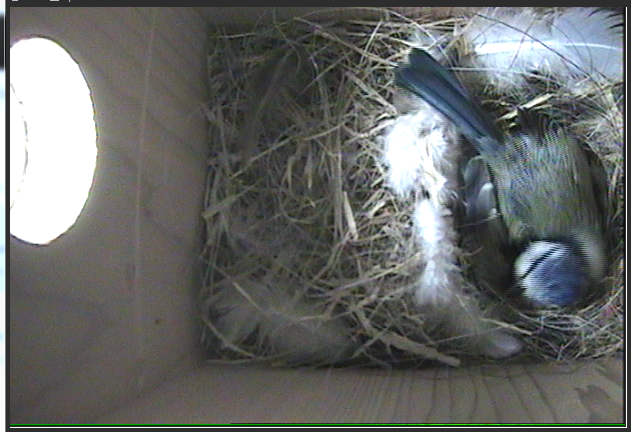 Next week is a very important one for our Year 6 children as they take their SATs tests. They have worked so hard this year and I am so proud of them all, I know they will do their very best. They also have the promise of a very exciting week of adventures in Cornwall to focus on and look forward to!
This weekend will be busy too with the Godalming Schools Swimming Gala tomorrow evening. This is the second year we will be taking part and the children are very excited about the events.
Sunday sees the first group of our children make their First Holy Communion. They have been preparing all year and I know that it will be a very special day for them and their families. Please keep them all in your thoughts and prayers at this important time.
Have a lovely weekend,
Elizabeth
Friday 28th April 2017
It has felt like a return to winter this week with such cold weather, I think there is the promise of much warmer weather to come next week though!
Despite the chilly conditions Year 4 children have had an amazing time at Sayers Croft this week. The children enjoyed an exciting range of activities including shelter building, climbing, a low ropes course and raft building. They worked so well as a team and they have been so well behaved it was a pleasure to spend time with them all. I know that they will be very keen to share their adventures with everyone on their return this afternoon. Here they are: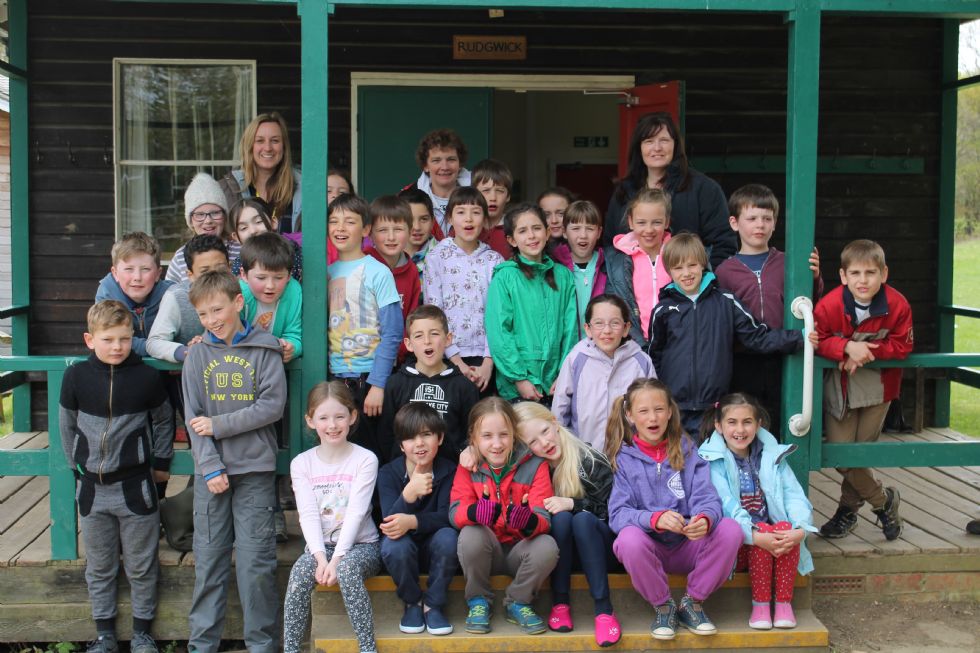 During our assemblies this week we have talked about how the disciples felt after Jesus' death and resurrection and how it was very hard for them to believe and recognise him. Doubting Thomas needed to see Jesus' wounds to believe and we are so used to seeing pictures and videos from around the world instantly that we can't even tell which news stories to believe! Sometimes it can be hard to speak out for what we believe in, but this is what Jesus asks us to do in today's gospel reading. We thought about how we can spread the message of peace that Jesus brings.
Our Indoor Athletics team took part in the County Finals at Surrey Sports Park on Wednesday afternoon. After winning the local tournament back in November we went through to the playoffs in March and as winners, they progressed to the finals. We are all absolutely delighted with the result; 3rd place in Surrey which is an amazing achievement, especially as a one form entry school competing against much larger schools. Very well done to all the athletes and to Mrs McCarthy for all the training and encouragement she has given the children.
We have been following the progress of our little blue tit; we are still waiting for her to lay her eggs in the cosy nest she has built.
Thank you to Year 3 for sharing their great assembly on their topic of Volcanos with us this morning; it was entertaining and very educational! We found out about what to do during an earthquake drill and even what you would need in an earthquake survival box. It was lovely to see how cross-curricular their topic has been with wonderful writing, poetry, art, DT, geography, maths and science. The children have really enjoyed their learning this year. Well done Year 3.
I hope everyone enjoys the bank holiday weekend,
Elizabeth
Friday 21st April 2017
Welcome back to the summer term! I hope that everyone had a wonderful Easter and a lovely holiday. The children are all looking very pleased to be back with their friends and enjoying their learning.
Being back at school so soon after Easter has given us a chance to reflect on the Easter story and think more deeply about what happened at the Resurrection. During our assemblies we have thought about what it would have been like to be there on that Easter Sunday morning and how hard it would have been to believe that Jesus had really risen from the dead.
We were fortunate to have a special assembly on Wednesday led by the actors at Wintershall. They told three stories through introducing the children to different biblical characters. Everyone was transfixed by the powerful performances. We also welcomed back James Burke- Dunsmore, who plays Jesus, on Thursday to led workshops for Year 3 and 4. The children have been really inspired by the performances and it has been wonderful to establish a close link with Wintershall. We shall be taking our Year 4 children to see the Life of Christ in June.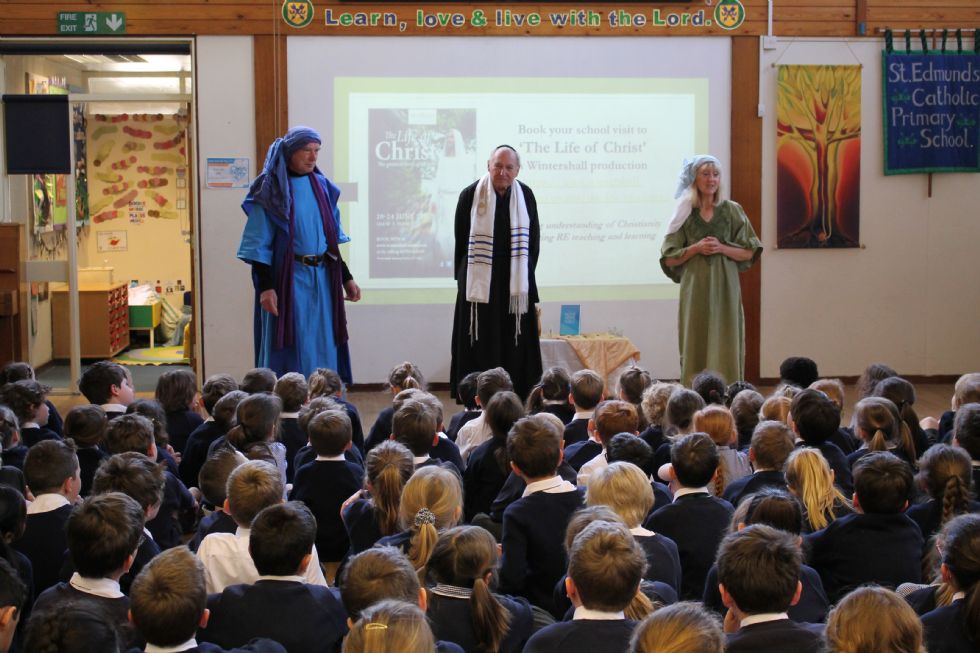 The sun has been shining and we are busy making preparations for the residential visits taking place this term. Year 4 will be staying at Sayers Croft next week for two nights and Year 6 will be off to Bude after their SATs in May. We hope that it stays dry for Year 4's trip next week.
We have been continuing to follow the progress of our little blue tit in the nesting box. You can watch her building her nest and hopefully laying her eggs here:
http://www.seenature.org.uk/schools/st-edmunds-cep-school/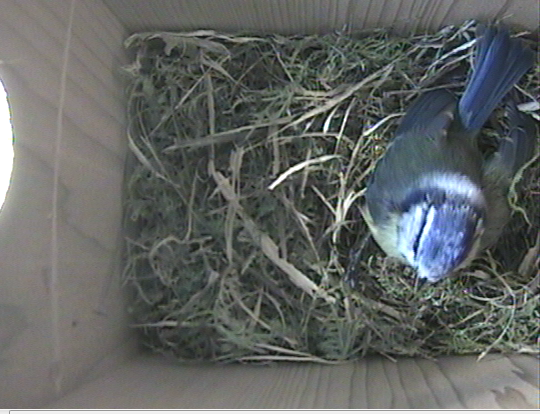 Have a lovely weekend,
Elizabeth
Wednesday 5th April 2017
I'm at school today doing some much needed tidying up! While I'm here I wanted to give everyone an update on the birdbox..
We have a blue tit building a nest and here she is! I'm hoping that we can follow her progress over the holidays here:
http://www.seenature.org.uk/schools/st-edmunds-cep-school/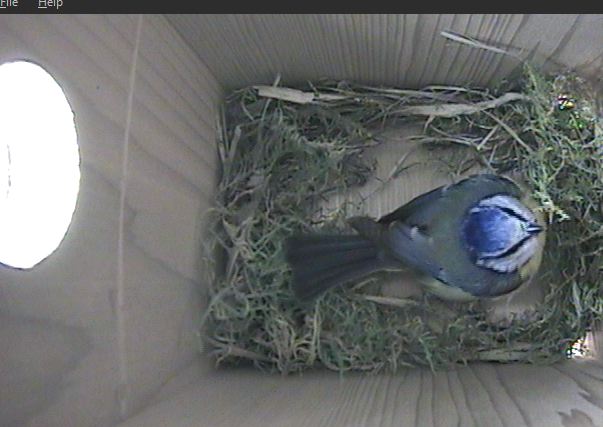 Friday 31st March 2017
What a busy final week of term it has been!
We have enjoyed the lovely warm spring sunshine this week; yesterday felt like summer! I hope this is a taste of what we can expect during the Easter holidays.
We were all treated to Year 6's amazing Passion Play. It was perfect, the children had put so much thought into the characters that they played and approached each role with wonderful maturity and empathy. The singing was beautiful and I was especially impressed to hear the boys singing so well, it was a great team performance. Thank you so much to Mrs Hua and the Year 6 team for putting the play together, it is a very special part of our Easter preparations here at St Edmund's and something the whole school community looks forward to each year.
Our Year 2 children visited the Clockhouse Day Centre in Milford on Wednesday morning; they sang songs from their recent infant singing concert. The audience loved hearing them sing and thc children really enjoyed their visit.
Following our school's triumph at public speaking competition earlier this month we welcomed Ron Millington from the Woking Catenians who presented Madeleine with the winning shield. Madeleine and Grace preformed their fantastic speeches to the whole school, we were all so impressed.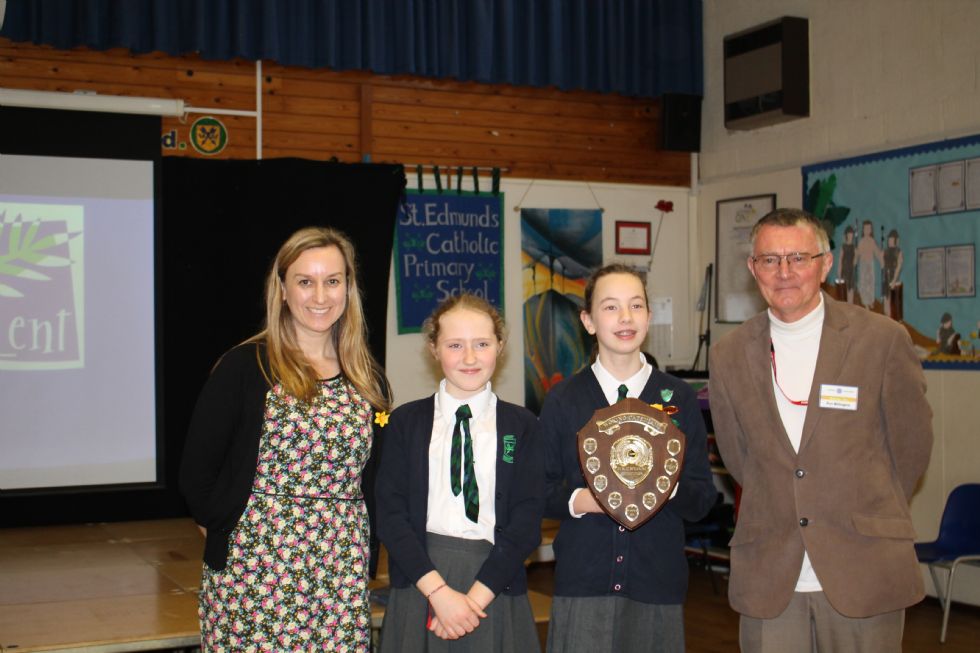 The Easter Egg hunt went by in a flash on Wednesday afternoon, it was a lovely treat, thank you to the parents who organised this treat for the children. Here are the children from Year R, 1 and 2 with their Easter chocolates!

Yesterday we had our end of term Golden Assembly there were so many fantastic awards to celebrate. From first aid to netball and dance to Bikeability! We had some very special Headteachers awards and St Luke's House win the Housepoints Cup this half term.
This morning we have our end of term Lenten Mass celebrated for us by Fr David. Although Easter is still two weeks away, we finish today for the holidays. Having Mass this morning on our last day has helped us to think about our Lenten promises and prepare ourselves for Easter.
I hope everyone has a wonderful Easter.
Elizabeth
Friday 24th March 2017
This week most of the children have been out and about. Year 1 went to Painshill Park on Monday where they took part in a lovely fairy tale walk, involving shelter building and an insect hunt. It was a chilly day but the rain managed to hold off until we were on our return journey! The children had a great day out.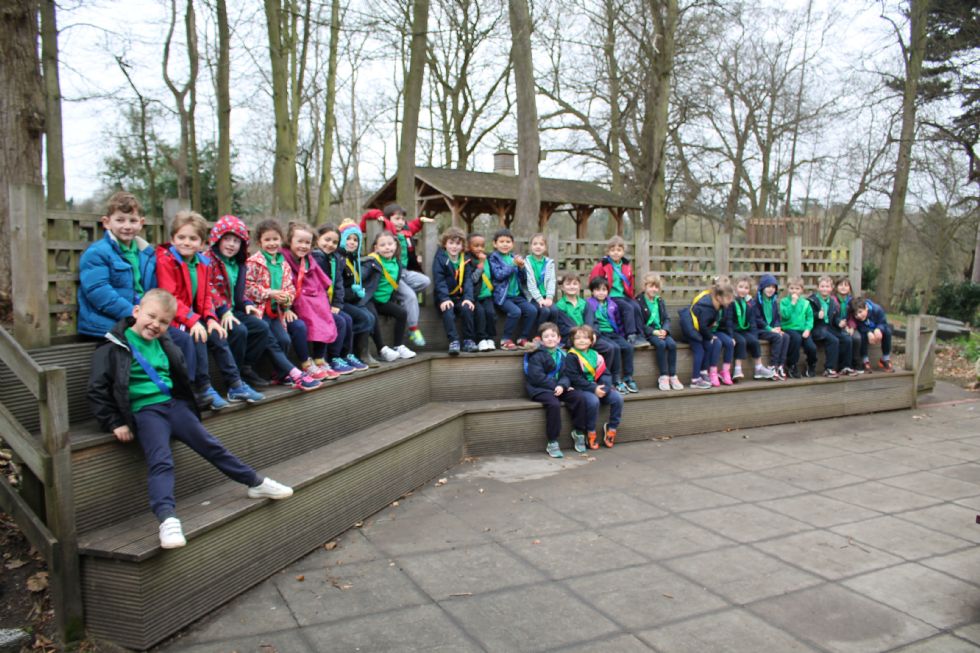 On Tuesday morning all of KS2 walked down to St Edmund's Church for Mass. It was a beautiful sunny morning for the walk and the children always enjoy counting the famous steps! They were all very well behaved and the parishioners there commented on their excellent behaviour and on how nice to was to see the children there for Mass.
We had our Lenten Reconciliation Service on Wednesday morning and we were fortunate to have Fr David and Fr Teyrnon with us to hear Individual confessions afterwards. We all thought about the things we would like to say sorry for and how we can turn closer to God during Lent.
Year 2 took part in Godalming schools infant singing together on Wednesday evening. This was held at Rodborough where our children sang with Year 2 children from five other local schools. They all sang beautifully and have sung again for their parents this morning. Here they are after singing this morning: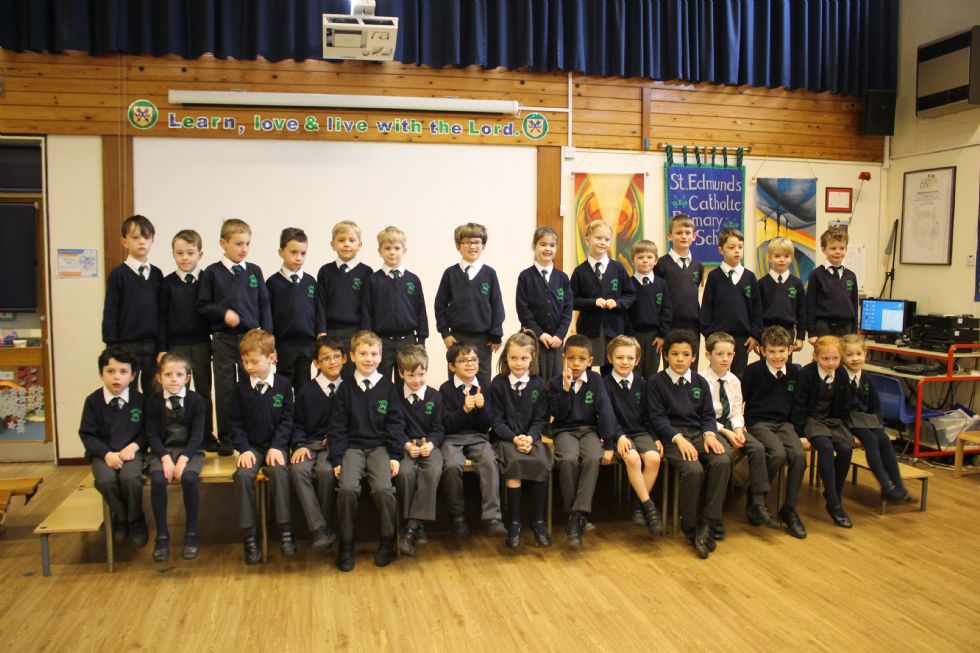 Also on Wednesday evening five year 6 children had their art work exhibited at Kind Edward's School. The paintings were all inspired by famous artists' work but with a contemporary twist. The children and their families were invited to the exhibition and we were all delighted that Isabella was awarded a Highly Commended certificate for her artwork. They are very talented artists!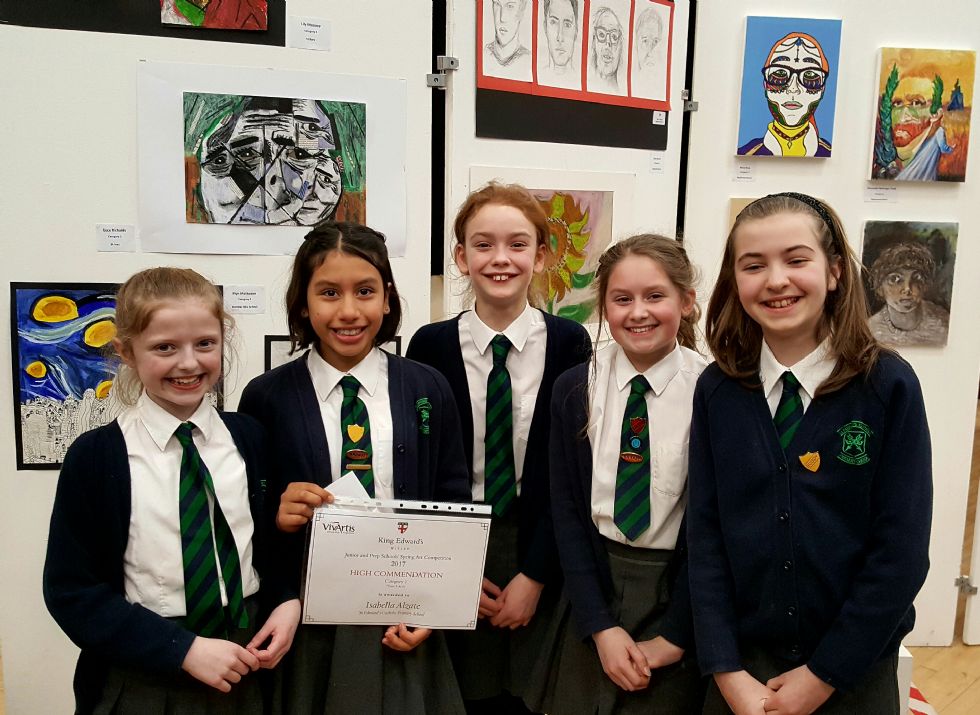 This afternoon our Year R mummies will be in for a wonderful treat at a very special Mother's Day assembly.
I hope that all mothers have a very special day on Sunday and that all the children take very good care of you all!
Have a lovely weekend,
Elizabeth
Friday 17th March 2017
There have been some really lovely warm spring days this week and the children have had a great time playing in the playground.
On Monday afternoon Year 5 won the netball tournament. It has been many years since St Edmunds took part in the tournament; we were all delighted to hear that the team won! Good luck to the year 6 team who will compete next week. Thank you to Miss McLoughlin who has coached them so well.
This Tuesday we had an interim RE visit from the Diocesan department of education. We welcomed our visitors for the day; we observed lessons, an assembly, looked at children's Come and See books and talked the children about their views on school life and RE. The children were wonderful and talked with great pride and enthusiasm. Our visitors were very impressed by the Catholic life, collective worship and prayer life of the school.
On Wednesday I spent the morning at St James School in Elstead. As part of the Godalming Confederation of schools, the headteachers offer support and challenge to each other's schools through a peer review programme. It is a privilege to visit other schools and this valuable process allows us to share good practice and support each other.
Andrew Pink ex pupil and cycling coach visited us on Wednesday morning; he brought two athletes with him and led a truly inspiring assembly. It just shows what people can achieve when they have real determination and passion. This fits really well with our growth mind-set work.
This week we have had our level 1 Bikeability training for Year 5 and Pedals sessions for Year 2. These courses allow children to develop and practise their cycling and road safety skills on the playground. Year 6 children will complete the level 2 Bikeability course in the summer term.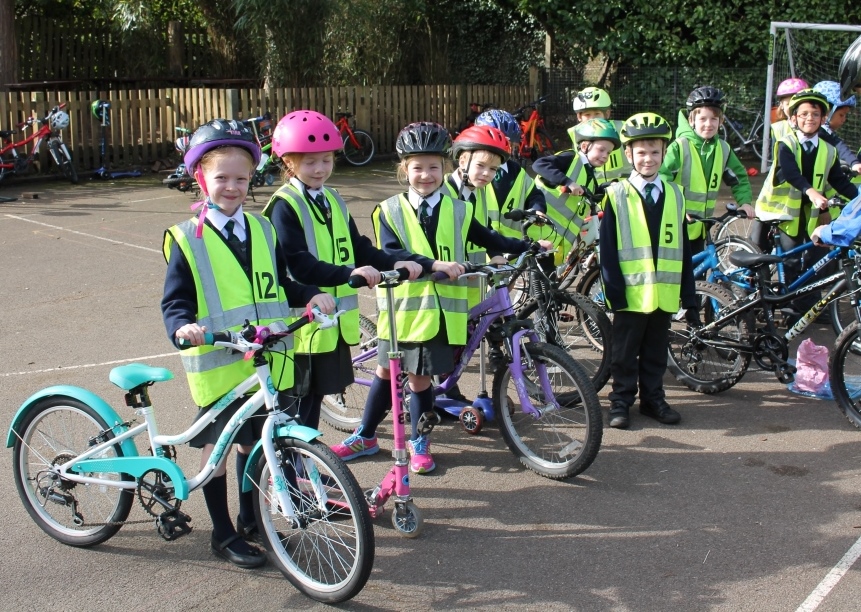 Our very special Lent and Easter display in the hall is taking shape. Each class has told part of the Easter story through words and pictures; it's going to be a very powerful version of this most special story. Do have a look when you are next in school.
Have a lovely weekend,
Elizabeth
Friday 10th March 2017
We started this week in a very special way with a visit from James Burke-Dunsmore who plays Jesus at Wintershall. He talked about this very special role to the children during a whole school assembly. He then worked with Year 5 and 6 children in drama workshops. The children were so inspired, they loved meeting him and hearing all about how he plays the role of Jesus.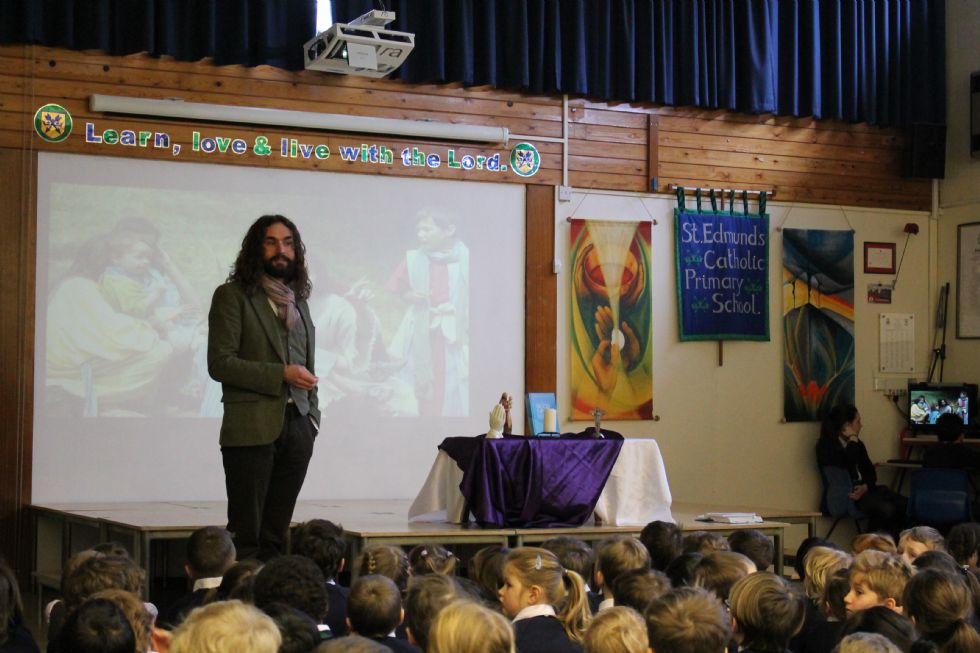 The annual Public speaking competition took place on Wednesday evening at St Dunstan's' Church in Woking. We were invited to send two speakers from year 6. The children had prepared and memorised their speeches to last exactly 4 minutes. Grace and Madeleine were chosen to represent St Edmund's. The standard of the competition is always extremely high and this year was no exception. Grace and Madeleine were wonderful speakers and it was a pleasure listening to them. When the results were announced we were absolutely delighted to hear that Madeleine had been awarded first prize, a huge honour. She was given a £50 book token and will be presented with a very special engraved shield.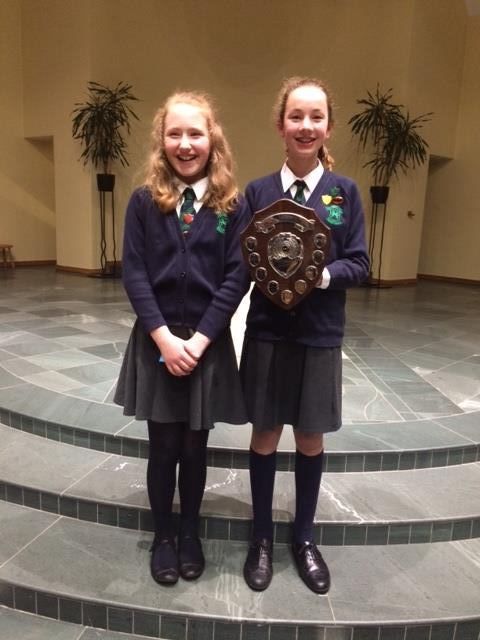 On Thursday we had our second Lenten Mass with Father David; it was lovely to see even more families and children this week. Please do consider joining us next Thursday at 8:15am in the hall.
During Lent we don't hold cake sales but this morning parents hosted a juice bar! It was amazing and very successful too, a lovely way to start the day.
We have had our Year 5 celebration assembly this morning. The children told us about their exciting space topic. I certainly leant things that I didn't know before. Did you know that footsteps will always remain on the moon as there is no wind to blow them away? Did you know that the best time to view your birth constellation in the night sky is the opposite time of year to your birth month?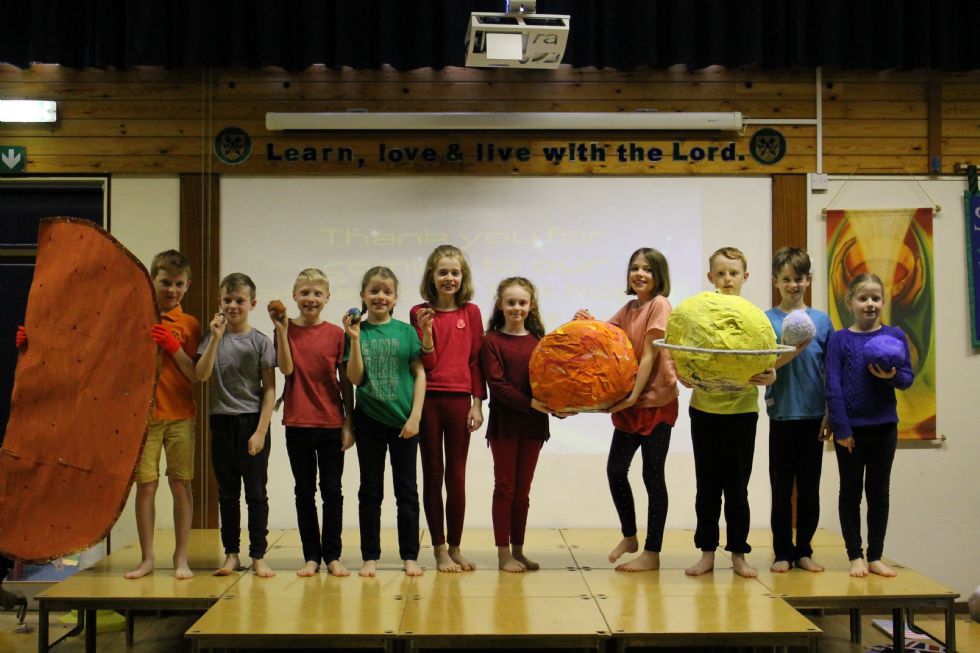 We have the PSA Discos tonight, which I know the children are looking forward to!
Please do come along and support the Jumble sale at the Wilfred Noyce Centre tomorrow afternoon from 2:30pm.
Enjoy the weekend,
Elizabeth
Friday 3rd March 2017
It certainly has been a busy week as we have moved from February to March and from Ordinary Time in to the season of Lent.
On Tuesday our Year 1 class walked down to Crown Court to take part in the annual Godalming Pancake Races in the presence of the Mayor. The weather was dry and sunny while the children ate their picnic lunch. On the return journey there was even time for a quick stop to play in the playground. Here are the children after their picnic lunch: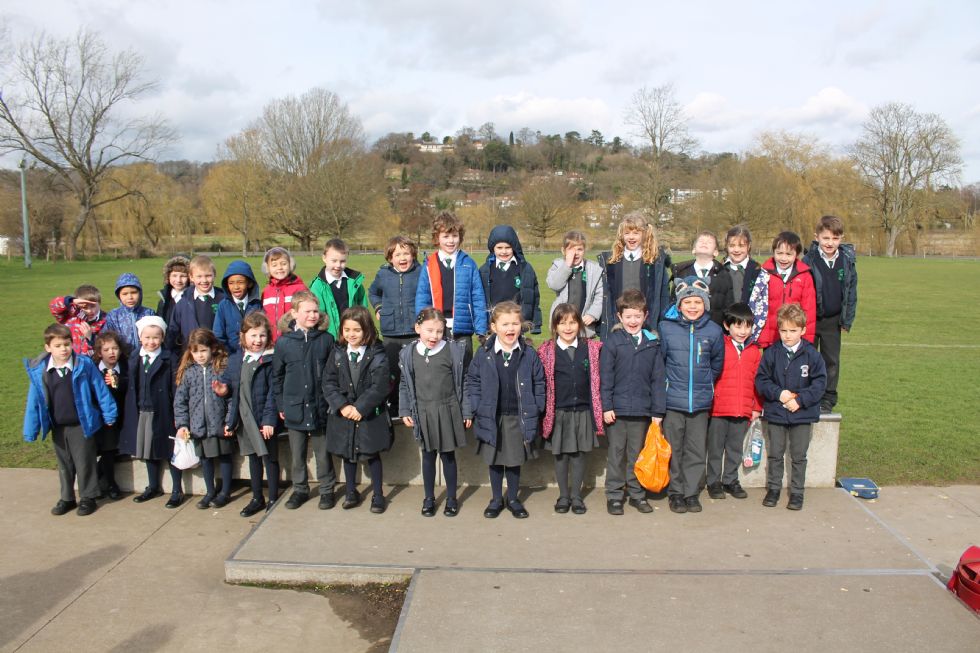 During assembly on Tuesday morning we talked about Shrove Tuesday and Ash Wednesday and their origins and the traditions. See if the children can remember what the word 'shrove' means?
On Wednesday morning we welcomed many of our Governors to school. We took part in a Learning Walk with maths as the focus. We visited each class to see what the children were learning. It's amazing to see the progression across the school and how much the children are enjoying their learning.
We have been really delighted to welcome Fr David this week. He called in to school on Tuesday afternoon to meet everyone. The children are very keen to ask him questions and get to know him better.
Fr David returned on Wednesday afternoon for our Ash Wednesday Liturgy. The children led the readings well and the signing was beautiful. During the offertory the children brought up the Lenten Promises that they had made. The children will try hard to keep these promises to help them come closer to God during Lent. We wrapped up the word Alleluia and we will bring it out again when we celebrate the good news at Easter. Thank you to everyone who came to the Liturgy, it was lovely to see so many parents and grandparents there.
On Thursday morning we had the first of our Lenten Masses celebrated by Fr David.
Last night we had an inspiring talk 'Home is a Holy a Place' from Katherine Bergin the Diocesan advisor for marriage and family life. Katherine is a wonderful speaker and it is a pleasure to listen to her talking about her own experiences of faith and family.
It was a wonderful World Book Day yesterday, there was such a buzz of excitement around the school. The children and teachers' costumes were fantastic, so much thought, effort and detail had gone into choosing characters. It was very hard for us to choose the winners in each class. I know that the children love reading and it's great to hear them discussing their favourite authors and books with such enthusiasm. Here are the children in the hall during our assembly: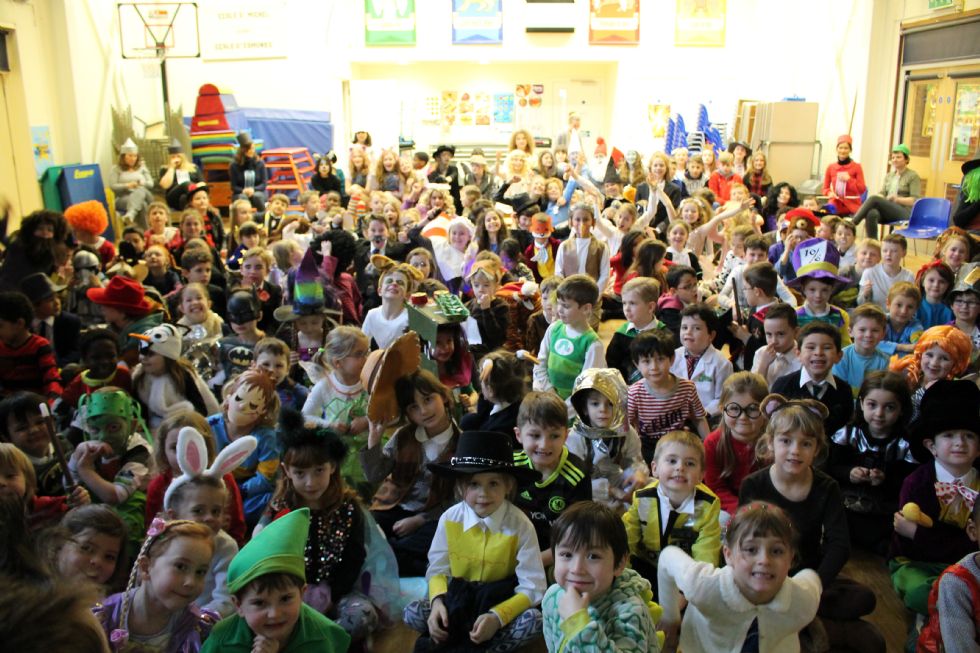 Our celebration of reading continues today with local author Laurel Remington visiting this afternoon and Cbeebies 'Rhyme Rockets' performing this morning!
Our Holy Communion candidates will make their first Reconciliation this Saturday at Ladywell. Please keep them in your thoughts and prayers at this important time.
Have a lovely weekend,
Elizabeth
Friday 24th February 2017
It's been a busy first week back at school. It certainly feels more like spring, it's so much lighter in the mornings and evenings too. Despite storm Doris visiting yesterday the children managed to enjoy playing outside, they are always a livelier in the wind!
On Monday we had beautiful sunshine for Year 4's walk to Godalming Museum. We learnt about the fascinating history of the town; the links with the Titanic, being the first town with electricity and also the location of the last public hangings! We even had a chance to go up inside the Pepperpot, giving a great view of the timber framed buildings in the High Street. It was a perfect day for the walk and picnic lunch and we all learnt a lot too.
On Wednesday afternoon children from Year 5 and 6 took part in a netball tournament, their first in a long time, they did really well coming second place.
Then yesterday a group of talented dancers from Year 5 and 6 were part of a day of dance at a dance festival held at Surrey Sports Park. The children choreographed an amazing routine to the song Titanium with the expert help of Miss McLoughlin. It was a real treat to watch them perform. Thank you very much to Miss McLoughlin for coaching the netball team and dancers; it's been a very busy week for you.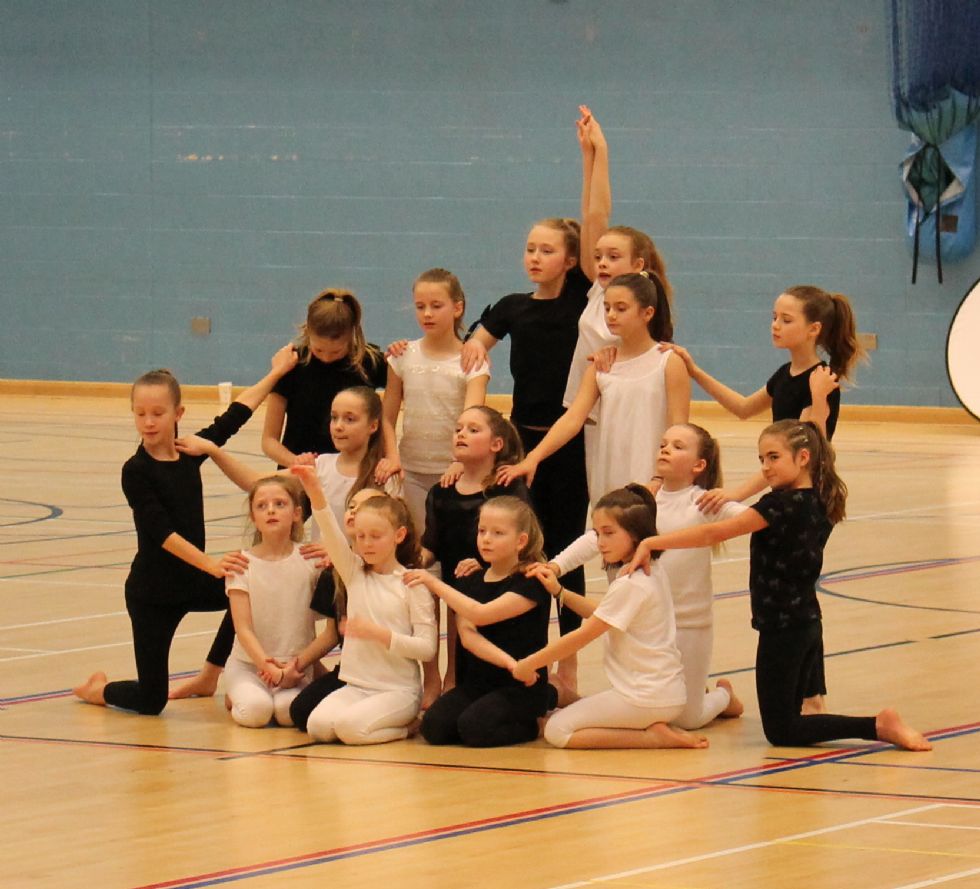 We have just launched the latest PSA fundraising initiative, the £5 Challenge. Please look out for a letter going home today. The children are already busy planning how far they can make their £5 go!
Next week we enter the season of Lent. Year 1 children will walk down to the town on Shrove Tuesday for the annual pancake race. We then look forward to welcoming our new Parish Priest Fr David Parmiter, he will be with us on Wednesday afternoon for our Ash Wednesday Liturgy at 2:15pm and I hope that you will be able to join us.
Have a lovely weekend,
Elizabeth
Thursday 9th February 2017
It's the last day of this half term as we have an INSET day tomorrow. This February half term holiday marks the half way point in this academic year; the time is passing so quickly!
During our special Golden Assembly this morning we celebrated all the wonderful learning and achievements that have taken place this term. I was especially impressed by the number of Headteacher awards given for children demonstarting a wonderful Growth Mindset. They have shown a real resilience and determination to improve, not only have they overcome challenges in their own learning but also enabled success in others too.
On Monday morning Year R were using their skills in PE to support each other as they made their way around a 'flooded school hall'! Here they are: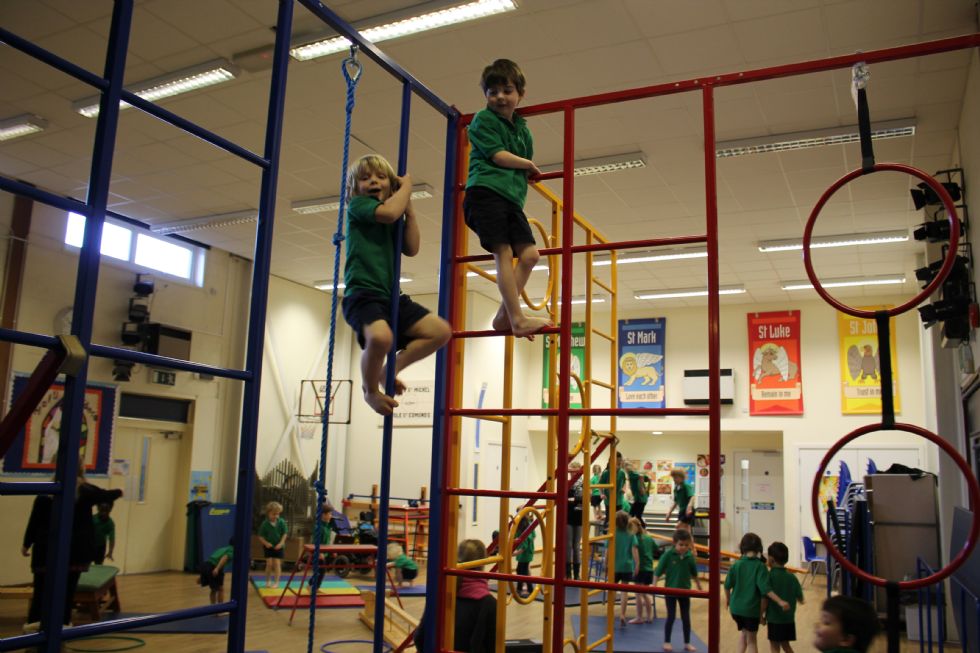 On Tuesday our Digital Leaders led two assemblies to support Safer Internet Day. They helped the children understand the importance of keeping safe and only sharing suitable images online. They also introduced our special digital mascot and launched a competition to find a name for him. He has been designed and created by the Digital Leaders!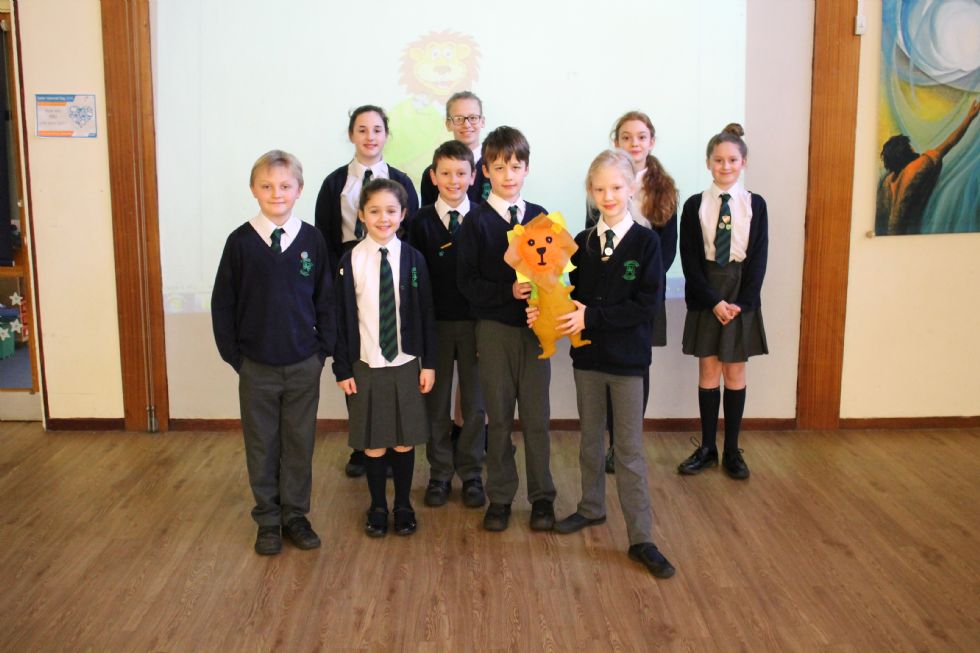 With the lighter mornings and evenings and daffodils starting to bloom, it is starting to feel as if spring is on its way, despite the cold weather!
I hope that everyone enjoys a restful, happy and safe half term holiday.
Elizabeth
Friday 3rd February 2017
Thank you to everyone who came to our school Mass last Sunday. It was lovely to see so many children there. Thank you especially to the children who welcomed the congregation and read so well and to everyone for joining in the singing of our hymns!
We started our school week with an assembly looking at the Beatitudes, thinking about how we can do little things to live the way that Jesus taught us. We have also thought about The Feast of the Presentation of the Lord and Candlemas, both falling 40 days after Christmas on 2nd February. We gathered all the candles we could find to bless them. Children in Year R also brought special candles that they had made as part of their learning about the Presentation of the Lord. We thought about how we can have the hope and faith of Simeon, who waited all his life, hoping and praying to meet the special baby.
I have seen lots more writing in the classrooms as I continued my observations. There has been some wonderful writing going on. I have read about the dramatic picture book 'The Tunnel', using fronted adverbials to add anticipation in exciting 'Race' stories, writing non-chronological reports on favourite animals.
We have been treated to Year 1's special celebration assembly this morning all about the Great Fire of London. The children told us the story through drama, singing, art and their writing. I'm so impressed by how much they have learnt and how every child knew all the words and actions! I wonder whether everyone knows as much about the great fire as Year 1? Do you know why Samuel Pepys buried his cheese? It was a greata assmebly. Thank you Year 1.
Next week we are only here for four days before our INSET day next Friday and the start of half term holiday. It's hard to believe we are really half way through the school year already!
I'm very pleased with how the online booking for parents evening has good, I hope that everyone finds the appointments next week a useful opportunity to discuss the children's progress and how best to support them in their learning. I look forward to seeing everyone next week.
Have a lovely weekend,
Elizabeth
Friday 27th January 2017
It's been another very cold week but there has been a lovely, warm, learning buzz about the school as it is Science week! We started the week with wonderful shows from Professor Brainstorm where the children saw a huge range of amazing and almost magical experiments; I especially liked seeing the effects of liquid nitrogen. The children have been working on science experiments in class, finding out about friction, our senses, our bodies and materials. The children, right across the school have also all been writing about science week. Today we have a planetarium in the hall! I've just been into the first show with the children and it's really amazing! I will certainly be trying to spot some of the stars and planets that we have learnt about tonight when it gets dark. It has been a wonderful Science week and I think there are a great many budding scientists who are feeling really inspired by all that they have learnt this week.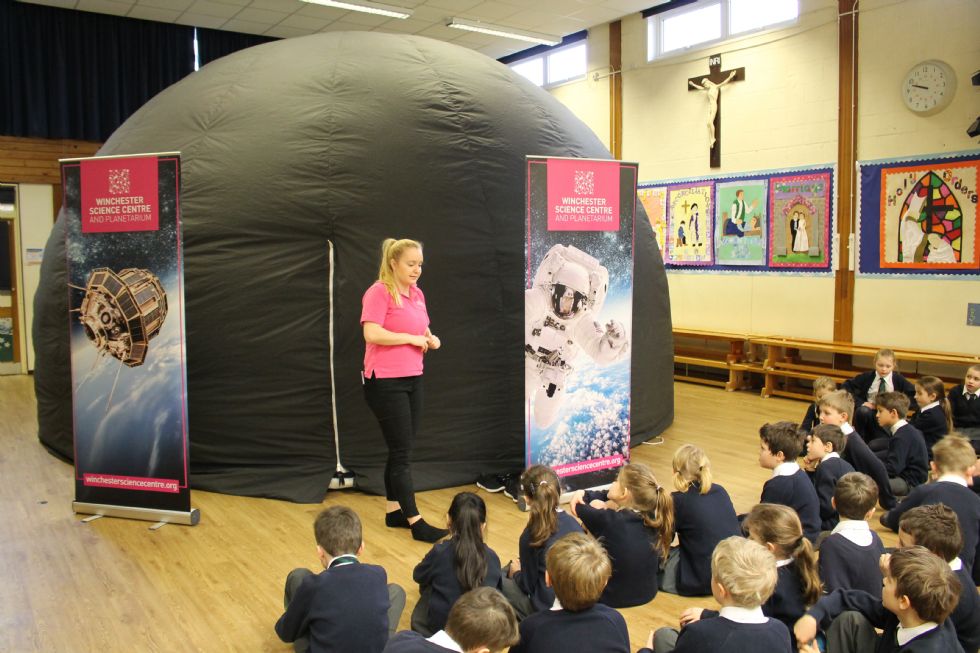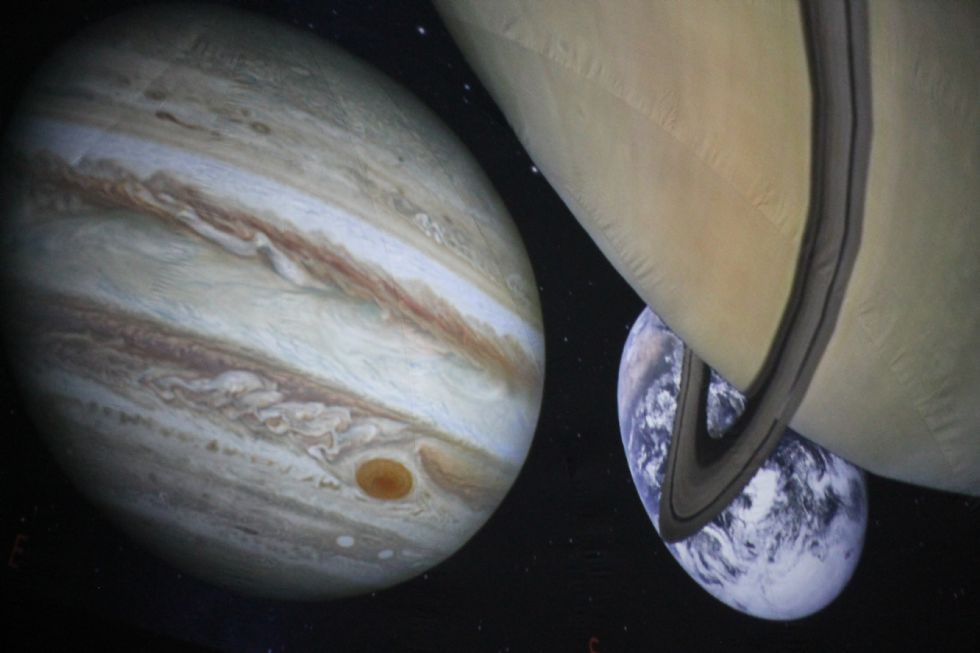 This Sunday is our spring term School mass at 10:15am at St Joseph's in Milford. Thank you especially to all the children who are helping and doing readings. Please do come and join us.
Year R has been learning about Chinese New Year this week and the children have been expertly using chop sticks in their pop up Chinese restaurant! Did you know that it will be the year of the rooster when the Chinese New Year starts this Saturday?
I have been doing Learning Observations across the school this week and I have seen some wonderful examples of writing; stories the Willow Pattern Plate and about The Tunnel by Antony Brown; poetry, writing in an RE lesson. It is great to see the progress that the children are making and the enthusiasm they have for writing. I'm looking forward to visiting the rest of the classes next week.
I hope to see many families on Sunday at Mass. Have a lovely weekend and I'll think we'll all be pleased to feel a few degrees warmer too!
Elizabeth
Friday 20th January 2017
This week out in the cold the new climbing frame has been constructed in the KS1 playground and the children have excitedly followed its progress and are really looking forward to trying it out next week.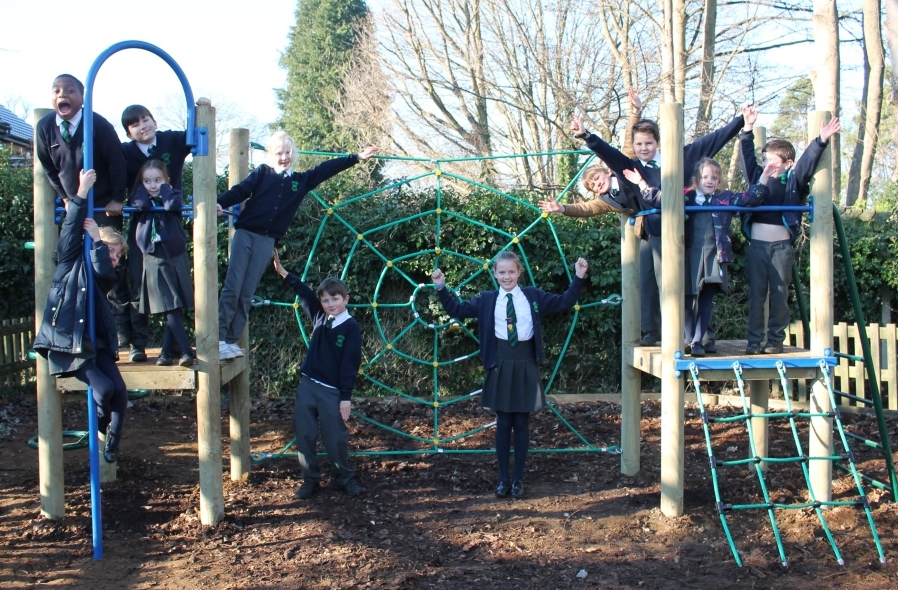 On Tuesday, our wonderful choir of 40 children travelled to London to take part in Young Voices at the O2 Arena in London singing as part of an amazing choir of 7,295 children. It is a wonderful experience for everyone singing as part of such a large choir. Songs included a folk song medley, a rock medley, a pop medley, a beautiful African harmony 'Maliswe', 80s hit 'Birdhouse in your Soul' and many more. The children joined in with the energetic dance routines with Urban Strides dance group, beat boxing with the Beatbox collective and singing with talented singers. It was a very special experience and something the children will remember for many years to come. There is already lots of interest in taking part next year! We will share some of the songs with the whole school next week.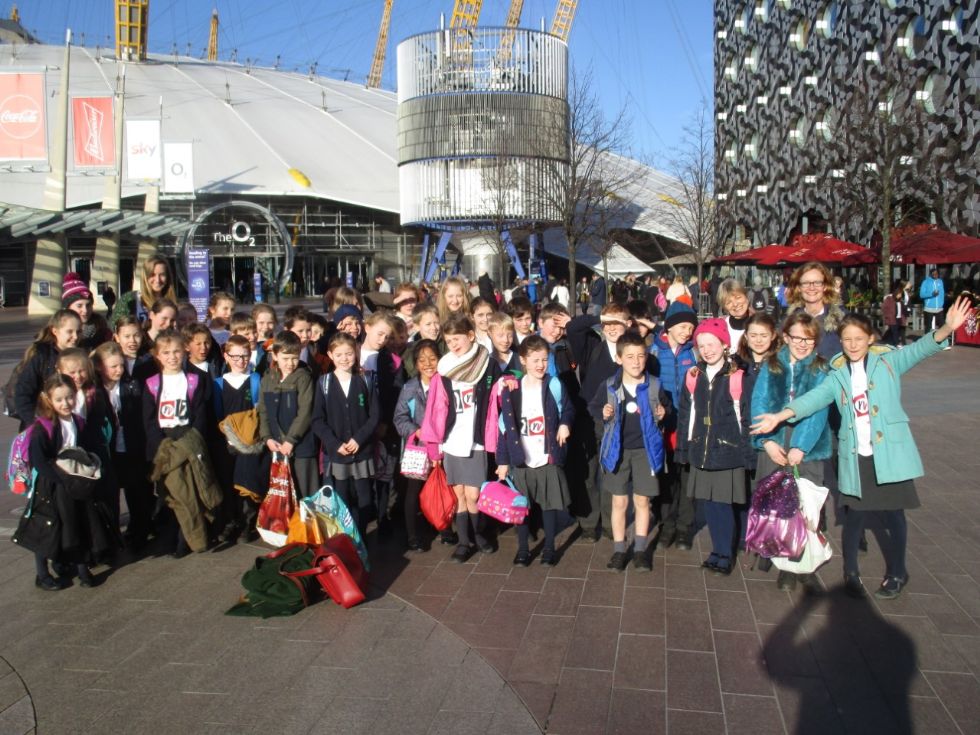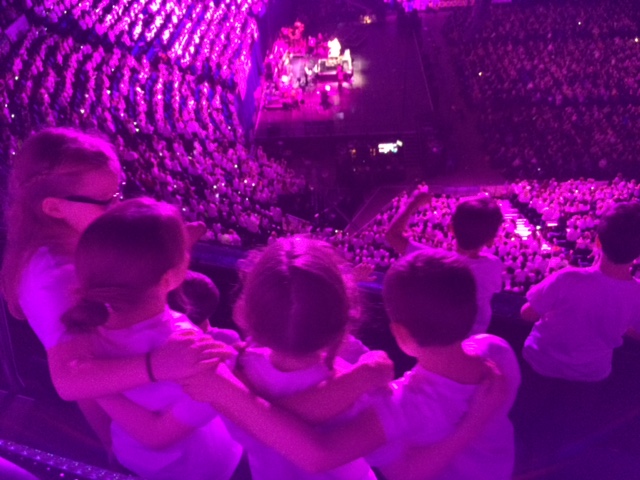 Yesterday morning we enjoyed Year 2's class assembly on famous people including King Henry the VIII and his 6 wives, isn't it fortunate that we have exactly six girls in Year 2! We met a whole host of famous faces including artists Van Gogh, LS Lowry; explorer Christopher Columbus, astronauts Michael Collins, Neil Armstrong and Buzz Aldrin; nurses Florence Nightingale and Mary Seacole. It was clear that the children are loving learning in Year 2.
The new hall display has taken shape this week with each class creating a beautiful collage to illustrate each of the seven sacraments. These all link in with the Come and See topics that we are learning about at the moment. Please do have a look when you are in school, it is very special.

We are all looking forward to Science week, next week and there are some very exciting activities planned for all the children!
Have a lovely weekend,
Elizabeth
Friday 13th January 2017
This week has flown by and it's been good to get back into the usual school routine and see the children enjoying their learning. There was great anticipation for the long awaited snow fall last night; whilst it looked very pretty as the snow was falling, it's just very icy this morning and rather a disappointment for the children! They are desperate to get out in the playground but it's too slippery, I'm hoping it may have melted enough by lunchtime for them to play outside safely!
This morning during our assembly we talked about our gifts and talents and celebrated some of the wonderful learning that the children have been busy with this week. We thought about how important it is to use our God given gifts and talents and how we can help each other to share and celebrate them as well as we can to be the very best that we can be. Here are some of the children who have been using their gifts and talents wisely this week: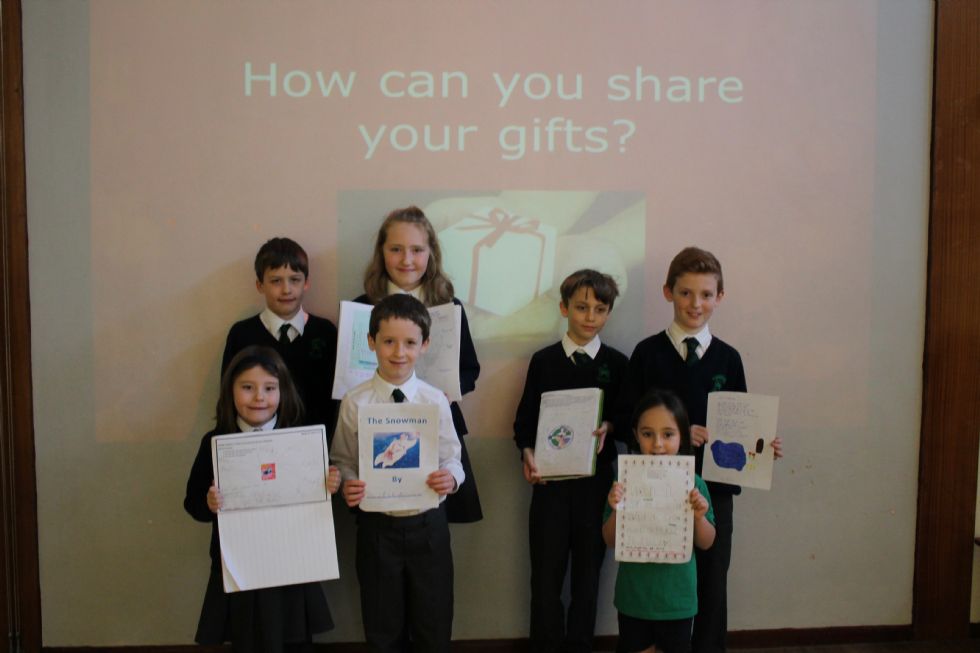 This week most of the clubs have started again; including yoga and netball and we have a new, exciting sewing club which is proving to be very popular. The indoor athletics tournaments are on the horizon and the children are training hard, the year 5 and 6 competition is next week.
Year 5 had a visit from Surrey University as part of their outreach programme, Campus Invasion! It sounded very exciting, the children learnt more about university life on campus and played a game.
On Tuesday 17th the choir will be off to London for the Young Voices concert we are all really looking forward to being part of such a huge choir!
This Sunday our children making their First Holy Communion this year will be leading the reading at Mass at 10:15am, please do come and support them.
Have a lovely weekend and stay warm,
Elizabeth
Friday 6th January 2017
It has been lovely to see everyone back at school this week, the children have been very excitedly telling me about their Christmas and holidays. It sounds as if everyone enjoyed the holiday even though it was a little on the short side, we all would have liked a few more days!
As we are still in Christmastide until next Monday, the feast of the Baptism of the Lord, during our assembly on Wednesday we looked back at the first Christmas and imagined that we were there are the stable in Bethlehem. We enjoyed singing 'O little town of Bethlehem' for the last time until next Christmas.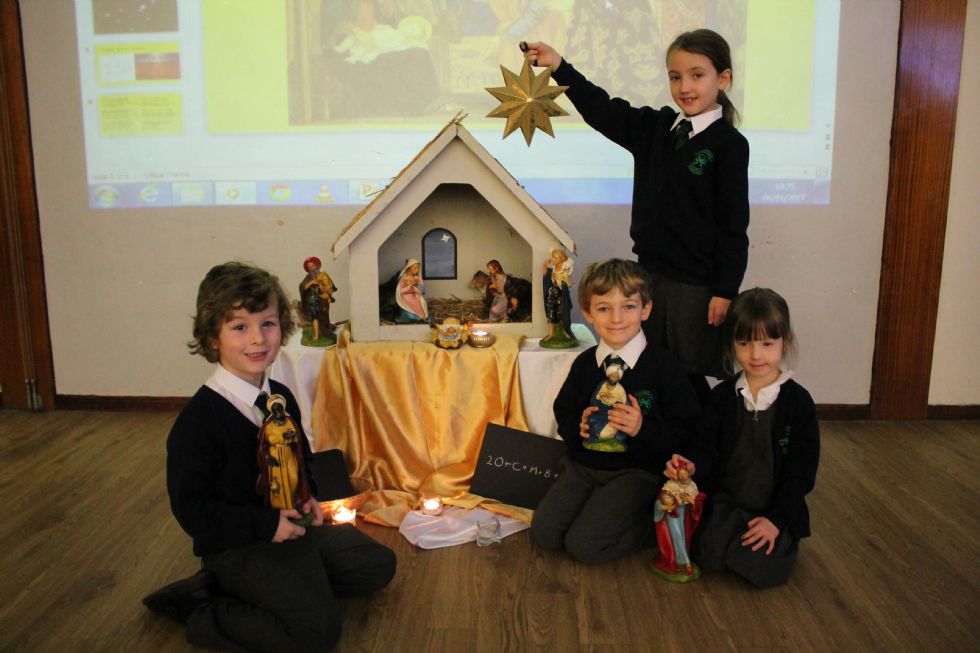 Today is Twelfth Night, the feast of the Epiphany, we saw the three kings finally arrive at the stable and present their special gifts to the baby Jesus. We wrote our Epiphany blessings for the fourth year running 20+C+M+B+17, see if the children can remember what it means. I can't believe that it's my fourth January at St Edmunds, where has the time gone! I love coming to school each day, it really is the best job in the world! I think we will have a very happy and successful year at a St Edmund's in 2017!
Happy New Year everyone!
Elizabeth


Wednesday 21st December 2016
It's the last day of term before Christmas and the children have had such a lovley few weeks preparing for Christmas. We have had amazing performances, beautiful singing and I think everyone is ready for Christmas now. Here are Year 3 and 4 during their Carol Service on Monday: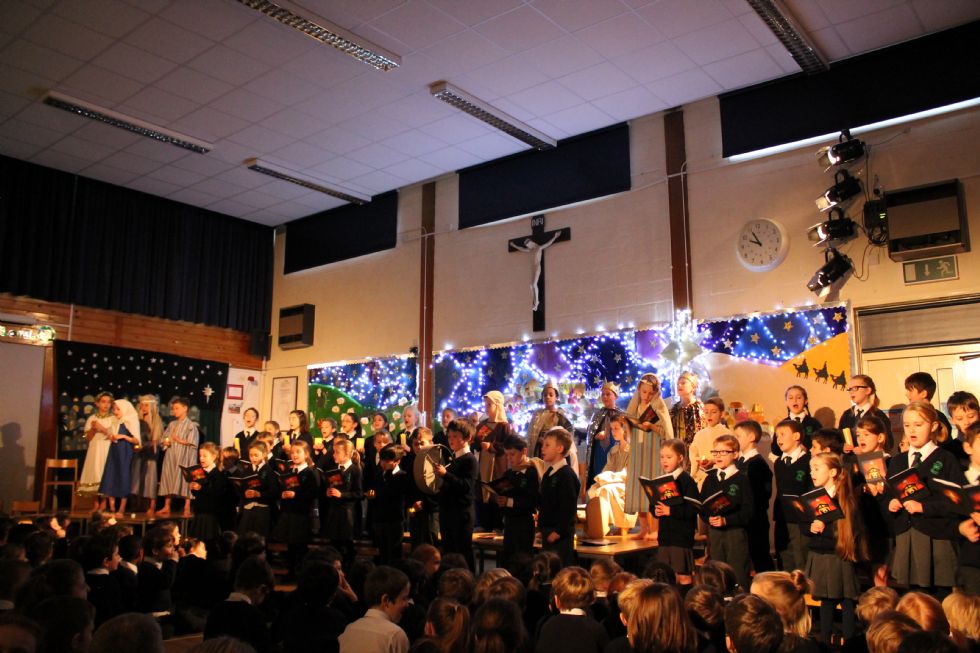 The Christmas parties were a great success on Monday afternoon, Father Christmas even had time to pay us a visit; the children loved it! Here he is in Year 3: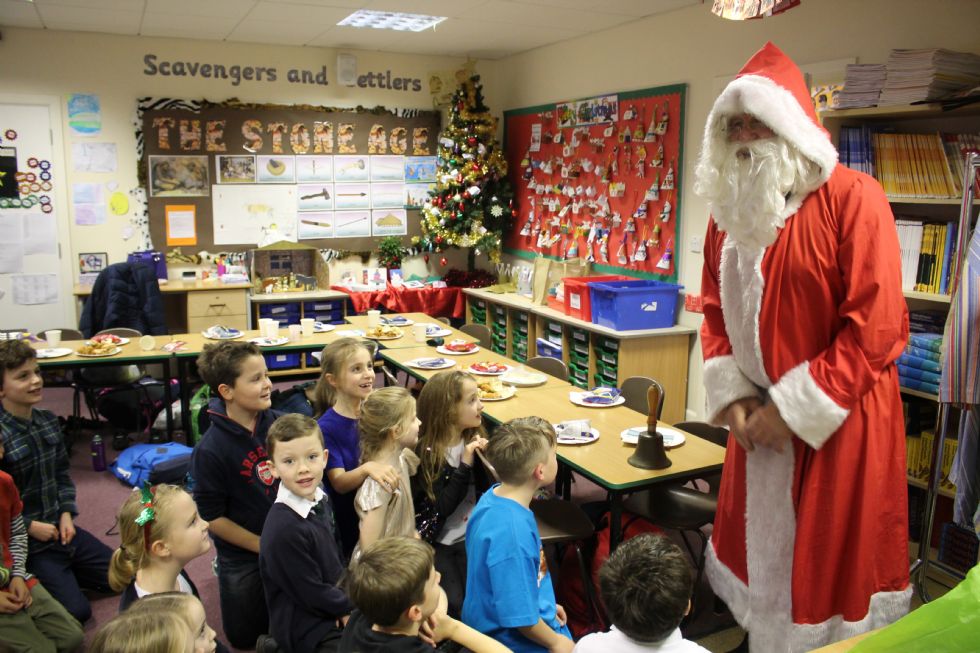 This morning we had our Golden Assembly which was a great celebration of all the learning and successes that we have shared as a school community.
We are just getting ready for our carols this afternoon, it will be a special way to finish for the holidays, reminding ourselves of the Christmas story and singing joyously together.
Have a wonderful Christmas, see you all next year!
Elizabeth
Friday 16th December 2016

Last Saturday we had the PSA Christmas Fair followed by Carol singing at the Pepperpot. It was a lovely Christmassy day and all went very well. The children sang a selection of carols to a large gathering! The singing was lovely, thank you very much to the children and their families who came to support them and listen to the sing.
This week we have lit our third candle on the Advent wreath, the pink candle which reprepsents Mary and the joy she felt when expecting such a special baby. I also showed the children a very different version of the Christmas story that I had found: 'A Guniea Pig Nativity'. I think they liked the pictures very much!

We have had wonderful performances from Reception, Years 1 and 2 and Years 5 and 6 this week. Both shows were really lovely and the children have worked so hard and clearly loved performing too. The youngest 'Superstars' took us on a very special journey following the shining star to Bethlehem. The play was very funny with shepherds 'not washing their socks' and travellers looking for a place to stay with comfy beds, en suites and no barns considered unless they could stay in a barn conversion! It's amazing to see what 90 children, as young as 4 years old, can do!
Our oldest children told the Christmas story through toys on Christmas Eve in 'A Toy's Christmas Story'. Year 6 have been especially stoic as more than half the class have been ill this week and despite this they kept going and come in to perform if they were able to. They were so professional, you would never have guessed watching them that they have taken on extra roles at the last minute or just got out of bed to come in to school! We are very proud of all the children and their teachers for putting on such special shows.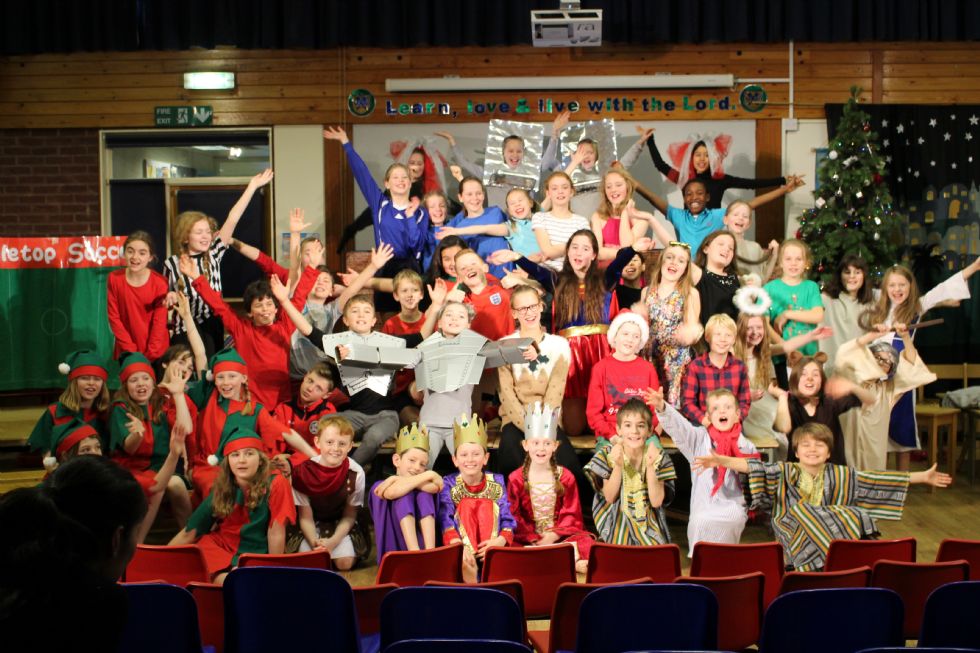 More than two hundred Christmas lunches were served today! They were delicious and the children loved the Christmas crackers too. The children didn't have to queue up for their lunches as the teachers and TAs (dressed in Christmas hats and jumpers) served them at the tables as a treat! This was the scene in the hall at lunchtime today! :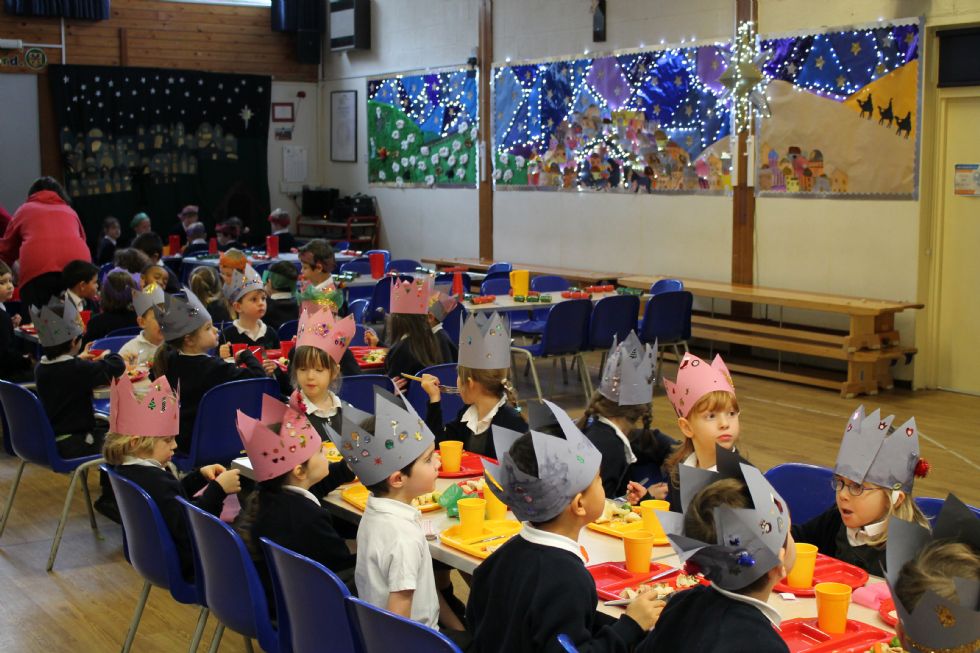 We have our last three days of school before Christmas next week and whilst we are looking forward to the holidays we have lots of important thing still to come. I'm really looking forward to Year 3 and 4's Carol Service on Monday I know that it will be worth waiting for! The children are busy with their final rehearsal now. Our Christmas parties are on Monday afternoon where we hope a special visitor will find time in his busy schedule to pop in to see the children, our Advent End of term Mass is on Tuesday morning and finally the all-important Golden Assembly and Carols round the tree will be on Wednesday.
I'm sure that everyone has a very busy final weekend before Chrsitmas ahead, I hope that you enjoy it whatever you are doing,
Elizabeth
Friday 9th December

It has been a week full of singing and rehearsing. We have lit our second purple candle on our Advent wreath and our special Nativity figures are getting closer and closer on their journey to the stable.

Year 3 and 4 children have been carol singing at the Clockhouse Day Centre in Milford on Wednesday morning, where they entertained the day centre guests who loved their performance. The children enjoyed chatting to the audience afterwards too.

Our specially extended Choir sang on Wednesday evening at a very special concert at the Holy Trinity Church in Guildford. The children sang so beautifully and were highly praised by the audience. We were the only children's choir performing and the other performances were truly amazing, the children sat in awe, open mouthed. It was a wonderful experience taking part in the concert and having the opportunity to listen to such lovely singing. I have uploaded a short clip of the children rehearsing before the concert started.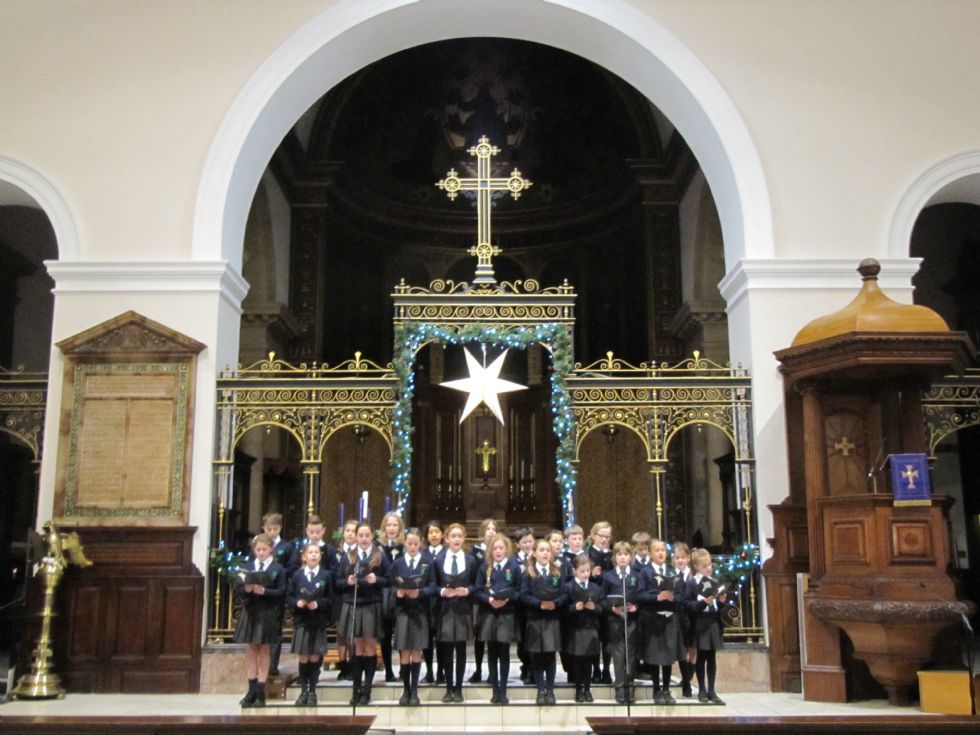 Today is our final Mufti day before the Christmas Fair tomorrow. The children look quite different out of uniform and it's always interesting to see the outfits they choose to wear, lots of Christmas jumpers on show this morning too! Thank you for all your donations which will really help to make a great Christmas Fair tomorrow.

Final rehearsals are now taking place for Year R, 1 and 2's Nativity play, 'Superstar' and Year 5 and 6's performance of a special Christmas Toy Story which will both be performed next week. The productions look really wonderful and I think everyone will love them! I can't wait to watch the final versions; I think we are all in for a real treat!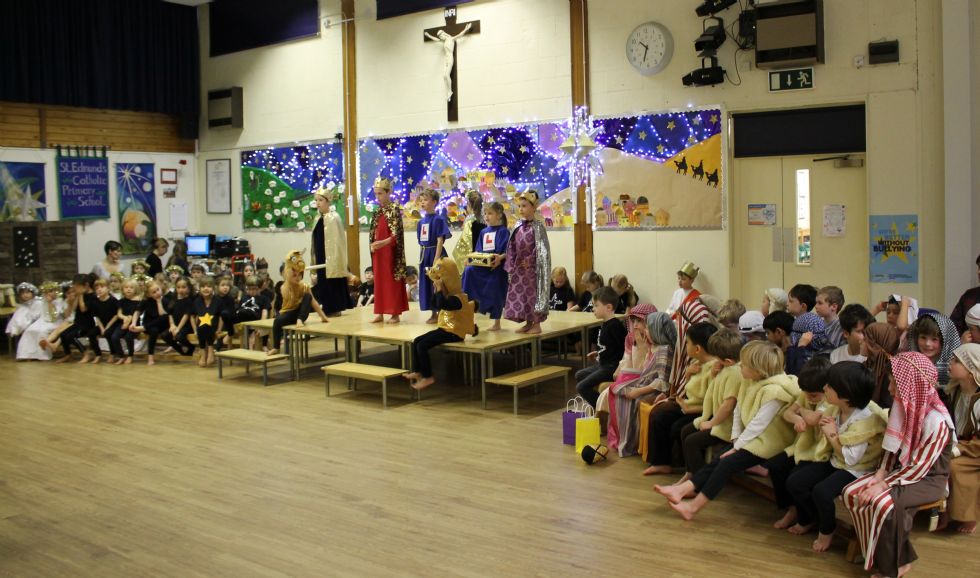 I'm sure that I will see everyone tomorrow at the Christmas Fair and hopefully lots of you again carol singing at the Pepperpot at 2:45pm, please do come and join in while you are doing your Christmas shopping. Also do look out for Sam and Mimi, leading the procession through the town as Mary and Joseph at 3pm.

Have a wonderful festive weekend,

Elizabeth


Friday 2nd December 2016

It feels as if Christmas is just around the corner with the beautiful winter weather we have had this week, it's been very cold but so bright, frosty and sunny.
We are now in the season of Advent and during our assemblies this week we have lit the first purple candle and during the first two weeks of Advent, we look back to the prophets who foretold the Christ child's coming. Each class also have a wreath and calendars and the special travelling cribs are beginning their journies to each family household.
Our lovely Christmas tree has just arrived this morning and is now standing, decorated in the hall. It was very kindly donated by Oxenford Farm in Elstead.

Along with the Christmas performance rehearsals, we have been hard at work practicing our singing for numerous carol singing and concerts over the next two weeks. We even managed to fit in a recording session yesterday for the Eagle Radio Christmas Carol Competition. Here are the children recording the carol, Love Shone Down, it sounded really beautiful!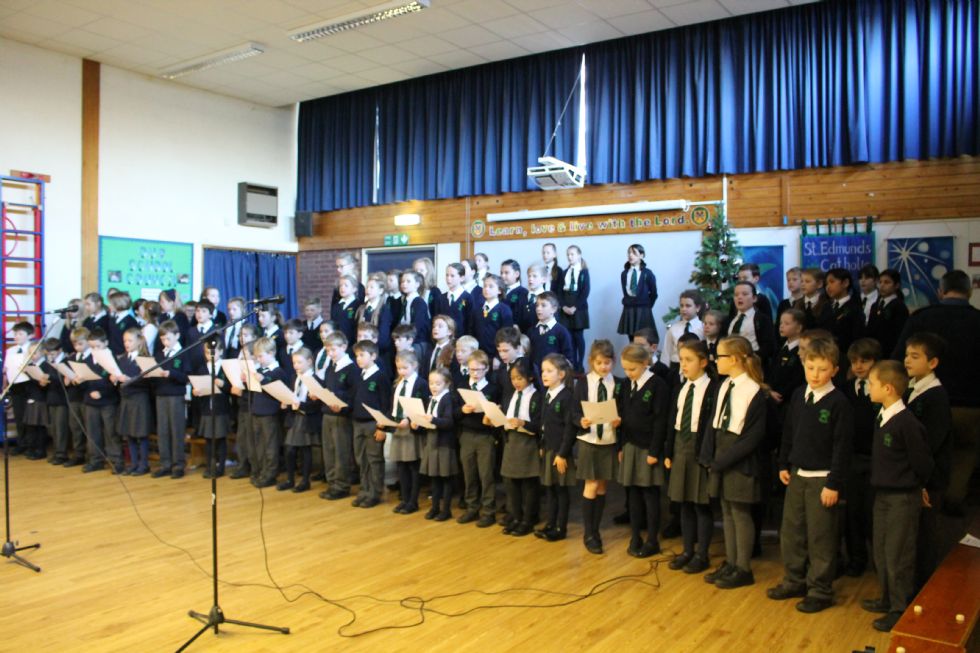 The wonderful hall display is now complete and the lights have been switched on this morning during assembly. All of the children's work is displayed in the panoramic scene telling the whole nativity story. It will also provide a beautiful back drop for the Christmas productions this year.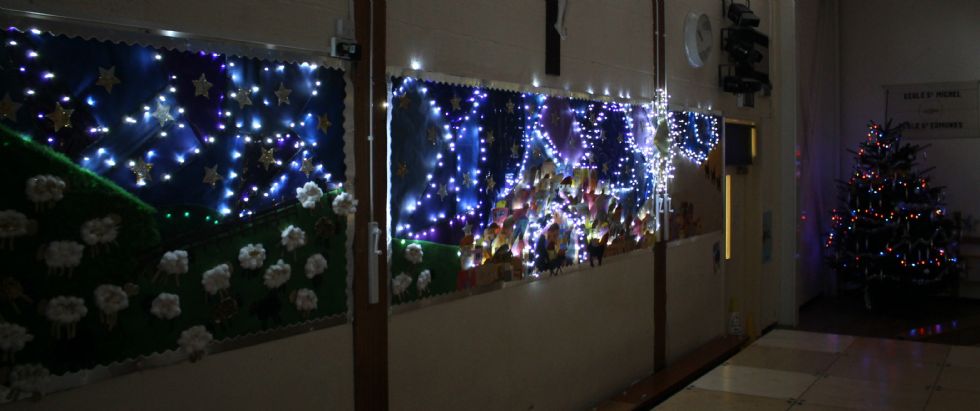 The hall will be looking very festive for the disco tonight. I know the children are excited; they always enjoy the discos very much.

Have a lovely weekend,
Elizabeth


Friday 25th November 2016

This week our Christmas rehearsals are well underway, the hall has been fully occupied every minute of each day! The songs and carols are sounding lovely and I know that there will be some very special performances to look forward to at the end of term.

We have collected a grand total of 109 Operation Christmas Child boxes. So much thought and love has gone into packing each box. They looked wonderful and will bring such happiness to those children who receive them this Christmas. All the boxes will be collected today ready for distribution. The School Council and I would like to say a big thank you for your generosity and support.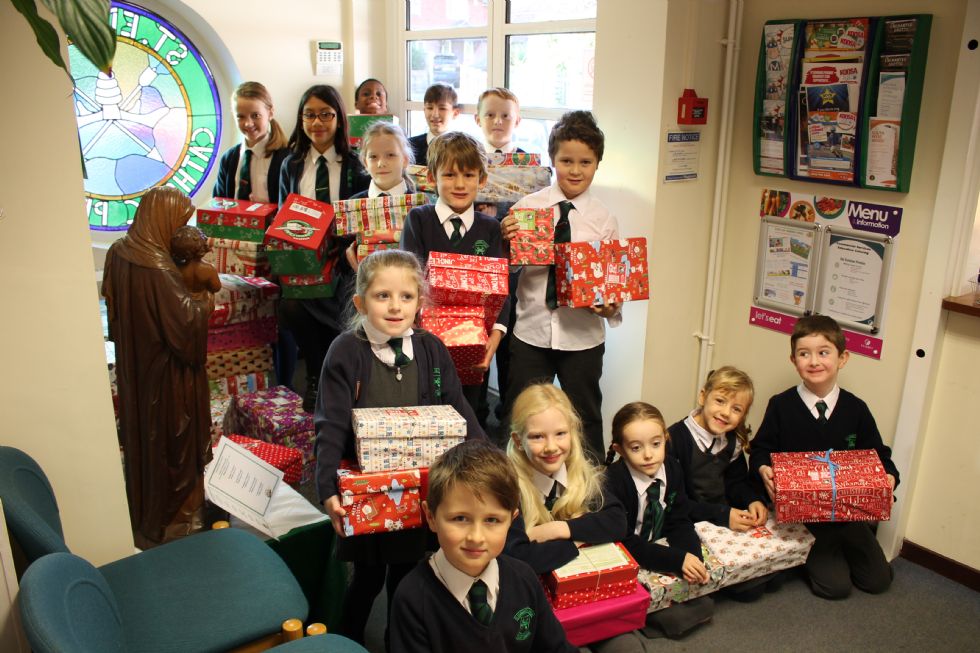 This year we were asked to decorate a wooden board which had been decorated by Year R children and will be displayed in Wilfred Noyce Centre as part of the Christmas celebration for the Godalming Christmas light switch on this Saturday.

Advent starts this Sunday and as Christmas Day is on a Sunday this year it is the earliest date to start Advent that we could have. We will have a special assembly this afternoon from Mission Together who will talk to the children about their charity and give out the Advent collection boxes.

During December the Travelling Cribs will be making their special journey to every home to echo the journey made by the first Holy Family over 2000 years ago. The children have really enjoyed taking them home over the last two years and have written reflections, drawn or added pictures to the special books and it was been lovely to share this journey with the children in each class as we prepare for Christmas.
This busy time of year in school is very exciting and there is such a wonderful atmosphere of preparation, anticipation and expectation.
Have a lovely weekend,
Elizabeth


Friday 18th November 2016

Happy St Edmund's Day! We are having a wonderful feast day today with Mass this morning celebrated by Fr Alex. We were expecting Fr Stephen, who is to be our new Parish Priest; but at the last minute he was unable to attend and we had Fr Alex instead! He took my initial greeting, "But you're not Fr Stephen!" in very good spirits! We were delighted to have him here on our feast day and it was a very special Mass. The children read and sang beautifully and it was lovely to welcome so many visitors this morning too. It was great to see so many parents here with us too.
This afternoon our celebrations are continuing with a pyjama party and film show in each class! Here are Year 1 all ready for their party!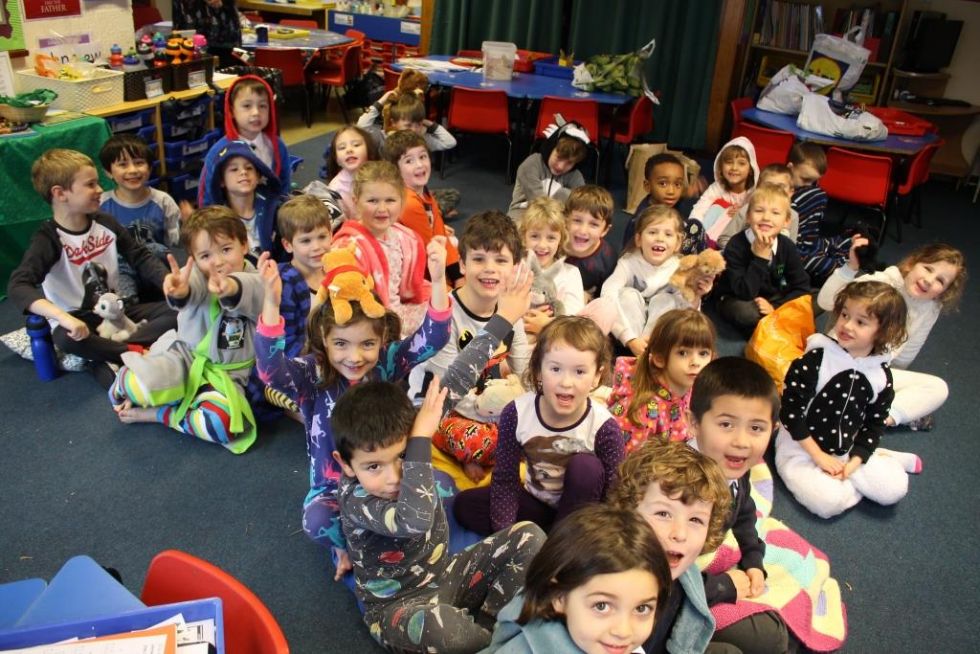 On Tuesday we took part in our first Confederation Schools Peer Review. This is a new initiative to help each school to evaluate and improve what we do. I set the focus for the review and as writing is a key area that we are working on this year that was the focus. Three headteachers came to look at the quality of teaching and learning in writing across the school. They observed teaching and learning in all classes and looked at children's writing and talked to a wonderful group of boys and girls from across the school. The children were so polite and welcoming and were able to talk with great pride and enthusiasm about their learning.
We took delivery of a special birdbox on Wednesday morning. It has a camera inside it and we are hoping that in the spring, a family of birds will make their home there and we will be able to watch the chicks hatch!
Last week we had two important assemblies led by Katrina from the NSPCC, she talked to the children about how to stay safe, how to get help and support if they ever need it and to start to understand what is right and wrong by gently introducing them to different types of abuse. The children all learnt the ChildLine number and how to get help if they ever need it. The assemblies were followed up by workshops for Year 5 and 6 children this week.
The work with the NSPCC has led very successfully into Anti Bullying week this week. The children in each class have made posters to illustrate the important message of using our 'Power for Good'. The children had an assembly on Monday to launch the focus for the week and our Digital Leaders planned an assembly which they delivered on Wednesday where they looked especially at Cyber bullying.
On Thursday, Andy McKenzie from Outdoor Adventure in Bude came all the way to Godalming to meet the Year 6 children and their parents. Year 6 children will be spending a week there in May next year, they really enjoyed finding out about the exciting adventures they have to come! There were lots of parents wishing they could go too!
Many children are taking part in the Cross country competition tomorrow morning at Glebelands School in Cranleigh. They have been in training now for months every Friday morning. I know that they will do really well.


Have a lovely weekend,

Elizabeth

Friday 11th November 2016

It's been a cold and wintery week this week and another busy one!

We had our first Confederation Staff meeting of the year on Monday after school. We welcomed all the teachers from Loseley Fields and St James Primary schools. After meeting together, the teachers went off in Year groups to look at children's writing. It was really good to share what we are doing and as a one form entry primary school, it is an excellent opportunity to see what other schools are doing. I will be working with the Headteachers from both schools again next Tuesday when we take part in the first of our Primary schools' Peer Reviews where we will look at writing across the school, visiting each class and talking to the children.
On Tuesday afternoon our Year 1 children went to Rodborough Secondary School to take part in a multi sports afternoon along with 150 other Year 1 children from local schools. The Year 10 Sports Leaders led the activities and it was very well organised. The children all enjoyed taking part in the games and activities; it was a very active afternoon! We often take part in sporting events with the older children and it's lovely for the younger children to have the chance to take part as well. Year 2 will be taking part in the same event next Wednesday and I'm sure they will enjoy it too!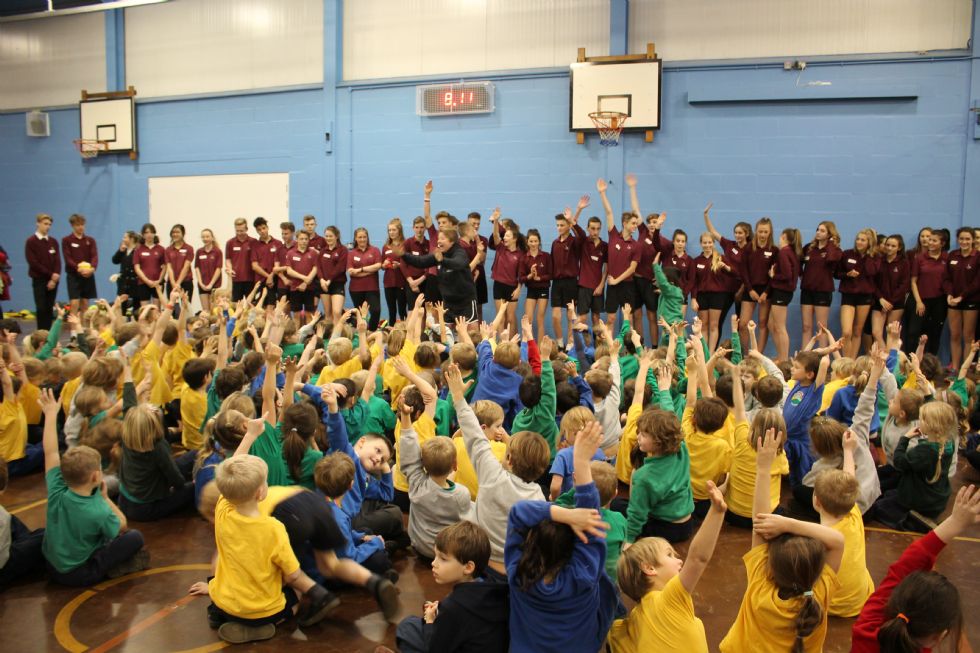 Although we are still in the first term of the school year we are already planning for next year and on Wednesday morning we welcomed prospective parents to St Edmunds. Our wonderful Year 6 children did a really fantastic job showing the visitors round the school and answering the many questions they were asked. Every visitor, when leaving, commented to me on how wonderful the children were, I think they all liked our school! It is always very interesting for parents of young children to think about what their own little ones may be like when they are in the final year of primary school, and they had some lovely examples!
This morning we were treated to a wonderful celebration assembly from Year 3. The children shared their learning on the topic of the stoneage. It was a lovely assembly, the children clearly enjoyed every minute! Thank you Year 3.
Today we remember all those who died during the world wars and all conflicts since. We will mark this Remembrance Day with a two minute silence at 11am.
Next Friday we look forward to welcoming Fr Stephen, our new Parish Priest, who will celebrate Mass on our feast day. He will officially be moving into the parish in the next few weeks and we are very pleased that he is joining us next week for our Mass. We are all looking forward to meeting him and I hope that many parents will be here too.

Have a lovely weekend,

Elizabeth

Friday 4th November 2016

I hope that everyone had a lovely half term holiday. We have enjoyed beautiful autumn weather this week with cold frosty, misty mornings and autumnal colours. The children have been playing happily in the falling leaves in the playground. It's been a short school week but an exciting and important one.
On Monday we had our first Inset day with all the confederation schools. The TAs took part in a range of workshops at Godalming Junior School and the teachers were all at The Chandler where we shared our expertise in a wide range is subjects in 'per suit of high level teaching and learning.' It was a very interesting and useful morning and we have all come back to school with so many new ideas to try out.
We have a very special new display in the school entrance to mark the Year of Mercy. We have made a Holy Door which contains some of the corporal works of mercy in art form made by children in each class. Please do come in and have a look.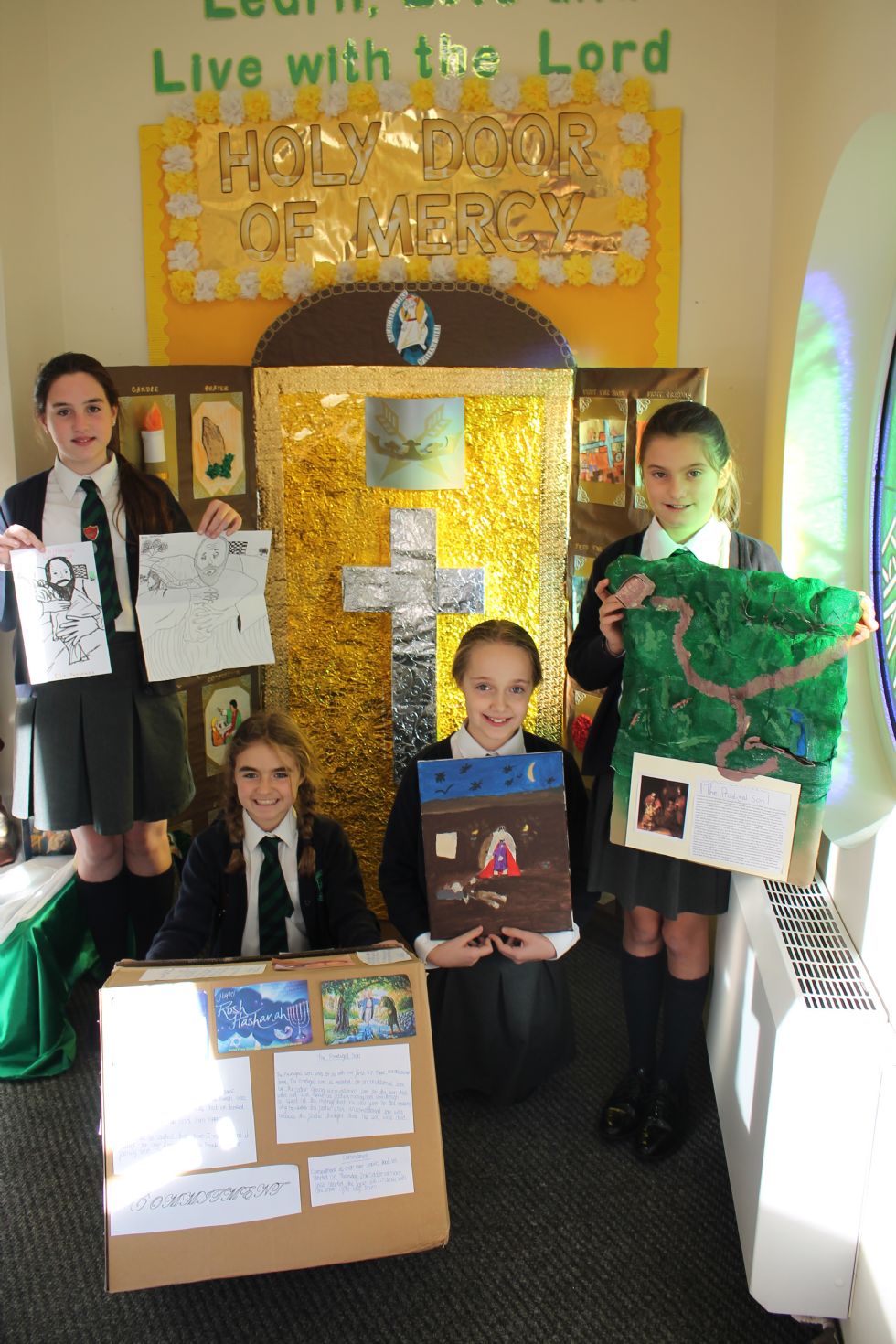 We were very pleased to welcome Bishop Richard yesterday. He came to see our school and spent a long time talking to the children about his role as Bishop of Arundel and Brighton, his previous role as Bishop of the Armed Forces and his life. He also answered some interesting and challenging 'big' questions from the children. We had a special Mass together and Bishop Richard said how impressed he was with the children's responses and the lovely prayerful atmosphere. Here is the Bishop helping Year R with their phonics doing the actions for 'n' aeroplane!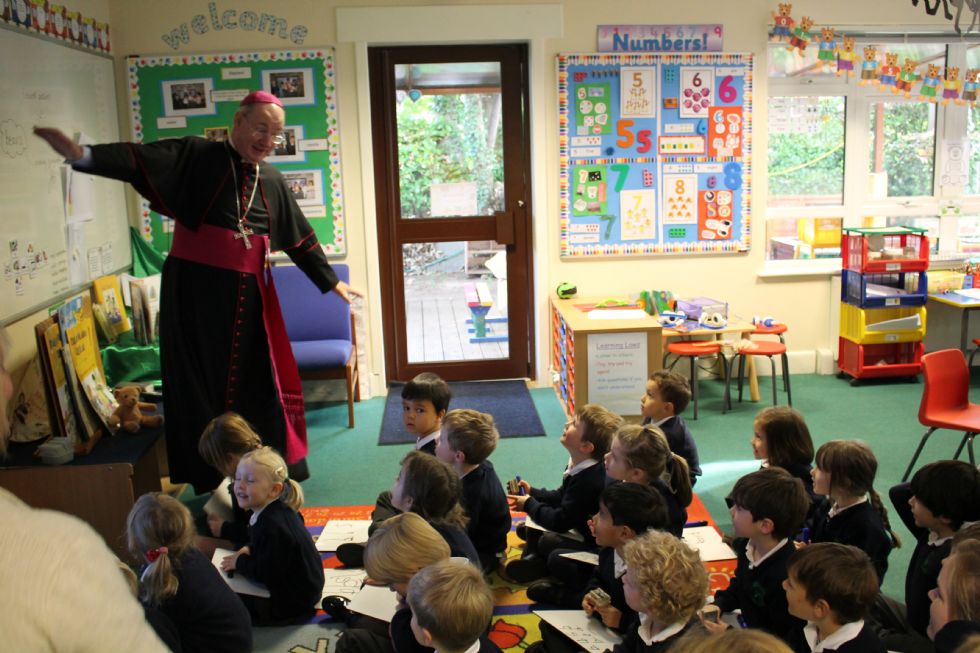 On Tuesday we had a visit from Ten Ten theatre. The company is named after John 10:10, 'I have come that you may have life to the full'. The actors, Sophie and Verity, performed three different plays for the children across the school after starting the day with a special assembly on the Year of Mercy. They retold the story of the Prodigal Son which, by coincidence, linked perfectly to Year 6 children's learning journal homework which they were able to share after their performance.

Have a lovely weekend and enjoy any bonfire or firework celebrations that are taking place.

Elizabeth
Friday 21st October 2016

It's the Friday before the autumn half term holiday and it's hard to believe how quickly the time goes! I don't suppose it passes quite as fast for the children as it does for us! We have certainly fitted lots of wonderful learning into the past seven and a half weeks.

We will finish the week with our special Harvest Liturgy this afternoon. Thank you for all the donations for the local food banks, we hope that these items will really make a difference to local families during the winter ahead.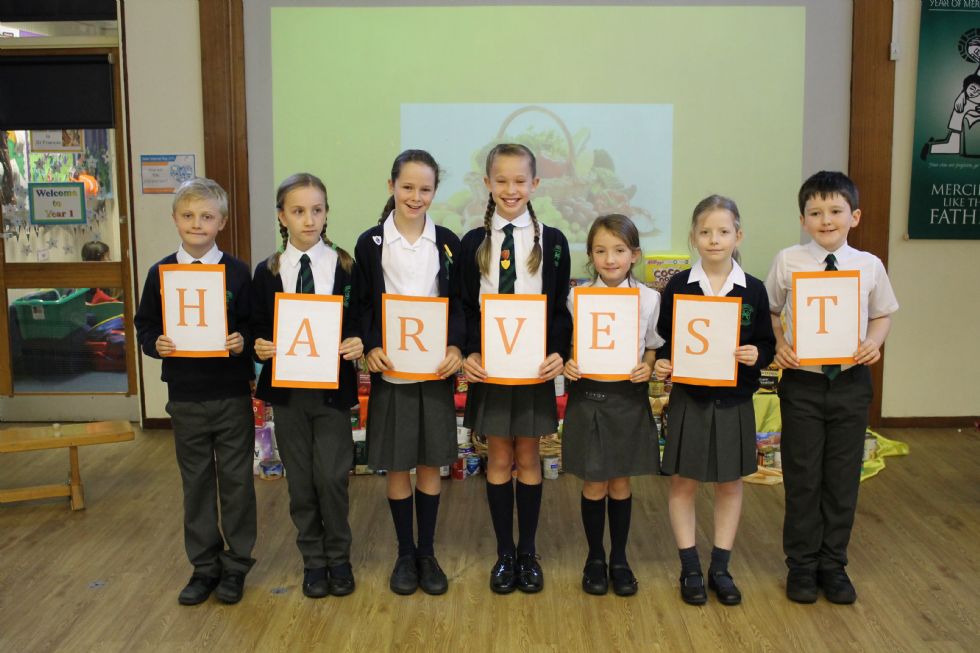 On Wednesday we had our special Golden Assembly which the children loved! They do so enjoy hearing about all the wonderful things that each other have been learning about and celebrating their successes. This half term St Matthews House is in the lead with an impressive 1220 house points. There is still plenty of time for the other houses to catch up, keep on earning those house points for super work, helpful, polite attitudes and excellent behaviour!
We have had our autumn term parent consultations this week, thank you for coming to meet the teachers and look at the children's work. We hope that you found the appointments helpful in supporting the children's learning. We are very pleased with how the children are doing and we hope that you are too.
On Tuesday afternoon children took part in a Netball tournament at Tillingbourne School. It's the first time a number of years that children from St Edmund's have competed and they did very well winning two out of the three games they played. Thank you to Miss McLoughlin for restarting the Netball club and for coaching them.
Yesterday Year 4 children went to the Poppy Factory in Richmond to learn more about why and how the poppies for Remembrance Day are made. We were able to make some of the poppies and the large wreaths used during Remembrance Day. We all learnt so much and when we see poppies for sale it will really make us think more about why they are worn and where they come from.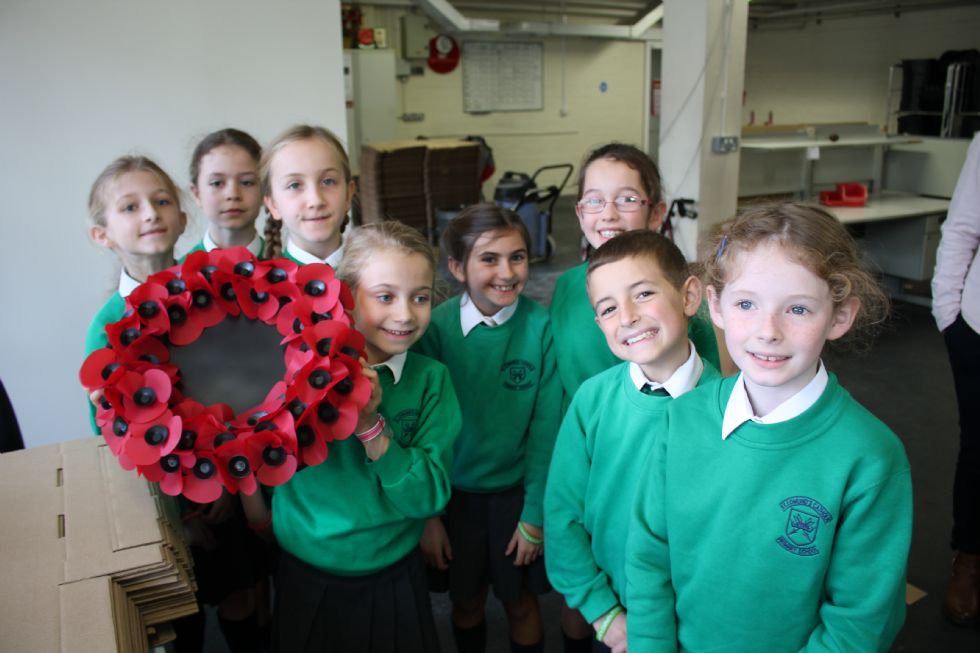 This evening over 130 children will be back at school for the exciting Spooky Quiz! There will be lots of challenges and questions for answer and it will be a great way to finish for the holidays. I know that the children are very excited about it!

Whether you are at home or going away, have a wonderful half term holiday.

Elizabeth

Friday 14th October 2016

This week we have had lots of exciting trips!

Yesterday Year 5 set off for Chertsey Museum with their Ancient Greek packed lunches! They had a wonderful day and returned loaded up with objects they had made. We know that they are very knowledgeable after their wonderful assembly last Friday!

It was a quiet day in school on Wednesday with two classes out. Year 2 was at Hampton Court finding out about a Tudor life. They really enjoyed the visit.
Year 6 children were in London at the Natural History Museum, they learned about evolution in the Discovery Centre, comparing Britain in the past to Britain today. They even experienced what it would be like in an earthquake!

On Tuesday I took the Key Stage 2 school councillors by train to the Houses of Parliament where we had a tour of the Queen's robing room, the House of Lords and even watched a debate in the House of Commons where we saw Jeremy Hunt on the front bench discussing the NHS and shortage of doctors and ambulances! We even had the honour of meeting Lord Burnett, Matilda's grandad! It was a very educational and exciting day out.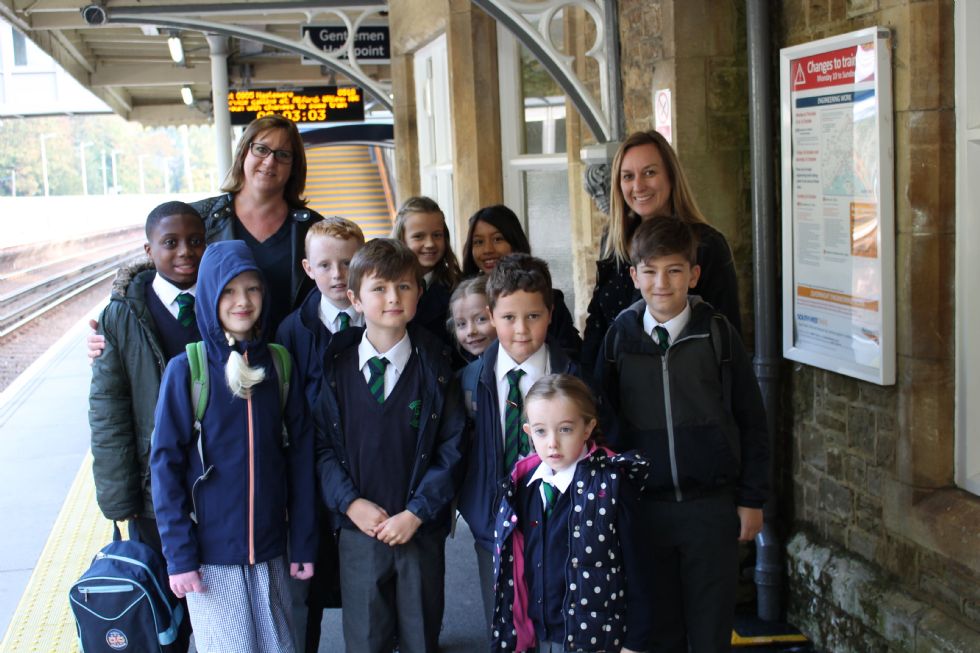 On Tuesday morning there was a little prickly visitor in my office, Mrs Facey had found an injured hedgehog near the school and he waited in my office to be collected by the nearby Hedgehog Rescue Centre. We hope a makes a full recovery.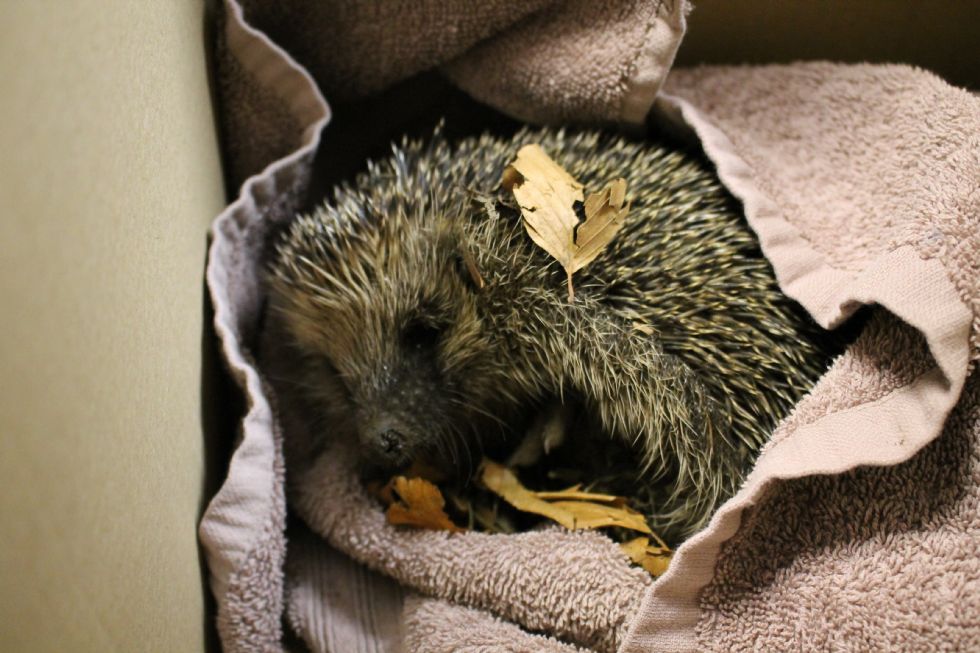 This morning we have been transported back to Ancient Egypt for a special celebration assembly from Year 3. The children told us all about the embalming process with the help of a real mummy! We also saw their version of Joseph and his Technicolor Dream coat! It was a fantastic assembly Year 4.

This Saturday is the second session of the First Holy Communion programme and the children will be leading the readings during the Saturday evening service at St Edmund's church.
Next week we have our parents consultations on Monday and Wednesday evenings were I'm sure I will see everyone. Please do have a look at the children's work in the classrooms too.
We have one more trip next week, Year 4 are going to the Poppy Factory and our Harvest liturgy on Friday afternoon, before we finish for the half term holiday!

Have a lovely weekend.

Elizabeth

Friday 7th October 2016

Last Sunday we had a lovely Mass to celebrate the start of the school year. It was wonderful to see so many families there and the children looked very smart in their uniforms. Thank you to all the children who read, welcomed, handed out Mass booklets and helped with the offertory procession.

This week I expect you have noticed an extra vehicle in the park, the Life bus! Each class had a different session in the bus, learning about keeping their bodies safe and well and thinking about making healthy choices in life.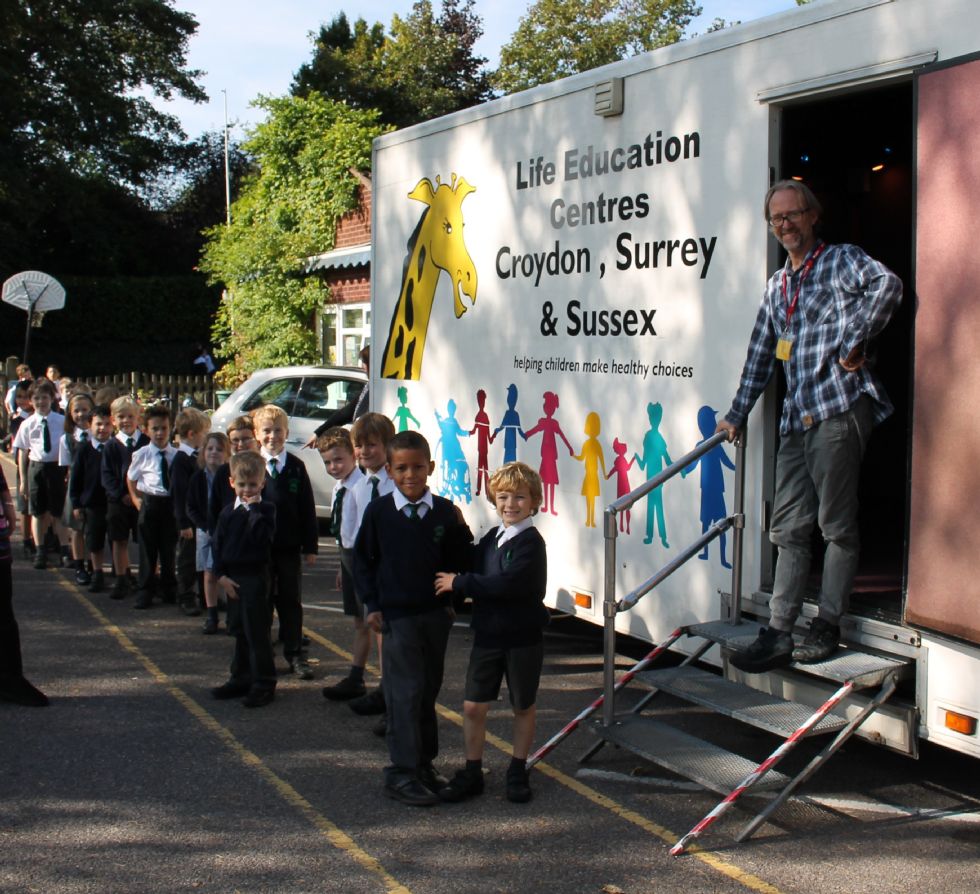 The book fair has also visited us this week, the children have enjoyed looking at the books and we are able to spend the commission on new books for school.

I have been into every class over the past two weeks observing the teaching and learning. The children really do love learning and they have such an exciting range of activities to support their learning. The children enjoyed the challenge of calculations their maths lessons, describing Henry VIII, learning about 'Myself' in Year R.

This week our Year 5 and 6 footballers took part in their first tournament this year where they played really well. Well done to eveyrone who took part.

We have been taking part in Little Way Week this week. The children have been finding out about St Therese of Lisiuex. She did little deeds everyday and the children have been thinking about how they can do the same, I hope that there are lots of extra helpful children at home this weekend!

This morning we have enjoyed the first of our Celebration Assemblies lead by Year 5. The children shared their amazing learning on their topic of Ancient Greece. Although it's only the fifth week of the school year the chaildren know so much about Ancient Greece. It was a really wonderful, entertaining assembly and the year 5 children all said that it was their favourite assembly yet! We all certainly enjoyed watching you and we learnt so much!
Have a wonderful weekend,
Elizbaeth

Friday 30th September

It's hard to believe that we are at the last day of September, where does the time go? We have three weeks left until half term with many exciting trips and events still to come!

On Monday we held our special commissioning service where the children promised to do their best to serve the school in their new roles of responsibility. Children from across the school were presented with badges by Mrs Rochester, Cahir of the Governing Body. Role include: School and Eco Councillors, Buddies, Games Captains, Prefects and our new Digital leaders. On our school council notice board it says: 'We are here to serve one another', and through working together and each person carrying out their roles to the best of their abilities, we can make our school an even happier, caring environment.

As part of their topic on Early Settlers, Year 3 went to Winkworth Arboretum on Tuesday where they got very muddy and took part in a range of activities including shelter building and, as I'm sure parents noticed, a mud slide!

We had individual and family photos taken on Wednesday, the children looked very smart and I'm looking forward to seeing the photographs!
This morning we held a cake sale to support the Macmillan Coffee Morning, thank you to Miss McLoughlin and Year 5 for organising this fundraising event for such an important charity. The children have done an amazing job, welcoming visitors, selling the cakes and refreshments and restocking and clearing up too! With grandparents visiting this afternoon and more refreshments on offer later, it promises to be a fun and cake filled day and I think we will have raised lots of money for Macmillan.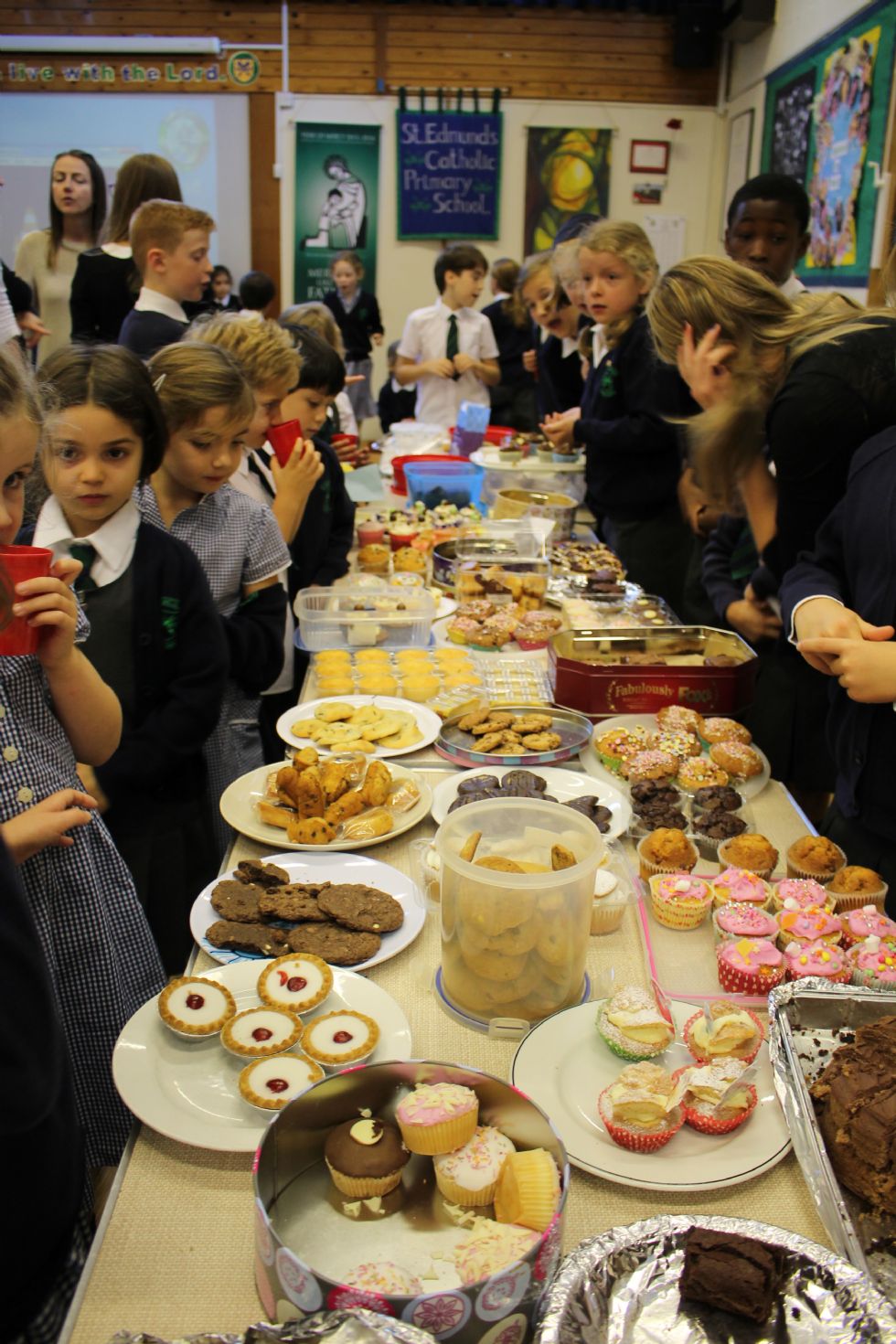 Today we celebrate Grandparents Day and we are all ready to welcome our special visitors for a wonderful assembly this afternoon. Each class has prepared a short performance; a song or poem to entertain our guests. Many grandparents make a special journey to come every year to this event and we do look forward to welcoming them into our school as part of this celebration.

On Sunday we will have our autumn term school Mass, please do come and share this special Mass with us. Thank you to all those who have offered to read and help out. Please could all the children wear their school uniform. I look forward to seeing many families there.

Have a lovely weekend,

Elizabeth
Friday 23rd September

It certainly feels more autumnal this week, driving to school this morning it was beautiful: the sun was bright and low in the sky and the fields filled with pockets of early morning mist. It promises to be a lovely day. The children have been working really hard this week and the time is passing so quickly, we have lots of things happening in the next four weeks.

Almost all our Reception children are in school full time now and they have settled in so well. They are enjoying learning and making friends. The older children have loved getting to know them and helping them settle in. They do a wonderful job supporting the younger children.
We have had our first school council meeting. Here are the children who have been chosen by their class mates to represent them on the school council.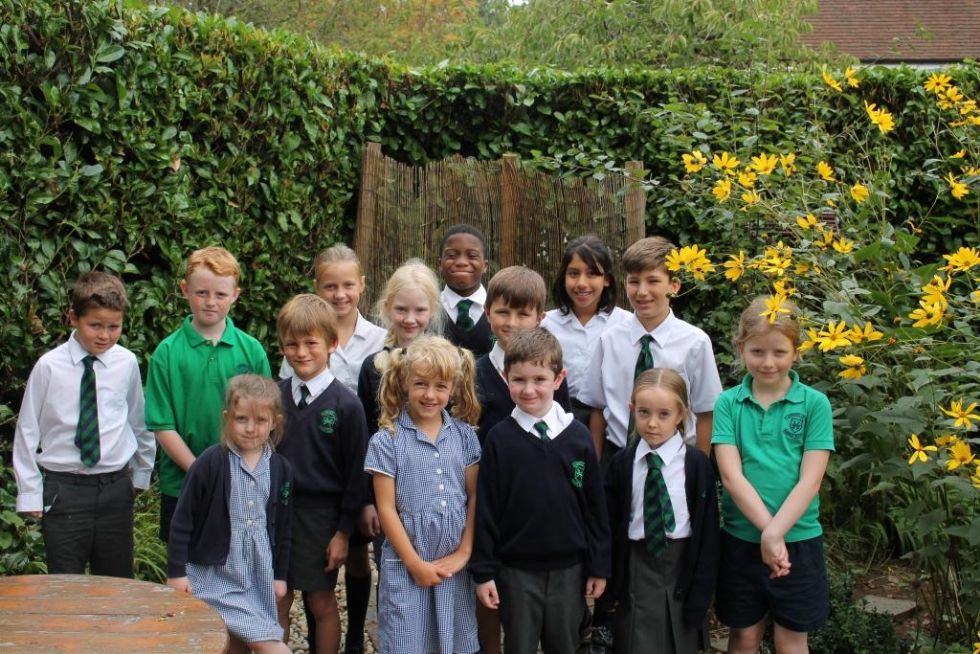 During our assembly on Monday, we talked about the First Holy Communion journey the children are starting on. After reading the gospel we thought about what makes us happy and whether having lots of money and possessions really does make us happy. Whether we have money or not we can use our gifts and talents well. As the Paralympic Games has just finished we thought about how inspiring the athletes have been and we saw a clip of Ibrahim Hamadtou, the Egyptian table tennis star who said "Nothing is impossible!" As lots of children have found about this week, it's not impossible to play table tennis without using your hands but it's certainly a tough challenge! Whatever our gifts and talents are, we must work hard to be the best that we can be.

On Tuesday morning we had a special musical assembly led by Music Works, they took us on a musical journey through the decades with Rock n roll, Queen leading to a Uptown Funk! It was great to see all the children dancing and clapping along!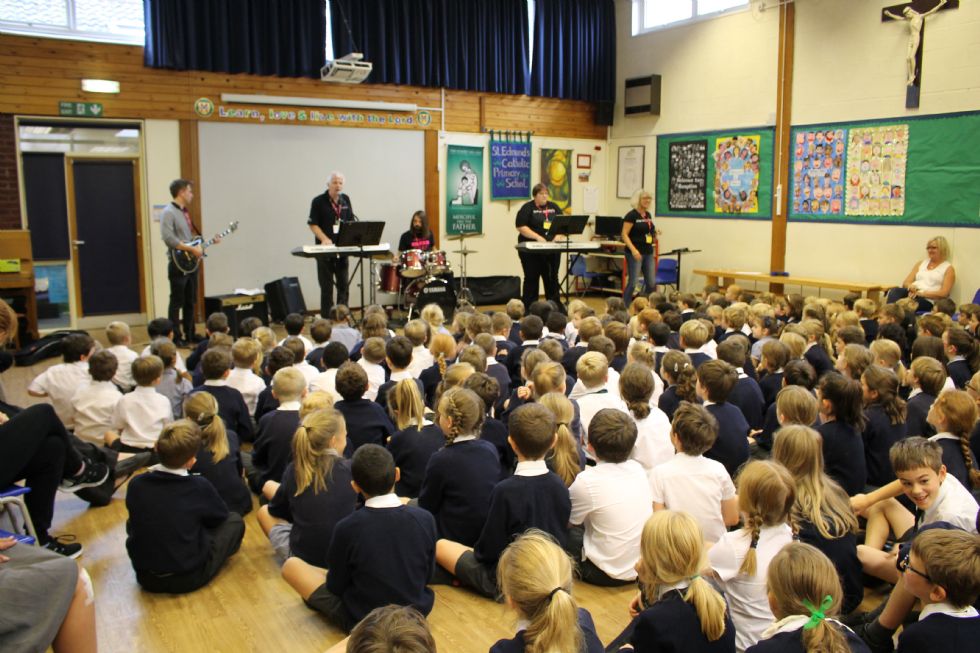 We had a visit from the Happy Puzzle Company yesterday; the children enjoyed the challenges and worked well together as teams. It was fascinating to hear them discussing their ideas and reasoning with one another, this is such an important part of their maths learning.

Most clubs have started this week, the children are enjoying the extra opportunities to use their talents: we have some exciting new clubs too including netball and French.

The children are busy preparing for our Grandparents Celebration afternoon next Friday. We are looking forward to welcoming our special visitors; I know it will be a lovely afternoon.

I have we can all enjoy more autumn sunshine this weekend,

Elizabeth
Friday 16th September 2016

It had certainly felt as if summer had returned this week! The children have coped very well with the record breaking September heatwave! It's been an unusual morning with the storms and torrential rain overnight, we had no telephone or internet earlier and have only just got communication up and running again. Some of the children have been talking about the thunder and lightning, many of them managed to sleep soundly through it! I think we will probably have a return to more typical autumn weather next week.

On Tuesday it was Roald Dahl Day, 13th September would have been his 100th birthday. The children have loved finding out about his life and sharing their favourite stories and characters. They have been inspired to write some imaginative pieces of their own too. Which Roald Dahl story is your favourite?

They children have settled into school life so well and have really being enjoying their learning in their new classes. This week I have seen the children talking about their names and families, numbers and place value, famous people, Ancient Egyptians, working hard on mental maths and much more!

A group of over 30 children took place in a Schools Triathlon event at Hever Castle on Tuesday. They really enjoyed the experience and many of them are already thinking about taking part in other events. They even featured on the South East news on Tuesday evening at 6:30pm!

We are busy finalising the roles and responsibilities that children across the school will carry out this year. Some of the roles are voted for by staff, most are voted for by the children. This year Year 6 children have been writing letters of application for the role of Prefect and there have been some very special and moving letters! It will be very difficult for all the staff to decide!
We have been extremely impressed and entertained by Year 6's House Captain assembly this morning, the speeches they prepared were amazing; they were very persuasive and thought through their ideas and proposals so carefully. They really could do anything in the future, I was very proud of them all! The children in each house then voted for their captains. I think that all the children will take on their new roles with pride energy and enthusiasm. Here they are: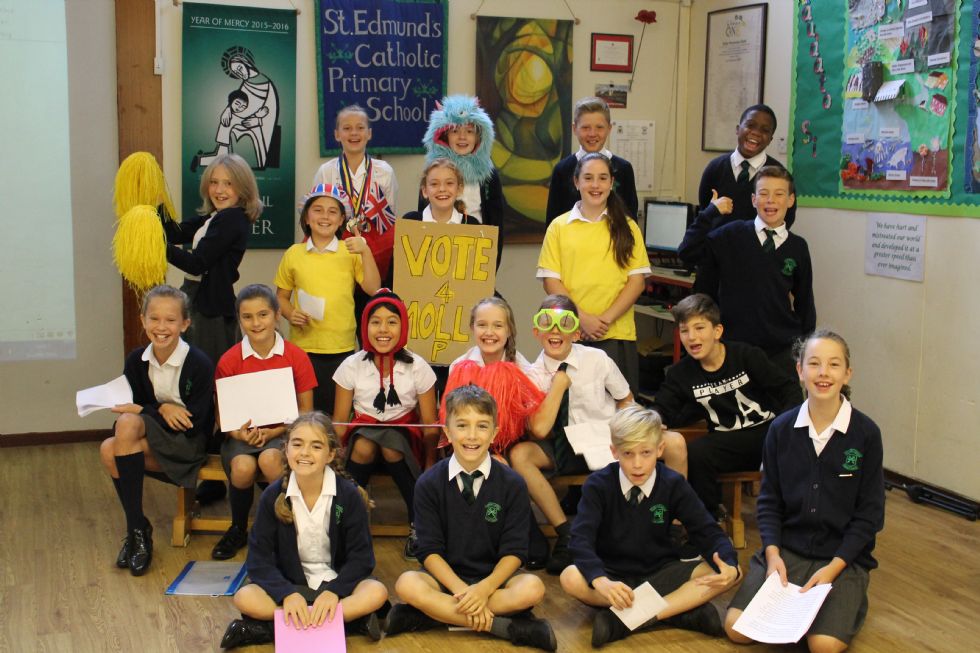 This weekend sees the first session of the First Holy Communion programme, the children will take part in the monthly teaching session on Saturday and will then lead the readings at Mass on Sunday morning, 10:15am at St Joseph's in Milford. Please keep them the children in your thoughts and prayers as they embark on their special faith journey this year.

Have a lovely weekend,

Elizabeth
Friday 9th September 2016

What a lovely week back we have had! It has been wonderful to welcome our new pupils and to see the rest of the children back after the holidays. They look so healthy, refreshed and smart in their uniforms. They children have settled into their new classes so well. Our new reception class children have been wonderful, they have come into class smiling, been to assembly and sat and listened beautifully and been really busy learning and playing and making new friends.
The weather has been perfect too; we hope it continues for the next few weeks.
Here are some of our new children: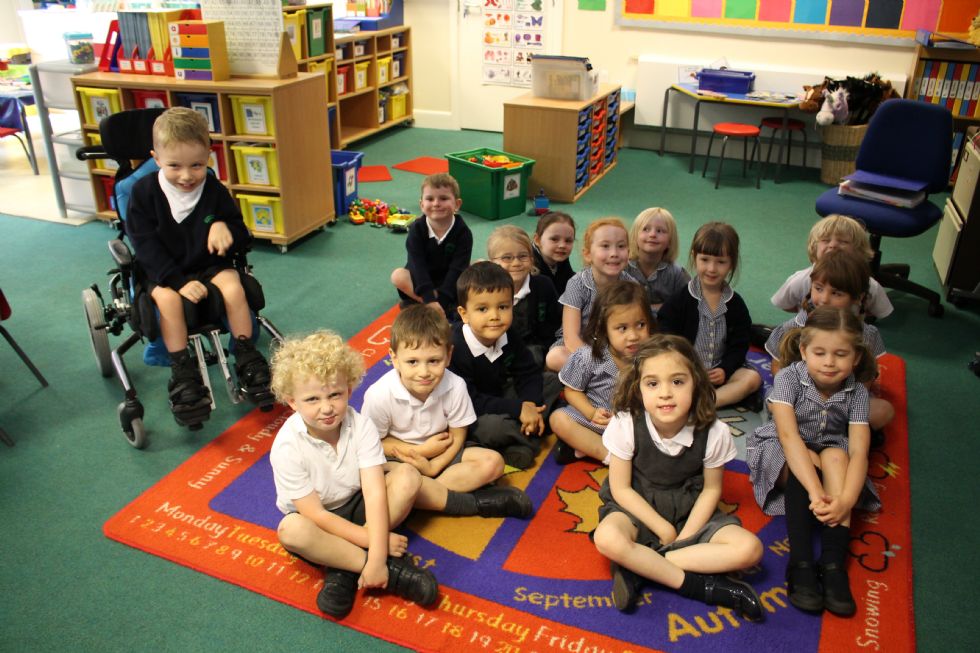 We have also welcomed five new members of staff, Miss Powell, Mrs Heffron, Mrs Emery, Mr McMurray and Mrs Sherwin, and three new children, Albie, Bethany and Ollie. I know that you will make them and their families very welcome.

In our first assemblies of the school year we have talked about the importance of our names, how we use our names at school and how God knows us all by our names. We have also talked about some of the exciting events that have happened over the summer, the Olympics, the start if the Paralympics, the 350th anniversary of the Great Fire of London and Mother Teresa becoming a saint. We reminded ourselves of the Year of Mercy and how Mother Teresa devoted her life to serving and helping others. We thought about the words that she said: "Let no one ever come to you without leaving better and happier. Be the living expression of God's kindness: kindness in your face, kindness in your eyes, kindness in your smile." There have been so many friendly smiles this week, it has been really lovely to see.

I'm really looking forward to the year ahead, it's going to be a very special year. I hope to see everyone at the 'Meet the teacher' meetings next Monday.
Have a lovely weekend,
Elizabeth