Headteacher's Blog 2017-18
Friday 17th November 2017
We have had a colourful start and end to this week with odd socks on Monday and a mufti day today!
The odd socks were worn on Monday to kick off Anti-Bullying week and raise awareness by celebrating our differences and individuality. The children have created posters on this years' theme 'All different, all equal'. We have reviewed our child friendly anti bullying policy with some of our Digital Leaders to ensure that it is up to date and effective. This is now on the website and do look out for our new posters around the school.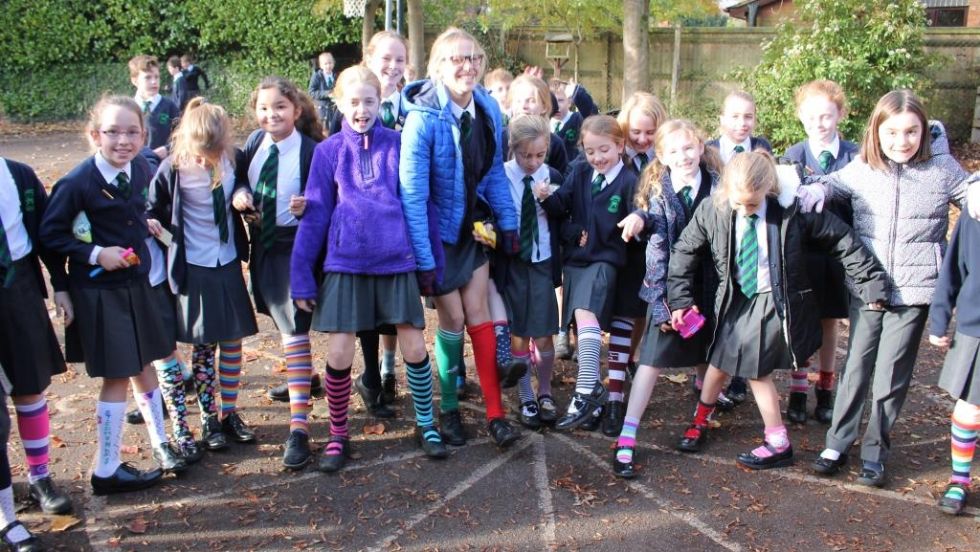 Today we are wearing mufti as preparations get underway for the Christmas Market on 1st December, children have brought in sweets today for the sweet tombola stall.
We thought about Remembrance Day on Monday morning and Year 6 children led our assembly sharing their learning and reflections on their recent visit to the Poppy Factory in Richmond. It is so important that the children know why we remember those who died for their country so that they can pass on the stories to the furture generations and they are not forgotten.
On Tuesday after school we hosted a staff meeting with St James in Elstead, Loseley Fields and Green Oak teachers. We are all working on imporivnjg teaching and learning in maths and we were moderating children's work and looking for evidence in the children's book that they are working at or above the expected standard. It was a really useful session and we have lots of ideas to work on and follow up on at our next meeting.
On Thursday morning we had a special assembly led by Chris and Jackie from CAFOD. They explained how our donations really do make a difference. They told the story of the Three little pigs and linked this to the work done in the Philippines following the devastating typhoon a few years ago.The children do enjoy helping others and we saw a wonderful example of this yesterday. Evie, Tom and Ollie had organised a doughnut sale for Pancreatic Cancer Awareness Day. It was a great success and they raised over £260. Thank you all for your support, everyone enjoyed the doughnuts too!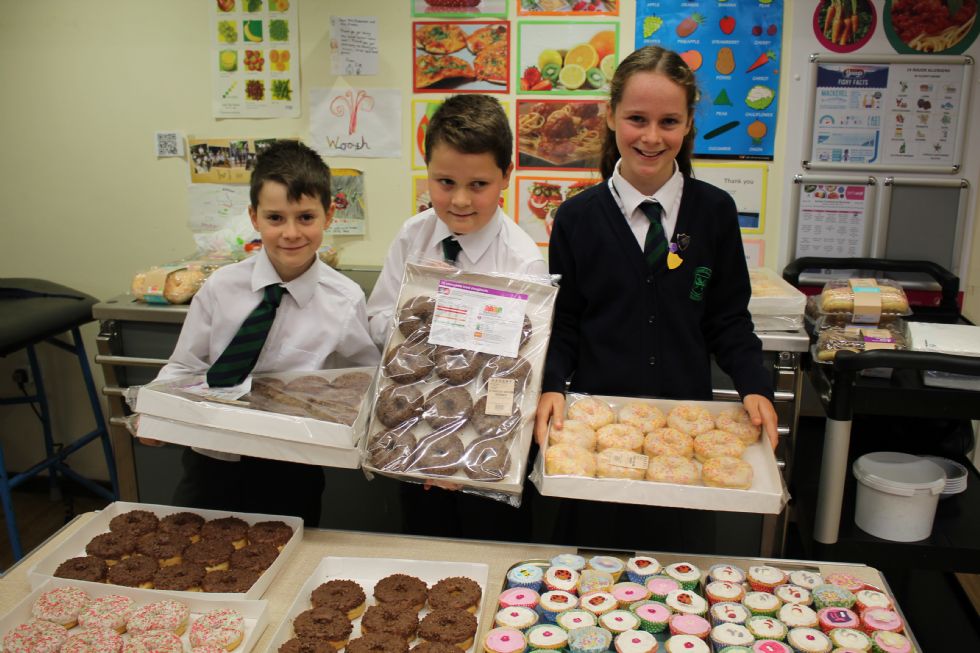 We have had hymn practice this morning in preparation for our St Edmund's Day Mass on Monday morning at 9:30am, please do come and celebrate with us. There will be a treat for the children in the afternoon, I'm sure you will hear more about it on Monday.
Have a lovely weekend
Elizabeth
Friday 10th November 2017
We have returned to normal this week, if there is ever such a thing as a 'normal' week in a primary school!
We started the week by talking about Guy Fawkes and the history of Bonfire Night. The school council children who have recently been to visit the Houses of Parliament were able to tell us all about the rooms they visited and the cellar underneath the king's chair where the gun powder was stored! We also spent time reflecting on the month of November and remembering those who are no longer with us. The children have been selling poppies at lunchtime and we will have a special Remembrance assembly on Monday morning.
Next week is Anti-Bullying Week, the theme this year is 'Everyone equal, Everyone different'. We will kick the week off with odd socks day on Monday to celebrate our individuality! It will help us all raise awareness of bullying and empower all children to have a voice and talk about what is right and wrong. Each class will create a poster representing the theme of this years' week, look out for them around school.
Year 2 children had an exciting day at Hampton Court Palace on Tuesday where they learnt more about Elizabeth I as part of their topic on famous people.
Also on Tuesday, Year 1 enjoyed a special seaside workshop at school lead by Chertsey Museum; the children tried on Victorian costumes, wrote seaside postcards and performed a puppet show.
On Wednesday we welcomed many visitors during our open morning, as prospective parents looked round the school. The Year 6 children led the tours and did a fantastic job of showing off their school. They love doing this and so many parents commented on how wonderful they were as ambassadors for the school. Well done!
Yesterday we had a visit from a group of our school governors who came to do a Learning Walk looking at maths and the progress that children make across the school. We visited every class and it was great to see how much the children love learning and how much they can do by the time they reach Year 6! The children were really engaged and enthusiastic about learning in all classes and they have really been working on their reasoning skills, this was evident in all the classes.
This morning we have been transported back in time to the Stoneage by Year 3 in their amazing assembly. We had a very special edition of the Antiques Roadshow where we learnt all about stoneage life, saw cave paintings and even heard instructions for washing a woolly mammoth! It was great fun, we could all see how much you are enjoying learning in Year 3!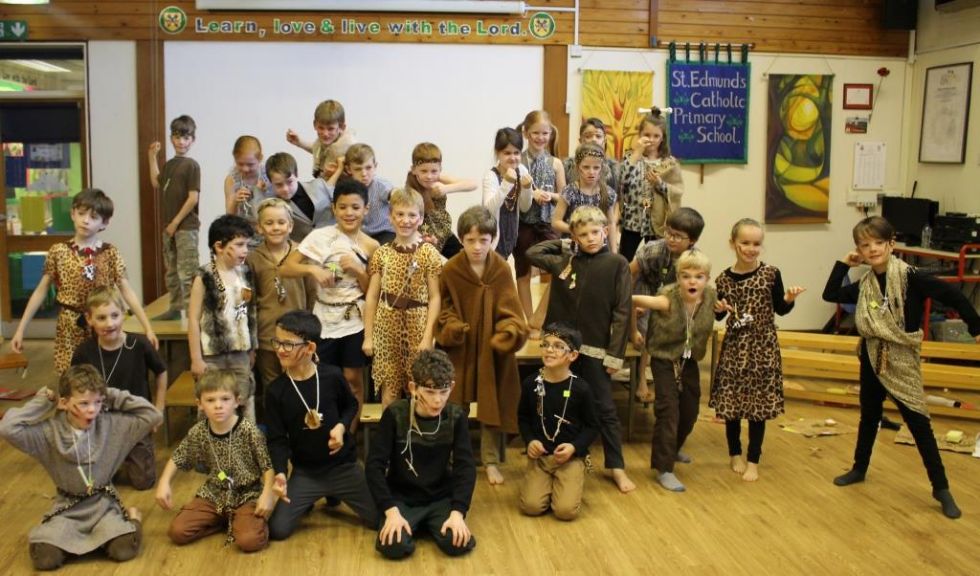 Have a lovely weekend
Elizabeth
Friday 3rd November 2017
Welcome back, what a week it has been!
We started with our INSET day on Monday. This was a date shared with all our confederation schools where we met together at St James in Elstead to share good practice in maths. Teachers presented workshops on different areas including using mathematical language, using the bar method, teaching times tables and mastery in maths. We returned to school in the afternoon and looked at children's work in maths and English in their exercise books. This was really helpful as we could see the progress that the children had already made this year.
On Tuesday we welcomed the children back and found out about the customs and traditions associated with Halloween during our assembly. We talked about All Hallows Eve and the children knew about All Saints Feast day on 1st November. Although we often think of many modern Halloween traditions as American, most originate from the Celtic festival Samhain and much closer to home. For example Mischief Night involved children in Derbyshire and Northern England knocking on doors and tricking people! The children were all very excited about dressing up and going out that night.
Shortly after assembly I received a phone call to inform us that our Ofsted inspection would take place the following day. After talking to the inspector, it was all systems go as we prepared for the next days' inspection! It was lovely to see the whole school community come together supporting us all, from the children, teachers to parents everyone was really positive and encouraging! I was extremely proud of everyone on Wednesday, it was a long and busy day but there was a great atmosphere of teamwork throughout the school. The letter with the inspection finding will be published in the next few weeks and I will send this to you all as soon as I am able. Thank you for all the good wishes and positive comments they are very much appreciated by us all.
After the inspectors left on Wednesday evening we were off to Fr David's induction Mass celebrated by Bishop Richard. We are very fortunate to have Fr David as our parish priest and he has been a wonderful presence in school since his arrival last spring. It was a lovely celebration and an honour for the school to be involved. The children read beautifully and received many compliments, well done.
Year 5 enjoyed a day learning about Ancient Greece at Chertsey Museum on Thursday, they had a great day which really enhanced their learning on their topic.
Although we have only been back for 4 days, I think we are all ready for the weekend!
Here are some of the wonderful firework poems Year 1 children have written this week: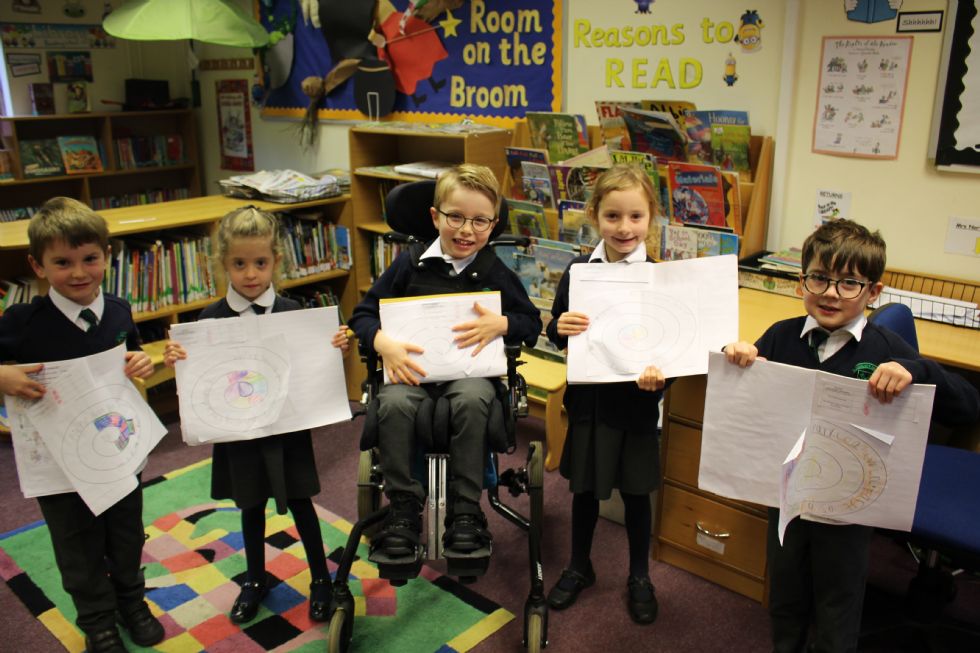 Have a lovely weekend; enjoy and stay safe at any firework or bonfire celebrations you may be going to!
Elizabeth
Friday 20th October 2017
It was an unusual start to the week weather wise with the grey-orange sky on Monday creating a strange, eerie atmosphere at lunchtime in the playground much to the excitement of the children. We finish the week with storm Brian looming, I hope he doesn't cause too much disruption at the start of the holiday!
We have had our Parents' Consultations this week. Thank you for coming; I hope that the appointments were useful; it was certainly really good for our teachers, especially the new members of staff, to meet everyone and discuss how well the children are doing this year.
During our assemblies this week the School Council talked to everyone about their visit to the Houses of Parliament last week. On Tuesday we thought about October being the month of the rosary and prayed part of the rosary thinking about the joyful mysteries.
Wednesday was the first Golden Assembly of the school year. The children were presented with some very special awards. Headteachers awards were given for excellent attitude, improvements, resilience and perseverance. There is always great excitement when the house point winners are announced and this time it was no exception! It's always great to see how supportive the children are of their classmates and the other children.
Today the children are dressed very colourfully in the colours of the Burkina Faso flag on our special mufti day to raise money for St Michael's school in Manni, which we are partnered with. We hope that the money we have raised today will enable the children there to have a better chance of an education.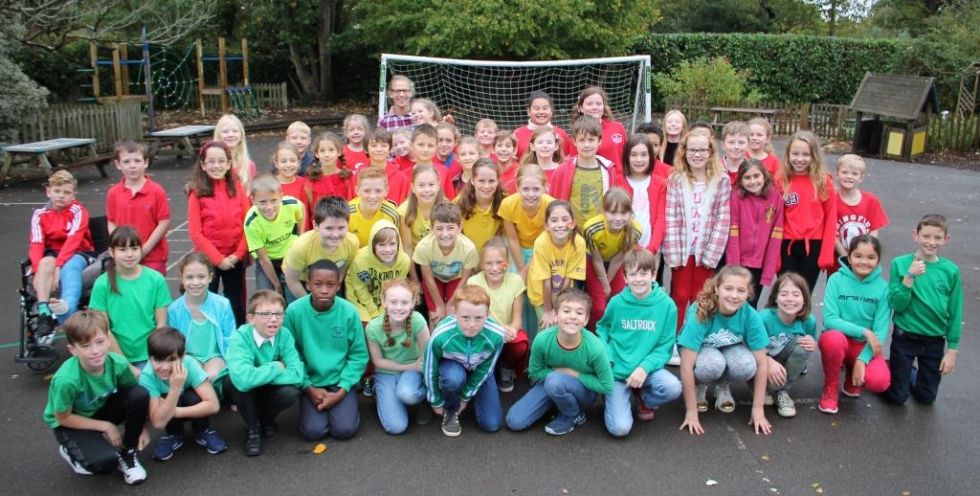 We will send them this photograph of our colourful school today!
Have a lovely half term holiday, I think everyone is ready for a well-deserved rest, I know the teachers are!
Elizabeth
Friday 13th October 2017

Thank you to all the families who came to last Sunday's School Mass, it was wonderful to see so many families there. The children read extremely well and they all enjoyed helping with the Mass.
We started our week with an assembly celebrating the children's learning from Little Way Week last week. The children learnt about St Therese of Lisieux. They thought about little things that they could do every day to help others and share love as Therese did. The children have really been inspired by finding out about her short life. I hope they continue to do these little things at home this weekend!
This week we have welcomed back Mrs Millis and we are all delighted to have her here with us again.
On Tuesday I took our KS 2 school councillors to the Houses of Parliament. We travelled to London by train and walked across Westminster Bridge, the children enjoyed seeing the sights. During our visit we had a tour of Parliament; saw the speaker's procession which takes place every morning as John Bercow enters the House of Commons accompanied by the Sergeant at Arms who carries the mace. The speaker even stopped to say hello to the children. We visited the House of Lords where David Blunkett former Education Secretary, now a Lord was there with his guide dog. The children learnt so many fascinating facts about Parliament including visiting the room above where Guy Fawkes hid the barrels of gunpowder! The children were very well behaved and returned with a great understanding of how powerful their voices can be.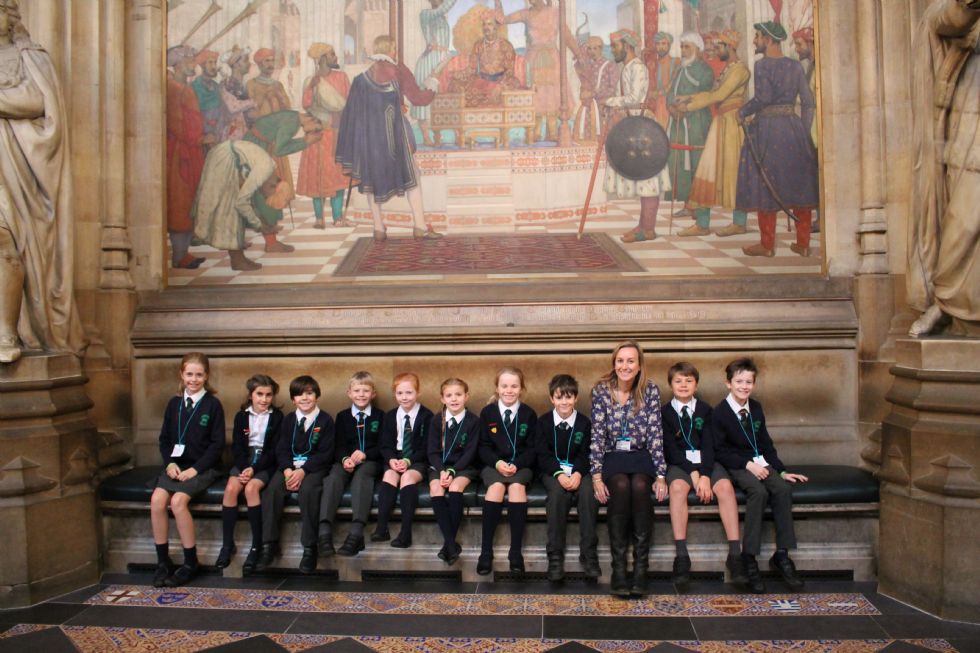 This morning we have enjoyed another great celebration assembly, this time it was the turn of a class of skeletons from Year 4 who taught as all about the human body, the skeleton, the brain, exercise, putting parents to the test and even the Macarana! I really enjoyed seeing them all having fun and enjoying their learning. They looked great in their costumes which I hope they will be able to wear again tonight, they should also be able to perform the Macarana again too!
We have our Harvest Liturgy this afternoon thank you for all your donations for the Godalming Foodbank which have been pouring in this morning. The children are looking forward to sharing their special service of thanksgiving with you all later today.
The children are very excited about the Spooky Discos this evening; they are really looking forward to dressing up too!
I look forward to seeing everyone next week at our Parent Consultation evenings.

Have a wonderful weekend,

Elizabeth
Friday 6th October 2017
After a wonderful adventure with Year 6 last week, it was great to see the whole school back together this week. During our assembly on Wednesday we talked about challenges and looked at some of the photos and experiences of Year 6 last week. The children loved the challenges and it has really helped them to see just what they can achieve if they work hard and push themselves in all they do. The Year 5 children are already very excited about their visit next year.
We started the week with our Commissioning Service where children promised to carry out their roles and responsibilities to serve one another as part of our school family. We have had a very busy time with the Book Fair in school and the Life Bus visiting- sadly without the bus as it had broken down! We had the lessons in the classroom instead. The children still enjoyed finding out about how to live safe and healthy lifestyles.
Thank you to the parents and volunteers who attended the Safeguarding session with me on Tuesday morning and to those parents who stayed fir the Life Bus parent session on Wednesday morning we hope you found them useful and informative.
Last Friday we very sadly said goodbye to Mrs Millis after her amazing 15 years at St Edmund's, we thank her for all the wonderful work she has done for the hundreds of children she has cared for, she will be greatly missed and we wish her every happiness in her new job.
This afternoon we will welcome our Grandparents to school, we are excited about performing for them and hope they enjoy the afternoon. It will be a very special afternoon, the singing sounds beautiful! Here is the Year 3 practicing this morning.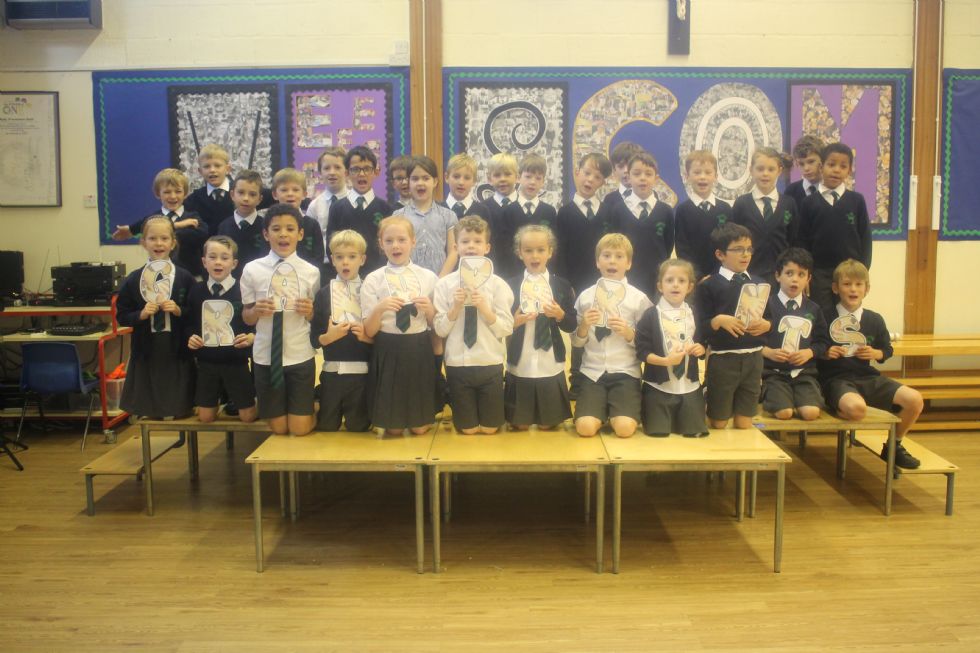 Please do join us for our Autumn Term school mass this Sunday morning at St Joseph's in Milford; I hope to see lots of families there.
Have a lovely weekend,
Elizabeth
Friday 29th September 2017
I can't believe it's the end of September already, it will be October when we return to school on Monday!
I have had had an amazing week with Year 6 at Outdoor Adventure in Bude, it has been a priviledge to spend the week with such a lovely group of children. They have been really wonderful; great teamwork, determination and approaching everything with enormous enthusiasm and a smile. They have learnt many new skills: surfing, bodyboarding, canoeing, archery, abseiling, climbing and coastal traversing. We have spent the week in a beautiful location, the north Cornish coast, all activities taking place in or above the rolling waves. It has been a week to remember for us all. I was especially pleased to have managed to stand on my surf board after several years of trying! It just goes to show how important it is to persevere! They will be keen to tell you all about their adventures next week.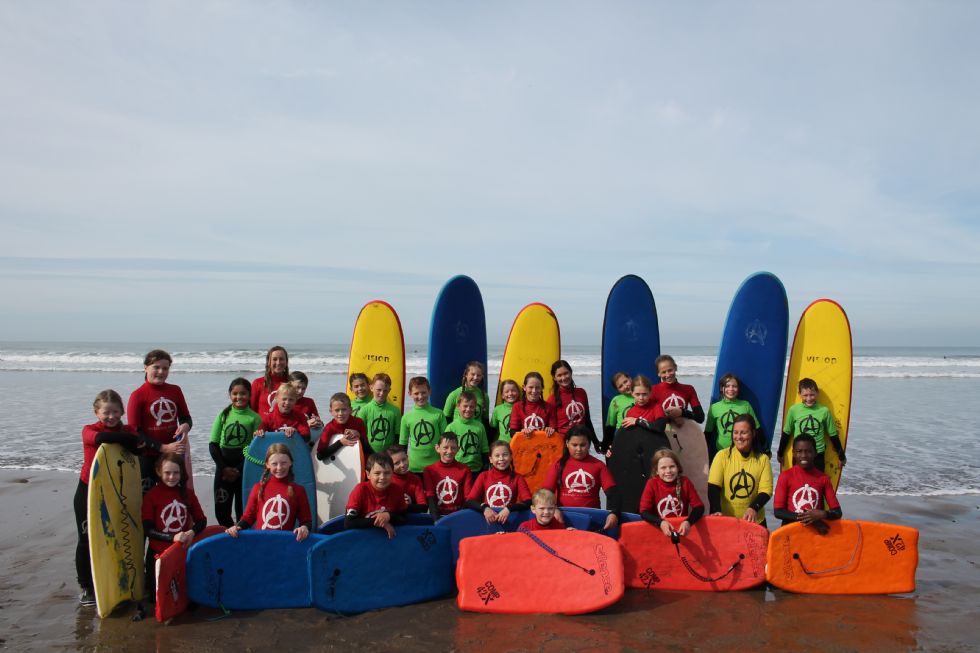 Everyone has had a good week back at school, I have been updated daily on what has been goingon. It will be lovley to have the whole school back together next week. We have our Commissioning Service on MOnday morning and Grandparents Day next Friday, it will be another exciting week.
See you all next week,
Elizabeth
Friday 22nd September 2017

It's a beautiful autumn morning today, cold, but with bright sunshine, I could see the sunrise over the fields, patched with mist as I drove in this morning, it was lovely, one of those morning where you want to stop and take a picture to help remember the view! It was a reminder that we are now well into the term and September is moving fast. We have had the whole school in full time this week, even a couple of days were there were no absences at all, and the Year R children have settling in brilliantly, it feels as if they have always been here. I even had the pleasure of teaching them on Tuesday morning and getting to know them all.
We have had our first school council meeting and updated the display board in the hall with the new pictures. Here are most of them: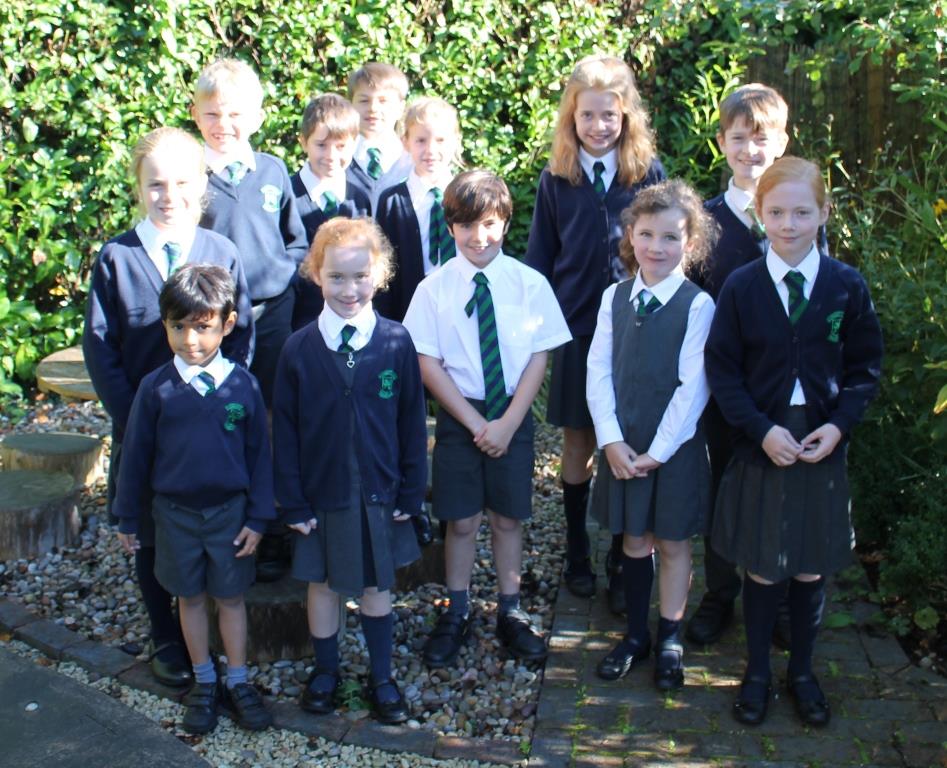 The children had their school photographs yesterday, they all looked very smart and the photographers took their time to ensure that the children were relaxed and looking their best, we hope that you are pleased with them, I think you will be!
Next week Year 6 is on a big adventure to Bude for their residential trip. It's going to be an amazing week and such a wonderful start to their final year at St Edmund's. We know it will be a week of learning new skills, facing exciting challenges, teamwork and cooperation: a week they will remember for the rest of their lives! I can't wait to spend it with them and we are hoping for week of warm sunshine too!
We had our annual Deanery Mass yesterday after school, it is always a lovely opportunity to come together as a group of schools to welcome new staff, catch up with colleagues and start the new school year together in prayer. We were talking afterwards about other ways in which we can support and work more closely with one another.
Year 5 kicked off our class celebration assemblies this morning with a very special assembly looking at gifts and talents. They really are very talented; we had dance, singing, music, acting and the important message of sharing our God given gifts and talents. It was very inspiring and they have certainly let their lights shine bright this morning! Well done Year 5.
Have a lovely weekend and enjoy the autumn sunshine,
Elizabeth
Friday 15th September 2017

We have welcomed our youngest children to school this week. The 30 Reception children have settled in so quickly. They are looking very grown up, confident and proud of themselves. They have been very happy coming into school and we have loved seeing them all and getting to know them. Here they are on Monday morning when they all managed to squeeze into my office!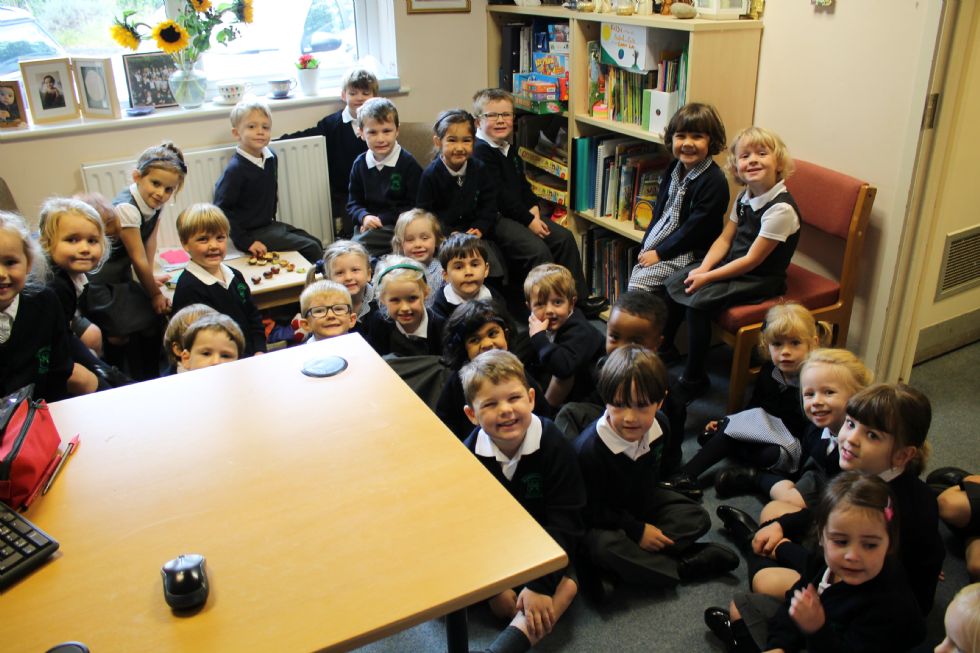 We have started some of our exciting clubs this week KS 2 have had a taster session for a new Judo club starting next week. Many of our other clubs will be starting next week.

This week as I have visited all the classes I have seen year R exploring the bikes, the new mud kitchen area, the role play area, where the children were planning a visit to a Disneyland Paris! They are enjoying using the interactive whiteboard even reading and counting the objects really accurately. Year 1 were starting their RE topic thinking about how much we have grown since we were babies! In Year 2 the children have been using their place value skills to compare numbers that are greater and less than and they have been really challenging themselves. The Year 3 class has been out and about in the playground using their senses to describe the school environment, they had thought very carefully about their descriptive vocabulary. Year 4, 5 and 6 have embraced Roald Dahl this week, (it was Roald Dahl Day on Wednesday 13th) and have been reading Charlie and the Chocolate Factory, designing book covers and even writing Roald Dahl's biography. It's fantastic to see the children all working so hard and enjoying their lessons.

Year 6 have led the special House Captain assembly this morning. Those who want to stand for House Captain prepared short speeches. They were very funny and engaging and everyone was very impressed by the standard. The children are certainly rising to the challenges of Year 6 with great enthusiasm; well done to you all. The rest of the school are now using their voice and voting for their House Captains. Here are Year 6 after the speeches: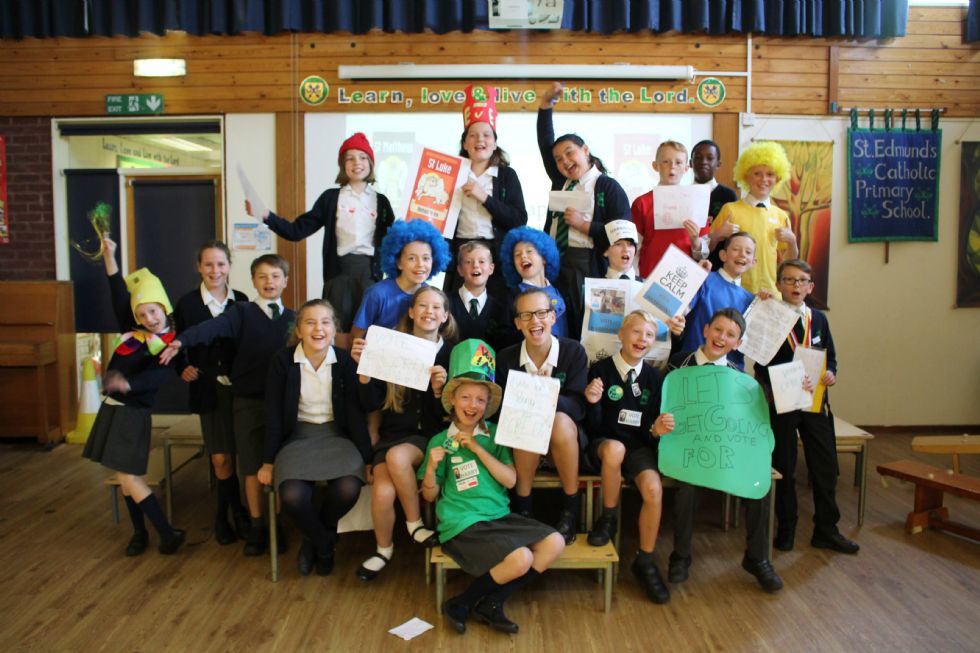 It feels as if we have been back at school for quite a while now and everyone is settling into the routine of school life and enjoying learning.

Have a lovely weekend,
Elizabeth
Friday 8th September 2017
Welcome to a new school year! After the long summer holiday, that seemed to rush by, we are back. We started the week with two INSET days where we made valuable preparations for the year ahead. We were all ready for the children returning on Wednesday, as whilst peaceful, the school is just a building without its pupils!
It has been lovely to see the children coming into school smiling and delighted to catch up with their friends and teachers. They are all looking very healthy, well rested and smart in their new uniforms and shiny shoes. The children seem very happy to be back and they are looking forward to learning and making the most of every day.
Here are some of our Year 1 children with their summer holiday pictures: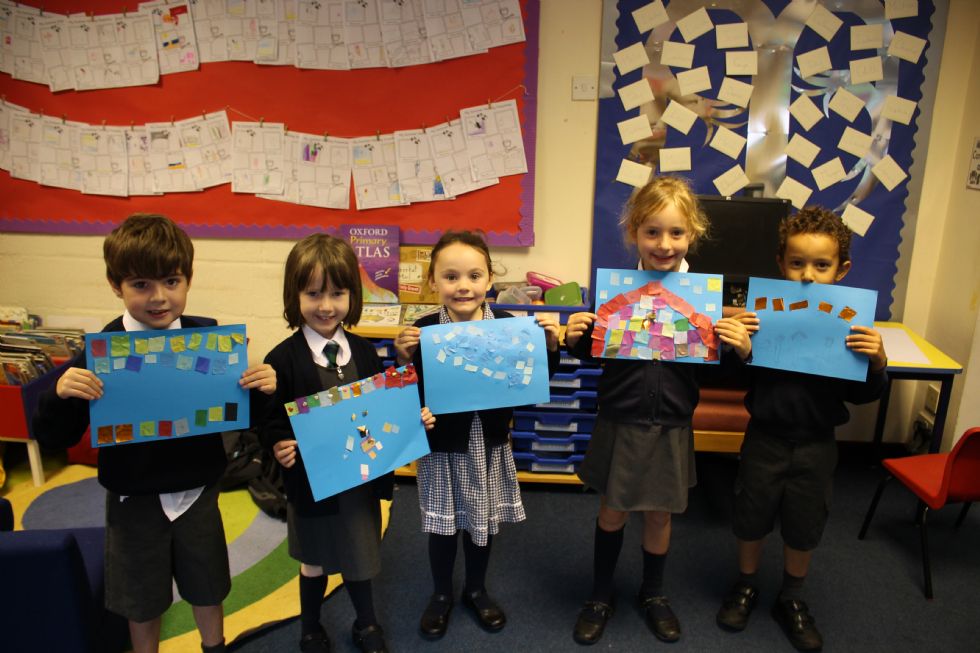 It's been a busy and exciting week with lots of new faces joining our school family. We welcome our new teachers; Miss Bennett Year 1, Mrs Scott Yr 2, Mrs Every and Ms Robson Yr 3 and our new Home School Link Worker, Mrs Tod. We have nine new children too; Charlotte, Megan and Freya in Year 1; Riley in Year 2; Bethan, Felix and Tom on Year 3; Izzie in a Year 4 and Kaden in Year 6. Our new Reception class will start in Monday; we can't wait for them to join us! I'm sure you will make them feel welcome.
During our assemblies this week we have talked about new beginnings and how we can make the most of the new start that we have this school year. We have thought about how much we change and grow all the time, even though we don't see these changes. We have introduced the new children who have joined us this week and we're looking forward to the reception class taking their place at the front of the hall next week.
Here are KS 2 waiting for assembly this morning: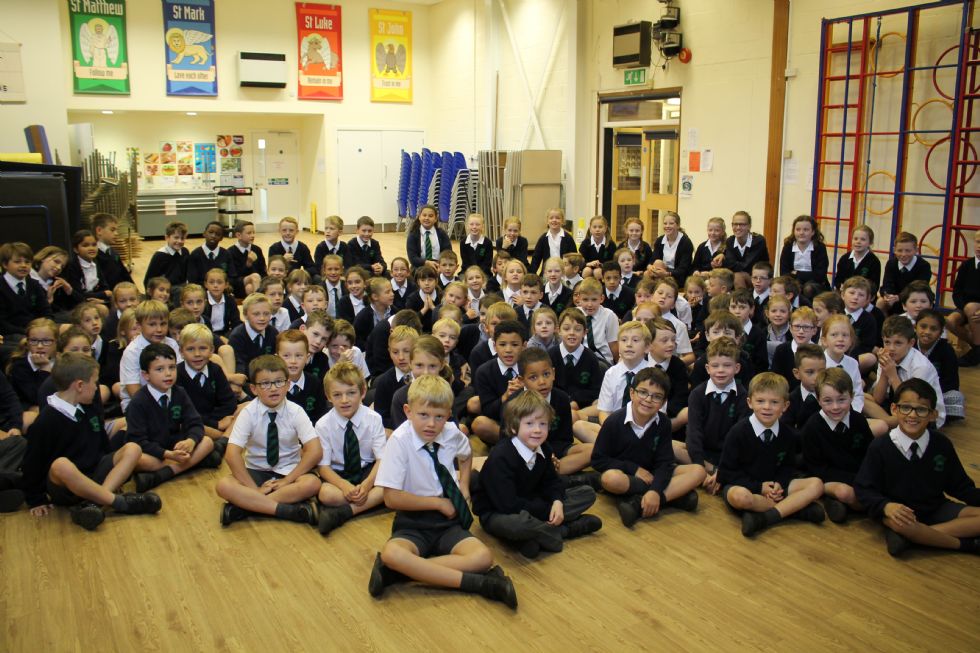 You will have a chance to 'Meet the teachers' on Monday after school. I look forward to seeing everyone next week.
Have a lovely weekend,
Elizabeth