Friday 29th March 2019
Cooking, furry visitors and rock stars!
Friday 29th March 2019

It has been lovely to see the sun again this week, it has lifted everyone's spirits.
There have been more sporting events this week with Yr 6 netball tournament on Monday afternoon and Years 3 and 4 cross country at Barrow Hills, this was rescheduled from a very wet and stormy day earlier in March. The children did very well at both events.
Year 3 has been cooking, on Monday making little pastry mice filled with cheese. They looked really good. On Wednesday it was Year 5's turn, they made rock cakes! Year 4 children have also been making some special edible mother's day gifts!
The hall was alive and kicking on Tuesday afternoon when the children who have been having Rock Steady music lessons gave performances for their parents. The children played the songs on electric guitars, keyboards and drums that their bands have been rehearsing. Each band also had vocalists. The songs included: Shotgun, Another One Bites the Dust and even one of the band's own compositions. Parents and grandparents really enjoyed the concert and the children did really well and played the instruments with confidence.
We had some unusual visitors on Wednesday morning when Graham from Hydestyle Animal Rescue came to see Year 3 with Penny the hedgehog, Elsie the squirrel, Charles the chinchilla, an old German owl pigeon, a pair of pole cats and a couple of mice! The children loved meeting and finding out about them.
This morning we have watched Year 2 singing the songs from the recent Infant Singing Day for their parents. They sang the songs about fitness and staying healthy really well, thank you Year 2.
This afternoon our youngest children will give their mummies a special treat with their lovely Mother's Day celebration. The children have been busy rehearsing and thinking about all the things they want to say thank you to their mummies for. I'm sure that they will enjoy it and that all the children remember to look after their mothers on Sunday.
Yesterday morning the whole of KS2 walked down to Mass at St Edmund's. Thank you to Father David for making us so welcome.Here they are making their way up the 96 steps!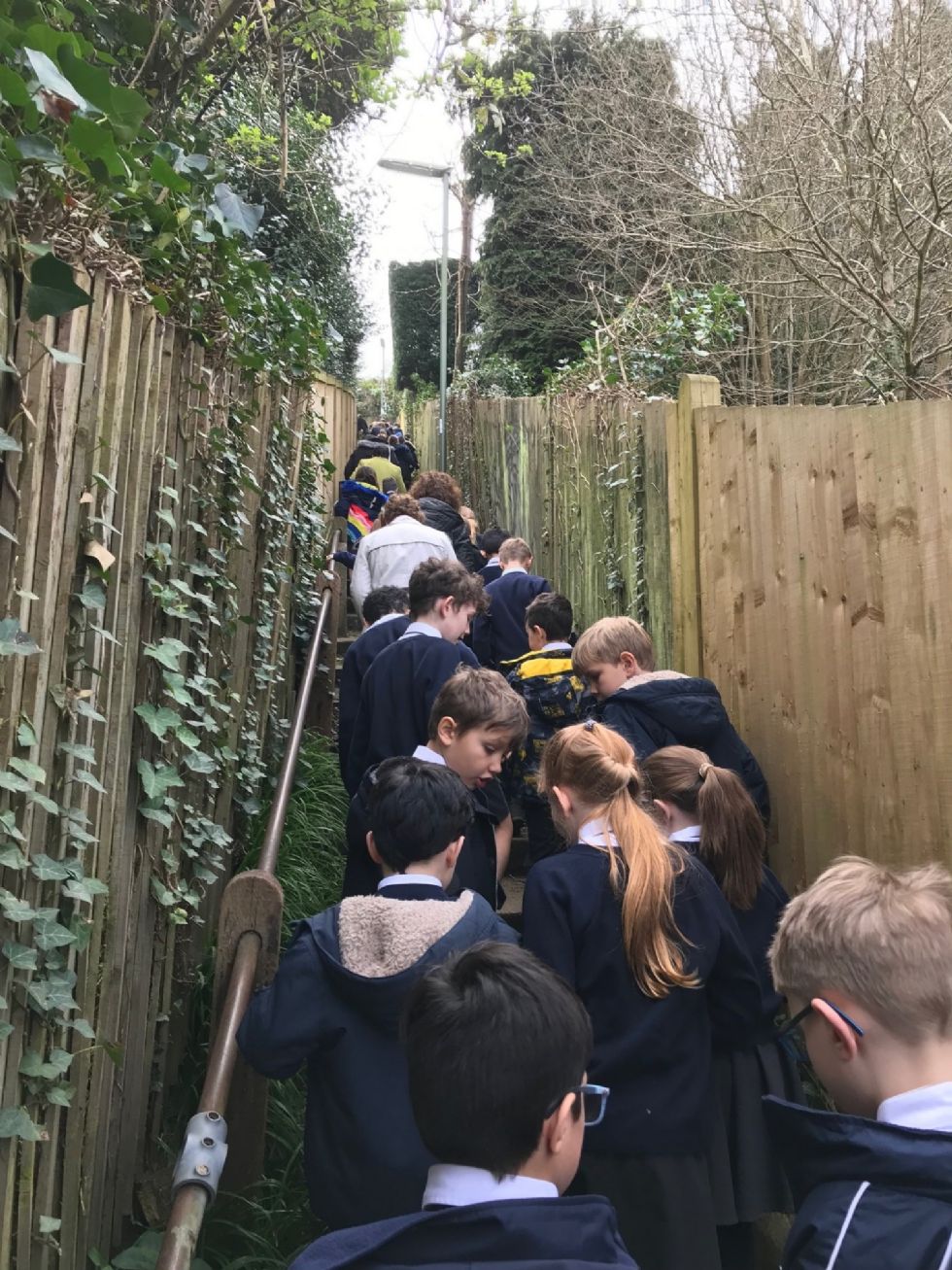 It is hard to believe that next week will be the last week of term before Easter, this term really has flown by! It was be another busy week with an exciting theatre visit for the whole school, Golden Assembly, the Passion Play performed by Year 6, the Easter Egg hunt and our End of Term Lenten Mass next Thursday.
The clocks go forward this weekend and it will seem very early on Monday morning but we will all enjoy the lighter evenings.

Elizabeth