Friday 20th December 2019
Christmas is nearly here..
It's the last day of school this year before Christmas and the excitement has been building all week! We have all had had a lovely, festive final week at school.
We have had musical concerts from Rocksteady on Tuesday afternoon and our other musicians on Monday afternoon, playing violins, viola, double bass, piano and guitar. The children all played really well and enjoyed the chance to perform for their parents and grandparents.
On Tuesday morning Father Jonathan celebrated our special end of term Advent Mass, it was lovely to see so many parents and grandparents join us, thank you.
On Wednesday morning we had our Golden Assembly; the children were very good as it always takes quite a long time to hear about all the wonderful thing they have been doing! There were some very special headteachers awards given for hard work in all areas of school life, helpfulness and good friendship- well done to you all.
Then in the afternoon it was Christmas party time. The children changed into their party clothes and enjoyed games and food together. During the afternoon we heard bells ringing and a very special visitor brought presents for each class. The children were very excited and really enjoyed the parties.
Year 3 and 4 children have waited until last to share their Carol Service with us, yesterday, in the morning for the school and in the evening at St Edmund's Church for their parents. It was lovely to hear them singing by candle light, bringing us back to what Christmas is all about.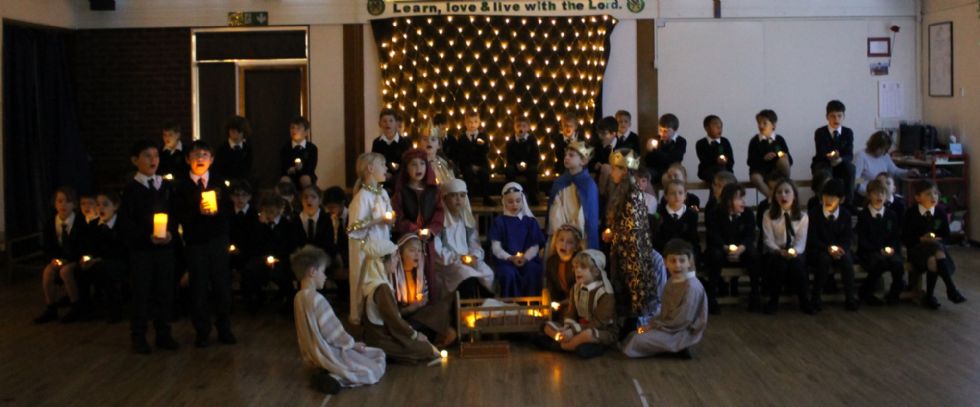 We will finish the term with our 'Carols Round the Tree' at ten past one this afternoon, please do come and squeeze into the hall and join us singing carols for our festive celebration!
I hope that everyone has a wonderful Christmas and a very happy start to 2020.
See you all next year,
Elizabeth