Friday 26th June 2020
We have had a very warm week at school, the children have managed well, maybe it helps having fewer children in each classroom! We did all have ice creams yesterday as a treat!
The children have been busy coming up with fundraising ideas for the CAFOD summer of hope appeal and we have a mufti and crazy hair day today, Year 6 were very keen on the crazy hair! They all look great. Here are our Year 6 pupils with their letters spelling, 'Hope is Contagious' for CAFOD, in their mufti and crazy hair this morning!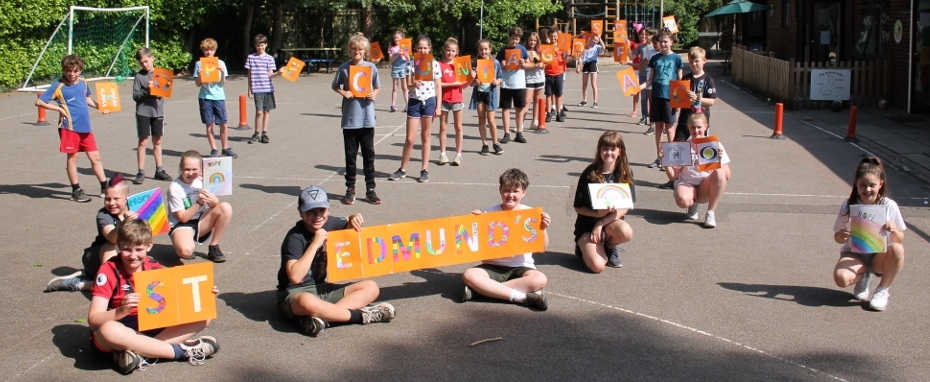 This week during in class assemblies, I showed the children a picture of a basket made by someone on the Arundel and Brighton Diocese.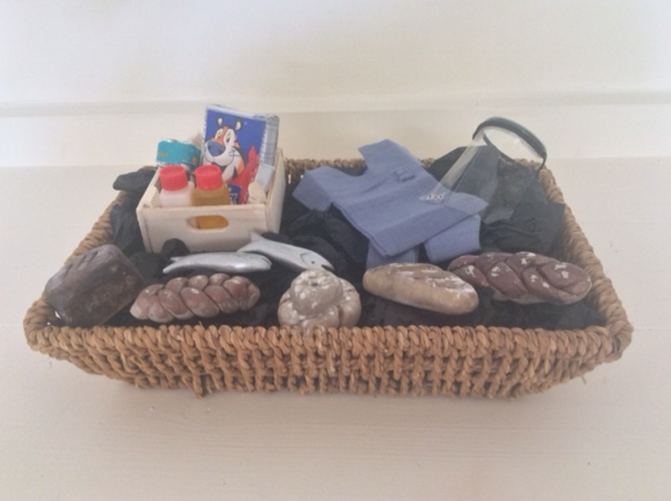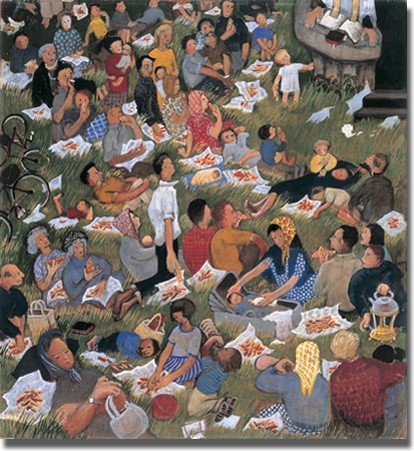 They have made it to illustrate the work that schools have done during the pandemic, with tiny scrubs, food parcels and loaves and fishes to show how have adapted and stretched our limited resources to meet the needs of our communities during this time. We talked about the feeding of the five thousand and shared this modern day painted version of the story. The Year 6 children have been planning to make their own versions of the feeding of the five thousand pictures to show how the scene might look now. I will share some when they have finished!
We have started a new hall display to tie in with the 'Summer of Hope'. The rainbow is finished and we will be adding home learning work from children across the school, to show that although we are apart at the moment, we are still together. The picture above shows some of the younger children dancing in the hall under the rainbow!
I have been busy planning for our transition sessions at the end of term and we have been planning some special events for Year 6. These will be very different to other years, but we hope will still be something for the children to enjoy and remember.
It is so strange to think that we only have three weeks left, what a strange year it has been!
Enjoy the weekend,
Elizabeth