Archived Headteacher's Blog 2017-18
Friday 20th July 2018
It's the final day of the school year and what a wonderful year it has been! We've had personal successes, amazing sporting achievements, great academic results and the children really do love coming to school to learn.

On Tuesday we had our final Golden Assembly of the year, there were some very special awards presented and the overall winners of the House Points Cup were announced. This year St Mark's house won with 9940 points! We have so much to celebrate this year and hearing all the wonderful achievements of the year reminds us all of how much progress the children have made this year.
On Wednesday we had our very special Leavers Mass at Ladywell Chapel. As the Mass was quite early in the day we managed to walk there and back to school before it got too hot. Being in the chapel is always special and it was a lovely setting for our final Mass of the school year. The children read and sang beautifully and we would like to thank Fr David for celebrating this Mass for us. I love seeing the children walking together and I hope that this is one of the many things that they will always remember about their time at St Edmund's.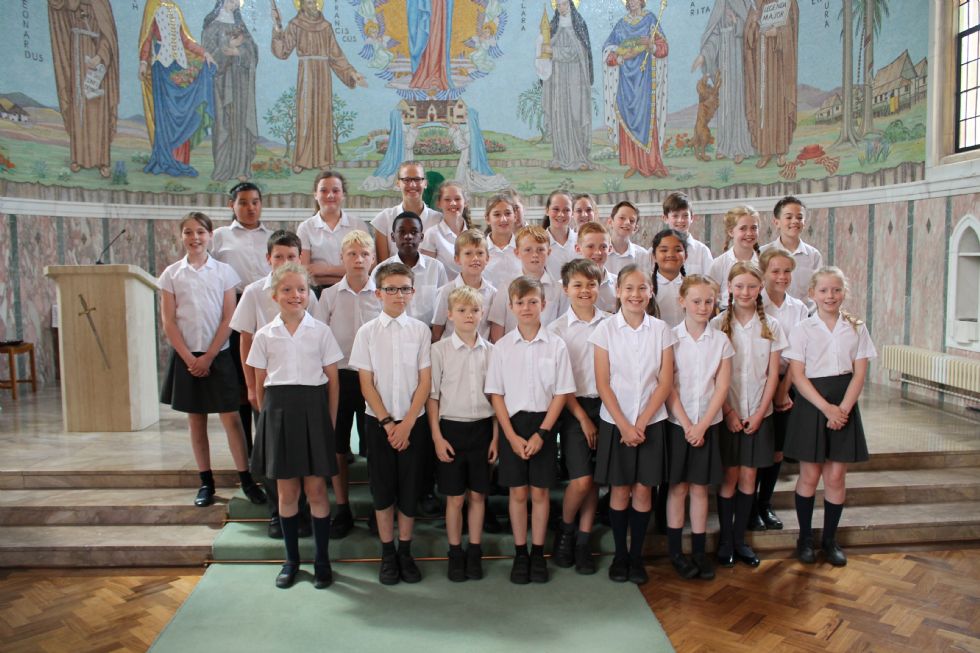 This morning we have our final Leavers' and Award assembly. Here are the children who were presented with special awards: for academic achievement, writing, sporting achievement, upholding the school ethos, and the Governor's award for the most improvement. We also looked at some funny photos and shared memories of our Year 6 children from long ago, before they started school. It is a lovely, entertaining way to finish their journey here at St Edmunds. We wish them every happiness and success in their new schools. They leave us proud of their achievements, and confidently ready to face exciting new challenges, we look forward to hearing all about their future successes. Here they are at the farm in Year R: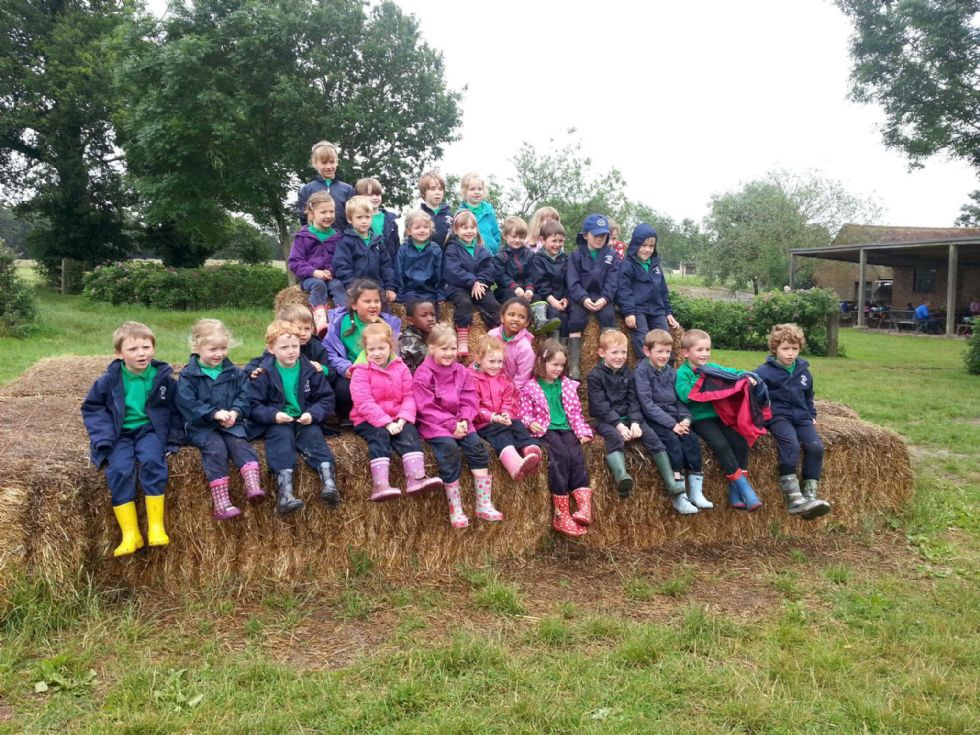 I wish everyone a very happy and restful summer holiday, we hope the beautiful weather continues into the holidays. Please look after each other and I look forward on seeing everyone safe and well in September.
Have an amazing summer,
Elizabeth
Friday 13th July 2018
We are approaching the end of term very rapidly now; it has been so hot again this week and the children are starting to look quite tired and I think they are looking forward to the summer holiday. It's been another action packed week!
As I wrote last week the children were getting ready for the District Sports Competition. We were absolutely delighted with their triumphant win! It was an amazing achievement as we had been moved up to the group with larger schools and greater competition. There was a great atmosphere, temperatures soared and the children were so determined to succeed and loved being part of a large event and competing against a new group of children. They were very supportive of each other and should be very proud of their wonderful win!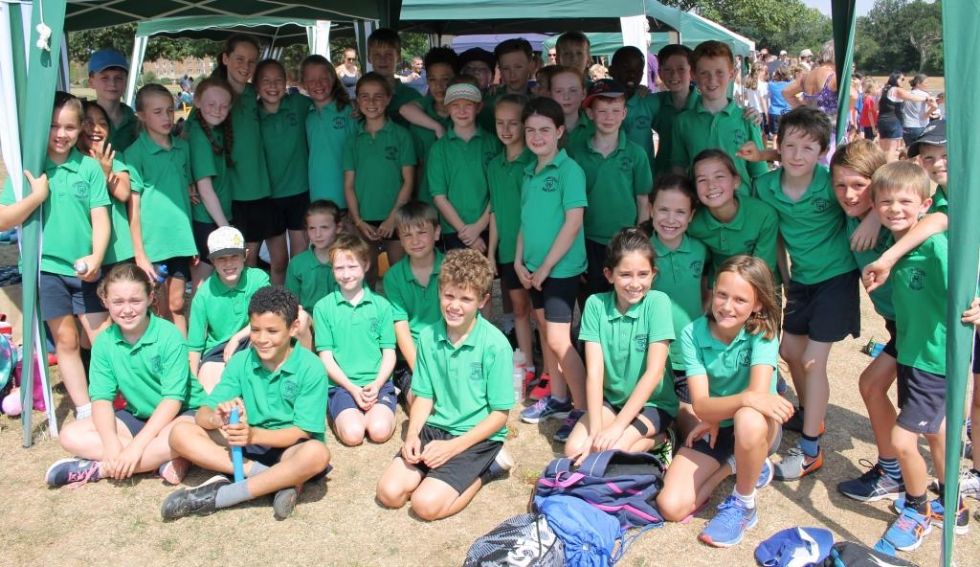 We had the very successful PSA Summer Festival last Saturday. It was really well attended and the children loved it! We have also raised over £2000 for the school too! Thank you to the PSA for organising another successful event.
This week we have had a spectacular production from Year 6: 'Robin and the Sherwood Hoodies'. The children performed the show for the school on Wednesday morning and to their parents last night. I was so impressed by how the children spoke, every word was perfect and they had excellent comic timing! The show was full of jokes, most went over the younger children's heads, but the parents found it very funny. I also liked the way the children all had opportunities to showcase their talents, performing some of their acts from the Talent Show final again. They are very talented; choreographing dances, managing the lighting and learning so many lines! Thank you for entertaining us all and to Mrs Hua for working so hard with the children on such a great end of term show.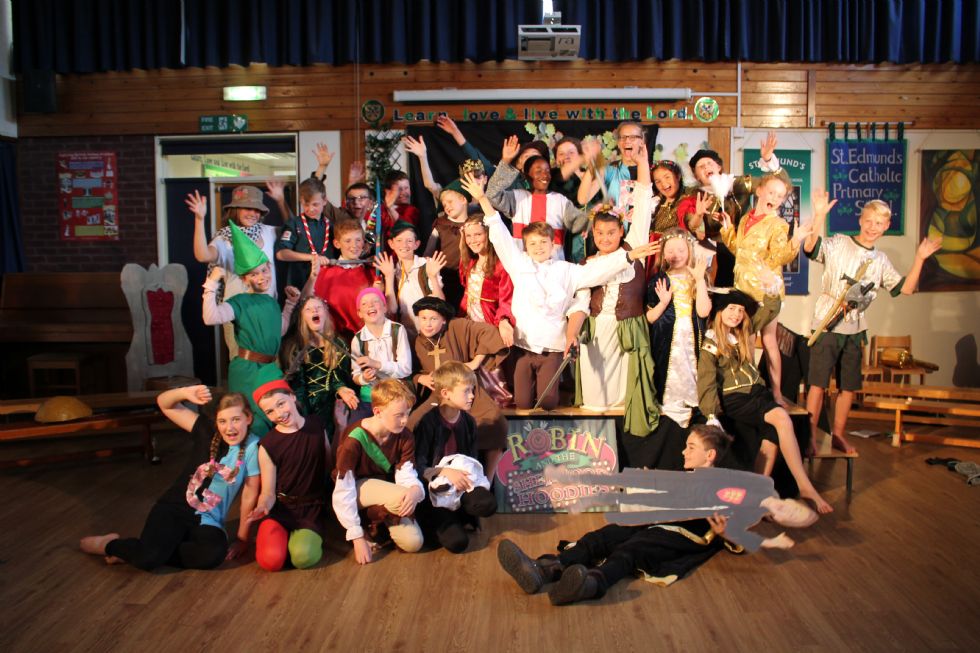 We have gone from Year 6 to Year R this morning, with their first Celebration Assembly. The children told us all about their learning this year. They spoke beautifully, they knew when to come on and off the stage without any help, I was so impressed with them all. It's amazing to see how far they have come since September and the progress that the children make each year is lovely to see. I think they will be another class of talent actors! Thank you year R.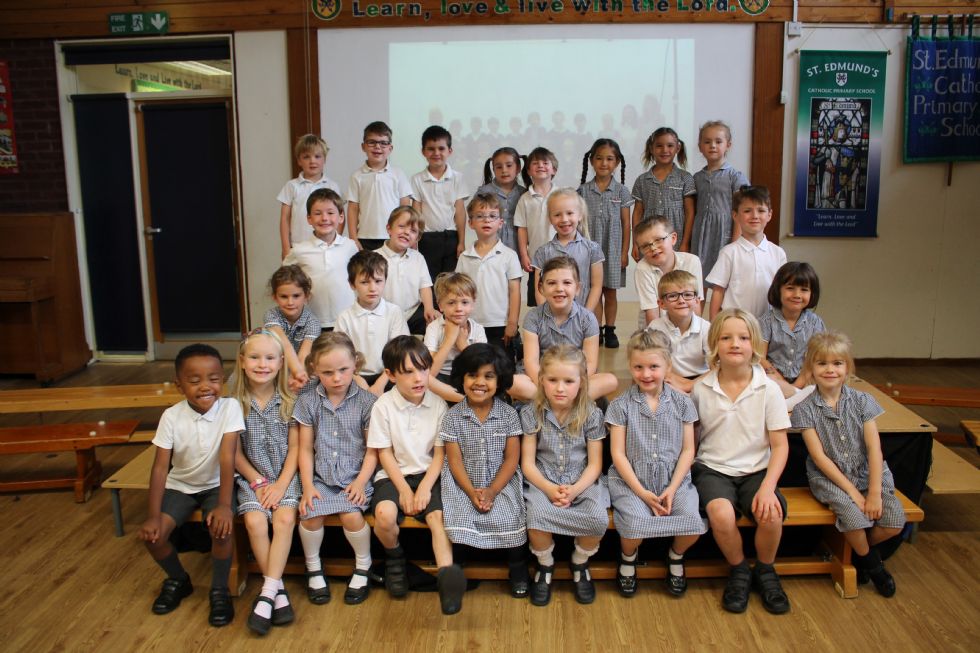 We have the end of year disco tonight, which I know the children are really excited about.
One more week before the summer holidays and there are still lots of things to look forward to. We have Golden Assembly, the very special Leavers' Mass at Ladywell on Wednesday and our final Award assembly to look forward to.
Have a great weekend,
Elizabeth
Friday 6th July 2018
This week we have all started to think about moving on. There are two weeks of school left and the children are managing well despite the heat!
Time goes so quickly in school, it amazes us how quickly school events come round again, a whole year can't really have passed already! The children often want to know the time when they are in the playground and we have finally got around to ordering the new, giant playground clocks. We hope they like them.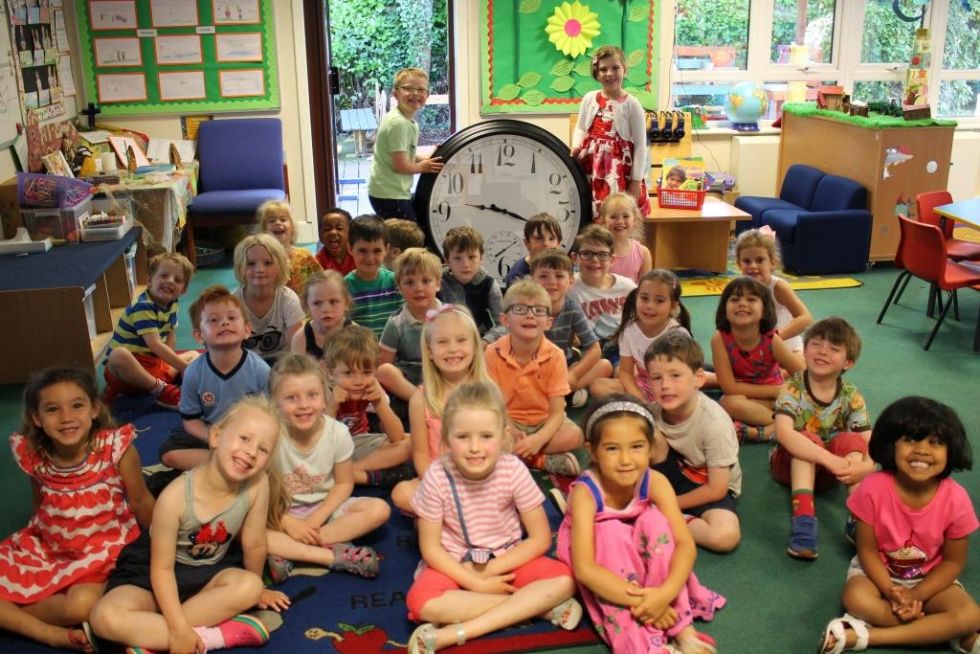 Year 6 children have been to their new secondary schools with the majority of them spending the day at St Peter's on Thursday. They have been excitedly telling us all about their day, their new classes and looking forward to the new stage of their journey. They can't go just yet as we still have them for two more important weeks though!
We have welcomed our new Reception Class into school this week with the children spending Tuesday afternoon in the classroom, they all came in very happily. Then they returned, smiling, to spend the morning at school yesterday, most of them stayed for lunch with their parents trying a school dinner too! It was lovely to meet them all and put faces to the names on the list. I'm sure they will be made very welcome in September.
As it was moving up morning yesterday, all the children spent the morning with their new teachers. They were very excited and they are really looking forward to the new challenges and opportunities that lie ahead. The children made our new class teachers and all our new pupils feel very welcome.
This afternoon we have the annual District Sports at Charterhouse. This year we have been moved to the 'next division' and are now competing against larger schools! The children have been training hard and we know that they will do their very best.
If Year 6 can manage to fit in a few more rehearsals we will have the Leavers Play, 'Robin Hood' next Thursday evening. There are still lots of things to look forward to.
We have more excitement tomorrow with the PSA Summer Festival from 12-2pm. I'm sure that it will be a fantastic afternoon and for once we know that it will be hot and sunny. It should suit everyone as it will be finished before England play their next match at 3pm! Please do come and support us.
Have a great weekend,
Elizabeth
Friday 29th June 2018
What a great week we have had. I can't believe it's the start of July this Sunday, where has the time gone? It's hard to believe that we have only three weeks remaining of this school year. It's been so busy, and we've got lots of lovely things still to come!
Year 4 children have been cooking this week. They have created menus with foods to represent some of the countries in the World Cup. Amongst the dishes were: chilli for Mexico, Belgian truffles, Madelines for France, Victoria Sponges from England. They were all delicious!
On Tuesday Years 5 and 6 had a trip to Portsmouth Historic Dockyard. There the children explored the Mary Rose, looking at remains of the ship in the new museum, they were fascinated by the tools the surgeons used on board ship and all the artefacts which were found on board. They then had the chance to try out all the challenges in the Action Station Zone including a rotating climbing wall and Ninja Warrior course. The children had very positive feedback on the whole trip!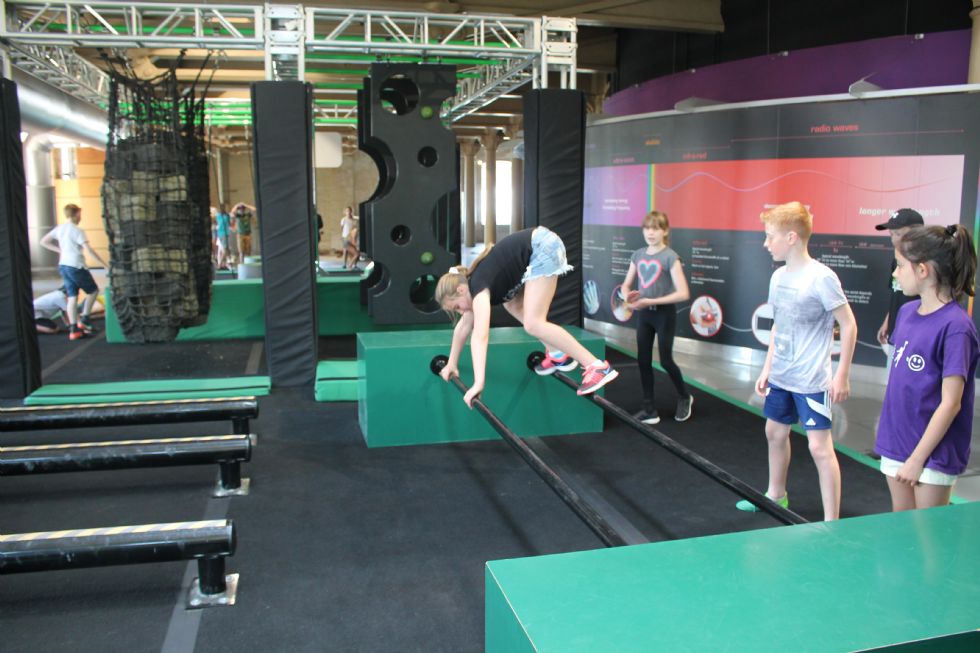 On Wednesday we welcomed the judges for the Godalming in Bloom competition. The hanging baskets and pots are looking really colourful this year. Thank you to the gardening club for all their work.
Today, Year 5 children are taking part for the first time in Godalming's Singing Picnic in Burys Field. They will be performing a song for the other schools involved and taking part in singing games and activities and having a picnic lunch. We have just returned after a very hot walk back up the hill! Here they are singing beautifully: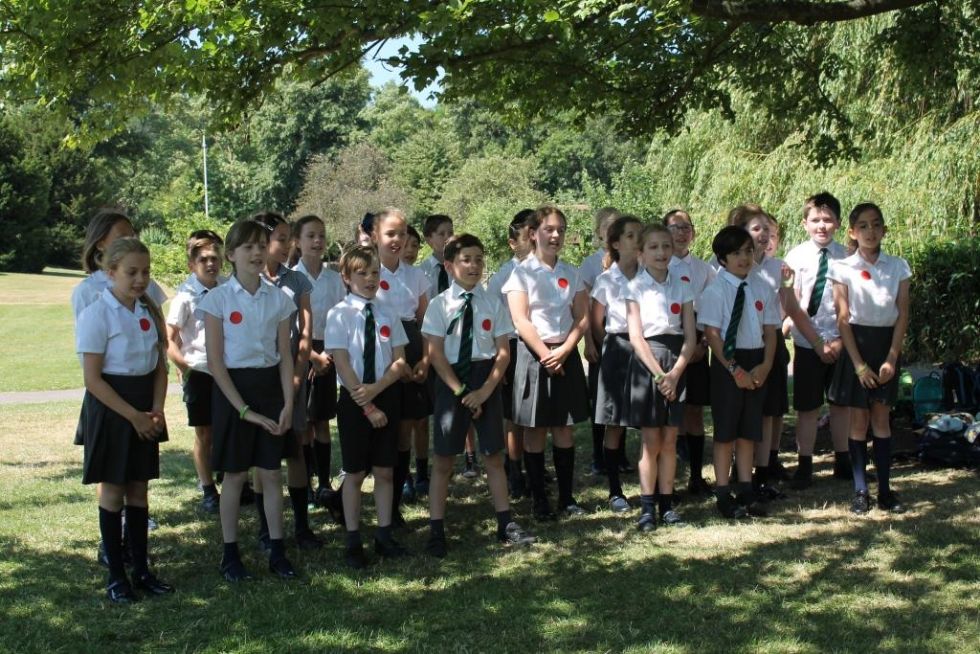 Next week our plans for the new school year continue with our moving up day. The new Year R children and parents will join us and our Year 6 children will spend a day at their new secondary schools. It will be an exciting week for us all!
This morning we have all enjoyed Year 2's special class assembly. They sang and spoke beautifully as they told us about toys through history and we could see how much the children have learnt this year. Thank you Year 2.
We have had an amazing week of summer weather which is going to continue into the weekend, enjoy the sunshine!
Elizabeth
Friday 22nd July 2018
We have had a wonderful sports day this morning, the weather was perfect, not too hot and it was lovely to see the children enjoying the races and competing in their houses. Well done to St Luke's House who won KS 1 and to St Matthew's House who won in KS2. Thank you especially to Mrs McCarthy for organising the morning and to everyone for coming to watch and support the children and make the day such a success.
Yesterday the children in Year 4 spent the day at the Wintershall Estate watching the 'Life of Christ'. It was an amazing production and the entire audience was enthralled throughout. The audience travels with the Jesus on his journey from the stable in Bethlehem to his Resurrection and Ascension. It was a very special day and the children met James, who plays the role of Jesus at the end, they love seeing him as they remember him well from his visits to school.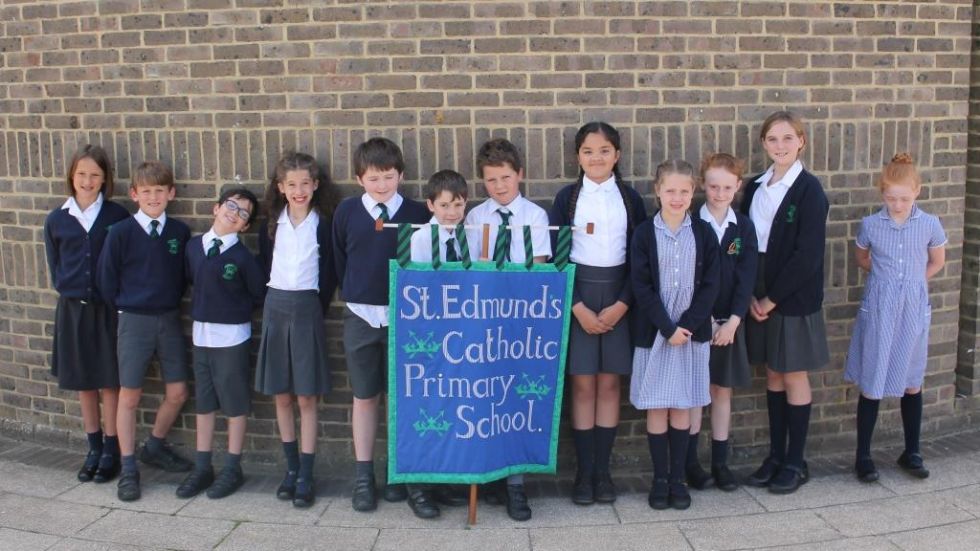 I took twelve children from across Key Stage 2 to represent the school at the Good Shepherd celebration at Worth Abbey on Wednesday. The children really enjoyed the service, led by Bishop Richard, which included wonderful singing and dance. Almost all schools in the Diocese were represented and it was very exciting to be part of such a large celebration. The theme of the day was 'Lord, we are your hands' and the children from each school presented a set of illustrated hands and received a special gift of ceramic praying hands for the prayer table.
It looks like another busy week to come next week!
Have a lovely weekend,
Elizabeth
Friday 15th June 2018
On Monday morning the Bake Off Finalists were busy in the kitchen. They had been given a recipe for cheese scones which they had to make completely independently under the watchful eye of Mrs Every. The scones were delicious and the winners will be announced next week.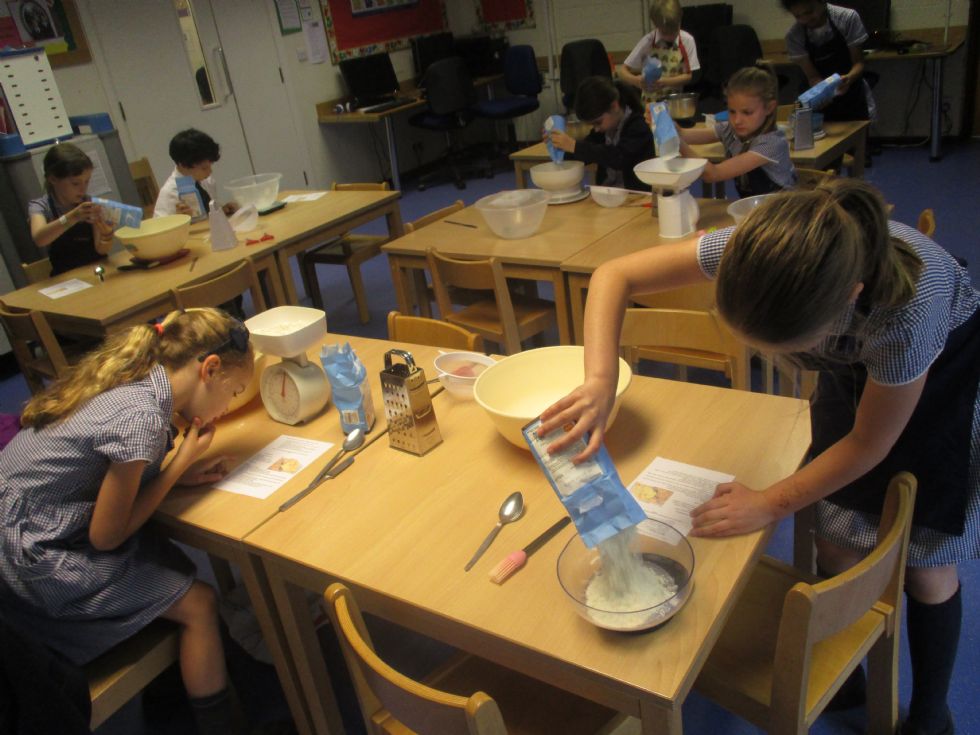 During our assembly on Tuesday morning we talked about the Suffragettes and the 100th anniversary of women getting the vote. The children were very interested and as we know, they do value fairness! Many of the children were very knowledgeable and talked about equality and equal pay for women. We thought about how these women can give us the courage to stand up for what is right and what we believe in.
Key Stage 1 have had a busy week. Year 2 had a visit from Chertsey Museum for a toy workshop on Tuesday morning.
Yesterday Year 1 children walked into town to visit a Pizza Express as part of their Sensational topic. There they learnt how make pizzas, and had the chance to knead the dough, and even throw it in the air! They added the toppings before watching their pizzas go into the oven. They were then able to bring them home for tea. It was a lovely morning out.
Year R class are out today at Ladyland Farm. The weather looks perfect for their day on the farm. The children will get to hold and feed lots of animals and enjoy a tractor ride.
This morning we have had a very special First Holy Communion assembly led by Year 4. The children told us about their experiences and feelings as they made this special spiritual journey. They sang, spoke and danced beautifully, it was really lovely to see them sharing their talents. It was also another chance for them to dress in their special outfits and enjoy being together at this important time in their journey. We look forward to watching you continue on your journies, you have so many wonderful things to come.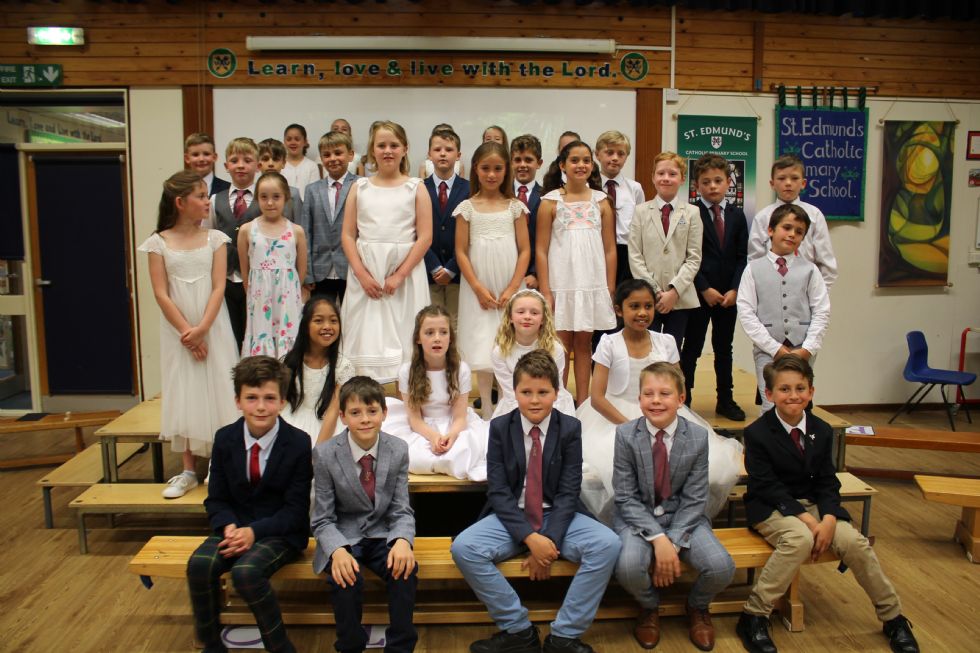 Please do come to Mass on Sunday morning for our final School Mass if the year. I hope to see many families there.
Have a lovely weekend,
Elizabeth
Friday 8th June 2018

Welcome back to the final half term of this academic year. I'm very pleased to be back at school after missing the week before the holiday. Thank you for all the lovely messages and comments, I am feeling much better now.
We started our week with an active INSET day on Monday. The teachers all developed our PE skills with Mr Evans in the morning and learnt more about Christian Meditation in the afternoon. This is something that all the children will be doing in class and a lovely way to be calm and still in our busy day.

Our Year 6 children have taken part in Bikeability training this week. They have been practicing their cycling skills on the roads and making sure that they are using their bikes safely. Well done to you all, as it is quite a challenging programme. Here is the first group from this morning after completing their training: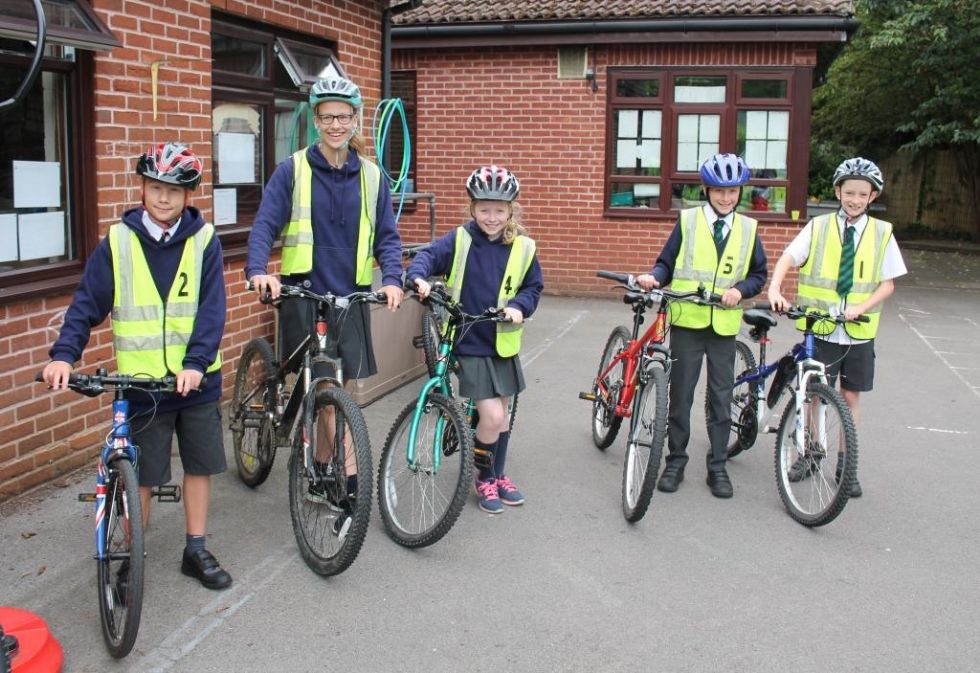 On Tuesday we talked about the Feast of Corpus Christi and thought about how the disciples must have felt during the Last Supper sharing a final meal with their friend. We talked about the children in year 4 who have just made their First Holy Communion and we are looking forward to their special assembly next Friday when they will tell us more about the journey that they have made this year.

Yesterday we had a Governors' learning walk looking at RE. It was lovely to see the children's learning across the school and the governors were impressed by the children's reverence, knowledge and enthusiasm for learning.

It is the KS2 Film show tonight organised by the PSA, 'Paddington 2', I hope that everyone enjoys it!

We have many trips and outings planned for the next few weeks; it's going to be a busy and exciting time!

Have a lovely weekend,

Elizabeth
Friday 18th May 2018
On Monday afternoon, children from Years 3 and 4 took part in a cross country event at Barrow Hills. They all did very well and it was good to have an event aimed at our middle aged children!
Last Sunday our first group of children made their First Holy Communion; it was a very special occasion and a lovely sunny afternoon. It is always a pleasure the see the children and their families celebrating this important step in their children's lives. This Sunday it will be the turn of the next group of children and I know it will be another lovely afternoon, I think the weather will be good too.
Year 3 children have been to visit the Rikkyo Japanese School as part of their topic, 'Gateway to the World'. They had a wonderful time doing morning exercises, origami, skipping and juggling and finding out about Japanese culture.
There was great excitement yesterday when the eggs began to hatch in the bird box. There are six tiny babies!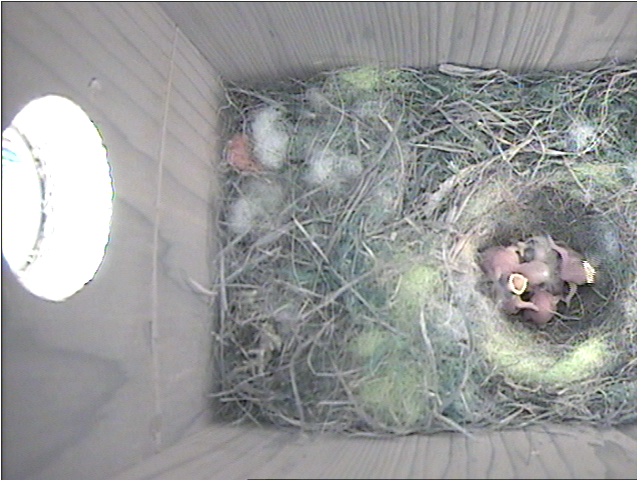 http://www.seenature.org.uk/schools/st-edmunds-cep-school/
This week has been SATs week and as anyone who has had children in Year 6 will know, a very important week in the school year! The children have taken tests in reading; spelling, punctuation and grammar; and maths. I have been so impressed by the children's attitude and determination to succeed; they have certainly embraced the growth mind-set.
It's not only Year 6 who have been doing their very best this week, as Year 2 have also been working on their test booklets, they have worked extremely hard and we are very proud of them all.
Year 6 finished their tests yesterday and we headed straight to Southampton to see War Horse at the Mayflower Theatre. The children have been reading the story by Michael Morpurgo and were very excited to see it performed on the stage. The play is amazing, you really do forget that you are watching puppets, they become real horses! The children were totally enthralled, they loved it.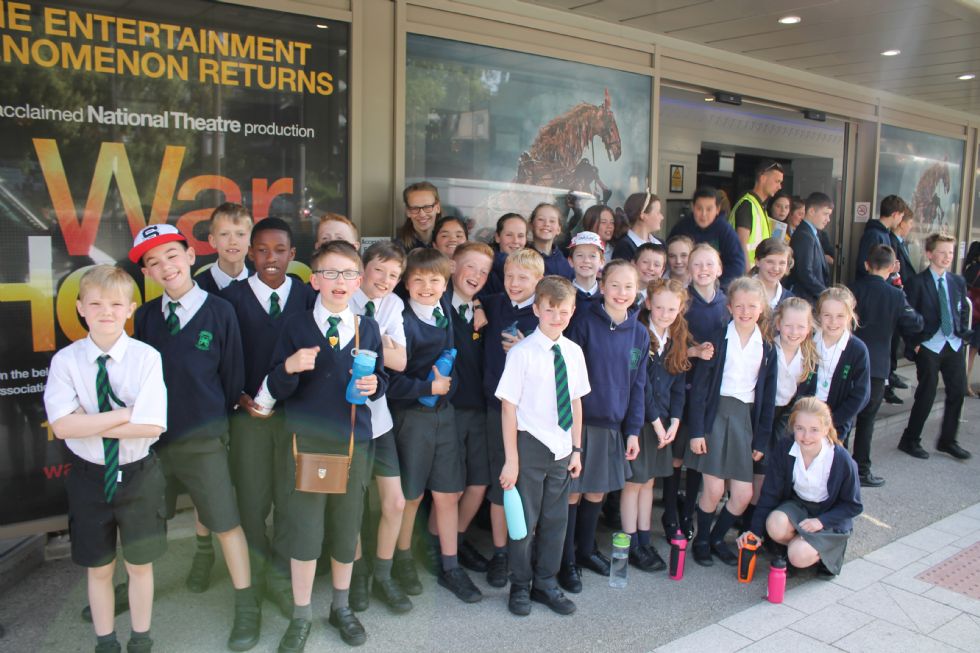 Year 1 children shared their class assembly this morning all about the five senses. They gave examples of how we use our senses using lots of their own work and learning. I know that they have loved learning in Year 1 this year!
The children are very colourful today dressed in red, white and blue to celebrate the Royal Wedding tomorrow. They are very excited about their picnic lunch too!
One more week before the spring half term holiday, we have our May Procession next Thursday and Year R has their very first school trip on Tuesday. I hope the sun continues to shine!
Have a lovely weekend,
Elizabeth
Friday 11th May 2018
This week has just flown by, maybe it's because it was a four day week! What beautiful weather we had last weekend, I know that everyone enjoyed it; what a treat to have a hot and sunny Bank Holiday.
During our assembly yesterday we talked about Ascension Day, we thought about how the apostles felt after Jesus returned to them on Easter Sunday only to leave again after 40 days, to go back to His Father in heaven. We thought about how can use of hands and feet, our words and actions to do His work on earth.
Our youngest children, Year R, have been learning about Ascension and Pentecost and I joined htem on Wednesday morning as they created a special Pentecost dance, complete with flaming streamers, and spread the Good News to their friends. Here they are: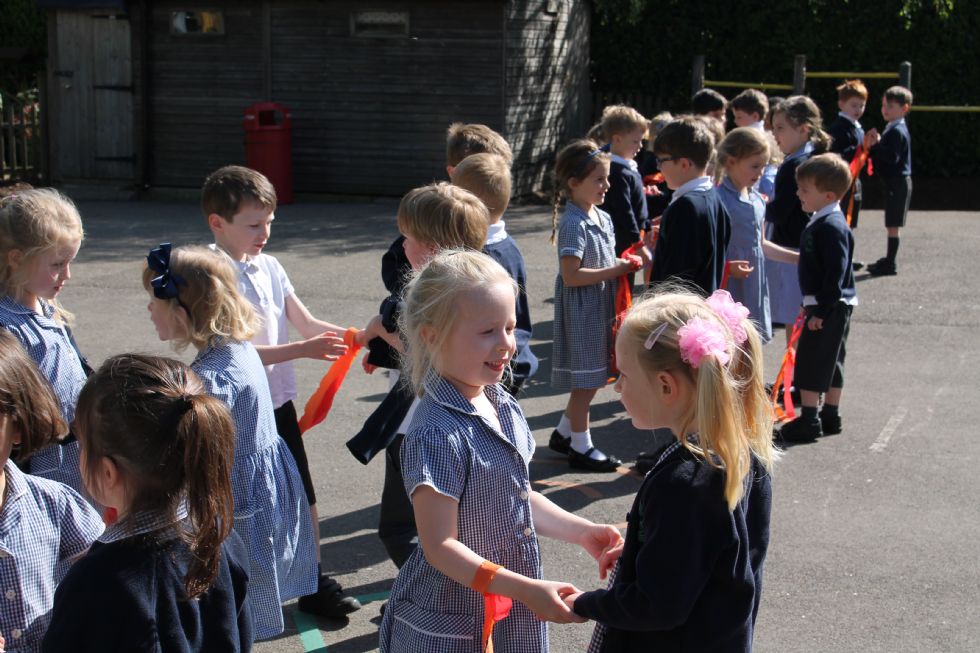 Our little blue tit family is growing in the bird box, the mummy had now laid seven eggs and we are all excitedly watching them progress. The children have been watching them on the large screens in the hall and in the classrooms and we have even seen the male blue tit popping in to feed his partner! The eggs should hatch sometime next week.
Next week is a very important one for our Year 6 children as they take their SATs tests. They have worked so hard this year and I am so proud of them all, I know they will do their very best. We have a special outing planned for Thursday afternoon when all the tests are over!
This morning we had an amazing assembly from our Year 3 children. They told us all about the life of the amazing and inspiring of pilot Amelia Earhart! It was a great assembly and the children taught us so much about the world's oceans and continents even pop art! Thank you Year 3.
This Sunday sees the first group of our children make their First Holy Communion. They have been preparing all year and I know that it will be a very special day for them and their families. Please keep them all in your thoughts and prayers at this important time.
Have a lovely weekend,
Elizabeth
Friday 4th May 2018
We have had another busy week and rather mixed weather! It was very cold and wet on Monday, but we have the promise of a lovely, long weekend ahead.
Year R has been very busy pirates this week, and have even made their own pirate ship in the classroom!
Year 3 children have been using atlases and finding countries, continents, rivers, seas and facts as part of their topic, they will have a visit from a pilot next week too!
The children (and teachers) in Year 4 have recovered from their trip to Sayer's Croft and have been busy talking and writing about their adventures. They had a great time.
Year 2 has been busy writing about building their own Monster Machines.
Our Year 1 class have been out on their trip to Painshill Park. Sadly, the weather was wet but they still had a lovely day. They took part in a very special Fairy Tale walk with Red Riding Hood, Goldilocks and even found a wolf in the Ice House! The sun came out just as we were getting on the coach to return to school!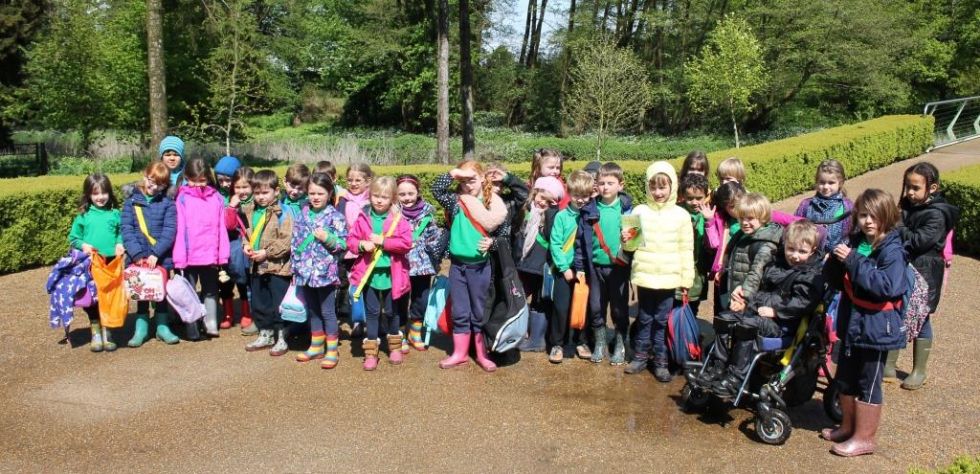 Year 5 have been doing some really impressive writing based upon Michael Morpurgo's story 'The Giants Necklace'.
There is one more week until Year 6 take their SATs tests, they have been working very hard this year and I think they are nearly ready!
The whole of KS 2 have walked to Mass at St Edmund's on Thursday morning. This is something we try to do every term. It is lovely to see and hear all the children processing down and up all the steps and trailing across the park. The children read well and enjoyed the Mass. Thank you to Father David for making us so welcome. Our next whole school Mass will be on 24th May when we have our May Procession to Ladywell, we hope the sun will shine for us!
We are very pleased to see that our little blue tit has now laid seven eggs. They should hatch during the week of 14th May. Do have a look here:
http://www.seenature.org.uk/schools/st-edmunds-cep-school/
I hope everyone enjoys the sunshine over the Bank Holiday weekend,
Elizabeth
Friday 27th April 2018
The heatwave is certainly over this week with cooler weather and April showers. But it hasn't stopped the children enjoying themselves.
Despite the chilly conditions Year 4 children have had an amazing time at Sayers Croft this week. The children enjoyed an exciting range of activities including orienteering, climbing, a low ropes course and building ballista (giant catapults!). They worked so well as a team and they have been well behaved and risen to all challenges; it was a pleasure to spend time with them all. I know that they will be very keen to share their adventures with everyone on their return this afternoon.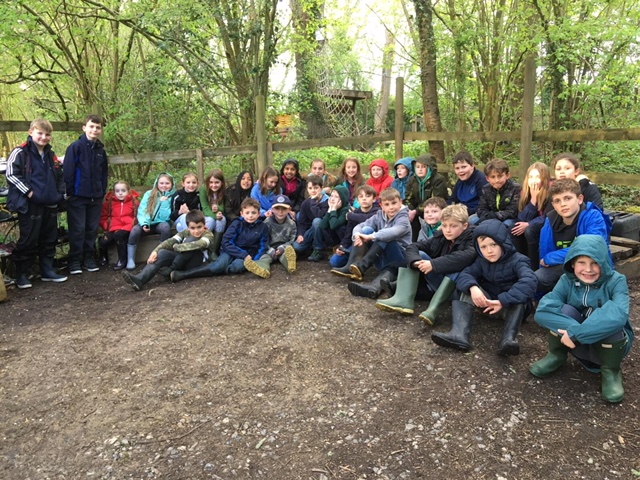 During our assemblies this week we have talked about Jesus being a Good Shepherd and caring for all his sheep. We talked about Pope Francis and how he chose the image of the Good Shepherd for the cross that he wears.
Our new hall display has been taking shape this week. We look at the universal church this term and how we care for God's amazing world. The children have all worked on recreating the very famous tiger painting, 'Surprised!' by Henry Rousseau. Do come in and have a look at the detail: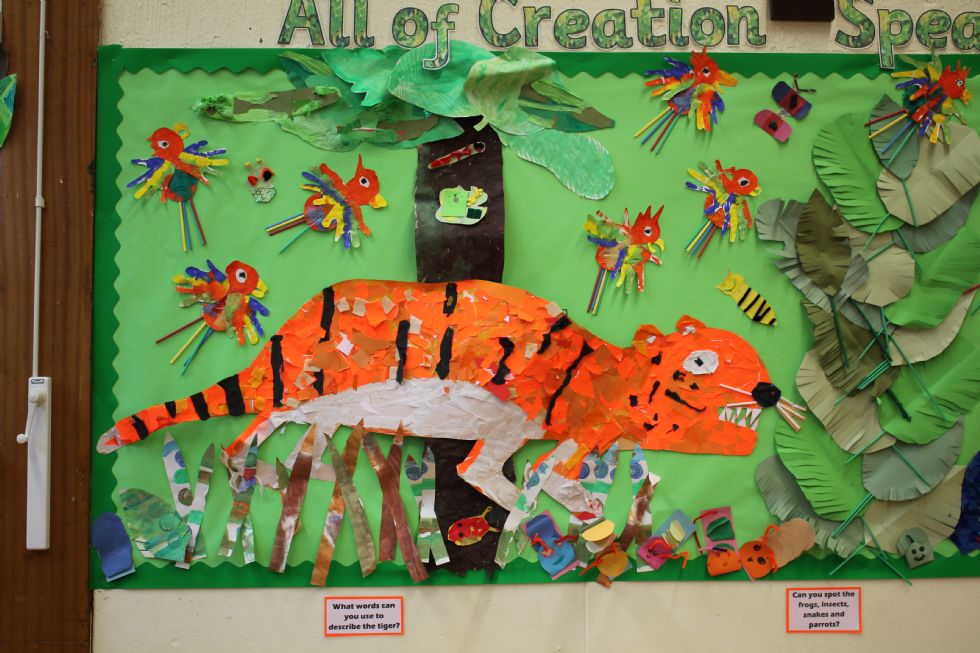 We have been following the progress of our little blue tit; we are still waiting for her to lay her eggs in the cosy nest she has built. You should be able to see her here:
http://www.seenature.org.uk/schools/st-edmunds-cep-school/
I hope everyone enjoys the weekend,
Elizabeth
Friday 20th April 2018
Welcome back to the summer term! I hope that everyone had a wonderful Easter and a relaxing holiday. What perfect weather we have had this week…. finally! It's a shame that it did not coincide with the holiday, but the children have enjoyed playing outside this week, we hope it lasts at least into the weekend.
We have been very busy this week. We started with our assembly on Monday looking at the disciples meeting with Jesus on the road to Emmaus. We thought about how hard it must have been for them to recognise Jesus and how we can see Jesus in those around us.
We had an assembly from the Cub Scouts on Tuesday morning. There is a new pack opening in a Godalming and the children heard about the sorts of activities that would be on offer. Please see the link in the newsletter for more information.
The excitement has been building all week for the Talent Show this morning! We have just finished watching all the acts and while the scores are counted we are having a break for lunch. After lunch the winners will be revealed! Everyone has been so impressed by the children's talents. They all performed with amazing confidence and it was so inspiring to watch. Very well done to everyone who auditioned and especially all our finalists, here they are: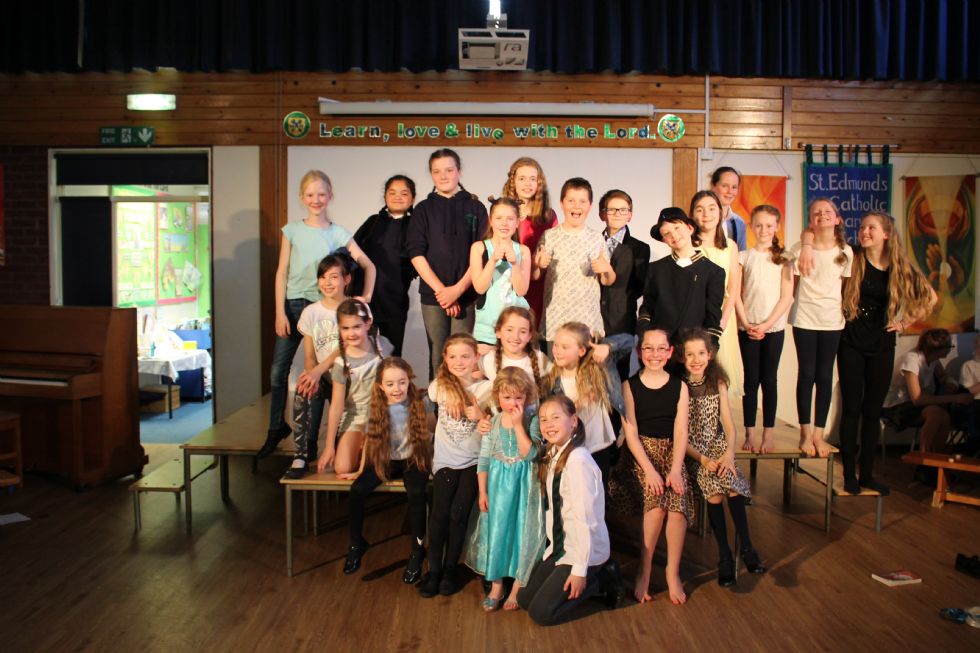 I hope everyone has a lovely sunny weekend,
Elizabeth
Thursday 29th March 2018
I can't believe it is the end of the Spring Term already, the time really does fly! As Easter is early this year, we have been at school during Holy Week; this does help us all to prepare ourselves for Easter. We started the week with Mass on Monday morning celebrated by Fr Tony. We have watched Year 6 perform their amazing Passion Play, 'On the Third Day'. We were all so impressed with their portrayal of the characters and their maturity. The children told the story so well with thoughtful acting and beautiful singing. We were fortunate to have Matt from the Trinity Trust Team accompanying the children on guitar. Thank you all Year 6 for being disciples and sharing the Good News of Easter with our school community.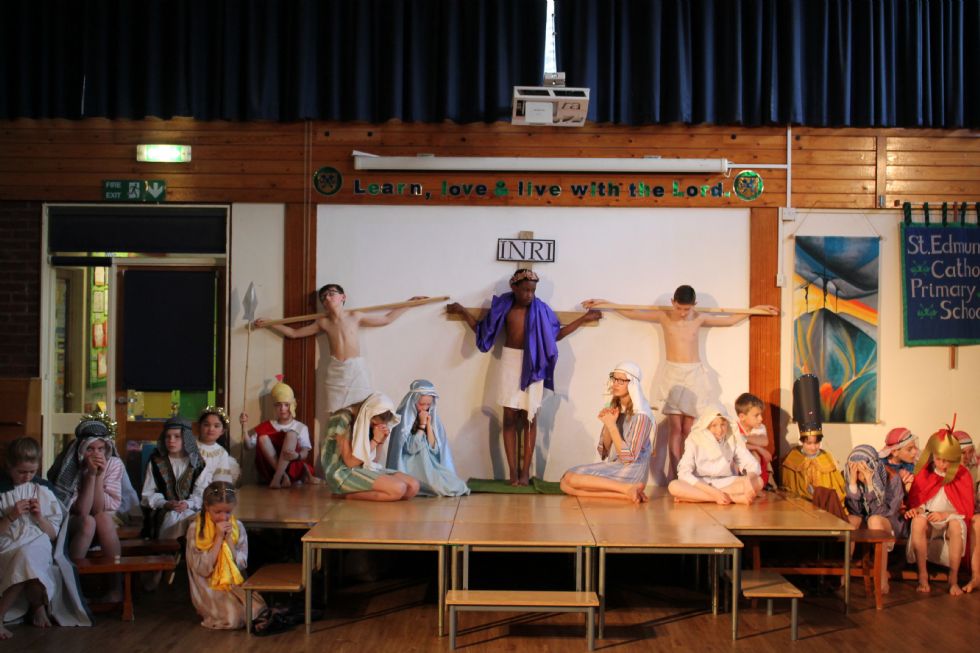 The children enjoyed the Easter egg hunt yesterday afternoon, as I had hoped the weather improved and we even caught a glimpse of sun as the children raced around the playground collecting tokens to exchange for eggs!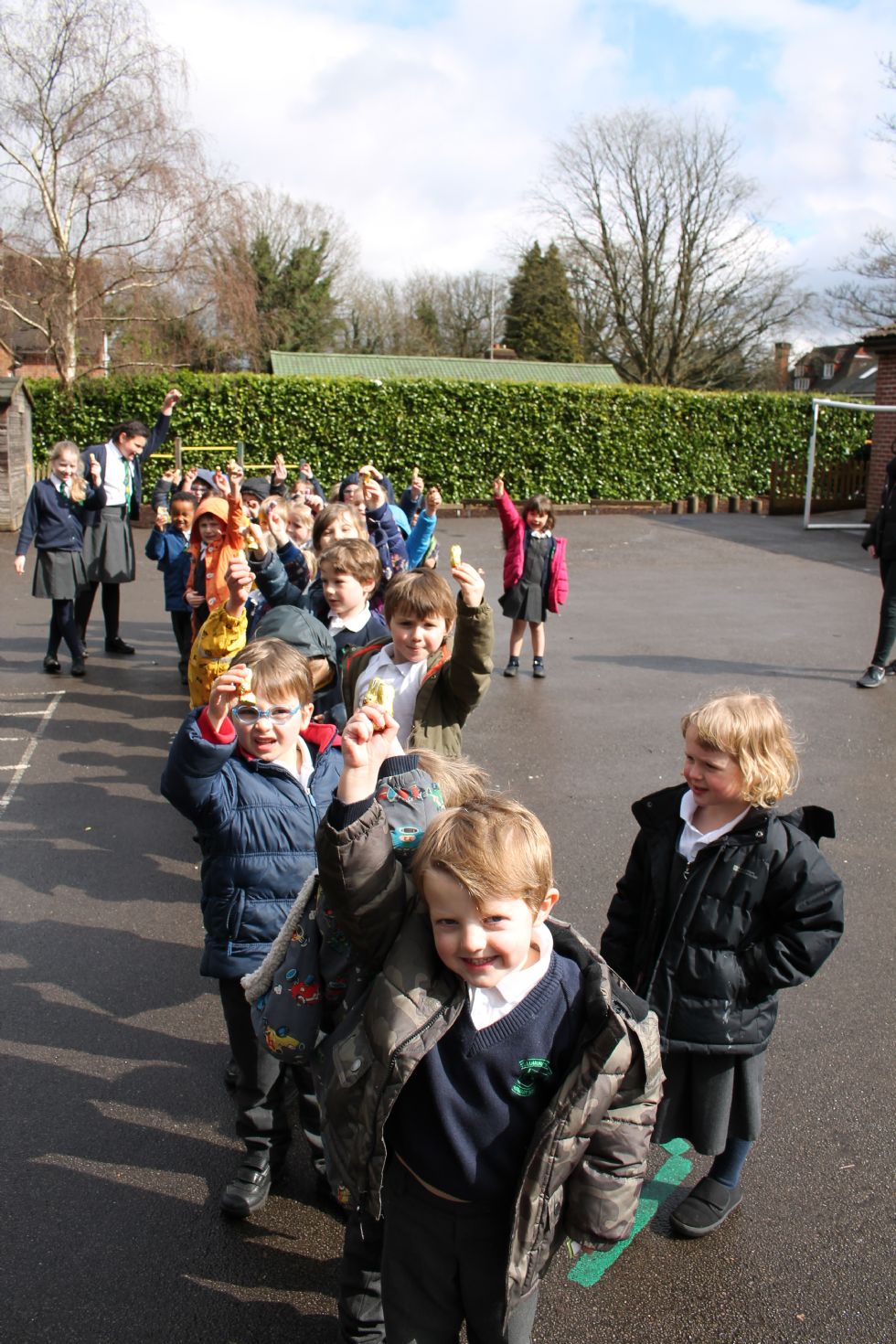 Thank you all for your support this term and we look forward to an exciting and successful summer for everyone at St Edmund's.
Have a wonderful Easter and a peaceful holiday,
Elizabeth
Friday 23rd March 2018
The children certainly enjoyed the return of winter last weekend with the snow. We did have to postpone Year 1's visit to Painshill Park on Monday due to the weather, but we are now going in May which we hope will be much warmer! Since the thaw it has been much more like spring in the sunshine and with the clocks going forward this weekend we have the promise of longer lighter days once more.
It's been another very busy week with several trips, visits and events taking place.
Year 3 children have been to Winchester Science Museum and had they also had a lovely visit from Hydestyle Animal Rescue meeting lots of the furred and feathered residents.
Year 2 children have taken part in the Infant Singing Concert, part of Godalming Music Festival. The children sang beautifully and although there were small in number they were so confident, especially singing their song alone in front of a large audience. The whole class have performed all the songs again this morning for their parents. and here they are: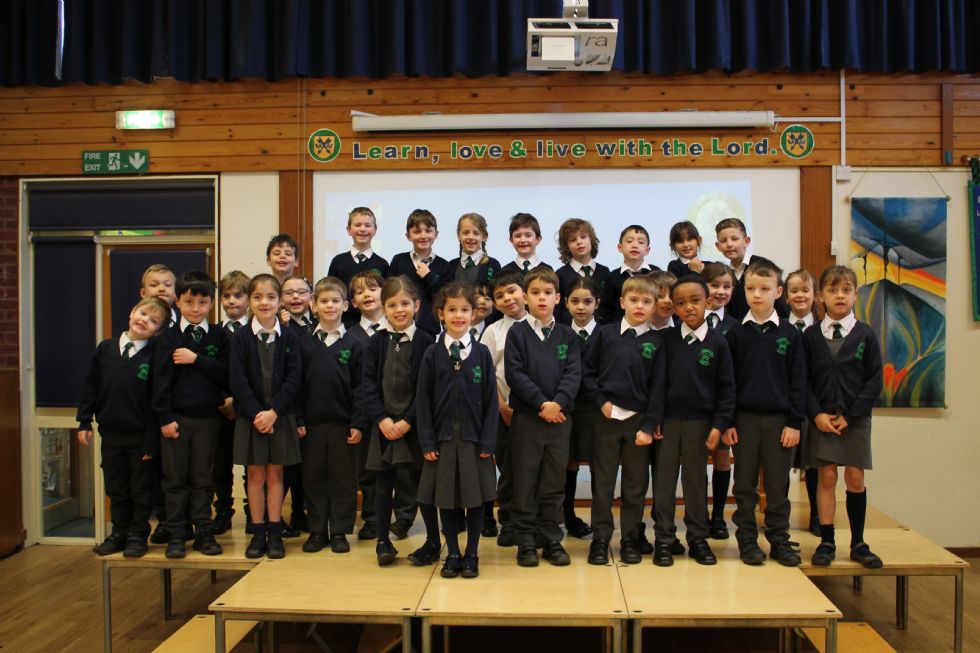 The children who are part of Rocksteady held their concert on Tuesday afternoon, it was great to hear children from Year R to Year 6 perform together so confidently. Well done to you all.
Year 6 has been to St John's Seminary in Wonersh for Mass. All year we have had the pleasure of working with Paul and Joseph, the seminarians and it was an honour for the whole class to be invited to the Seminary for Mass. The Chapel is beautiful and the children really enjoyed the whole experience.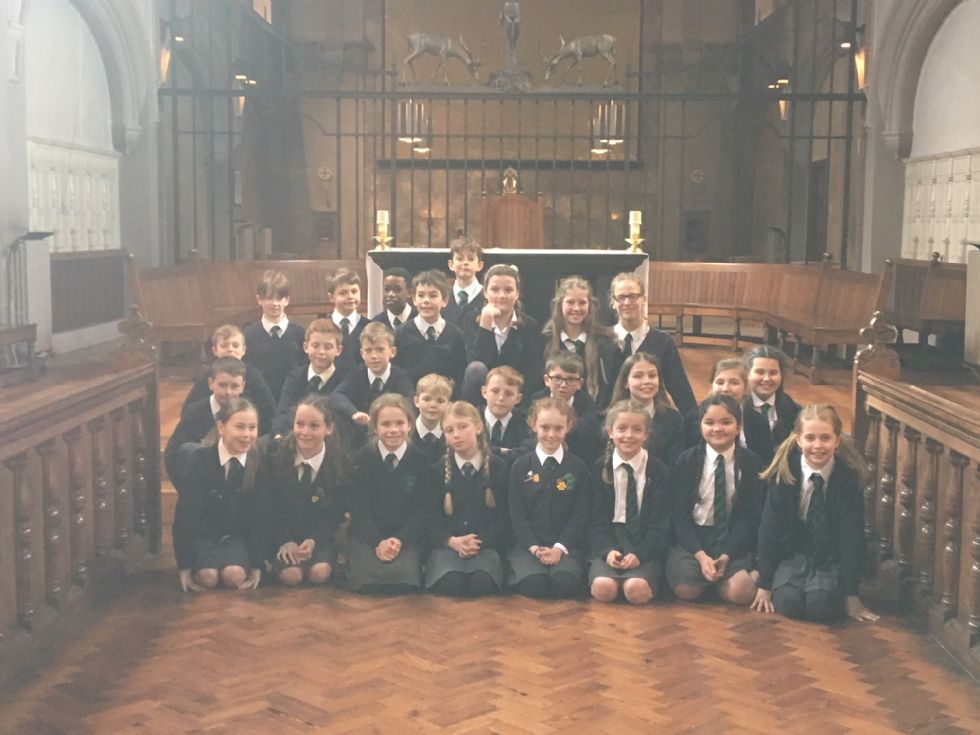 Five children from Year 6, Jack, Louis, Harriet, Martina and Mia, entered an Art Competition run by King Edwards School in Witley. The children all produced a piece of art inspired by a famous painting, the entries were fantastic! They were all invited to the exhibition on Wednesday evening where Mia was commended for her piece.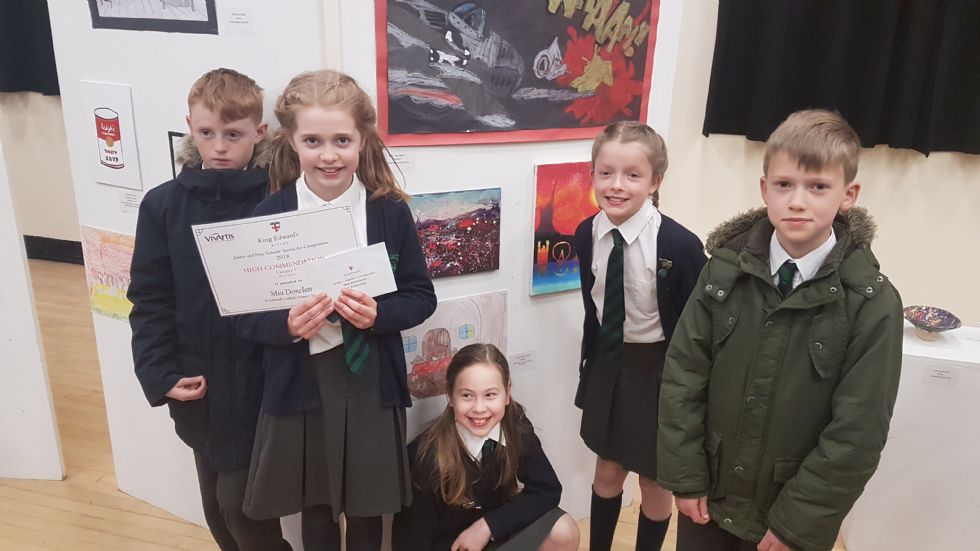 On Wednesday morning we had a whole school Reconciliation Service where we had time to reflect on the things we want to say sorry for and this helped prepare us for Easter. Children in Years 4, 5 and 6 also had the opportunity to talk to Fr David and Fr Tony during individual confession.
We have had our final Lenten Mass this morning as we enter Holy Week next week.
Year 6 children have been very busy preparing for their special Passion Play, we are all looking forward to seeing them perform for us next Wednesday, I know it will be very special.
We have the PSA Comedy Night tonight, I'm sure it will be a very entertaining evening!
Enjoy the weekend,
Elizabeth
Friday 16th March 2018

Last Saturday evening children from across KS 2 took part in the Godalming Swimming Gala. We were very impressed by their determination, team work and resilience. It is always a challenging event and the children did extremely well coming fourth overall. Here they are after the event: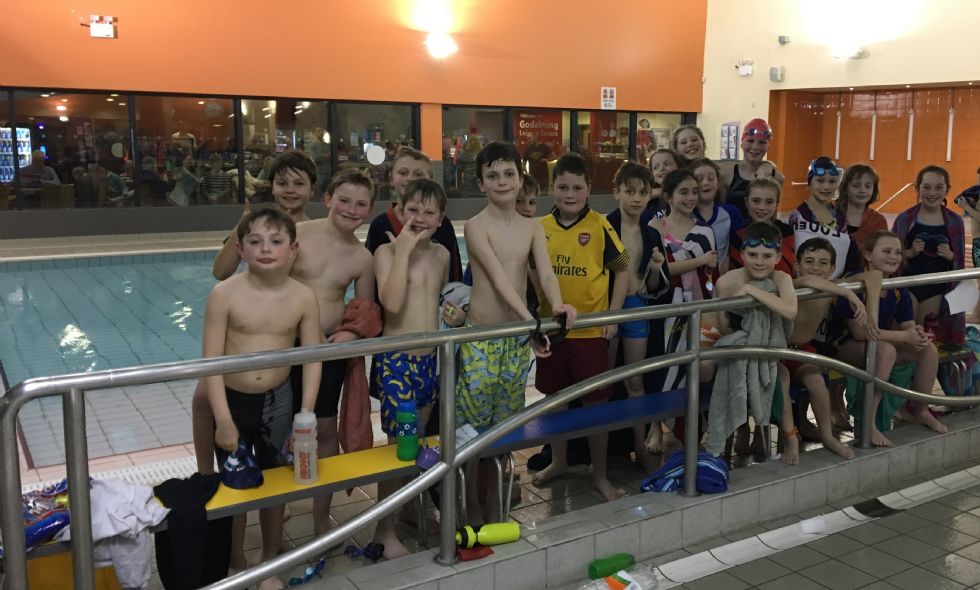 It has been a very successful sporting week for our school with victory in the netball and football tournaments on Monday and Tuesday this week. Well done to you all.
During our assembly on Monday morning we talked about Mother's Day, the different ways that we say Thank you for everything our mothers do and how our mothers love us and bring us comfort. We looked at pictures of Mary during Jesus' life and especially the Station of the Cross where Jesus meets his mother, Mary. We thought about how by just being there Mary gave Jesus strength, comfort and courage.
We have had a busy week with bikes as Years 4 and 5 have taken part in the Bikeability scheme learning how to maintain their bikes, stop and start safely and developing their control and skills. Year 2 also have a turn this morning with the Pedals programme where they will develop their road safety skills. Here are some of Year 2 practicing crossing the road: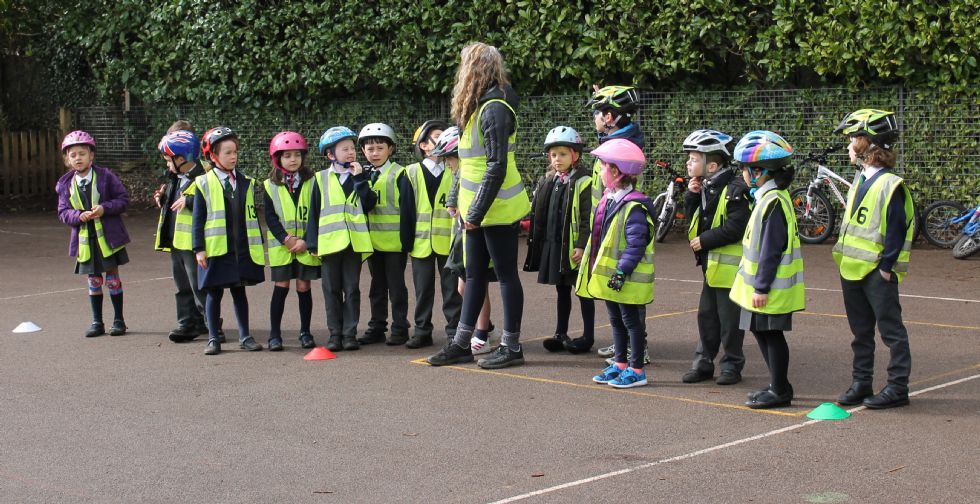 This morning we have had Year 5's Celebration Assembly. They have told us all about their learning from their Ancient Greek topic with epic battles re-enacted on stage. They had wonderful costumes and props including the Trojan Horse. Even Homer Simpson, Gary Linekar, Alan Shearer and some Persian cats made an appearance! We did have to reassure a little girl in year R that you are very unlikely to be killed in battle if you go on holiday to Greece today! It was a very funny and educational assembly, thank you year 5.
After a taste of spring this week, we are set for a return to winter this weekend with snow forecast again! Keep warm and have a lovely weekend,
Elizabeth
Friday 9th March 2018

It's hard to believe that this time last week we were freezing in sub-zero temperatures and closing early due to the snow. As forecast the snow arrived! I hope that the children all enjoyed their Friday afternoon playing in the snow, I did!
It has been very pleasant to stand in the sunshine in the playground at lunchtime this week, a welcome start to spring.
To follow on from World Book Day last week, we started the week in school with a visit from illustrator Karin Littlewood. The children really enjoyed listening to Karin talk about her books and explain how she always starts her stories with the pictures. The children then took part in workshops creating their own illustrations and characters.
On Wednesday Florence and Martina in Year 6 represented St Edmunds at the Catenians Public Speaking Competition. The girls had prepared and learned 4 minute speeches which they presented to the judges and audience. Florence spoke about how we should help the Homeless and Martina shared her passion for Sport and encouraged everyone to participate.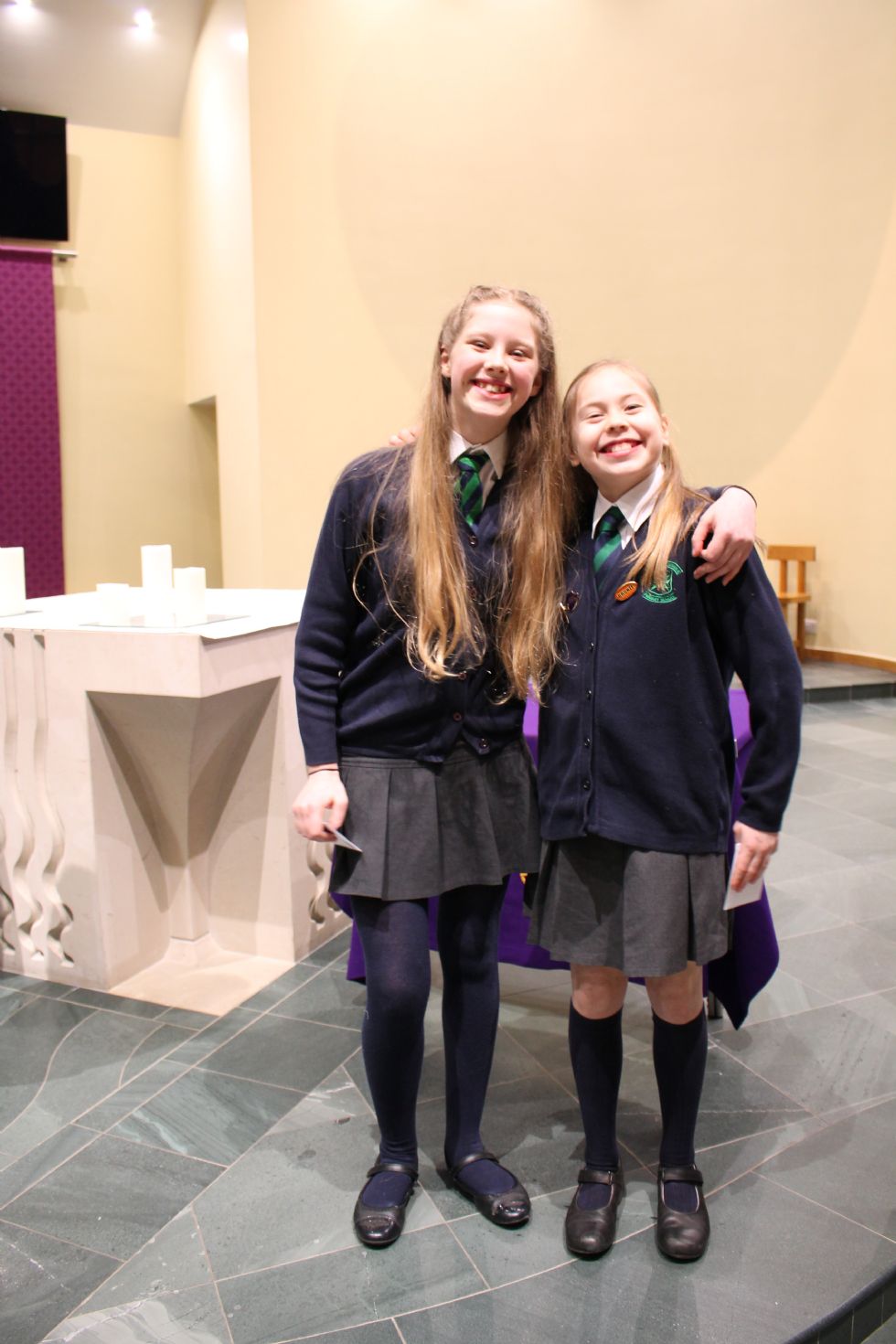 The children have had a very successful week fundraising. Year 4 children have organised a Table Top sale and made £300 for the Compass Trust which helps children in South Africa have an education. Year 4 is ending the week on a high, we have just returned from a theatre trip to see a dramatization of David Walliams 'Awful Auntie' in Woking today. The children really enjoyed it.
In Year 6, Hannah and Jessica have raised over £70 for Macmillan Cancer Research this week. The girls, wanting to do something to support those affected by caner, planned a tombola, made posters, bought prizes. I am very proud of the children and it just goes to show that everyone can make a difference.
On Monday afternoon all the children in Year R walked to the post box on the corner with something special to for their mummies. I think it may have something to do with this afternoon as the Year R mummies are in for a treat! The children have prepared a special Mother's Day celebration. I'm really looking forward to watching.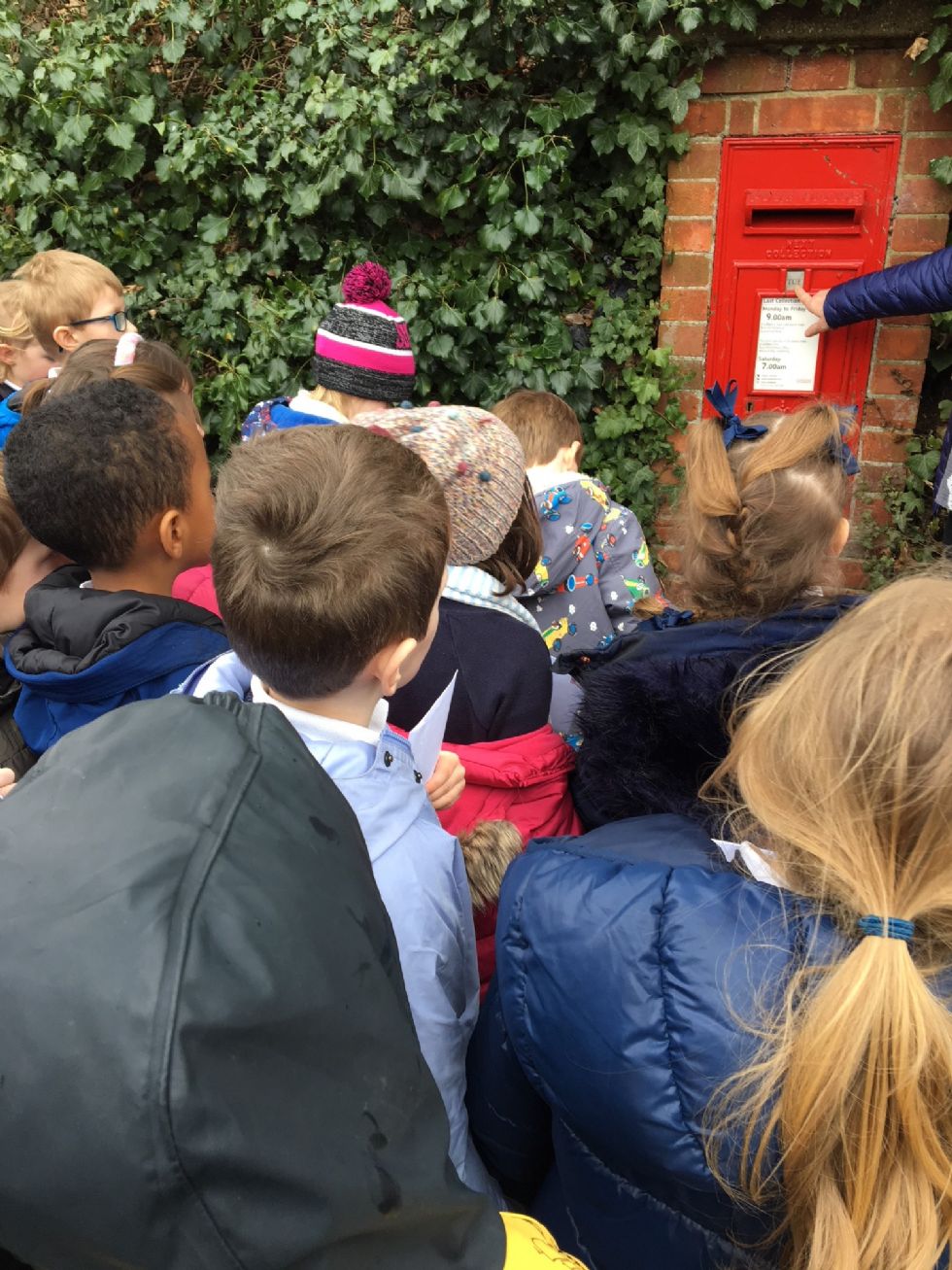 Tomorrow we have the Godalming Schools Swimming Gala with children from Years 4, 5 and 6 taking part. Good luck to you all, I think we have a very strong team!
Have a lovely weekend,
Elizabeth
Friday 2nd March 2018
Well, it has been an interesting and memorable week! We are very proud of the children for getting in to school and I think they have enjoyed the excitment of the snow.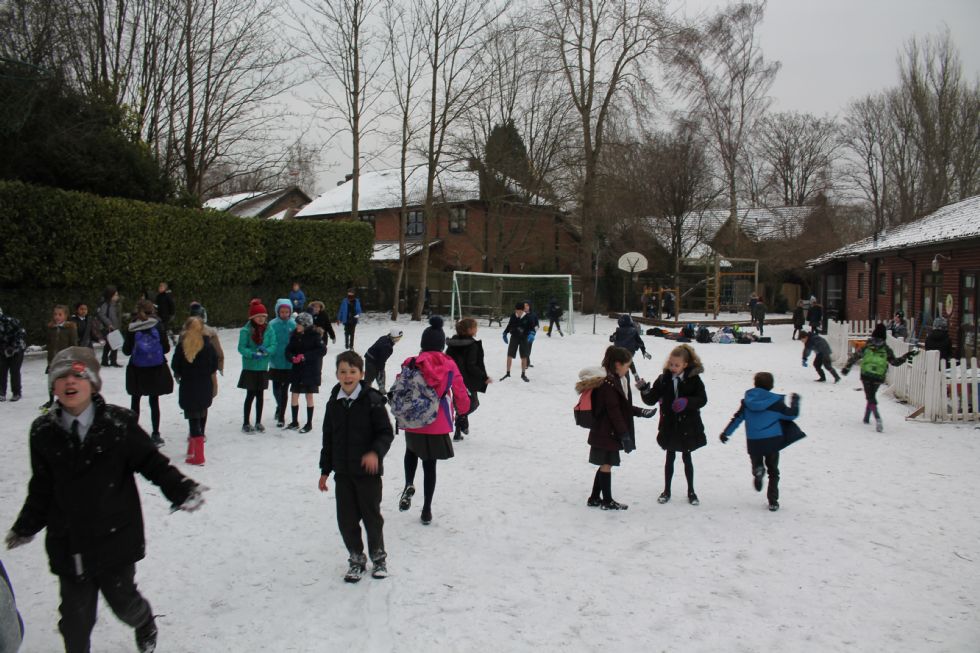 Yesterday almost every child was in school and wearing the most amazing costumes! There were such creative ideas too. I loved all the Gangster Grannies! We had Captian Underpants, Hagrid, Hedwig, the Wimpy Kid, Peter Rabbit even Peter Pan's shadow! We had a special assembly in the morning and the Year 6 children had chosen stories to read to each class in the afternoon. There were prizes for the best costumes and board games based on books. It is certainly days like this that I hope the children will always remember.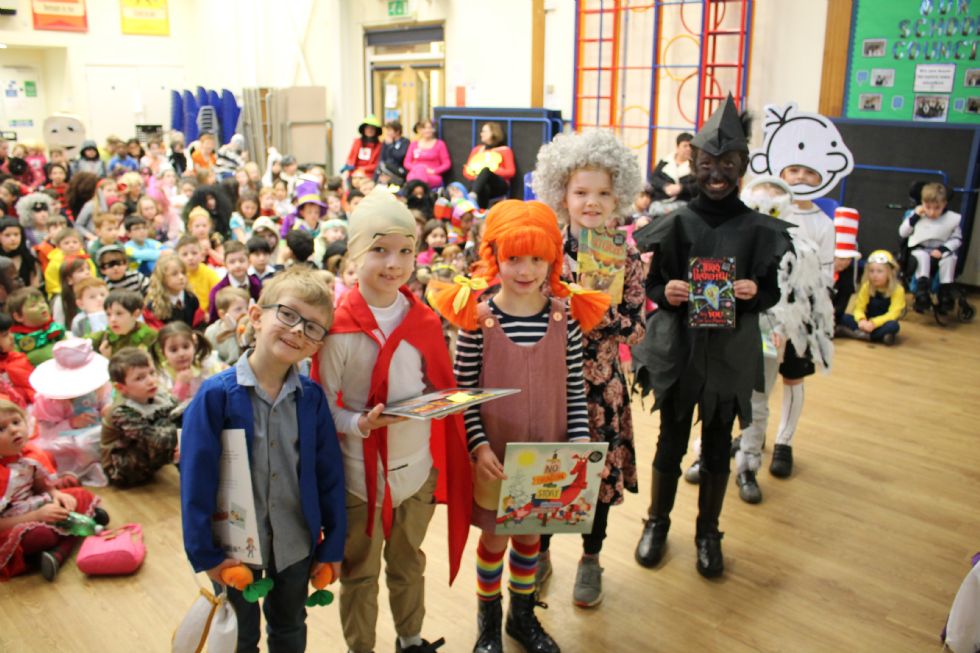 I would like to say a big 'Thank you' to you all for getting the children in to school (and for the wonderful costumes), to the teachers and staff who soldiered on and to the children for their positive attitude, I think they have loved playing with their friends in the snow! We are a resilient bunch at St Edmund's!
I hope everyone has a a lovely weekend, I think we'll probably be back to normal next week!
Elizabeth
Friday 23rd February 2018
It has been lovely to see all the children back at school this week after the half term holiday. If you wondered why Year 6 looked a bit different today they are doing some fundraising this morning, here they are looking cosy in their pyjamas and onsies!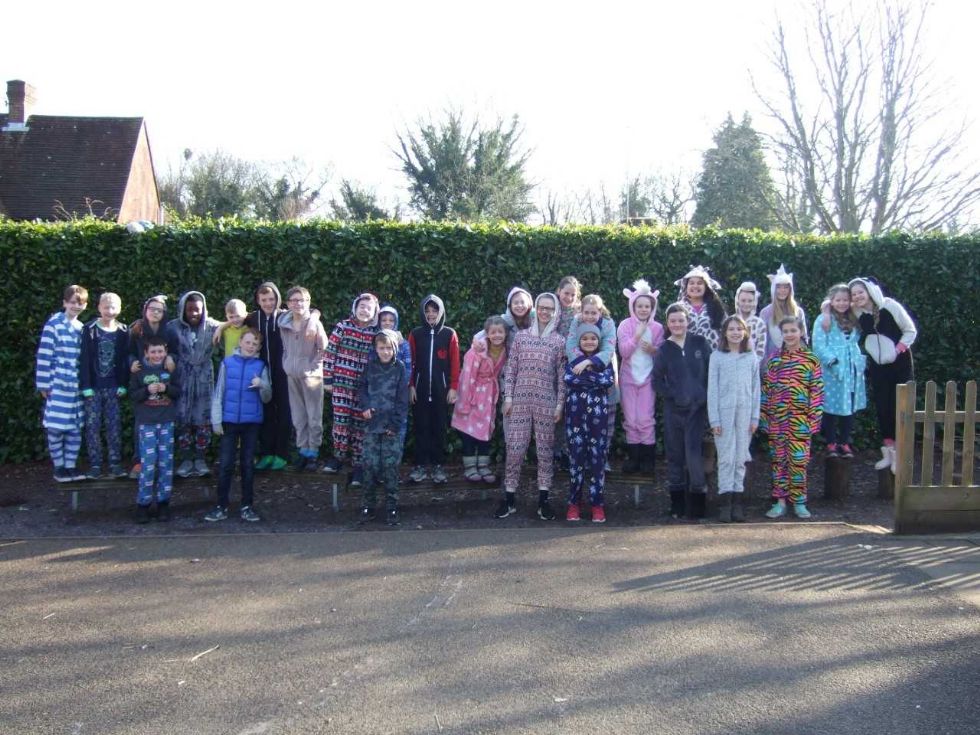 We were all very pleased to see Mrs Nicholls returned safely from Burkina Faso. She made a special visit to St Michael's School and we are all looking forward to seeing her photos and videos and hearing more about here amazing visit.
As we were not at school for the start of Lent, we have thought about this important season during out assemblies this week. The children have been talking about Jesus's time in the wilderness and how we can prepare ourselves during Lent to celebrate the good news at Easter. The children have created a special hall display showing each of the Stations of the Cross. The illustrations are beautiful and it is lovely to see the children's interpretations of the story.
The children will go without their morning snacks today as we are taking part in the Cafod Lenten Fast day. I'm sure that being a little bit hungry will help them to think about all those children across the world that are not as fortunate as we are.
Yesterday morning the whole of KS 2 walked down to Mass at St Edmund's. The children read beautifully and Father David made us all very welcome. This morning we have had our Lenten Mass at school. I was delighted to see so mnay families, parishioners and members of staff there, it was a lovely Mass. Please do come and join us on next Friday at 8:15am if you can.
Year R has had some very special visitors this week as part of their topic: People who help us. They were all bandaged up on Monday with Nurse Holly and yesterday they had a visit from Mark and his ambulance! It is all very exciting!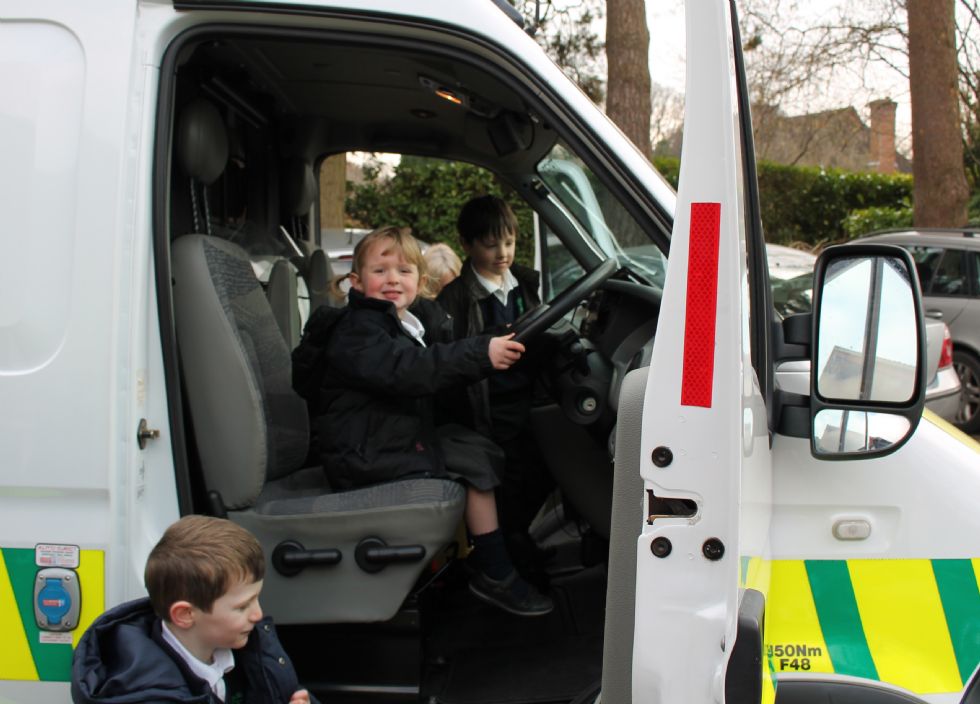 We have started our auditions for the Talent Show and we have been very impressed by the standard and variety of the entries already. We have lots more acts to see next week!
We have started a new Yoga club for the younger children this week and there are lots of new recruits to the Basketball club on Thursday mornings. It's great to see so many children getting involved.
It's forecast to be very cold for the nest week, please keep warm!
Elizabeth
Friday 9th February 2018
As we reach the February half term this marks that point when we are now half way through this school year! The time seems to have passed so quickly yet when we think back to the start of the autumn term, we can see how much the children have grown and changed. It always feels as if the time passes even more quickly as the year progresses and the days lengthen and summer approaches. We still have so much to do this year and so much to look forward to!
Over the past few weeks I have been into every class to see what the children are learning. Year R have been finding out about Chinese New Year and hunting for shapes. Year 1 have been writing some wonderful stories about the book, 'Shh! We have a plan!' In Year 2 there has been some more great story writing based upon Little Red Riding Hood.
Year 3 children have been building their own volcanos and erupting them! They have loved this topic and they have learnt so much across the curriculum. Here they are: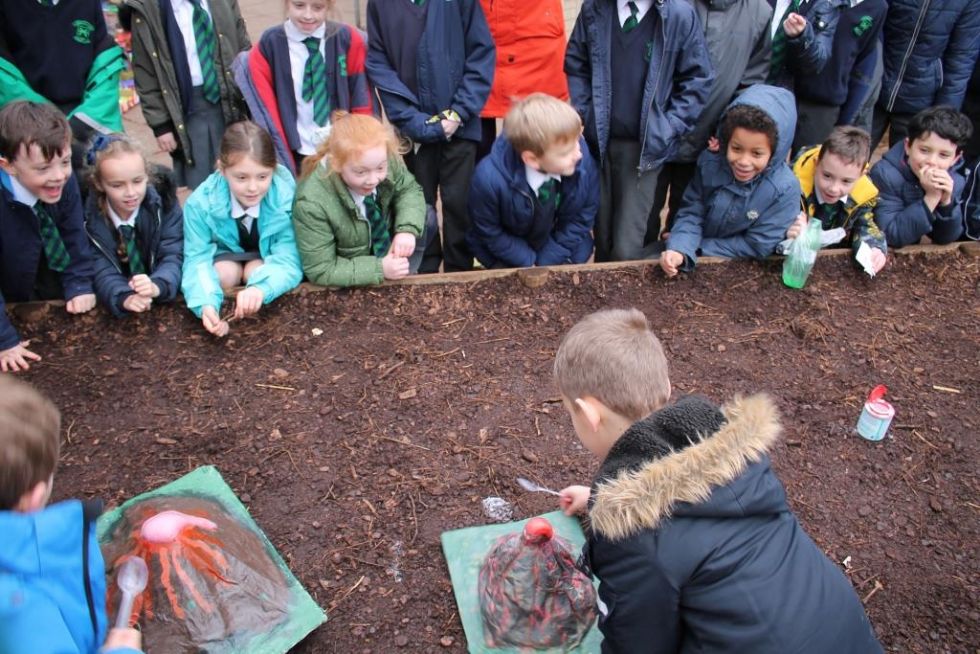 Year 4 and Year 5 pupils have been working on challenging fraction problems and Year 6 children have been tasting and writing about Mayan food, which is best, chocolate or corn?
Our Golden assembly yesterday allowed us time to reflect on what we have all achieved this term and how much the children have learnt. They always enjoy Golden Assembly, even though it is usually rather long! They do enjoy hearing about everyone's achievements and sharing their successes as a school. Thank you to all the children and teachers for their wonderful work this term.
We took part in Safer Internet Day this Tuesday and this gave us all the chance to think about how we protect ourselves and stay safe online. I think the children will always be at least one step ahead of us so it is really important that we talk to them about what they are doing online, why they like, who they talk to etc.
Next week we begin the season of Lent as we prepare ourselves for Easter. It is a shame we are not at school next week as the Year 1 children will miss the Godalming pancake races and we obviously won't have our Ash Wednesday Liturgy in school this year. We will talk about Lent when we return to school.
We have had an amazing time travel assembly from Year 1 this morning. They took us back in time with Doctor Who. What a lovely way to finish the half term!
Have a lovely half term holiday,
Elizabeth
Friday 2nd February 2018
We are now into February and whilst it is still very cold, the mornings and evenings are definitely getter lighter.
This week I took 53 children from KS 2 to London to take part in the Young Voices Concert at the O2 Arena. As you can see we all wore bright green hats to help us keep track of everyone!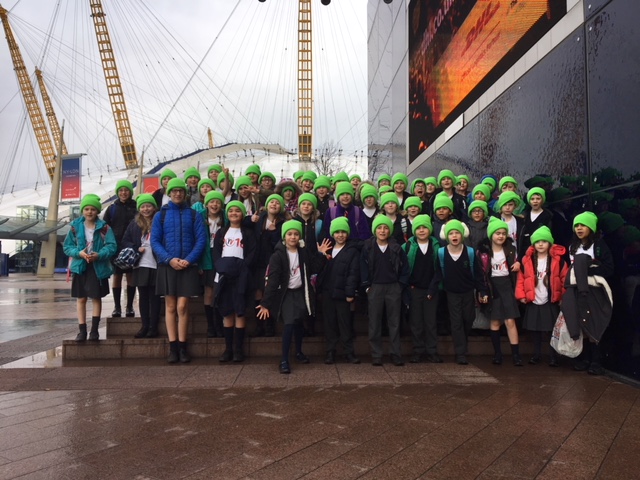 This is the fourth year that we have taken part and we had the biggest choir yet! Our children made up a huge choir of 7800 children. We have been rehearing since September, learning the songs and dance routines. It is amazing to be part of something so large, and hearing all the voices together is very special. There are some of our Year 6 children who have taken part every year and there are lots of younger pupils already excited about joining us next year. The children were fantastic, it was a very long day but great fun for everyone involved. The choir sang a few of the songs this morning for the rest of the school in assembly.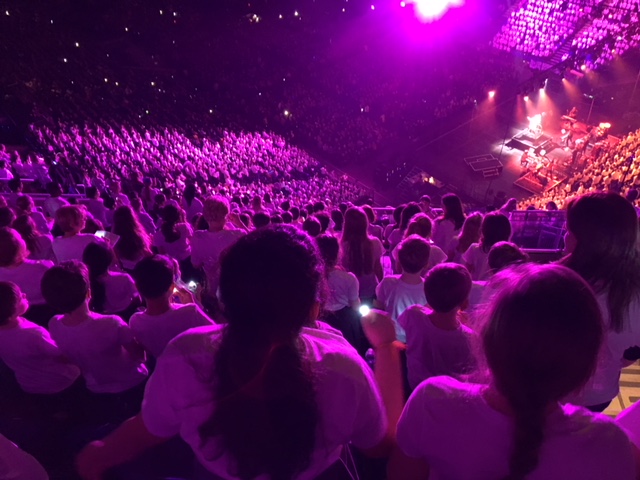 Year 2 children are off to Brooklands Museum today as part of their topic on transport 'From A to B'. I'm sure they will have a wonderful day out, I'm sure they will be able to tell me all that they have learnt when they get back this afternoon.
We sadly said goodbye to Emily and Josie yestreday as they start their journey to live in Australia, we wish them every happiness there and we are looking forward to hearing about all their adventures.
Have a lovely weekend,
Elizabeth
Friday 26th January 2018
We have enjoyed a wonderful Wellness week! It has been great to see the enthusiasm with which the children have taken part in all the activities.
We started the week with yoga sessions in each class. The children were so still and calm, it is certainly something we will try to do more of. Here are the Year 1 class enjoying their yoga session:
Try it Tuesday was a great success, with children across the school trying new foods: chickpeas, edamame beans, beetroot, sunflower seeds and more I hope they will be as adventurous at home when trying new foods!, We all liked the healthy snacks on Wednesday. After the wet start and the initial crowd had dispersed, the children all had vegetables at break time and they could buy the healthy snacks for 20p. Here are some of the girls sampling the delicious vegetables: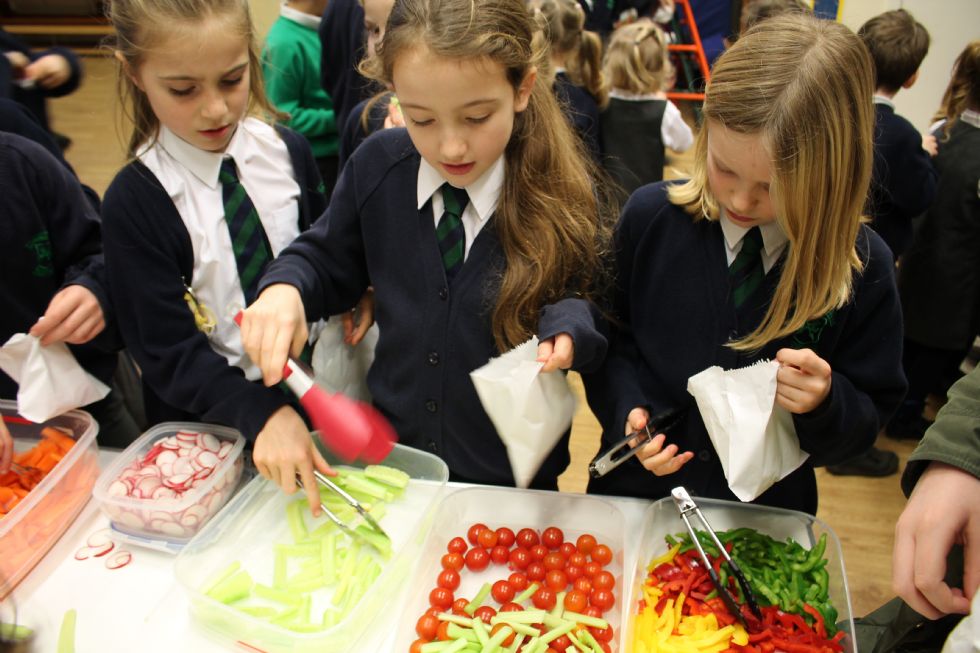 Each class has done some cooking this week and prepared a healthy meal or snack. From fruit kebabs to volcanic cous cous, guacamole and flat bread, there were some lovely things being made. It has been a very successful week and so important for us to take time to stop and look after ourselves inside and out.
The responses for the Talent Show have been flying in; I can't wait to see the acts! We will now arrange the dates and times for the auditions and let the children know when their audition will be very soon.

Our assemblies this week looked at Jesus calling his apostles to 'Follow Me'. We thought about the job fishermen do and how they left their nets straight away to follow him. We asked ourselves to consider that if Jesus was looking for his disciples today, would he choose us? As we sang our hymn: 'Will you come and follow me?' We thought about the words and how we can show that we are followers of Jesus through what we do, say and think.
There was triumph at the Indoor Athletics Tournament for Year 3 and 4 yesterday afternoon. The team won and they were delighted. Thank you to Mrs McCarthy and very well done to you all.

We have enjoyed Year 2's class assembly this morning. The children sang so beautifully and told an alternative version of the story of Red Riding Hood and told us what they have learnt about their new topic from A to B. They will be learning even more next Friday during their visit to Brooklands Museum.
The Choir have been rehearsing since September for the Young Voices Concert which takes place next Wednesday at the O2 Arena in London. The children are really looking forward to it!

This Sunday we have our Spring Term School Mass at St Joseph's Milford at 10:15am. Please do come and join us.
Have a lovely weekend,
Elizabeth
Friday 19th January 2018
During our assembly on Monday we thought back to Christmas and the gifts given to baby Jesus, we talked about what gifts we would have given. The children were able to tell us all about what they could give; from toys for a baby, a smile or love, these are lovely gifts which will never run out and cost us nothing. We talked about our gifts and talents and how we must use these well. The school council explained about the upcoming Talent Contest and how to enter. I have already had lots of children telling me what they plan to do; there is a real buzz of excitement and preparation around the school. I can't wait for the auditions to begin!
On Wednesday afternoon three of our Year 2 children went to Busbridge Infant school to take part in the first of a series of more able maths sessions. The children really enjoyed it and it is a great opportunity to use their reasoning and fluency and to share their learning with others.
Yesterday afternoon a team of talented athletes from years 5 and 6 took part in the Indoor Athletics Tournament at Broadwater School. They came joint 2nd place with only 2 points between them and the winning school. The children have been training really hard each week and they have improved their skills and techniques whilst having fun! Well done to you all.
We introduced the Wellness Week, which will be taking place next week, with a special assembly this morning. The children were so still and thoughtful and the whole school joined together in a short meditation and prayer. This exciting initiative is a great way to start 2018 with a focus on healthy eating, activity and mindfulness. During school time the children will try a yoga session, taste different fruits, vegetables and healthy snacks and also contribute to 'Thank Banks' in the classrooms. There are also suggestions for families to try things together at home, mindfulness before bed, tech-free Thursday and even 'Broga' yoga for blokes! It is so important that in our busy lives we take the time to stop and look after ourselves and each other. We are all really looking forward to the week.
Here are our Year R class being wriggling snakes this mornign during PE!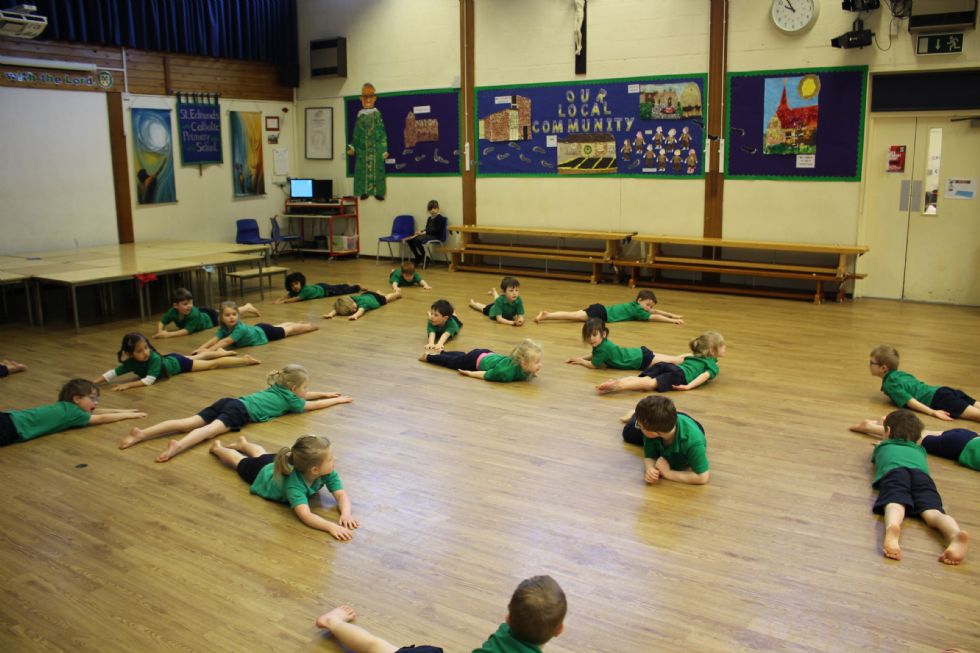 Have a lovely weekend,
Elizabeth
Friday 12th January 2018
We have been back at school for the whole week and everyone has settled back in to the New Year well. Our new hall display is up and looking splendid. Each class has created an important part of our school community to tie in with our RE topic on the local Church. We have a life size Father David; the sisters, including Sister Anne, and Ladywell Convent; the churches: St Edmund's in Godalming; St Joseph's at Milford and St John's in Farncombe with St Edmund's school in the centre. It is really colourful and I'm sure you will recognise all the places, please do come in and have a look.

We had a visit from two of the actors from Wintershall on Tuesday morning. They told stories of Jesus from the viewpoint of Mary and a Roman centurion. We are fortunate to have this special link with Wintershall and the children have really enjoyed and benefitted from the workshops and assemblies we have had.
Yesterday morning I popped into each class to see all the children and find out what they were learning this week.
Year R have been making amazing progress with their phonics and reading. They have been learning about Epiphany and also writing number sentences and finding 1 more.
In Year 1 the children have been busy writing and working on their punctuation and using exclamation and question marks.
Year 2 children are starting to prepare for their Class Assembly with some interesting and very funny versions of fairy tales and learning about their new topic from A to B.
In Year 3 the class is working on multiplication calculations and the children have made some interesting edible volcanic breakfast cereal creations!
Year 4 children have loved learning about Roald Dahl and they are continuing this work this term. They have also been finding out moire aboiut the INvictus Games. In PE they have been very active and they are improving their athletics skills.
There has been more multiplication in Year 5 with larger numbers they are tackling long multiplication. The children are also starting their new topic on the Romans.
Year 6 children were at Surrey University on Thursday, taking part in an amazing science day. The children took part in science experiments using all five sense, they even made their own sherbet and had a delicious lunch! We have taken part in several of their outreach programmes aimed at local primary schools and they are always fantastic.
The time does fly by once we are all back at school!
Have a lovely weekend,
Elizabeth
Friday 5th January 2018
Happy New Year and welcome back to everyone. It is always lovely to have our school family back together after the holidays. The children have been very keen to tell me about their Christmases, all the gifts they received and their exciting holiday activities.
The season of Christmastide continues until next Monday 8th January, when we will celebrate the feast of the Baptism of the Lord. We had a special Epiphany Liturgy this morning where we thought about the wise men's journey following the bright star. When we look up in awe and wonder at the night sky we can imagine how the kings may have felt following the same stars searching for the new born king yet not knowing who they were really looking for or where to find him.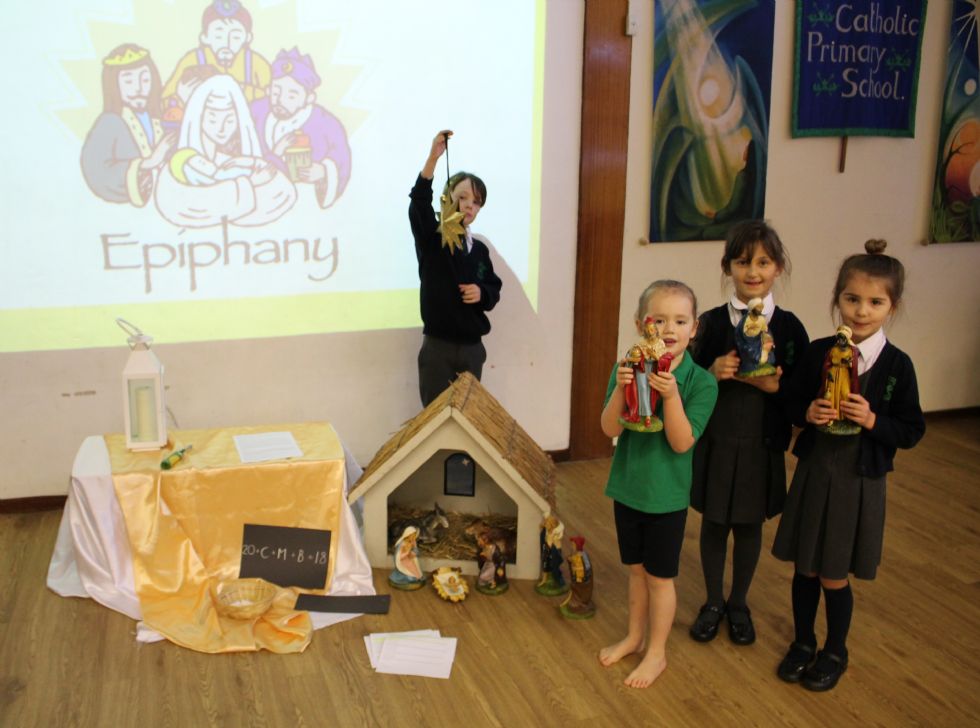 As we pack away our crib and decorations for another year this reflection seems especially relevant:
When the song of the angels is stilled,
When the star in the sky is gone,
When the kings and princes are home,
When the shepherds are back with their flock,
The work of Christmas begins:
To find the lost,
To heal the broken,
To feed the hungry,
To release the prisoner,
To rebuild the nations,
To bring peace among others,
To make music in the heart.
I wish you all a very happy and peaceful 2018,
Elizabeth
Thursday 21st December 2017
It's the last day of school this year before Christmas and the excitement has been building all week! We have all had had a lovely last week at school.
On Monday we all enjoyed Years 5 and 6's wonderful production, 'What Christmas Means to Me'. It was very funny and the children sang beautifully.
On Tuesday morning Father David celebrated our special end of term Mass, it was lovely to see so many parents and grandparents join us, thank you.
Yesterday we had our Golden Assembly; the children were very good as it always takes quite a long time to hear about all the wonderful thing they have been doing! In the afternoon it was Christmas party time. The children changed into their party clothes and enjoyed games and food together. During the afternoon we heard bells ringing and a very special visitor brought presents for each class. The children were very excited and really enjoyed the parties.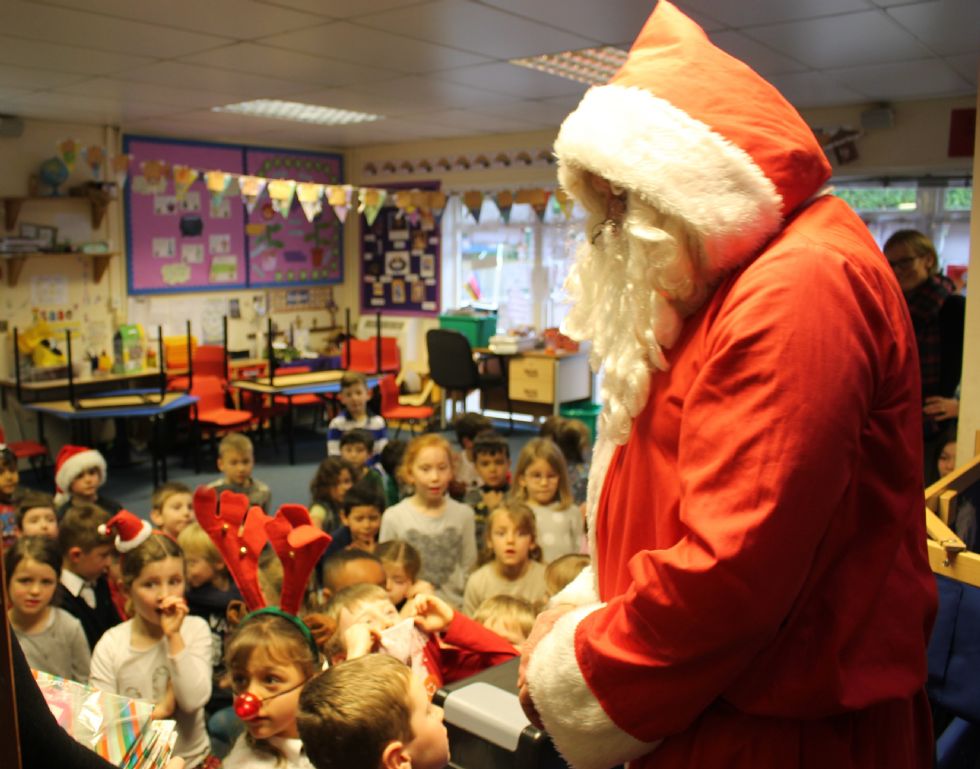 This morning we heard Year 5 and 6 singing on Eagle Radio, they were chosen as one of the winners of the Christmas Carol competition. You can listen again here: https://www.eagleradio.co.uk/christmas-carols.php
We will finish the term with our 'Carols Round the Tree' at ten past one this afternoon, please do come and squeeze into the hall and join us singing carols for our festive celebration!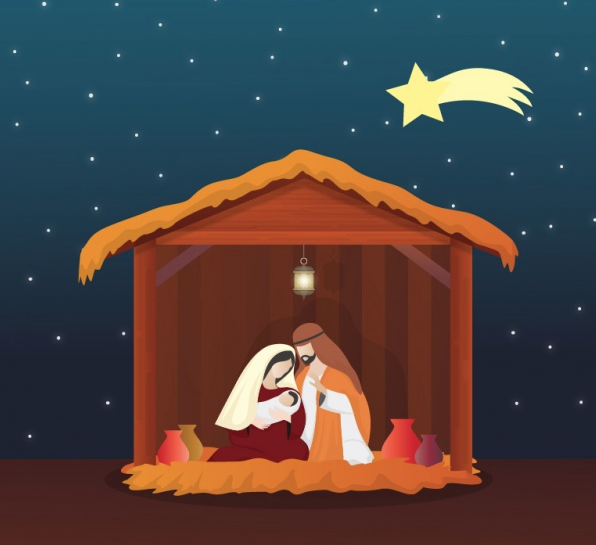 I hope that everyone has a wonderful Christmas and a very happy start to 2018.
See you all next year,
Elizabeth
Friday 15th December 2017
It's the final Friday before Christmas and the last Friday at school this year! It's been a lovely Christmassy week with plays and preparations taking place every day.
We have seen Years R, 1 and 2 journey to Bethlehem dressed in tinsel and tea towels they retold the Christmas story through a 'hoity toity angel' who had to learn the important message that it's not the outside that counts it's what we are like on the inside that matters. The cast of ninety 4 to 7 year olds were wonderful!
It was then the turn of Years 3 and 4 who prepared a beautiful Carol Service. The children sang so well I was really impressed by the way they shared the 'greatest story ever told'. Being able to use the church for the evening was lovely and the children's voices sounded extra special there.

This morning we reached Years 5 and 6 who performed their musical play 'What Christmas Means to Me' to the whole school. It was very entertaining and the children really loved performing together. They finished by returning to the true meaning of Christmas.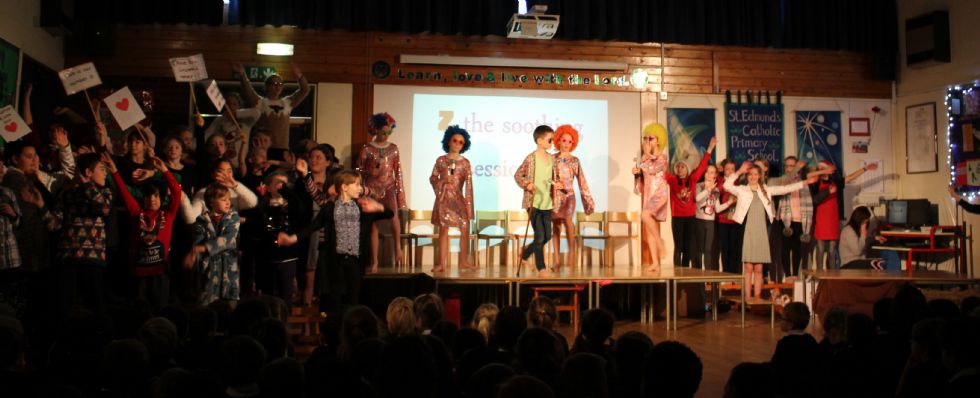 I'm very proud of all the children, they are funny, thoughtful, confident and talented and I hope that they will always remember these special moments at school.
More than two hundred Christmas lunches will be served today! There is always a lovely atmosphere in the dinner hall on Christmas lunch day and the children love the Christmas crackers too. The children don't have to queue up for their lunches today as the teachers and TAs (dressed in Christmas hats and jumpers) will serve them at the tables as a treat!
We have only four days left next week I hope that many families will join us for our Advent Mass on Tuesday morning at 9:30am and for Carols Round the Tree on Thursday afternoon at 1pm before we break up for Christmas at 2pm.
Have a lovely weekend and keep warm,
Elizabeth
Friday 8th December 2017
The Christmas Market was a great success last Saturday raising over £2000, thank you to everyone who helped and came and supported this special event.
This week the hall has been in use all day every day for rehearsals! We will start the performances off with Year R, 1 and 2's 'Hoity Toity Angel' next week. Years 3 and 4 are preparing a very special Carol Service and Years 5 and 6 are putting the finishing touches to their Christmas production, 'What Christmas Means to Me'. All of the children are very much looking forward to showing us all what they have been working on. I'm really looking forward to seeing all the performances in full, I have seen bits of all of them and from my office the singing does sound lovely.
Here are some of the youngest children rehearsing this morning: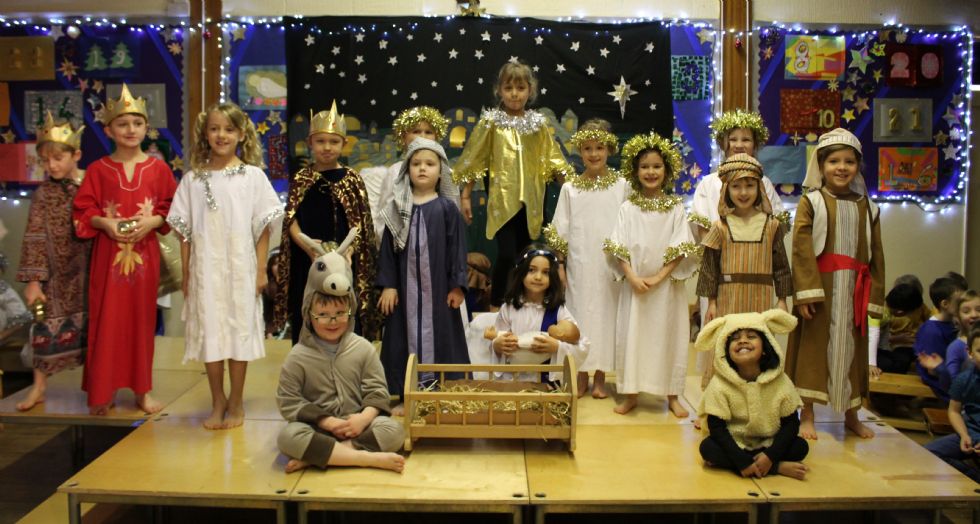 This week, we have recorded a carol to send to the Eagle Radio Christmas Carol Competition. They have been singing really well and we hope that it might be featured on the Eagle Radio website before Christmas.
Year 5 and 6 walked to Mass yesterday morning at St Edmund's Church. We try to take the older children during Advent and Lent each year. It was a wet morning and we arrived looking a little muddy and windswept! The children read beautifully.
Tomorrow afternoon children from Key Stage 2 will be singing at 2:50pm at the Pepperpot as part of the Christmas Festivities. If you are doing your Christmas shopping in town please do come and listen and join us.
Have a lovely weekend and keep warm,
Elizabeth
Friday 1st December 2017
It's certainly feeling really wintery as we enter December, there were even a few snowflakes as I arrived at school this morning. Everyone is very busy preparing for Christmas.
We have the beautiful Christmas tree in place in the hall and the wonderful Christmas hall display is all ready! This year we have huge Advent Calendar with 24 door made by the children to open, we will open the first door during assembly this morning. It is so colourful and the children are looking forward to seeing what will be revealed on opening each of the doors. The Travelling Cribs are all ready to start their journeys to everyone's homes as we think about the journey Mary and Joseph made to Bethlehem. Look out for your special visitors over the coming weeks.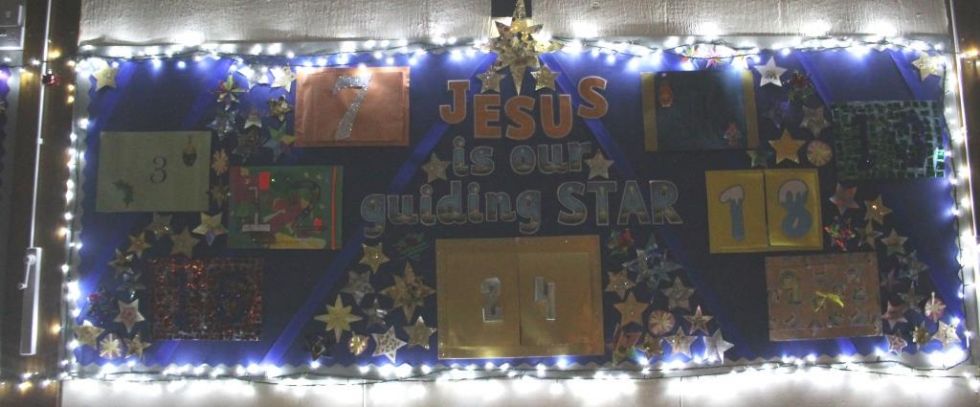 Today is the last Friday before we begin the season of Advent. It is a time of waiting expectantly as we begin the new liturgical year and prepare ourselves for the joyful season of Christmas. In the secular world Christmas has well and truly started already and we want to show the children the difference between this frenzy of shopping, festivity, lights and advertising and the Church's season of Advent. As well as the display in the hall, and the travelling cribs, the children will have special Advent wreaths in each classroom to help them prepare and countdown the weeks.
The children are busy rehearsing and preparing their plays and concerts for you. It is a very exciting and busy time in school, I think it is my favourite time of the year, seeing the children excitedly preparing really is very special.
This week we finally received our Ofsted report letter, which I was delighted to send out to parents, an early Christmas present! It seems like a long time ago now, thinking back to the start of November. Everyone worked very hard and we are all very proud of the children, staff and our school community and pleased that the inspectors recognised what makes our school so special.
The children are very colourful today with crazy hair too! They do enjoy days that are different and they have brought in so many bottles for the Christmas Market tomorrow, thank you. Here are a few of our crazy children: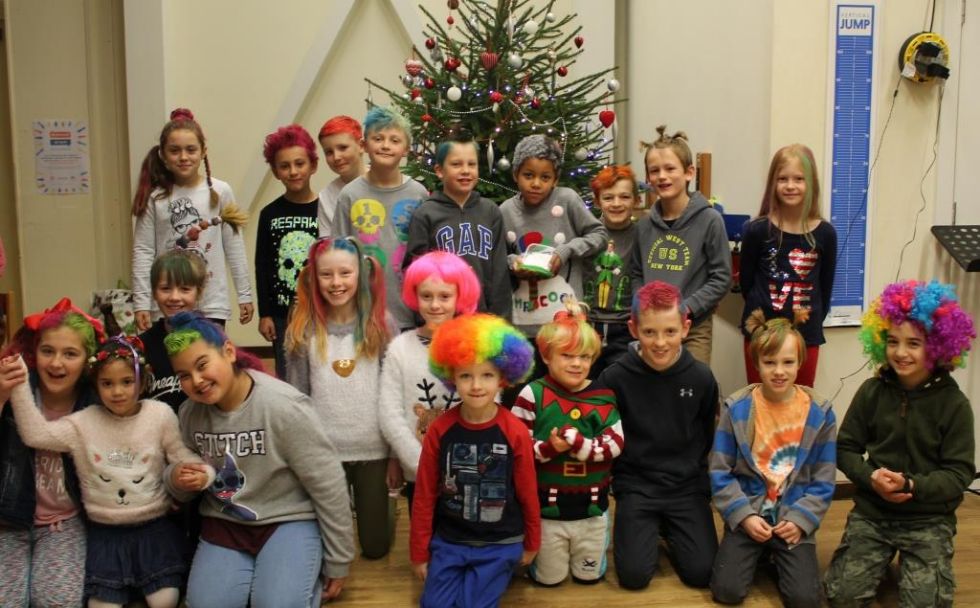 Have a lovely weekend and see you all tomorrow at the Christmas Market,
Elizabeth
Friday 24th November 2017
We started the week with a wonderful celebration for our school feast day on Monday. We had a special Mass in the morning with many parents, grandparents and parishioners joining us. In the afternoon there was a treat for the children with a magic show first for Years R, 1 and 2 and then for KS 2. The children really enjoyed the entertainment and were keen to try to work out how the different tricks were done!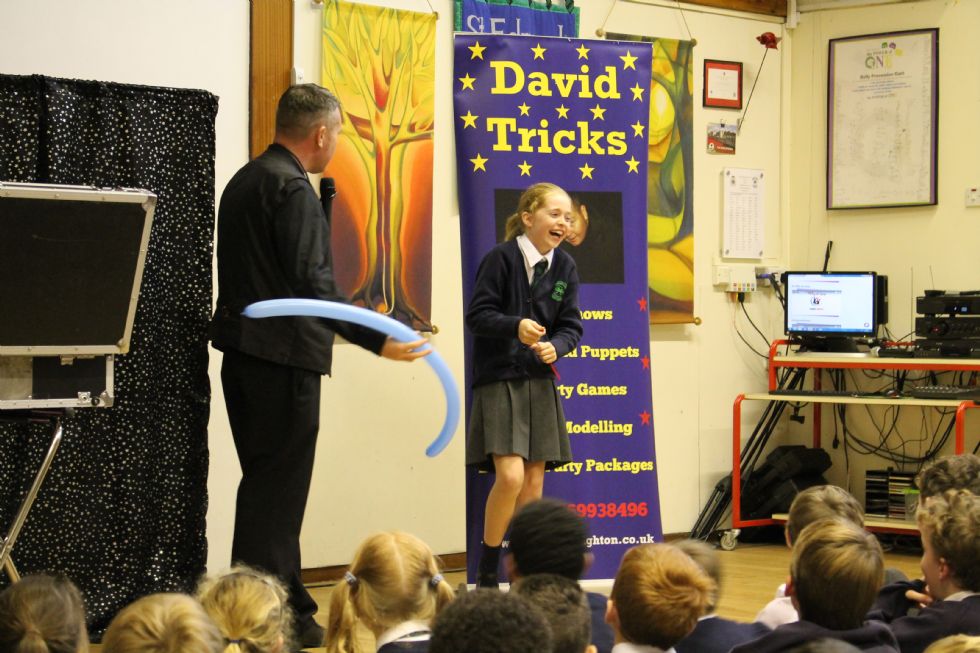 On Wednesday Years 3 and 6 had a visit from Jules from The Palaeolab. He brought an amazing collection of fossils to enhance the children's learning. The children were fascinated and loved his enthusiastic presentation. It was really amazing to touch something that would have been alive a million years ago!
In the afternoon a group of our Year 6 children took part in the second of our writing workshops led by the English subject leader from Tormead. We invited local schools to attend and we had children from Busbridge Junior, The Chandler and St Thomas of Canterbury in Guildford with us. The workshops are a great opportunity for the children to develop their creative writing.
It was the turn of our Digital Leaders to experience a workshop yesterday afternoon when they went to Tormead School to rake part in some exciting sessions including coding and using green screens. They children in KS 2 can apply to be Digital Leaders each year and they support the staff and pupils with their skills and expertise in computing.
The shoeboxes for Operation Christmas Child have come in fast this week and have been collected this morning. It is a lovely thing to do and the children have enjoyed telling me about the gifts that they have chosen to put in the boxes and who they are for. When we have so much it is especially important for us all to think about those who are not as fortunate as we are. We hope that the children will enjoy receiving their Christmas boxes. Thank you for your support.
Have a lovely weekend
Elizabeth
Friday 17th November 2017
We have had a colourful start and end to this week with odd socks on Monday and a mufti day today!
The odd socks were worn on Monday to kick off Anti-Bullying week and raise awareness by celebrating our differences and individuality. The children have created posters on this years' theme 'All different, all equal'. We have reviewed our child friendly anti bullying policy with some of our Digital Leaders to ensure that it is up to date and effective. This is now on the website and do look out for our new posters around the school.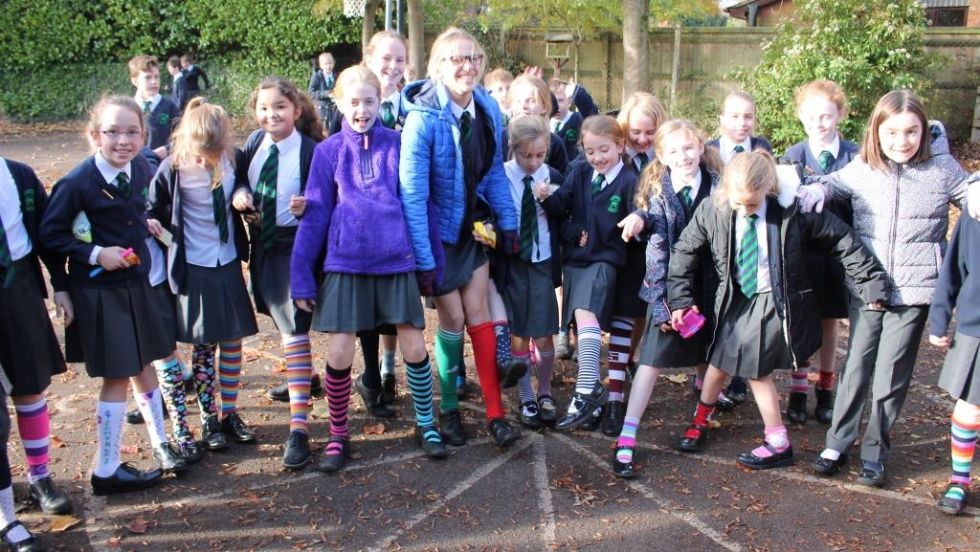 Today we are wearing mufti as preparations get underway for the Christmas Market on 1st December, children have brought in sweets today for the sweet tombola stall.
We thought about Remembrance Day on Monday morning and Year 6 children led our assembly sharing their learning and reflections on their recent visit to the Poppy Factory in Richmond. It is so important that the children know why we remember those who died for their country so that they can pass on the stories to the furture generations and they are not forgotten.
On Tuesday after school we hosted a staff meeting with St James in Elstead, Loseley Fields and Green Oak teachers. We are all working on imporivnjg teaching and learning in maths and we were moderating children's work and looking for evidence in the children's book that they are working at or above the expected standard. It was a really useful session and we have lots of ideas to work on and follow up on at our next meeting.
On Thursday morning we had a special assembly led by Chris and Jackie from CAFOD. They explained how our donations really do make a difference. They told the story of the Three little pigs and linked this to the work done in the Philippines following the devastating typhoon a few years ago.The children do enjoy helping others and we saw a wonderful example of this yesterday. Evie, Tom and Ollie had organised a doughnut sale for Pancreatic Cancer Awareness Day. It was a great success and they raised over £260. Thank you all for your support, everyone enjoyed the doughnuts too!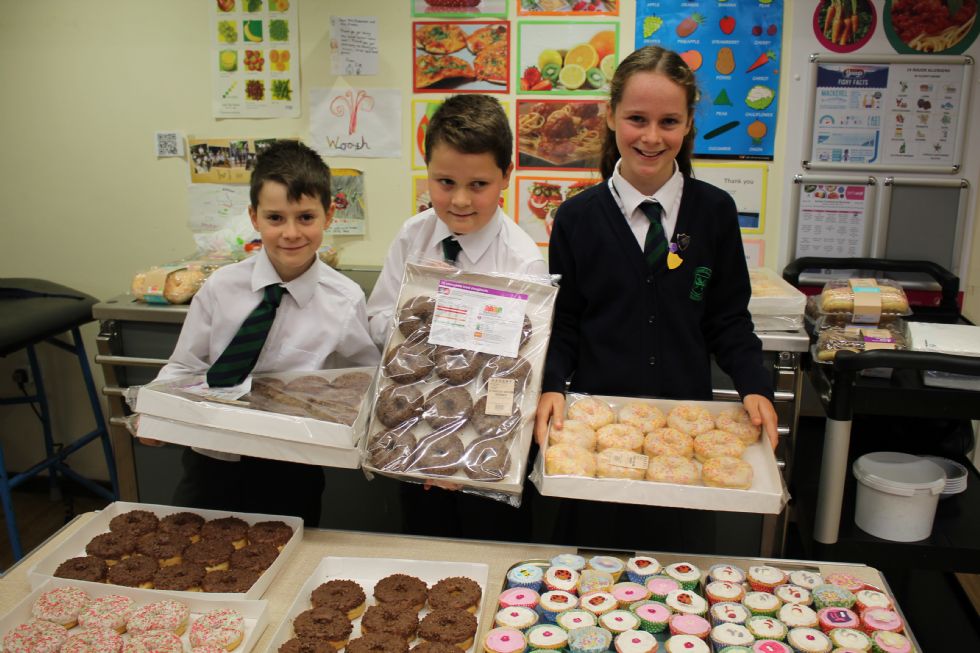 We have had hymn practice this morning in preparation for our St Edmund's Day Mass on Monday morning at 9:30am, please do come and celebrate with us. There will be a treat for the children in the afternoon, I'm sure you will hear more about it on Monday.
Have a lovely weekend
Elizabeth
Friday 10th November 2017
We have returned to normal this week, if there is ever such a thing as a 'normal' week in a primary school!
We started the week by talking about Guy Fawkes and the history of Bonfire Night. The school council children who have recently been to visit the Houses of Parliament were able to tell us all about the rooms they visited and the cellar underneath the king's chair where the gun powder was stored! We also spent time reflecting on the month of November and remembering those who are no longer with us. The children have been selling poppies at lunchtime and we will have a special Remembrance assembly on Monday morning.
Next week is Anti-Bullying Week, the theme this year is 'Everyone equal, Everyone different'. We will kick the week off with odd socks day on Monday to celebrate our individuality! It will help us all raise awareness of bullying and empower all children to have a voice and talk about what is right and wrong. Each class will create a poster representing the theme of this years' week, look out for them around school.
Year 2 children had an exciting day at Hampton Court Palace on Tuesday where they learnt more about Elizabeth I as part of their topic on famous people.
Also on Tuesday, Year 1 enjoyed a special seaside workshop at school lead by Chertsey Museum; the children tried on Victorian costumes, wrote seaside postcards and performed a puppet show.
On Wednesday we welcomed many visitors during our open morning, as prospective parents looked round the school. The Year 6 children led the tours and did a fantastic job of showing off their school. They love doing this and so many parents commented on how wonderful they were as ambassadors for the school. Well done!
Yesterday we had a visit from a group of our school governors who came to do a Learning Walk looking at maths and the progress that children make across the school. We visited every class and it was great to see how much the children love learning and how much they can do by the time they reach Year 6! The children were really engaged and enthusiastic about learning in all classes and they have really been working on their reasoning skills, this was evident in all the classes.
This morning we have been transported back in time to the Stoneage by Year 3 in their amazing assembly. We had a very special edition of the Antiques Roadshow where we learnt all about stoneage life, saw cave paintings and even heard instructions for washing a woolly mammoth! It was great fun, we could all see how much you are enjoying learning in Year 3!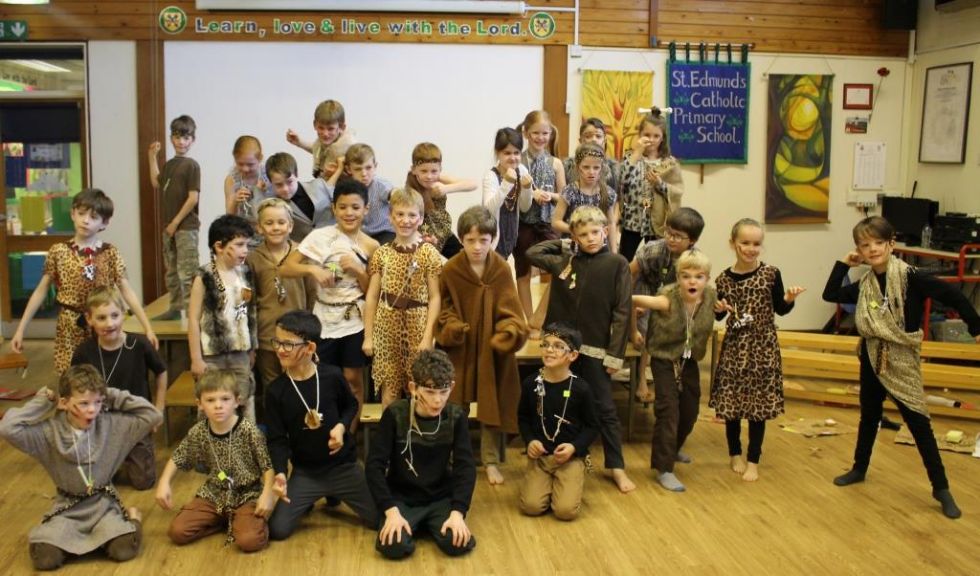 Have a lovely weekend
Elizabeth
Friday 3rd November 2017
Welcome back, what a week it has been!
We started with our INSET day on Monday. This was a date shared with all our confederation schools where we met together at St James in Elstead to share good practice in maths. Teachers presented workshops on different areas including using mathematical language, using the bar method, teaching times tables and mastery in maths. We returned to school in the afternoon and looked at children's work in maths and English in their exercise books. This was really helpful as we could see the progress that the children had already made this year.
On Tuesday we welcomed the children back and found out about the customs and traditions associated with Halloween during our assembly. We talked about All Hallows Eve and the children knew about All Saints Feast day on 1st November. Although we often think of many modern Halloween traditions as American, most originate from the Celtic festival Samhain and much closer to home. For example Mischief Night involved children in Derbyshire and Northern England knocking on doors and tricking people! The children were all very excited about dressing up and going out that night.
Shortly after assembly I received a phone call to inform us that our Ofsted inspection would take place the following day. After talking to the inspector, it was all systems go as we prepared for the next days' inspection! It was lovely to see the whole school community come together supporting us all, from the children, teachers to parents everyone was really positive and encouraging! I was extremely proud of everyone on Wednesday, it was a long and busy day but there was a great atmosphere of teamwork throughout the school. The letter with the inspection finding will be published in the next few weeks and I will send this to you all as soon as I am able. Thank you for all the good wishes and positive comments they are very much appreciated by us all.
After the inspectors left on Wednesday evening we were off to Fr David's induction Mass celebrated by Bishop Richard. We are very fortunate to have Fr David as our parish priest and he has been a wonderful presence in school since his arrival last spring. It was a lovely celebration and an honour for the school to be involved. The children read beautifully and received many compliments, well done.
Year 5 enjoyed a day learning about Ancient Greece at Chertsey Museum on Thursday, they had a great day which really enhanced their learning on their topic.
Although we have only been back for 4 days, I think we are all ready for the weekend!
Here are some of the wonderful firework poems Year 1 children have written this week: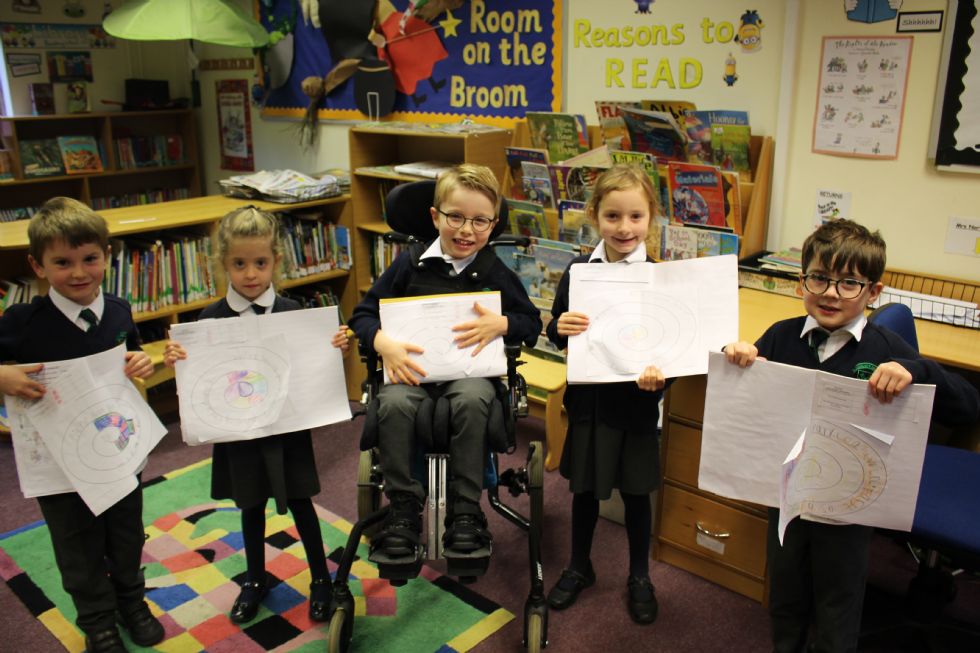 Have a lovely weekend; enjoy and stay safe at any firework or bonfire celebrations you may be going to!
Elizabeth
Friday 20th October 2017
It was an unusual start to the week weather wise with the grey-orange sky on Monday creating a strange, eerie atmosphere at lunchtime in the playground much to the excitement of the children. We finish the week with storm Brian looming, I hope he doesn't cause too much disruption at the start of the holiday!
We have had our Parents' Consultations this week. Thank you for coming; I hope that the appointments were useful; it was certainly really good for our teachers, especially the new members of staff, to meet everyone and discuss how well the children are doing this year.
During our assemblies this week the School Council talked to everyone about their visit to the Houses of Parliament last week. On Tuesday we thought about October being the month of the rosary and prayed part of the rosary thinking about the joyful mysteries.
Wednesday was the first Golden Assembly of the school year. The children were presented with some very special awards. Headteachers awards were given for excellent attitude, improvements, resilience and perseverance. There is always great excitement when the house point winners are announced and this time it was no exception! It's always great to see how supportive the children are of their classmates and the other children.
Today the children are dressed very colourfully in the colours of the Burkina Faso flag on our special mufti day to raise money for St Michael's school in Manni, which we are partnered with. We hope that the money we have raised today will enable the children there to have a better chance of an education.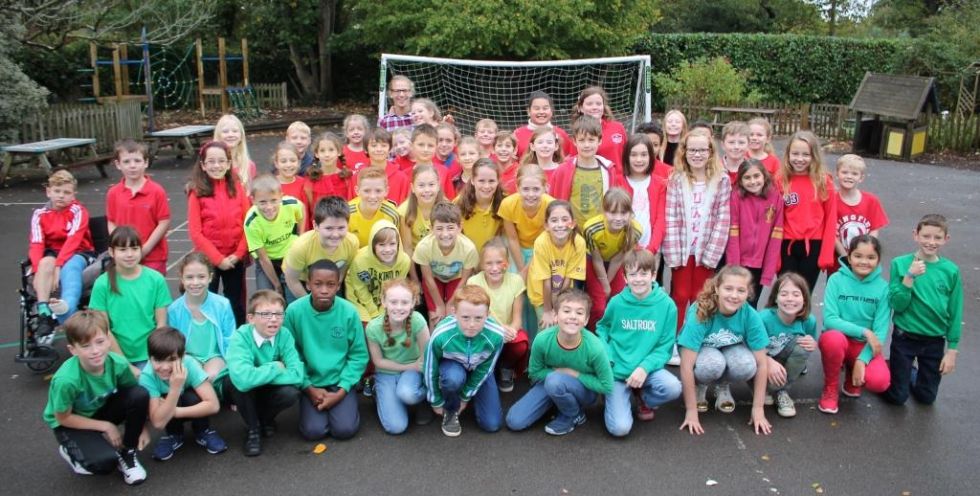 We will send them this photograph of our colourful school today!
Have a lovely half term holiday, I think everyone is ready for a well-deserved rest, I know the teachers are!
Elizabeth
Friday 13th October 2017

Thank you to all the families who came to last Sunday's School Mass, it was wonderful to see so many families there. The children read extremely well and they all enjoyed helping with the Mass.
We started our week with an assembly celebrating the children's learning from Little Way Week last week. The children learnt about St Therese of Lisieux. They thought about little things that they could do every day to help others and share love as Therese did. The children have really been inspired by finding out about her short life. I hope they continue to do these little things at home this weekend!
This week we have welcomed back Mrs Millis and we are all delighted to have her here with us again.
On Tuesday I took our KS 2 school councillors to the Houses of Parliament. We travelled to London by train and walked across Westminster Bridge, the children enjoyed seeing the sights. During our visit we had a tour of Parliament; saw the speaker's procession which takes place every morning as John Bercow enters the House of Commons accompanied by the Sergeant at Arms who carries the mace. The speaker even stopped to say hello to the children. We visited the House of Lords where David Blunkett former Education Secretary, now a Lord was there with his guide dog. The children learnt so many fascinating facts about Parliament including visiting the room above where Guy Fawkes hid the barrels of gunpowder! The children were very well behaved and returned with a great understanding of how powerful their voices can be.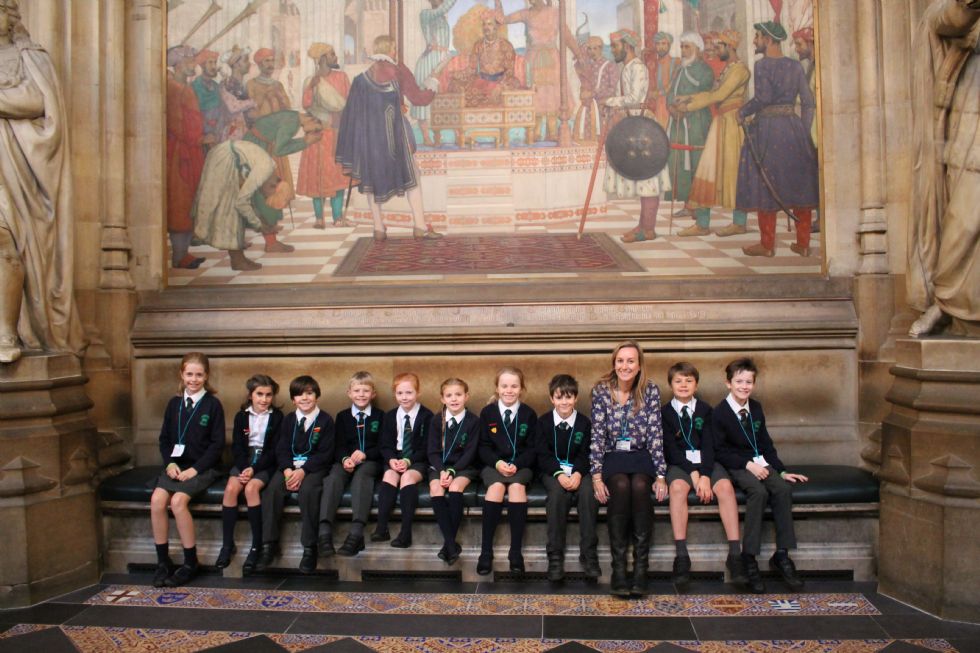 This morning we have enjoyed another great celebration assembly, this time it was the turn of a class of skeletons from Year 4 who taught as all about the human body, the skeleton, the brain, exercise, putting parents to the test and even the Macarana! I really enjoyed seeing them all having fun and enjoying their learning. They looked great in their costumes which I hope they will be able to wear again tonight, they should also be able to perform the Macarana again too!
We have our Harvest Liturgy this afternoon thank you for all your donations for the Godalming Foodbank which have been pouring in this morning. The children are looking forward to sharing their special service of thanksgiving with you all later today.
The children are very excited about the Spooky Discos this evening; they are really looking forward to dressing up too!
I look forward to seeing everyone next week at our Parent Consultation evenings.

Have a wonderful weekend,

Elizabeth
Friday 6th October 2017
After a wonderful adventure with Year 6 last week, it was great to see the whole school back together this week. During our assembly on Wednesday we talked about challenges and looked at some of the photos and experiences of Year 6 last week. The children loved the challenges and it has really helped them to see just what they can achieve if they work hard and push themselves in all they do. The Year 5 children are already very excited about their visit next year.
We started the week with our Commissioning Service where children promised to carry out their roles and responsibilities to serve one another as part of our school family. We have had a very busy time with the Book Fair in school and the Life Bus visiting- sadly without the bus as it had broken down! We had the lessons in the classroom instead. The children still enjoyed finding out about how to live safe and healthy lifestyles.
Thank you to the parents and volunteers who attended the Safeguarding session with me on Tuesday morning and to those parents who stayed fir the Life Bus parent session on Wednesday morning we hope you found them useful and informative.
Last Friday we very sadly said goodbye to Mrs Millis after her amazing 15 years at St Edmund's, we thank her for all the wonderful work she has done for the hundreds of children she has cared for, she will be greatly missed and we wish her every happiness in her new job.
This afternoon we will welcome our Grandparents to school, we are excited about performing for them and hope they enjoy the afternoon. It will be a very special afternoon, the singing sounds beautiful! Here is the Year 3 practicing this morning.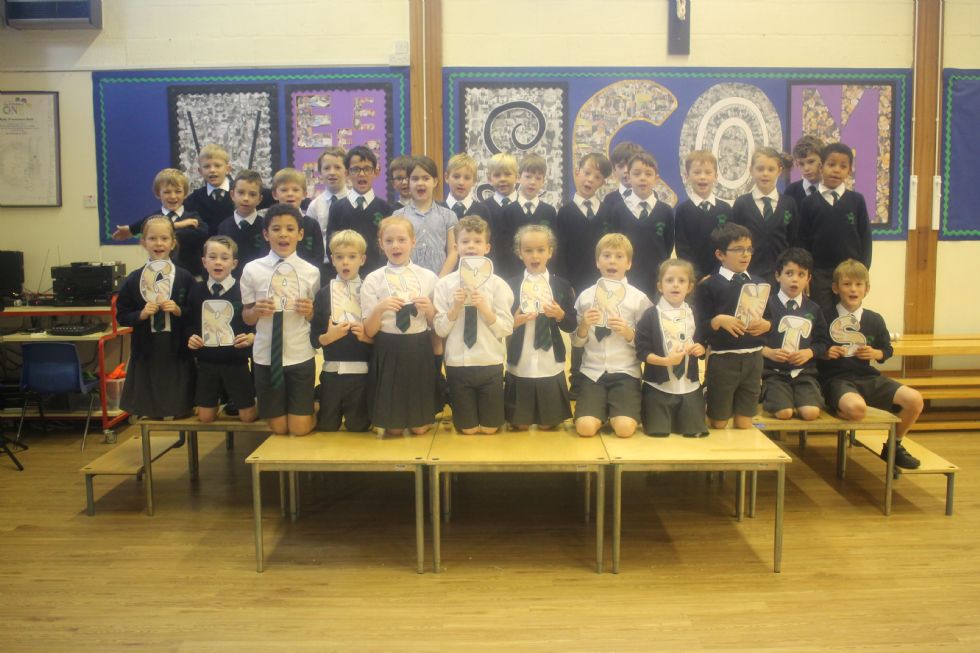 Please do join us for our Autumn Term school mass this Sunday morning at St Joseph's in Milford; I hope to see lots of families there.
Have a lovely weekend,
Elizabeth
Friday 29th September 2017
I can't believe it's the end of September already, it will be October when we return to school on Monday!
I have had had an amazing week with Year 6 at Outdoor Adventure in Bude, it has been a priviledge to spend the week with such a lovely group of children. They have been really wonderful; great teamwork, determination and approaching everything with enormous enthusiasm and a smile. They have learnt many new skills: surfing, bodyboarding, canoeing, archery, abseiling, climbing and coastal traversing. We have spent the week in a beautiful location, the north Cornish coast, all activities taking place in or above the rolling waves. It has been a week to remember for us all. I was especially pleased to have managed to stand on my surf board after several years of trying! It just goes to show how important it is to persevere! They will be keen to tell you all about their adventures next week.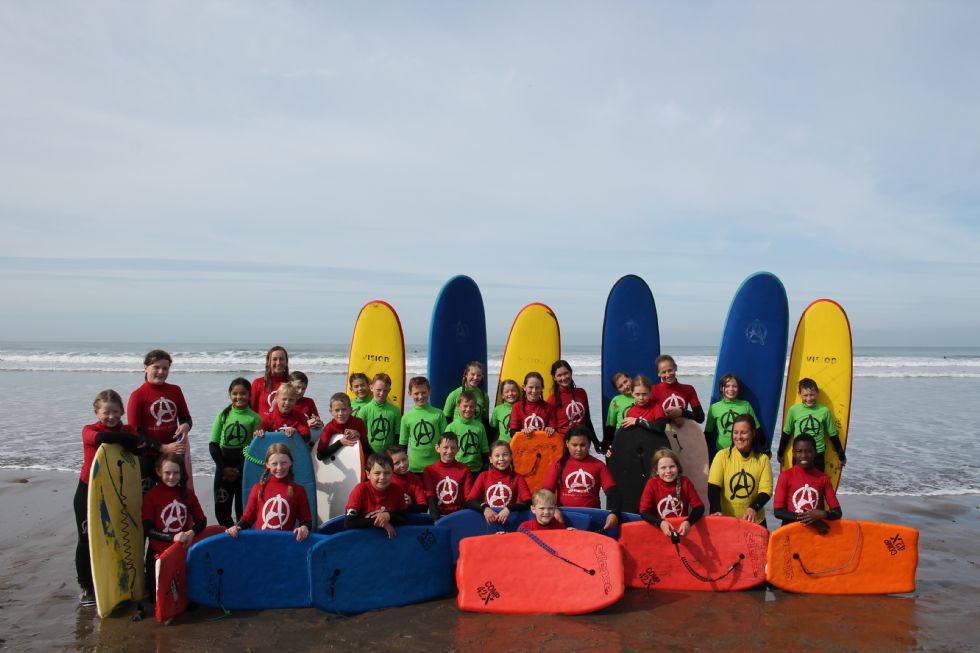 Everyone has had a good week back at school, I have been updated daily on what has been goingon. It will be lovley to have the whole school back together next week. We have our Commissioning Service on MOnday morning and Grandparents Day next Friday, it will be another exciting week.
See you all next week,
Elizabeth
Friday 22nd September 2017

It's a beautiful autumn morning today, cold, but with bright sunshine, I could see the sunrise over the fields, patched with mist as I drove in this morning, it was lovely, one of those morning where you want to stop and take a picture to help remember the view! It was a reminder that we are now well into the term and September is moving fast. We have had the whole school in full time this week, even a couple of days were there were no absences at all, and the Year R children have settling in brilliantly, it feels as if they have always been here. I even had the pleasure of teaching them on Tuesday morning and getting to know them all.
We have had our first school council meeting and updated the display board in the hall with the new pictures. Here are most of them: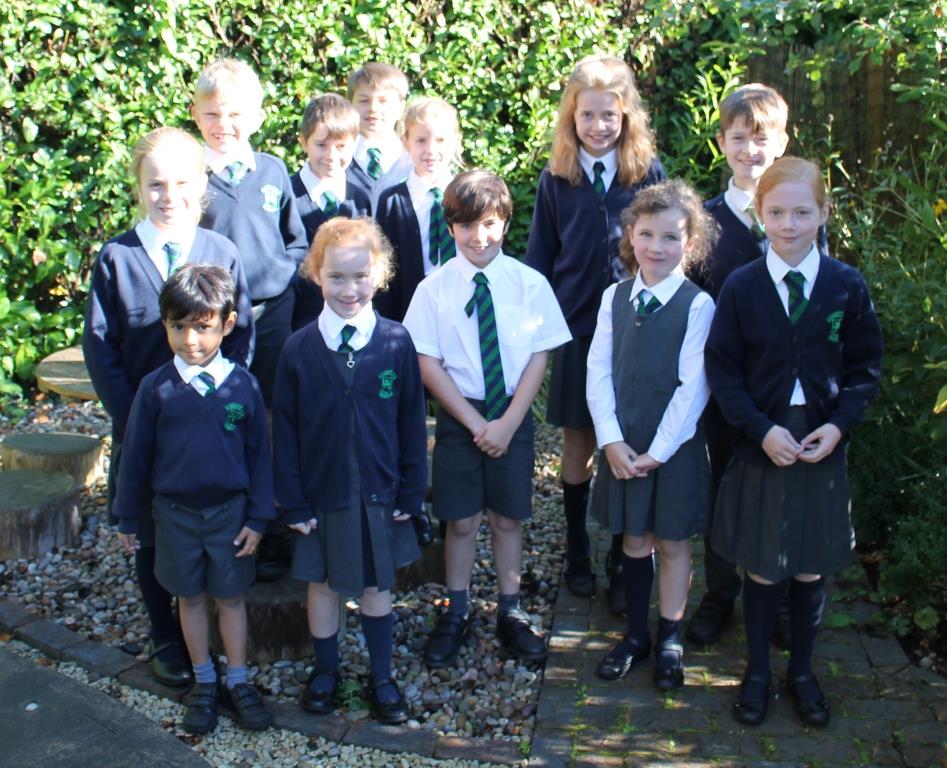 The children had their school photographs yesterday, they all looked very smart and the photographers took their time to ensure that the children were relaxed and looking their best, we hope that you are pleased with them, I think you will be!
Next week Year 6 is on a big adventure to Bude for their residential trip. It's going to be an amazing week and such a wonderful start to their final year at St Edmund's. We know it will be a week of learning new skills, facing exciting challenges, teamwork and cooperation: a week they will remember for the rest of their lives! I can't wait to spend it with them and we are hoping for week of warm sunshine too!
We had our annual Deanery Mass yesterday after school, it is always a lovely opportunity to come together as a group of schools to welcome new staff, catch up with colleagues and start the new school year together in prayer. We were talking afterwards about other ways in which we can support and work more closely with one another.
Year 5 kicked off our class celebration assemblies this morning with a very special assembly looking at gifts and talents. They really are very talented; we had dance, singing, music, acting and the important message of sharing our God given gifts and talents. It was very inspiring and they have certainly let their lights shine bright this morning! Well done Year 5.
Have a lovely weekend and enjoy the autumn sunshine,
Elizabeth
Friday 15th September 2017

We have welcomed our youngest children to school this week. The 30 Reception children have settled in so quickly. They are looking very grown up, confident and proud of themselves. They have been very happy coming into school and we have loved seeing them all and getting to know them. Here they are on Monday morning when they all managed to squeeze into my office!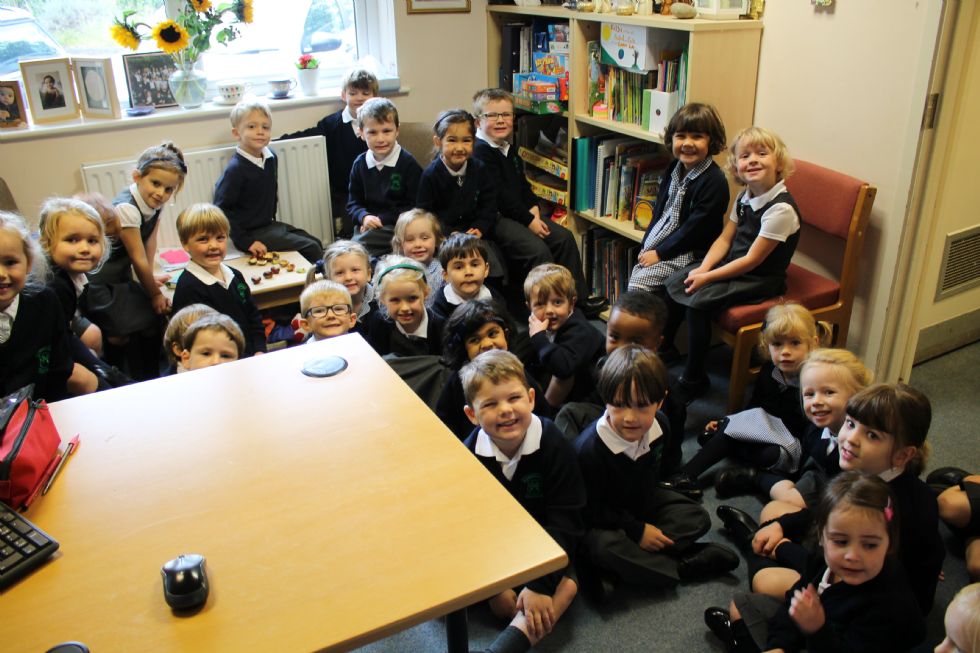 We have started some of our exciting clubs this week KS 2 have had a taster session for a new Judo club starting next week. Many of our other clubs will be starting next week.

This week as I have visited all the classes I have seen year R exploring the bikes, the new mud kitchen area, the role play area, where the children were planning a visit to a Disneyland Paris! They are enjoying using the interactive whiteboard even reading and counting the objects really accurately. Year 1 were starting their RE topic thinking about how much we have grown since we were babies! In Year 2 the children have been using their place value skills to compare numbers that are greater and less than and they have been really challenging themselves. The Year 3 class has been out and about in the playground using their senses to describe the school environment, they had thought very carefully about their descriptive vocabulary. Year 4, 5 and 6 have embraced Roald Dahl this week, (it was Roald Dahl Day on Wednesday 13th) and have been reading Charlie and the Chocolate Factory, designing book covers and even writing Roald Dahl's biography. It's fantastic to see the children all working so hard and enjoying their lessons.

Year 6 have led the special House Captain assembly this morning. Those who want to stand for House Captain prepared short speeches. They were very funny and engaging and everyone was very impressed by the standard. The children are certainly rising to the challenges of Year 6 with great enthusiasm; well done to you all. The rest of the school are now using their voice and voting for their House Captains. Here are Year 6 after the speeches: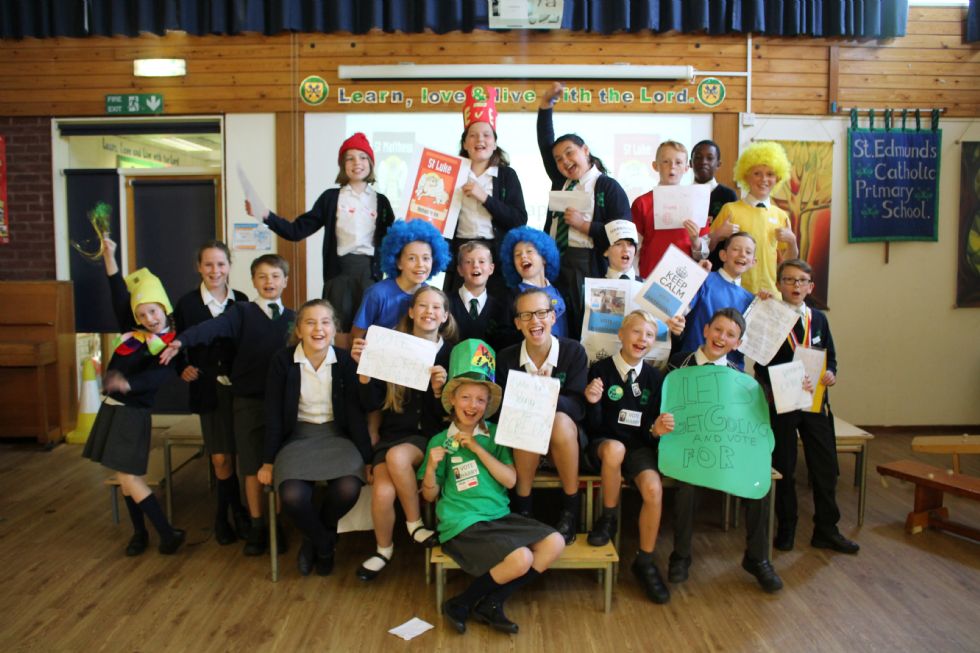 It feels as if we have been back at school for quite a while now and everyone is settling into the routine of school life and enjoying learning.

Have a lovely weekend,
Elizabeth
Friday 8th September 2017
Welcome to a new school year! After the long summer holiday, that seemed to rush by, we are back. We started the week with two INSET days where we made valuable preparations for the year ahead. We were all ready for the children returning on Wednesday, as whilst peaceful, the school is just a building without its pupils!
It has been lovely to see the children coming into school smiling and delighted to catch up with their friends and teachers. They are all looking very healthy, well rested and smart in their new uniforms and shiny shoes. The children seem very happy to be back and they are looking forward to learning and making the most of every day.
Here are some of our Year 1 children with their summer holiday pictures: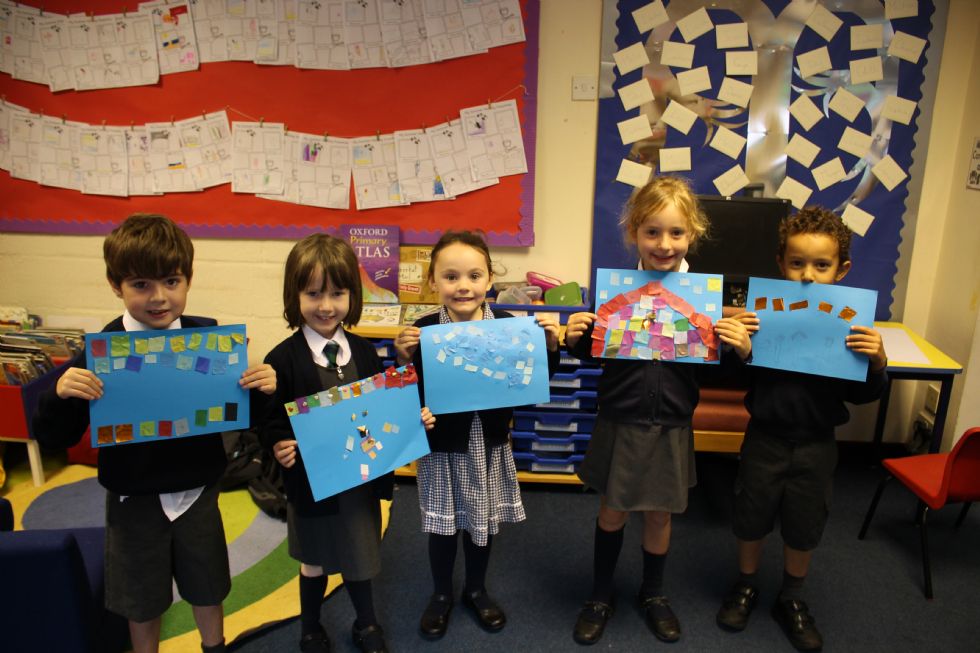 It's been a busy and exciting week with lots of new faces joining our school family. We welcome our new teachers; Miss Bennett Year 1, Mrs Scott Yr 2, Mrs Every and Ms Robson Yr 3 and our new Home School Link Worker, Mrs Tod. We have nine new children too; Charlotte, Megan and Freya in Year 1; Riley in Year 2; Bethan, Felix and Tom on Year 3; Izzie in a Year 4 and Kaden in Year 6. Our new Reception class will start in Monday; we can't wait for them to join us! I'm sure you will make them feel welcome.
During our assemblies this week we have talked about new beginnings and how we can make the most of the new start that we have this school year. We have thought about how much we change and grow all the time, even though we don't see these changes. We have introduced the new children who have joined us this week and we're looking forward to the reception class taking their place at the front of the hall next week.
Here are KS 2 waiting for assembly this morning: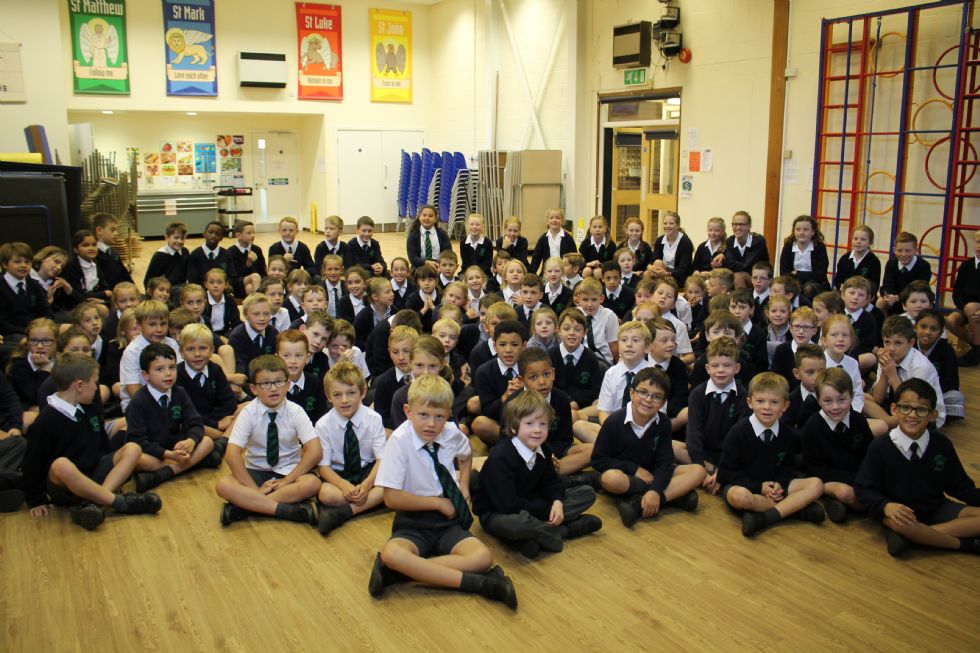 You will have a chance to 'Meet the teachers' on Monday after school. I look forward to seeing everyone next week.
Have a lovely weekend,
Elizabeth