Headteacher's Blog 2018-19
Friday 15th March 2019

Last Saturday evening children from across KS 2 took part in the Godalming Swimming Gala. We were very impressed by their determination, team work and resilience. It is always a challenging event and the children did extremely well coming fourth overall.
Year 4 children made their First Reconciliation during a very special service at Ladywell Chapel last Saturday afternoon. They will make their First Holy Communion in May.
What a wet and windy week we have had! This has meant the return of our 'water feature' in the playground and sadly the Year 1 trip to Painshill Park and the Cross country event for Years 3 and 4 have had to be postponed. We hope we will see a return to warmer spring weather soon!
During our assembly on Wednesday we thought about Jesus being tempted in the desert and what this would have been like for him. We also heard speeches from our Year 6 public speakers. Emma and Rory were our entrants for the Catenian's Annual Public Speaking Competition held at St Dunstan's Church in Woking. It is always amazing to hear the variety and quality of the speeches presented. Well done Emma and Rory your speeches on: 'Should ninety-seven year olds be allowed to drive?' and 'The value of Homework' were both excellent.
We have had a busy week with bikes as Year 4 children have taken part in the Bikeability scheme learning how to maintain their bikes, stop and start safely and developing their control and skills. Year 2 also have a turn on Monday morning with the Pedals programme where they will develop their road safety skills.
Our Year 5 class had a rather damp day tree planting at Ladywell Convent on Thursday.
We had an assembly from CAFOD this morning and we have gone without our morning snacks to support CAFOD's Lenten fast day, being a little bit hungry helps us to realise what it must be like for those who do not have enough to eat.
Have a lovely weekend,
Elizabeth
Friday 8th March 2019

This week has been very busy with an exciting and colourful World Book Day yesterday, lovely assemblies and a visiting author. The children were dressed in amazing costumes, I am always so impressed by all the creative ideas they come up with. There were Harrys and Hermiones, princesses, pirates, Charlie and Willy Wonka, Verruca Salt, Violet Beauregard, Gangsta Grannys, Mr Stinks, Alices in Wonderland, Gangster Granny and even the three musketeers! There were class winners and overall KS1 and KS2 winners. Here they are: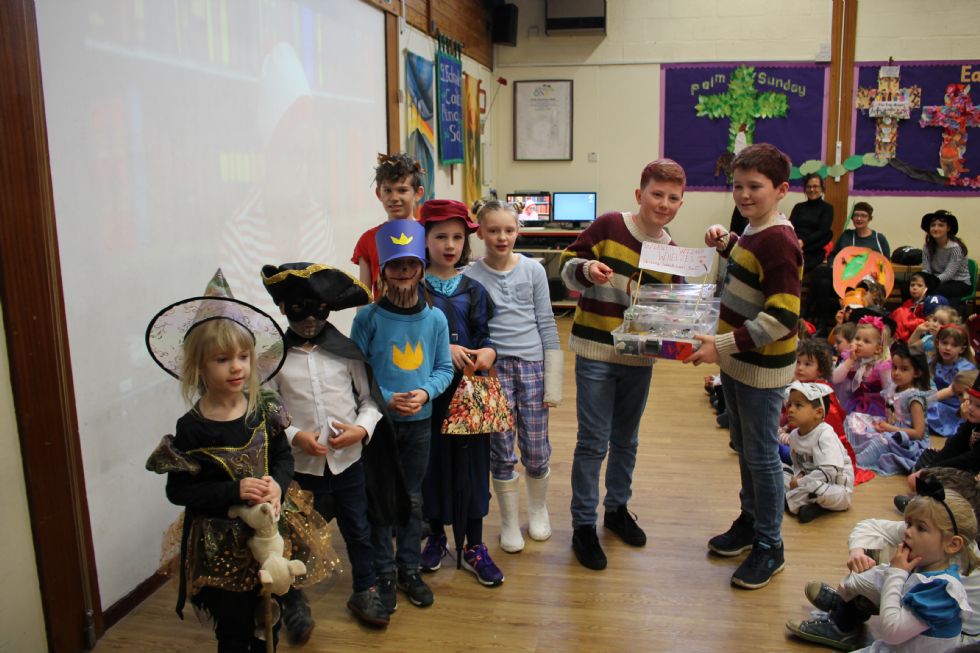 On Monday the children took part in a book quiz which St John's house won. It was a really enjoyable and memorable day and certainly inspired the children to talk about and share the books they love.
Key Stage 2 welcomed author visit Leysa Henderson who talked about her book and her inspiration for writing about the deforestation in Borneo. Her visit certainly made the children think.
We also had a competition running to get caught reading in the most unusual place. There were some amazing entries across the school. Behind the toilet rolls in Sainsbury's, on the trampoline, in the bath, even on the roof of a car!
On Tuesday our Year 1 class walked down to Crown Court to take part in the annual Godalming Pancake Races in the presence of the Mayor. The weather was dry and sunny while the children ate their picnic lunch. On the return journey there was even time for a quick stop to play in the playground.
During assembly on Monday morning we talked about Shrove Tuesday and Ash Wednesday and their origins and the traditions. See if the children can remember what the word 'shrove' means?
Father David came into school for our Ash Wednesday Liturgy. The children led the readings really well and the singing was beautiful. During the offertory the children brought up the Lenten Promises that they had made. The children will try hard to keep these promises to help them come closer to God during Lent. We wrapped up the word Alleluia and we will bring it out again when we celebrate the good news at Easter. Thank you to everyone who came to the Liturgy, it was lovely to see so many parents and grandparents there.
We have had our first Lenten Mass this morning, please do come and join us next Friday at 8:15am if you are able to.
We have had a few visits from our friendly neighbourhood police officers this week. Year R was visited by Zach's mum with her police car. Years 5 and 6 had a talk from PC Dan who told them about the role of the police in the local community and the children all got to see the police car with the lights on!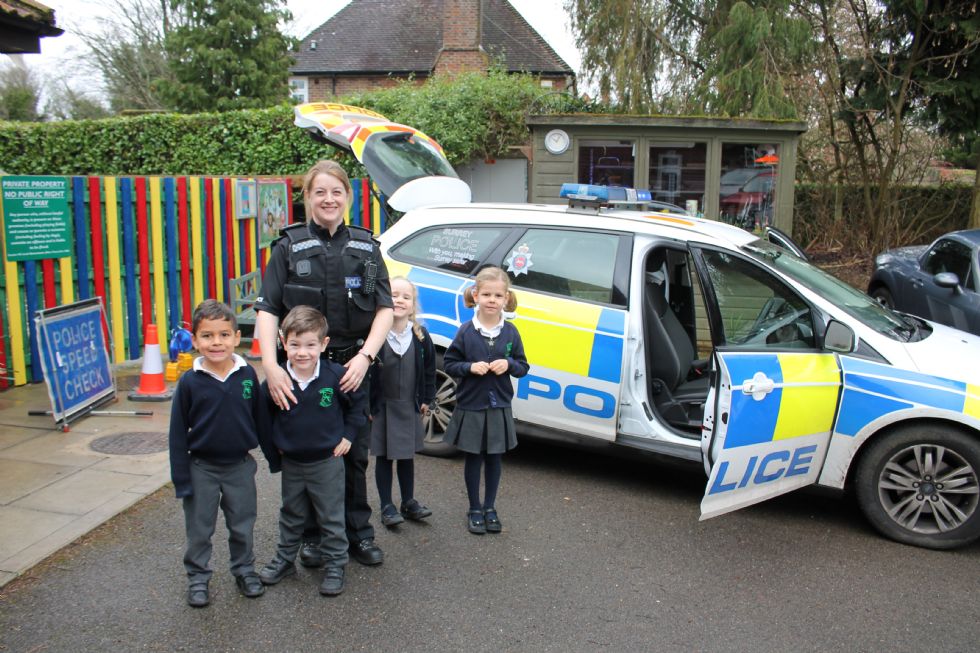 We have quite a lot happening this weekend too with children from Year 4 making their first Reconciliation on Saturday afternoon at Ladywell Chapel followed by the Godalming Schools Swimming Gala on Saturday evening. Children from Years 4, 5 and 6 will be taking part. On Sunday our First Communion children will lead the Mass at 10:15am at St Joseph's.

It's going to be a busy weekend,
Elizabeth
Friday 1st March 2019
It's been a busy first week back at school. We have had such lovely weather during the half term break and earlier this week, it certainly feels like spring, it's so much lighter in the mornings and evenings too. The children have enjoyed playing in the sunshine with a dry, puddle free playground! We have made improvements to the KS 2 quiet area with a great new bench and planter made from wooden sleepers. The children really like it and there have been lots of positive comments from them and requests for more! Here they are trying it out: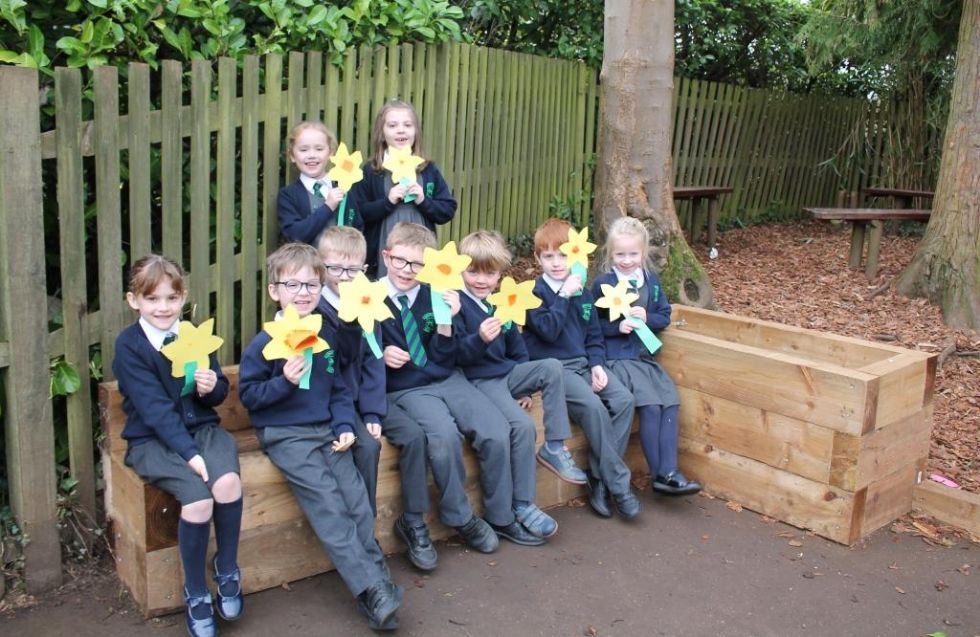 During our assemblies this week we have talked about the changing seasons and how these can affect our feeling and emotions. We thought about our differences and how we can celebrate and enjoy being different and look after each and the world around us. The children also enjoyed a special History assembly led by Miss Bennett on Wednesday morning.
Today we have visitors from World Christian Children's Meditation who are leading a special assembly and workshops for each class, even a session for parent this afternoon. The children have been taking part in regular meditation sessions in class since last year and they do say how it helps them to be still, improve their concentration and behaviour.
We had a governor visit on Thursday morning looking at RE across the school. It was lovely to see the progression in learning as we went from Year R up to year 6. The children are very knowledgeable and were able to demonstrate so much that they have learnt in a wide variety of ways.
Here are some of the children from Year R acting out the parts of the Mass: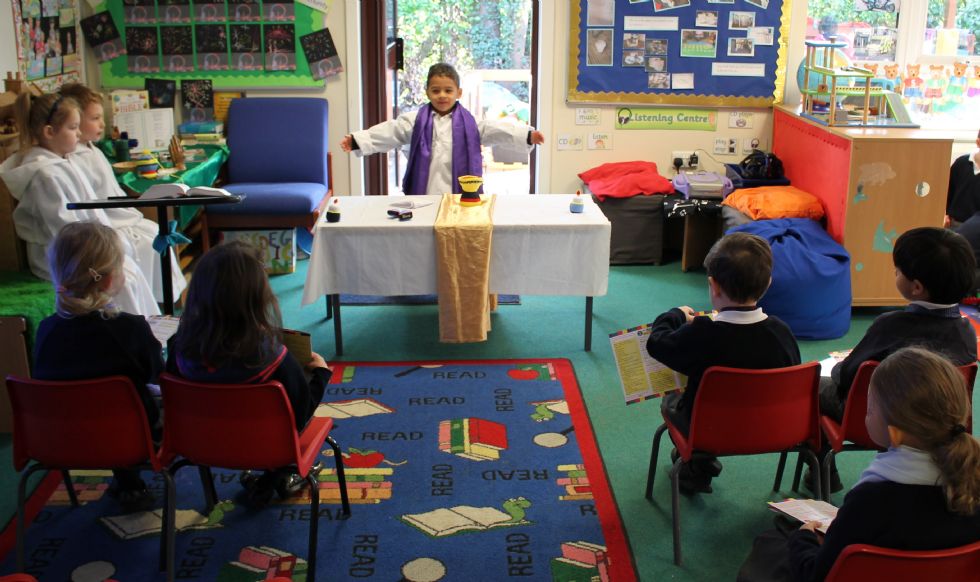 Next week we enter the season of Lent. Year 1 children will walk down to the town on Shrove Tuesday for the annual pancake race. We then look forward to welcoming Fr David on Wednesday morning for our Ash Wednesday Liturgy at 10:40am I hope that you will be able to join us.
Have a lovely weekend,
Elizabeth
Friday 15th February 2019

It's the last day before the February half term holiday and we are now half way through the school year and the time seems to passing so quickly! Driving to school this week I have realised how much lighter the mornings are getting. The sun has been colouring the sky in shades of pink rising over the frosted trees and fields and it always makes me want to stop and take a picture to capture the beautiful winter scene. At school we've had a wonderful start to 2019, it's been exciting and busy and the children have been making great progress whilst enjoying learning. Here are some of the children in Year R enjoying the sunshine this morning: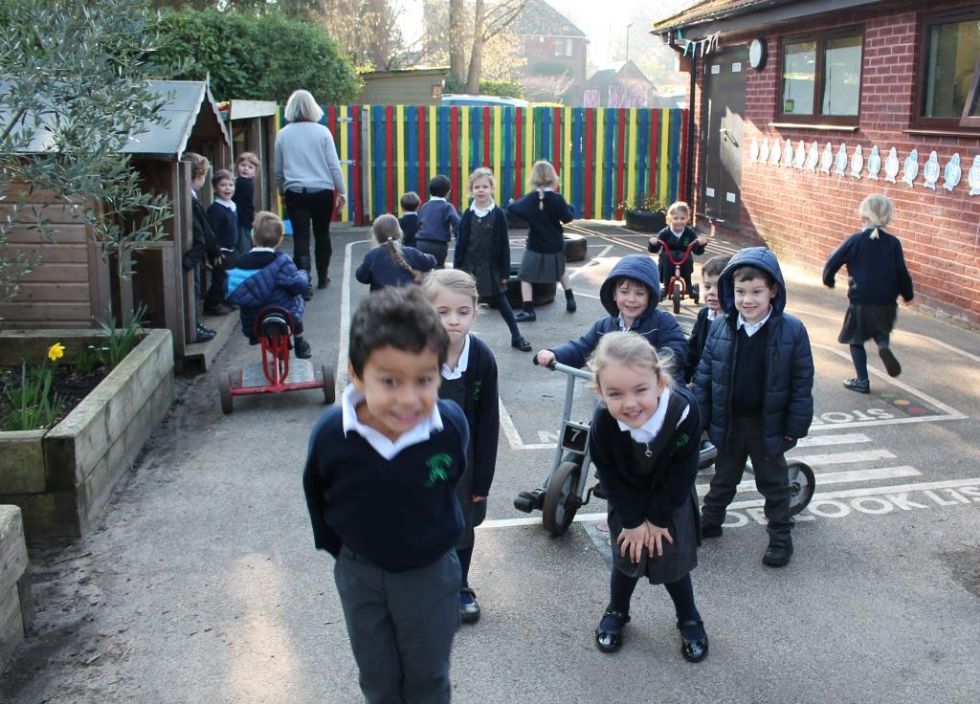 The children always love Golden Assembly and today's assembly was a very special one! There were lovely awards given for children challenging themselves, sharing their enjoyment of learning and several for children who are always smiling and very helpful. St John's house won the Housepoints cup this half term with an impressive 1796 points. This year the winner changes each half term which makes the results much more exciting and it could all change next half term!

Our Spring Term Parents evenings took place earlier this week, thank you to everyone who came and also thank you for completing the parent surveys on Parentmail forms; we really do value your feedback, ideas and suggestions. I shall be reading everyone's comments and suggestions with interest over the holiday and will let you know the results next half term.
Have a lovely half term break and I'm looking forward to seeing what the next half of the school year brings for us all at St Edmunds.

Elizabeth

Friday 8th February 2019
On Tuesday I took 45 children (sadly 4 children were unwell and couldn't join us) from KS 2 to London to take part in the Young Voices Concert at the O2 Arena. This is the fifth year that we have taken part and we had the biggest choir and the best songs and singers yet! Our children made up a huge choir of over 8,800 children. We have been rehearsing since September, learning the songs and dance routines. There was excitement amongst the teachers and parents as we all got to sing 'Gold' with Tony Hadley. The finale was a medley of songs from The Greatest Showman, this was a great way to end! It is always amazing to be part of something so large, and hearing all the voices together is very special. There are some of our Year 6 children who have taken part for four years now and there are lots of younger pupils already excited about joining us next year. The children were fantastic, it was a very long day but great fun for everyone involved.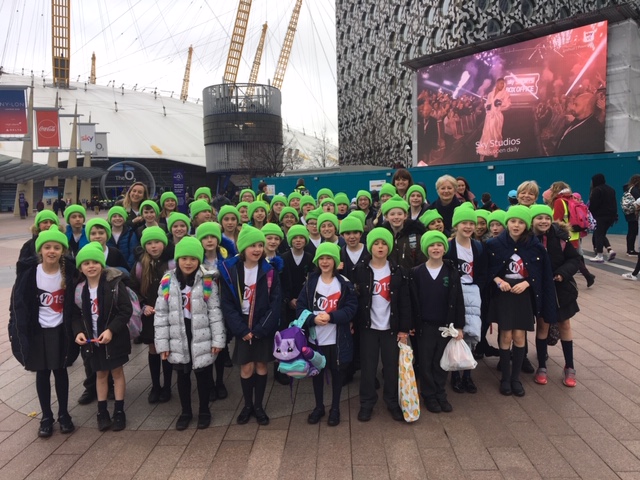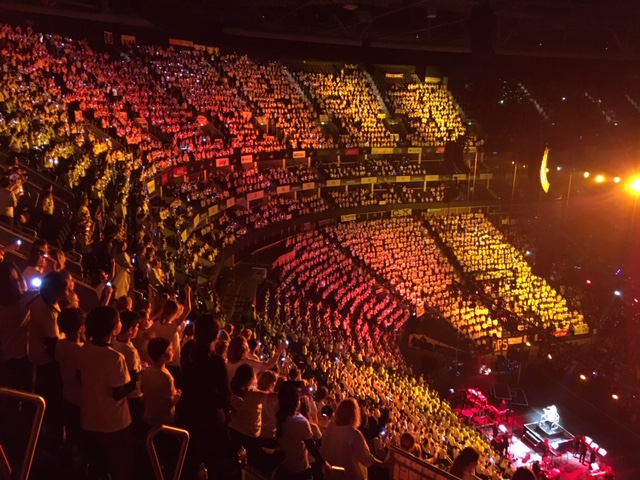 We took part in Safer Internet Day this Tuesday and this gave us all the chance to think about how we protect ourselves and stay safe online. I think the children will always be at least one step ahead of us so it is really important that we talk to them about what they are doing online, why they like, who they talk to etc.
Some of the children have been learning about Chinese New Year this week, Year R have had a Chinese Restaurant set up where you can order your meal from the menus! Year 6 children have been busy cooking and have prepared a delicious noodle stir fry yesterday!
This morning we have all enjoyed Year 4's class assembly on Ancient Egypt. The children taught us about mummification, gods and even told the story of Joseph and his technicolour dreamcoat! The special effects during the mummification were very impressive. It's lovely to see how much you are enjoying learning in Year 4.
We have a masked ball tonight in the hall with the 'Masquerade Disco' I wonder if we will be able to recognise anyone!
Have a lovely weekend,
Elizabeth
Friday 1st February 2019
We are open today and the children have been enjoying the much anticipated snow. Nearly all the children are in school and they have had great fun playing with their friends, making snowballs and throwing them too! Thank you for getting them in. We are now into February and whilst it is very wintery the mornings and evenings are definitely getter lighter.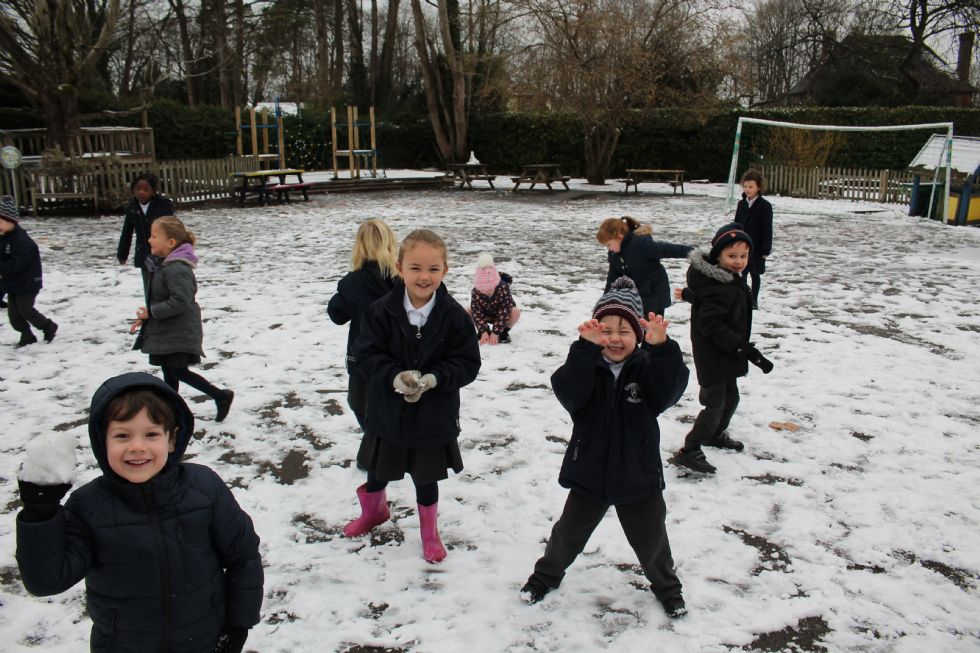 We started the week with a winter treat for the children, the pantomime 'Snow White'. The children really enjoyed the show, the singing and the jokes. The hall was quickly transformed after lunch with lighting, scenery and special effects. There was plenty of audience participation and even a teacher's dance off, thank you to Miss Bennett and Mrs Every! It was certainly a good way to start the week and brighten up the end of January.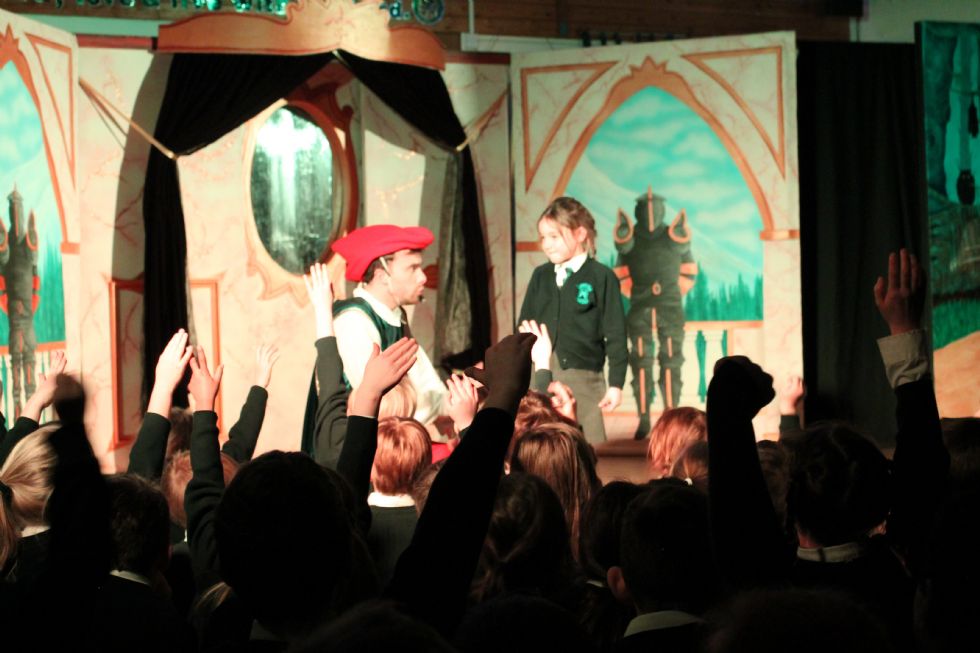 I have been looking at how the children are doing in their learning this week and we have been focusing on the teaching RE and class collective worship. I have been really impressed by the children's thoughtfulness and responses to their learning. There have been some lovely creative lessons including reflection, meditation, art and drama.
We have finished off Wellness Week with writing and art workshops for each class. The children have really enjoyed the sessions and it was a great way to try something new whilst thinking about looking after ourselves and each other.
I spent the day with other Headteachers from the Diocese on Wednesday looking at ways that we can work together to improve the way we support each other as schools. Whilst we already do quite a lot with the Deanery schools we are always looking for new ideas to share what we do.
Have a lovely weekend and keep warm!
Elizabeth
Friday 25th January 2019
We have had a wonderful Wellness week! It has been great to see the enthusiasm with which the children have taken part in all the activities.
We have had Wellness writing sessions for each class and even a staff meeting on Life Coaching, helping us to take time to think about our staff team and ourselves.
'Try it Tuesday' was a great success, with children across the school trying new foods: chickpeas, edamame beans, beetroot, sunflower seeds and more I hope they will be as adventurous at home when trying new foods! Next week each class will take part in art workshops.
A group of Year 5 and 6 pupils went to Huckleberry's Farm in Elstead for an animal handling and yoga session. The children loved it ansd came back excitedly telling us all about their experience. We hope this is something we could do again.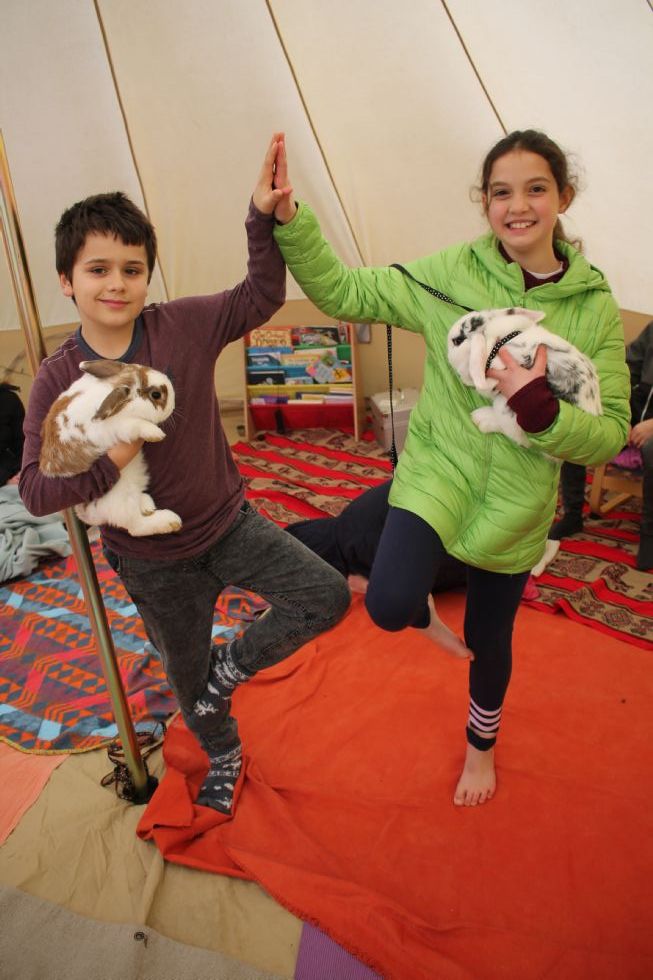 Each class has enjoyed some cooking this week and prepared a healthy meal or snack. From fruit kebabs to volcanic cous cous, cheese scones and sushi, there were some lovely things being made. It has been a very successful week and so important for us to take time to stop and look after ourselves inside and out.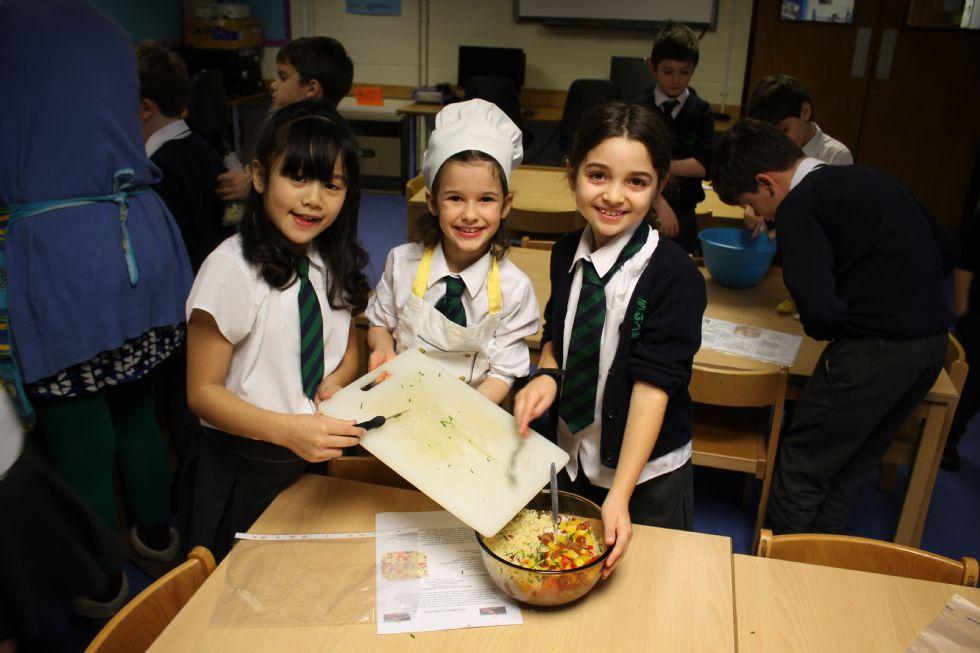 Our assemblies this week looked at Jesus' first miracle, changing the water to wine at the wedding feast in Cana. We thought about Mary's words to the servants: "Do whatever he asks you" and how we can also try to do whatever Jesus asks us to do in our lives.
There was triumph again at the Indoor Athletics Tournament for Year 3 and 4 yesterday afternoon. The team won and they were delighted. Thank you to Mrs McCarthy and very well done to you all.

We have enjoyed Year 1's class assembly this morning. The children took us on a time travelling adventure back to Samuel Pepys and the Great Fire of London, the Wright brother's first flight and even a trip into space!

This Sunday we have our Spring Term School Mass at St Joseph's Milford at 10:15am. Please come and join us.
Have a lovely weekend,
Elizabeth
Friday 18th January 2018
During our assembly on Monday we thought about the Baptism of Jesus and imagined that we were there at the River Jordan as Jesus was baptised by his cousin John.
On Tuesday morning Mrs Shorten led a Growth Mindset assembly with the whole school. The children thought about how they could be more resilient on their learning journeys.
After school on Tuesday we had a shared staff meeting with teachers from St Cuthbert Mayne in Cranleigh. Worked together on moderating children's work in RE, talking about planning for 'Come and See' lessons and sharing ideas. We have another meeting planned for later this term. As one form entry schools it is really useful for us all to work together.
Yesterday afternoon a team of talented athletes from Years 5 and 6 took part in the Indoor Athletics Tournament at Broadwater School. The competition was very close with only 4 points between the top three schools, and they came joint first overall! The children have been training really hard each week and they have improved their skills and techniques whilst having fun! Very well done to you all, now you'll have to keep training for the play offs! Year 3 and 4 will have their competition next week- good luck.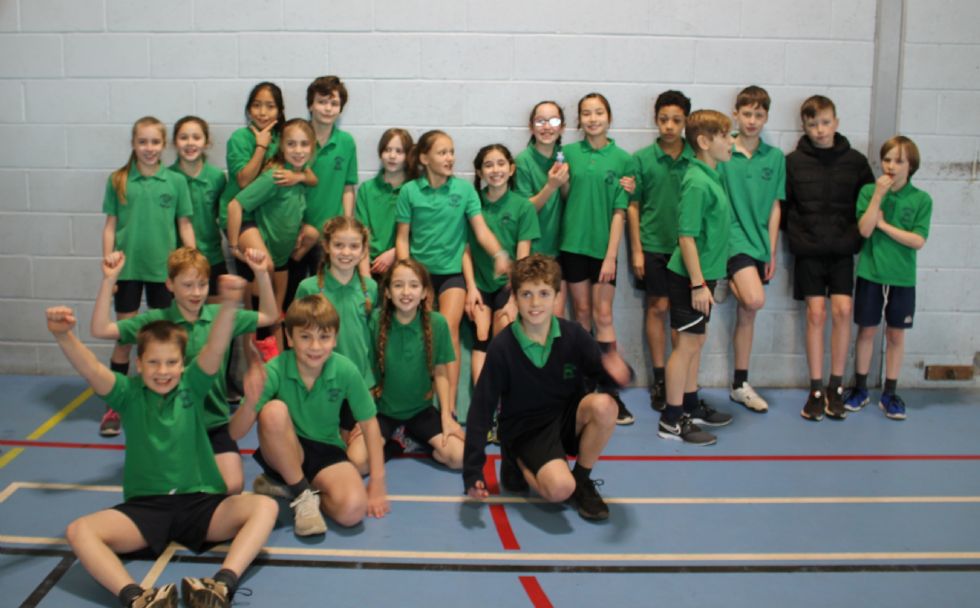 We introduced Wellness Week, which will be taking place next week, with a special assembly this morning. This year we have the theme of 'Gratitude' and the children thought about everything we have to be thankful for. Father David, Mrs Amos and Mrs Golding led our launch assembly and some of the children had prepared special thank you letters including one to me! It was very special and meant a great deal to me. This exciting initiative is a great way to start 2019 with a focus on healthy eating, activity and mindfulness. During school time the children will have art and writing sessions, taste different fruits, vegetables and healthy snacks. There are also suggestions for families to try things together at home, mindfulness before bed, tech-free Thursday and even family coaching, life coaching and Yoga! It is so important that in our busy lives we take the time to stop and look after ourselves and each other and say 'Thank you'. We are all really looking forward to the week.
The children were very excited by the flurry of snow yesterday morning; I wonder if there will be aby more over the weekend? Keep warm and have a lovely weekend,
Elizabeth
Friday 11th January 2019
This week has flown by and it's been good to get back into the usual school routine and see the children enjoying their learning. It has been very chilly this week, but the children don't seem to mind, I think running around in the playground keeps them warm.
On Monday we celebrated the feast of the Epiphany and during our liturgy the kings finally arrived in the stable and we talked about the gifts given by the wise men. We even burned some frankincense so the children could smell the fragrance.
During assembly on Tuesday we talked about our gifts and talents and celebrated some of the wonderful learning that the children have been busy with this week. We thought about how important it is to use our God given gifts and talents and how we can help each other to share and celebrate them as well as we can to be the very best that we can be.
This week most of the clubs have started again; including yoga, choir, good posture, sewing, judo, wowza and art club. The indoor athletics tournaments are on the horizon and the children are training hard, the year 5 and 6 competition is next week.
Our new caretaker, Mr Judge, has settled into life at St Edmund's really well. He is getting to know everyone and learning our names. Please do say hello to him when you see him in the mornings.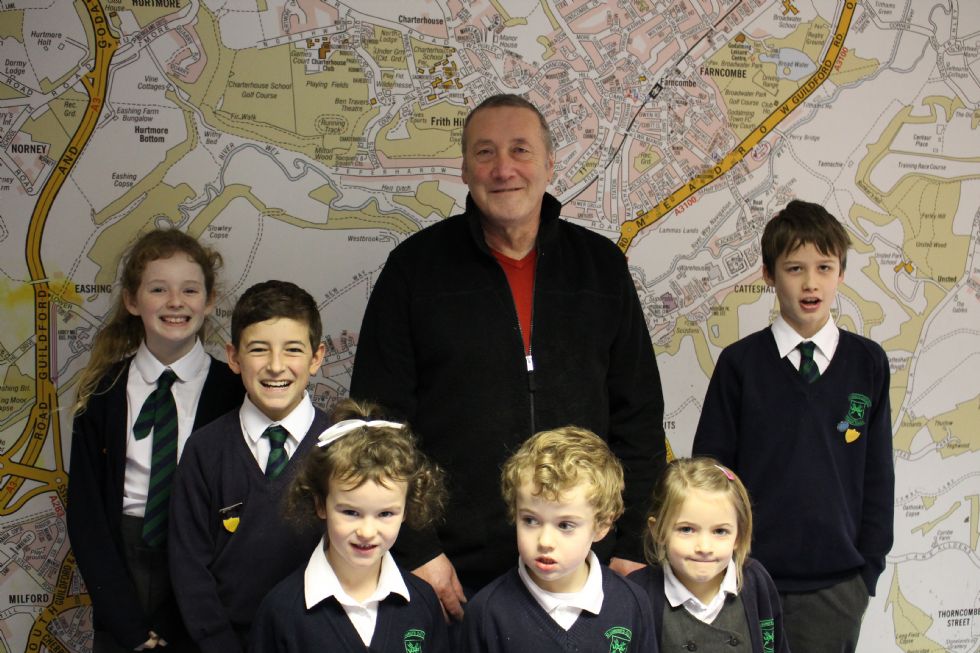 This Sunday our children making their First Holy Communion this year will be leading the readings at Mass at St Joseph's at 10:15am, please do come and support them.
Have a lovely weekend,
Elizabeth
Friday 4th January 2019
Happy New Year and welcome back everyone. It is always lovely to have our school family back together after the holidays. The children have been telling me about their Christmases, all the gifts they received and their exciting holiday activities.
Yesterday we thought about the celebration of Christmas and heard again the Christmas story, imagining that we were there in the stable and gently holding the new born baby. We thought about what we would say to Jesus and Mary. Even when the decorations are all packed away, we want to keep that special feeling of Christmas n love in our hearts all year.
The season of Christmastide continues until Monday 13th January, when we will celebrate the feast of the Baptism of the Lord. We will have our Epiphany Liturgy on Monday morning.
The children have settled straight back into their learning and I have seen some great maths and writing lessons this morning. Year R were working together and busily excising their bodies in the hall with the big parachute! Here they are: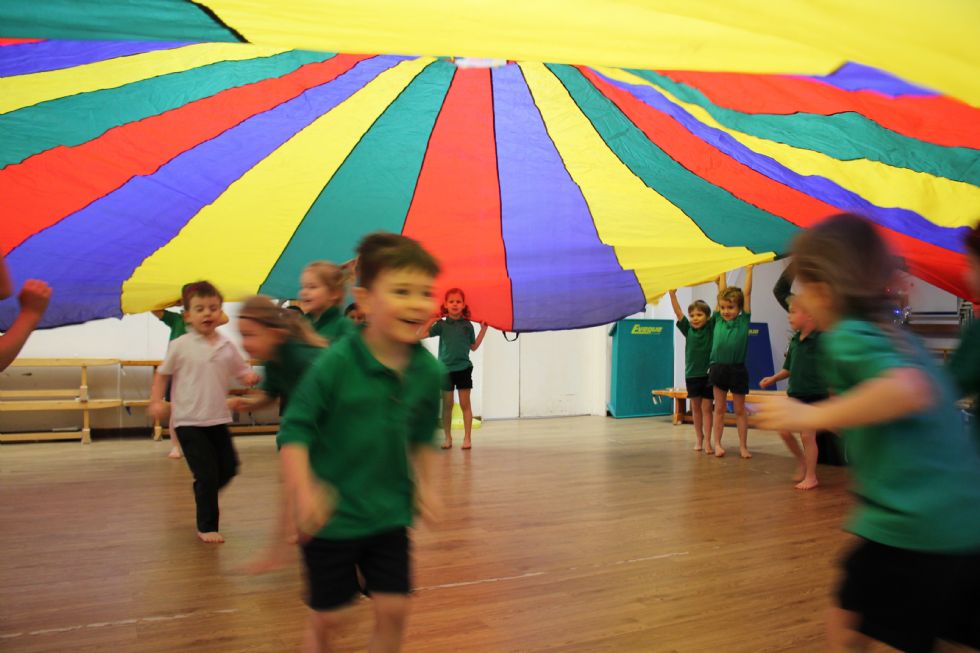 Happy New Year,
Elizabeth
Wednesday 19th December 2018
It's the last day of school this year before Christmas and the excitement has been building all week! We have all had had a lovely last week at school.
On Monday we all enjoyed Years 5 and 6's wonderful production, 'Santa's on Strike!' It was very funny and the children sang beautifully and it was thoroughly enjoyed by everyone.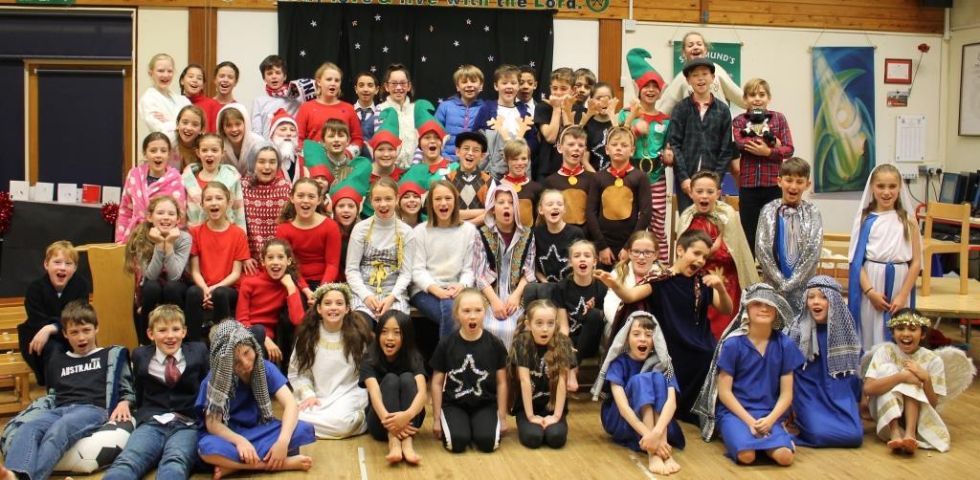 Yesterday morning Father David celebrated our special end of term Mass, it was lovely to see so many parents and grandparents join us, thank you. In the afternoon it was Christmas party time. The children then changed into their party clothes and enjoyed games and food together. During the afternoon we heard bells ringing and a very special visitor brought presents for each class. The children were very excited and really enjoyed the parties.
This morning we had our Golden Assembly; the children were very good as it always takes quite a long time to hear about all the wonderful thing they have been doing! We had the prizes for the squashed tomato challenge and the £5 challenge. Wonderful medals for sporting achievements, housepoint awards and lots of really special headteacher's awards. Well done to you all!
We will finish the term with our 'Carols Round the Tree' at ten past one this afternoon, please do come and squeeze into the hall and join us singing carols for our festive celebration!
I hope that everyone has a wonderful Christmas and a very happy start to 2019.
See you all next year,
Elizabeth
Friday 14th December 2018
It's the final Friday before Christmas and the last Friday at school this year! It's been a lovely Christmassy week with plays and preparations taking place every day.
We have seen Years R, 1 and 2 journey to Bethlehem dressed in tinsel and tea towels. They retold the Christmas story through the animals in the stable, 'Cock-a-doodle Christmas', they had to learn the important message that it's not all about the presents that we want as Jesus is the greatest gift of all. The cast of ninety 4 to 7 year olds were wonderful!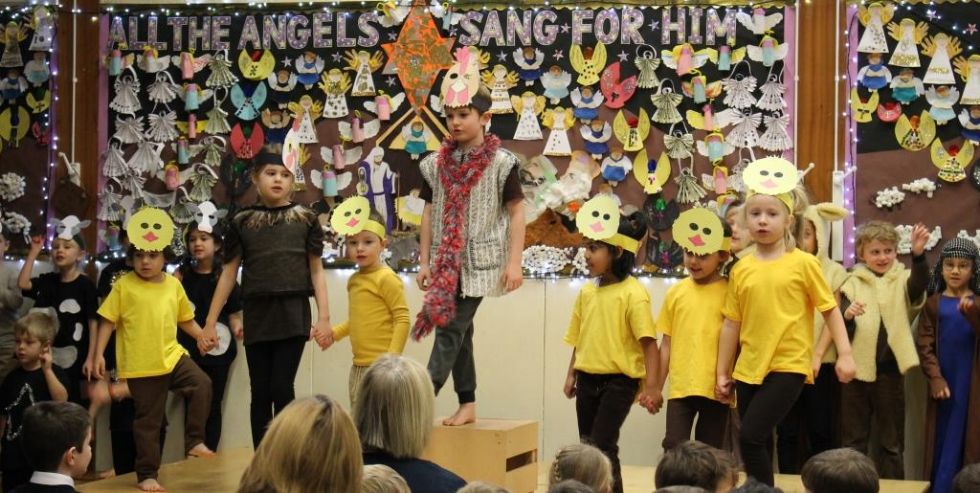 It was then the turn of Year 3 and 4, yesterday who prepared a beautiful Carol Service. The children sang so well I was really impressed by the way they shared the 'greatest story ever told'. Being able to use the church for the evening was lovely and the children's voices sounded extra special there.

This morning we reached Years 5 and 6 who performed their musical play 'Santa's on Strike!' to the whole school. It was very entertaining and the children really loved performing together. They finished by returning to the true meaning of Christmas. They will perform for their parents on Monday afternoon and evening.
Our KS 2 Choir sang on Tuesday evening at a very special Christmas concert at the Holy Trinity Church in Guildford. The children sang so beautifully and were highly praised by the audience. We were the only children's choir performing and the other singers were amazing, the children sat listening in awe. It was a wonderful experience taking part in the concert and having the opportunity to listen to such lovely singing.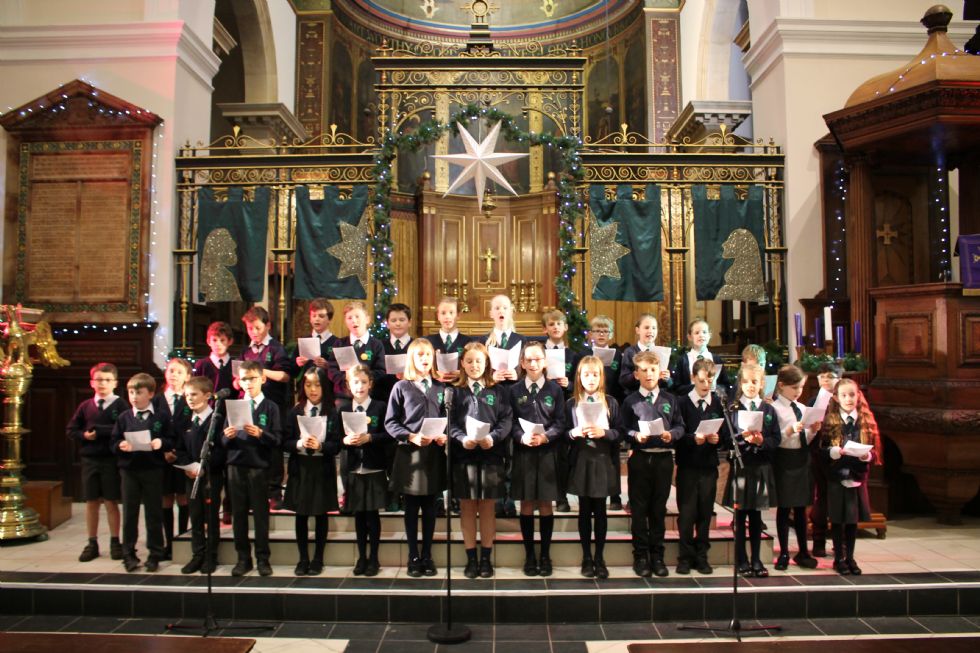 I'm very proud of all the children, they are funny, thoughtful, confident and talented and I hope that they will always remember these special moments at school.
We also managed to squeeze in a flying visit from Andrew Pink, ex St Edmund's pupil now paralympic cycling coach and paralympic cyclist Matt. The children were inspired by their visit and had the opportunity to ask them questions too. Here they are with William and Jake from Year 4: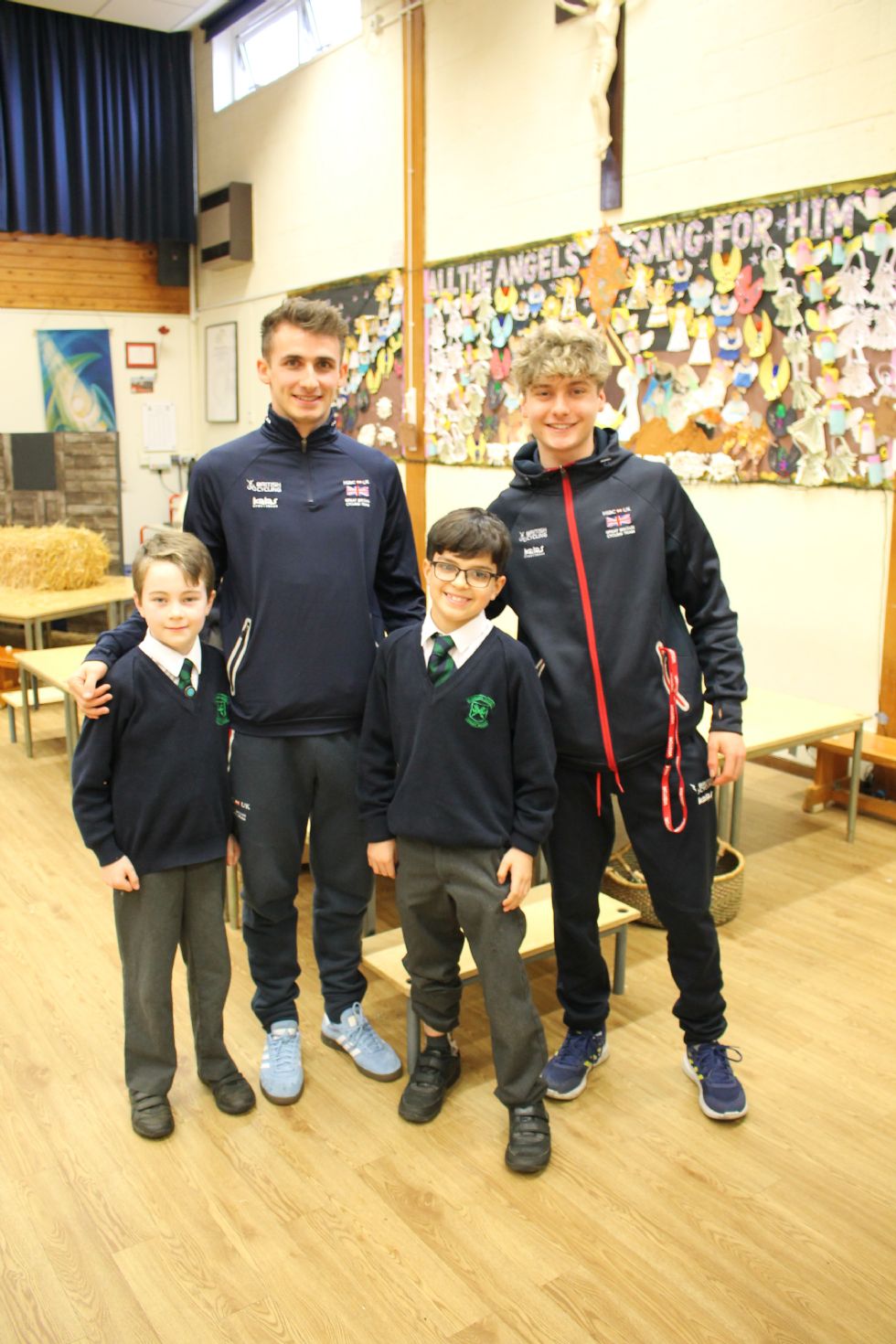 More than two hundred Christmas lunches will be served today! There is always a lovely atmosphere in the dinner hall on Christmas lunch day and the children love the Christmas crackers too. The children don't have to queue up for their lunches today as the teachers and TAs (dressed in Christmas hats and jumpers) will serve them at the tables as a treat!
We have only three days left next week I hope that many families will join us for our Advent Mass on Tuesday morning at 9:30am and for Carols Round the Tree on Wednesday afternoon at 1pm before we break up for Christmas at 2pm.
Have a lovely weekend,
Elizabeth
Friday 7th December 2018
The Christmas Market was a great success last Saturday raising over £2000, thank you to everyone who helped and came and supported this special event. The five pound challenge stalls run by the children were really good, so many great ideas for games and activities from Christmas karaoke to bowling and everyone had worked so hard to prepare for the market and raise money.
This week the hall has been in use all day every day for rehearsals! We will start the performances off with Year R, 1 and 2's 'Cock a doodle Christmas' next week. Years 3 and 4 are preparing a very special Carol Service and Years 5 and 6 are putting the finishing touches to their Christmas exciting production, 'Santa's on Strike!' All of the children are very much looking forward to showing us all what they have been working on. I'm really looking forward to seeing all the performances in full, I have seen bits of all of them and from my office the singing does sound lovely.
Here are some of the younger children rehearsing in costume this morning: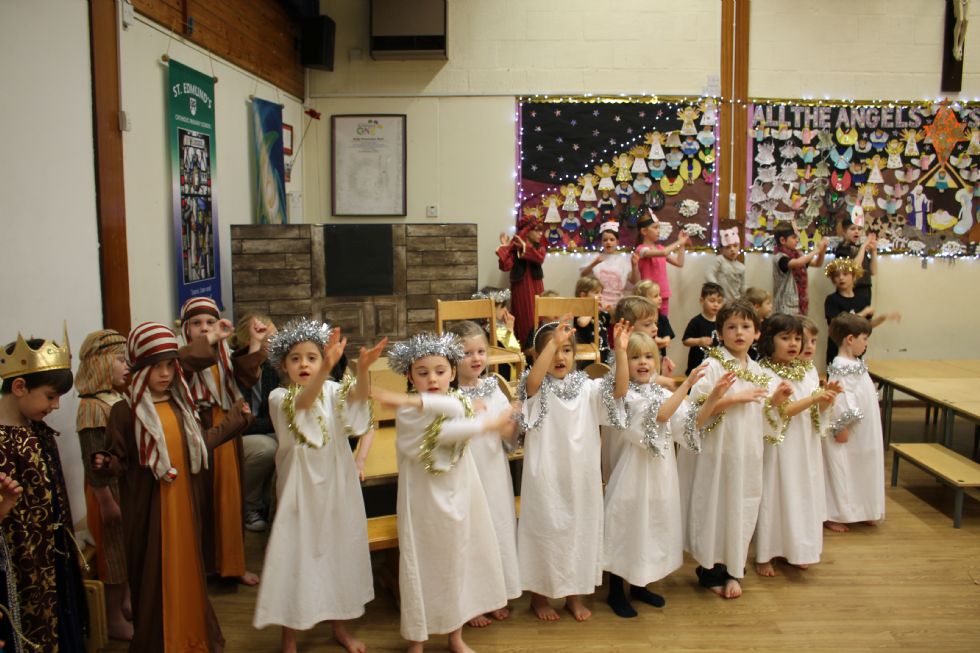 We had a visit from two of the Wintershall actors on Thursday morning. They told two different stories of Jesus healing the sick and the children were captivated by the powerful acting. We are lucky to be close to the Wintershall Estate and able to enjoy the work that they do. I'm hoping to get to the Wintershall Nativity next week; it is a very special retelling of the Christmas story.
Tomorrow afternoon a group of children will be singing at 2:50pm at the Pepperpot as part of the Christmas Festivities. If you are doing your Christmas shopping in town please do come and listen and join us.
The children are looking forward to the film show after school today and the Jingle Disco next Friday!
Have a lovely weekend ,
Elizabeth
Friday 30th November 2018
Although we are not quite into December yet, everyone is very busy preparing for Christmas this week.
We have the beautiful Christmas tree in place in the hall and the wonderful Christmas hall display is all ready! We switched on the lights during assembly this morning. This year we have a beautiful Nativity scene, with a heavenly host of angels, which every child has contributed to. The Travelling Cribs are all ready to start their journeys to everyone's homes as we think about the journey Mary and Joseph made to Bethlehem. Look out for your special visitors over the coming weeks.
We have recorded our carol for the Eagle Radio Christmas Carol competiton, Year 5 and 6 sang beautifully.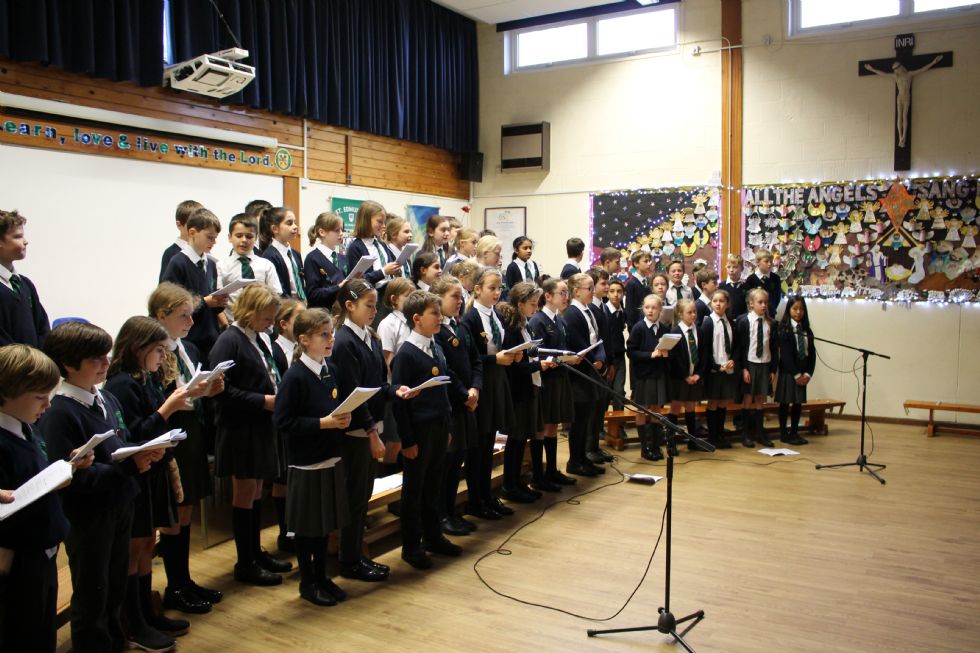 We were fortunate to have Katherine Bergin with us on Wednesday afternoon to talk about making Advent a special time at home for families. She always has lovely stories and ideas to share about family life. Thank you to those who came to listen.
This week is National Tree week and we had two new trees planted, one in the prayer garden and one in the front of the school. They are called 'Liquid Amber', trees which will have beautiful dark red leaves in the autumn. Some of the children from the Eco Council helped Julian from Blue Sky Trees to plant them and we learned a lot about the trees and how to help them grow well.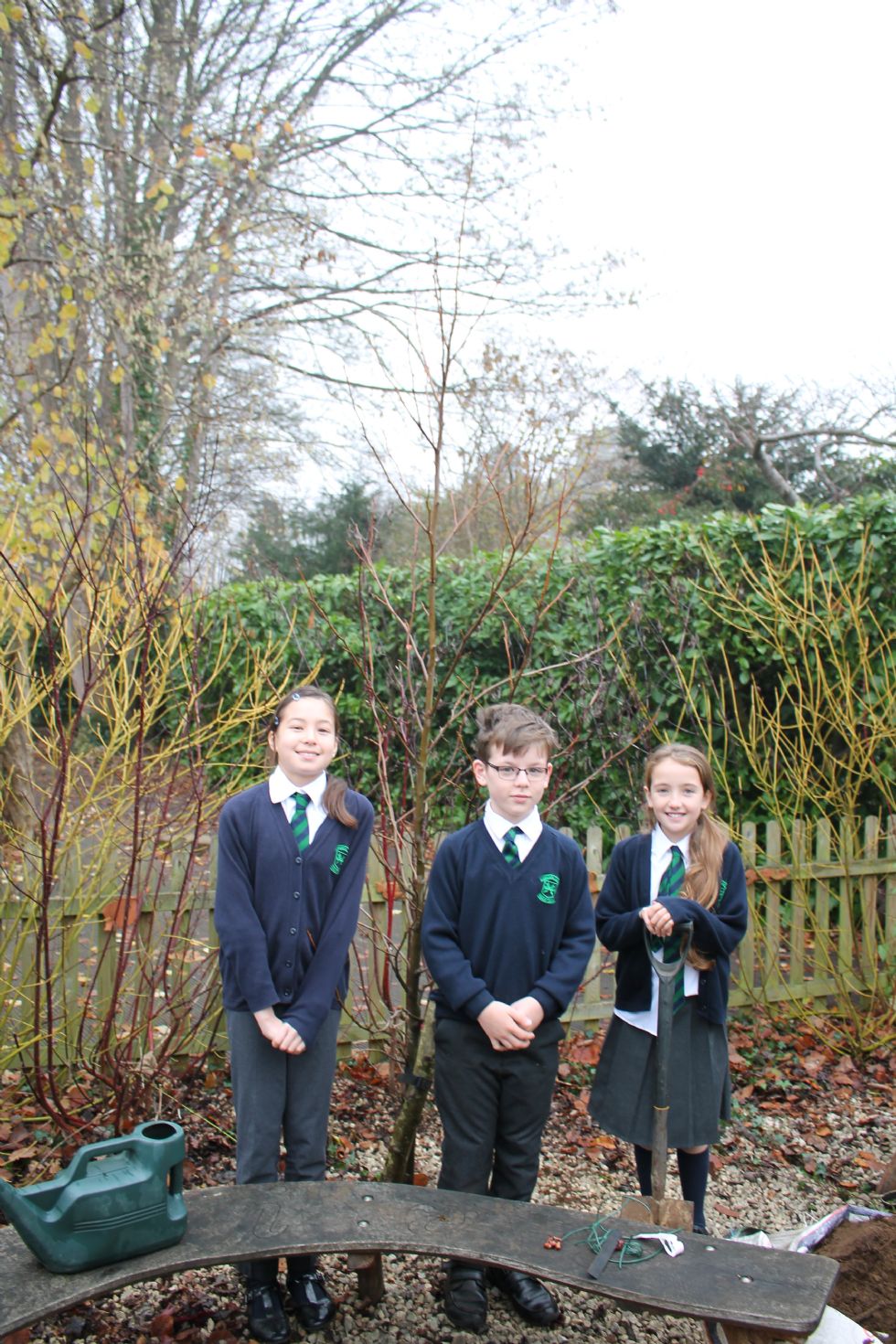 Today is the last Friday before we begin the season of Advent. It is a time of waiting expectantly as we begin the new liturgical year and prepare ourselves for the joyful season of Christmas. In the secular world Christmas has well and truly started already and we want to show the children the difference between this frenzy of shopping, festivity, lights and advertising and the Church's season of Advent. As well as the display in the hall, and the travelling cribs, the children will have special Advent wreaths, made by Year 6 in each classroom to help them prepare and countdown the weeks.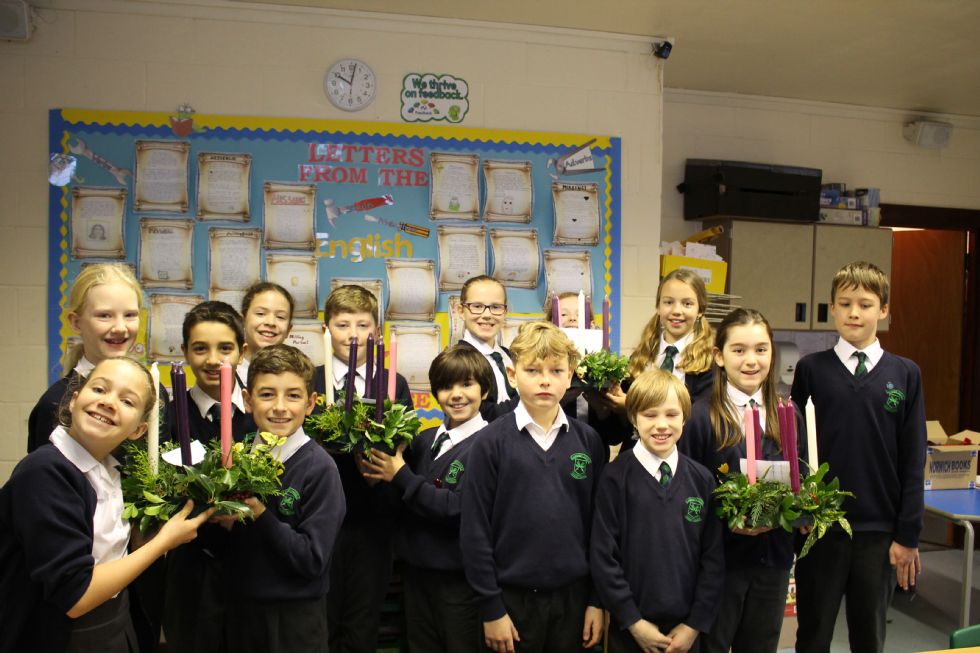 The children are busy rehearsing and preparing their plays and concerts for you. It is a very exciting and busy time in school, I think it is my favourite time of the year, seeing the children excitedly preparing really is very special.
The children are very colourful today as it's another mufti day! They do enjoy days that are different and they have brought in so many bottles for the Christmas Market tomorrow. I'm really looking forward to seeing all the £5 challenge stalls that the children have planned from home-made cookies, to face painting and even Christmas Karaoke! It all sounds very exciting!
We have just had a great final assembly from Mandy and Buddy from the NSPCC. They revealed the grand total that the children have raised; an amazing £1206.71! Thank you everyone for your support. It is wonderful to see what the children can achieve.
Have a lovely weekend and see you all tomorrow at the Christmas Market,
Elizabeth
Friday 23rd November 2018
It has felt really wintery this week; as we hurtle towards the end of November the time is passing quickly. I can hear the younger children rehearsing for their Christmas performance in the hall.
On Tuesday we had a wonderful celebration for the feast of St Edmund. We had a special Mass in the morning with many parents, grandparents and parishioners joining us. In the afternoon there was a treat for the children with each teacher offering a different activity. Children could then choose where they went for the afternoon. It was really lovely to see the children working together from Year R to Year 6 and sometimes it's just good to do something different!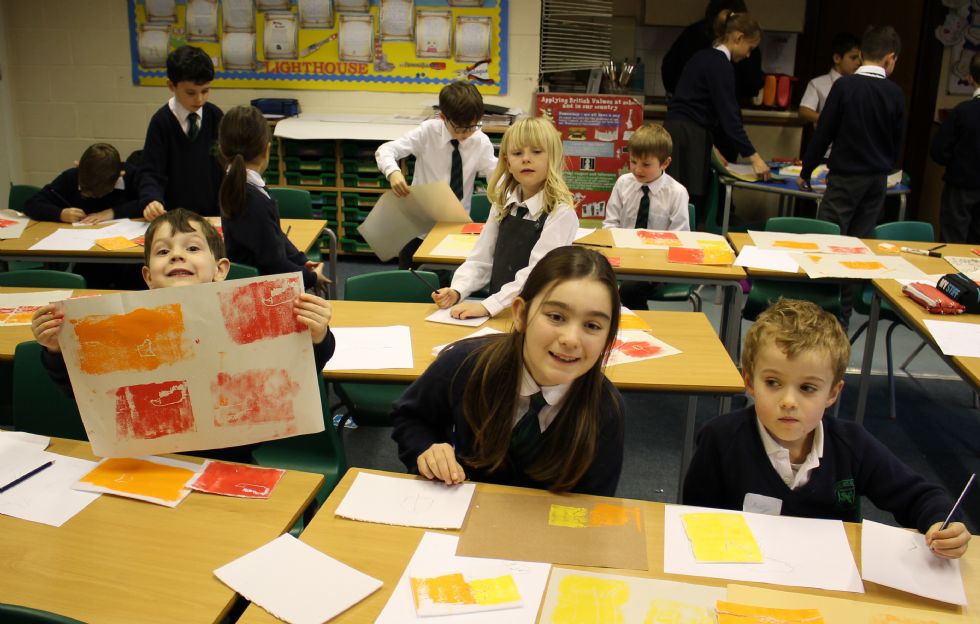 All week the children have been taking part in Buddy's Big Workout for the NSPCC. Please do return your sponsor forms and money by Tuesday 27th November and thank you for your support. Here are Year R completing their Ninja Warrior Workout!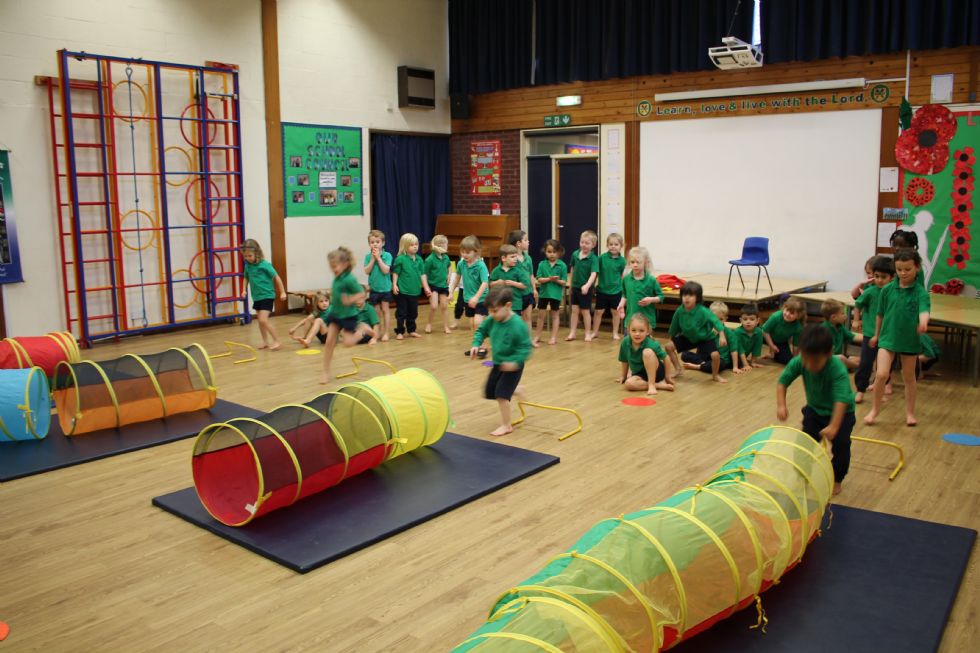 The children in Year 5 had a visit from a theatre group on Monday morning where they learnt about air pollution and how we can make a difference to the environment with the choices we make.
On Thursday morning Years 3, 4, 5 and 6 walked to Mass at St Edmund's. It was a beautiful morning; really cold and frosty but sunny too. We try to take the children to Mass at St Edmund's every term, where they lead the readings. They also always enjoy the walk across the park and counting the many steps up and down to Croft Road!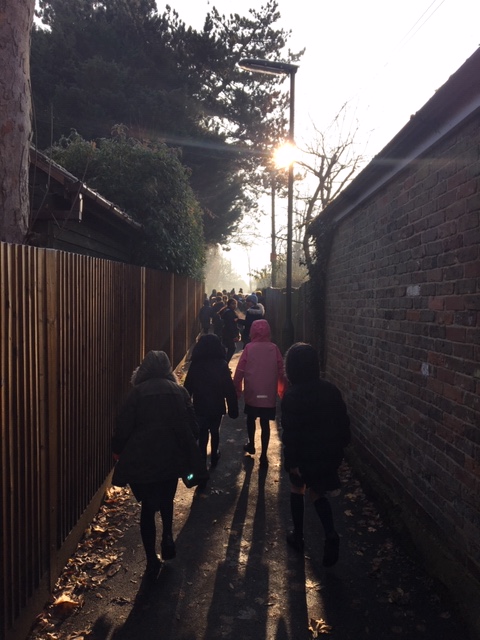 Today is mufti day, the children have brought in sweets for the sweet tombola at the Christmas Market next Saturday. They all look very bright and colourful and they handed in their bags of sweets, some reluctantly!
Have a lovely weekend
Elizabeth
Friday 16th November 2018

Last Saturday was the cross country competition held at Glebelands School in Cranleigh. The children had been in training every Friday morning and they were amazing! There were lots of individual medals winners who came in the top six in each group and then the scores are then added up and St Edmund's came a very impressive second overall. Well done to you all!
This week is Anti-Bullying week and we kicked off the week with 'Odd Socks Day' on Monday to remind us to celebrate our differences. The week we have worked with the NSPCC on keeping safe and how to get help if you need it, which linked very well. The children in each class have been talking and working in class and have made posters to illustrate the important message 'Choose Respect'. On Monday we had two important assemblies led by Mandy and 'Buddy', the speech bubble from the NSPCC. Mandy talked to the children about how to stay safe, how to get help and support if they ever need it and to start to understand what is right and wrong by gently introducing them to different types of abuse. The children all learnt the ChildLine number and how to get help if they ever need it. The assemblies were followed up by workshops for Year 5 and 6 children yesterday. The school council met with Mandy and Buddy to plan their 'Big Workout' sponsored events which will take place during school time next week.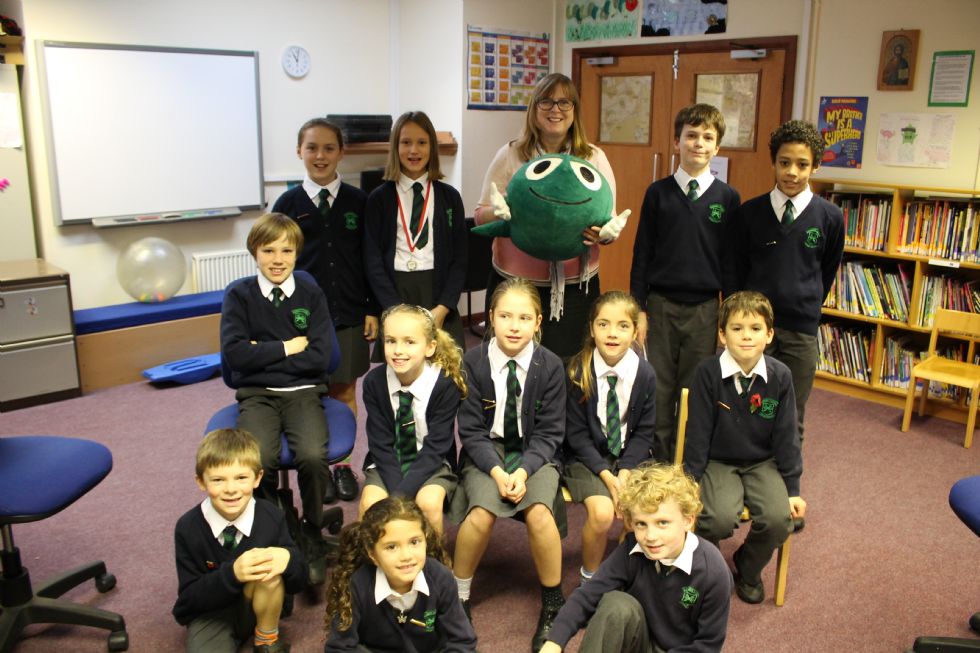 Here is a poem entitled 'Choose Respect' written by Bethan in Year 6:
Bullies are horrible people,
You can always sense when they are near,
They feel so mighty and sinister,
They taste the flavour of fear.
Bullies go in for the kill,
Words as sharp as a knife,
Cutting through their victims,
They tend to ruin your life.
They pin you down to the ground,
And call you ridiculous names,
They do it almost everyday
And make it one of their games.
Sometimes they don't mean to bully,
They are just jealous of you.
Your incredible talents
And everything that you do!
So if you are being bullied,
Tell an adult you trust,
Your teacher, parent or guardian,
That truly is a must!
Remember to choose respect,
You will get a fresh new start,
Smile and laughs from everyone
And a warm feeling in your heart!
Our Year 2 class had a visit from Chertsey Museum on Wednesday where they enjoyed a trip to the seaside through looking at a variety of objects including Punch and Judy, parasols, even an old wooden ice cream maker!
Tom and Ollie in Year 5 organised a great cake sale yesterday on Pancreatic Cancer Awareness Day in memory of their mum. They raised over £240; very well done boys!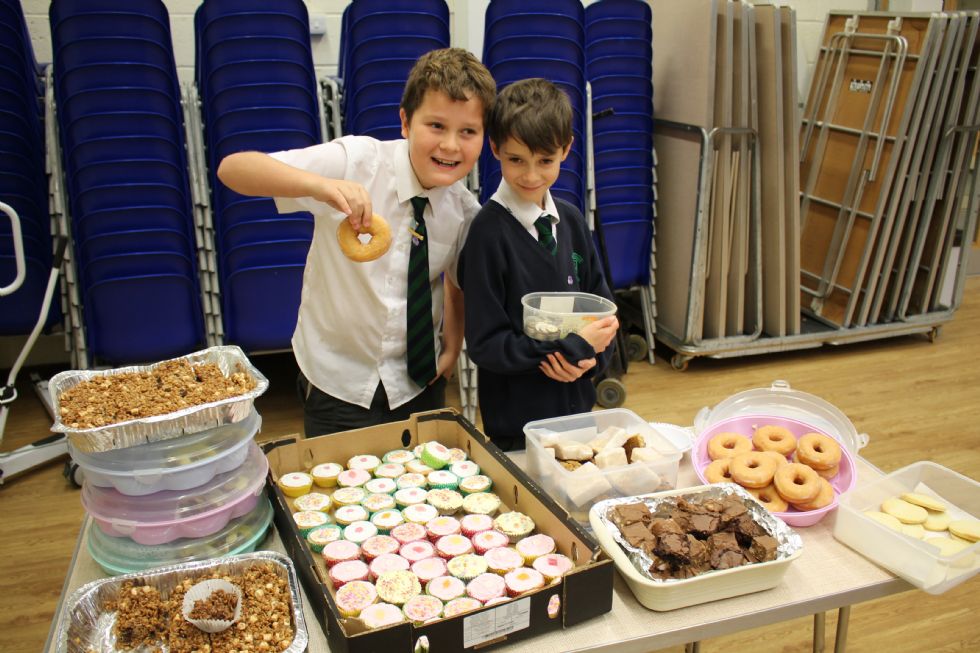 Next week we will celebrate our Feast Day on Tuesday with Mass for the whole school and visitors at 9:30, all are welcome to join us. In the afternoon, the children will be choosing an activity which they would like to do and visiting another class. We hope that it will be an enjoyable afternoon for everyone.

Have a lovely weekend,

Elizabeth


Friday 9th November 2018

We started the week by talking about Guy Fawkes and the history of Bonfire Night. The school council children who have recently been to visit the Houses of Parliament were able to tell us all about the rooms they visited and the cellar underneath the king's chair where the gun powder was stored!
We have also spent time reflecting on the month of November and remembering those who are no longer with us. The children have been selling poppies at lunchtime and we will have a special Remembrance Service this afternoon, please come and join us at half past two if you can.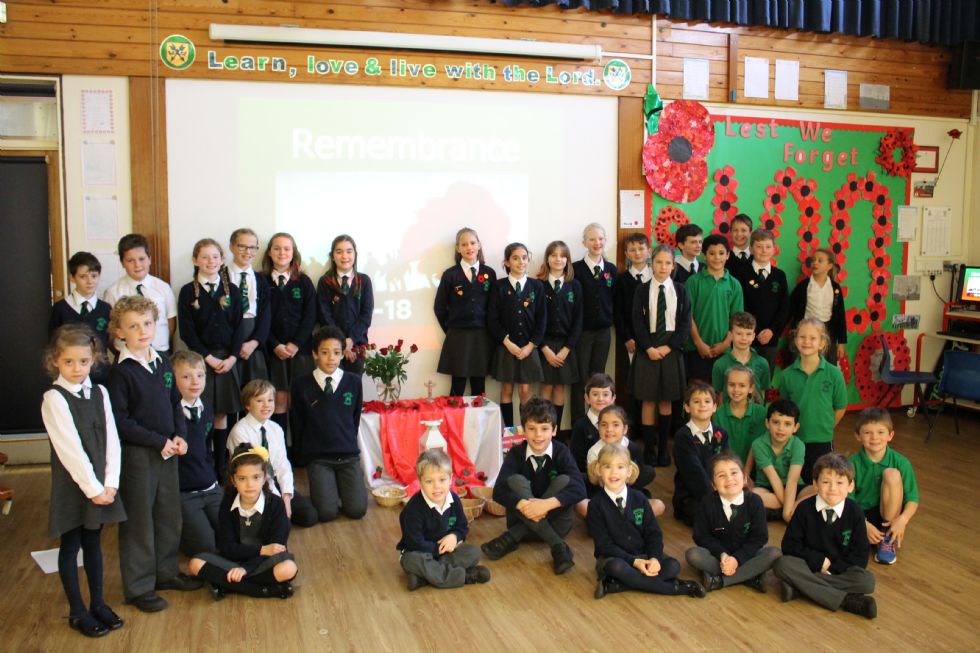 Next week is Anti-Bullying Week, the theme this year is 'Choose Respect'. We will kick the week off with odd socks day on Monday to celebrate our individuality! It will help us all raise awareness of bullying and empower all children to have a voice and talk about what is right and wrong. Each class will create a poster representing the theme of this years' week, look out for them around school.
Year 2 children had an exciting day at Hampton Court Palace on Tuesday where they learnt more about Elizabeth I as part of their topic on famous people.
On Wednesday we welcomed many visitors during our open morning, as prospective parents and children looked round the school. The Year 6 children led the tours and did a fantastic job of showing off their school. They love doing this and so many parents commented on how wonderful they were as ambassadors for the school. Well done! We even had a lovely email from a parent, a teacher herself, who was so impressed by the whole school that she took the time to write to us.
We have had a very special celebration assembly from our Year 2 class this morning. The children shared their learning in a fantastic way through their own version of the story of the Three Little Pigs, or 'Les Trois Petits Cochons'! The children were able to investigate the properties of materials, tell us about St Therese of Lisieux, show us their artwork inspired by Van Gogh and Picasso and share the important message of caring for our world and each other! Thank you Year 2.
Tomorrow morning our runners will take part in the cross country event held at Glebelands School in Cranleigh, the forecast is not looking too good but I know that the children will be full of enthusiasm and the rain may just add to their enjoyment! Good luck to you all.
Have a lovely weekend,
Elizabeth
Friday 2nd November 2018

I hope that everyone had a lovely half term holiday. We have enjoyed the colder autumn weather this week with frosty, misty mornings and autumnal colours. The children have been playing with the falling leaves in the playground. It's been a short school week but an exciting and busy one.
On Monday we had an Inset day with all the confederation schools. The teachers were all at Busbridge Junior School where we worked together on 'Providing pupils with opportunities to work at a greater depth and maths' It was a very interesting and useful morning and we have all come back to school with so many new ideas to try out.
On Tuesday we welcomed the children back and found out about the customs and traditions associated with Halloween during our assembly. We talked about All Hallows Eve and the children knew about the feasts of All Saints and All Souls on 1st and 2nd November. Although we often think of many modern Halloween traditions as American, most originate from the Celtic festival Samhain and much closer to home. For example mischief night involved children in Derbyshire and Northern England knocking on doors and tricking people! The children were all very excited about dressing up and going out that night.
This month is all about remembering and we have a very special new display taking shape in the school hall to mark 100 years since the end of WW1. The children have created poppies and art work on the theme of Remembrance and have been writing about the war and remembering this week. Please do come and join us for our Remembrance Service next Friday 9th November at 2:30pm.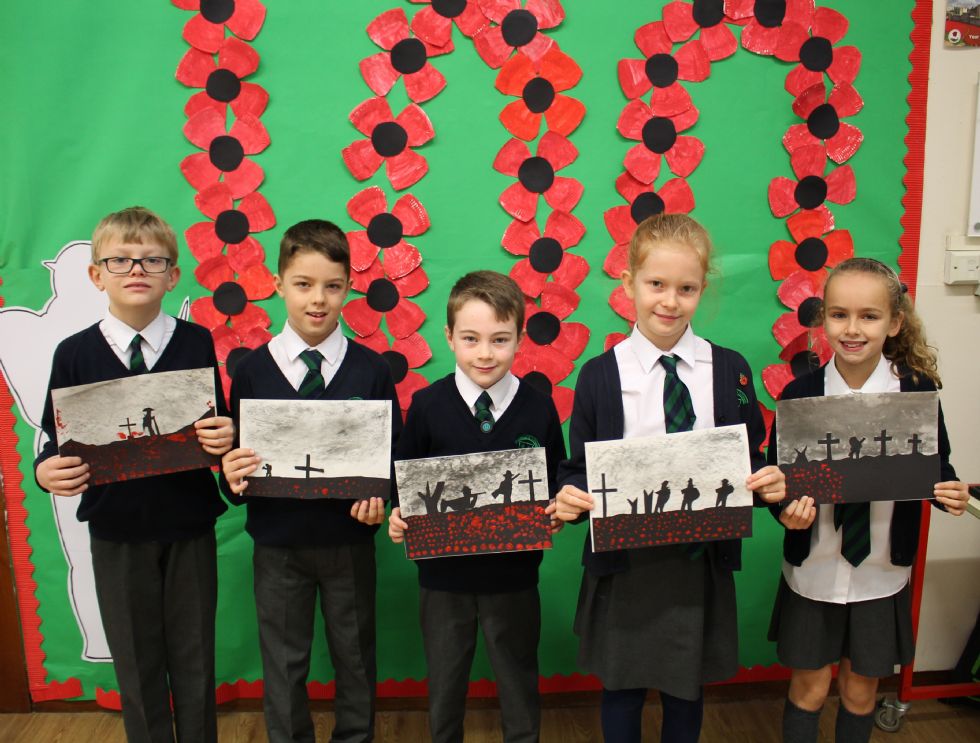 I joined the cross country runners this morning before school for their weekly training at the rec. It was a really cold, but bright and frosty start and it was great to see so many children and parents who have been running together every week. There is only one more training session before the cross country event on Saturday 10th.

Have a lovely weekend and enjoy any bonfire or firework celebrations that are taking place!

Elizabeth
Friday 19th October 2018
It's the end of the first half term of this year and in some ways, it seems to have gone by so quickly, yet in others the summer holiday seems like a distant memory and I think we will all be glad of the chance to rest for a few days!
This week in assembly we talked about the importance of saying 'Thank you' and linked this to our preparations for our Harvest Liturgy. We heard the story of the Feeding of the Five Thousand read in parts by the children. We had a lovely Harvest Liturgy on Wednesday morning, thank you to everyone who came to join us and for your generous donations to the Godalming Food Bank.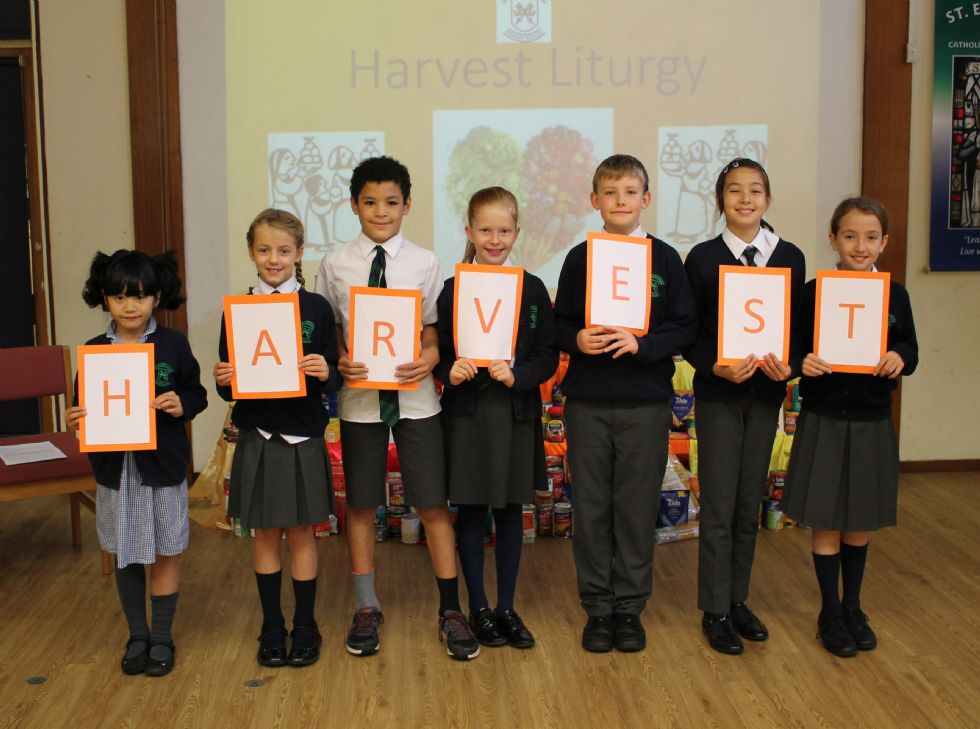 We have had our Parents' Consultations this week. Thank you for coming; I hope that the appointments were useful; it was certainly really good for our teachers to meet everyone and discuss how well the children are doing this year.
Yesterday was the first Golden Assembly of the school year. The children were presented with some very special awards. Headteachers awards were given for excellent attitude, improvements, resilience and perseverance. I have seen some wonderful writing going on in classes and this was reflected in many of the awards given. There is always great excitement when the house point winners are announced and this time it was no exception! It's always great to see how supportive the children are of their classmates and the other children.
Today the children are dressed very colourfully in the colours of the Burkina Faso flag on our special mufti day to raise money for St Michael's school in Mani, which we are partnered with. We hope that the money we have raised today will enable the children there to have a better chance of an education.
Have a lovely half term holiday, where you are at home or going away, stay safe and I hope you are all able to enjoy time relaxing with your families.
Elizabeth
Friday 12th October 2018

Thank you to all the families who came to last Sunday's School Mass, it was wonderful to see so many families there, especially those who are new to our school. The children read extremely well and they all enjoyed helping with the Mass.
We started our week with an assembly celebrating the children's learning from Little Way Week last week. The children learnt about St Therese of Lisieux. They thought about little things that they could do every day to help others and share love as Therese did. The children have really been inspired by finding out about her short life. I hope they continue to do these little things at home this weekend!
On Tuesday I took our KS 2 school councillors to the Houses of Parliament. We travelled to London by train and walked across Westminster Bridge, the children enjoyed seeing the sights. During our visit we had a tour of Parliament; including both the House of Lords and House of Commons. The children learnt so many fascinating facts about Parliament including visiting the room above where Guy Fawkes hid the barrels of gunpowder! The children were very well behaved and returned with a great understanding of how powerful their voices can be.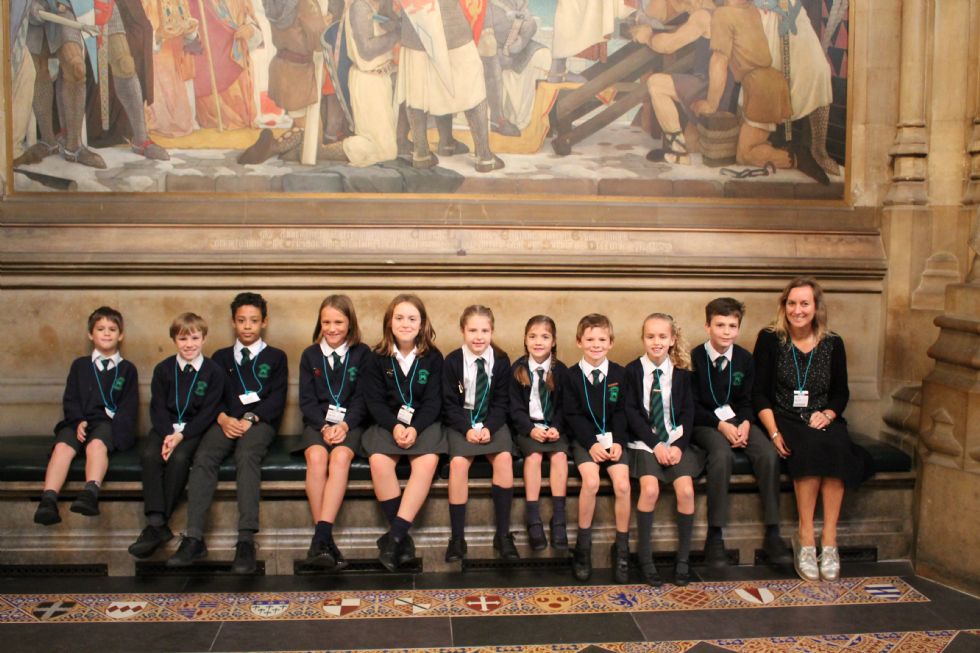 This morning we have enjoyed another great celebration assembly, this time we were transported back to the Stone Age by Year 3. They have clearly loved learning about the past and through the topic, they reminded us of the important message of celebrating our differences and respecting others.Thank you for a wonderful ssembly Year 3!
The entries for the Virtual Pet Show are now in and we are looking forward to finding out the winners next week.
The children are very excited about the Greatest Showman themed discos this evening; they always do enjoy dressing up and dancing with their friends.

I look forward to seeing everyone on Monday and Wednesday evenings at our Parent Consultation.

Have a wonderful weekend,

Elizabeth
Friday 5th October 2018
After a wonderful adventure with Year 6 last week, it was great to see the whole school back together this week.
I was very impressed by our Year 6 children last week, they had an amazing week and made the most of every opportunity. The Outdoor Adventure Centre is in a superb location, overlooking the beach where the children enjoyed body boarding, surfing, abseiling, climbing and coastal traversing. The children were so encouraging and supportive of each other and I was very proud of them all. It was a week I'm sure they will always remember.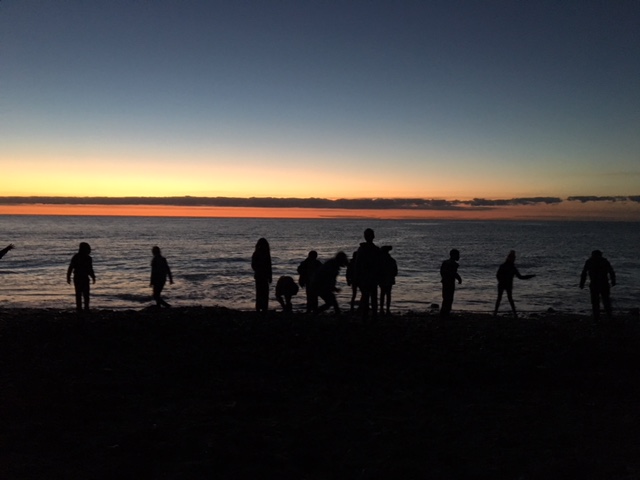 During our assembly on Monday we talked about challenges and looked at some of the photos and experiences of Year 6 last week. The children loved the challenges and it has really helped them to see just what they can achieve if they work hard and push themselves in all they do. The Year 5 children are already very excited about their visit next year. We also heard about the Virtual Pet Show and listened to some of our talented musicians playing the violin.
On Tuesday morning we had our Commissioning Service where children promised to carry out their roles and responsibilities to serve one another as part of our school family. It was wonderful to see so many parents there to see their children receive their badges.
Thank you to the parents and volunteers who attended the Safeguarding session with me on yesterday morning we hope you found it useful and informative.
This afternoon we will welcome our grandparents to school, we are excited about performing for them and hope they enjoy the afternoon. It will be a very special afternoon, the singing sounds beautiful!
Please do join us for our Autumn Term school mass this Sunday morning at St Joseph's in Milford; I hope to see lots of families there.
Have a lovely weekend,
Elizabeth
Friday 21st September 2018

After a very stormy night we have a beautiful sunny morning today. We are now well into the term and September is moving fast. We have had the whole school in full time this week and the Year R children have settling in brilliantly, it feels as if they have always been here. We are loving getting to know them all!
We have had our first school council meeting and updated the display board in the hall with the new pictures. Here they are: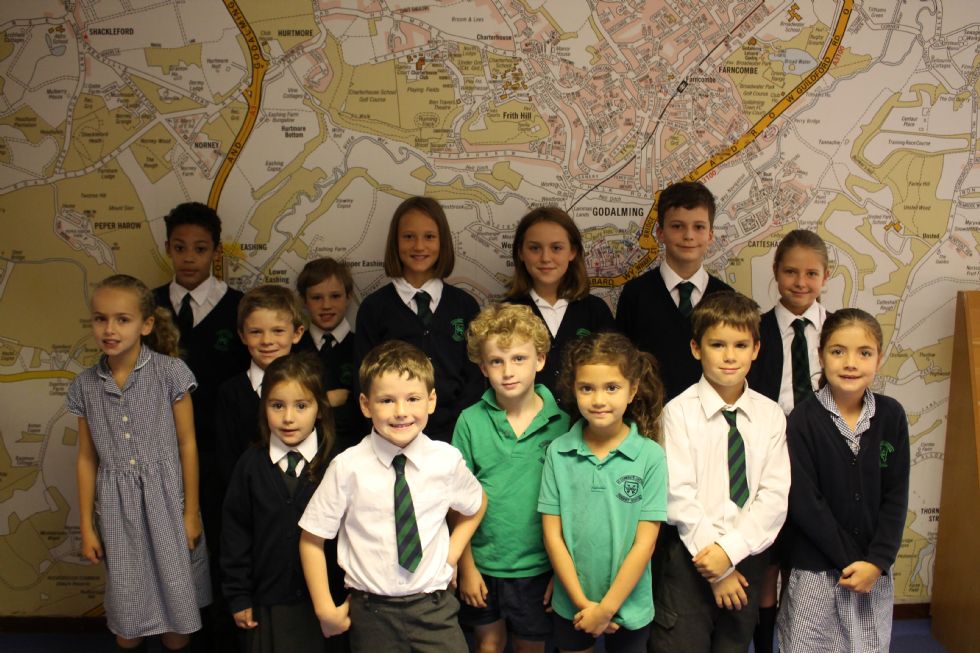 The children had their school photographs yesterday, they all looked very smart and the photographers took their time to ensure that the children were relaxed and looking their best, we hope that you are pleased with them, I think you will be!
Next week Year 6 is on a big adventure to Bude for their residential trip. It's going to be an amazing week and such a wonderful start to their final year at St Edmund's. We know it will be a week of learning new skills, facing exciting challenges, teamwork and cooperation: a week they will remember for the rest of their lives! I can't wait to spend it with them and we are hoping for week of warm sunshine too!
We had our annual Deanery Mass yesterday after school, it is always a lovely opportunity to come together as a group of schools to welcome new staff, catch up with colleagues and start the new school year together in prayer. We were talking afterwards about other ways in which we can support and work more closely with one another.
Year 5 kicked off our class celebration assemblies this morning with a very special assembly looking at gifts and talents. They are all very talented; we have singers, actors, gymnasts, rugby players even a magician! The children really inspired us to use our talents well and reminded us that 'we all have gifts to share' and to build each other up and encourage use of our talents wisely. Thank you Year 5.

Have a lovely weekend,
Elizabeth
Friday 14th September 2018

We have welcomed our youngest children this week. The thirty Reception class children have settled in so quickly. They are looking very grown up, confident and proud of themselves. They have been very happy coming into school and we have loved seeing them all and getting to know them.

We have started some of our exciting clubs this week: art club, football, netball, yoga, sewing and cross country. KS 2 have had a taster session for the Basketball Club 'Kidz B Ballin'. Many of our other clubs will be starting next week.

This week as I have visited all the classes I have seen year R exploring the bikes, the new mud kitchen area, and the role play area. They have been reading and writing their names and numbers already! Across the school it has been great to see the children learning with enthusiasm. They are very keen to do their best and have started the year so well in all classes, I am very proud of them all.

Year 6 have led the special House Captain assembly this morning. Those who want to stand for House Captain prepared short speeches of around 1 minute. They were very funny and engaging. We were all very impressed by the standard, the speeches very brilliant and very clever!.Well done Year 6. All the children then voted for their House Captains, all the roles and responsibilities will be announced shortly.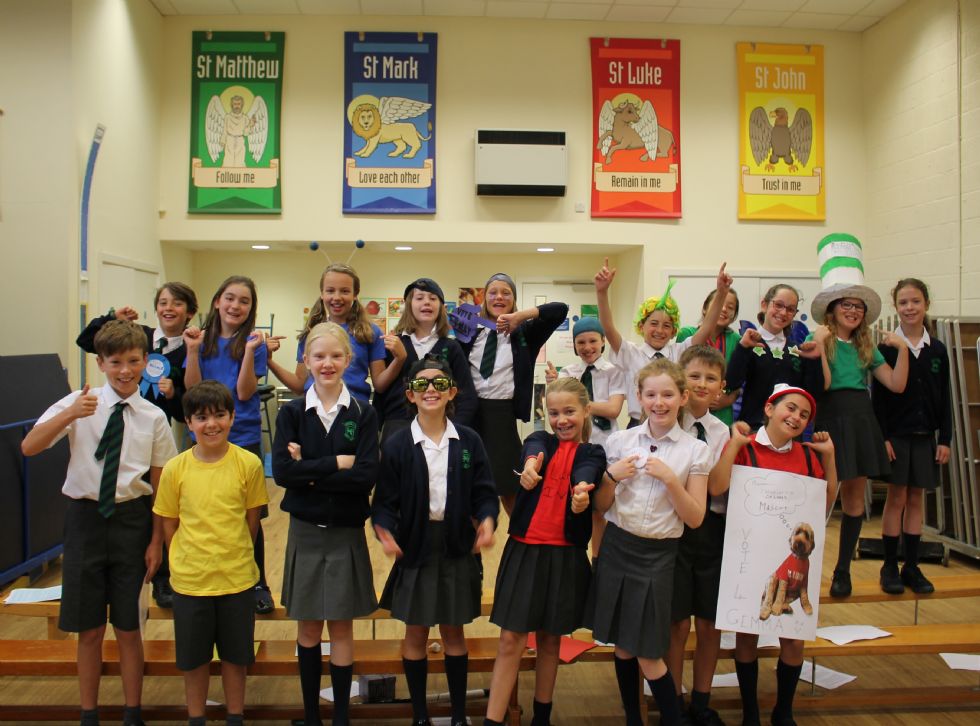 It feels as if we have been back at school for quite a while now and everyone is settling into the routine of school life and enjoying learning.
This weekend the children preparing to make their First Holy Communion will start their important journey. They will lead the readings at Mass on Sunday 10:15am at St Joseph's Milford. Please come along and keep them in your thoughts and prayers this year.

Have a lovely weekend,
Elizabeth
Friday 7th September 2018
Welcome to a new school year. I hope that everyone had a lovely break over the summer; the children have been telling me all about their exciting adventures and holidays. We were very lucky to have had such great weather too and the sun has been shining this week too.
It has been wonderful to see everyone returning to school this week, the children are all looking very grown up and smart in their uniforms. They are full of excitement for their new classes, all that they are going to learn and they are really looking forward to the new school year. It is always such an exciting time of year; a time to celebrate new beginnings and look to the future full of hope, promise and possibilities. We welcomed Ben and Jack to Year 3. Our new Reception class will start school on Monday, we can't wait to have them with us and get to know them all.
The children were excited to see some of the changes we have made during the holidays, especially the new playground markings in Key Stage 1! Here are the children trying out the new course: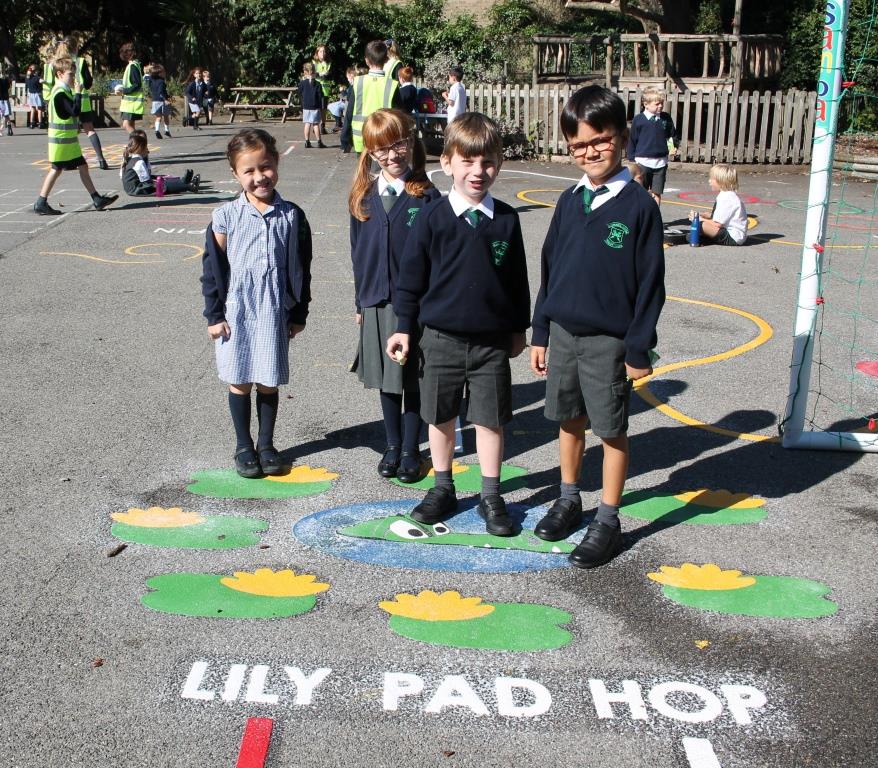 During our first assemblies we have thought about changes and new beginnings and how we can make the most of the new start that we have this school year. We have thought about how much we change and grow all the time, even though we don't see these changes. Our school family is also changing all the time, with children and teachers joining and moving on. I think we are all ready to get started on this year's journey, whatever that may bring for us all.
We are all looking forward to an exciting year of learning at St Edmund's.
I hope you all have a lovely weekend,
Elizabeth