Year 3
Tuesday 7th April
What a lovely sunny day it is today! Mrs Every has been teaching me some sewing skills. I've started making a house. This is how far I've got: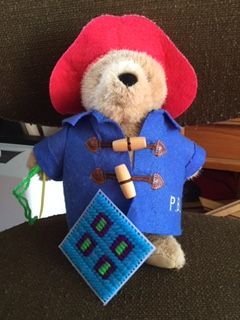 Monday 6th April
Morning Year 3! Paddington Bear here. I've been living with Mrs Every now for over 10 years. I thought I'd show you some of the things I'll get up to over the next few weeks while Mrs Every takes time off with her family. I did Joe Wicks ths morning, I might take my coat off tomorrow as I got very hot, and then ate some marmalade on toast. It was delicious.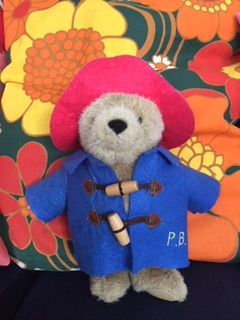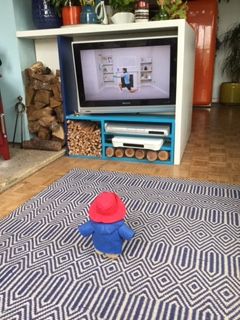 Friday 3rd April
I can't believe how quickly this week has gone! We did Joe Wicks this morning and I've just done his homework to write a poem. What do you think?
On top of the world,
The Messi kicks are my fave.
Having great fun with Arthur,
And my husband called Dave!
Bouncy kangaroo hops,
Super hero spidey spinners.
At the end of the workout,
I feel like a WINNER!!!!!!!!
Why don't you have a go and post it on seesaw.
I was busy yesterday making some Easter crafts. I really enjoyed making some origami flowers. The instructions are below. For each petal make sure you use a square piece of paper. On the instructions it shows only 4 petals stuck together at the end but I found that it worked much better if you stuck 8 petals together. Why don't you experiment and see what works best for you!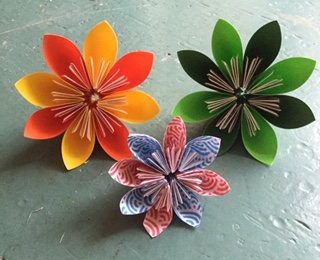 Do you remember I said to save your egg boxes? Well I made 'EGG HOP' as well. Very straight forward to make. Decorate your egg box with bright colours. Put different scores in each hole apart from 1 where I put a star. To play: bounce/throw a ball into the holes and score points (keep a tally). If you land on the star you need to hop round the room!!! Person with most points wins. Of course you can change rules/numbers/stars to what ever you would like.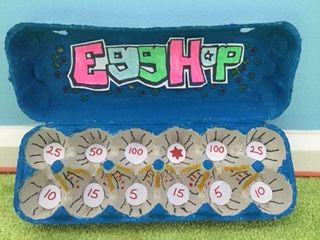 This is my last post for the next 2 weeks over the Easter holidays. I will be back with some more exciting learning for the summer term with a new topic on Monday 20th April.
Make sure you stay safe, relax and look after each other. I miss you all very much and can't wait to see you all very soon. With love Mrs Every xx
P.S. EVEN THOUGH I WON'T BE POSTING ANYTHING OVER THE HOLIDAYS THERE WILL BE A SPECIAL GUEST SENDING SOME MESSGAES ON THIS PAGE. A CLUE - HE LOVES MARMALADE SANDWICHES!!!! X
Thursday 2nd April
Do you like my monkey friend, Mr Big? He's been helping me out today!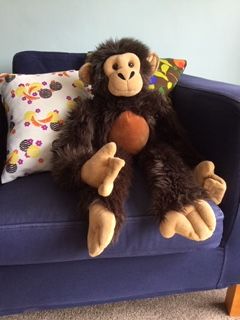 I've had requests to send the guided reading activity sheets that we use in class, see below. You could choose a different activity each day to use as your English lesson.
I've also found a poetry website that has lots of different activities: www.poetry4kids.com
I'm really looking forward to fancy dress Friday tomorrow when we do Joe Wicks. I enjoyed it when he had music playing earlier in the week, but my son wouldn't let me sing along, he said it was putting him off his exercises!!!!!
I'm off now to have my lunch and then I'm going to do some Easter crafts this afternoon.
Speak to you tomorrow.
Wednesday 1st April
Afternoon Year 3. The sun is shining and the birds are singing!
Some fab work being posted on seesaw. I've been looking at it all and leaving comments so take a look and add some of your own. It's probably easier doing that now than sending via the school office.
Well done Milo for being the first to complete one of the art tasks set on seesaw to do some doodle Van Gogh!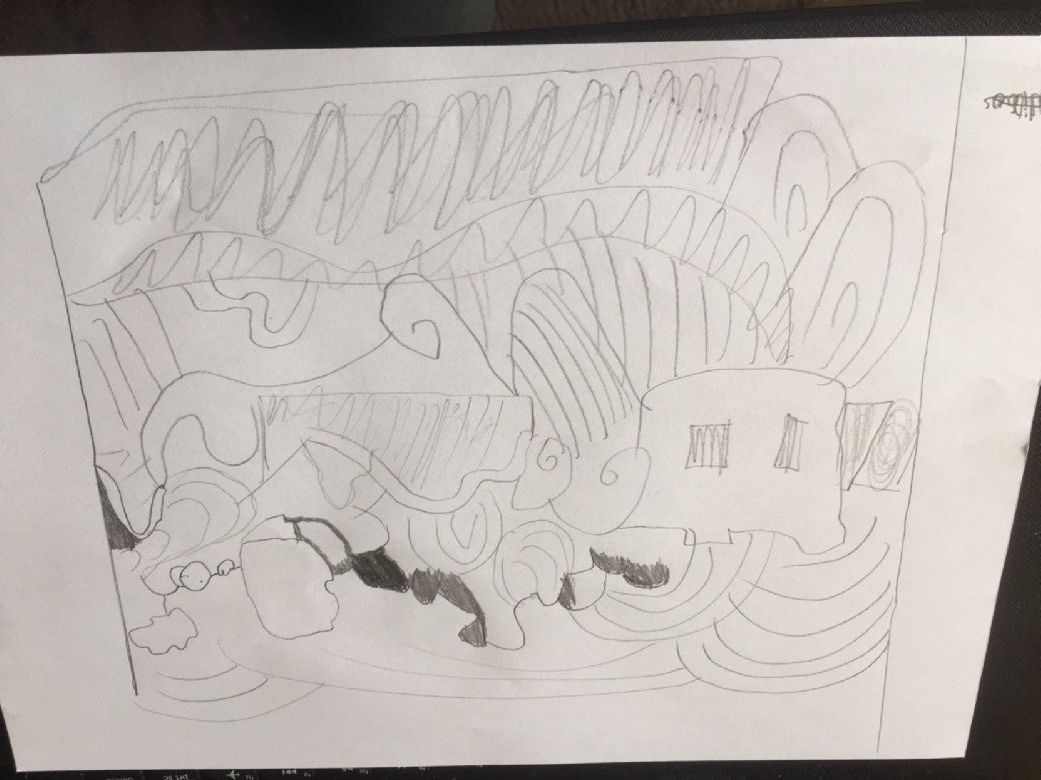 Thanks to Lulu, Sophia L, Jess and Freya for posting your learning on the journal pages and glad to see that some of you are using pobble!
Francesca, it looks like you have been very busy doing lots of different activities, I like your colourful rainbow heart for your window. Excellent bar chart Sophia.S of the birds in your garden, I can't believe how many different types come and what a lot of pigeons and I'm loving the pink hair Tess and the fact that you have learnt to make gravy!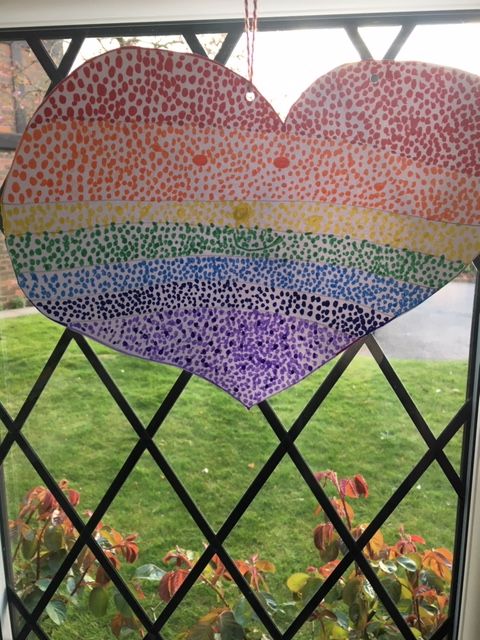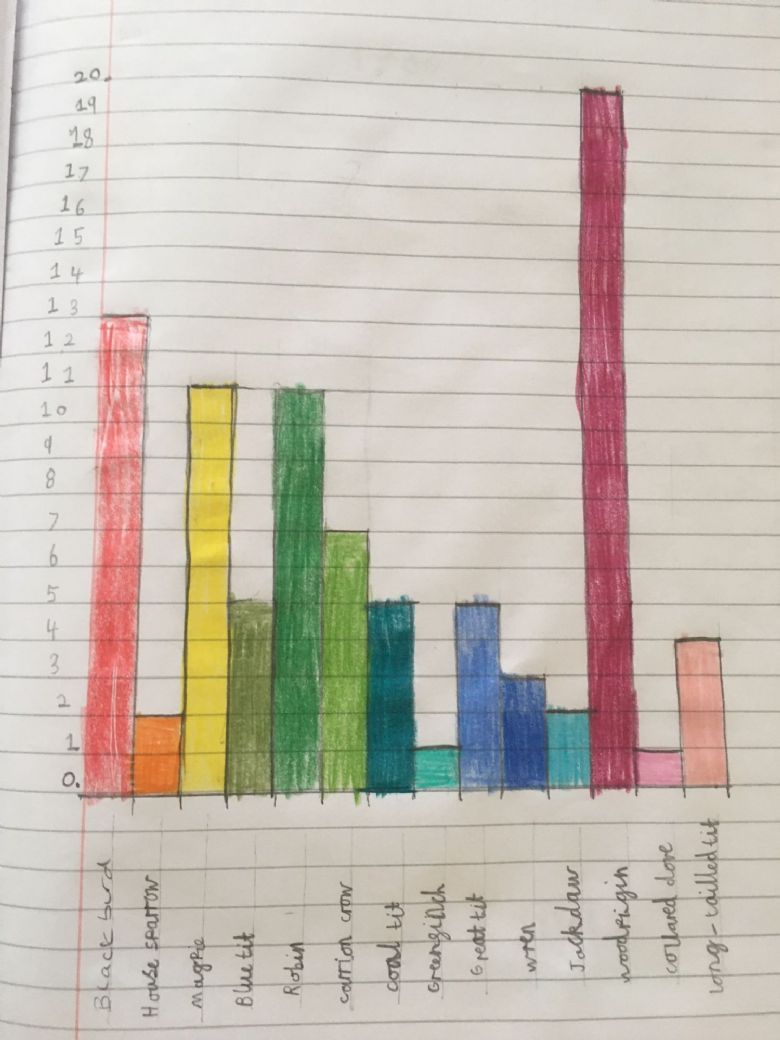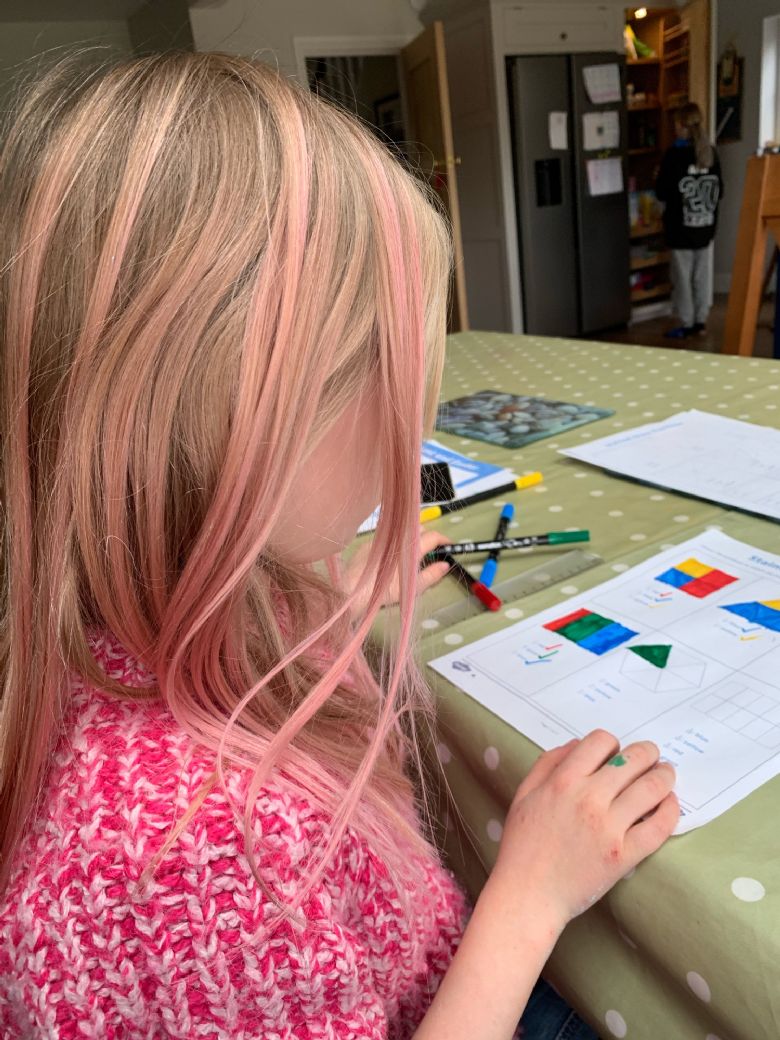 Our meditation music has been added and I've also put on multiplication triangles and spot the correct spellings below.
I'm off now to cut my son's hair! Have a good day.
Tuesday 31st March
So, did you work out the different artists on our feet? They were Vincent Van TOE, Yayoi TOEsama, Jackson PollSOCK and Pablo FEETasso!!!!!
Thank you for all your messages on Seesaw. Hopefully you can access some of the activities on there now but I will still be adding ideas to this page regularly. I've also added something to my window to go with my rainbow heart. It was an idea that they are doing in New Zealand. Put a teddy bear in your window and then when people go for their regular daily exercise they can go on a 'bear hunt' like in the book 'We're going on a bear hunt' by Michael Rosen. Can you see mine? Not that clear!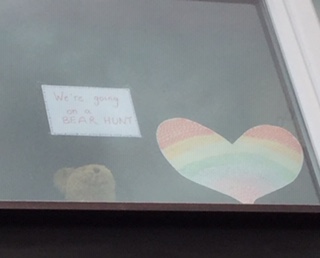 I'm so pleased to see you having so much fun with all your learning. Perfect colours in your fraction flags Lulu, excellent bird collages from Daniel and Megan, Fab lego Hoggetts Farm from Freya (especially Babe) and great gecko fact file from Edith. Hope these inspire you!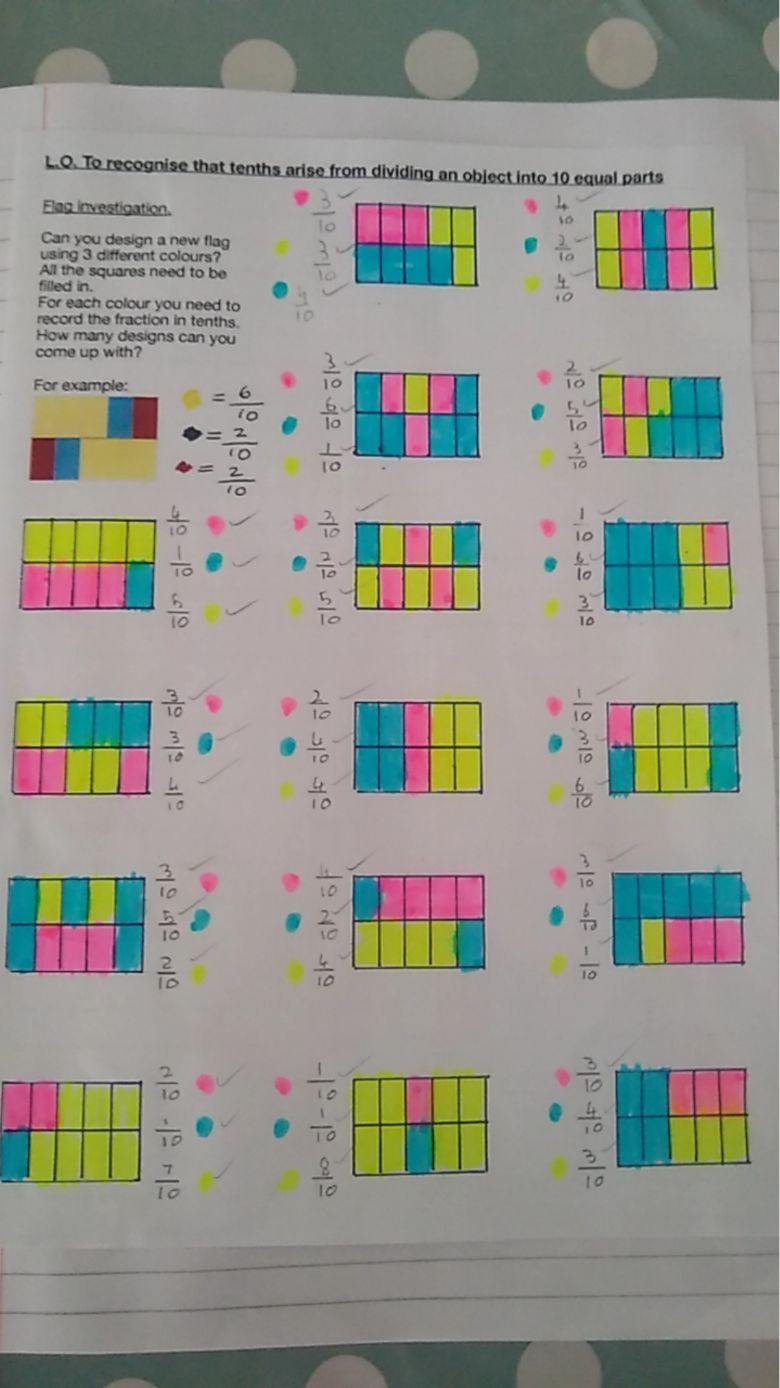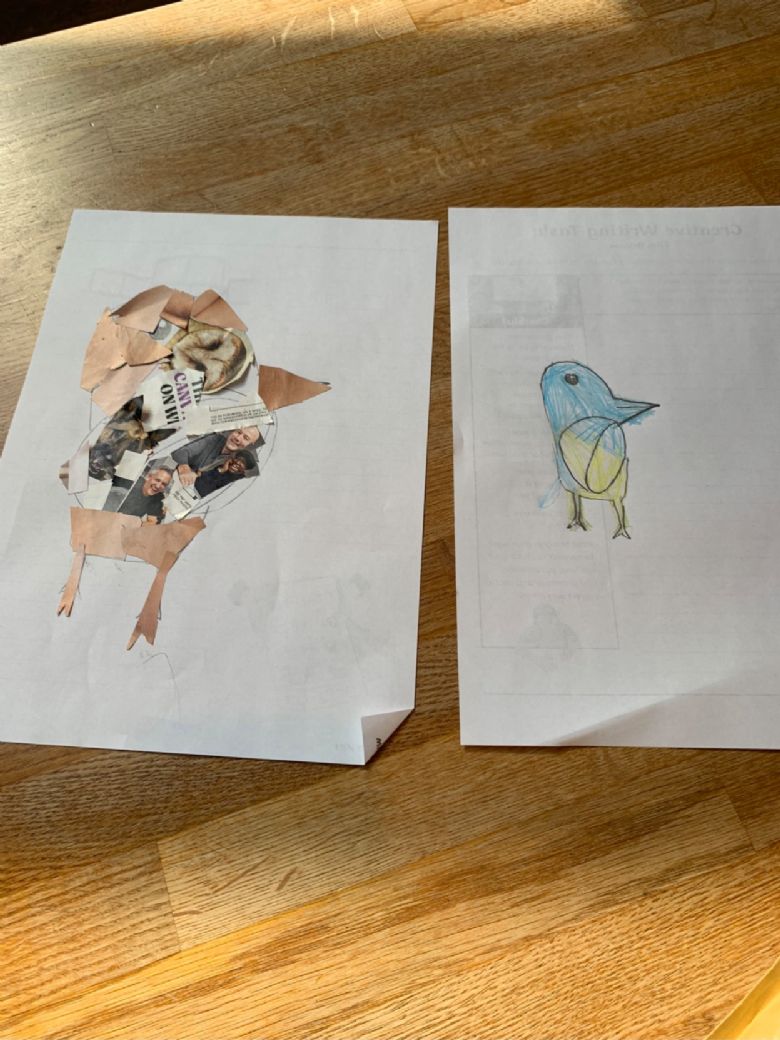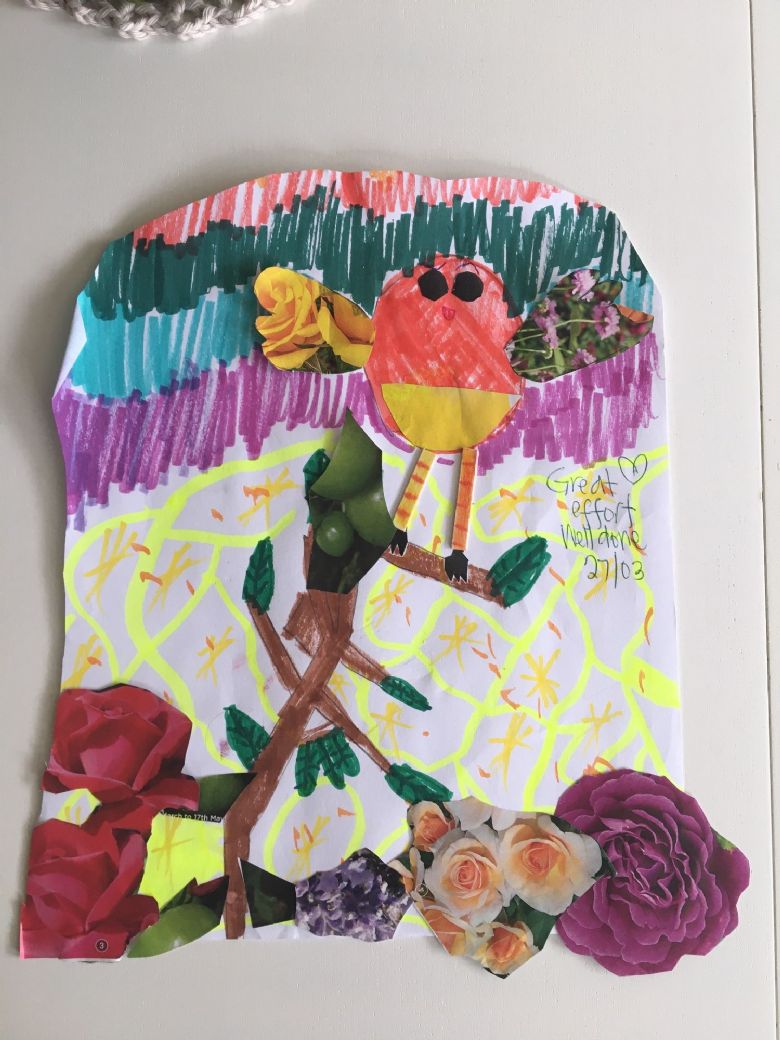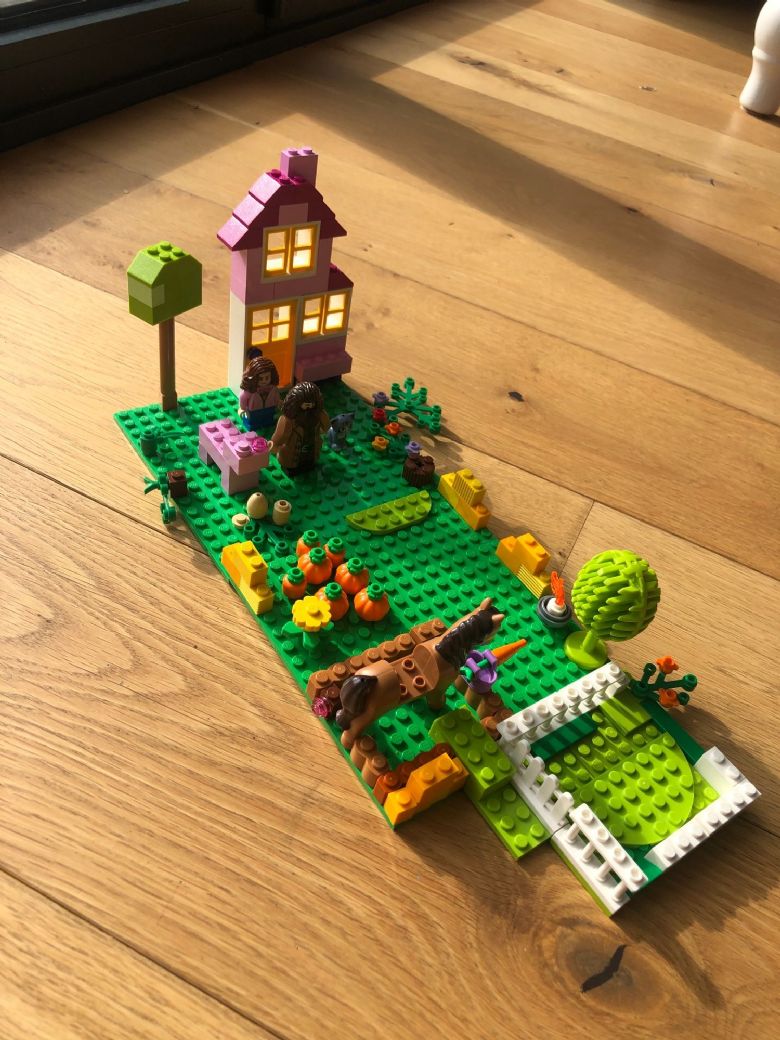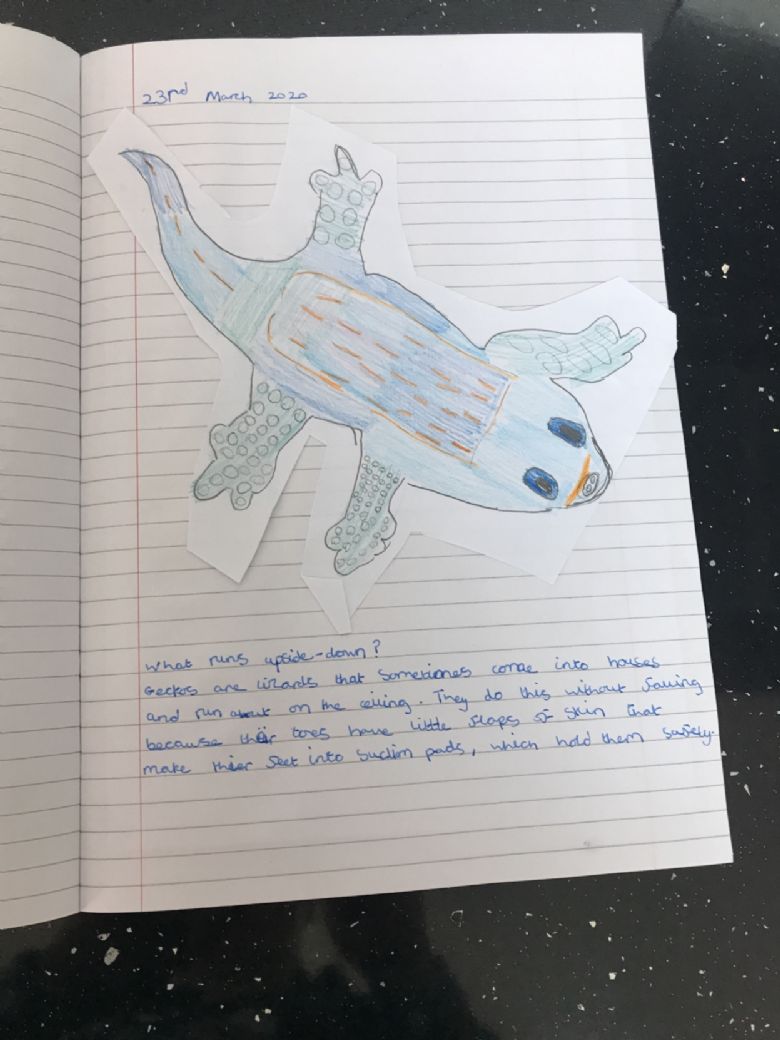 www.whiterosemaths.com has excellent maths resources for you to use each day. These are the sorts of things that we use in school (fractions would have been our topic up till Easter) and they are set up so that you can have a 30 min lesson each day. Go to the home page and at the bar at the top it will say Home learning. Click on this and it will take you to a page with all the different year group activities and then just choose Year 3 and give it a go.
I'll try and get our meditation music added below so that you can have some quiet and reflective time with your family.
Take care and I look forward to seeing your bears in your windows! Speak to you tomorrow.
Monday 30th March
Happy Monday! Hope you had a good weekend. We had an odd sock day on Saturday. Can you spot the different artists on our feet? I'll tell you the answers tomorrow: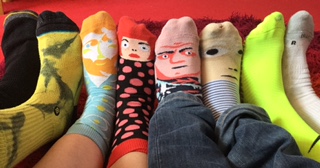 We also played a lot of table tennis and various football games involving toilet rolls and I'm getting extremely good at 'kerbies'!!!!!
Here are some ideas for the coming week:
https://cafod.org.uk/Education/Primary-teaching-resources/Home-learning-primary has excellent RE home learning.
Don't forget the fantastic www.pobble365.com that we use in class all the time. There is a different picture everyday with story ideas, sentence challenges, question time and perfect pictures. This could be used as your home English lesson every morning after your Joe Wicks workout (which was very hard today after having 2 days off!)
Hope you have collected some toilet rolls. Have a look below to see the times table skittles that I made with mine, then have a go at making your own.
Thank you to Jess for your great Starling fact file and I'm pleased to see that your driving skills are coming along! (see your picture in the boxes below) Thanks also to Claudia for all your fab learning and it was interesting to see your alternative ending for the Sheep Pig.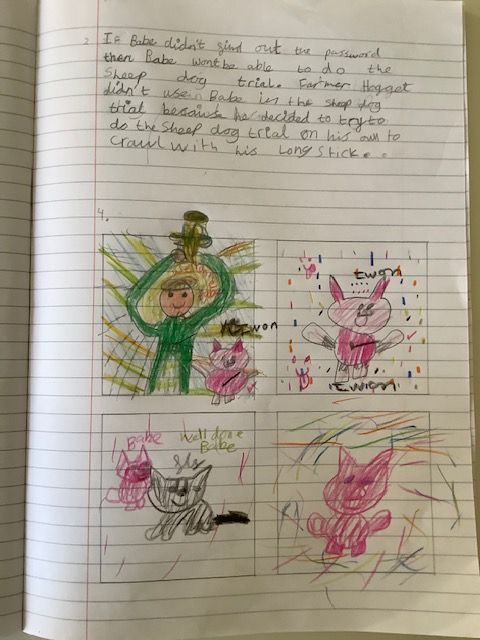 Really, really miss you all. Enjoy your day. Speak to you tomorrow. xxx
Friday 27th March
Finally I managed to get a photo of Penny and Peter pigeon in the garden and they were also joined by their friend Pamela! I've also planted some lettuce seeds, I'll keep you updated with the progress.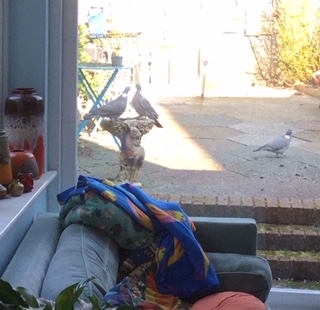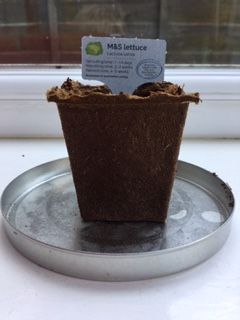 Thank you for all the fantastic learning and messages that you are sending to me via the school office. It's so lovely to see how creative you and your parents are being and embracing the variety of activities I have posted. I'm glad to see that Joe Robin has visited your house Rufus and your bird house looks excellent. Leonardo and Emma, your bird feeder and bird houses are amazing. Sophia.L, your bird collage and other bits and bobs are fab (especially the clever coded message) and good to see your fractions learning Catherine. They all make me VERY happy!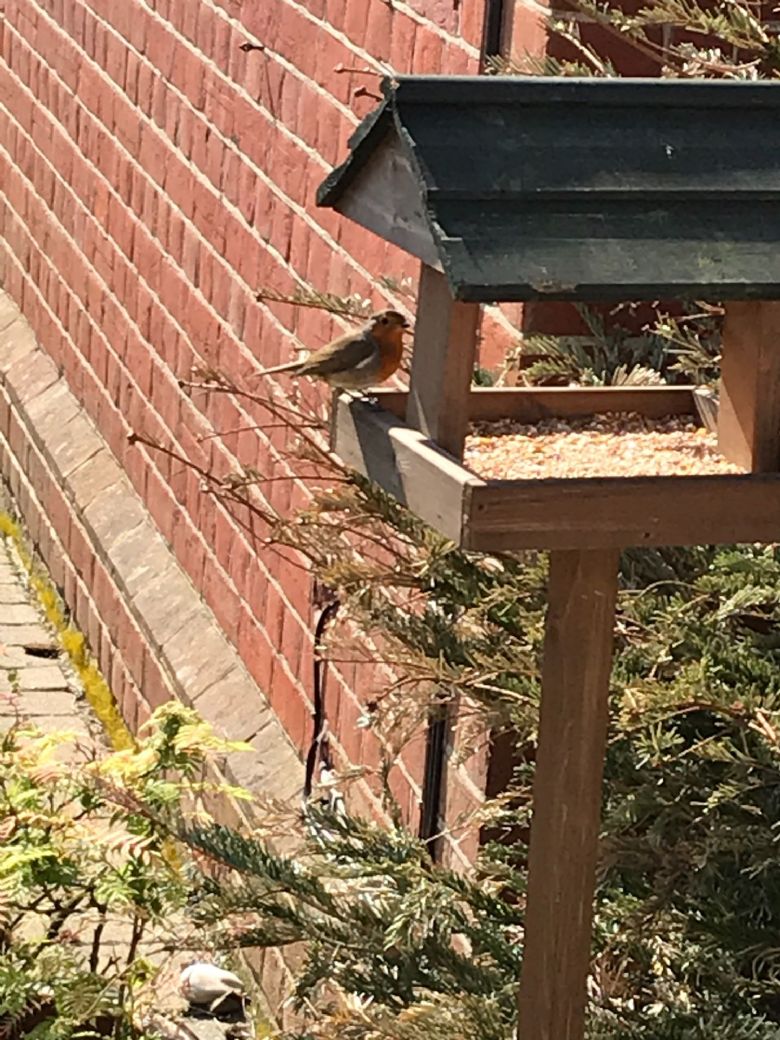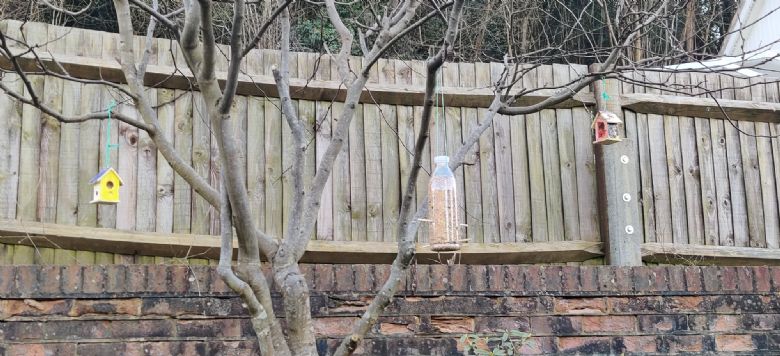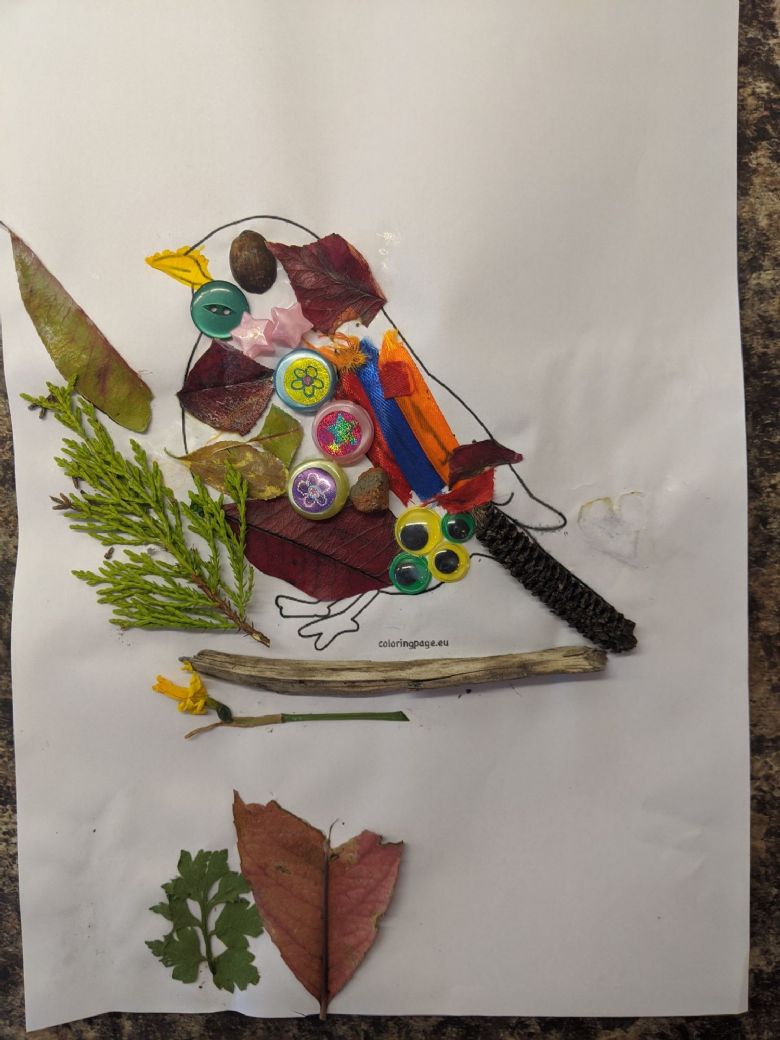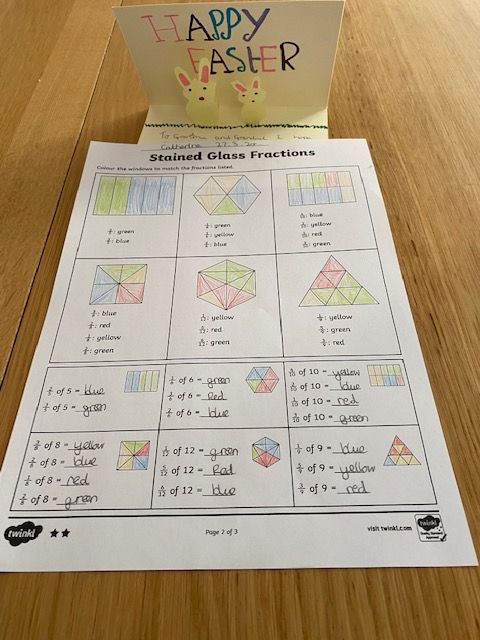 I'm also very excited to hear that families are giving out golden tickets! Maybe everyone could keep a tally of how many they have collected over the next few weeks and then the person who gets the most in your house could get a treat (parents included!!!)
I've just finished looking at your Sheep Pig book reviews and it was great to hear how much you enjoyed the story, I'm so glad that we managed to read the last chapter together.
Have a rest from school learning this weekend. How about having an odd sock day tomorrow and then play some board games on Sunday. Also collect some eggs boxes and toilet rolls if you can for some craft ideas next week.
Have a safe weekend, tell your parents that they're doing a grand job looking after you and I look forward to speaking to you via this page on monday xx
P.S. Don't forget to check out the link that Mrs Higgins has put on the website to see the school bird box.
Thursday 26th March
Afternoon Year 3. With the help of my husband I've made a colourful bird feeder. I've had Barry and Betty the blue tits on it already but haven't managed to get there in time to take a picture! I'll keep trying.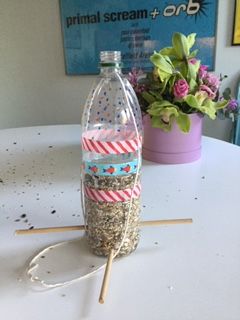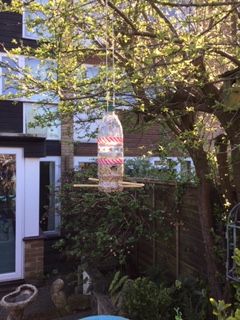 I hope all you Pokemon fans enjoyed the Pikachu moves on Joe Wicks this morning and the sumo squats!
I've added some fraction ideas for you to have a go at over the next few days. Why don't you try and send me some of your amazing learning to the office and I'll try and post some on our page.
Remember that you just need to do a little bit of learning each day, help out your parents, keep safe and have fun!
xx
Wednesday 25th March
Thank you Freya and Catherine for your lovely emails forwarded from the school office. I'm glad that you are enjoying the activities and are seeing lots of birds in the garden. We mostly have blue tits and sparrows coming to our garden and we also have Penny and Peter the pigeons who come everyday for a drink and wash in our birdbath. Good to hear that you are working out with Joe Wicks. My legs didn't hurt quite so much this morning! Phew!
Me and Arthur made flapjack yesterday which was very tasty but slightly burnt as I forgot all about it!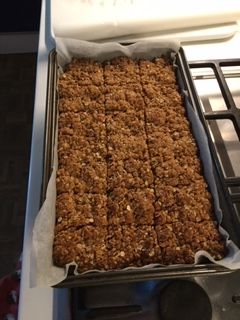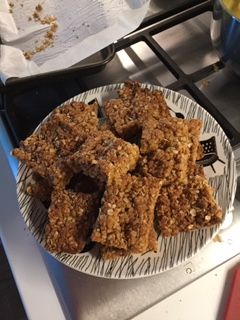 I'm going to try and make my bird feeder now.
Speak to you tomorrow.
Much love xx
Tuesday 24th March
HOORAY! The times table songs are now on our page so you can sing and dance along with everyone at home. Why don't you try and make up some new dances that you can teach us all when we get back to school. I've added some times table game ideas as well.
There is now a list of high frequency spelling words. Make some flash cards of the different words and stick them round the house. Learn 3 new ones each day. Test your parents - Do they know them without looking? Practice writing them out in your neatest handwriting using different coloured pens.
Why don't you have a go at making a rainbow heart. I made one for my window so that people can spot it when they go on their daily exercise (see below).
I managed to get my son and husband to do the Joe Wicks workout this morning but my legs are now very achy! It would be great to know that the whole of Year 3 were doing it all at the same time. Go for it!
Monday 23rd March 2020
Happy Monday afternoon,
Hope you had a lovely Mother's Day and treated your Mum like a Princess!
I have added some Sheep Pig activities for you to have fun with. One of the activities requires you to use playdough. Why don't you have a go of making some yourself. A good recipe is on the bbc good food guide and there are lots of different instructions on Youtube. How many different natural colours can you make?
Also try www.oxfordowls.co.uk for lots of fun learning ideas and ebooks to keep up your fantastic reading.
Did you do the Joe Wicks PE lesson at 9am this morning? Me and my son Arthur did. It was lots of fun but I was totally exhausted!!! But I'll definitely be doing it again tomorrow.
With love Mrs Every
Friday 20th March 2020
Hello Year 3.
Hope you are all keeping well and enjoying all the beautiful flowers that are starting to peep out.
Over the next few weeks try and do as many of the activities below. Also read at least 10 minutes everyday. It could be a comic, magazine, Newspaper, to your brother, sister, dog or rabbit!
Also practice your times tables, including the dances! I will try and get the songs that we use in class on the website as soon as possible so that you can teach them all to your family.
A really great website for fun learning games is www.topmarks.co.uk. Go to the bar near the top - learning games and give it a go!
How about teaching all your family the basic gym shapes that we have been learning in PE. Have they got straight backs and pointy toes???!!!!! Also check out www.bbc.co.uk/teach/supermovers to keep fit over the next few weeks.
Make sure you keep all your home learning so that we can share it all together soon.
I will try and complete some of the activities with my family as well and add these to the Year 3 page.
Take care,
With much love Mrs Every