Friday 6th March 2020
Please enter an introduction for your blog post here.
This week has been very busy with World Book Day yesterday, lovely assemblies and a visiting author. The children were dressed in amazing costumes, I am always so impressed by all the creative ideas they come up with. There were Harry Potters, princesses, Willy Wonkas, Umpa Lumpas Gangsta Grannys, Where's Wallys, Winnie the Pooh and Friends, James Bond and even Sherlock Holmes. There were class winners and overall KS1 and KS2 winners for the best costumes. The teachers had made a wonderful effort too and I think we need to have prizes for staff next year too! KS 2 welcomed author Annelise Hetherington who came to talk about her series of books and run writing workshops for KS 2.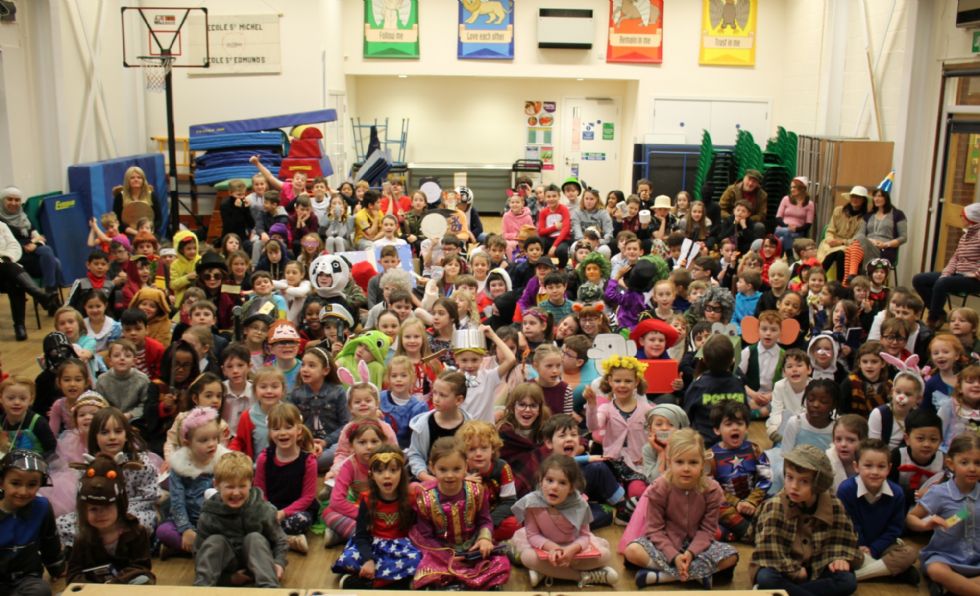 We also held our competition to get caught reading in the most unusual place. There were some amazing entries across the school. Reading 'The Jolly Postman' sitting on a post box, in a police car, upside down on a climbing frame, at the swimming pool, under water, even on a tractor! It was very difficult to choose a winner. All entries will be on display in the library.
During assembly on Monday morning we talked about the season of Lent and Jesus' time in the desert being tempted by the devil. We talked about how going without something that we really like can help us to appreciate it more.
We have had a great assembly from Year 5 this morning on Space. The children had packed the assembly with amazing facts, for example, did you know that there are more stars in the sky than grains of sand on every beach? Thank you Year 5 for educating us and keeping us entertained!
This weekend we have the Godalming Schools Swimming Gala on Saturday evening which will be held at Charterhouse pool. Children from Years 4, 5 and 6 will be taking part. It is a challenging event and we wish all the competitors the very best of luck!
Have a lovely weekend,
Elizabeth